Newcastle 1992/93 - Season Summary
---
NUFC 1992/93 Squad
---
---
| | | | |
| --- | --- | --- | --- |
| Div 1 | 1st | Chairman | J Hall |
| FA Cup | R5 | Manager | K Keegan |
| League Cup | R3 | Coach | D Fazackerly |
| Attendance | 29,048 | Captain | B Kilcline > B Venison |
| | | Top Scorer | D Kelly (28) |
---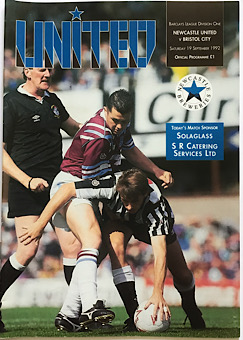 Once Keegan had been persuaded to continue the good work he started it was all systems go. Hall and Keegan were both very clear about the target; there was no time for consolidation, the newly-formed Premiership was the aim.
In the summer the team was strengthened significantly with the addition of Paul Bracewell, John Beresford and Barry Venison; Robert Lee would follow in September.
United started the season in brilliant fashion with 11 consecutive victories in the League culminating with a 2-1 victory at Roker Park following O'Brien's memorable free-kick.
17 wins in the 23 games before Christmas gave Newcastle a twelve point lead over second placed Tranmere.
The New Year saw United get a bit jittery and a run of 5 draws and one defeat saw The Magpie's seemingly unassailable lead being gradually whittled away.
United got back on track with a televised 3-0 win at Tranmere, but Keegan wanted to make sure and the cheque book was opened to fund the purchases of Scott Sellars, Mark Robinson and (for aAndy Cole.
Promotion was finally secured with victory at Grimsby and the season finished in style as United thrashed Leicester 7-1 after leading 6-0 at half-time.
The Cups were no more than an inconvenience and there was no shame in being narrowly beaten by Premiership clubs Blackburn and Chelsea.
---
Matches
| | | | | | | | |
| --- | --- | --- | --- | --- | --- | --- | --- |
| D1 | 15/8/92 | H | Southend Utd | W | 3-2 | | |
| LC | 19/8/92 | H | Mansfield | W | 2-1 | | |
| D1 | 22/8/92 | A | Derby | W | 2-1 | | |
| LC | 25/8/92 | A | Mansfield | D | 0-0 | | |
| D1 | 29/8/92 | H | WHU | W | 2-0 | | |
| D1 | 02/9/92 | H | Luton | W | 2-0 | | |
| D1 | 05/9/92 | A | Bristol | W | 2-1 | | |
| D1 | 12/9/92 | H | Portsmouth | W | 3-1 | | |
| D1 | 19/9/92 | H | Bristol | W | 5-0 | | |
| LC | 23/9/92 | H | Middlesbrough | D | 0-0 | | |
| D1 | 26/9/92 | A | Peterborough Utd | W | 1-0 | | |
| D1 | 04/10/92 | A | Brentford | W | 2-1 | | |
| LC | 07/10/92 | A | Middlesbrough | W | 3-1 | | |
| D1 | 10/10/92 | H | Tranmere | W | 1-0 | | |
| D1 | 18/10/92 | A | Sunderland | W | 2-1 | | |
| D1 | 24/10/92 | H | Grimsby | L | 0-1 | | |
| LC | 28/10/92 | A | Chelsea | L | 1-2 | | |
| D1 | 31/10/92 | A | Leicester | L | 1-2 | | |
| D1 | 04/11/92 | A | Birmingham | W | 3-2 | | |
| D1 | 08/11/92 | H | Swindon | D | 0-0 | | |
| D1 | 14/11/92 | A | Charlton | W | 3-1 | | |
| D1 | 21/11/92 | H | Watford | W | 2-0 | | |
| D1 | 28/11/92 | H | Cambridge Utd | W | 4-1 | | |
| D1 | 05/12/92 | A | Notts | W | 2-0 | | |
| D1 | 13/12/92 | A | Barnsley | L | 0-1 | | |
| D1 | 20/12/92 | H | Millwall | D | 1-1 | | |
| D1 | 26/12/92 | H | Wolves | W | 2-1 | | |
| D1 | 28/12/92 | A | Oxford Utd | L | 2-4 | | |
| FAC | 02/1/93 | H | Port Vale | W | 4-0 | | |
| D1 | 09/1/93 | A | Bristol | W | 2-1 | | |
| D1 | 16/1/93 | H | Peterborough Utd | W | 3-0 | | |
| D1 | 20/1/93 | A | Southend Utd | D | 1-1 | | |
| FAC | 23/1/93 | A | Rotherham Utd | D | 1-1 | | |
| D1 | 27/1/93 | A | Luton | D | 0-0 | | |
| D1 | 31/1/93 | H | Derby | D | 1-1 | | |
| FAC | 03/2/93 | H | Rotherham Utd | W | 2-0 | | |
| D1 | 09/2/93 | A | Portsmouth | L | 0-2 | | |
| FAC | 13/2/93 | A | Blackburn | L | 0-1 | | |
| D1 | 21/2/93 | A | WHU | D | 0-0 | | |
| D1 | 24/2/93 | H | Bristol | D | 0-0 | | |
| D1 | 28/2/93 | A | Tranmere | W | 3-0 | | |
| D1 | 06/3/93 | H | Brentford | W | 5-1 | | |
| D1 | 10/3/93 | H | Charlton | D | 2-2 | | |
| D1 | 13/3/93 | A | Swindon | L | 1-2 | | |
| D1 | 20/3/93 | H | Notts | W | 4-0 | | |
| D1 | 23/3/93 | A | Watford | L | 0-1 | | |
| D1 | 28/3/93 | H | Birmingham | D | 2-2 | | |
| D1 | 03/4/93 | A | Cambridge Utd | W | 3-0 | | |
| D1 | 07/4/93 | H | Barnsley | W | 6-0 | | |
| D1 | 10/4/93 | A | Wolves | L | 0-1 | | |
| D1 | 17/4/93 | A | Millwall | W | 2-1 | | |
| D1 | 25/4/93 | H | Sunderland | W | 1-0 | | |
| D1 | 04/5/93 | A | Grimsby | W | 2-0 | | |
| D1 | 06/5/93 | H | Oxford Utd | W | 2-1 | | |
| D1 | 09/5/93 | H | Leicester | W | 7-1 | | |
Division 1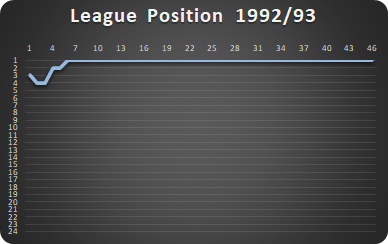 Squad
Total Number of Matches: 61
Total Number of Goals: 114
| Player | A | S | G |
| --- | --- | --- | --- |
| Appleby M | 2 | 1 | |
| Appleby R | 2 | 0 | |
| Beresford J | 52 | 1 | 1 |
| Bracewell P | 23 | 8 | 2 |
| Brock K | 8 | 4 | 2 |
| Carr F | 12 | 5 | 1 |
| Clark L | 58 | 0 | 10 |
| Cole A | 11 | 1 | 12 |
| Garland P | 0 | 1 | |
| Howey S | 53 | 0 | 2 |
| Kelly D | 57 | 0 | 28 |
| Kilcline B | 15 | 14 | 1 |
| Lee R | 43 | 0 | 13 |
| Neilson A | 6 | 1 | |
| O'Brien L | 43 | 0 | 7 |
| Peacock G | 39 | 3 | 18 |
| Quinn M | 8 | 4 | 5 |
| Ranson R | 4 | 1 | |
| Robinson M | 2 | 7 | |
| Roche D | 0 | 1 | |
| Scott K | 56 | 0 | 2 |
| Sellars S | 13 | 0 | 2 |
| Sheedy K | 33 | 2 | 5 |
| Srnicek P | 41 | 0 | |
| Stimson M | 3 | 1 | |
| Thompson A | 4 | 1 | |
| Venison B | 55 | 0 | |
| Watson J | 0 | 1 | |
| Watson S | 3 | 2 | |
| Wright T | 20 | 0 | |
| Own Goals | | | 2 |
---
Embed from Getty Images
---
Players
---
Toon In
| Surname | Date | Age | From | Fee |
| --- | --- | --- | --- | --- |
| Beresford John | 06/92 | 25 | Portsmouth | £650,000 |
| Bracewell Paul | 06/92 | 29 | Sunderland | £250,000 |
| Venison Barry | 07/92 | 27 | Liverpool | £250,000 |
| Lee Robert | 09/92 | 26 | Charlton | £700,000 |
| Cole Andy | 03/93 | 21 | Bristol City | £1,75m |
| Robinson Mark | 03/93 | 24 | Barnsley | £450,000 |
| Sellars Scott | 03/93 | 27 | Leeds | £600,000 |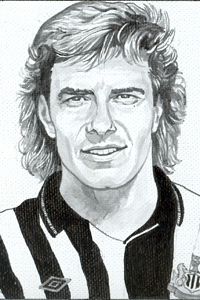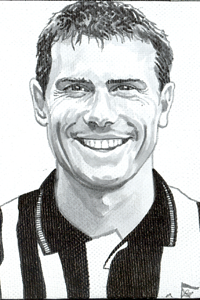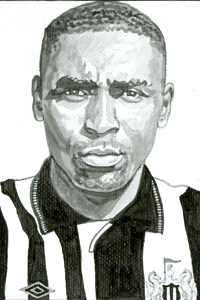 ---
Toon Oot
| Name | Date | Age | To | Fee |
| --- | --- | --- | --- | --- |
| Gallagher John | 07/92 | 23 | Hartlepool | Free |
| Makel Lee | 07/92 | 19 | Blackburn Rovers | £160,000* |
| Bradshaw Darren | 08/92 | 25 | Peterborough | Free |
| Garland Peter | 12/92 | 21 | Charlton | £35,000 |
| Quinn Micky | 12/92 | 30 | Coventry | £250,000 |
| Askew Billy | cs/92 | 32 | Gateshead | Free |
| Carr Franz | 01/93 | 26 | Sheff Utd | £180,000 |
| Ranson Ray | 01/93 | 32 | Man City | Free |
| Kristensen Bjorn | 03/93 | 29 | Portsmouth | £120,000 |
| Hunt Andy | 05/93 | 22 | WBA | £100,000 |
| Sheedy Kevin | 05/93 | 33 | Blackpool | Free |
| Watson John | 05/93 | 19 | Released | |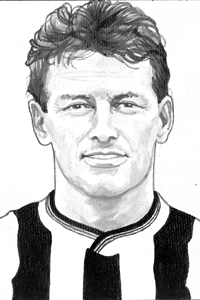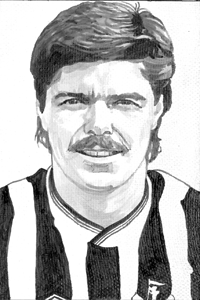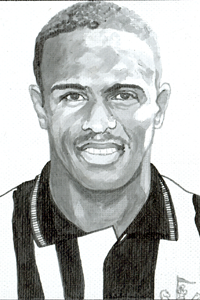 Lee Makel - additional £28,000 payment subsequently made
---
Drop In
| Name | Club | Age | From | To |
| --- | --- | --- | --- | --- |
| Papavassilou Nikos | OFI (Trial) | 22 | 02/93 | 06/93 |
---
Drop Oot
| Name | Club | From | To |
| --- | --- | --- | --- |
| Kristensen Bjorn | Bristol City | 06/92 | 12/92 |
| Quinn Micky | Coventry | 11/92 | 11/92 |
| Stimson Mark | Portsmouth | 12/92 | 12/92 |
| Carr Franz | Sheff. United | 01/93 | 01/93 |
| Roche David | Gateshead | | |
| Roche David | Peterborough | | |
| Hunt Andy | West Brom | 03/93 | 04/93 |