NUFC 1998/99 - Season Summary
Squad
---
| | | | |
| --- | --- | --- | --- |
| Prem | 13th | Chairman | J Hall > F Shepherd |
| FA Cup | Final | Manager | K Dalglish > R Gullit |
| League Cup | R4 | Coach | S Clarke/J Carver |
| CW Cup | R1 | Captain | R Lee > A Shearer |
| Attendance | 36,692 | Top Scorer | A Shearer (21) |
---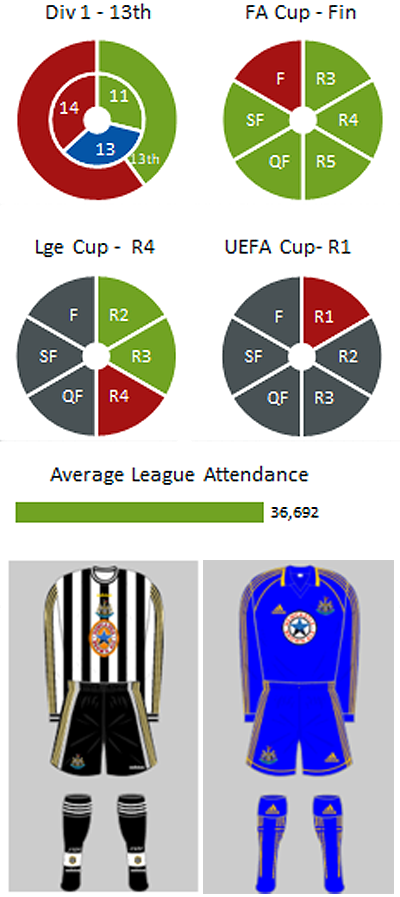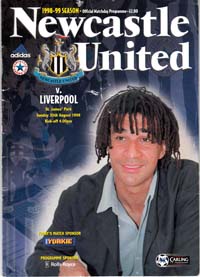 Douglas Hall and Freddie Shepherd returned and Dalglish was allowed to spend £13 million during the summer. Then after only two games of the new season Dalglish resigned (according to the club) or was sacked according to the man himself.
The first game against newly promoted Charlton saw the team jeered off and Dalglish had lost a lot the support of many fans after the Cup Final. Some may say that the Board's actions were a thinly veiled attempt to regain their popularity amongst the Toon Army
Former Chelsea manager Ruud Gullit was appointed and promised "sexy football", but apart from a couple of spells where three victories in a row were recorded the Toon Army was left somewhat unfulfilled in the Premiership department and the campaign fizzled out into a second successive thirteen position.
Gullit started to remould the side with the most notable signing being that of centre-forward Duncan Ferguson from Everton. With a number of players being sold or loaned out there was a massive turnover in the team and a record equalling 36 players were used in all.
The FA Cup one again provided the main highs and lows of the season as United reached the Final again only to fail miserably once more.
The League Cup brought another penalty defeat and in their first and only venture into the Cup Winners Cup United lost to Partizan Belgrade in the First Round.
Whilst all this was going on there was criticism of Gullit's frequent returns to Amsterdam and stories abounded about the Dutchman's deteriorating relationships with a number of his star players including Hamann, Lee, Batty and Shearer.
Premiership
| | | | | | | |
| --- | --- | --- | --- | --- | --- | --- |
| 15/8/98 | H | Charlton | D | 0-0 | | |
| 22/8/98 | A | Chelsea | D | 1-1 | | |
| 30/8/98 | H | Liverpool | L | 1-4 | | |
| 09/9/98 | A | Aston Villa | L | 0-1 | | |
| 12/9/98 | H | Southampton | W | 4-0 | | |
| 19/9/98 | A | Coventry | W | 5-1 | | |
| 26/9/98 | H | Nottm F | W | 2-0 | | |
| 04/10/98 | A | Arsenal | L | 0-3 | | |
| 17/10/98 | H | Derby | W | 2-1 | | |
| 24/10/98 | A | Tottenham | L | 0-2 | | |
| 31/10/98 | H | WHU | L | 0-3 | | |
| 08/11/98 | A | Manchester Utd | D | 0-0 | | |
| 14/11/98 | H | Sheff Wed | D | 1-1 | | |
| 23/11/98 | A | Everton | L | 0-1 | | |
| 28/11/98 | H | Wimbledon | W | 3-1 | | |
| 06/12/98 | A | Middlesbrough | D | 2-2 | | |
| 12/12/98 | A | Blackburn | D | 0-0 | | |
| 19/12/98 | H | Leicester | W | 1-0 | | |
| 26/12/98 | H | Leeds Utd | L | 0-3 | | |
| 28/12/98 | A | Liverpool | L | 2-4 | | |
| 09/1/99 | H | Chelsea | L | 0-1 | | |
| 17/1/99 | A | Charlton | D | 2-2 | | |
| 30/1/99 | H | Aston Villa | W | 2-1 | | |
| 06/2/99 | A | Leeds Utd | W | 1-0 | | |
| 17/2/99 | H | Coventry | W | 4-1 | | |
| 20/2/99 | A | Southampton | L | 1-2 | | |
| 28/2/99 | H | Arsenal | D | 1-1 | | |
| 10/3/99 | A | Nottm F | W | 2-1 | | |
| 13/3/99 | H | Manchester Utd | L | 1-2 | | |
| 20/3/99 | A | WHU | L | 0-2 | | |
| 03/4/99 | A | Derby | W | 4-3 | | |
| 05/4/99 | H | Tottenham | D | 1-1 | | |
| 17/4/99 | H | Everton | L | 1-3 | | |
| 21/4/99 | A | Sheff Wed | D | 1-1 | | |
| 24/4/99 | A | Wimbledon | D | 1-1 | | |
| 01/5/99 | H | Middlesbrough | D | 1-1 | | |
| 08/5/99 | A | Leicester | L | 0-2 | | |
| 16/5/99 | H | Blackburn | D | 1-1 | | |
---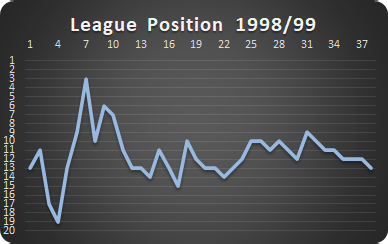 Cup Winners Cup
| | | | | | | | |
| --- | --- | --- | --- | --- | --- | --- | --- |
| R1 L1 | 17/9/98 | H | Partizan Belgrade | W | 2-1 | | |
| R1 L2 | 01/10/98 | A | Partizan Belgrade | L | 0-1 | | |
FA Cup
| | | | | | | | |
| --- | --- | --- | --- | --- | --- | --- | --- |
| R3 | 02/1/99 | H | Crystal Palace | W | 2-1 | | |
| R4 | 23/1/99 | H | Bradford | W | 3-0 | | |
| R5 | 14/2/99 | H | Blackburn | D | 0-0 | | |
| R5r | 24/2/99 | A | Blackburn | W | 1-0 | | |
| QF | 07/3/99 | H | Everton | W | 4-1 | | |
| SF | 11/4/99 | N | Tottenham | W | 2-0 | | |
| Fin | 22/5/99 | N | Manchester Utd | L | 0-2 | | |
League Cup
| | | | | | | | |
| --- | --- | --- | --- | --- | --- | --- | --- |
| R2 | 27/10/98 | A | Tranmere | W | 1-0 | | |
| R3 | 11/11/98 | H | Blackburn | D | 1-1 | | |
Squad
| Player | A | S | G |
| --- | --- | --- | --- |
| Albert P | 3 | 4 | |
| Andersson A | 13 | 4 | 2 |
| Barnes J | 0 | 1 | |
| Barton W | 23 | 7 | |
| Batty D | 9 | 2 | |
| Beharall D | 4 | 0 | |
| Brady G | 5 | 7 | |
| Charvet L | 38 | 1 | 1 |
| Dabizas N | 35 | 5 | 4 |
| Dalglish P | 8 | 5 | 2 |
| Domi D | 18 | 0 | |
| Ferguson D | 7 | 2 | 2 |
| Georgiadis G | 8 | 5 | 1 |
| Gillespie K | 5 | 3 | |
| Given S | 41 | 0 | |
| Glass S | 24 | 6 | 3 |
| Griffin A | 19 | 0 | |
| Guivarc'h S | 2 | 2 | 1 |
| Hamann D | 30 | 1 | 5 |
| Harper S | 8 | 2 | |
| Howey S | 18 | 0 | |
| Hughes A | 14 | 3 | |
| Ketsbaia Ti | 22 | 12 | 8 |
| Lee R | 24 | 6 | |
| Maric S | 10 | 3 | |
| McClen J | 1 | 0 | |
| Pearce S | 16 | 0 | |
| Pistone A | 2 | 1 | |
| Saha L | 6 | 6 | 2 |
| Serrant C | 3 | 1 | |
| Shearer A | 39 | 1 | 21 |
| Solano N | 33 | 6 | 6 |
| Speed G | 43 | 5 | 5 |
| Watson S | 8 | 0 | |
---
Players
---
Toon In
| Surname | Date | Age | From | Fee |
| --- | --- | --- | --- | --- |
| Georgiadis George | 06/98 | 26 | Panithanaikos | £493,000 |
| Brady Gary | 07/98 | 21 | Tottenham | £650,000 |
| Charvet Laurent | 07/98 | 25 | Cannes | £515,000 |
| Glass Stephen | 07/98 | 22 | Aberdeen | £650,000 |
| Guivarc'h Stephane | 07/98 | 27 | Auxerre | £3.54m |
| Serrant Carl | 07/98 | 22 | Oldham | £500,000 |
| Hamann Dietmar | 08/98 | 24 | Bayern Munich | £4.5m |
| Solano Nolberto | 08/98 | 23 | Boca Juniors | £2.76m |
| Ameobi Shola | 10/98 | 17 | Professional | |
| Ferguson Duncan | 11/98 | 26 | Everton | £8m |
| Domi Didier | 01/99 | 21 | PSG | £3.25m |
| Maric Silvio | 02/99 | 23 | Dinamo Zagreb | £3.585m |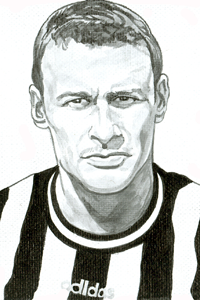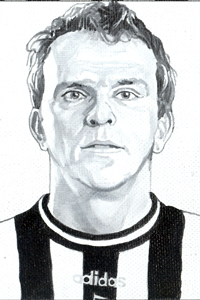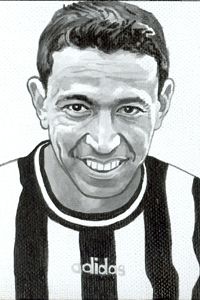 ---
Toon Oot
| Name | Date | Age | To | Fee |
| --- | --- | --- | --- | --- |
| Tomasson John Dahl | 06/98 | 23 | Feyenoord | £2.5m |
| Hislop Shaka | 07/98 | 23 | West Ham | Free |
| Peacock Darren | 07/98 | 23 | Blackburn Rovers | Free |
| Rush Ian | 08/98 | 23 | Wrexham | Free |
| Watson Steve | 10/98 | 23 | Aston Villa | £3.75m |
| Guivarch Stephane | 11/98 | 23 | Rangers | £3.5m |
| Batty David | 12/98 | 23 | Leeds Utd | £4.4m |
| Gillespie Keith | 12/98 | 23 | Blackburn Rovers | £2.35m |
| Barnes John | 02/99 | 23 | Charlton | |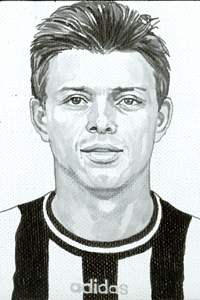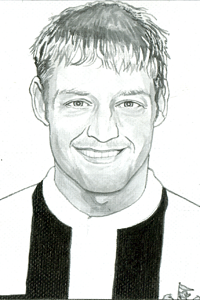 ---
Drop In
| Name | Club | Age | From | To |
| --- | --- | --- | --- | --- |
| Saha Louis | Metz | 22 | 01/99 | 05/99 |
---
Drop Oot
| Name | Club | From | To |
| --- | --- | --- | --- |
| Albert Phillipe | Fulham | 07/98 | 05/99 |
| Dalglish Paul | Norwich | 03/99 | 03/99 |
| Hamilton Des | Sheff. Utd. | | |
| Hamilton Des | Huddersfield | | |
| Serrant Carl | Bury | 07/98 | 05/99 |
| Pistone Allesandro | Venezia | 07/98 | 05/99 |
---
1990s Seasons
---
1990/91
1991/92
1992/93
1993/94
1994/95
1995/96
1996/97
1997/98
1998/99
1999/00