Newcastle United 1996/97 Season Summary
NUFC 1996/97 Squad
---
| | | | |
| --- | --- | --- | --- |
| Prem | 2nd | Chairman | J Hall |
| FA Cup | R4 | Manager | K Keegan > K Dalglish |
| League Cup | R4 | Coach | C McMenemy |
| UEFA Cup | QF | Captain | P Beardsley |
| Attendance | 36,466 | Top Scorer | A Shearer (28) |
---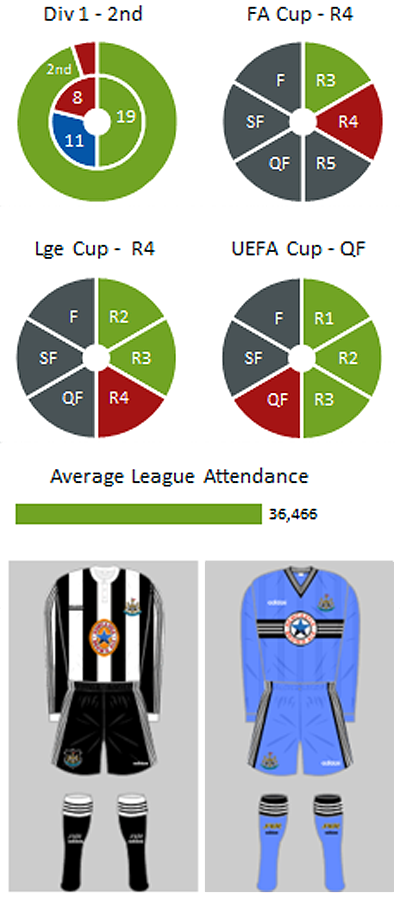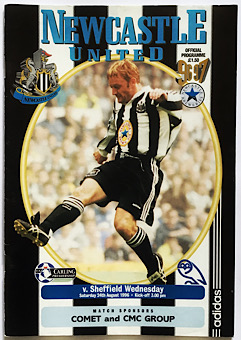 United's Premiership collapse in 1995/96 was seen mainly as a failure to defend at crucial stages of the game therefore it came as no surprise that £15 million was spent on another centre-forward. Keegan had been ready to quit, but the capture of Shearer re-kindled the spirit of both manager and fans.
The season started badly with a four goal defeat to Man United in the Charity Shield at Wembley followed by two defeats in the first three Premier games.
Seven League wins on the trot culminating in the 5-0 thrashing of Manchester United suggested that confidence had returned. However United's form deteriorated again and Keegan resigned withouth so much as a goodbye.
Kenny Dalglish replaced him and after a stuttering start which brought exits in both the FA and UEFA Cups some fans were getting on Dalglish's back with one even offering him the shirt off his own.
However United became harder to beat and they gradually climbed the table until they reached second on the final day of the season which earned them a place in the Champions League for the first time.
---
Competitions
---
Premiership
The Magpies once more finished as runners-up to Manchester United, but this was a significantly different campaign to 1996/96. Newcastle finished 7 points behind Manchester United who amassed less points than Newcastle did last season and only sneaked into second-place on the last day of the season.
Although Newcastle lost two of the first three games they followed up with 7 wins in a row culminating in the famous 5-0 win over Manchester United. They led the table.
Then came a downturn as the next seven Premiership games brought 4 draws and 3 defeats as injuries to Shearer and then Ferdinand disrupted the team.
Although Newcastle bounced back to thrash Tottenham and beat Leeds, Keegan resigned. Kenny Dalglish took over and United finished strongly, only losing two more games all season.
On the final day of the season Liverpool, Newcastle and Arsenal could still finish as runners-up and qualify for the Champions League. Liverpool could only draw whilst both United and the Gunners won leaving them all with 68 points; Newcastle having the best goal difference. The relegation of Sunderland and Middlesbrough at the same time made it quite a day.
| | | | | | | |
| --- | --- | --- | --- | --- | --- | --- |
| 17/8/96 | A | Everton | L | 0-2 | | |
| 21/8/96 | H | Wimbledon | W | 2-0 | | |
| 24/8/96 | H | Sheff Wed | L | 1-2 | | |
| 04/9/96 | A | Sunderland | W | 2-1 | | |
| 07/9/96 | A | Tottenham | W | 2-1 | | |
| 14/9/96 | H | Blackburn | W | 2-1 | | |
| 21/9/96 | A | Leeds Utd | W | 1-0 | | |
| 30/9/96 | H | Aston Villa | W | 4-3 | | |
| 12/10/96 | A | Derby | W | 1-0 | | |
| 20/10/96 | H | Manchester Utd | W | 5-0 | | |
| 26/10/96 | A | Leicester | L | 0-2 | | |
| 03/11/96 | H | Middlesbrough | W | 3-1 | | |
| 16/11/96 | H | WHU | D | 1-1 | | |
| 23/11/96 | A | Chelsea | D | 1-1 | | |
| 30/11/96 | H | Arsenal | L | 1-2 | | |
| 09/12/96 | A | Nottm F | D | 0-0 | | |
| 17/12/96 | A | Coventry | L | 1-2 | | |
| 23/12/96 | H | Liverpool | D | 1-1 | | |
| 26/12/96 | A | Blackburn | L | 0-1 | | |
| 28/12/96 | H | Tottenham | W | 7-1 | | |
| 01/1/97 | H | Leeds Utd | W | 3-0 | | |
| 11/1/97 | A | Aston Villa | D | 2-2 | | |
| 18/1/97 | A | Southampton | D | 2-2 | | |
| 29/1/97 | H | Everton | W | 4-1 | | |
| 02/2/97 | H | Leicester | W | 4-3 | | |
| 22/2/97 | A | Middlesbrough | W | 1-0 | | |
| 01/3/97 | H | Southampton | L | 0-1 | | |
| 10/3/97 | A | Liverpool | L | 3-4 | | |
| 15/3/97 | H | Coventry | W | 4-0 | | |
| 23/3/97 | A | Wimbledon | D | 1-1 | | |
| 05/4/97 | H | Sunderland | D | 1-1 | | |
| 13/4/97 | A | Sheff Wed | D | 1-1 | | |
| 16/4/97 | H | Chelsea | W | 3-1 | | |
| 19/4/97 | H | Derby | W | 3-1 | | |
| 03/5/97 | A | Arsenal | W | 1-0 | | |
| 06/5/97 | A | WHU | D | 0-0 | | |
| 08/5/97 | A | Manchester Utd | D | 0-0 | | |
| 11/5/97 | H | Nottm F | W | 5-0 | | |
| | | | | | | | |
| --- | --- | --- | --- | --- | --- | --- | --- |
| | | W | D | L | F | A | Pts |
| 01 | Manchester United | 21 | 12 | 5 | 76 | 44 | 75 |
| 02 | Newcastle United | 19 | 11 | 8 | 73 | 40 | 68 |
| 03 | Arsenal | 19 | 11 | 8 | 62 | 32 | 68 |
| 04 | Liverpool | 19 | 11 | 8 | 62 | 37 | 68 |
| 05 | Aston Villa | 17 | 10 | 11 | 47 | 34 | 61 |
| 06 | Chelsea | 16 | 11 | 11 | 58 | 55 | 59 |
| 07 | Sheffield Wednesday | 14 | 15 | 9 | 50 | 51 | 57 |
| 08 | Wimbledon | 15 | 11 | 12 | 49 | 46 | 56 |
| 09 | Leicester City | 12 | 11 | 15 | 46 | 54 | 47 |
| 10 | Tottenham Hotspur | 13 | 7 | 18 | 44 | 51 | 46 |
| 11 | Leeds United | 11 | 13 | 14 | 28 | 38 | 46 |
| 12 | Derby County | 11 | 13 | 14 | 45 | 58 | 46 |
| 13 | Blackburn Rovers | 9 | 15 | 14 | 42 | 43 | 42 |
| 14 | West Ham United | 10 | 12 | 16 | 39 | 48 | 42 |
| 15 | Everton | 10 | 12 | 16 | 44 | 57 | 42 |
| 16 | Southampton | 10 | 11 | 17 | 50 | 56 | 41 |
| 17 | Coventry City | 9 | 14 | 15 | 38 | 54 | 41 |
| 18 | Sunderland | 10 | 10 | 18 | 35 | 53 | 40 |
| 19 | Middlesbrough | 10 | 12 | 16 | 51 | 60 | 39[d] |
| 20 | Nottingham Forest | 6 | 16 | 16 | 31 | 59 | 34 |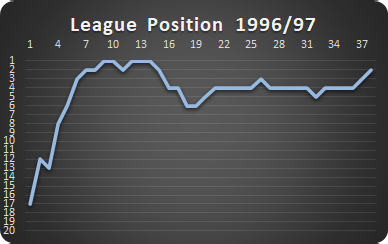 ---
UEFA Cup
| | | | | | | | |
| --- | --- | --- | --- | --- | --- | --- | --- |
| UC | 10/9/96 | H | Halmstads BK | W | 4-0 | | |
| UC | 24/9/96 | A | Halmstads BK | L | 1-2 | | |
| UC | 15/10/96 | A | Ferencváros | L | 2-3 | | |
| UC | 29/10/96 | H | Ferencváros | W | 4-0 | | |
| UC | 19/11/96 | A | Metz | D | 1-1 | | |
| UC | 03/12/96 | H | Metz | W | 2-0 | | |
| UC | 04/3/97 | H | AS Monaco | L | 0-1 | | |
| UC | 18/3/97 | A | AS Monaco | L | 0-3 | | |
---
FA Cup
| | | | | | | | |
| --- | --- | --- | --- | --- | --- | --- | --- |
| R3 | 05/1/97 | A | Charlton | D | 1-1 | | |
| R3r | 15/1/97 | H | Charlton | W | 2-1 | | |
| R4 | 26/1/97 | H | Nottm F | L | 1-2 | | |
---
League Cup
| | | | | | | | |
| --- | --- | --- | --- | --- | --- | --- | --- |
| R2 | 23/10/96 | H | Oldham | W | 1-0 | | |
| R3 | 27/11/96 | A | Middlesbrough | L | 1-3 | | |
---
Players
---
Squad
Total Number of Matches:
Total Number of Goals:
| Player | A | S | G |
| --- | --- | --- | --- |
| Albert P | 39 | 1 | 3 |
| Asprilla F | 25 | 8 | 9 |
| Barton W | 20 | 7 | 1 |
| Batty D | 45 | 0 | 1 |
| Beardsley P | 34 | 3 | 8 |
| Beresford J | 25 | 2 | |
| Clark Lee | 14 | 20 | 3 |
| Crawford J | 0 | 2 | |
| Elliott R | 36 | 2 | 7 |
| Ferdinand L | 38 | 2 | 21 |
| Gillespie K | 31 | 13 | 1 |
| Ginola D | 31 | 5 | 2 |
| Hislop S | 22 | 0 | |
| Howey S | 9 | 0 | 1 |
| Kitson P | 0 | 6 | |
| Lee R | 44 | 1 | 6 |
| Peacock D | 49 | 0 | 1 |
| Shearer A | 40 | 0 | 28 |
| Srnicek P | 30 | 0 | |
| Watson S | 40 | 6 | 1 |
Team
01: Hislop/Srnicek
02: Watson
03: Beresford/Elliot
04: Batty
05: Howey > Peacock
06: Albert
07: Lee
08: Beardstey
09: Shearer
10 Ferdinand
11: Ginola> Gillespie/Elliot
---
Toon In
| Surname | Date | Age | From | Fee |
| --- | --- | --- | --- | --- |
| Shearer Alan | 07/96 | 25 | Blackburn Rovers | £15.6m |
| Hamilton Des | 03/97 | 20 | Bradford City | £1.375m |
| Gudjonnson Bjarni | 03/97 | | IA Akranes | £250,000 |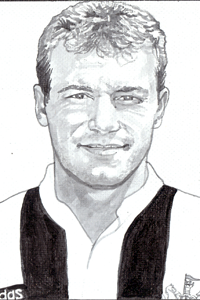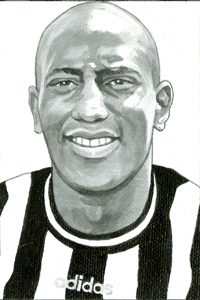 ---
Toon Oot
| Name | Date | Age | To | Fee |
| --- | --- | --- | --- | --- |
| Hooper Mike | 07/96 | 32 | Portsmouth | Free |
| Holland Chris | 10/96 | 21 | Birmingham | £600,000 |
| Huckerby Darren | 11/96 | 20 | Coventry | £1.65m |
| Kitson Paul | 02/97 | 26 | West Ham | £2.4m |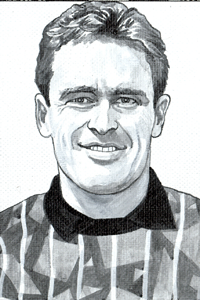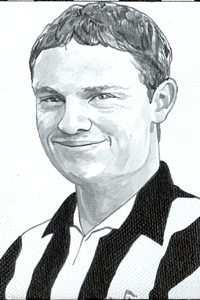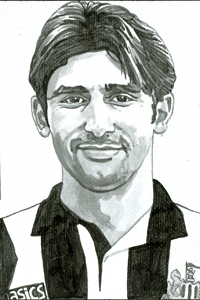 ---
Drop Oot
| Name | Club | From | To |
| --- | --- | --- | --- |
| Holland Chris | Birmingham | 09/96 | 09/96 |
| Brayson Paul | Swansea City | 01/97 | 04/97 |
| Crawford James | Rotherham | 07/96 | 05/97 |
| Holland Chris | Birmingham | 09/96 | 09/96 |
| Harper Steve | Gateshead | | |
| Harper Steve | Stockport | | |
| Huckerby Darren | Millwall | | |
---
1990s Seasons
---
1990/91
1991/92
1992/93
1993/94
1994/95
1995/96
1996/97
1997/98
1998/99
1999/00