Newcastle 1991/92 - Season Summary
---
NUFC 1991/92 Squad
---
| | | | |
| --- | --- | --- | --- |
| Div 2 | 20th | Chairman | G Forbes, J Hall |
| FA Cup | R3 | Manager | O Ardilles > K Keegan |
| League Cup | R3 | Coach | T Galvin > D Fazackerly |
| Attendance | 21,024 | Captain | K Scott |
| | | Top Scorer | G Peacock (21) |
---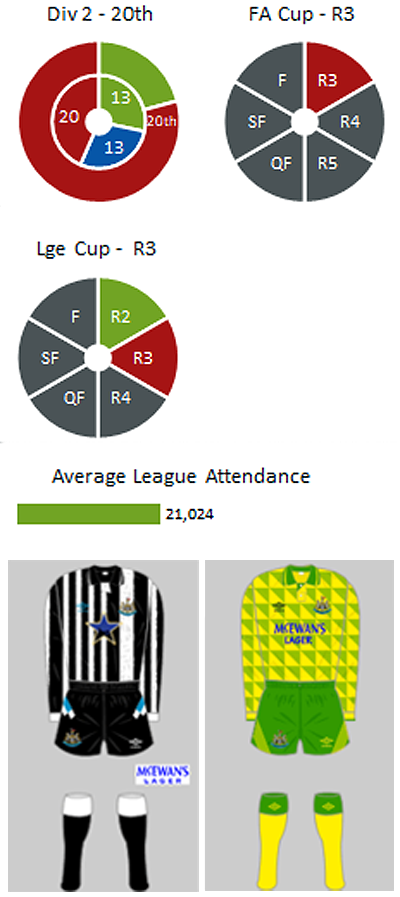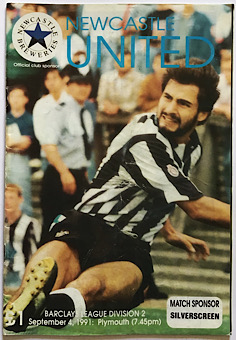 United entered their centenary season with renewed hope, but little tangible to base it on. It almost ended in disaster but Kevin Keegan saved the day; just.
The season started badly with only one win recorded in the first eleven league games. Ossie's young charges were playing entertaining open football, but they were shipping far too many goals.
The initial optimism that saw 22,700 turn up for the first game of the season soon evaporated and attendances had slipped back towards the 15,000 mark. The club was losing money just as quickly and this led to more boadroom changes.
John and Douglas Hall, Freddie Shepherd and Derek McVickers replaced Gordon McKeag and Russell Cushing. Just before Christmas Hall replaced Forbes as Chairman and pledged his support to Ardilles.
The New Year was heralded with an embarrassing 4-0 defeat at Southend and was followed a month later by a 5-2 thrashing at Oxford. Inbetween those games United lost 4-3 at home to Charlton after leading 3-0 with half an hour left. Ossie's "safe as houses" job was in ruins.
Sensationally and riskily, Freddie's Fletcher and Shepherd along with Douglas Hall persuaded Keegan (who had had no involvement with the professional game since retiring almost eight years earlier) to take on the challenge of keeping United up.
A record of 5/2/2 in his first nine games saw a gradual climb up the table but Keegan had to be persuaded to return after he walked out when the money he had been "promised" for transfers failed to materialise.
But just as the club seemed to have turned the corner a 6-2 defeat at Wolves precipitated a five game losing run that saw United tumble back down into the relegation places.
There were two games left: at home to Jim Smith's Portsmouth and away to promotion hopefuls Leicester. The tension at SJP was almost unbearable for the home game against Pompey, but the outpouring of relief was immense when David Kelly grabbed the winner five minutes from the end.
Another win was still required to be mathematically certain and it was another emotionally charged atmosphere at Filbert Street. Results elsewhere were going United's way, but Leicester's late equaliser created pandemonium which turned ugly when Steve Walsh put through his own net to restore United's lead.
The cups seemed almost incidental: Peterborough knocked the Magpies out of the League Cup and Bournemouth beat them on penalties in the FA Cup. United were also beaten on penalties by Tranmere in the Zenith Data Systems Cup after a crazy 6-6 draw.
---
---
Matches
| | | | | | | | |
| --- | --- | --- | --- | --- | --- | --- | --- |
| D2 | 18/8/91 | A | Charlton | L | 1 - 2 | | |
| D2 | 24/8/91 | H | Watford | D | 2 - 2 | | |
| D2 | 27/8/91 | A | Middlesbrough | L | 0 - 3 | | |
| D2 | 31/8/91 | A | Bristol | W | 2 - 1 | | |
| D2 | 04/9/91 | H | Plymouth | D | 2 - 2 | | |
| D2 | 07/9/91 | A | Tranmere | L | 2 - 3 | | |
| D2 | 14/9/91 | H | Wolves | L | 1 - 2 | | |
| D2 | 17/9/91 | H | Ipswich | D | 1 - 1 | | |
| D2 | 21/9/91 | A | Millwall | L | 1 - 2 | | |
| LC | 24/9/91 | A | Crewe | W | 4 - 3 | | |
| D2 | 28/9/91 | H | Derby | D | 2 - 2 | | |
| ZDS | 01/10/91 | A | Tranmere | L | 6 - 6 | | |
| D2 | 05/10/91 | A | Portsmouth | L | 1 - 3 | | |
| LC | 09/10/91 | H | Crewe | W | 1 - 0 | | |
| D2 | 12/10/91 | H | Leicester | W | 2 - 0 | | |
| D2 | 19/10/91 | H | Oxford Utd | W | 4 - 3 | | |
| D2 | 26/10/91 | A | Bristol | D | 1 - 1 | | |
| LC | 29/10/91 | A | Peterborough Utd | L | 0 - 1 | | |
| D2 | 02/11/91 | A | Swindon | L | 1 - 2 | | |
| D2 | 06/11/91 | H | Cambridge Utd | D | 1 - 1 | | |
| D2 | 09/11/91 | H | Grimsby | W | 2 - 0 | | |
| D2 | 17/11/91 | A | Sunderland | D | 1 - 1 | | |
| D2 | 20/11/91 | H | Southend Utd | W | 3 - 2 | | |
| D2 | 23/11/91 | H | Blackburn | D | 0 - 0 | | |
| D2 | 30/11/91 | A | Barnsley | L | 0 - 3 | | |
| D2 | 07/12/91 | H | Port Vale | D | 2 - 2 | | |
| D2 | 14/12/91 | A | Brighton | D | 2 - 2 | | |
| D2 | 20/12/91 | A | Plymouth | L | 0 - 2 | | |
| D2 | 26/12/91 | H | Middlesbrough | L | 0 - 1 | | |
| D2 | 28/12/91 | H | Bristol | W | 2 - 1 | | |
| D2 | 01/1/92 | A | Southend Utd | L | 0 - 4 | | |
| FAC | 04/1/92 | A | AFC Bournemouth | D | 0 - 0 | | |
| D2 | 11/1/92 | A | Watford | D | 2 - 2 | | |
| D2 | 18/1/92 | H | Charlton | L | 3 - 4 | | |
| FAC | 22/1/92 | H | AFC Bournemouth | D | 2 - 2 | | |
| D2 | 01/2/92 | A | Oxford Utd | L | 2 - 5 | | |
| D2 | 08/2/92 | H | Bristol | W | 3 - 0 | | |
| D2 | 15/2/92 | A | Blackburn | L | 1 - 3 | | |
| D2 | 22/2/92 | H | Barnsley | D | 1 - 1 | | |
| D2 | 29/2/92 | A | Port Vale | W | 1 - 0 | | |
| D2 | 07/3/92 | H | Brighton | L | 0 - 1 | | |
| D2 | 10/3/92 | A | Cambridge Utd | W | 2 - 0 | | |
| D2 | 14/3/92 | H | Swindon | W | 3 - 1 | | |
| D2 | 21/3/92 | A | Grimsby | D | 1 - 1 | | |
| D2 | 29/3/92 | H | Sunderland | W | 1 - 0 | | |
| D2 | 31/3/92 | A | Wolves | L | 2 - 6 | | |
| D2 | 04/4/92 | H | Tranmere | L | 2 - 3 | | |
| D2 | 11/4/92 | A | Ipswich | L | 2 - 3 | | |
| D2 | 18/4/92 | H | Millwall | L | 0 - 1 | | |
| D2 | 20/4/92 | A | Derby | L | 1 - 4 | | |
| D2 | 25/4/92 | H | Portsmouth | W | 1 - 0 | | |
| D2 | 02/5/92 | A | Leicester | W | 2 - 1 | | |
Premiership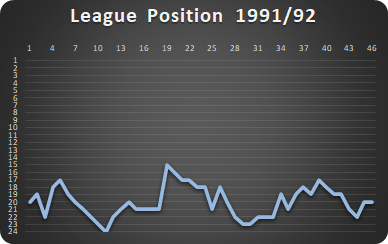 Squad
Total Games: 52
Total Goals: 79
| Player | A | S | G |
| --- | --- | --- | --- |
| Appleby M | 20 | 3 | |
| Bodin P | 6 | 0 | |
| Bradshaw D | 21 | 2 | |
| Brock K | 34 | 4 | 4 |
| Carr F | 13 | 3 | 2 |
| Clark L | 31 | 4 | 6 |
| Elliott R | 11 | 0 | |
| Fashanu J | 0 | 1 | |
| Garland P | 0 | 2 | |
| Gourlay A | 0 | 1 | |
| Howey S | 14 | 12 | 2 |
| Hunt A | 27 | 6 | 12 |
| Kelly D | 26 | 0 | 11 |
| Kilcline B | 12 | 0 | |
| Kristensen B | 1 | 1 | |
| Maguire G | 3 | 0 | |
| Makel L | 6 | 4 | 1 |
| McDonough D | 2 | 1 | |
| Neilson A | 18 | 0 | 1 |
| O'Brien L | 46 | 0 | 4 |
| Peacock G | 51 | 0 | 21 |
| Quinn M | 19 | 4 | 10 |
| Ranson R | 5 | 1 | |
| Robinson D | 0 | 3 | |
| Roche D | 21 | 8 | |
| Scott K | 50 | 0 | 1 |
| Sheedy K | 13 | 0 | 1 |
| Srnicek P | 16 | 0 | |
| Stimson M | 25 | 1 | |
| Thompson A | 13 | 2 | |
| Walker A | 3 | 0 | |
| Watson S | 25 | 5 | 1 |
| Wilson T | 2 | 0 | |
| Wright T | 36 | 0 | |
| own goals | | | 2 |
---
Players
---
Toon In
| Surname | Date | From | Fee |
| --- | --- | --- | --- |
| Harper Steve | 12/1991 | Seaham Red Star | Free |
| Kelly David | 12/1991 | Leicester | £250,000 |
| Kilcline Brian | 03/92 | Oldham | £250,000 |
| Sheedy Kevin | 02/92 | Everton | Free |
| Garland Peter | 03/92 | Tottenham | £35,000 |
| Mcdonaugh Darren | 03/92 | Luton | £90,000 |
| Watson John | 04/92 | Wallsend Boys Club | Free |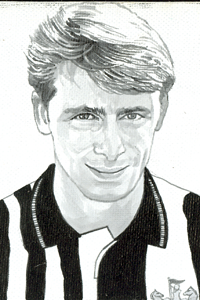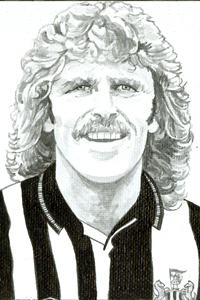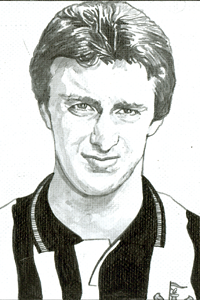 ---
Toon Oot
| Name | Date | To | Fee |
| --- | --- | --- | --- |
| Aitken Roy | 08/91 | St Mirren | £150,000 |
| Burridge John | 08/91 | Hibernians | Free |
| Dillon Kevin | 08/91 | Reading | Free |
| Simpson Neil | 08/91 | Motherwell | Free |
| Sloan Scott | 11/91 | Falkirk | £50,000 |
| Anderson John | 01/92 | Retired (inj) | |
| Robinson Dave | 03/92 | Reading | Free |
| Gourlay Archie | 04/92 | Motherwell | Free |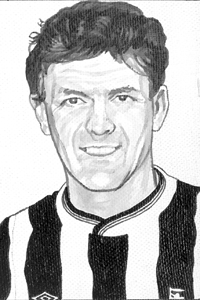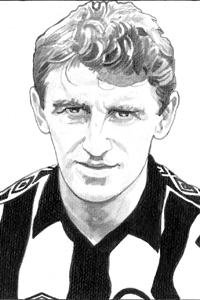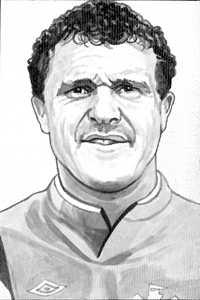 ---
Drop In
| Name | Club | From | To |
| --- | --- | --- | --- |
| Walker Andy | 09/91 | 09/91 | Celtic |
| Maguire Gavin | 10/91 | 10/91 | Portsmouth |
| Fashanu Justin | 10/91 | 10/91 | Unattached (trial) |
| Bodin Paul | 12/91 | 01/92 | C Palace |
| Wilson Terry | 01/92 | 02/92 | Nottm F |
| Kilcline Brian | 02/92 | 02/92 | Oldham |
Drop Oot
| Name | Club | From | To |
| --- | --- | --- | --- |
| Askew Billy | Gateshead | | |
| Askew Billy | Shrewsbury | | |
| Gourlay Archie | Gateshead | 07/91 | 03/92 |
| Burridge John | Hartlepool | 07/91 | 07/91 |