NUFC 1924/25 - Season Review
---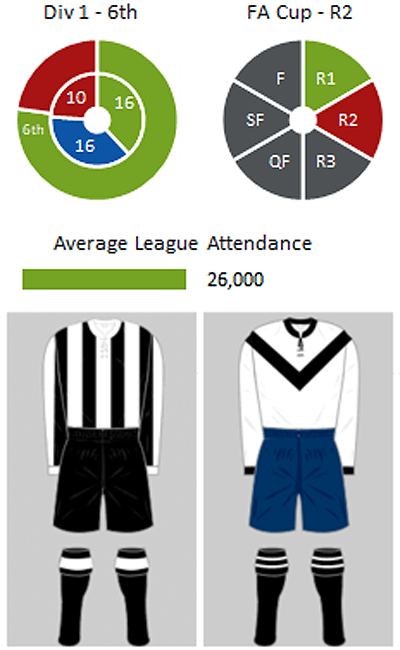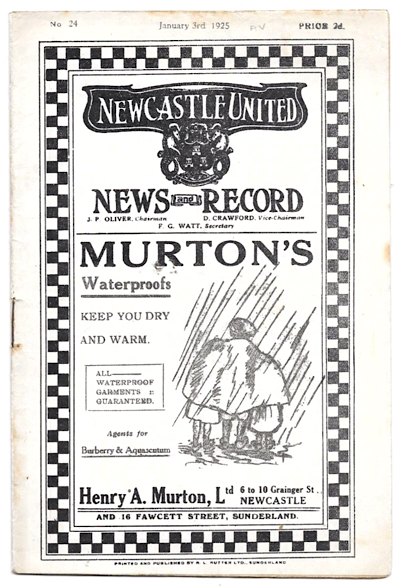 | | |
| --- | --- |
| Div 1 | 6th |
| FA Cup | R2 |
| Attendance | 26,000 |
| Chairman | JP Oliver |
| Secretary | F Watt |
| Trainer | J McPherson |
| Captain | F Hudspeth |
| Top Scorer | N Harris (20) |
After a proliferation of draws at the start of the season United went on an excellent run and they were 2nd in the table with only 5 games left, but 4 defeats saw them drop to 6th.
In the FA Cup United were beaten by Leicester in a replay. It was a game which degenerated into a display of fouls, petulance and positive ill-temper. There was a huge crowd and mounted police were required to keep the crowd off the pitch.
There had already been some recent "history" between Liverpool and Newcastle and when they met at Anfield on St. Valentine's day 3 players were ordered off in a very bad-tempered game. Liverpool's McNab was ordered off first - for kicking Maitland - and then the 'Pudlians also lost Wadsworth who was sent-off along with Newcastle's Urwin. Urwin had been annoyed by a challenge from Wadsworth and threw a clod of mud at him. The Bootle-born hard-man (who once punched a spectator due to his verbal abuse) punched/slapped him in the face in retort. All three of them received suspensions.
It wasn't just the players whose behaviour was leaving something to be desired. The Board asked the press to print a plea for supporters to "suppress the foul language at home matches" with a warning that fans caught swearing would face immediate eviction.
Kit images copyright Historical Football Kits and reproduced by kind permission
---
Competitions
---
League Division 1
| | | | | | | |
| --- | --- | --- | --- | --- | --- | --- |
| 30/8 | H | Huddersfield | L | 1-3 | | |
| 01/9 | A | Blackburn | D | 1-1 | | |
| 06/9 | A | Aston Villa | D | 0-0 | | |
| 08/9 | A | WHU | D | 0-0 | | |
| 10/9 | H | Blackburn | W | 4-0 | | |
| 13/9 | H | Arsenal | D | 2-2 | | |
| 17/9 | H | WHU | W | 4-1 | | |
| 20/9 | A | Man City | L | 1-3 | | |
| 27/9 | H | Bury | D | 2-2 | | |
| 04/10 | A | Nottm F | D | 1-1 | | |
| 11/10 | H | Liverpool | D | 0-0 | | |
| 18/10 | A | Sunderland | D | 1-1 | | |
| 25/10 | H | Cardiff | L | 1-2 | | |
| 01/11 | A | Preston | W | 1-0 | | |
| 08/11 | H | Burnley | W | 3- 0 | | |
| 15/11 | A | Leeds | D | 1-1 | | H |
| 22/11 | H | Birmingham | W | 4-0 | | |
| 29/11 | A | WBA | L | 0-2 | | |
| 06/12 | H | Tottenham | D | 1-1 | | |
| 13/12 | A | Bolton | L | 2-3 | | |
| 20/12 | H | Notts Cty | W | 1-0 | | |
| 25/12 | A | Everton | W | 1-0 | | |
| 26/12 | H | Everton | D | 1-1 | | |
| 27/12 | A | Huddersfield | D | 0-0 | | |
| 01/1 | H | Sheff Utd | D | 0-0 | | |
| 03/1 | H | Aston Villa | W | 4-1 | | |
| 17/1 | A | Arsenal | W | 2-0 | | |
| 24/1 | H | Man City | W | 2-0 | | |
| 07/2 | H | Nottm F | W | 4-1 | | |
| 11/2 | A | Bury | D | 0-0 | | |
| 14/2 | A | Liverpool | D | 1-1 | | |
| 21/2 | H | Sunderland | W | 2-0 | | |
| 28/2 | A | Cardiff | L | 0-3 | | |
| 07/3 | H | Preston | W | 3-1 | | |
| 14/3 | A | Burnley | W | 3-1 | | |
| 21/3 | H | Leeds | W | 4-1 | | |
| 28/3 | A | Birmingham | D | 1-1 | | |
| 04/4 | H | WBA | L | 0-1 | | |
| 11/4 | A | Tottenham | L | 0-3 | | |
| 13/4 | A | Sheff Utd | W | 2-1 | | |
| 18/4 | H | Bolton | L | 0-1 | | |
| 25/4 | A | Notts Cty | L | 0-2 | | |
| | | | | | | | |
| --- | --- | --- | --- | --- | --- | --- | --- |
| | | W | D | L | F | A | Pts |
| 01 | Huddersfield | 21 | 16 | 5 | 69 | 28 | 58 |
| 02 | West Brom | 23 | 10 | 9 | 58 | 34 | 56 |
| 03 | Bolton | 22 | 11 | 9 | 76 | 34 | 55 |
| 04 | Liverpool | 20 | 10 | 12 | 63 | 55 | 50 |
| 05 | Bury | 17 | 15 | 10 | 54 | 51 | 49 |
| 06 | Newcastle | 16 | 16 | 10 | 61 | 42 | 48 |
| 07 | Sunderland | 19 | 10 | 13 | 64 | 51 | 48 |
| 08 | Birmingham | 17 | 12 | 13 | 49 | 53 | 46 |
| 09 | Notts Cty | 16 | 13 | 13 | 42 | 31 | 45 |
| 10 | Man City | 17 | 9 | 16 | 76 | 68 | 43 |
| 11 | Cardiff | 16 | 11 | 15 | 56 | 51 | 43 |
| 12 | Tottenham | 15 | 12 | 15 | 52 | 43 | 42 |
| 13 | West Ham | 15 | 12 | 15 | 62 | 60 | 42 |
| 14 | Sheff Utd | 13 | 13 | 16 | 55 | 63 | 39 |
| 15 | Aston Villa | 13 | 13 | 16 | 58 | 71 | 39 |
| 16 | Blackburn | 11 | 13 | 18 | 53 | 66 | 35 |
| 17 | Everton | 12 | 11 | 19 | 40 | 60 | 35 |
| 18 | Leeds | 11 | 12 | 19 | 46 | 59 | 34 |
| 19 | Burnley | 11 | 12 | 19 | 46 | 75 | 34 |
| 20 | Arsenal | 14 | 5 | 23 | 46 | 58 | 33 |
| 21 | Preston | 10 | 6 | 26 | 37 | 74 | 26 |
| 22 | Nottm Forest | 6 | 12 | 24 | 29 | 65 | 24 |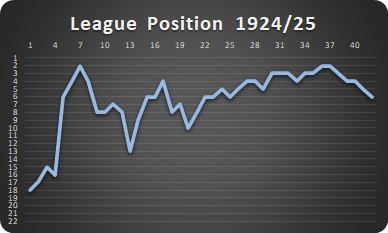 ---
FA Cup
| | | | | | | | |
| --- | --- | --- | --- | --- | --- | --- | --- |
| R1 | 10/1 | H | Hartlepool Utd | W | 4 - 1 | | |
| R2 | 31/1 | H | Leicester | D | 2 - 2 | | |
| R2r | 05/2 | A | Leicester | L | 0 - 1 | | |
---
Squad and Team
---
| Player | A | G |
| --- | --- | --- |
| Bradley B | 39 | |
| Clark B | 18 | 4 |
| Cowan W | 38 | 12 |
| Curry T | 18 | |
| Gibson W | 37 | |
| Hampson B | 32 | |
| Harris N | 36 | 20 |
| Hudspeth F | 37 | 1 |
| Hunter J | 4 | |
| Keating A | 5 | 2 |
| Loughlin J | 1 | |
| Low J | 17 | 2 |
| MacKenzie R | 26 | 1 |
| Maitland A | 11 | |
| McDonald T | 36 | 13 |
| Mitchell T | 4 | |
| Mooney E | 16 | 1 |
| Mutch S | 2 | |
| Russell S | 6 | |
| Seymour S | 38 | |
| Spencer C | 38 | |
| Tate Is | 4 | |
| Urwin T | 32 | |
Embed from Getty Images
01: Bradley
02: Hampson
03: Hudspeth
04: Mooney > McKenzie
05: Spencer
06: Gibson
07: Urwin
08: Cowan or Clark
09: Harris
10: McDonald or Cowan
11: Seymour
---
Player Moves
---
Toon In
| Name | Date | From | Fee |
| --- | --- | --- | --- |
| Urwin Tommy | 08/24 | Middlesbrough | £3,200 |
| Maitland Alfred | 10/24 | Middlesbrough | £1,000 |
| Loughlin James | 11/24 | Darlington RA | £125 |
| Park Oswald | 11/24 | Darlington RA | £125 |
| Boyd James | 05/25 | Edinburgh St. Bernards | £600 |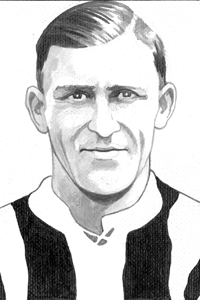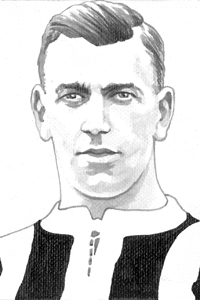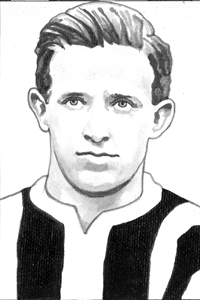 ---
Toon Out
| Name | Date | To | Fee |
| --- | --- | --- | --- |
| Aitken William | 06/24 | Preston | £1,000 |
| Low Wilfred | 06/24 | Retired | |
| Mcintosh Robert | 10/24 | Stockport | £500 |
| Mutch Alex | /24 | Retired (inj) | |
| Hunter James | 05/1925 | New Bedford | |
| Russel Samuel | 05/25 | Shelbourne | |