NUFC 1923/24 - Season Review
---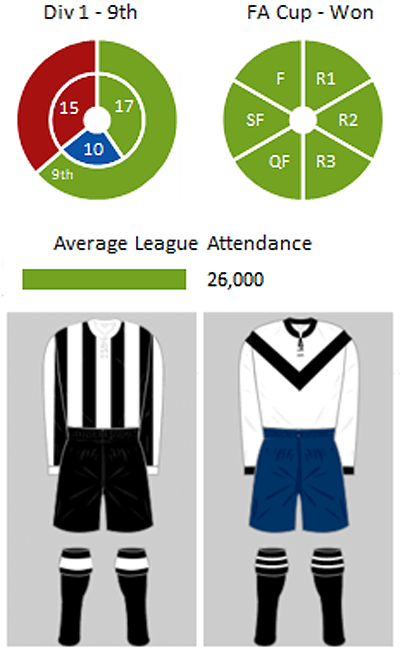 | | |
| --- | --- |
| Div 1 | 9th |
| FA Cup | Won |
| Attendance | 26,000 |
| Chairman | JP Oliver |
| Secretary | F Watt |
| Trainer | J McPherson |
| Captain | F Hudspeth |
| Top Scorer | N Harris (23) |
After years of FA Cup disappointment Newcastle emerged victorious at Wembley against strong favourites Aston Villa.
It took them eight games to get to the Final including a famous "four gamer" against Second Division Derby. It was a classic final, won with two goals in the last seven minutes from Seymour and Harris.
League form was indifferent with United spending the vast majority of the season hanging around mid-table.
In the last game of the season (a week before the Final) the Magpies lost 6-1 at Villa Park after they put out a reserve side; a decision which cost them a whopping £750 fine.
New arrivals included two more Scots; left-half William Gibson and left-back James Hunter. It was a very experienced side and in some matches the average age topped 32.
Kit images copyright Historical Football Kits and reproduced by kind permission
---
Competitions
---
League Division 1
| | | | | | | |
| --- | --- | --- | --- | --- | --- | --- |
| 25/8 | A | Arsenal | W | 4-1 | | |
| 29/8 | H | Blackburn | W | 2-1 | | |
| 01/9 | H | Arsenal | W | 1-0 | | |
| 08/9 | H | Sheff Utd | D | 2-2 | | |
| 12/9 | H | Bolton | W | 1-0 | | |
| 15/9 | A | Sheff Utd | L | 1-2 | | |
| 17/9 | A | Blackburn | L | 1-2 | | |
| 22/9 | H | Cardiff | D | 1-1 | | |
| 29/9 | A | Cardiff | L | 0-1 | | |
| 06/10 | A | WHU | L | 0-1 | | |
| 13/10 | H | WHU | D | 0-0 | | |
| 20/10 | A | Middlesbrough | L | 0-1 | | |
| 27/10 | H | Middlesbrough | W | 3-2 | | |
| 03/11 | A | Man City | D | 1-1 | | |
| 10/11 | H | Man City | W | 4-1 | | |
| 17/11 | A | Preston | W | 2-1 | | |
| 24/11 | H | Preston | W | 3-1 | | |
| 01/12 | A | Burnley | L | 2-3 | | |
| 08/12 | H | Burnley | W | 2-0 | | |
| 15/12 | A | Sunderland | L | 2-3 | | |
| 22/12 | H | Sunderland | L | 0-2 | | |
| 25/12 | A | Liverpool | W | 1-0 | | |
| 26/12 | H | Liverpool | W | 2-1 | | |
| 29/12 | A | Nottm F | D | 0-0 | | |
| 01/1 | H | Aston Villa | W | 4-1 | | |
| 05/1 | H | Nottm F | W | 4-0 | | |
| 19/1 | A | Tottenham | L | 0-2 | | |
| 26/1 | H | Tottenham | D | 2-2 | | |
| 09/2 | H | Huddersfield | L | 0-1 | | |
| 16/2 | A | Notts Cty | L | 0-1 | | |
| 27/2 | A | Huddersfield | D | 1-1 | | |
| 01/3 | A | Everton | D | 2-2 | | |
| 15/3 | H | WBA | D | 1-1 | | |
| 19/3 | H | Notts Cty | L | 1-2 | | |
| 22/3 | A | WBA | D | 0-0 | | |
| 02/4 | H | Everton | W | 3-1 | | |
| 05/4 | A | Birmingham | L | 1-4 | | |
| 09/4 | H | Birmingham | W | 2-1 | | |
| 12/4 | H | Chelsea | W | 2-1 | | |
| 18/4 | A | Bolton | W | 1-0 | | |
| 19/4 | A | Chelsea | L | 0-1 | | |
| 21/4 | A | Aston Villa | L | 1-6 | | |
| | | | | | | | |
| --- | --- | --- | --- | --- | --- | --- | --- |
| | | W | D | L | F | A | Pts |
| 01 | Huddersfield | 23 | 11 | 8 | 60 | 33 | 57 |
| 02 | Cardiff | 22 | 13 | 7 | 61 | 34 | 57 |
| 03 | Sunderland | 22 | 9 | 11 | 71 | 54 | 53 |
| 04 | Bolton | 18 | 14 | 10 | 68 | 34 | 50 |
| 05 | Sheff Utd | 19 | 12 | 11 | 69 | 49 | 50 |
| 06 | Aston Villa | 18 | 13 | 11 | 52 | 37 | 49 |
| 07 | Everton | 18 | 13 | 11 | 62 | 53 | 49 |
| 08 | Blackburn | 17 | 11 | 14 | 54 | 50 | 45 |
| 09 | Newcastle | 17 | 10 | 15 | 60 | 54 | 44 |
| 10 | Notts Cty | 14 | 14 | 14 | 44 | 49 | 42 |
| 11 | Man City | 15 | 12 | 15 | 54 | 71 | 42 |
| 12 | Liverpool | 15 | 11 | 16 | 49 | 48 | 41 |
| 13 | West Ham | 13 | 15 | 14 | 40 | 43 | 41 |
| 14 | Birmingham | 13 | 13 | 16 | 41 | 49 | 39 |
| 15 | Tottenham | 12 | 14 | 16 | 50 | 56 | 38 |
| 16 | West Brom | 12 | 14 | 16 | 51 | 62 | 38 |
| 17 | Burnley | 12 | 12 | 18 | 55 | 60 | 36 |
| 18 | Preston | 12 | 10 | 20 | 52 | 67 | 34 |
| 19 | Arsenal | 12 | 9 | 21 | 40 | 63 | 33 |
| 20 | Nottm Forest | 10 | 12 | 20 | 42 | 64 | 32 |
| 21 | Chelsea | 9 | 14 | 19 | 31 | 53 | 32 |
| 22 | Middlesbrough | 7 | 8 | 27 | 37 | 60 | 22 |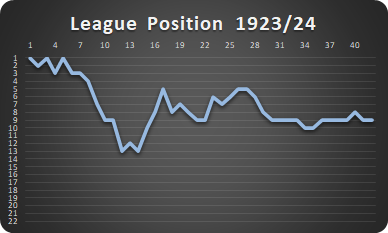 ---
FA Cup
| | | | | | | | |
| --- | --- | --- | --- | --- | --- | --- | --- |
| R3 | 12/1 | A | Portsmouth | W | 4-2 | | |
| R4 | 02/2 | A | Derby | D | 2-2 | | |
| R4r | 06/2 | H | Derby | D | 2-2 | | |
| R4r2 | 11/2 | A | Derby | D | 2-2 | | |
| R4r3 | 13/2 | H | Derby | W | 5-3 | | |
| R5 | 23/2 | A | Watford | W | 1-0 | | |
| QF | 08/3 | H | Liverpool | W | 1-0 | | |
| SF | 29/3 | | Man City | W | 2-0 | | H |
| Fin | 26/4 | N | Aston Villa | W | 2-0 | | |
---
Squad and Team
---
| Player | A | G |
| --- | --- | --- |
| Aitken B | 30 | 3 |
| Bradley B | 25 | |
| Clark R | 11 | 1 |
| Clark J | 8 | 1 |
| Cowan W | 30 | 8 |
| Curry T | 35 | |
| Finlay J | 3 | |
| Gibson W | 28 | 2 |
| Hampson B | 36 | 1 |
| Harris N | 42 | 23 |
| Hudspeth F | 37 | 3 |
| Hunter J | 8 | |
| Keating A | 7 | 1 |
| Low J | 29 | 2 |
| Low W | 10 | |
| MacKenzie R | 4 | |
| McDonald T | 44 | 12 |
| McIntosh R | 17 | |
| Mitchell T | 9 | 2 |
| Mooney E | 33 | |
| Mutch S | 26 | |
| Roxburgh R | 3 | |
| Russell S | 16 | |
| Scott W | 1 | |
| Seymour S | 42 | 21 |
| Spencer C | 25 | |
| Thompson F | 2 | 1 |
Embed from Getty Images
01: Bradley > Mutch
02: Hampson
03: Hudspeth
04: McIntosh > Curry
05: Spencer or Mooney
06: Curry > Gibson
07: Low J or Aitken
08: Cowan or Clark
09: Harris
10: McDonald
11: Seymour
---
Player Moves
---
Toon In
| Name | Date | From | Fee |
| --- | --- | --- | --- |
| Cowan William | 07/23 | Dundee | £2,250 |
| Tate Isaac | 08/23 | Marley Hill | £5 |
| Gibson William | 11/23 | Ayr Utd | £2,500 |
| Thompson Frank | 11/23 | St Peters Albion | |
| Hunter James | 01/24 | Falkirk | £3,500 |
| Dowsey John | 03/24 | Hunswick Villa | £10 |
| Taylor Allan | 04/24 | Preston Colliery | |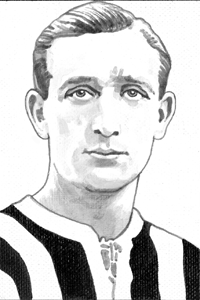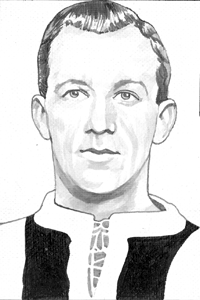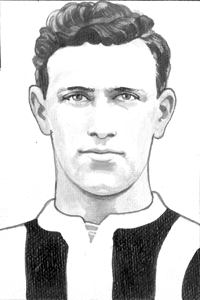 ---
Toon Out
| Name | Date | To | Fee |
| --- | --- | --- | --- |
| Woods Harry | 06/23 | Arsenal | |
| Richardson Edward | cs/23 | Huddersfield | |
| Swan Chris | 07/23 | Stockport | |
| Clark James | 05/24 | Leeds Utd | £300 |
| Roxburgh Robert | 05/24 | Blackburn Rovers | £375 |