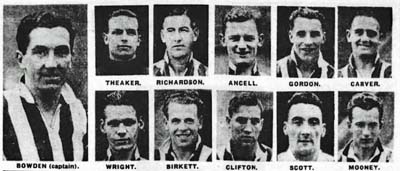 Goalkeepers
Swinburne [31] got the nod at the start of the season but was replaced by new signing Theaker [15] in the New Year.
Backs
Richardson [34] was backed up by Craig [9] on the right and Ancell [46] was an ever present on the left.
Half Backs
Gordon [28], Denmark [34] and ever present Wright [46] were the regulars with Carver [11] in reserve.
Forwards
Birkett [26] and Park [15] shared the outside-right position with Stubbins [24] or Clifton [33] generally used on the inside.
Cairns [33] was the pivot for most of the matches.
The left side was usually covered by Bowden [31] with Mooney [42] on the outside.
Total number of players used: 24