NUFC 1897/98 - Season Review
---
---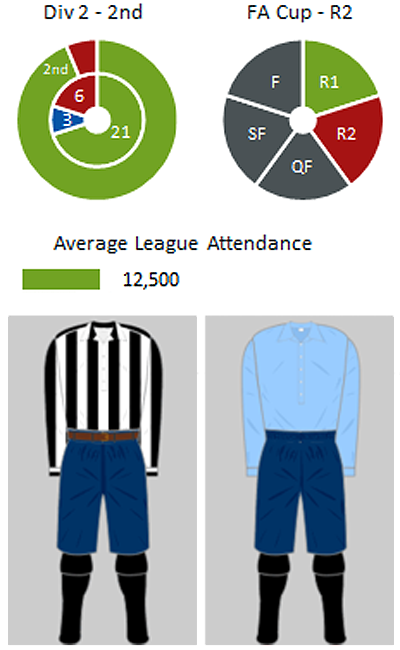 | | |
| --- | --- |
| Div 2 | 2nd |
| FA Cup | R2 |
| Attendance | 12,500 |
| Chairman | W Neasham |
| Secretary | F Watt |
| Trainer | T Dodds |
| Captain | J Stott |
| Top Scorer | J Peddie (19) |
At the fifth time of asking Newcastle finally achieved promotion to Division 1. They chased eventual champions Burnley all the way with new signing Peddie rattling in the goals but eventually had to settle for 2nd place.
At that time promotion was not automatic and Burnley and United had to take part in a series of test matches with the two bottom clubs in Division 1: Stoke and Blackburn.
A goalless last match between Burnley and Stoke meant they finished top and achieved First Division status but the match was a farce with the teams deliberately playing for the draw that suited them both. There was a huge outcry and as a result the top division was extended by two and all four teams ended up in the First.
United also had to enter the Qualifying Rounds of the FA Cup for the one and only time playing three games before they recorded an excellent win away to First Division Preston. But there was a shock in store in the 2nd Round as Newcastle were beaten by non-league outfit Southampton St Marys.
Kit images copyright Historical Football Kits and reproduced by kind permission
---
Competitions
---
Division 1
| | | | | | | |
| --- | --- | --- | --- | --- | --- | --- |
| 4/9 | H | W Arsenal | W | 4-1 | | |
| 11/9 | A | Walsall | W | 3-2 | 4 | |
| 18/9 | H | Burton S | W | 3-1 | 4 | |
| 25/9 | A | Lincoln | W | 3-2 | 4 | |
| 2/10 | A | Burnley | L | 0-3 | 5 | |
| 9/10 | H | N Heath | W | 2-0 | 4 | |
| 16/10 | A | W Arsenal | D | 0-0 | | |
| 23/10 | H | Blackpool | W | 2-0 | | |
| 6/11 | A | Grimsby | L | 0-2 | 4 | |
| 13/11 | A | N Heath | W | 1-0 | 3 | |
| 27/11 | H | S Heath | W | 4-0 | 3 | |
| 4/12 | A | Gainsborough T | W | 3-1 | 2 | |
| 18/12 | A | Burton S | L | 1-3 | 3 | |
| 25/12 | A | Blackpool | W | 3-2 | 3 | |
| 27/12 | H | Burnley | L | 0-1 | 3 | |
| 1/1 | H | Walsall | W | 2-1 | 3 | |
| 3/1 | H | Loughborough | W | 3-1 | 3 | |
| 8/1 | A | Man City | D | 1-1 | 3 | |
| 15/1 | H | Darwen | W | 1-0 | 3 | |
| 22/1 | H | Leicester F | W | 4-2 | 2 | |
| 19/2 | A | Luton | L | 1-3 | 3 | |
| 26/2 | H | Lincoln | W | 3-0 | 2 | |
| 5/3 | A | Darwen | W | 3-1 | 2 | |
| 12/3 | H | Luton | W | 4-1 | 2 | |
| 16/3 | H | Man City | W | 2-0 | 2 | |
| 26/3 | H | Grimsby | W | 4-0 | 2 | |
| 2/4 | H | Gainsborough T | W | 5-2 | 2 | |
| 9/4 | A | Leicester F | D | 1-1 | 2 | |
| 11/4 | A | Loughborough | W | 1-0 | 2 | |
| 12/4 | A | S Heath | L | 0-1 | 2 | |
Test Matches
| | | | | | | |
| --- | --- | --- | --- | --- | --- | --- |
| 20/4 | H | Stoke | W | 2-1 | | |
| 23/4 | A | Stoke | L | 0-1 | | |
| 28/4 | A | Blackburn | L | 3-4 | | |
| 30/4 | H | Blackburn | W | 4-0 | | |
| | | | | | | | |
| --- | --- | --- | --- | --- | --- | --- | --- |
| | | W | D | L | F | A | Pts |
| 01 | Burnley | 20 | 8 | 2 | 80 | 24 | 48 |
| 02 | Newcastle | 21 | 3 | 6 | 64 | 32 | 45 |
| 03 | Man City | 15 | 9 | 6 | 66 | 36 | 39 |
| 04 | N Heath | 16 | 6 | 8 | 64 | 35 | 38 |
| 05 | W Arsenal | 16 | 5 | 9 | 69 | 49 | 37 |
| 06 | S Heath | 16 | 4 | 10 | 58 | 50 | 36 |
| 07 | Leicester F | 13 | 7 | 10 | 46 | 35 | 33 |
| 08 | Luton | 13 | 4 | 13 | 68 | 50 | 30 |
| 09 | Gainsborough T | 12 | 6 | 12 | 50 | 54 | 30 |
| 10 | Walsall | 12 | 5 | 13 | 58 | 58 | 29 |
| 11 | Blackpool | 10 | 5 | 15 | 49 | 61 | 25 |
| 12 | Grimsby | 10 | 4 | 16 | 52 | 62 | 24 |
| 13 | Burton S | 8 | 5 | 17 | 38 | 69 | 21 |
| 14 | Lincoln | 6 | 5 | 19 | 43 | 82 | 17 |
| 15 | Darwen | 6 | 2 | 22 | 31 | 76 | 14 |
| 16 | Loughborough | 6 | 2 | 22 | 24 | 87 | 14 |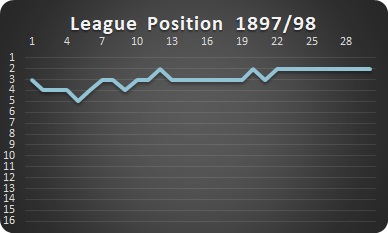 ---
FA Cup
| | | | | | | | |
| --- | --- | --- | --- | --- | --- | --- | --- |
| FAC | 30/10 / | H | Willington | W | 6-0 | | |
| FAC | 20/11 | A | Stockton | W | 4-1 | | |
| FAC | 11/12 | A | Middlesbrough | W | 2-0 | | |
| FAC | 29/1 | A | Preston | W | 2-1 | | |
| FAC | 12/2 | A | Southampton | L | 0-1 | | |
---
Squad and Team
---
| Player | A | G |
| --- | --- | --- |
| Aitken, A | 31 | 9 |
| Allan, R | 29 | 4 |
| Allen, J | 1 | |
| Campbell, J | 27 | 12 |
| Carr, J | 2 | |
| Ghee, T | 37 | 2 |
| Harvey, J | 32 | 9 |
| Jackson, J | 36 | 3 |
| Lennox, M | 4 | |
| Lindsay, W | 9 | |
| Lockey, J | 2 | |
| Milne, W | 1 | |
| Niblo, T | 1 | |
| Ostler, J | 34 | 2 |
| Peddie, J | 24 | 18 |
| Smith, W | 14 | 6 |
| Stewart, T | 12 | |
| Stott, J | 35 | 2 |
| Wardrope, W | 35 | 15 |
| Watts, C | 39 | |
| White, J | 24 | 1 |
| own goals | | 4 |
01: (1) Watts
02: (4) Stewart > White > Lindsay
03: (3) Jackson
04: (3) Ghee
05: (2) Ostler
06: (3) Stott
07: (3) Alien R
08: (5) Harvey
09: (5) Campbell > Peddle
10: (4) Aitken > Smith
11: (3) Wardrope
---
Player Moves
---
Toon In
| Name | Date | From | Fee |
| --- | --- | --- | --- |
| Peddie John | 9/1897 | Third Lanark | £135 |
| Carr John | 12/1897 | Seaton Burn | Free |
| Milne William | /1897 | Sunderland | |
| ALLEN John | 1/1898 | B Auckland | |
| Smith William | 1/1898 | Hibernians | |
| Lindsay William | 2/1898 | Grimsby | £150 |
| Kingsley Matthew | 4/1898 | Darwen | |
| Higgins William | 5/1898 | Bristol City | |
| Mowatt Archibald | 5/1898 | Newcastle East End | |
| Rogers Joseph | 5/1898 | Grimsby | £110 |
---
Toon Out
| Name | Date | To | Fee |
| --- | --- | --- | --- |
| Auld John | 6/1897 | Retired | £0 |
| Smelie Richard | 6/1897 | ?? | |
| Adams George | 7/1897 | Hebburn Argyle | |
| Ryder Joseph | 7/1897 | | |
| Connel J | cs/1897 | ?? | |
| Kinsella J | cs/1897 | ?? | |
| Mckay William | /1897 | ?? | |
| Patten John | /1897 | Hebburn Argyle | |
| Thompson Wk | /1897 | Jarrow | |
| Allan Richard | 5/1898 | Bristol St George | |
| Carr John R | 5/1898 | Kilmarnock | |
| Milne William | 5/1898 | ?? | |