NUFC 1899/00 - Season Review
---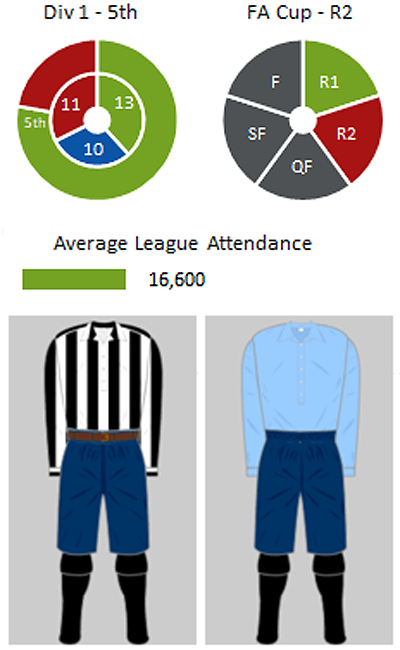 | | |
| --- | --- |
| Div 1 | 5th |
| FA Cup | R2 |
| Attendance | 16,600 |
| Chairman | W Neasham |
| Secretary | F Watt |
| Trainer | T Dodds |
| Captain | A Aitken |
| Top Scorer | J Peddie (16) |
With the coffers beginning to expand United relaid the pitch, installed a new drainage system and constructed a grass terrace on the Leazes Park side of the ground. St James' could now accomodate 30,000 "with comfort".
The new capacity was only reached once for the home game against Sheffield United and crowds continued to average out at around 16,000
United's great Edwardian team was now starting to take shape and future stalwarts Gardner, Veitch and Carr all made their debut in a season that saw united finish in 5th.
Kit images copyright Historical Football Kits and reproduced by kind permission
---
Competitions
---
Division 1
| | | | | | | |
| --- | --- | --- | --- | --- | --- | --- |
| 2/9 | A | WBA | D | 1-1 | | |
| 9/9 | H | Everton | W | 2-0 | 18 | |
| 16/9 | A | Blackburn | W | 3-2 | 18 | |
| 23/9 | H | Derby | W | 2-0 | 18 | |
| 30/9 | A | Bury | L | 1-2 | 17 | |
| 7/10 | H | Notts C | W | 6-0 | 17 | |
| 14/10 | A | Man City | L | 0-1 | 18 | |
| 21/10 | H | Sheff Utd | D | 0-0 | 18 | |
| 28/10 | H | Wolves | L | 0-1 | 18 | |
| 4/11 | A | Aston Villa | L | 1-2 | 18 | |
| 11/11 | H | Liverpool | D | 1-1 | 18 | |
| 18/11 | A | Burnley | W | 3-1 | 18 | |
| 25/11 | H | Preston | D | 0-0 | 17 | |
| 2/12 | A | Nottm F | L | 0-1 | 18 | |
| 16/12 | A | Stoke | D | 2-2 | 17 | |
| 23/12 | H | Sunderland | L | 2-4 | 17 | |
| 30/12 | H | WBA | W | 4-2 | 15 | |
| 6/1 | A | Everton | L | 2-3 | 13 | |
| 13/1 | H | Blackburn | W | 4-1 | 13 | |
| 20/1 | A | Derby | L | 1-2 | 13 | |
| 3/2 | H | Bury | W | 2-1 | 14 | |
| 3/3 | A | Wolves | D | 1-1 | 16 | |
| 10/3 | H | Aston Villa | W | 3-2 | 14 | |
| 14/3 | H | Glossop NE | W | 1-0 | 13 | |
| 17/3 | A | Liverpool | L | 0-2 | 13 | |
| 24/3 | H | Burnley | W | 2-0 | 11 | |
| 26/3 | A | Sheff Utd | L | 1-3 | 13 | |
| 31/3 | A | Preston | L | 1-4 | 13 | |
| 7/4 | H | Nottm F | W | 3-1 | 11 | |
| 13/4 | H | Man City | D | 0- 0 | 14 | |
| 14/4 | A | Glossop NE | D | 0-0 | 14 | |
| 16/4 | A | Notts C | D | 0-0 | 13 | |
| 21/4 | H | Stoke | D | 2-2 | 10 | |
| 28/4 | A | Sunderland | W | 2-1 | 13 | |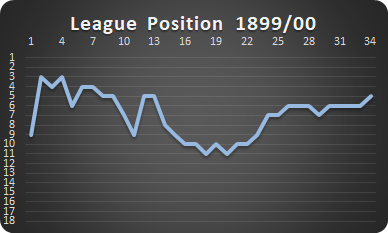 ---
FA Cup
| | | | | | | | |
| --- | --- | --- | --- | --- | --- | --- | --- |
| FAC | 27/1 | H | Reading | W | 2-1 | | |
| FAC | 17/2 | A | Southampton | L | 1-4 | | |
---
Squad and Team
---
| Player | A | G |
| --- | --- | --- |
| Aitken, A | 36 | |
| Birnie, T | 8 | |
| Carr, J | 23 | 1 |
| Fraser, J | 32 | 8 |
| Gardner, A | 21 | 6 |
| Gardner, D | 35 | 1 |
| Ghee, T | 31 | 1 |
| Higgins, W | 20 | 1 |
| Kingsley, M | 35 | |
| Lindsay, J | 2 | |
| Lindsay, W | 23 | |
| MacFarlane, S | 32 | 6 |
| Mole, G | 1 | 1 |
| Niblo, T | 11 | 2 |
| Ostler, J | 1 | |
| Peddie, J | 29 | 16 |
| Rogers, J | 25 | 3 |
| Stevenson, J | 11 | 6 |
| Veitch, C | 1 | |
| Wardrope, W | 18 | 4 |
| Watts, C | 1 | |
| own goals | | 1 |
01: (2) Kingsley
02: (5) Lindsay
03: (3) Gardner D
04: (3) Ghee
05: (3) Higgins > Aitken
06: (2) Aitken > Carr
07: (3) Rogers
08: (4) Niblo > Gardner Al
09: (4) Peddle
10: (4) MacFarlane
11: (2) Fraser
---
Player Moves
---
Toon In
| Name | Date | From | Fee |
| --- | --- | --- | --- |
| Fraser John | 6/1899 | Notts County | |
| Gardner Alex | 11/1899 | Leith Athletic | |
| Mole George | 1/1900 | Stockton St Johns | |
| Littlefair James | 4/1900 | Burradon | |
| Allen Edward | 5/1900 | Millwall Athletic | |
| Burgess Charles | 5/1900 | Millwall Athletic | Free |
| Heywood Fred | 5/1900 | Turton | |
| Innerd Wilfred | 5/1900 | Wallsend Park Villa | |
| Mcintyre Edward | 5/1900 | Allendale Park | |
| Mowatt Archibald | 5/1900 | | |
---
Toon Out
| Name | Date | To | Fee |
| --- | --- | --- | --- |
| Lockey James | 6/1899 | | |
| Mowatt Archibald | 6/1899 | | |
| Miller W | 7/1899 | Kilmarnock | |
| Stott James | 9/1899 | Middlesbrough | |
| Mcdonald J | 11/1899 | Lincoln City | |
| Smith William | /1899 | ?? | |
| Higgins William | 5/1900 | Middlesbrough | |
| Lindsay William | 5/1900 | Luton | |
| Wardrope William | 5/1900 | Middlesbrough | |