The average attendance increased by 40% as United became the second best supported team in the country. On six separate occasions the crowd was estimated as 20,000 plus with the biggest crowd (25,000 estimate) for the visit of Aston Villa.
As a result "human landslides" occurred from time to time in the imposing low end stand and to deal with the problem the club erected short barricades at different intervals, parallel to the length of the stand.
In December an excellent photograph of the players was issued with the Christmas number of the "Northern Gossip" available at the low price of 2d.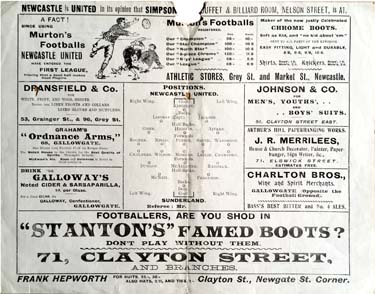 The crowd was - on occasion - boisterous to say the least and the club and it's fans were often criticised with the home game against Sheffield United certainly caused a stir.
Under the heading of "Noisy Newcastle" - the London Football Evening News printed a scathing attack on the supporters. This is what they had to say.
The Newcastle crowd sustained its unenviable reputation for rowdyism on Saturday week, when the League leaders (Sheffield United) snatched victory from them.
Every decision of the referee which did not suit the crowd was greeted with a storm of hooting and yelling from all around the ground, while the instances of absolutely filthy language are reported to have been numerous.
Every club which visits St. James's Park has the same story to tell of hostile receptions and disgusting abuse. The ground, owing to its peculiar conformation, is in itself a big handicap to visiting teams, without the added disadvantage of a blackguardly crowd.
If the club directors do not bestir themselves, they will wake up some fine morning and find that the ground has been closed for a month by the Association. If the League had power to do this, a proposition to that effect would secure a good three-fourths majority of club delegates.