Newcastle United 1959/60 Summary
---
NUFC 1959/60 Squad
---
| | | | |
| --- | --- | --- | --- |
| Division 1 | 8th | Manager | C Mitten |
| FA Cup | R3 | Trainer | N Smith |
| Attendance | 36,037 | Captain | B Stokoe |
| Chairman | W McKeag > W Hurford | Top Scorer | L White (29) |
---
---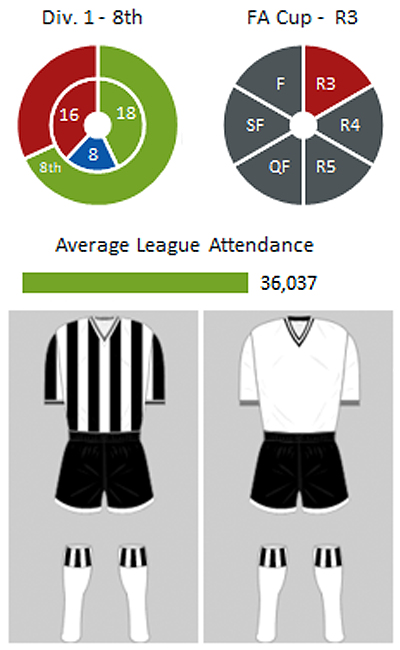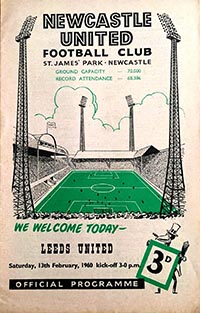 United once again opened with a 5-1 defeat at home; this time Spurs were their vanquishers and by the end of October they had slumped into 18th. But in the next game they beat Everton 8-2 and they went off on a goal blitz, scoring 33 goals in only ten games (including a 7-3 victory over Man Utd.
Eastham, Allchurch and White had formed a devastating inside forward combination which was as good as any in the country. By the end of March they had climbed to 5th, but one win in the last seven meant they settled in 8th.
In the FA Cup 3rd Round they played out a couple of classics against Wolves but lost the replay at Molineux 4-2.
With Wally Hurford now installed as Chairman it seemed possible that peace was about to break out; in reality the clubs troubles were only just beginning.
---
League
| | | | | | | |
| --- | --- | --- | --- | --- | --- | --- |
| 22/8/59 | H | Tottenham | L | 1-5 | | |
| 26/8/59 | A | Birmingham | L | 3-4 | | |
| 29/8/59 | A | Manchester Utd | L | 2-3 | | |
| 02/9/59 | H | Birmingham | W | 1-0 | | |
| 05/9/59 | H | Preston | L | 1-2 | | |
| 09/9/59 | A | WBA | D | 2-2 | | |
| 12/9/59 | A | Leicester | W | 2-0 | | |
| 16/9/59 | H | WBA | D | 0-0 | | |
| 19/9/59 | H | Burnley | L | 1-3 | | |
| 26/9/59 | A | Leeds Utd | W | 3-2 | | |
| 03/10/59 | H | WHU | D | 0-0 | | |
| 10/10/59 | H | Nottm F | W | 2-1 | | |
| 17/10/59 | A | Fulham | L | 3-4 | | |
| 24/10/59 | H | Bolton | L | 0-2 | | |
| 31/10/59 | A | Wolves | L | 0-2 | | |
| 07/11/59 | H | Everton | W | 8-2 | | |
| 14/11/59 | A | Blackpool | L | 0-2 | | |
| 21/11/59 | H | Blackburn | W | 3-1 | | |
| 28/11/59 | A | Man City | W | 4-3 | | |
| 05/12/59 | H | Arsenal | W | 4-1 | | |
| 12/12/59 | A | Luton | W | 4-3 | | |
| 19/12/59 | A | Tottenham | L | 0-4 | | |
| 26/12/59 | A | Chelsea | D | 2-2 | | |
| 28/12/59 | H | Chelsea | D | 1-1 | | |
| 02/1/60 | H | Manchester Utd | W | 7-3 | | |
| 16/1/60 | A | Preston | W | 2-1 | | |
| 23/1/60 | H | Leicester | L | 0-2 | | |
| 06/2/60 | A | Burnley | L | 1-2 | | |
| 13/2/60 | H | Leeds Utd | W | 2-1 | | |
| 20/2/60 | A | WHU | W | 5-3 | | |
| 27/2/60 | A | Arsenal | L | 0-1 | | |
| 05/3/60 | H | Fulham | W | 3-1 | | |
| 12/3/60 | A | Bolton | W | 4-1 | | |
| 19/3/60 | H | Luton | W | 3-2 | | |
| 25/3/60 | A | Everton | W | 2-1 | | |
| 02/4/60 | H | Blackpool | D | 1-1 | | |
| 09/4/60 | A | Blackburn | D | 1-1 | | |
| 15/4/60 | H | Sheff Wed | D | 3-3 | | |
| 16/4/60 | H | Wolves | W | 1-0 | | |
| 18/4/60 | A | Sheff Wed | L | 0-2 | | |
| 23/4/60 | A | Nottm F | L | 0-3 | | |
| 30/4/60 | H | Man City | L | 0-1 | | |
| | | | | | | | |
| --- | --- | --- | --- | --- | --- | --- | --- |
| | | W | D | L | F | A | Pts |
| 01 | Burnley | 24 | 7 | 11 | 85 | 61 | 55 |
| 02 | Wolverhampton Wanderers | 24 | 6 | 12 | 106 | 67 | 54 |
| 03 | Tottenham Hotspur | 21 | 11 | 10 | 86 | 50 | 53 |
| 04 | West Bromwich Albion | 19 | 11 | 12 | 83 | 57 | 49 |
| 05 | Sheffield Wednesday | 19 | 11 | 12 | 80 | 59 | 49 |
| 06 | Bolton Wanderers | 20 | 8 | 14 | 59 | 51 | 48 |
| 07 | Manchester United | 19 | 7 | 16 | 102 | 80 | 45 |
| 08 | Newcastle United | 18 | 8 | 16 | 82 | 78 | 44 |
| 09 | Preston North End | 16 | 12 | 14 | 79 | 76 | 44 |
| 10 | Fulham | 17 | 10 | 15 | 73 | 80 | 44 |
| 11 | Blackpool | 15 | 10 | 17 | 59 | 71 | 40 |
| 12 | Leicester City | 13 | 13 | 16 | 66 | 75 | 39 |
| 13 | Arsenal | 15 | 9 | 18 | 68 | 80 | 39 |
| 14 | West Ham United | 16 | 6 | 20 | 75 | 91 | 38 |
| 15 | Everton | 13 | 11 | 18 | 73 | 78 | 37 |
| 16 | Manchester City | 17 | 3 | 22 | 78 | 84 | 37 |
| 17 | Blackburn Rovers | 16 | 5 | 21 | 60 | 70 | 37 |
| 18 | Chelsea | 14 | 9 | 19 | 76 | 91 | 37 |
| 19 | Birmingham City | 13 | 10 | 19 | 63 | 80 | 36 |
| 20 | Nottingham Forest | 13 | 9 | 20 | 50 | 74 | 35 |
| 21 | Leeds United | 12 | 10 | 20 | 65 | 92 | 34 |
| 22 | Luton Town | 9 | 12 | 21 | 50 | 73 | 30 |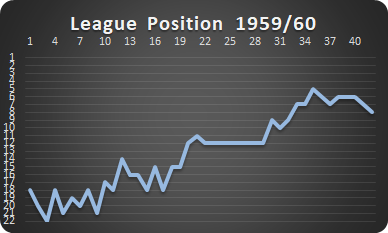 ---
---
FA Cup
| | | | | | | | |
| --- | --- | --- | --- | --- | --- | --- | --- |
| FAC | 09/1/60 | H | Wolves | D | 2-2 | | |
| FAC | 13/1/60 | A | Wolves | L | 2-4 | | |
---
---
---
Players
---
Squad
| Player | A | G |
| --- | --- | --- |
| Allchurch I | 43 | 14 |
| Bell J | 40 | 5 |
| Eastham G | 44 | 20 |
| Ferguson B | 1 | |
| Franks A | 3 | |
| Gilfillan B | 5 | |
| Hale K | 1 | 2 |
| Harvey B | 32 | |
| Heslop G | 9 | |
| Hughes G | 33 | 5 |
| Keith D | 24 | |
| Luke G | 25 | 2 |
| Malcolm G | 1 | |
| Marshall T | 1 | |
| McGuigan J | 1 | |
| McKinney B | 8 | |
| McMichael A | 43 | |
| Mitchell B | 15 | |
| Mitchell S | 9 | |
| Mitten J | 6 | 3 |
| Scott M | 5 | 2 |
| Scoular J | 34 | |
| Simpson R | 3 | |
| Stokoe B | 33 | |
| Tait Alex | 4 | 1 |
| Taylor H | 5 | |
| White L | 42 | 29 |
| Whitehead B | 12 | |
| Wright B | 2 | |
Team
Total Number of Games: 44
Total Number of Players Used: 29
(Figure in brackets = total players used in that position)
01: (3) Harvey or Mitchell
02: (3) Keith or Whitehead
03: (2) McMichael
04: (3) Scoular
05: (3) Stokoe
06: (3) Bell
07: (6) Hughes
08: (3) Eastham
09: (4) White
10: (2) Allchurch
11: (6) Mitchell > Luke
---
Toon In
| | | | |
| --- | --- | --- | --- |
| Wilson James | 09/59 | Shotts Bon Accord | £750 |
| Gilfillan Robert | 10/59 | Cowdenbeath | £4,000 |
| Garrow Herbert | 02/60 | Fochabers | £1,150 |
| Wilson William | 03/60 | Walkerburn Jnrs | |
| Tuohy Liam | 05/60 | Shamrock R | £9,500 |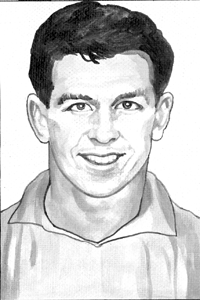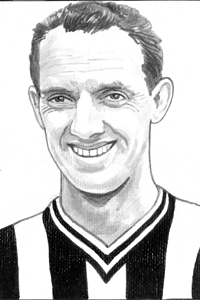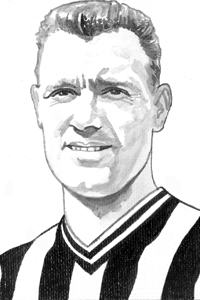 ---
Toon Out
| | | | |
| --- | --- | --- | --- |
| Nesbitt John | cs/59 | ?? | |
| Curry William | 07/59 | Brighton | £13,000 |
| Redhead William | 08/59 | Gateshead | Free |
| Wright Billy | 08/59 | Plymouth | £5,150 |
| Cooper Joseph | /59 | Released | |
| Wilson Carl | 01/60 | Gateshead | £410 |
| Franks Albert | 03/60 | Rangers | £6,500 |