You Ain't Seen Nothing Yet
The number of season tickets was increased to 9,800; 7000 of them sitting.
United were the fourth best supported club in the country with an average attendance of 33,960 in the League which was about 1,000 up on 1973/74 and was the best since 196?. Top crowd was 43,526 for the visit of then League leaders Ipswich.
Sad Sweet Dreamers
The Supporters Club celebrated it's 20th anniversary in 1975 and it's headquarters remained at the Bridge Hotel. They also had a shop at Number 2 St James' Street. They were looking for new headquarters next door to the shop with the cost of taking over the Working Men's club deemed too prohibitive.
Membership remained on a season by season basis, cost 20p and and passed the 5,000 mark for the first time.
Make Me Smile (Sing up and Blaspheme)
When fans arrived at SJP for the Texaco Cup group match against Middlesbrough they were handed leaflets encouraging them to keep their oratory clean. It didn't work too well as there was obscene chanting throughout the game.
The club also printed a list of "dos and don'ts" in the first home programme. The don'ts included running on the pitch, obscene chanting and the more esoteric "don't become involved in crowd hysteria".
When United played Everton at home in April a group of fans hung a sign up on the wall simply stating "WE WANT SUCCESS".
Autobahn
Coach travel was provided to away games with a starting point of Morden Street. They usually returned straight after the game but occasionally (generally for London games) overnight stays were included. They also made use of a 62 seater rail coach for selected games.
There was a dress code for "trippers" which included no "half-mast" trousers, no "unfriendly-looking" boots and no alcohol.
The Hustle
The Magpie Mag (the official yearbook) was available for 20p whilst a new club tie was introduced "of modern design (kipper style)".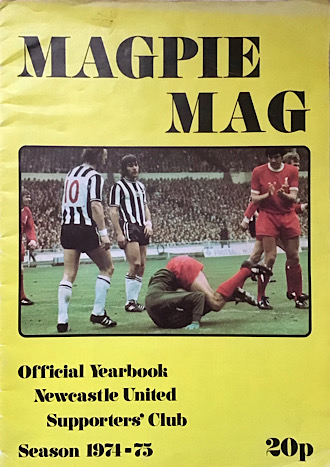 Reach Out I'll Be There
ln the club's never ending quest to make life easier for the supporter they introduced their "latest signing": MABUS. It was a five lined taped information service which could handle 20 calls a minute.
Debris in the Sky with Asbestos
When United visited the Baseball Ground in September the wind was decidedly blowy and during the first-half part of the (asbestos laden) roof was blown off. More came down during the half-time interval injuring a number of spectators. As you might expect, the game went on.