June
---
01/06 - It is reported that Arthur Murray - amateur centre-half-back for Queens Park during the last two seasons - has obtained an excellent scholastic appointment in the North of England and it is suggested that a move to United may be on the cards.
---
01/06 - Jock Rutherford is selected for the FA Team which will tour Austria later this month.
---
02/06 - Stewart, the Sheffield Wednesday inside-left who had refused to resign because he desired a move to Newcastle - re-signs for his current club. Rutherford finally re-signs for Newcastle.
---
08/06 - Newcastle's accounts for last year reveal an astonishing income of £22,480 which is a 10% increase on last year and is the highest amount ever generated by any club. The gate receipts are also a record. However, expenditure was also significantly up, leaving a profit of £1,377.
---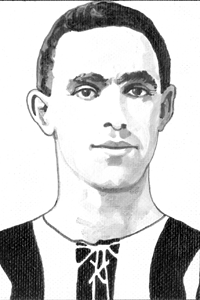 08/06 - Sunderland's reserve centre-forward Stanley Allan signs for United. He has spent two seasons at the Wearside club.
---
10/06 - At the AGM Chairman Cameron accepts that last season was "most disappointing" from a playing point of view and declares that although their expenditure was heavy they are "justified in sparing no expense in their effort to secure the "blue riband of football"
---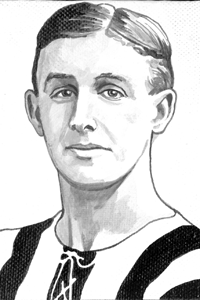 30/06 - United sign outside-right Adam Scott Mathieson Duncan (commonly known as Scott Duncan) from Dumbarton. He is 5ft 7.5in and 11st. He is fast and reputedly has the best shot in Dumbartonshire.
---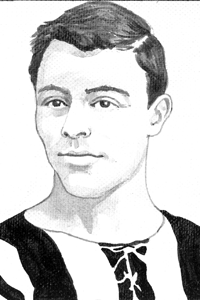 30/06 - Centre-forward WJ Hughes signs from Rhyl. He is young and lacks polish but impressed United officials in the match against United. He is 5ft 8in and not a heavy man.
---
July
---
01/07 - Queen's Park have reported Newcastle United for illegally approaching Arthur Murray. Murray is an amateur at the club and under the League rules amateurs cannot be tampered with.
---
16/07 - Dr Seaton currently has an exhibition, at Jarrow Albert Hall, of his animated photographs which include some from last season's FA Cup Final.
---
22/07 - Chelsea announce their figures for last season and their income was even greater than Newcastle's although United still hold the record for gate receipts.
---
August
---
01/08 - In many papers it is stated on good authority that James Stewart, the famous International inside left, and, in the opinion of many, the best in the country, has been transferred from Sheffield Wednesday to Newcastle United. However, Wednesday officials state that, whilst negotiations are proceeding, nothing definite has been agreed to, and Stewart has not yet signed.
---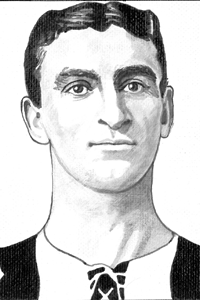 07/08 - The James Stewart transfer is finally completed at a fee said to be £1,000. Had Stewart remained with Sheffield he would have been entitled to a benefit this season, but it seems that he could not come to terms with Sheffield regarding the guarantee. The player was born in Gateshead and for over two years he has been anxious to join Newcastle United. As Wednesday do not wish to retain a player with his heart in another camp, they have allowed him to leave. He joined Sheffield Wednesday at the close of 1901-2 as an amateur on trial from Gateshead N.E.I. He progressed wonderfully well, headed Wednesday's goal-getting list in 1906/07 with 20 goals to his credit, and challenged the great Bloomer as a long distance scorer of the unstoppable order. For the past three seasons he has been right in the forefront of English forwards, and was perhaps the most skilful of the Wednesday forwards. His position was inside left, full of daintiness on the ball, shoots harder than any other man in the team with the exception of Wilson, and plays the combination game perfection. In his early was often troubled by nerves, but experience has liberated him from this trouble, and much of The Wednesday's success as Cup-fighters in recent years is due to his subtle skill and dash. He stands 5' 9" high, and weighs 11st 4lb. He played for England last year against Scotland and Wales.
---
10/08 - The whole of the Newcastle United squad are now preparing themselves for the forthcoming campaign. McPherson has expressed his satisfaction at the excellent physique of the men and the Novocastrians are hopeful of making an auspicious start. Invitations have been accepted to play a couple of cricket matches against Morpeth and Forest Hall and the club have been invited to visit Edinburgh to oppose the winners of the tournament to be played by Queens Park, St. Bernard's, Celtic and the Rangers.
---
11/08 - At a meeting of the Northern Rugby Union held at Huddersfield it is announced that the second test match between England and Australia, will be played at St. James' on January 23rd.
---
14/08 - The International League Conference is held at Carlisle. Queens Park's complaint about Newcastle is one of the agenda items but is left over for further consideration.
---
United sign James Lambert (22) from North Shields Athletic. He has a reputation as a consistent left-half and is 5ft 8in and over 11 stone. They also sign right-back Harry Thompson (22) from the same club. He is steady and reliable and clever with either foot. He is 5ft 10in and 12 stone.
22/08 - It is reported that the Newcastle Trades Council approached the club for a donation to help the striking shipbuilding engineers but the club stated they could not entertain the appeal. They are considering a request from Newcastle Education Authority for a donation towards cooking apparatus for the industrial schools.
---
24/08 - A specially convened meeting of the International League Board is held in Carlisle to investigate the charges made by Queens Park Glasgow against Newcastle. United claim that they gave the necessary notice before signing Murray but the Scots claim that they approached him before this. The Board judge that the charge is not proven however United are censured for not observing a league rule relating to the transfer of places. They also order Newcastle to pay all expenses as they had withheld information that would have rendered the meeting unnecessary.
---
29/08 - A match played between Newcastle Reserves and a "Rest of Northern League" side raises £80 for the Sunderland Mayor's Distress Fund.
---
September
---
02/09 - D1: Newcastle 1 Bradford City 0 - Stewart and new centre-forward Blanthorne make their debuts. Bradford are in their first season in the premier division having won Division 2 last season. Blanthorne suffers a double leg fracture on his debut but a couple of minutes later Veitch puts United ahead and they hang on to win even though they play the last five minutes with nine men after Carr limps off too.
---
05/09 - D1: Newcastle 2 Leicester Fosse 0 - It is the Fossils first visit to St. James' for a League game. Allan makes his debut; replacing broken leg victim Blanthorne and Whitson replaces Carr who is also injured. It is a mildly interesting game in which United's disjointed performance and lack of finishing lets them down, two goals in the last fifteen minutes secures both points.
---
05/09 or 02/09 - The newly formed Hartlepools United beat a Newcastle Reserve side 6-0 in a game to commemorate the opening of the Victoria Ground.
---
09/09 - D1: Newcastle 2 Bristol City 1 - United have started the season with three home games and three unconvincing victories. They are outplayed for significant periods of the game and trail at half-time. Howie scores twice after the break; the second in the last minute to secure both points. The Magpies top the table.
---
09/09 - Ashington play Newcastle Reserves in a game to celebrate the opening of their new Station Road ground. The reserves win 4-0.
---
12/09 - D1: W. Arsenal 1 Newcastle 2 - A much improved performance brings a deserved victory at Plumstead although they are helped by the fact that Arsenal have to play with ten men for half the game.
---
16/09 - Newcastle have received an invitation to play the Danish Boldklubbert club in Copenhagen next May; they have yet to decide whether or not to accept the offer. The directors have agreed to play home and away friendlies with Glasgow Rangers to raise funds for the unemployed in both cities.
---
19/09 - D1: Newcastle 1 Notts County 0 - County travelled up on Friday and stayed at picturesque Whitley Bay. The day is gloriously fine, rather too sultry for a strenuous game with the leather. Wilson scores an early goal, but despite playing against ten men for an hour United's play inexplicably deteriorates after the first fifteen minutes. The performance is once again spasmodic as the forward line continues to struggle. Campaigning for the Newcastle By-election is in full swing and Emily Pankhurst and some of her most gifted disciples hold a demonstration on the Town Moor. However, their speeches have to compete with the exuberant cheering emanating from St. James'.
---
22/09 - The Nomination papers are handed in for the by-election and one of those nominating Labour candidate Mr Shortt has former Newcastle director Mr John Cameron as proposer and current director GT Milne as seconder. Other signatories include former player Tommy Ghee and full-back Jack Carr.
---
23/09 - At the Wednesday night board meeting an objection is taken regarding the fact that Cameron signed Labour candidate Shortt's nomination paper "John Cameron Newcastle United". The directors (the majority of whom happen to be Unionists) roundly condemn the partisan use of the club's name. It is also announced that the pre-season practice matches raised a record £334 for local charities and that the home game against Manchester City in October will be used as a benefit for Howie.
---
24/09 - Fr: Carlisle 4 Newcastle 3 - A match to mark the royal visit and to raise funds for the Cumberland Infirmary Extension Fund. Allan scores a hat-trick and still ends up on the losing side. Both sides finish with ten men due to injuries. Princess Louise (the royalty in question) lays the foundation stone.
---
26/09 - D1: Sheff. Wed. 2 Newcastle 0 - Despite being the better side and playing their best match so far, United suffer their first reverse as they concede twice in five minutes in a rousing game on a rather treacherous pitch.
---
30/09 - Newcastle 4 Glasgow Rangers 1 - The first match in a double header to raise funds for the unemployed of both cities. This match is in aid of the Newcastle Distress Fund which is raising money for the unemployed of the City. The crowd is disappointing but with both sides agreeing to pay their own expenses and a little help from club funds about £140 is raised. Higgins scores all four of United's goals.
---
October
---
03/10 - D1: Bristol City 3 Newcastle 3 - Newcastle have never won at Ashton Gate. Luck is on their side for the first two goals but after playing with ten men for all but ten minutes they deserved their share of the spoils in a thrilling game.
---
05/10 - Robert Blanthorne can now get about using a crutch and has left Dr. Martin's private hospital.
---
06/10 - The United directorate accept the offer to visit Copenhagen at the end of the season.
---
07/10 - Glasgow Rangers 2 Newcastle 4 - The return match is more popular and £230 is raised for the "unfortunates" of present-day society. Neither side is at full-strength but United outclass their Scottish opponents.
---
10/10 - D1: Newcastle 2 Preston 0 - The visitors are the better side for the first twenty minutes until United gradually take control and score at the end of each half. United still lack dash and thrusting power in their forward play.
---
12/10 - The funeral of former player James Stott takes place at Jesmond Old Cemetery. He was a sturdy, untiring defender and a gentleman.
---
17/10 - D1: Middlesbrough 0 Newcastle 0 - Despite being goalless it is a game brimful of exciting incidents; cleanly contested and sparkling with admirable play.
---
19/10 - Soye is to have an operation on his injured knee cartilage. Former United Chairman James Cameron is appointed Chairman of the Leeds City Management Committee. This is quite surprising because he still has a seat on most of the important sub-committees at United.
---
24/10 - D1: Newcastle 2 Manchester City 0 - The match has been designated as a benefit for Howie (after five years good and faithful service) and he gets a tremendous reception when he takes to the field in brilliant sunshine. Fittingly he scores both goals.
---
26/10 - The benefit match on behalf of Dick Hedley's widow and child (played between the reserves abd former players) raises £38 16s and 4d which is handed over without any deduction of expenses.
---
28/10 - Reserve inside-forward Grierson (who was secured from Scotswood) moves to Bradford Park Avenue.
---
31/10 - D1: Liverpool 2 Newcastle 1 - Despite an excellent performance from Lawrence the Magpies are always second-best and deservedly beaten.
---
November
---
03/11 - The FA approve the distribution (to charities) of the money raised by clubs in their pre-season practice matches. Newcastle raised by-far the greatest sum: £334 9s 6d.
---
04/11 - Leicester refuse United's offer of £1,000 for young outside-left Turner. The touring Wallabies meet a combined Northumberland/Cumberland side at St. James' in a rugby match attended by 18,000.
---
07/11 - D1: Newcastle 3 Bury 1 - United coast into a three-goal lead in just over thirty minutes with some rather soft goals before their play falls off remarkably in the tamest match of the season so far. The Magpies continue to attack but there is no great urgency about their play.
---
14/11 - D1: Sheff. Utd. 1 Newcastle 1 - An interesting rather than exciting game in which there are few real chances, United once again guilty of failing to get their shots in. The goals come within three minutes of each other; Veitch equalising from a penalty.
---
18/11- Fr: Newcastle 5 Middlesbrough 1 - A disappointing crowd attends a charity match to raise funds for the Newcastle Royal Infirmary. The Magpies are by far the cleverer team and Stewart scores a hat-trick in a comfortable win.
---
21/11 - D1: Newcastle 0 Aston Villa 2 - The Villains are superior all round, exhibiting far more speed and cleverness and Lawrence has to be on his best form. The Magpies play some decent football though the forwards are absolutely feeble. With the rain falling incessantly during the game the pitch becomes a quagmire and the ball is like a lead weight.
---
25/11 - The directorate make eight changes (personnel and positional) for the match against Nottingham Forest on Saturday.
---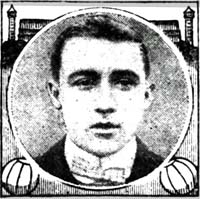 26/11 - Following negotiations at a Manchester hotel United sign Bolton centre-forward Shepherd. The fee is not disclosed but is reputed to be about £1,600 - a record fee for one player from one club. He is 23 and 12st 7lb. His powers of combination are limited but he is a great goal scorer and he was capped against the Scottish League when he was only 20. He broke his leg against Man City on New Year's Day and his form has not been quite so impressive since his return.
---
28/11 - D1: Nottm. Forest 0 Newcastle 4 - Although they are in mid-table the Foresters have lost four times at Trent Bridge this season. The directorate make wholesale changes to the side. New signing Shepherd makes his debut, McWilliam and McCracken are injured and Jobey, Rutherford and Stewart are all dropped. Shepherd scores as United's experimental side coasts to an easy win over a very poor Foresters side. A large crowd gathers at Central Station to see the players return; but the man they have turned up to see (Shepherd) has gone to Bolton.
---
December
---
05/12 - D1: Newcastle 1 Sunderland 9 - The directors decide to stick with the same eleven for the Tyne-Wear derby; sending five internationals to play for the reserves at Darlington. It turns into a complete disaster as United suffer their heaviest ever home defeat. Incredibly it is 1-1 at half-time. Hogg and Holley both register hat-tricks.
---
11l/12 - Allan is wired in the evening and has to travel down to London overnight.
---
12/12 - D1: Chelsea 1 Newcastle 2 - The Pensioners have lost their last three games and have not won at home for a couple of months. Half the United side is changed again. The turf (which is liberally sanded) is heavy and holding. Chelsea lead at the break but Allan equalises and a penalty from star-man Veitch secures victory five minutes from time.
---
16/12 - Fr: Middlesbrough 1 Newcastle 2 - A return charity match with Middlesbrough with the proceeds going to the home town's Distress Fund on this occasion. It is cold and damp and there are only about 1,000 spectators.
---
16/12 - The United directorate announce that they will donate £10 per week, until the end of the year, to help relieve distress in the City.
---
19/12 - D1: Newcastle 2 Blackburn 0 - Despite the win in London the directorate - for the third League game in a row - change half the side. Although Rovers are unbeaten away from home they put in a poor performance and United are smarter, cleverer and more energetic in a relatively comfortable victory. For once their fiddling short-passing game is discarded in favour of long swinging passes.
---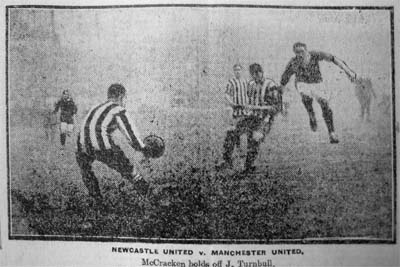 25/12 - D1: Newcastle 2 Man. Utd. 1 - Reigning Champions Manchester United won 6-1 on Tyneside last season and in an excellent performance Newcastle have more brain and far more energy than in recent games. After the game the teams travel to the Cottonopolis together on a specially chartered train. It costs them £39 plus fares but both teams regard it a sound investment.
---
26/12 - D1: Man. Utd. 1 Newcastle 0 - Five thousand United fans travel to Lancashire. With only five minutes played McCracken has to retire after suffering a bad head cut on the frost bound pitch. United concede a penalty soon after and need Lawrence and Veitch to be at their best to stay in the game. The conditions are so bad that at one time the referee calls the captains together and asks if they want to continue.
---
January
---
01/01 - D1: Everton 0 Newcastle 1 - Gardner returns from his ligament injury and with McCombie, Howie and Rutherford all recalled the team has a more familiar look about it. United pull off a great victory against the leaders despite having to withstand great pressure for much of the game.
---
02/01 - D1: Leicester F. 0 Newcastle 4 - The Fossils have been struggling of late and have only won one game in the last two months. Newcastle brush them aside in a very one-sided game.
---
09/01 - D1: Newcastle 3 W. Arsenal 1 - Many tonnes of sea sand has been spread on the turf but it has been quickly swallowed up by the sodden ground and the deplorable state of the pitch has a hand in three of the four goals. A game of extraordinary contrast as Arsenal are brilliant in the first period and poor after the break and the reverse is true of United. The Gunners are hampered by the loss of Hoare after Newcastle's second.
---
16/01 - FA R3: Newcastle 5 Clapton Orient 0 - Orient have been at Whitley Bay all week. There is a piercing westerly wind and this combined with a pre-match snowstorm certainly impacts on the gate (although it is still the biggest of the day). The ground is soft and greasy and leads to the ball often coming to a premature halt and lots of ludicrous mistakes. A Wilson hat-trick helps United make short- shrift of the Londoners who are currently bottom of Division 2.
---
18/01 - Veitch is selected for the North v South England Trial match to be played at Fulham Monday next.
---
23/01 - D1: Notts County 0 Newcastle 4 - The excellent Lawrence saves a penalty in the first forty-five and after the interval Shepherd scores four before leaving the field before the final whistle (reason unknown).
---
25/01 - Former trainer Thomas Dodds dies of pneumonia.
---
26/01 - One of the turns at the Empire Palace (South Shields) this week are the St. Clair Brothers who are very clever knock-about cyclists who as part of their act perform a highly entertaining turn imitating the Newcastle verses Sunderland match.
---
28/01 - Director James Lunn has been elected as a member of the City Council. An invitation has been accepted for the players and directors to witness the pantomime at the Grand Theatre, Byker, tomorrow night. An application by the City Tramways to allow their employees free entry to league games when they are in uniform has been refused by the Board.
---
30/01 - D1: Newcastle 1 Sheff. Wed. 0 - The ground is very hard and with an extremely strong wind too, the ball is lively and difficult to control. Veitch hits a superb winner to secure victory.
---
February
---
01/02 - At South Shields Police Court George William Whales (39), a miner from Marsden Street, is charged with assaulting a policeman and damaging his overcoat to the cost of sixpence. At the Newcastle Reserves game at Adelaide he climbed over the railings in an attempt to get in free. PC Delph grabbed hold of him and led him towards the turnstiles but he became very violent; striking him in the chest and pulling buttons off his coat. Whales denies the charge but is found guilty; fined 2s 6d and ordered to pay costs and damages.
---
02/02 - It is reported that Glasgow Rangers are interested in Howie who has only featured a couple of times in the last two months.
---
06/02 - D1: Newcastle 2 Blackpool 1 - Rutherford scores in the last minute to take United through against Second Division Blackpool whose robust and bustling tactics completely worried United out of their customary combination. Gardner breaks his right leg.
---
06/02 - Gardner goes to Dr. Martin's private hospital where a highly satisfactory setting of the fractured limb is effected.
---
11/02 - West Ham beat Leeds City in their FA Cup Fourth Round Replay and the Southern League Londoners now face United at home in the Fifth Round. United immediately offer them £1,000 to change venues but West Ham demand a staggering £1,400. Agreement cannot be reached so United will travel to "Cockneydom" and play at the compact Boleyn Castle ground at Upton Park.
---
12/02 - Two boys (named Hutchinson and Boydell) plead guilty to the theft of a football and other articles from St. James'. They broke into the ground and then later sold the ball to the secretary of a Junior club. Their cases are adjourned.
---
13/02 - D1: Preston 0 Newcastle 1 - Anderson grabs the winner in a very assured performance against a side that has been unbeaten since the end of November. However United are still indebted to Lawrence's agility in making a couple of cat-like saves towards the end of the game.
---
16/02 - Blackpool send their "great regret" over Gardner's injury and offer to play a benefit game for him. United contact Bradford City and ask them whether they would be willing to postpone the fixture (due to be played next Tuesday) if either club draws their FA Cup game at the weekend. The City officials state that arrangements for the game are already too far advanced to make this possible.
---
17/02 - The United party travel to Chingford to prepare for Saturday's Cup tie.
---
18/02 - Glasgow Rangers are now thought to have turned their interest to Higgins.
---
20/02 - FA R4: West Ham 0 Newcastle 0 - The United players arrive at Boleyn Castle in style; in powerful motorcars. The kick-off takes place to the backdrop of a multitude of instruments and bells. The Southern Leaguers deservedly hold Newcastle in a game which neither side deserve to win. West Ham defend well but the Magpies, despite Veitch's prompting, are well below par.
---
22/02 - The draw for the Fifth Round pairs Newcastle (if they get through) with Sunderland. The FA officially sanction a benefit for McCombie.
---
The club have been asked if they would be willing to send a team to Austria in the summer, but they have had to decline as they have already accepted the invitation from Copenhagen.
---
24/02 - FA R4r: Newcastle 2 West Ham 1 - The Magpies once again struggle to impose themselves. Shepherd converts a penalty just after the hour but the Londoners soon level and Anderson's controversial winner is not until eight minutes from time.
---
25/02 - Newcastle travel to Saltburn to commence their special Cup training. The club had considered playing a special match to raise money for those affected by the terrible tragedy at West Stanley; but continued Cup progress thwarted their plans so they have decided to make a £100 donation instead.
---
26/02 - It is reported that due to the severity of his injury Gardner may be forced to retire from the game.
---
26/02 - Seat tickets for the Sunderland FA Cup match go on sale at the St. James' Park officers and hundreds of fans start queuing from early morning. Even though admission prices have been increased, all 5,647 tickets are sold within a couple of hours. Thousands of additional applications made at the office and in the post are subsequently declined. The 6d standing prices will not have a higher tariff applied.
---
D1: Man. City 0 Newcastle 2 - A number of players are rested in anticipation of next week's Cup game but United's new-look eleven blend beautifully and outclass their hosts in a performance of speed, accuracy and intelligence.
---
March
---
02/03 - Frank Watt informs the press that there are reports of bogus tickets being offered for sale for the Sunderland match and advises that there are absolutely no tickets available for the stands. The ground is in decent condition despite all the recent snowfall and will definitely go ahead if there are no further heavy falls.
---
04/03 - The directors state that the gates will not open until 12.30pm on Saturday so as to cause as little dislocation of work at the local shipyards and factories. The kick-off will also be brought forward from 3.30pm to 3.00pm. There are four inches of snow on the ground but this will not be removed until Saturday morning.
---
04/03 - A prominent supporter (and county sportsman) who hails from Durham (but does not want to be known) has presented the club with a black and white dog for use as a mascot. "Rex" is a huge pedigree puppy of the Great Dane variety and is said to be worth 25 guineas. Having been presented with a stuffed magpie after the Cup Final and a lucky horseshoe after the home defeat by Sunderland United now have three lucky charms.
---
05/03 - The United party return from Saltburn and spend the night at a local hotel.
---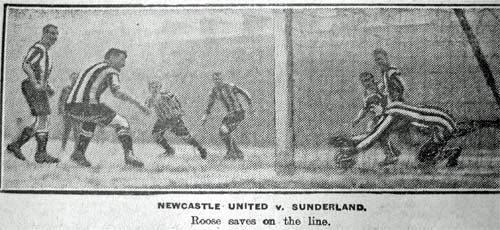 06/03 - FA R5: Newcastle 2 Sunderland 2 - Fifty men are employed to clear the snow off the pitch in the early morning but another fall in the forenoon requires brushes to be used to reveal the pitch markings. The Sunderland directors and players sport white edelweiss with red ribbons whilst the United directorate have the black and white spotted feather of the guinea fowl. The Sunderland supporters are wearing photos of their black cat mascot and have red and white handkerchiefs around their necks. Queues start forming at 10.00am and by 2.00pm the gates at the St. James' Park end are closed meaning hundreds of latecomers could not get admittance. A boisterous wind and driving sleet soaks the spectators. The youngsters of the Wellesley Training Ship band play bravely for almost two hours. The clubs agree to bring the kick-off forward to 2.45 pm in compassion for the drenched and half-frozen multitude. When the teams come on it is noticeable that the visitors get the biggest cheer indicating that many thousands had travelled up to Tyneside. Although the pitch is liberally sanded and very heavy and there is a boisterous wind and driving sleet, the neighbours serve up a classic encounter with some neutral observers saying it was one of the best games they'd seen in years. It was 2-2 after only 26 minutes. With the wind behind them after the break United had a good chance of progressing but injuries to both outside men hampered their intent.
---
08/03 - United return to Saltburn where they are expected to get lots of rest. Anderson, Rutherford and Wilson all strained leg muscles in the game but Anderson is the only player who is definitely out of the replay. Veitch is selected to play for England against Wales on Monday next.
---
08/03 - A splendid series of pictures from Saturday's match are on display at Howard Hall (North Shields) all this week. Meanwhile at the Empire Palace (South Shields) a rather good picture of the match is being shown by bioscope.
---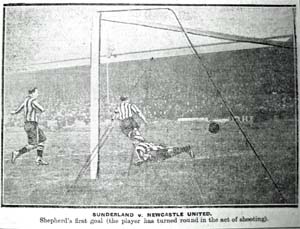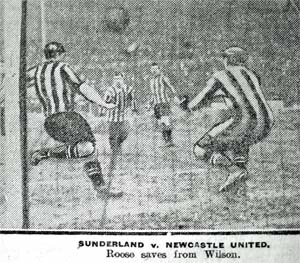 10/03 - FA R5r: Sunderland 0 Newcastle 3 - Eighteen special trains run from Newcastle and the intermediary stations. Just before the game an estimated 1,000 supporters who are not happy about the doubling of admission to the popular areas try and force their way in at two of the gates at the Fulwell End and on Hampton Road. The weight of the crowd snaps the wooden bar and bends the iron bar allowing the gate to be partially opened. About 300 manage to force their way through before Inspector Walton gathers sixty baton wielding men in blue who force them out. Once order is restored it is clear that many men and boys have been injured and some are prostrate in the mud. PC Nesham is vomiting blood freely (as are some of the others) having fractured his ribs. Injuries to Nesham and seven boys are so severe they are taken to the Infirmary.
---
10/03 - After the game an excursion train returning from the match is hit by an Express just outside Durham injuring eight people. There were also extraordinary scenes at the Newcastle Exchange of the National Telephony Company. More than sixty female operators struggled to cope on what was their busiest ever day; it was even busier than on General Election day.
---
13/03 - D1: Bury 1 Newcastle 1 - After seven straight wins in the League United have to settle for a share of the spoils in a match where a number of players are rested following the Cup exertions. Everton lose at Sunderland, so United now have a five-point lead - and a game in hand - over their nearest rivals.
---
18/03 - Due to their strained leg muscles, both Higgins and Anderson withdraw from next Monday's Scotland Trial match.
---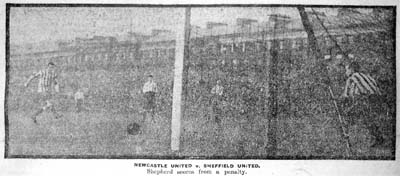 20/03 - D1: Newcastle 4 Sheff. Utd. 0 - United completely outclass the Cutlers in McCombie's benefit match. They exhibited a super abundance of science, a rare turn of speed and plenty of dash and wholehearted determination.
---
22/03 - Newcastle Chairman Joseph Bell dies at home aged 47. Two years ago he became ill on the club's continental tour and has never been completely well since. He suffered from Bright's disease and this coupled with heart complications was the cause of his death. He took over as Chairman from John Cameron last year. His brother John Bell - who was also a director - died last year from heart failure.
---
22/03 - United travel to Saltburn which will be their special training headquarters.
---
23/03 - D1: Bradford City 1 Newcastle 2 - The struggling Citizens battle hard, but - despite resting a number of players - United have just enough to secure a rather fortuitous victory which takes them seven points clear of second placed Everton.
---
23/03 - Alex Gardner has now left hospital and is making a good recovery.
---
25/03 - The funeral of Joseph Bell takes place at All Saints Church in Newcastle. It is attended by all the United party and some of the players are pall-bearers.
---
26/03 - The United party travel to Sheffield and attend the variety performance at the Empire Palace.
---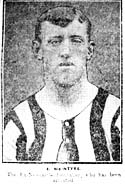 26/03 - Plymouth player and former Magpie Edward McIntyre is arrested by Detective Gibson at a friend's house in Essex Street, Scotswood Road. He is charged with causing the death of Plymouth trainer Nicholas Wallis who died yesterday of septic pneumonia. When Plymouth were travelling back from their Cup Tie with Derby on February 20th McIntyre and Wallis allegedly got in a quarrel over a game of cards and McIntyre hit Wallis and broke his jaw with the injuries caused leading to his eventual death. The Plymouth directors launched an enquiry and McIntyre was suspended for the rest of the season. In the official report of the investigation it was stated that McIntyre had said that the assault was unprovoked and that he had simply lost his temper. However, in a subsequent letter to the club McIntyre denied that he had said that and claimed "I received the greatest provocation".
---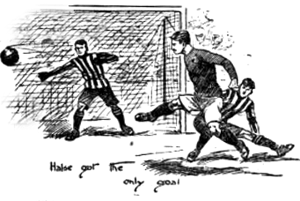 27/03 - FA SF: Man. Utd. 1 Newcastle 0 - There are sixty police on duty including mounted officers but the crowd is of the most orderly description. The colours of both sides are freely sorted, some have umbrellas and there is even the occasional banner urging their favourites to "Play Up". A black and white dog is allowed to run around the pitch unfettered before the game; a good omen? It is a hugely disappointing game where both defences are the master of the respective attacks. It is scrappy and uneventful throughout and an injury to Shepherd just before the interval effectively puts paid to United's hopes.
---
31/03 - D1: Newcastle 1 Middlesbrough 0 - The Magpies press hard throughout the game however too much finessing almost proves their undoing as they have to wait until ten minutes from time to make the breakthrough through Allan. The seven-point lead over Everton is restored.
---
April
---
01/04 - Pictures from the Semi-Final are on display at the "Kino" in Jarrow.
---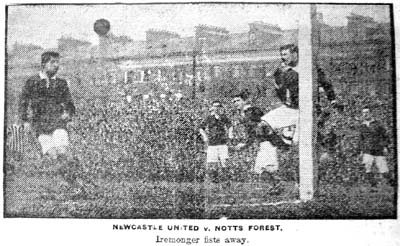 03/04 - D1: Newcastle 1 Nottm. Forest 1 - United are considerably below-par and although they dominate, the game lacks fire and enthusiasm. Both goals look suspiciously offside. Everton's loss at home to Bradford means United are now eight points ahead with only six games remaining.
---
03/04 - Newcastle sign centre-forward A. Metcalf from North Shields Athletic. He is a native of Sunderland and has been scoring freely in the Northern League having joined from Herrington Swifts at the start of the season. He is 20-years-old, 5ft 8in and 10st 11lb.
---
04/04 - One of the boys injured when the crowd stormed the gates at the Cup-Tie at Sunderland dies at the Infirmary. Alfred Deans was 12 and lived in Gladstone Street in Monkwearmouth.
---
05/04 - Plymouth Police court is packed as former United player McIntyre is charged on remand with the manslaughter of Plymouth trainer Wallis. The team had been returning from Derby and a game of "nap" was taking place when an altercation took place between McIntyre and Wallis which led to Wallis' jaw being broken. Evidence is heard from a number of witnesses. Plymouth centre-forward Hindmarsh states that the deceased was the aggressor and used a lot of abusive language. McIntyre claims that he saw Wallis cheating and demanded that he played fairly at which point Wallis lost his temper. He thought Wallis was going to hit him so he decided to strike first although he says he did not mean to hurt him. Another witness claims McIntyre struck the trainer three times. Although there was some blood Wallis appeared to be perfectly alright when he left the train. Doctor Lynch (who looked after Wallis at the nursing home after he fell ill) said that Wallis suffered a compound fracture of his jaw but this was complicated by the fact that he had a number of rotten teeth and was suffering from Riggs disease. The fracture allowed the septic matter to get into his system which eventually caused the pleurisy and pneumonia which killed him. McIntyre is charged with manslaughter and is to be sent for trial.
---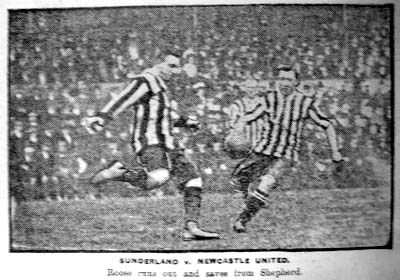 0/04 - D1: Sunderland 3 Newcastle 1 - Shepherd gives United the lead in the first minute but injures himself in the process. He battles on until the break but is missing at the start of the second whereupon the Wearsiders take complete control.
---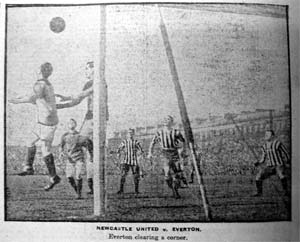 12/04 - D1: Newcastle 3 Everton 0 - The Magpies are Champions once more after beating their nearest rivals. A McCracken penalty gives them the lead in the first-half and United completely dominate after the break, Stewart scoring twice.
---
15/04 - The Newcastle directors agree to loan Carlisle Football Club £300 free of interest for three years on security of two shares in the new ground at Brunton Park. The conditions of the loan require Carlisle to repay £100 at the end of each of the three years.
---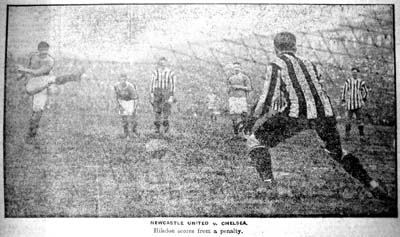 17/04 - D1: Newcastle 1 Chelsea 3 - A half-hearted performance in a poor game in which United are well below par and a considerable section of the crowd accept the performance with very bad grace. In particular, the crowd on the sixpenny side of the ground give free expression to their view that the players are not trying.
---
24/04 - D1: Blackburn 2 Newcastle 4 - The opposition is poor but United's forwards show remarkable precision and control considering the deplorable ground conditions. Rutherford scores three and creates the other for Allan.
---
25/04 - Newcastle sign West Ham inside-right Shea for next season. The player impressed during the Cup games with the Southern Leaguers.
---
26/04 - D1: Aston Villa 3 Newcastle 0 - A tired and jaded performance in which United are outplayed throughout and only outstanding work from Lawrence and McCracken prevents a much heavier defeat.
---
28/04 - United are fined £25 for fielding a weakened side against Bradford; the club's explanation for other matches is accepted.
---
28/04 - FA CS: Newcastle 2 Northampton 0 - The FA Charity Shield game was instituted last season to replace the Sheriff of London Shield. A poor crowd turns up at Stamford Bridge for the Charity Shield match against Northampton; winners of the Southern League. Allan and Rutherford are the scorers in a disappointing and uneventful game.
---
29/04 - United have reported eleven senior players (including seven internationals) to the FA for refusing to re-sign even though they have been offered the maximum wage. The players are: Gardner, Howie, McWilliam, Carr, Wilson, Veitch, Higgins, Rutherford, Stewart, Anderson and Shepherd.
---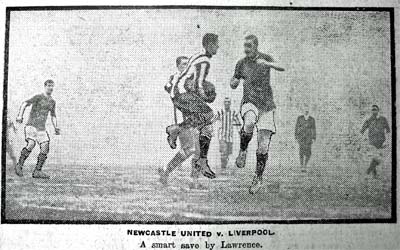 30/04 - D1: Newcastle 0 Liverpool 1 - The Livers have to avoid defeat to ensure they preserve their First Division status and they deserve to beat a tired looking Magpies side.
---
May
---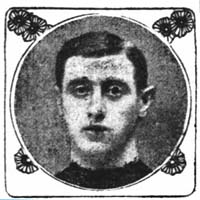 02/05 - It is reported that the reason so many players are refusing to resign (and this is a problem for many clubs) is that the club have not included a clause in the contract for a revision in wages if the FA agree to remove the restriction on the maximum wage in June. However, Anderson agrees to resign.
---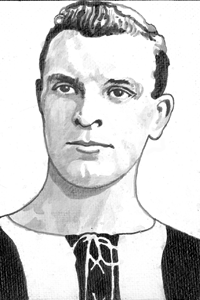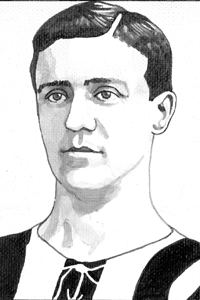 04/05 - Wilf Low signs from Aberdeen? He is the brother of Sunderland's Henry Low and has wanted a move for a while. He is 22, 12st and about 6ft. A couple of days ago United also signed John Finlay from Airdrie.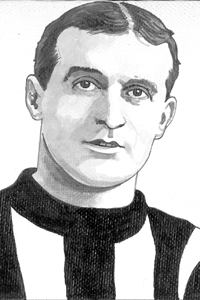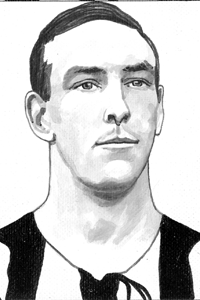 04/05 - Gardner and Wilson re-sign and North Shields goalkeeper Sid Blake signs for money plus James Soye
04/05 - A new land tax on sports grounds is to come into effect but United are convinced will not impact them
---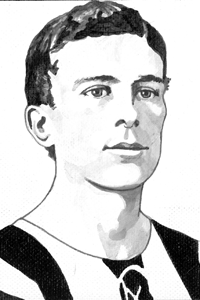 05/05 - Pudan moves to Leicester.
---
06/05 - Howie and Carr re-sign.
---
07/05 - The Players Union meet in Manchester to discuss the FA resolution that all officials must sign an undertaking to act by the rules by 17th May or face being suspended from taking part in football. The players decide that they will issue a manifesto next week. All players have now re-signed except Shepherd, McWilliam, Veitch and Rutherford.
---
Only Veitch and McWilliam not signed now.
---
11/05 - A sixteen-man squad leaves for Denmark
---
16/05 - Fr: Danish XI 1 Newcastle 1 - The Magpies play out a draw against a Danish side made up of players from the four leading teams in Copenhagen.
---
18/05 - Fr: Newcastle 3 West Brom 0 - The West Brom players had just made an arduous sea crossing in which all but two of the players suffered badly from sea sickness.
---
20/05- Fr: Danish XI1 Newcastle 2
---
23/05- Fr: Danish XI 1 Newcastle 3
---
25/05- Fr: Prossen 1 Newcastle 2 - In the presence of The Crown Prince and princess N win in front of a small but enthusiastic crowd. The royal visitors leave after the first-half but before they go they receive the captains of both sides.
---