NUFC 1986/87 - Season Review
---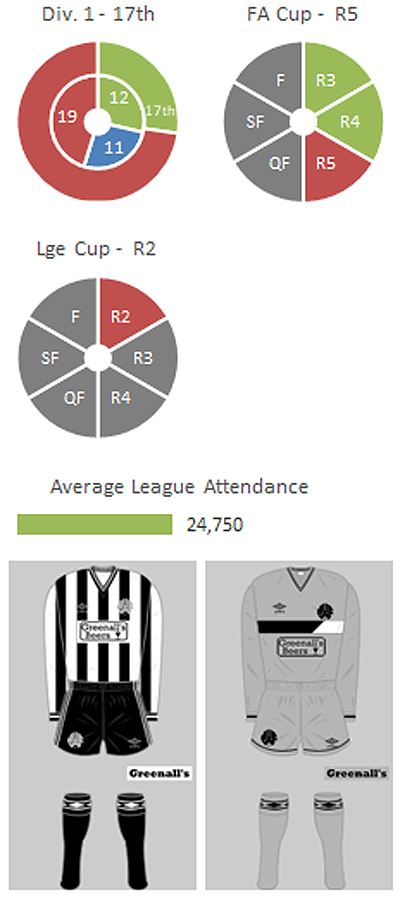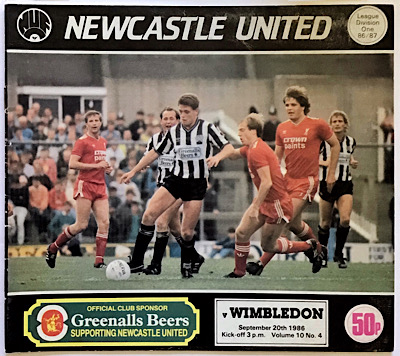 | | |
| --- | --- |
| Division 1 | 17th |
| FA Cup | R5 |
| League Cup | R2 |
| Attendance | 24,750 |
| Chairman | S Seymour |
| Manager | W McFaul |
| Coach | |
| Captain | G Roeder |
| Top Scorer | P Goddard (13) |
But for the goalscoring of Goddard this season would have ended in relegation. Mcfaul had bought well to bring the Londoner and Peter Jackson in, but with Gascoigne a long-term absentee United (even with Beardsley) struggled badly.
A disastrous run of nine defeats and a draw in ten games from December to February saw United plummet into bottom spot.
A 2-1 home victory over Aston Villa stopped the rot and the return of Gascoigne and a record breaking run of scoring from Goddard resulted in six wins and three draws which pulled United clear of the drop zone.
Newcastle progressed to the 5th Round of the FA Cup for the first time since 1980/81 where they were beaten by Tottenham. Bradford City were the latest Division 2 side to knock them out of the League Cup.
Despite the relief of survival the season ended on a low as Peter Beardsley followed Waddle out the door.
Kit images copyright Historical Football Kits and reproduced by kind permission
---
Competitions
---
League Division 1
After five years of progress in terms of the position attained United narrowly averted relegation with an impressive revival in the last quarter of the season.
United were bottom of the table after failing to win any of the first 6 games and they were still there in mid-November after having only won 2 out of 15,
The signing of Paul Goddard inspired a mini four-game recovery, but it was followed by a disastrous run of 8 defeats and a draw which left the Magpies marooned at the bottom - 5 points from safety - at the end of February.
Just as all hope looked lost, the return of Gascoigne from injury and a seven-consecutive-game scoring run from Goddard brought 6 wins and 3 draws in the next 9 matches. United had climbed to 16th and opened up a 9-point gap over 20th placed Charlton. Although there were 5 games and there was still work to do to be mathematically safe Newcastle eventually finished 5 points above the relegation zone.
| | | | | | | |
| --- | --- | --- | --- | --- | --- | --- |
| 23/8/86 | H | Liverpool | L | 0-2 | | H |
| 25/8 | A | Tottenham | D | 1-1 | | |
| 30/8 | A | Luton | D | 0-0 | | |
| 03/9 | H | QPR | L | 0-2 | | |
| 06/9 | H | Sheff Wed | L | 2-3 | | |
| 13/9 | A | Coventry | L | 0-3 | | H |
| 20/9 | H | Wimbledon | W | 1-0 | | |
| 27/9 | A | Norwich | L | 0-2 | | |
| 04/10 | A | Southampton | L | 1-4 | | |
| 11/10 | H | Man City | W | 3-1 | | |
| 18/10 | H | Arsenal | L | 1-2 | | |
| 25/10 | A | Aston Villa | L | 0-2 | | |
| 01/11 | H | Oxford | D | 0-0 | | |
| 08/11 | A | Leicester | D | 1-1 | | |
| 15/11 | H | Watford | D | 2-2 | | |
| 22/11 | A | Chelsea | W | 3-1 | | H |
| 30/11 | H | WHU | W | 4-0 | | H |
| 06/12 | A | Charlton | D | 1-1 | | H |
| 13/12 | H | Nottm F | W | 3-2 | | H |
| 21/12 | A | Sheff Wed | L | 0-2 | | |
| 26/12 | H | Everton | L | 0-4 | | H |
| 27/12 | A | Watford | L | 0-1 | | |
| 01/1 | A | Man Utd | L | 1-4 | | H |
| 03/1 | H | Coventry | L | 1-2 | | |
| 24/1 | A | Liverpool | L | 0-2 | | |
| 07/2 | H | Luton | D | 2-2 | | |
| 14/2 | A | QPR | L | 1-2 | | |
| 28/2 | A | Wimbledon | L | 1-3 | | |
| 07/3 | H | Aston Villa | W | 2-1 | | |
| 21/3 | A | Man City | D | 0-0 | | |
| 25/3 | H | Tottenham | D | 1-1 | | H H |
| 28/3 | H | Southampton | W | 2-0 | | H |
| 04/4 | H | Leicester | W | 2-0 | | H |
| 08/4 | H | Norwich | W | 4-1 | | H |
| 11/4 | A | Oxford | D | 1-1 | | |
| 14/4 | A | Arsenal | W | 1-0 | | H |
| 18/4 | H | Man Utd | W | 2-1 | | |
| 20/4 | A | Everton | L | 0-3 | | H |
| 25/4 | H | Chelsea | W | 1-0 | | |
| 02/5 | A | WHU | D | 1-1 | | H |
| 04/5 | H | Charlton | L | 0-3 | | |
| 09/5 | A | Nottm F | L | 1-2 | | H |
| | | | | | | | |
| --- | --- | --- | --- | --- | --- | --- | --- |
| | | W | D | L | F | A | Pts |
| 01 | Everton | 26 | 8 | 8 | 76 | 31 | 86 |
| 02 | Liverpool | 23 | 8 | 11 | 72 | 42 | 77 |
| 03 | Tottenham | 21 | 8 | 13 | 68 | 43 | 71 |
| 04 | Arsenal | 20 | 10 | 12 | 58 | 35 | 70 |
| 05 | Norwich | 17 | 17 | 8 | 53 | 51 | 68 |
| 06 | Wimbledon | 19 | 9 | 14 | 57 | 50 | 66 |
| 07 | Luton | 18 | 12 | 12 | 47 | 45 | 66 |
| 08 | Nottm Forest | 18 | 11 | 13 | 64 | 51 | 65 |
| 09 | Watford | 18 | 9 | 15 | 67 | 54 | 63 |
| 10 | Coventry | 17 | 12 | 13 | 50 | 45 | 63 |
| 11 | Man United | 14 | 14 | 14 | 52 | 45 | 56 |
| 12 | Southampton | 14 | 10 | 18 | 69 | 68 | 52 |
| 13 | Sheff Wed | 13 | 13 | 16 | 58 | 59 | 52 |
| 14 | Chelsea | 13 | 13 | 16 | 53 | 64 | 52 |
| 15 | West Ham | 14 | 10 | 18 | 52 | 67 | 52 |
| 16 | QPR | 13 | 11 | 18 | 48 | 64 | 50 |
| 17 | Newcastle | 12 | 11 | 19 | 47 | 65 | 47 |
| 18 | Oxford | 11 | 13 | 18 | 44 | 69 | 46 |
| 19 | Charlton | 11 | 11 | 20 | 45 | 55 | 44 |
| 20 | Leicester | 11 | 9 | 22 | 54 | 76 | 42 |
| 21 | Man City | 8 | 15 | 19 | 36 | 57 | 39 |
| 22 | Aston Villa | 8 | 12 | 22 | 45 | 79 | 36 |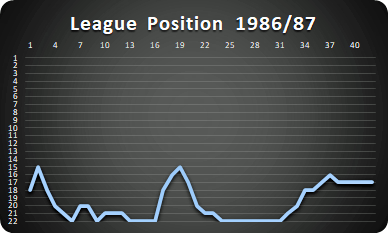 ---
FA Cup
---
League Cup
---
Squad and Team
---
| Player | A | S | G |
| --- | --- | --- | --- |
| Allon, J | 6 | 0 | 1 |
| Anderson, J | 35 | 0 | 1 |
| Bailey, J | 9 | 0 | |
| Beardsley, P | 36 | 0 | 5 |
| Bogie, I | 1 | 0 | |
| Clarke, J | 7 | 0 | |
| Craig, A | 6 | 1 | |
| Cunningham, T | 15 | 4 | 2 |
| Davies, A | 6 | 1 | |
| Gascoigne, P | 23 | 3 | 5 |
| Goddard, P | 29 | 0 | 13 |
| Jackson, D | 18 | 7 | 3 |
| Jackson, P | 34 | 0 | 1 |
| Kelly, Gary | 4 | 0 | |
| McCreery, D | 35 | 0 | |
| McDonald, N | 44 | 1 | 7 |
| Nesbit, T | 1 | 2 | |
| Roeder, G | 42 | 0 | 3 |
| Scott, K | 4 | 0 | 1 |
| Stephenson, P | 26 | 0 | |
| Stewart, I | 11 | 7 | 1 |
| Thomas, A | 27 | 4 | 7 |
| Thomas, M | 43 | 0 | |
| Tinnion, B | 3 | 0 | |
| Wharton, K | 40 | 1 | 2 |
| Whitehurst, B | 9 | 1 | |
| Wrightson, J | 3 | 1 | |
Total Games: 48
Total Number of Players Used: 27
Embed from Getty Images
01 :(2) Thomas
02: (3) Anderson > McDonald
03: (3) Bailey > Wharton
04: (8) McCreery
05: (5) Clarke > Jackson P
06: (5) Roeder
07: (5) McDonald > Stephenson
08: (6) Gascoigne > Thomas > Gascoigne
09: (6) Whitehurst > Goddard
10: (5) Beardsley
11: (9) Stewart > Jackson D > Anderson
---
Player Moves
---
Toon In
| Name | Date | From | Fee |
| --- | --- | --- | --- |
| Thomas Andy | 09/86 | Oxford | £100,000 |
| Jackson Darren | 10/86 | Meadowbank Th. | £240,000 |
| Jackson Peter | 10/86 | Bradford City | £250,000 |
| Goddard Paul | 11/86 | West Ham | £415,000 |
| Craig Albert | 02/87 | Hamilton | £100,000 |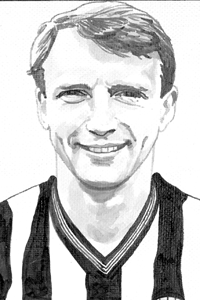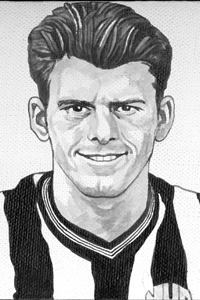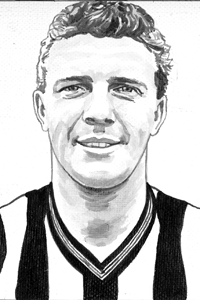 ---
Toon Out
| Name | Date | To | Fee |
| --- | --- | --- | --- |
| Haddock Peter | 07/86 | Leeds Utd | £45,000 |
| Hedworth Chris | 08/86 | Barnsley | Free |
| Mckinnon Rob | 08/86 | Hartlepool | Free |
| Ferris Paul | 09/86 | Gateshead | Free |
| Whitehurst Billy | 10/86 | Oxford | £187,500 |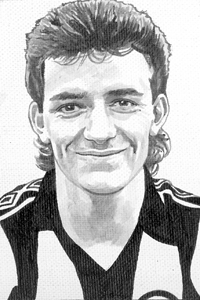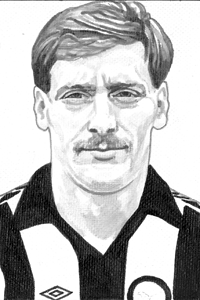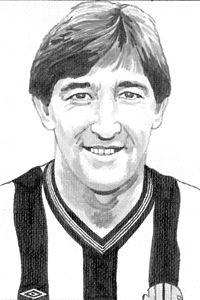 ---
Drop Out
| Name | From | To | Club |
| --- | --- | --- | --- |
| Davies Alan | | | Carlisle |