UNITED CRASH! - Despite taking a first minute lead, a Wes Saunders own goal and another from veteran Frank Worthington take the tie into extra-time. Newcastle needed to score to avoid going out on the away goals rule but it is Leeds who take advantage of the open spaces left. It is the sixth time in succession that the Magpies have failed at the first hurdle.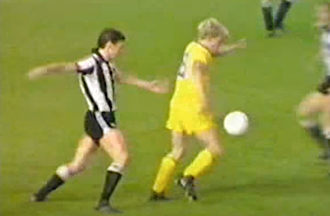 [youtube highlights part 1
[youtube highlights part 2]
Leeds (D2:6th) - SJP - 24,984
Carr, Anderson, Saunders, Martin, Clarke (Craggs), Haddock, Keegan, McCreery, Varadi, Wharton, Waddle
Scorers: Clarke - Saunders og, Worthington, Butterworth, Connor
01m - CLARKE (1-0).
33m - SAUNDERS own-goal (1-1).
Half-time: Newcastle 1 Leeds 1
71m - WORTHINGTON (1-2).
Full-time: Newcastle 1 Leeds 2
112m - BUTTERWORTH (1-3).
CONNOR (1-4).
Extra-time: Newcastle 1 Leeds 4