NUFC Review 1982/83
NUFC Match Details 1982/83
NUFC Squad 1982/83
---
June
23/06 - The Rolling Stones kick-off their tour at St. James' in front of 28,000 fans.
July
13/07 - It is revealed that United still owe the city Freemen £43,000 in ground rent.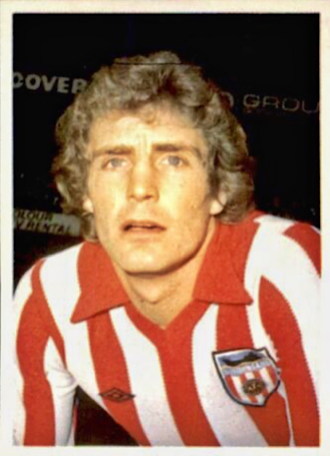 22/07 - Jeff Clarke (28), surprisingly released by Sunderland, passes his medical and thus completes his transfer to Newcastle.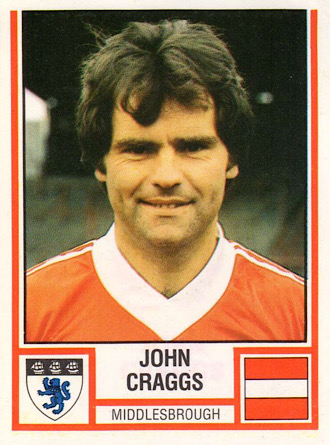 23/07 - It is the first-day of pre-season training and there are some surprising new faces. Along with Jeff Clarke, John Craggs (33) has joined from Middlesbrough and two Preston players are on a month's trial: Steve Doyle and John Anderson.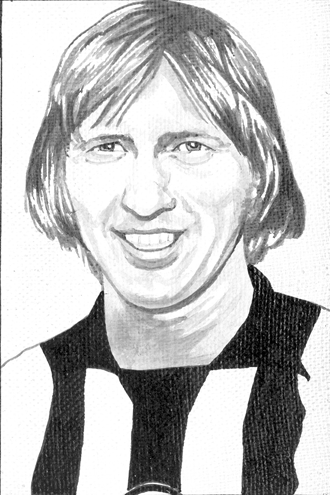 28/07 - John Brownlie agrees to join Middlesbrough, he will have a medical later in the week. Sheffield Wednesday winger Terry Curran rejects a late bid from Newcastle.
August
07/08 - Fr: Morton 1 Newcastle 3 - UNITED'S SCOTTISH REEL - Kevin Todd scores one and sets up the other two in an easy win. John Craggs is made captain.
09/08 - Fr: Kilmarnock 0 Newcastle 0 - MAGIC FROM WADDLE IS NOT ENOUGH - The skills of Waddle brighten up a flat friendly.
11/08 - UNITED KEEPER READY TO QUIT - Steve Hardwick says that he is "ready to quit football altogether when my contract ends with United at the end of the season" rather than sign for a club in Division 3 or 4.
11/08 - Fr: Patrick Thistle 0 Newcastle 2 - VARADI IS BACK ON GOALS TRAIL - Imre Varadi scores twice in the first 12 minutes and United coast through the game.
14/08 - The deal to sign David Mills on a permanent basis from West Brom seems to have hit a roadblock leaving the player very unhappy.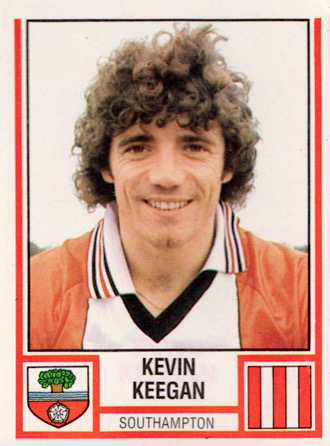 15/08 - COX'S DREAM BID FOR KEEGAN - Newcastle have made a shock enquiry for England captain Kevin Keegan (31) who has become embroiled in a wage row with Southampton. Manchester United manager Ron Atkinson claims to have held talks with the player already and Brian Clough has also registered his interest.
16/08 - Arthur Cox and the Board meet at 7.30 in the morning before the manager disappears off in his car. Southampton manager McMenemy says he will do "everything in his power" to retain Keegan's services, but it is claimed that Keegan is talking to a club in Germany.
17/08 - UNITED OFFICIALS MEET ENGLAND STAR KEEGAN - Arthur Cox, accompanied by Chairman Stan Seymour and secretary Russell Cushing held secret talks with England captain Kevin Keegan last night in London. Scottish and Newcastle Breweries were also represented and it is believed they will sponsor any deal. Keegan is in a dispute over his wages with current club Southampton.
18/08 - Keegan and United hold further telephone talks. United agree to let Blackburn take David Barton on loan.
19/08 - KEEGAN SIGNS - Keegan flies into Newcastle airport and signs a one-year contract in front of the cameras at Gosforth Park Hotel. Before the Football League would ratify the deal Newcastle had to pay the money they still owed West Brom for John Trewick.
"Newcastle made me feel wanted. I'm an emotional man and I know from playing up here just how emotional the supporters can be. The people of Tyneside are genuine and they love their football - these are the sort of people I want to play for. It's a new challenge for me at this stage of my career and that is what I needed. It has nothing to do with money. There are many reasons why I didn't sign a two-year contract. I want to be as fair to everybody as possible. But certainly if we go up, I'll want to play for Newcastle the following season. It's not going to be easy. It's my job to make Newcastle United great again."
Chairman Stan Seymour: "This is no gamble. You don't gamble when you sign one of the world's greatest footballers. Have no doubt Kevin is going to be the King of Geordieland."
Tom Yellowley [Lord Mayor]: "The big crowds will bring a boost to the city's trade."
Jackie Milburn: "This club is a sleeping giant no longer. I can sense it and so can everyone else who cares about Newcastle. Keegan can lift the team back into the big time. It's an audacious and ambitious signing - probably Newcastle's best ever."
Bill Armstrong (68 year old fan): "If the price of beer is put up to pay for Kevin Keegan, I won't be able to afford a pint, never mind go to a football match."
Daily Star: "Dozens of hardened journalists were blinking in disbelief at the prospect of the man who was twice European Footballer of the Year joining the rundown North East Club."
David Miller [Daily Express]: "If Keegan was Pele at his peak he could not justify such a salary. When he is in fact an aging player past his own all-to-mortal peak it makes no sense."
Stuart Bell [City Councillor) : "I feel it will heighten the despair of thousands of unemployed Newcastle supporters. If Scottish and Newcastle sponsorship money is being used to bring him here, I wonder what the shareholders think of this at a time when beer sales are dropping. I'm sure a lot of drinkers of their beer would rather have a penny knocked off a pint."
21/08 - It is disclosed that Keegan's wages will be linked to the attendances at St. James' with him getting a percentage of the increased revenue. He will also receive a substantial bonus if promotion is achieved and will be a free-agent at the end of his contract. Each of the directors had to find £7,000 to pay the money owed to West Brom. Everton also demanded payment of the money owed on the Varadi deal.
24/08 - UNITED FACE THE DOCK - Now Lincoln City are demanding money from Newcastle with regards to the transfer of Mick Harford and are prepared to take it to court. United were due to pay an additional £10,000 if he played thirty games and although he only played eighteen they are citing a similar case when Ted MacDougall moved from Manchester United to West Ham.
24/08 - CARR CRASHES OUT - Goalkeeper Kevin Carr had suffered cuts to both arms after walking through a plate glass door in Madeira.
25/08 - Such is the demand for tickets, the club need to call in the police because there are so many people and cars around the ground the staff cannot get in.
28/08 - D2: Newcastle 1 QPR 0 - TYNESIDE SALUTES SUPER KING KEV - England manager Bobby Robson watches on from the stands and receives a tremendous welcome when he takes his seat. The match cannot live-up to the atmosphere and expectation within the sell-out crowd, but Keegan makes sure it is memorable with a calm and clinical piece of finishing on the hour mark.
29/08 - John Trewick will be out for months after undergoing medial knee ligament damage for which he had an operation today.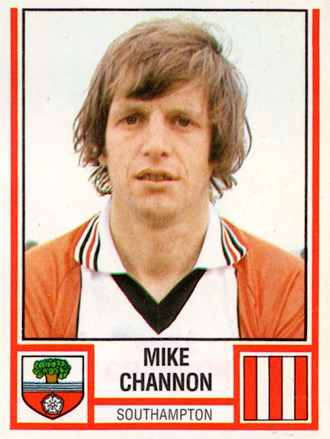 31/08 - MIKE'S A BARGAIN SAYS KEVIN - Mike Channon (33), given a free transfer by Southampton, signs a short-term contract for United although he hopes to stay for longer. His registration forms are with the Hong Kong FA where he played during the summer for Caroline Hills and he will not be able to play until they are received.
September
01/09 - D2: Blackburn 1 Newcastle 2 - KEEGAN'S AWAY DAY WINNERS - Keegan scores the first and makes the second to give United a two-goal lead at the break. A mixture of bad luck and poor finishing thwarts the home side and United have to survive a continuous onslaught after they pull one back twelve minutes from time. The police praise the behaviour of the fans.
04/09 - D2: Bolton 3 Newcastle 1 - KING HENRY PINCHES KEV'S CROWN - United fans make up almost half the crowd and they see Houghton-le-Spring born Tony Henry run United ragged and score twice in a disastrous first-half which ends with United trailing 3-0. The Magpies improve after the break and Keegan scores from the spot, but too much damage has already been done.
04/09 - UNITED FANS GO ON THE RAMPAGE - With segregation of rival supporters failing, four policemen are hurt and 75 fans are arrested (mainly from the North-East) after serious trouble at the match. Violence flares before kick-off and continues through the game with some of the 8,000 United fans standing accused of throwing bricks, stones and lumps of concrete at rival fans. After the game cars outside the ground are damaged.
06/09 - Cox says "We don't want that (Keegan's signing) tarnished by the actions of a minority." Mike Channon's papers have finally arrived.
08/09 - D2: Newcastle 1 Middlesbrough 1 -
CHANNON'S GOAL IS NOT ENOUGH - Mike Channon makes his debut and Keegan sets him up for the opener just before the hour mark, but Wood scores a spectacular equaliser. It is a very frustrating game due to Boro's negative tactics.
11/09 - D2: Newcastle 1 Chelsea 1 - SKIPPER KEEGAN NEEDS SUPPORT - Keegan bravely battles on, but is starved of service and becomes increasingly frustrated. This is largely due to the poor passing and a lack of control and vision from his team-mates.
12/09 - Chairman Seymour admits that United will need to spend again to prevent Keegan's talents going to waste.
14/09 - CAP OF WOE - New England manager Bobby Robson leaves Keegan out of his squad to face Denmark in the European Championship game. The player is stunned: "I want to be left alone. I need time to reflect. I have no statement to make."
15/09 - Angry that he wasn't contacted about his omission, Keegan says he will never play for England again.
18/09 - D2: Shrewsbury 2 Newcastle 1 - BROWN TOAST OF TOWN - The match is made all-ticket and the home side's officials are stunned by the poor sales to both sets of supporters. Waddle, who has been struggling, is replaced by Bell. Although The Shrews are bottom, having lost all their games, their high-speed football blows United away and former loanee Alan Brown gets the winner. It is a dismal defeat and United look anything but promotion candidates.
22/09 - RACE AGAINST TIME - United have agreed a £100,000 fee with Liverpool for former player Terry McDermott. The player held secret talks with United yesterday, but personal terms are still to be agreed.
23/09 - Agreement cannot be reached with McDermott and it appears that the deal is off.
25/09 - D2: Newcastle 1 Barnsley 2 - IT'S NOT GOOD ENOUGH - Having made only 3 youth and 2 reserve outings Neil McDonald is called up and becomes the club's youngest ever debutant. United once again cannot hold onto the lead against their better drilled and more incisive visitors.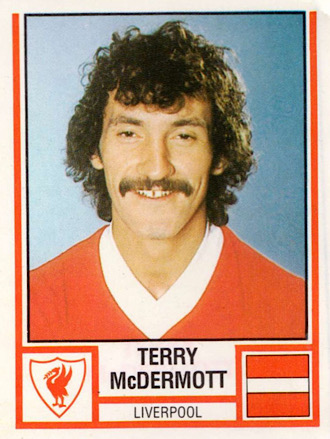 27/09 - MCDERMOTT TO SIGN ON WEDNESDAY - The snags preventing the deal happening have been resolved and Terry McDermott will join on Wednesday (29th) after Liverpool's game with Dundalk. United are also still interested in signing David McCreery and have held talks with his club Tulsa Roughnecks.
30/09 - Mike Channon leaves by mutual agreement.
October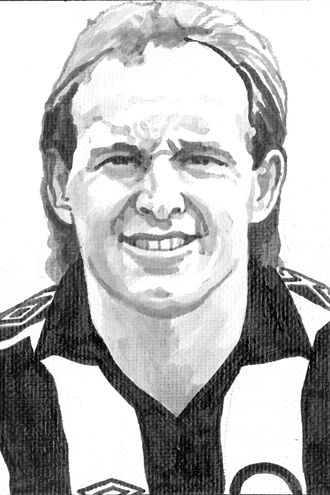 01/10 - UNITED SET TO SIGN MCCREERY - United agree a fee of £75,000 with Tulsa Roughnecks for Irish international midfielder David McCreery. He is set to fly in on Monday to complete the deal.
02/10 - D2: Rotherham 1 Newcastle 5 - WHAT ABOUT THAT, BOBBY! - McDermott, Anderson, Todd, Carr and Carney all come into a significantly revamped side which looks far more balanced. Keegan scores four as he performs superbly in what is an all-round impressive performance in front of the Match of the Day cameras.
05/10 - A move for Birmingham City midfielder Kevin Dillon falls through as they want £100,000 plus Chris Waddle in exchange.
06/10 - LC R2L1: Leeds 0 Newcastle 1 - VARADI GOAL TO END CUP JINX - Five thousand fans travel down to Yorkshire. United have been knocked out at the first hurdle for the last five years and Varadi's goal and a determined display against incessant pressure gives them every chance of progressing. McCreery makes his debut. Coins and bolts are thrown at Keegan, physio Liversidge and Assistant Manager Tommy Cavanagh whilst he is having treatment.
09/10 - D2: Oldham 2 Newcastle 2 - OH, WHAT A SHAME, UNITED - In an action-packed first period United score twice and hit a post before Oldham do exactly the same. Halfway through the second forty-five Steve Carney is sent off and Terry McDermott argues so much he is also sent off for dissent. This prompts an angry reaction at the United end and 100 police act quickly to prevent a pitch invasion whilst the game is held up for four minutes. Oldham chairman says: "I have no complaints about the Newcastle crowd, they reacted perfectly well in the end - I don't think we can blame them."
11/10 - FENCED IN - Chairman Seymour reveals that fences are to be erected on three sides of the ground as he is concerned that the club could be fined or the ground closed if there were any future incidents of fans coming onto the pitch. It is likely to cost upward of £10,000. Although neither the referee or Oldham reported the trouble, the FA are planning to investigate.
12/10 - Two Norwegian clubs want Tommy Cavanagh to be their manager and have been given permission to talk to him.
14/10 - Tommy Cavanagh agrees terms with Rosenberg and will leave United after Saturday's game.
16/10 - D2: Newcastle 1 Fulham 4 - UNITED'S DREAM TAKES A DENT - Cox is incensed with United's performance as they are well beaten by Malcolm Macdonald's young side: "We allowed them to play and they took full advantage of it". The real damage is done in the first period after which the Londoners lead 3-0. The Magpies do not play that badly, but Fulham's finishing is superb.
18/10 - McDermott and Carney are both hit with two-match bans after their dismissals at Oldham.
22/10 - Cox has a message for Waddle: "It's time he decided whether he is a first-team player or a Central League player. He has got to prove he's a man. There have been too many enigmas at this club in the past."
23/10 - D2: Newcastle 1 Crystal Palace 0 - ANDERSON IN WONDERLAND - The recalled Waddle is given a central attacking role and a good performance is capped with the only goal. It is John Anderson who is man of the match though with an excellent display.
25/10 - Chairman Seymour admits the club needs a good cup run because: "the cupboard is bare".
26/10 - United's associate schoolboys are training with the first team this week. They are Stephen Forster, Brian Tinnion, Ian Bogie, Paul Stephenson, Jeff Wrightson, Brian Kilford, Tony Hayton and Paul Gascoigne.
27/10 - LC R2L2: Newcastle 1 Leeds 4 - UNITED CRASH! - Despite taking a first minute lead, a Wes Saunders own goal and another from veteran Frank Worthington takes the tie into extra-time. Newcastle need to score to avoid going out on the away goals rule, but it is Leeds who take advantage of the open spaces left. It is the sixth time in succession that the Magpies have failed at the first hurdle.
28/10 - Cox lays down the law: "We have to realise our responsibilities to our supporters….we must not only entertain, we have to win for them".
30/10 - D2: Leeds 3 Newcastle 1 - BURNS GOAL TOO HOT FOR UNITED - Once again Leeds come from behind to win in a game marred by serious crowd trouble which sees both Kevin Keegan and John Anderson felled by missiles.
30/10 - VICTORY FOR THE SQUALID TERRACE MORONS - In the first-half United fans rip up seats and start throwing them at the Leeds supporters. Keegan is felled by a catapulted marble from the Kop End. When John Anderson is also felled by a missile in front of the Newcastle end the referee takes both sides off. The official and United chairman Seymour then make tannoy announcements. The teams return after five minutes, but trouble restarts at the Newcastle end and about a dozen police make a concerted charge. After the match fights break out between the rival fans involving bricks, bottles and planks of wood.There are 46 arrests and 3 policemen are injured.
31/10 Cox's view is that: "there is not going to be any football if this continues".
November
02/11 - Keegan refutes claims that he will leave if United are not promoted. "I'll stay even if Newcastle do not win promotion, if things are right within the club".
04/11 - UNITED LIST THREE - Although United are operating with one of the smallest squad's in their history three players are listed: Kevin Todd, Peter Cartwright and Bruce Halliday (who has been on loan at Darlington) . Ian Davies starts a month's loan at Bury. Barton has injured his knee on loan at Blackburn.
05/11 - Cox is reported to be interested in signing out-of-favour Sunderland striker Stan Cummins. Bolton are the latest club to show an interest in Waddle and a swop deal with Tony Henry might be on the cards. Liverpool reserve striker Howard Gayle says he would be willing to come to Tyneside on loan.
06/11 - D2: Newcastle 3 Burnley 0 - IT'S THE WONDER OF WADDLE - Waddle opens the scoring with a glorious 35-yarder but the second goal is more controversial. Both goalkeepers have an indirect free-kick given against them, as per the new rules, and United score from theirs. Burnley are furious, reasonably claiming that Stevenson is not likely to be wasting time when his side is losing.
07/06 - Stan Cummins is interested in joining United on loan.
13/11 - D2: Leicester 2 Newcastle 2 - KEVIN CAN TAKE A BOW - Kevin Keegan's finishing once again earns United a share of the points as he starts and finishes the scoring. Cox is disappointed that United failed to hold on to their lead.
16/11 - KEEGAN IN EYE INJURY SHOCK - Kevin Keegan suffers an eye injury in John Craggs' testimonial game.
17/11 - Keegan will be out for at least a month. Seymour vows that a "first class replacement" will be brought in. Cox labels rumours that Keegan's career may be over as "rubbish".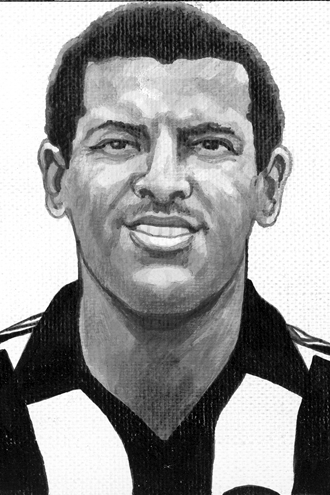 18/11 - GAYLE BLOWS IN ON LOAN - Liverpool allow quicksilver striker Howard Gayle (24) to join on a month's loan with a view to a permanent deal. He normally plays wide on the right and is extremely sharp and a deadly finisher. Gayle becomes the first coloured player to join United. Unfortunately he recently suffered a hamstring injury which flares up again in his last training session on Merseyside. He has only made 18 League appearances, 4 for Liverpool and 14 on loan to Fulham.
19/11 - With United fans having already snapped up the six thousand tickets for the all-ticket match at Brunton Park there is some concern they will get hold of some of the remaining tickets.
20/11 - D2: Carlisle 2 Newcastle 0 - LIFE AFTER KEEGAN - NOT MUCH - McDermott takes over as captain, but Gayle and Martin are both out. Although Newcastle have a greater share of the ball a lack of a cutting edge means it is to no avail. It is the first time the Magpies have failed to score this season and they drop into the bottom half of the table.
22/11 - There is surprise and criticism after the FA's lenient conclusion to their investigations into the trouble at Leeds. The Yorkshire side, with a history of trouble, are ordered to close their terraces for the next two games and United escape with a warning.
24/11 - Fr: Newcastle 2 Moscow Dynamo 1 - NEWCASTLE OVERPOWER DYNAMO - on a rain-soaked night a decent crowd sees United beat the Russian European Cup Quarter-Finalists who appear to be jet-lagged. Gayle plays for just under an hour and shows promise. Former European Footballer of the Year Oleg Blokhin is subdued.
25/11 - Bruce Halliday, who had a loan spell at Darlington earlier in the season, goes on loan to Bury.
27/11 - D2: Newcastle 2 Cambridge 0 - UNITED PAY FOR VICTORY - Gayle and Hedworth make their competitive full debuts, but Varadi, Waddle, Martin and Anderson all suffer injuries in a scrappy encounter. It is a drab match which gets gradually worse. McDermott gets his first goal.
29/11 - Keegan returns to training.
30/11 - BACK FROM THE BRINK - Although United report an operating loss of £166,682 in their annual accounts it is a huge improvement on the £877,381 loss incurred in 1980/81 and, if the Development Association funds are included they actually made a small profit. Although the club has cut wages and operating costs the main difference is the £85,400 profit on transfers compared with the near £500,000 deficit in the previous year. The club is still almost £1m in debt but their bank is now looking at them much more favourably.
December
01/12 - Peter Cartwright joins Scunthorpe on a month's loan.
03/12 - Keegan, who was all set to play tomorrow, is told by his eye specialist that his eye needs more rest.
04/12 - D2: Charlton 2 Newcastle 0 - NOW YOU KNOW WHAT IT'S LIKE! - With Varadi (foot) and Todd both injured Paul Ferris gets a last-minute call-up to make his full debut. It is a disjointed performance and the East Londoners, for whom World superstar Alan Simonsen is brilliant, could have won by more. United are particularly poor in the first-half, with Cox describing them as "lethargic and tepid".
06/12 - Keegan is told to stop training.
07/12 - With fourteen players currently under treatment, United only have five fit senior players.
11/12 - D2: Newcastle 1 Wolves 1 - TERRY IS ALL GOLD FOR COX - Although Wharton gives United an early lead with an excellent goal, Eves replies for the visitors within ten minutes. In the second-half Wolves adopt an ultra-defensive approach and with United suffering from the lack of a natural goal scorer, the home fans are left very frustrated.
17/12 - Howard Gayle's loan was due to come to an end after Saturday's game, but the two club's have agreed to extend the loan for another month. Keegan has been given the go-ahead to return to training on Monday.
18/12 - D2: Sheffield W 1 Newcastle 1 - UNITED RUN IN TO A SOLID BOLDER - The Magpies let a lead slip once more and an enterprising display of skill and purpose is undermined by poor finishing and a solid performance from the Wednesday 'keeper. United drop to 15th.
21/12 - The AGM, held in the County Hotel takes place in a rare air of cordiality and optimism and lasts only thirteen minutes.
22/12 - Cox uses an old Bob Stokoe quote, claiming: "We'll go like bombs in the New Year". Keegan is given the go-ahead to resume training.
27/12 - D2: Newcastle 1 Derby 0 - GAYLE'S GOLDEN RETRIEVER - Arthur Cox claims it is "the most one-sided one-nil I have ever seen", but his opposite number, Roy McFarland, accuses him of "inciting the crowd" in what is a fiery game. Howard Gayle nets his first goal to win the match.
28/12 - Seymour lashes Derby for "trying to kick us off the park" in the first-half and reveals he confronted County Chairman Mike Watterson in the director's room at half-time.
28/12 - D2: Grimsby 2 Newcastle 2 - GIFT-WRAPPED GOALS - Father Christmas parades on the pitch and both sets of defenders are also in a benevolent mood. United are leaden-footed in the first-half, but play with pride and passion after the break. United adopt a bold 4-2-4 formation with Gayle and Waddle on the flanks.
January
01/01 - D2: Newcastle 2 Carlisle 2 - ROOKY REF CAUSES RAGE - A feisty encounter in which rookie referee Trevor Jones has a bit of a nightmare enraging both sides. Arthur Cox and Bob Stokoe square up at one point but shake hands at the end. Keegan scores twice and Alan Shoulder nets on his return to Tyneside.
03/01 - D2: Newcastle 2 Bolton 2 - UNITED'S BLACK MONDAY - Within ten minutes David McCreery suffers a horror injury in which he suffers a gash to his leg over one foot in length and United go behind . Terry McDermott is sent off for the second time after swearing at, then moments later, gesturing at a linesman. This prompts an angry reaction from the crowd during which missiles are thrown at the flag-man. A frantic finale brings three goals in a couple of minutes and a share of the points.
08/01 - FA R3: Brighton 1 Newcastle 1 - SUPERB SHOW - Carney and McDonald replace the injured Haddock (ankle) and McCreery; Varadi replaces the dropped Gayle. Although United run their First Division hosts ragged in a first-half of a performance of quality and character they have to come from behind to force a replay.
10/01 - McDermott receives a two-match ban.
11/01 - Liverpool and Birmingham reach agreement on a permanent deal for Howard Gayle.
12/01 - FA R3r: Newcastle 0 Brighton 1 - With a Fourth Round tie against Sunderland at stake, unlucky United crash out in controversial fashion. Two attempts are cleared off the line, a McDonald cracker rattles the bar, referee Trelford Mills blocks a shot on goal and then in the last five minutes the official disallows two "goals" and turns down a penalty appeal.
13/01 - Cox is not happy: "Brighton did not stop us from winning, the referee did. I don't mind being beaten fair and square - but that was not the case".
14/01 - Gayle joins Birmingham.
15/01 - ARABS BID TO LURE KEEGAN - KuwIt want Keegan as a player and coach and have approached Keegan through a third-party, he admits he may be interested in a short-term deal.
15/01 - D2: QPR 2 Newcastle 0 - NOTHING LEFT TO PLAY FOR? - United struggle badly on the Hoops' artificial pitch and are well beaten. The Magpies are 14, 14 points off the promotion places and only 6 points above the relegation spots.
17/01 - Sunderland turn down a loan approach for midfielder Mick Buckley.
18/01 - Although chairman Seymour states that "the manger's job is safe. I'm perfectly happy with him", it is thought that some Board members believe it is time for a change.
18/01 - "IF HE GOES I GO - Keegan makes his views very clear. "If he (Cox) goes, then I have no intention of staying at the club" (beyond the end of the season). He also shoots down talk of becoming player-manager. "Everyone who knows me realises I have no ambition for coaching. Seeing the work and effort he puts in, I haven't that kind of dedication".
19/01 - Stan Seymour makes it clear that the club have no intention of sacking Cox.
22/01 - D2: Newcastle 4 Shrewsbury 0 - CANNY KENNY'S A COX WINNER - Kenny Wharton, deputising for the suspended McDermott, is the star player and scorer of two of the goals. The victory could have been even greater if United and Varadi in particular, had not missed numerous chances.
February
05/02 - D2: Middlesbrough 1 Newcastle 1 - A NO-FAVOURS DERBY DRAW - It is a typical frantic, full-blooded derby in which skill and finesse is always second best to pace and commitment. Baxter heads the Teessiders in front after only five minutes and on the stroke of half-time Keegan also uses his head. There are pitched battles outside the ground before and after the match and fighting in the stadium before the game. And United fans shame themselves by pelting Beattie with coins as he limps off injured.
07/02 - Seymour and Middlesbrough chairman McCulloch discuss the violence on TTTV show Northern Life and Seymour controversially claims that: "I do not think Middlesbrough were up to it" and when he is pressed on whether he is blaming them, he responds "yes, I'm afraid I am".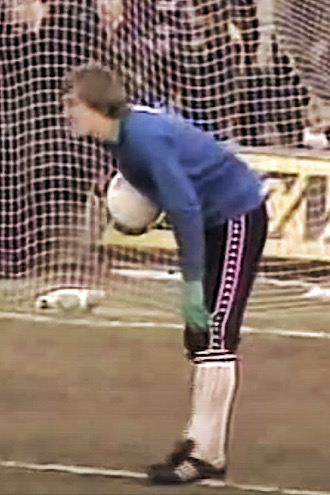 16/02. - Steve Hardwick (26), who said he would quit the game if he didn't find a new club this season, joins Oxford.
19/02 - D2: Newcastle 1 Oldham 0 - MARTIN MAGIC LIFTS UNITED - McDermott scores the winner on his return from suspension, but Mick Martin steals the show with an excellent performance.
26/02 - D2: Fulham 2 Newcastle 2 - UNITED'S FIGHTERS ROCK SUPERMAC - The game is on Match of the Day and for once the Magpies don't let themselves down as they deservedly hold the promotion hopefuls. Varadi scores in the first minute and after the Cottagers draw level McDermott makes it 2-1 at the break. Fulham equalise from the spot.
March
05/03 - D2: Crystal Palace 0 Newcastle 2 - HAPPY CARR - Second-half goals from Varadi and Waddle bring a first away win in 10 matches but it is goalkeeper Carr, who has struggled to meet his excellent standards of last season, who is the real hero with several brilliant saves and blocks, particularly in the first forty-five.
09/03 - Arthur Cox has a long-running interest in Brighton striker Mick Robinson who he sees as a perfect foil for Keegan and there is talk that Varadi might be offered in part-exchange. However the Londoner makes it clear he does not want to leave. He is also reported to be keeping an eye on Stockport County's Micky Quinn.
12/03 - D2: Newcastle 2 Leeds 1 - KING KEEGAN CROWNS WIN - Keegan scores what proves to be the winner just before the hour mark when he wins and converts a penalty. Leeds are not happy as they are convinced the foul was made outside the area. It is a thoroughly deserved win in which they dominated the attacking, with Keegan at its fulcrum, for the first hour against the ultra-defensive Yorkshiremen. The game comes alive after the penalty and both sides have numerous chances. McDermott and Carney square up to each other at one point and have to be separated by team-mates.
14/03 - Keegan is presented with the Newcastle City Sports Council Personality of the Year award at the Civic Centre.
16/03 - COWIE SLAMS ROKER FANS! - Sunderland Chairman causes uproar on Wearsider with his comments on the fans of the North-East rivals. "I wish we had supporters like Newcastle's. I believe that Newcastle supporters are more loyal than Sunderland's. I would rather be in our position than Newcastle's, but I would like to swop the fans".
19/03 - D2: Burnley 1 Newcastle 0 - DONOVAN'S DOWNER - Terry Donovan's late winner surely kills off any slim hopes of achieving promotion and United can have no complaints after a lack-lustre performance in a mistake-riddled game.
21/03 - UNITED FAILED IN ATTEMPT TO LAND GREAT DANE - It is reported that United tried, but failed, to persuade former European Footballer of the Year Alan Simonsen to come to Tyneside. He hasn't settled at Charlton and is returning to Denmark.
24/03 - Transfer deadline day sees no new arrivals with Cox preferring to wait for the right players to become available. Mick Robinson and Peter Withe are thought to still be his main targets.
26/03 - D2: Newcastle 2 Leicester 2 - GIFT WRAPPED FOR TERRY - In front of the biggest crowd of the day the promotion-chasing Foxes control the first-half and lead at the break, although they should have scored more. When Lineker scores a second just after the hour mark it looks all over, but minutes later Keegan scores a penalty and with 11 minutes left McDermott's half-hit cross inexplicably squeezes past Wallington at his near post.
April
02/04 - D2: Newcastle 4 Grimsby 0 - VARADI ANSWERS THOSE CRITICS - United struggle to get going in a distinctly dreary game and the visitors looked the more likely to score. But a defensive howler gifts Keegan a chance and the much-maligned Varadi gets a second. The Magpies dominate the second-half, Varadi gets his second and seventeen-year-old McDonald scores his first senior goal a couple of minutes before the end.
04/04 - D2: Derby 2 Newcastle 1 - UNITED LEFT NOWHERE - The relegation-threatened Rams overwhelm United with a passionate first-half display and lead 2-0 at the interval. Waddle pulls one back on the hour, but although the Magpies start to dominate against their increasingly nervous hosts they fail to score again. During the second-half Keegan drops back into midfield and plays behind Varadi and Waddle, a formation that looks promising.
09/04 - D2: Newcastle 3 Blackburn 2 - JUGGLER STUART SETS THE TEMPO - In a low-quality, error-strewn match it is veteran Stuart Metcalfe (who is playing his first game for three years due to the Lancastrians injury crisis) who starts the fun. He shows immaculate control before neatly lobbing his keeper. By half-time Varadi has added a second and due to an injury former player Glen Keeley comes on for Rovers. Known to score one or two own-goals during his short stay on Tyneside he soon blasts the bar against his own bar before amazing the crowd by netting twice in the last five minutes, at the right end. Waddle nets inbetween his brace.
16/04 - D2: Chelsea 0 Newcastle 2 - UNITED PENSION OFF CHELSEA - The Magpies win at Stamford Bridge for the first time in 29 years. Chelsea are on top early on, but one Keegan scores from the spot after 18 minutes Newcastle never look like relinquishing control and the only surprise is that they have to wait until the 78th minute to score a second.
20/04 - D2: Newcastle 4 Rotherham 0 - FOUR-STAR SHOW FROM UNITED - Once McDermott gives United the lead, just after the half-hour, it is plain sailing against the struggling Yorkshire outfit. Varadi adds a second before the break and Keegan and Wharton complete the scoring. Newcastle climb to fifth.
23/04 - D2: Newcastle 4 Charlton 2 - VARADI DOUBLE IS A WINNER - United seem to be strolling to victory when McDermott makes it 2-0 just after the break, but Charlton hit back immediately and the defence gets the jitters. Robinson scores a second to brings the score level, but Varadi makes it seven goals in six games with a brace of his own.
29/04 - UNITED MUST SIGN CLASS - In an interview with the Chronicle Keegan puts pressure on the Board with regards to him signing a new contract in the summer. "I'm not holding a gun to their head, but I want to some movement from the club. There has been a lot of talk about signings, now action must follow…I'm ready and eager to sign as long as the club is ambitious as I am". Seymour is taken aback by Keegan publicly airing his views and insists that the Board will not be rushed.
30/04 - D2: Cambridge 1 Newcastle 0 - FAILING TO KICK THE ABBEY HABIT - With Fulham and Leicester both losing a win would have put the Magpies within three points of a promotion place, but they have still never won at the ground. They struggle to deal with big George Reilly in the first-half and although dominating after the break they are let down by a mixture of bad luck and a lack of incisiveness.
May
04/05 - D2: Barnsley 0 Newcastle 5 - FIVE STAR UNITED - GOAL BLITZ KEEPS THE DOOR OPEN - The Magpies have to win to keep their slim promotion hopes alive and after a hesitant start they produce a thumping victory which takes them within three points of Leicester and Fulham, with all three teams in the fight for third having two games remaining.
07/05 - D2: Newcastle 2 Sheffield W 1 - BATTLE WON, WAR LOST - The Magpies do what they need to do with a hard-fought victory over Wednesday, but with Leicester winning too, promotion is now all but impossible. Although the fans are aware of the situation half the crowd stay behind and thousands "invade" the pitch at the end to celebrate. Despite police bringing the horses out, causing a rise in tension, they refuse to leave until Keegan makes an appearance forty minutes later. Wowed by the scenes Keegan says: "You don't leave people like this. I want to stay here. I will be here again next season, all right". England manager Bobby Robson is in the stands and he is given a rough ride by some United fans, there are also claims that he had to run the gauntlet of incensed fans as he made his way across the car park before the game.
09/05 - Fr: Hull 3 Newcastle 2 - MUTRIE GOALS SINK UNITED - United are not really up for the game. Varadi and former Gateshead striker Les Mutrie both score twice but the Tigers should really have won by more.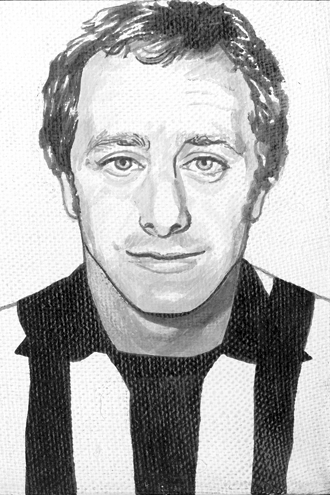 11/05 - UNITED GIVE MARTIN A FREE - Mick Martin, who has won over the fans this year and earned himself the nickname "Zico" has reportedly been told that he is to be given a free transfer. Record signing John Trewick is also to be listed.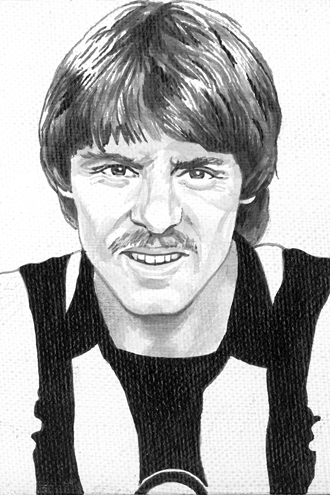 12/03 - The club issue the full list of freed players which includes four players with first-team experience: Mick Martin, John Craggs, David Barton and Chris Withe. And they confirm that Trewick will be made available for transfer.
14/05 - D2: Wolves 2 Newcastle 2 - VARADI WINS GOALS BATTLE - With the home side having been promoted there is a carnival atmosphere at Molineux. Wolves dominate the first half and lead 2-0 until five minutes before the break. But McDonald let's fly a howitzer from thirty yards and Varadi keeps up his rich vein of scoring to make it level at half-time. Varadi's goal makes him top scorer for the season.
18/05 - D2: Malaysia XI 1 Newcastle 5 - UNITED KICK OFF WITH KEEGAN HAT-TRICK - United start their Far East tour in style with Keegan scoring a hat-trick.
19/05 - UNITED CAN SWOOP FOR DALGLISH - Arthur Cox is on standby to return from the Far East if United can persuade either Kenny Dalglish (who has allegedly already held talks with Newcastle Breweries) or Celtic's Charlie Nicholas to come to Tyneside.
20/05 - D2: Malaysia XI 0 Newcastle 1 - United win again.
20/05 - ALL SYSTEMS GO FOR WITHE DEAL - with former target Mick Robinson set for Villa it looks like Peter Withe is set to return to Tyneside.
22/05 - the much in-demand Charlie Nicolas states that he is willing to talk to Newcastle.
22/05 - D2: Thailand 0 Newcastle 1 - UNITED WIN AGAIN - McDermott scores the only goal in a game once more played in searing heat.
25/05 - D2: Lopburi 0 Newcastle 3 - UNITED WIN YET AGAIN - McDermott (2) and Keegan are on target against a young Thai team with an average age of 21.
29/05 - D2: Japan 0 Newcastle 4 - EASTERN PROMISE - In their first game in the Japan Cup United outclass the host nation with Waddle (2), Keegan and Clarke on target.
31/05 - Newcastle 1 Syria 1 - LAST GASP GOAL FOILS UNITED - David McCreery scores a rare goal from all of 35-yards and United control the game despite the intense heat. But in injury time Ziano equalises.