June
24/06 - Jimmy Sutton will join Mansfield when his contract expires at the end of the month.
July
Left-back Keith Kennedy signs professional terms.
Defender Irving Nattrass signs professional terms.
13/07 - Reserve centre-half Bobby Noble moves to Bury for £4,000.
23/07 - Newcastle Council hold a secret meeting to discuss whether the club's plans for the ground are deemed acceptable. No announcement is made; the Council are going to send a letter to the club.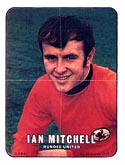 25/07 - £50,000 FOR MITCHELL - United sign 24-year-old forward lan Mitchell from Dundee United for £50,000. A former schoolboy, youth and U23 international he joined Dundee from Falkirk youth side Woodburner in 1962. He is a fast winger or inside-forward and has a good left foot. He has played more than 300 first-class games and scored 113 goals.
28/07 - NEWCASTLE SIGN BARROWCLOUGH - Despite being reluctant to leave home right-winger Stewart Barrowclough (18) signs from Barnsley for an initial fee of £30,000 (with £10,000 extra due when he has played ten first division games). He has only played nine times for his hometown team but has attracted interest from a number of clubs including Liverpool and Everton. It is a record fee received for the Tykes.
August
01/08 - Fr: Dundee Utd 1 Newcastle 2 - SUPER JIM PUTS DUNDEE IN A SPIN - Mitchell is made skipper for the game against his previous employers. Smith is the star in a poor game. Frank Clark damages the ligament in his right knee and Mitchell also hurts his ankle.
03/08 - Keeper John Hope is unhappy with the plan for him to share reserve team duties with Martin Burleigh.
05/08 - Newcastle draw Inter Milan in the Fairs Cup First Round.
05/08 - Fr: Newcastle 1 Dundee Utd 0 - BARROWCLOUGH PUTS ON THE PRESSURE - With McFaul and Hope carrying slight knocks Martin Burleigh gets his first call-up. Stewart Barrowclough is also given his first start. Smith is once again the best player and Newcastle should have won by a lot more.
07/08 - Nine first-teamers are currently injured.
08/08 - Fr: Newcastle 3 Bolton 0 - FOGGON PEPS UP UNITED ATTACK - United dominate in an easy win in sweltering conditions against Second Division Bolton. Wyn Davies is made captain against his old team.
09/08 - ST JAMES' PARK BLOW - A letter is on its way to the club from the Council in relation to the club's redevelopment proposals for the ground which were submitted to the council on April 2nd. Council leader Grey says he cannot reveal what it says, but admits "I am sure the club will not be pleased when they read it". The lease on the ground expires on November 11th. United have received a letter from Roker Park Estates Committee asking United whether they would be interested in sharing a £3.5m super stadium with Sunderland. Washington New Town being a possible location.
10/08 - UNITED READY TO MOVE - United announce that detailed plans for a new super-soccer stadium are almost ready and have already placed them before the Northumberland Planning Committee. The stadium at Sandy Lane would cover over 20 acres and have parking for 10,000 cars.
12/08 - The Newcastle players get a new luxury coach (from Moordale) for travel to away games.
13/08 - Newcastle are one of two-clubs selected from each Division to be warned about their conduct by the FA Disciplinary Committee. Westwood is nonplussed.
14/08 - Alan Foggon is told to get a haircut if he wants a pay rise.
15/08 - D1: Newcastle 3 Wolves 2 - MAGNIFICENT SMITH TAMES THE WOLVES - With Jimmy Smith in superb form United storm into a three goal lead, but a brace of headers from corners in the last few minutes ensures an unnecessarily nervy ending. After the game Harvey bemoans the "diabolical" defending which almost handed the visitors a point.
15/08 - TERROR KICK-OFF BY SKINHEADS - After the game hundreds of United thugs attack three Wolves fans' coaches and £1,300 worth of damage is caused. In one incident a steel mainline spike is used and 12 arrests are made.
18/08 - ST JAMES'S PARK ROW COMES TO A HEAD AT LAST - A Council Committee states that the club has failed to meet their requirements for development of the ground. Chairman Westwood blasts back: "Let us get on with the job of modernising St. James' Park or we leave. We have been trying for five years to get the go-ahead from Newcastle Council to modernise the ground. If my final letter to the Council asking for a definite yes or no to our plans is not answered one way or another by November 11th we shall take it to mean we have been given notice to quit". He claims the Council's "unrealistic, extravagantly expensive and impracticable" plan for a community sports stadium would bankrupt the club.
19/08 - D1: Stoke 3 Newcastle 0 - STOKE CASH IN ON UNITED BLUNDERS - A black and white comedy of errors brings down United against the Potters. The game is lost in the first-half and it is damage limitation after that.
19/08 - STADIUM MOVE MORE LIKELY - The letter from Lord Westwood is received by the Council and the leader, Alderman Grey, is unequivocal about their position. "We have already told them that we have rejected their suggestions and there is and will be no change. We have not received any detailed improvement plans from the club. All that we did receive were outline suggestions which could not be accepted. Grey has the support of the opposition party whose leader Tom Collins who states: "we don't want to see them leave St. James' Park, but they will receive the same treatment as everyone else. In response Lord Westwood claims: "It now appears they want us to go".
21/08 - SECURITY PEN FOR COACHES - From now on the car park in the Cattle Market on Scotswood Road will be set aside for visiting supporters' coaches on match days. Wardens and police patrols will provide protection.
22/08 - D1: Crystal Palace 1 Newcastle 0 - UNITED SCORING TOUCH IS MISSING - United's promising start soon evaporates and Palace take the lead with their first decent shot. The home side are content to protect their lead and the ponderous Magpies lack the guile to break down their defence.
26/08 - Four boys are banned from attending the next 12 Saturday home games due to incidents on previous match days.
26/08 - D1: Newcastle 1 Nottm. Forest 1 - MAC FOILS ROBBER BARRON - McNamee saves United with a late equaliser in a game which they would have won had it not been for an excellent performance by Forest 'keeper Jim Barron.
27/08 - A letter from director William McKeag to the editor of the Newcastle Journal which states the club's case with regard to the ground is published.
29/08 - D1: Newcastle 1 Blackpool 2 - UNITED THROW AWAY TWO VITAL POINTS - After Hindson's early goal it is all United as they batter newly promoted Blackpool. But once the visitors reply they plunge into another lethargic performance and it is the Tangerines that demonstrate the spirit and effort which has been United's trademark in recent years. The crowd chorus "we want our money back" and Harvey is fuming. "We were disgusting. It's the worst Newcastle display I've seen in years. I can forgive individual players having an indifferent match, but this was a terrible team effort. Heads will roll after this!"
September
01/09 - The players are called in for an unheard of Tuesday morning workout.
02/09 - D1: West Brom 1 Newcastle 2 - The Magpies revert to 4-3-3 and display their old authority and confidence. But it takes a gift own-goal just before time to secure the first away win of the season.
04/09 - The Journal publishes a letter from Alderman Grey responding to McKeag's letter which he claims is "interesting but not factual". He re-iterates the stance that they cannot accept United's proposals and dispute the cost to the club of the Ove Arup plan. As far as he is concerned the opportunity to transform what is "the slum ground of the First Division" with "primitive facilities" is being lost "for no apparent reason." The paper also publishes a potted history of the ground dispute.
05/09 - Ben Arentoft is sent home after his wife receives a series of abusive phone calls.
05/09 - D1: Derby 1 Newcastle 2 - DEADLY DYSON SETS THE RAMS UP FOR THE KILL - United are in tremendous form during the first 30 minutes and take a two-goal lead. Derby pull one back just before the break, but Newcastle settle into their well-worn defensive style in a subdued second period to claim maximum points. A Close-circuit television system provided by the Home Office is used to monitor fans inside the ground.
08/09 - LC R2: Bristol Rovers 2 Newcastle 1 - OH UNITED, THIS WAS A SHOCKER - A fortnight before Newcastle travel to the San Siro they visit the humbler surroundings of Eastville, the home of Third Division Bristol Rovers. United are really poor and concede just before and just after the break; both goals a result of defensive indecisiveness. Dyson gets scant consolation with virtually the last kick of the match. United have fallen at the first hurdle in the League Cup for the 9th time in its 11-year existence. Joe Harvey storms out of the ground without talking to the press.
12/09 - D1: Newcastle 0 Liverpool 0 - NOT FAIRS CUP FORM, UNITED! - A drab draw with United failing to threaten a transitional Liverpool side who are happy with nils-each. United struggle to string more than a couple of passes together and are guilty of giving the ball away far too easily.
13/09 - COUNCIL TALKS IT OVER WITH UNITED - The Club and Council hold a "constructive " meeting and both sides will now consider the points made and report back in due course. The meeting is attended by Westwood and two other directors.
14/09 - A youth who chased a Crystal Palace supporter outside Kings Cross Station is sentenced to 8 months in jail for possession of an offensive weapon; a knuckle-duster.
14/09 - Jim Thompson wants a free transfer to return to Scotland, but United want a fee.
16/09 - ST JAMES' PEACE BID BACKED BY BOARD - The directors agree to back the initial proposals agreed at the meeting with the council. There will be another meeting with the Council in about three weeks.
19/09 - D1: West Ham 0 Newcastle 2 - YOUNG'S PUNCH BRINGS THAT OLD POWER - An excellent win at sultry Upton Park in front of the TV cameras in which Pop Robson notches a cracking brace; his first goals of the season. The Magpies produce a scintillating attacking display in the First Half and a beaming Harvey states "Our football was both progressive and entertaining".
26/09 - Nineteen-year-old Tommy Cassidy is signed from Glentoran. Manchester United and Sunderland have also been keeping tabs on him. He has usually been employed as a midfielder with the freedom to push forward and support the attack.
23/09 - FC R1 L1: Inter Milan 1 Newcastle 1 - SUPER UNITED ROCK ITALIANS - Inter beat Juventus 4-0 on Saturday and include five members of the national side that performed so well in the World Cup, but Newcastle come very close to pulling off a fantastic victory. Marked very tightly and with their space closed down, the Italians threat is brilliantly nullified and they only equalise six minutes from time. By their own admission Milan underestimated how organised United would be. Despite the late equaliser Harvey is "over the moon".
24/09 - Dunfermline approach United in the hope of signing McNamee, but they cannot agree on a fee.
25/09 - Davies says "I am fed up with taking kicks. I'm sick of it all."
26/09 - Dunfermline manager George Farm is back on Tyneside hoping to resurrect the deal for McNamee. Big John knows nothing apart from what he has read in the papers. Sheffield Wednesday are also said to be interested and are allegedly willing to pay the £25,000 asking price.
26/09 - D1: Newcastle 0 Coventry 0 - UNITED SLEEP UNDER A COVENTRY BLANKET - Another awful scoreless match has the supporters clapping very slowly. United's play is unimaginative and sloppy and even when the Sky Blues are reduced to ten men with fourteen minutes left they still cannot conjure up a goal.
26/09 - SENT TO COVENTRY! - Coventry manager Noel Cantrell is furious with the referee over the sending off and a disallowed "goal" and when he is approached in the crowded foyer by a reporter for his comments he screams a four-letter expletive and storms off into the Boardroom.
28/09 - A TOOTH CLINCHES CASSIDY DEAL - Tommy Cassidy travels to Newcastle for his medical and although he passes it is deemed that he needs a tooth out and is sent straight to the dentists to have it extracted. The initial fee is £15,000 with additions of £5,000 (after 10 first-class games) and £5,000 (if capped by Northern Ireland). He is a part-time player who works as a compositor with a Belfast printing firm.
28/09 - Jimmy Thompson is to have a week's trial at Dunfermline.
30/09 - FC R1 L2: Newcastle 2 Inter Milan 0 - UNITED HEAVE OUT INTER BRAWLERS - In his program notes Harvey praises the Italians for "the sporting way in which they conducted themselves (in the first-leg) ...they never resorted to dirty tactics and we appreciated that". Once again United's direct football causes the Milan defence all sorts of problems and Moncur puts the Black and Whites ahead on the half hour. A couple of minutes later Davies challenges the Italian keeper Vieri as he prepares to clear. Davies drops his shoulder as if he is going to challenge the keeper and that is enough for him to wedge an elbow into Davies' chest. Referee Minnoy awards Newcastle an indirect free-kick on the edge of the six-yard box. The irate Italians swarm around the referee and the crazy custodian decks him with a left-hook. Vieri is sent-off which is the cue for more mayhem and it takes the intervention of the local constabulary to regain control. The rest of the match sees the Italians resort to all sorts of disgraceful behaviour with Davies singled out for the heaviest punishment, Moncur has two touchline conferences with Harvey, once to suggest that Davies should be taken off before he was either carried off or sent off for retaliation. And once to request police protection for the players at the end of the game. To their credit the Newcastle players keep their heads and Davies has the last laugh when he heads a second.
30/09 After match comments. Moncur:: "It was difficult to keep your head. If it had gone on much longer I don't think I could have kept control of myself". Westwood stated: "I was proud of our men. But there were two types of player out there, the quick and the dead." Referee Minnoy was surprisingly unruffled: "I did not consider the game to be out of hand. But these Italians - I think they suffer from too much sun."
October
03/10 - D1: Man. City 1 Newcastle 1 - UNITED TAKE THE WRAPS OFF THE NEW "FORD" - The returning Ford is the star player and he gives United a deserved lead on the hour. The goal awakens slumbering City and they fight back to equalise.
Whilst Jimmy Thompson was on a week's trial at Dunfermline, manager George Farm was sacked.
07/10 - John Cowan is to spend some time in hospital to get some complete rest and hopefully cure his nagging thigh injury.
10/10 - D1: Newcastle 1 Arsenal 1 - BURTON BLUNDER UPSETS UNITED - Robson puts United ahead, but with the Gunners snuffing out the threat of Davies they begin to get back in the game and equalise.
16/10 - Pepsi Dozsa were without visas and refusing to travel to England without them, requiring frantic and eventually successful efforts by United to obtain clearance for them.
17/10 - D1: Wolves 3 Newcastle 2 - UNITED COLLAPSE IN SEVEN MINUTE SPELL - The Magpies dominate the first half with their cool, composed and methodical soccer but have to wait until just before the break to take the lead. Wolves equalise and then comes a crazy seven-minute spell in which three goals are scored and Davies strikes the bar. It is United's first League defeat in eight games.
20/10 - With x-rays showing no damage to Burton's ankle a bone expert is called in and he recommends him going into plaster from the ankle to the knee for a few weeks.
20/10 - Although Pesci Dozsa have never played under floodlights, Newcastle refuse to let them train at St James' under the lights.
21/10 - FC R2 L1: Newcastle 2 Pecsi Dozsa 0 - WYN THE GOAL KING COLLECTS HIS CROWN - The "unknown" Hungarians Pecsi Dozsa are all over the place in the second-half as they struggle to cope with the high crosses and thunderous aerial play of the Magpies; the slim two-nil score-line reflects a host of missed opportunities and borderline decisions. They are very unlucky not to be awarded a penalty for a crude challenge on Gibb; a decision Moncur describes as "diabolical". Harvey confidently states "I think we will be appearing in the Third Round". Four youngsters climbed onto the roof of Leazes Terrace for a free view but one of them - Johnny Johnson of Newburn - was so stricken by fear when he gets there that he has to be rescued by firemen.
23/10 - A loan move to Barrow for Thompson falls through.
24/10 - 01: Everton 3 Newcastle 1 - COSTLY UNITED ERRORS - It is fairly even for the first half-hour but two mistakes in six minutes allow the Toffees to take control.
31/10 - HOPES OF ST JAMES'S SETTLEMENT HIGH - United chairman, Lord Westwood states that they are nearer to a solution of the St. James's Park dispute than for many years. The present five-year lease for St. James's Park expires on November 11, but Westwood reveals that it had already been agreed that a new three year lease would be available. The club have dropped plans for a brand-new stadium at Gosforth Park, partly due to the cost of the land there and also because Gosforth Park Racecourse Ltd (who own the land) did not want the club to play any matches when there was a race-meeting on due to the traffic problems it would cause. Westwood admits that some time ago United took out an option on 83 acres of land near Killingworth as "an insurance policy" in case talks on St. James's Park break down. The land is adjacent to Great Lime Road, between Gosforth Park and the railway line, to the west of Killingworth. City council leader Alderman Grey concurs that the atmosphere between United and the council has "improved considerably" over recent weeks and says that he has "every reasonable hope of a settlement". A further meeting between the club and the council is scheduled and a definite announcement on the lease could be made soon.
31/10 - D1: Newcastle 1 Man. United 0 - WYN SLOTS HOME FAIRS CUP BOOSTER - A first home League win since the opening day in a cracking match brimful of incidents. In the first-half Manchester are much the better side and it is only goalless at the break because of a wonderful performance from McFaul and a fractional offside decision which led to a "goal" being chalked off. United improve after the break and Davies scores the winner.
November
02/11 - It is reported that offers for Jimmy Smith will be considered.
01/11 - The flight to Budapest suffers a lot of turbulence and this makes for a very unpleasant experience for all the party, but especially United's poor travellers.
02/11 - The nightmare journey continues as United face a very bumpy four-hour bus journey to Pecs. When they arrive Harvey has them straight to the ground to stretch their legs. Unfortunately, he is shocked to see something resembling a "colliery welfare ground" with a pitch that's "just like a cow pasture".
04/11 - FC R2 L2: Pecsi Dozsa 2 Newcastle 0 (agg 2-2, 2-5 on pens) - UNITED PAY THE PENALTY - Throughout the game United are chased and harried by the part-timers and they perform atrociously. Pecsi level the aggregate scores with a late penalty and thirty minutes of extra time produces no more goals. So in the first year of operation in Europe, penalties decide the tie. Robson steps up to take the first penalty, but as he runs up to take it the Swiss referee Marendaz stops him and orders Pesci keeper Rapp to stay on his line. The interruption unnerves Robson who hits the bar. Mitchell and Gibb also fail from the spot whilst Pecsi score their first three to go through. The disbelieving Hungarian supporters pour onto the pitch and chair the victorious team to the dressing room. To further rub salt into the wounds, the rules state that both teams have to complete five penalties each. Therefore, 15 minutes later the penalty competition resumes with McFaul and Clark scoring the nugatory spot kicks while Pesci complete their "nap".
07/11 - FRESH LOOK AT ST. JAMES' - New proposals are discussed by the club and the council at Gosforth Park Hotel. They decide to undertake a new feasibility study using a new architect commissioned by the club.
07/11 - D1: Southampton 2 Newcastle 0 - NO NEWCASTLE FAIRS CUP HANGOVER- Comedian Frankie Howard is staying at the same hotel as United, but there aren't many laughs at The Dell. It is a much better performance and slick United match their hosts for the first hour before falling apart once they go behind.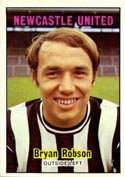 09/11 - POP ROBSON SHOCK - "I am sick, fed up and tired and I would like to leave Newcastle." The words of striker Pop Robson who calls a press conference at the Swallow Hotel and shocks the assembled media with his assertion that "there are a lot of little things wrong at Newcastle. Professionalism is missing." Robson states that he will not be putting in a transfer request and that he "will wait and see what the reaction is at the club". It is not entirely clear what Robson's grievances are but his contract expires in the summer and it is thought that he wants a "loyalty bonus" as part of a new contract. Clubs are now entitled to make such payments and a number of them have introduced schemes already; Newcastle have not. He also states that he feels his "style of play is not fitting in with this team. Those high balls into the middle are difficult for a striker like me" and complains about Harvey. "He has never told me personally where I am going wrong. I just read about it in the papers".
10/11- Harvey meets Robson to talk things over. Joe says that "no harsh words" were spoken and that he will be reporting back to the directors.
11/11 - Chairman Westwood makes his position clear: "Robson is on a two-year contract which runs out next summer, but there is a further two years option on his service on which we will exercise. There is no chance of his leaving".
12/11 - Westwood confirms that Robson broke his contract by holding a personal press conference. The player admits he is "a little worried about the crowd's reaction" for Saturday's game.
13/11 - Phil McGovern signs for Ayr. He played for the first-team during the summer tour but never got a competitive game.
14/11 - 01: Newcastle 0 Ipswich 0 - RAGGED UNITED FADE OUT - An uninventive and uncertain performance with the players demonstrating a total lack of confidence. The team as a whole are barracked, but the unfortunate Tommy Gibb receives the most abuse, being booed continually throughout the game. After the match Frank Clark slams the fans; "it's disgraceful that they should pick out one player like this and subject him to the sort of treatment Tommy was given".
14/11 - UNITED FINE ROBSON £100 - After the game Robson is summoned to a meeting with the directors and once it is over the club make an official statement. "The player was given the opportunity to express his views to the board and asked whether he wished to withdraw his statements he had made to the press. Mr Robson did not wish to do so. By a unanimous decision the board decided to impose a fine of £100 under FA Rule 27c. Mr Robson was asked by the board of directors to submit a transfer request in writing and he stated that he would do so". This conflicts with what - a visibly upset - Robson stated when he left the meeting earlier: "I don't know what to do about a transfer request. I want to think about it over the weekend."
15/11 - It is reported that other players (whose transfers are expiring in the summer) are considering asking for a "loyalty bonus" too. Robson claims "all I want at Newcastle is security. I have been contemplating whether to do this for about six weeks and now I have done it I'm determined to carry it through. I have brought it up before inside the club and nothing has been done. That is why I decided to hold a press conference. I know that other players feel as I do".
16/11- Robson contacts the PFA for their advice and assistance.
18/11- Milanese miscreant Vieri is banned for three years and fined £660.
18/11 - Fr: Ayr 2 Newcastle 0 - UNITED SLUMP TO THE PART-TIMERS - A Friendly match to celebrate the opening of Ayr's new £25,000 floodlight system. The Scots dominate the game throughout.
21/11 - D1: Tottenham 1 Newcastle 2 - UNITED CRACK IN THUNDERBOLTS - United get some pride back with an excellent victory in a magnificent game against second-placed Spurs. Newcastle take a two-goal lead and although Spurs pull one back, a brave defensive display in the last thirty minutes prevents the Cockerels getting back on level terms.
23/11 - After talking with the PFA, Robson decides against putting in a written transfer request.
23/11 - David Crosson signs as a full-time professional.
27/11 - Moncur admits that "one or two of the boys are terrified to play in front of their own crowd".
28/11 - The club will report a profit of £11,130 at their Annual meeting on the 21st December. In the previous year they lost £42,968.
28/11 - D1: Newcastle 3 Burnley 1 - ROBSON USES HIS HEAD TO END THE GOAL AGONY - In his programme notes Harvey admits that the players confidence is low. "It has reached the stage where some of them are concerned about playing at St. James' Park". Burnley are currently at the foot of the table and after an even first forty-five United are clearly stronger and deservedly take both points. After the match Robson confirms: "I still want to leave".
December
05/12 - D1: Chelsea 1 Newcastle 0 - "PROFESSIONAL TACTICS" KILL AIM OF THE GAME - The match becomes Increasingly bad tempered and Newcastle are controversially denied a penalty when Davies is floored by Boyle. Once again, the approach work is decent enough, but the finishing is not.
08/12 - Following clashes between rival supporters at Euston Station, two Newcastle supporters are charged with carrying offensive weapons; a scaffold tube and a knife.
12/12 - D1: Newcastle 2 Huddersfield 0 - BOBBY MONCUR IN THE DRIVER'S SEAT - The match kicks off at 2.00 pm because the club are wary of a power breakdown during the game due to the energy shortages. United struggle against the lively but punch-less promotees and only take the lead just before the break. Inspired by Worthlngton's skilful play the visitors remain in the game until Dyson lashes in a screamer just before the end.
19/12 - D1: Newcastle 2 Crystal Palace 0 - ROBSON GOALS SHATTER THE PALACE GUARDS - Palace's defensive approach and United's lack of flair results in precious little entertainment in a game where Davies (with his constant movement) and Robson prove the difference . Once again United score at the end of each half.
A Specialist has told Burton it is better for him to keep playing, he has had numerous x-rays which have all revealed no damage to his ankle.
21/12 - McFaul has an operation on his cheekbone. He hurt it early on in the game and - as he was suffering from dizziness and double-vision - trainer Smith told photographers behind the goal to keep talking to him.
21/12 - NEW HOPE IN UNITED LEASE WRANGLE - At the AGM Westwood confirms that the feasibility report on the ground will be ready soon and that relations with the council have changed for the better. He reveals that the atmosphere at the talks has greatly improved and he is "hopeful that a solution to the vexed problem of the lease at the ground will soon be found". He also reports that their investigations into a possible new site at Gosforth Park, Killingworth and Longbenton cost the club about £40,000.
26/12 - D1: Leeds 3 Newcastle 0 - GILES SHOW TORMENTS NEWCASTLE - A comprehensive three goal defeat against the leaders in which Giles torments United and Frank Clark concedes two penalties on a snow-covered pitch. United seem to be just about weathering the storm until Clark upends Cooper and from then on it is a case of damage limitation. There are sixty arrests made with trouble occurring in the city-centre before and after the match. Alan Clarke Goal
28/12 - Alan Foggon wants a move.
January
01/01 - Tomorrow's cup tie with Ipswich is postponed; the ground is covered in three inches of snow.
04/01 - Thirty-four fans appear at Leeds Magistrates Court charged with wrecking a Leeds Corporation bus. Due to the trouble they were causing the bus was driven to the Town Hall rather than the ground.
05/01 - The Board are going to discuss the ramifications of the Ibrox disaster at the next Board meeting.
08/01 - The club have turned down an offer for a close-season tour of Greece with Harvey stating that the players need a rest.
09/01 - D1: Newcastle 0 Stoke 2 - CONROY'S CLASS SHAMES UNITED - The Potters have not won away this season and are decimated by injuries, but they leave with a well-deserved victory. It is an abject performance and the crowd let their feelings be known and Tommy Gibb, who is once again the main target of the fans' abuse, "gestures" towards a section of the fans. After the game a furious Harvey refuses to comment and orders the players in for an extra training session tomorrow. Newcastle forget to supply their players with black armbands in respect of the 66 victims of the Ibrox disaster.
10/01 - MONCUR KEEPS MISS WORLD WAITING - Bob Moncur leaves Miss World waiting for thirty minutes at the Oxford Galleries due to him having to attend the extra training session with the rest of the players. She is ceremoniously handing over a cheque in aid of the Ibrox Disaster Fund.
12/01 - It is rumoured that Celtic manager Jock Stein might make a bid for Jim Smith.
11/01 - FAC R3: Newcastle 1 Ipswich 1 - NEWCASTLE SENT PACKING - In the first-half United give their best home display of the season, but after the break they are guilty of losing concentration and confidence and fifteen minutes from time Ipswich equalise after a mistake from McFaul.
13/01 - FAC R3r: Ipswich 2 Newcastle 1 - IPSWICH KICK UNITED OUT INTO THE COLD - Newcastle take the lead and seem to be in control until two unforced errors In seven minutes brings their downfall.
16/01 - D1: Nottm. Forest 2 Newcastle 1 - UNITED FLOP TO SHAKY FOREST - Another poor performance and another defeat against struggling Forest where United have plenty of the ball, but do nothing with it; Davies in particular is well off form. As with the Cup games against Ipswich cheap goals are given away.
20/01 - With results poor and gates falling, Harvey and the Board discuss how they can improve the situation. Westwood states it is not a "crisis" but admits he is "worried about the decline of the team and its deterioration". They believe that the main answer lies in the signing of a top-class striker.
21/01 - Harvey states that Tommy Gibb "will be out of the side to meet Sunderland in the friendly on Saturday. Harvey explains: "He's upset over the treatment he's been getting from a section of the crowd. He is a temperamental lad, at times, when I've talked to him about replying to the crowd with gestures he has often been near to tears."
22/01 - Stewart Barrowclough is included in the team to face Sunderland in Saturday's friendly. Frank Clark is furious that he is left out claiming that he "has been made the scapegoat". He will take up Lord Westwood's offer to meet any players with grievances.
23/01 - Harvey is away watching Luton's Malcolm Macdonald for the second week running. Luton are unlikely to sell whilst they remain in the promotion race and Manchester United are believed to have first option on the centre-forward.
23/01 - Fr: Newcastle 1 Sunderland 1 - HATCHET FOUND ON FAN AT 'DERBY' - A drab, meaningless derby which only bursts into life in the last fifteen minutes, unfortunately off the field things are much livelier. There are fights before, during and after the match and 26 people (including 3 girls) are arrested. The police confiscate a number of weapons including a hatchet and a lead-weighted chain. Many fans had already left by the time things heated up.
25/01 - GIBB WANTS BOARD VIEW - Althogh Harvey has told Tommy Gibb he is prepared to let him leave the Board have not said anything and the Scot wants to know where he stands. He watched Saturdays friendly from the stands when some of the Leazes End chanted for his return however Gibb is still not happy. "I have being getting the treatment from all over the ground, particularly the Popular Side".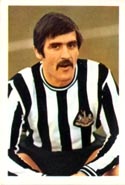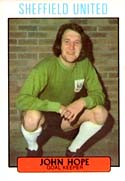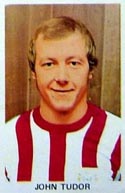 27/01 - NEWCASTLE SNAP UP TUDOR IN A SWAP - United do a swap deal with Sheffield United; reserve 'keeper John Hope and winger David Ford are exchanged for striker John Tudor. Tudor joined Sheffield United from Coventry in November 1968 for a record fee of £65,000. He scored 30 goals in 71 games for The Blades and scored 13 goals in 69 games for the Sky Blues. He is a hard-working team-player who is very strong with his head. Reserve keeper John Hope (22) was signed from Darlington in March 1969, but has only made one appearance in the first-team.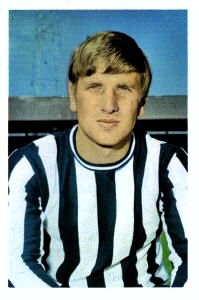 Dave Elliot (26) has joined Southend on a free transfer. He arrived from Sunderland in December 1966 and has made 86 (4) appearances and scored 4 goals.
United are believed to be willing to sell John Cowan. The Irishman signed a new two-year contract In the summer, but has not made a first-team appearance this season. Early on he was out with a calf muscle injury and suffered complications when he returned too quickly. He is now back to fitness, but with the emergence of Nattrass - is even struggling to get games with the reserve team.
30/01 - D1: Burnley 1 Newcastle 1 - WAITERS THWARTS UNITED'S FIRE - Harvey hands debuts to new arrival John Tudor and Stewart Barrowclough whilst Jimmy Smith is also recalled. The struggling Lancastrians take the lead and are hanging on despite incessant pressure from the Magpies in the second period until debutant Barrowclough lashes in with six minutes left on the clock, it is a considerable improvement on recent performances. Gibb has an excellent game and Harvey confirms that the situation is "all over now". He also appeals to the fans to treat him better. "Tommy gets so involved in the game that he really takes criticism from the fans to heart. Encouragement is the best way to get the best out of him".
February
01/02 - The John Tudor deal also involves a small cash payment. Harvey is sure that "this lad will do a fine job for us. He can shoot and attacks well down the flanks".
02/02 - ROBSON SILENT AFTER UNITED PEACE TALKS - Harvey and Robson have another meeting to discuss his situation, Robson simply says "I hope something can be worked out."
03/02 - Six boys and two 15-year-old girls appear at Newcastle Juvenile Court charged with carrying offensive weapons and threatening behaviour. One of them through a tin opener at Sunderland 'keeper Montgomery.
06/02 - D1: Newcastle 0 Chelsea 1 - SPIRIT NO ANSWER TO CLASS, UNITED - Fourth placed Chelsea are too good for United with Cooke and Hudson tearing United apart and It is the latter who scores the winner.
08/02 - Tommy Gibb - who said he would rather quit the game than play at Gallowgate again - has been persuaded to stay.
11/02 - Davies has had a heart-to-heart with Harvey over the club's new tactical set-up in which United are playing without an orthodox winger thus starving the Welshman of the crosses that he thrives on.
13/02 - Harvey is desperate to sign another attacker before transfer deadline day and Hugh Curran (Wolves) and Tommy Baldwin (Chelsea) are believed to be his top targets.
13/02 - D1: Huddersfield 1 Newcastle 1 - Smith puts United ahead and United, with Moncur a colossus, beat back all attempts from The Terriers until defensive indecision allows them to equalise fifteen minutes from time. It's now nine games without a win. Robson is watched by West Ham Manager Greenwood.
14/02 - Newcastle agree to sell Robson who wants to go to a London club, Liverpool or Manchester City. West Ham are believed to be ready to make an offer.
15/02 - Harvey discounts an immediate deal for Robson clarifying that "we are prepared to transfer Robson, when we add to our playing strength".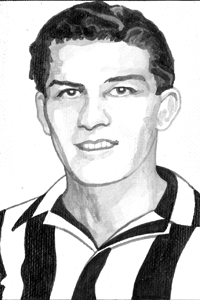 15/02 - SOCCER STAR MURDER MYSTERY - German oil tanker captain Heinz Bessinich is in prison in the Trucial State of Sharjah accused of the murder of former United player Eduardo Robledo on the 6th December. He alleges that the Chilean committed suicide.
16/02 - Spurs manager Bill Nicholson has asked Newcastle to name their price for Bryan Robson. West Brom are also said to be interested.
20/02 - D1: Newcastle 1 Tottenham 0 - ROBSON'S PARTING GIFT - United record their first win of the year in a drab encounter. The match is very low-key which at least gives Smith the time and space to display his skills. Robson scores the winner.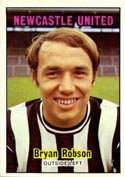 22/02 - ROBSON FOR HAMMERS - Bryan Robson leaves in a £120,000 move to West Ham. Robson joined the club in He really came to the fore during the 1968/69 season and was the top scorer in the previous two campaigns (and is currently this season's top scorer). The fee beats the previous record fee received, when Alan Suddick was sold. "West Ham are a fine footballing side with some fine players. I should be ok with them". It is a gamble for Joe who admits "I've got the money to spend and know the man that I want. But the club concerned are not keen on parting. I hope I can persuade them to change their mind.
24/02 - Both Harvey and Westwood deny that United want to sell Davies although the latter's statement is not completely unequivocal: "as far as I am concerned there is no truth in the story that some directors want Wyn out.
24/02 - Harvey attends the U23 International between Scotland and England at Hampden Park as he continues his search for a replacement for Robson.
---
27/02 - D1: Man. United 1 Newcastle 0 - KIDD'S GOAL ROBBED US SAYS ANGRY BURTON - A knife is thrown onto the pitch during the match (which narrowly misses McFaul), but there is no cutting edge to United's forward play. Although a stout defensive performance keeps United in the game, a single goal is enough for the Mancunians.
27/02 - After the game Harvey makes a tentative enquiry about Brian Kidd; he is told he is not for sale.
March
02/03 - SHIPS CAPTAIN ON ROBLEDO MURDER CHARGE - The preliminary hearing into whether German tanker captain Heinz Bessinich should stand trial for murder commences in Dubai. Robledo was a motorman on the offshore oil rig Discoverer 1 and was on leave in Dubai at the start of December. An acquaintance introduced the pair and suggested that Robledo should travel on the German's tanker from Sahn to Muscat. The tanker left on 5th December and Robledo was reported missing the next day. A knife was found to be missing from the captain's cabin.
03/03 - The Football League advise that there will be no special investigation into whether Robson should receive a 5% signing on fee. Although he never officially made a written transfer request his press conference and later verbal statements, could be construed as such.
03/03 - Newcastle reject a request from Coventry to play the game at Highfield Road (in May) on the Friday night as they have to play West Brom during the week.
03/03 - Harvey travels to London to see Tommy Baldwin play in a friendly against Charlton. Chelsea boss Dave Sexton is not happy with Harvey's continued pursuit of the player and makes it very clear he is not for sale.
04/03 - The hearing continues and the ship's steward tells the court that the captain told him not to mention that there had been any passengers on board the tanker.
06/03 - United officials attend a number of games in an attempt to sign a striker. Harvey takes in Luton's game, but a six-figure bid for Malcolm Macdonald is turned down with Luton manager Alec Stock reiterating that they will not sell whilst they still have a chance of promotion and that Manchester United have first refusal. A bid for England U23 international Mike Channon of Southampton is also rebuffed. Another possible target is John Hughes of Celtic whilst Bournemouth's Ted MacDougal is also watched.
07/03 - SKIPPER ON MURDER CHARGE - Bessenich is formally charged with the "brutal and savage" murder of Robledo.
10/03 - Despite having £160,000 to spend Harvey appears to have given up hope of signing a striker before tomorrow's deadline and makes it clear that the club is prepared to wait to get the right man.
13/03 - D1: Ipswich 1 Newcastle 0 - I WAS FOULED CLAIMS MCFAUL - The two sides meet for the fourth time this season and it is another scrappy, drab game settled by an embarrassing goal. Robertson's shot balloons off BURTON and with Mills appearing to impede McFaul the ball drops apologetically in
15/03 - Macdonald was watched again on Saturday and Harvey is not hiding the fact that he is now the top target. "He's the sort of front runner who will go it alone, a real crowd pleaser".
18/03 - D1: Newcastle 2 Everton 1 - TUDOR CROWNS GREAT WIN FOR UNITED - A great performance with John Tudor, much to his relief, grabbing his first goal. Harvey is delighted with the players: "they did it with pure football, and on the night, they outclassed the League Champions". Guthrie suffers a hamstring injury.
20/03 - D1: Newcastle 2 Southampton 2 - CLASSY KEITH EXPLODES A BIG MYTH - Workmen fork the waterlogged turf from daybreak and they get their reward when the match is declared on after an inspection. Tudor and Dyson combine superbly and with Foggon also recalled the side has more pace and mobility. United are on their way to victory but a flurry of goals at the end of the match results in a draw.
21/03 - It is reported that Coventry and West Brom are both Interested in Dyson but Harvey, who was previously prepared to let him go, wants to keep him, especially now that Davies has intimated that he wants a move.
22/03 - The Football League turn down Robson's request for 5% of his transfer fee (£6,000) and state that the player will need to make a written application if he wants to challenge the decision. Robson vows to fight on; it all hinges on whether the original press conference constituted a written transfer request.
26/03 - Persistent rumours that United are to appoint an assistant-manager are angrily refuted by a "fed-up" Lord Westwood; the stories have been unsettling for chief coach Dave Smith.
27/03 - D1: Newcastle 3 Derby 1 - DYSON AND CO. EARN UNITED A DOUBLE - United are full of purposeful running against an uncharacteristically charitable Derby side. Nattrass makes his debut as a substitute and impresses everyone.
April
03/04 - D1: Blackpool 0 Newcastle 1 - GO-GO FOGGON LEADS BLACKPOOL A DANCE - United deservedly beat Bob Stokoe's relegation bound Blackpool with Foggon's graft and craft stealing the show in what is otherwise a forgettable match.
03/04 - UNITED FANS TERRORISE RESORT IN MASS RIOT - About 8,000 Newcastle supporters travelled to Blackpool and hundreds are involved in what the local police later state was the worst night of rioting they can remember. The trouble starts as soon as the United fans begin to arrive and continues into the early hours of Sunday morning. Most of the hooligans are skinheads and many are children. There are more than 200 requests for assistance, over 200 windows smashed and over £1,000 worth of damage done. There are also numerous reports of attacks on locals; one Newcastle fan witnesses a number of attacks including a group beating up a young girl and stealing her scarf. There are 78 arrests in total.
04/04 - ROBLEDO MURDER TRIAL OPENS - The trial of West German tanker captain Bessenich (who pleads not guilty) begins in Dubai. The prosecution state that when reports of Robledo's disappearance reached him he made no attempt to perform a proper search, sent no radio or SOS signals, didn't turn back, made no entry in the ship's log and did not report his disappearance. Two English witnesses state that Bessinich invited Robledo to go to Muscat with him on his tanker. When the same men later contacted him over Robledo's whereabouts he told them that Robledo had changed his mind and not boarded the tanker.
05/04 - Bessenich claims that one of the other crew members told him that he believed that Robledo committed suicide due to family problems.
06/04 - D1: Liverpool 1 Newcastle 1 - NEWCASTLE POINT TO EUROPE - United are ahead after 90 seconds and more than match their opponents in the first-half. Liverpool equalise just before the break and United need desperate defence and some excellent saves by McFaul to preserve the point.
10/04 - Harvey - not for the first time during the season - uses his column in the programme to condemn the actions of the Blackpool hooligans. "These people are not supporters of Newcastle or football, we don't want them at our home matches and we don't want them to follow us away either".
10/04 - D1: Newcastle 1 Leeds 1 - ARE REVIE'S ACES AMBITIOUS ENOUGH TO BE CHAMPS? - Table tappers Leeds provide pulsating Easter entertainment on Tyneside and the Magpies are only denied a winner by a controversial late goal In which Charlton blocks McFaul from reaching Lorimer's corner which goes straight in. A massive police operation prevents any major trouble.
Harvey once again reiterates that Davies is "definitely not for sale".
12/04 - ROBLEDO CASE - CAPTAIN CLEARED - the German sea captain is found not guilty by three independent assessors in Dubai. The judge states they will accept the decision based on the fact that murder could not be proven, but also says that there is a grave suspicion that the captain had been in some way implicated In his death.
12/04 - D1: Newcastle 0 Manchester City 0 - AGONY FOR CITY - The rock-hard pitch certainly does not help, but it is a very dull game. Although it is not an abnormally rough match, injury-hit City have two players carried off and lose their keeper for 13 minutes.
16/04 - The Football League reject Bryan Robson's written application for a 5% share of his transfer fee. He will now take the matter to an independent tribunal.
16/04 - Chronicle journalist John Gibson claims that Luton are asking for a staggering £300,000 combined fee for Malcolm Macdonald and centre-back Chris Nichol. The record British transfer fee currently stands at £200,000 for Martin Peters.
17/04 - D1: Arsenal 1 Newcastle 0 - CHARLIE IS GUNNERS' DARLING - Arsenal have won their last 7 games and Harvey opts for all out defence which results in a dour game. The defence - superbly marshalled by Moncur - perform heroically, but are eventually beaten by a Charlie George thunderbolt. George is also booked after grabbing Dyson (who is cautioned as well for his reaction) around the neck.
18/04 - It is reported that Harvey is concerned that he will be priced out of a move for Macdonald. He believes he will cost a record fee and that will be too much for United. Harvey is determined to bring in both a striker and a couple of midfielders.
22/04 - MACDONALD MYSTERY AS UNITED DENY BID - It is reported in some papers that United have made £150,000 bid for Macdonald, but both clubs deny that this is the case.
22/04 - the NUSC issue a statement denying that any of their members were involved in the incidents that occurred on the train back from the Arsenal game. They had their own special coach.
24/04 - D1: Newcastle 1 West Ham 1 - HAMMERS FLATTEN EURO HOPES AS REFEREE FACES WIND HEAD ON - A non-event of a game played in a gusty wind which makes life difficult for both the players and the referee who is forced to dispense with his hairpiece.
28/04 - D1: Newcastle 3 West Brom. 0 - UNITED TAKE A BOW AS THE CURTAIN FALLS - A boring, mediocre game which only comes alive in an exhilarating 3-minute spell.
May
01/05 - D1: Coventry 2 Newcastle 0 - NO EXCUSES: THIS WAS RUBBISH - The season ends with a typical non-event at Coventry where both teams know it is the Texaco Cup and not the Continent which lies in store for the following season. United's experimental line-up includes Nattrass making his full League debut.
01/05 - About 80 rival supporters clash as fighting breaks out and bricks are thrown when the United fans return to their coaches. Four arrests are made. One of the Coventry fans was carrying a very sharp sheaf knife.
03/05 - Rumours that United are to appoint an Assistant Manager persist and coach Dave Smith (who has managerial ambitions) is not happy stating "I would like to feel that the Board of Directors would consider me first".
03/05 - Blackpool are interested in John Craggs who admits the move would interest him. He could be used a part-exchange for either Tommy Hutchinson, Tony Green or John Craven.
05/05 - Test: Newcastle 6 All Star XI 5 - Geoff Allen's testimonial game is a light-hearted frolic which is of great amusement to the fans.
nn/05 - Tommy Cassiddy starts as a guest for Glentoran in an Ulster 71 Festival match against Leeds.
05/05 - At the weekly meeting the Board agree to award Bobby Moncur and David Craig (who have both been at the club for over ten years) a loyalty bonus. They also agree to sanction a rise in the basic weekly wage for all players.
06/05 - United youngster Tommy Cassidy is called up for the Northern Ireland Home International squad along with McFaul and Craig.
06/05 - Harvey learns that Chelsea are strengthening their interest in Macdonald and immediately slaps in a bid of £180,000 which is accepted.
07/05 - MACDONALD THE BIG GAMBLE - Macdonald agrees to sign from cash strapped Luton. The 21-year-old joined Luton from Fulham in 1969 and has scored 57 goals in the last two seasons. Harvey thought he would have problems persuading him to come North but Macdonald was happy to accept the advice of Luton manager Harry Haslam that it would be an excellent move for him. Harvey is delighted: "he is undoubtedly a future international, the sort of player who will set St James' Park alight". It is the second highest fee in British soccer history and represents quite a gamble but Harvey is confident. "His potential is enormous. He will make all the difference to us next season and for years to come". He is 5' 8" and 11st 3lb.
10/05 - MIGHTY MAC ROLLS IN - Macdonald turns up for his medical at St James' Park; two hours late in a chauffeur driven Rolls Royce. Harvey promises that "others will follow as soon as possible".
11/05 - Harvey admits that they have received an offer for Wyn Davies and that he is still after another forward and a midfielder. Tommy Hutchinson and Tony Green of Blackpool are said to be at the top of his list.
11/05 - Robson wins his appeal and gets the 5% of the transfer fee that he was after.
12/05 - Newcastle are reportedly looking to offload a number of players including Wyn Davies, John Craggs, Ben Arentoft and James Thompson; they hope to use them in exchange deals.
18/05 - Ivor Broadis reveals that he has spoken with Blackpool manager Bob Stokoe and he made it clear that he wants Newcastle to have Tony Green; Broadis believes he is certain to become a United player even though there is still a big gap in their valuations of the Scot.
19/05 - A team of clergymen take on a police side at Paddy Freeman's, Frank Clark officiates.
21/05 - Wyn Davies walks out on the Welsh squad - "for a good feed and a game of golf" - having not been used against Scotland or England. Welsh FA Secretary Trevor Norris is "disgusted".
22/05 - Harvey, Westwood and Seymour all watch Tony Green play for Scotland against England.
24/05 - United have offered Blackpool Craggs, Arentoft and a cash amount for Green; however Blackpool want significantly more money than United have promised. Harvey plans to use Green as a forward rather than a midfielder, as he has been used by Blackpool since Bob Stokoe took over as manager.
24/05 - Having finished in the top-half of the table, United are officially invited to take part in next season's Texaco (British) Cup which was introduced last season.
25/05 - It is believed that Blackpool value Green at £180,000 (on the basis he is as good as Macdonald) and want £90,000 in cash. Harvey does not agree with their valuation.
25/05 - Keith Robson signs professional forms. He scored almost 100 goals for Eppleton CW Juniors and had a number of trials including ones with Liverpool and Aston Villa.
26/05 - Harvey and Seymour travel to Blackpool - who are taking on Verona in the Anglo-ltalian Cup - to try and strike a deal for Green, they state that they will not be held to ransom.
27/05 - Blackpool want Keith Dyson and have rejected United's £60,000 valuation of John Craggs. The full-back is not impressed. Negotiations will continue once Blackpool's involvement in the Anglo-ltalian Cup is complete.