June
---
09/06 - At a Board Meeting the directors unanimously agree to appoint a manager before the start of the new season. They sift through numerous applications, seed them and draw up a short-list for interview. McKeag claims that "several well-known managerial personalities have applied for the post." There have been many offers received for the transfer-listed players: Casey, Paterson, Punton and Hill.
---
12/06 - Newcastle interview three prospective candidates: Eddie Lever (ex-Portsmouth manager), Len Goulden (ex-Watford manager) and Charlie Mitten (current Mansfield player-manager). They had not planned to make a decision this evening but as McKeag claims: "Mr Martin so impressed us that there was absolute unanimity among the directors to offer him the engagement".
---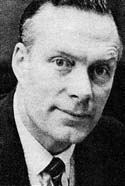 13/06 - Charlie Mitten (37) is officially appointed manager and will start on Monday; he is the youngest manager in the League. McKeag states that "Mr Mitten will have the fullest measure of control, subject only to the final authority of the directors. He will have complete charge of playing, training, coaching and ground staffs." Mitten has been at Third Division Mansfield for two seasons and is still under contract (as player-manager) until the end of the month. Mansfield Chairman Jack Taylor is not happy: "I think it would have been an act of courtesy for Newcastle to have told Mansfield about Mr Mitten's appointment by phone". McKeag responds by alleging that Mitten had tried (without success) to contact him. Mitten says that he is "proud and delighted". The contract details are not revealed, but it is thought to be short to allow his progress to be assessed. Workington manager (and former player and coach) Joe Harvey - who has made no secret of the fact that he was hoping to land the job - is said to be very disappointed.
---
4/06 - One of Mitten's first problems could be over player's wages. The player's contracts were signed before the maximum wage was raised to £20 and they are all on £17 although the club have said that those in the first-team in any given week will be given a £3 "bonus". And during the summer players will get the old rate of £14 which is also £3 less than the maximum agreed recently by the clubs and the Football League.
---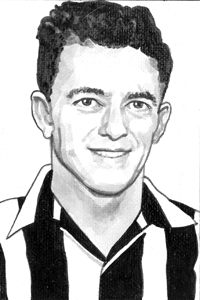 26/06 - Jimmy Hill (22) joins Norwich for an undisclosed fee (although he was on list at £5,000). He has made 12 first-team appearances and scored 4 goals since joining in part-exchange for Jackie Milburn in 1957. He has suffered ongoing problems with an ankle injury which predated his time on Tyneside.
---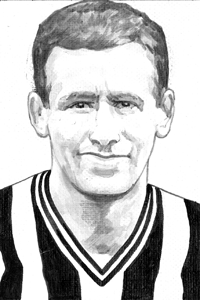 26/06 - United swap outside-lefts with Southend. John McGuigan arrives from Southend (£2,250) and Bill Punton moves (rather reluctantly) to Southend. McGuigan (24) was formerly with St Mirren and has a good scoring record during the three seasons he has been a regular. Punton, well-built and very clever, lost his place in the side last October.
---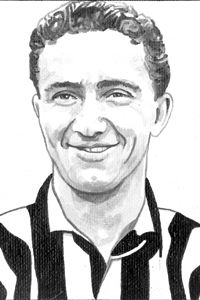 30/06 - Tommy Casey moves to Portsmouth for £8,500.
---
July
---
03/07 - United have agreed terms with Charlie Mitten's former club - Mansfield - for the sale of Bill Paterson. The centre-half is thinking over the move.
---
07/07 - Bill Paterson rejects Mansfield's personal terms, he has told them that he is thinking of joining a non-league club.
---
07/07 - United are very busy trying to organise a series of "floodlight friendlies" against teams from all over the World. They have already arranged fixtures for October with a Brazilian and a Swedish team.
---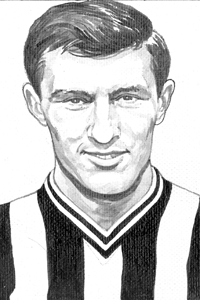 14/7 - Mitten makes his first signing as forward Billy Wright arrives from Leicester City for an undisclosed fee. Wright joined Leicester from Blackpool in 1955 and he is a two-footed, versatile player whom Leicester have used him in every forward position. He is speedy, direct in his methods on either wing and is known for his ball control. Wright is 5' 11" and 11st 6lb.
---
19/07 - Grantham are the non-league team who have made an ambitious move for Bill Paterson, but he has decided to turn them down.
---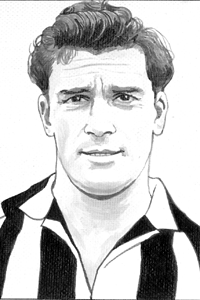 21/07 - Paterson moves to Glasgow Rangers for £3,500. He joined United in October 1954 and was placed on the transfer list at the end of last season at £7,500. After appealing to the League the fee was cut to £3,500.
---
23/07 - Most of the players report back for training. McMichael has been given an extra week due to his involvement in the World Cup (Dick Keith turned up anyway) and Jimmy Scoular is involved in a bowls tournament in Bognor Regis. Traditionally pre-season work concentrates solely on building up fitness but Mitten has other ideas. As well as running, the players take part in team games to improve their speed of reaction and separate into groups to work on their ball control.
---
23/07 - Newcastle have arranged a couple of pre-season games against teams from Fenham Barracks; one to be played on the Army's own ground on August 6th and one to be played at St. James' a week later. There will be no public admittance to either game.
---
25/07 - Jimmy Scoular and his father (along with another player) win the Triples in the Bognor Regis Open.
---
26/07 - Fifteen-year-old Eire schoolboy Liam McEntee arrives in Newcastle having been signed by United. A tall and wiry player he has played at schoolboy and youth international level. He will play with the "N's" and also be employed on the ground staff.
---
29/07 - Three more schoolboys are signed on. Ken Hodgson (16 - Newcastle), Jack Storer (15 - Newbiggen) and Jack Oliver (15 - Blaydon).
---
31/07 - United meet Gateshead in a trial game at St James'. With manager Mitten leading the attack (until the break) it is the visitors who take the game more seriously and lead 4-0 at half-time.
---
August
---
10/08 - Bobby Mitchell and his family are back at home in Teasdale Gardens (Heaton) having suffered only minor injuries in a car crash with another vehicle at Blagdon Bank near Stannington.
---
11/08 - The Northumberland FA ban the game between Newcastle and The Depot Royal Northumberland Fusiliers due to be played at St. James' tomorrow. They state that it contravenes an FA rule banning "irregular matches" during the close season. William McKeag appeals to the FA Secretary - Stanley Rous - regarding the decision.
---
12/08 - Rous backs the Northumberland FA's decision. McKeag says "I consider interference with such games as this with a military unit, purely as a practice and with no paying spectators, is quite archaic".
---
16/08 - A public trial game takes place at St. James' between the Probables and the Possibles.
---
22/08 - United are believed to have made a £7,000 bid for Peterborough inside-forward Dennis Emery although they want to defer their decision at the moment.
---
23/08 - D1: Newcastle 1 Blackburn Rovers 5 - Although United have a number of penalty appeals waved away it is a comprehensive defeat with even the consolation goal coming from the heel of a Rover. Mitten pulls no punches: "players not doing their stuff will be dropped, internationals included: our performance was shockingly irresolute".
---
24/08 - Mitten orders the players in for extra training and he gives them a two hour dressing down on the St. James' pitch.
---
25/08 - D1: Blackpool 3 Newcastle 0 - An immaculate performance from 'keeperMitchell cannot prevent a pacey Blackpool side from registering a deserved victory.
---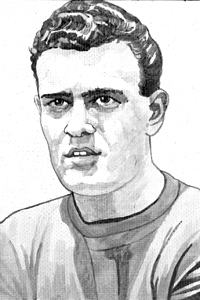 25/08 - United sign 19-year-old goalkeeper Brian Harvey from Wisbech for £3,000. Mitten had been going to Peterborough to watch Emery but when he heard that Blackpool were planning a move for Harvey he changed course. Harvey was signed in the dressing room after Wisbech's game.
---
27/08 - United are unsuccessful with a bid for Kilmarnock inside-forward Ian Black and are still scouting Peterborough's Emery.
---
30/08 - D1: Everton 0 Newcastle 2 - After a tame first-half United could easily have scored six against a very poor Everton side. The home fans resort to slow handclaps and hurl abuse at the director's box.
---
September
---
03/09 - D1: Newcastle 1 Blackpool 0 - The Tangerines are missing three key players (including Matthews) but they defend well and United cannot find a way through until 17 minutes from time. Newcastle had eighty percent of the game but once again lacked power up front.
---
03/09 - Whitley Bay sign Charlie Mitten's 17-year-old son - John - from Mansfield Town. United have first option on the outside-left but give their permission for the move.
---
06/09 - D1: Tottenham 1 Newcastle 3 - Despite wasting two penalties United's non-stop exhilarating soccer (particularly after the break) has the home side tottering. After the game United travel to Brighton where they will spend four-days in special training prior to the Chelsea game.
---
08/09 - George Eastham has badly wrenched ligaments below his knee and will be out for a number of weeks; Mitten's need for a powerful inside-forward has become even more acute now.
---
10/09 - D1: Chelsea 6 Newcastle 5 - United deserved a point from a thrilling goal-laden match which they led 5-3 with 21 minutes left.
---
11/09 - McGuigan has a cyst on his groin (which he has had for some time) and will need an operation to remove it. Hughes suffered a broken nose at Chelsea.
---
12/09 - Dundee have rejected bids from Leeds and Newcastle for inside-right Alan Cousin.
---
12/09 - McKeag warns youngsters to keep off the pitch at the end of games or risk exclusion. He explains that the hard work of the ground staff "is retarded considerably by pointless invasions of the pitch in a quest for autographs which the players have strict orders not to give on the field". And, at a recent reserve game, a visiting goalkeeper was "bombed" by an ice-cream carton filled with ash.
---
13/09 - D1: Newcastle 1 Man. United 1 - An excellent all-round team performance that has the visitors rocking and - with better finishing - United would have won. Before the game starts McKeag addresses the crowd regarding the pitch encroachments. As soon as he starts speaking there are ironical cheers and as he continues the slow hand claps and boos start. At half-time the Manchester United mascot has apple cores, ice-cream wrappers and red grit thrown at him. And at the end the youngsters and teddy boys once again swarm onto the pitch. The Boards announce that the Boy's Gates will be closed until further notice.
---
15/09 - Charlie Mitten's son John signs for Newcastle and will also work with the ground staff. He will continue to play for Whitley Bay as well.
---
17/09 - Sheffield Wednesday inside-forward Albert Quixall (regarded as one of the best in the game) asked for a transfer yesterday and McKeag says if the Club are willing to sell "we are prepared to pay handsomely, but we will not go completely crazy".
---
17/09 - D1: Newcastle 1 Chelsea 2 - United are enthusiastic and enterprising but are beaten by Chelsea's more technical approach. There is no invasion at the end of the game and the club state that the Boy's Gate's will be re-opened for the next game.
---
18/09 - Albert Quixall moves to Manchester United for a record fee. Gateshead make enquiries about Bobby Mitchell and Arthur Bottom.
---
20/09 - D1: Wolves 1 Newcastle 3 - Wolves do most of the attacking but whereas they waste numerous chances Newcastle are more lethal and the home manager Stan Cullis admits: "Newcastle played grand football. They won well". It is Wolves' first home defeat.
---
23/09 - Ronnie Simpson pulled a muscle during the summer tour and has never fully recovered so the club doctor has decided to put his leg in plaster for six weeks.
---
24/09 - McMichael is surprisingly omitted from the Ireland team to play England on Saturday week; he has played in every game for his country in the last two seasons. Later McKeag advises that it was United who refused to release McMichael for the match. He also states that he went to the Irishman's home to explain their decision and he (allegedly) was understanding.
---
27/09 - D1: Newcastle 2 Portsmouth 0 - Pompey have to play with ten men for 75 minutes but they are the better side and United are indebted to Harvey for a superb display in goal.
---
29/09 - Len White is named as a reserve for the Football League team for the match against the Scottish League on October 8th.
---
29/09 - Whilst he has been out injured Scoular has been doing some scouting for the club, but suggestions that he might be being groomed for a managerial or backroom position are refuted by all parties.
---
October
---
01/10 - Fr: Newcastle 12 Bela Vista 1 - Before the game, rumours that the Brazilian tourists have been ordered home by the country's FA are refuted. The match sees the short passing South Americas completely swept aside with White and Bottom both scoring five goals.
---
03/10 - Swansea's star striker Ivor Allchurch asks for a transfer as he wants to play in the First Division. United are one of a number of clubs who have tried to buy him in the past. The club accedes to his request.
---
03/10 - Despite a poor season and falling gates United made a profit of £42,591 last year which was helped by the cancelling of Entertainment Tax.
---
04/10 - D1: Aston Villa 2 Newcastle 1 - Villa have not won at home since the end of August, but although United make more chances their finishing is poor.
---
08/10 - Liverpool have offered £29,000 for Allchurch but he has turned them down as they are not in Division 1. United make a bid of £18,000 plus Davies (who they value at £10,000) but the Welshman is believed to prefer a move to Aston Villa who have also made an inquiry.
---
09/10 - Swansea accept United's offer and negotiations begin with the player in a Manchester hotel.
---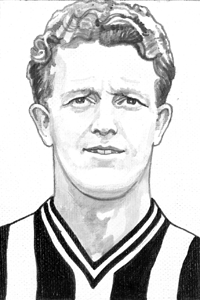 10/10 - Allchurch agrees to sign in the early hours so the deal depends on Davies who is asked to pack his boots and head for Manchester. He is met at the railway station by Swansea manager Morris and after 15 minutes of negotiations he agrees to join. The contract is signed on a porter's trolley packed with luggage. Davies says "It seems Newcastle wanted me to go. I'm disappointed because I didn't really want to leave them, even though I'm going to my home town". Meanwhile Sir Matt Busby gives United permission to put Allchurch through his medical at Old Trafford and the deal is sealed. Three hours later Aston Villa make another approach but are told they are too late. Allchurch has won 35 Welsh caps and has been promised a house and the maximum wage. Allchurch will make his debut tomorrow and if his boots don't arrive from Swansea in time he will go shopping with McKeag tomorrow morning for a new pair.
---
11/10 - D1: Newcastle 3 Leicester 1 - Allchurch scores two clinical goals in an impressive debut and although White also nets after one of his trademark dribbles it is poor performance from the disjointed Magpies.
---
13/10 - Dick Keith complains to the press that his wages were cut from £20 to £17 for the week in which he missed United's game to play for Ireland. He said manager Mitten had told him that he played for and was paid by Wales so "he couldn't have it both ways". The Irishman threatens to "see this through to the end".
---
14/10 - Mitten responds by stating that all the player's contracts (with the exception of Allchurch) state that they get £17 per week. As the maximum wage is now £20 the club previously agreed to pay £20 for anyone playing in the first-team that week or anyone who was out of the side due to injury. As Keith did not play he was only entitled to £17. The club have previously promised to re-assess the situation at Christmas. United's directors consider enquiries for Bottom (Mansfield and Gateshead), Mitchell (Gateshead) and Nesbitt (Lincoln) but do not believe any of them are firm enough to warrant further action. The club are to play a floodlight friendly against Middlesbrough on 3rd November after a Romanian team postponed their visit.
---
17/10 - Mitten states that United expect to play a friendly in Spain during December at either Madrid or Barcelona. United are also reported to have entered negotiations with Mr Denzil Hyde-Barker who is a specialist in football tours. The plan is for Newcastle to go on a mega-tour which visits Paris, Madrid, Rio de Janeiro, Sao Paulo, Montevideo, Lima, Bogota, Caracas, Mexico City and New York!
---
18/10 - D1: Preston 3 Newcastle 4 - Len White nets a hat-trick in a superb team performance and brilliant victory at the home of the League Leaders CHECK with United now being talked of as genuine title contenders.
---
21/10 - Fr: Newcastle 3 TSV Munich 0 - The German part-timers play some decent football but United are always in control.
---
25/10 - D1: Newcastle 4 Man. City 1 - The Welsh FA have given United permission to present Allchurch with his 36th Welsh cap and McKeag performs the duty just before the game. It is an exhilarating, open and attacking performance from United. They take gambles at the back but their fluent and rhythmic teamwork is a joy to behold. It is exhibition stuff at times as they totally outclass City.
---
28/10 - The AGM is held and McKeag states that it is the club's ambition to build up a reserve of £250,000 to improve the ground: "that is the goal to which we are working and it is not impossible". Plans include a covered double-decker stand on the Leazes Terrace side which will provide 5,000 additional seats and the overall capacity will be increased to 80,000. However, he makes it clear that the team will always take priority and that further team building is still required. As usual there are several outbursts from self-styled rebel Mr EC Pringle who is ruled out of order - and told to sit down - on numerous occasions. Amongst the issues he raises are the attempt to acquire land behind the Park End (which he is not in favour of) and the lack of ground redevelopment. In the stormiest encounter he accuses McKeag's sons of using privileged car parking tickets. McKeag calls it "damnable slander" and his son Clive states that although he has used the car park he has been acting as a chauffeur for his father.
---
29/10 - Ronnie Simpson had his plaster removed on Monday and an x-ray today which is satisfactory. However he is still limping. The player is very distressed at the moment and there are rumours that he could be finished.
---
29/10 - An FA XI beat an Army team 4-1 at Gallowgate. Bob Stokoe (playing for the FA XI) is up against reserve centre-forward Bill Curry who turns out for the Army.
---
November
---
01/11 - D1: Arsenal 3 Newcastle 2 -
A huge crowd turns out to see United take on the leaders at Highbury. It is a disappointing performance but United nearly snatch a draw when they have the Gunners reeling in the last fifteen minutes.
Embed from Getty Images
---
05/11 - Keith and McMichael play for Ireland against Spain.
---
06/11 - A Chesterfield bid for Bottom (who is interesting a number of clubs) is turned down with Mitten saying that they will not be selling any of their experienced players unless they have replacements lined up.
---
08/11 - D1: Newcastle 1 Luton 0 - A poor quality game in which both sides disappoint. It is a nervy victory which could have been easier if Allchurch had not become the latest player to miss from the spot.
---
12/11 - With Nat Lofthouse out injured Len White (second highest scorer in the League at present) is selected for the League side to take on the Irish League and he scores a seven-minute hat-trick in a 5-2 victory. He plays superbly well with the Daily Mirror reporting that "he had speed, he had skill, he had dynamite in his boots". He is the fifteenth United player to represent the Football League.
---
12/11 McKeag and Hurford attend a meeting with the Town Moor and Park Committee to discuss the club's request to buy additional land to build a car-park on land behind the park End.
---
13/11 - TD Smith of the Newcastle Transport Committee says that the Council are considering acquiring the land (for parking) that the club are trying to buy.
---
13/11 - Arthur Bottom hands in a transfer request and the Board accept it. If he moves he will - due to the new regulations - only get £20 (as he requested a transfer) rather than £300 (if he hadn't).
---
13/11 -The Board accept Mitten's proposal that the players should fly to longer distance away matches. He argues they it would be less tiring and would allow them to train on a Friday morning.
---
14/11 - McKeag says it would be "most unfortunate" if the Council acquired the land without any provision for the club on a match day.
---
14/11 - Newcastle fly down to Birmingham on the 2.00pm charter plane.
---
15/11 - D1: Birmingham 1 Newcastle 0 - The home side have gone six games without a win but United are poor and concede with 11 minutes to go. Len White hits a penalty yards over the bar as United miss from the spot for the fifth time out of six.
---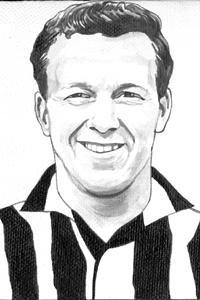 17/11- Arthur Bottom moves to Chesterfield for £5,000.
---
17/11 - After his brilliant performance for the Football League many expected that White would win his first cap against Wales but the fit-again Lofthouse is preferred.
---
17/11- Fr: Newcastle 5 Orgryte 2 - The Swedes from Gothenberg (who have just been promoted to the top League) play some attractive football and defend well for almost an hour but United are eventually too powerful for them.
---
18/11 - Outside-left Reg Evans (19) requested a transfer a while back and the Board agree to list him.
---
19/11 - After completing a successful trial 6' 3" keeper Colin Davidson signs from East of Scotland junior club Selkirk.
---
20/11 - Press rumours suggest that Rotherham have approached Scoular to be their manager. Peterborough previously wanted him to take over as Player Manager but United blocked the move.
---
20/11 - Bobby Mitchell turns down a move to York City. It is believed that United were open to a swop deal with Colin Addison.
---
21/11 - Centre-half Malcolm Hunter joins on trial from North Shields. He will play for the reserves tomorrow and if he is granted time off work (he is a blacksmith at Boldon Colliery) he will commence full-time training next Monday.
---
22/11 - D1: Newcastle 1 West Brom. 2 - Allchurch scores early but United are behind after 15 minutes in an action packed game. The visitors are down to ten men for half the game but defend superbly. United are unlucky to see the ball strike wood twice but 17-year-old Mitten misses a penalty (sixth miss in eight attempts from the spot this season).
---
26/11 - Allchurch plays for Wales against England and caps a superb performance with an excellent goal.
---
27/11 - United announce that half-back Jackie Bell (19) will become the official penalty-taker. He will be given special practice and will retain the job even if he misses.
---
28/11 - During the week Southern League Headington United became the latest club rumoured to want to take Scoular on as a player-manager. United make an official statement which confirms they have not been approached and "Jimmy Scoular is definitely not leaving Newcastle".
---
29/11 - D1: Leeds 3 Newcastle 2 - Leeds signed Don Revie yesterday and he inspires them to victory. lt is an excellent game which the home side deserve to win after an excellent second-half performance. A large contingent of supporters travel down.
---
December
---
01/12 - Bobby Mitchell is considering retiring from League football at the end of the season but there is a lot of interest in him from non-league and League clubs. Notts County are the latest side to show their hand.
---
02/12 - The Romanian touring side arrive in Newcastle. The club have arranged to take them to the pictures (in the afternoon) to see 'South Pacific'. They turn down the offer but having changed their mind the evening is spent watching "The Barbarian and the Geisha" and "School for Violence".
---
03/12 - Fr: Newcastle 4 Bucharest XI 1 - The Bucharest XI is made up of players from the four Division 1 clubs based in Bucharest; all 17 players have represented their country. It is an entertaining game in which both sides played some excellent football, although there are also many ill-tempered episodes. The recalled Mitchell sets up all four goals.
---
04/12 - Bobby Mitchell held talks with Notts County manager Frank Hill after yesterday's game and meets him again. He is interested in their offer which allows him to stay living on Tyneside, but has been promised a chance in the Newcastle side and turns down the move.
---
06/12 - D1: Newcastle 5 Burnley 2 - Newcastle's superior finishing and Burnley's lack of luck (they hit the woodwork three times) result in a flattering score line for Newcastle.
---
10/12 - At the weekly director's meeting the club - as promised - reconsider the players' wages and agree to pay those of "league rating" the maximum wage of £20. Retrospective payments from the start of the season will be paid where appropriate. The directors decide not to make the Cup Tie against Chelsea all-ticket to "guarantee against ticket 'spivery'" and have abandoned plans to fly to Nottingham on December 27th due to a lack of landing facilities.
---
13/12 - D1: Bolton 1 Newcastle 1 - Bob Stokoe magnificently subdues Lofthouse and Newcastle counter-attack with great speed and effectiveness in a thrilling game. They lead through White's skilful goal until five minutes from time.
---
14/12 - Charlton have made an offer for Evans and are awaiting a reply from Newcastle.
---
16/12 - The United party are in Blackpool for special training prior to the match at Blackburn. They play a match on the beach and do not realise that the incoming tide has left them marooned on a small island of sand. As a result they have to wade through the knee-high water back to dry land.
---
17/12 - After Mitten lets slip that United are in the process of signing Terry Marshall from Wisbech Town other clubs including Fulham and Chelsea declare their interest too.
---
19/12 - John Mitten is selected for the England Youth side to take on the Rest on 3rd January.
---
20/12 - D1: Blackburn 3 Newcastle 0 - A shockingly poor performance and a hat-trick from Johnstone sees The Magpies well beaten. It is the worst performance of the season so far.
---
26/12 - D1: Newcastle 1 Nottm. Forest 3 - Curry gives United an early lead but Forest equalise soon after - and after the break The Magpies are a complete shambles.
---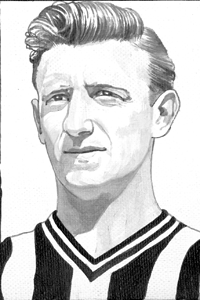 26/12 - Marshall finally signs from Wisbech Town for £7,000 or £5,000?
---
27/12 - D1: Nottm. Forest 3 Newcastle 0 - Despite an improved performance, United concede three goals in 18 minutes. Mitten - who has previously called for professional officials - is furious with the performance of the referee after a number of controversial decisions.
---
30/12 - Football League Secretary Alan Hardaker responds to Mitten's letter concerning referees in general and Saturday's referee in particular. He wants to know whether the letter represents the views of the club or just Mitten's personal views. The letter will be discussed at the next Board meeting on 6th January.
---
January
---
01/01 - Albert Franks is involved in a fatal road accident in which his car collides with a young boy.
---
02/01 - Football League Secretary Hardaker states that he has had a response from the club about Charlie Mitten's letter of complaint and they have assured him that the comments about the referee at Nottingham are the manager's "personal views". The matter will be discussed at the next League Management meeting.
---
02/01 - United agree a deal to sign Bath City's promising outside-right Brian Skirton (19) for £5,000, but although the player is keen his father advises against the move. He was recommended to United by Bath chief and former United player Bob Hewison.
---
03/01 - D1: Newcastle 4 Everton 0 - United master the difficult conditions to totally outplay their visitors in the best home performance of the season thus far. White and Allchurch both score twice.
---
07/01 - United are using peat (Mitten is not a fan of straw) to try and keep the pitch in decent condition during the wintry weather and ensure the Cup tie with Chelsea goes ahead.
---
09/01 - Comedian Bobby Thompson is performing at the Empire Theatre tomorrow afternoon and says he is disappointed he can't be at St James' to support the team. He has arranged for a telephone call to be made to the theatre every 5 minutes during the game so he can keep abreast of the score and reveals that he has "verses ready to put across to the audience based on a Newcastle lead of 1, 2 or 3 goals". When asked what he would do if they were losing he replied: "there won't be any verses".
---
10/01 - After yesterday's blizzards United employ 80 youths and men to try and clear the ground during the night but it is to no avail as the match is called off.
---
10/01 - It is a far more tragic day for train driver Wilfred Bee of Shiremoor. He swapped shifts so that he could attend the game but he suffers fatal injuries when his electric train from Longbenton collides with an empty train at Central Station.
---
12/01 - A local referee declares the pitch fit for play and Chelsea travel up to Tyneside again.
---
13/01 - Match referee Arthur Ellis falls on his back twice when he inspects the pitch and calls the match off. Mitten is not impressed and tries to get Ellis to re-inspect wearing rubber boots; he refuses and there is an altercation.
---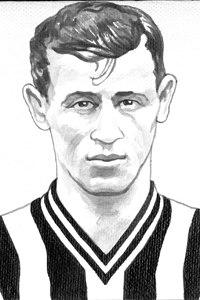 15/01 - On the recommendation of Jackie Milburn, United sign Linfield's young forward James Gibson for £6,000.
---
15/01 - United play a ninety-minute practice game on the Gallowgate pitch and report no injuries; they see no problem with Saturday's match going ahead.
---
17/01 - D1: Newcastle 1 Tottenham 2 - Although White and Allchurch both hit the bar, White gets the only goal in a very poor performance against struggling Spurs.
---
19/01 FA R3: Newcastle 1 Chelsea 4 - Chelsea's young side play a devastatingly effective counter-attacking game which brings them 4 goals in the first 48 minutes. Eastham pulls one back and roared on by the crowd United fight like tigers but they are out the Cup at the first hurdle. McKeag admits that "we were beaten to blazes by an infinitely better team who played football to match the conditions".
---
19/01 - Linfield manager Milburn brings new signing Gibson over from Ireland.
---
21/01 - Mitten reveals that at least 8 players will be transfer-listed next week; he has submitted the list to the Board for their approval.
---
22/01 - It is alleged that director Stan Seymour held a "press party" at his home yesterday. He is said to have criticised the tactics employed in the Chelsea game and implied that there was some boardroom interference at half-time. Also he criticised the fact that the players who are to be listed have not been spoken to or informed.
---
22/01 - The players to be transfer-listed are told of their fate. The list is not released but it is thought that it only includes three senior players: Bobby Mitchell, Stewart Mitchell and John Nesbitt.
---
22/01 - An absolutely furious McKeag accuses Seymour of making "disruptive" and "irresponsible" comments. "I am very disturbed by recent statements made by Mr Seymour on Newcastle United affairs. Why on earth is Mr Seymour starting all this nonsense again. Whatever statements he may have made at the press party which he held at his house on Wednesday were entirely unauthorised and ought never to have been made. I am sick and tired of all this hole and corner business and I shall not stand idly by at this or any other attempt to sabotage the excellent work of our manager Mr Mitten." He also states the matter will be discussed at the next director's meeting.
---
24/01 - Fr: Liverpool 2 Newcastle 2 - With both sides out the Cup, United fly to Liverpool to take on the Second Division side in a friendly.
---
25/01 - Bob Stokoe uses his Sunday Sun column to rubbish suggestions that United's tactics in the Chelsea Cup Tie might have been influenced by McKeag. He states that Mitten spent two-hours talking tactics on the day of the game and had impressed on them "the necessity of open play" and the need to "cut out the frills and all the short passing". He states it was the players' fault for failing to do this. He admits McKeag came into the dressing-room at half-time but states he only offered encouragement.
---
26/01 - Mitten responds to Seymour's allegations. "In my contract I have full control over team policy, selection, scouting, training and coaching. If the time comes that this is not the case I would have no hesitation in reporting the matter".
---
26/01 - McKeag issues another statement through the Newcastle Journal. "This miserable business should be put in its right perspective. There is a resolution of the board that only the Chairman, in addition to the manager, should make statements to the press. Mr Seymour has flouted that resolution. There has been trouble before. On the last occasion Mr Seymour apologised to the Board and promised solemnly not to offend again. That promise has been broken".
---
26/01 - Stokoe hurts his ankle during PT exercises; he has gone into a nursing home and is expected to be absent for a few weeks. As a result, Nesbitt will be removed from the transfer list; at least temporarily.
---
27/01 - The Board hold a four-hour emergency meeting and McKeag offers to resign both his Chairmanship and his place on the Board as long as Seymour also resigns. Seymour does not respond to the offer. A short statement is issued following the meeting which states: (check wording) "official statements only by or through Chairman and that loyalty is pledged by all directors to manager Charlie Mitten"
---
29/01 - Tests show that Stokoe has badly torn the ligaments in his left ankle and he will be out for the rest of the season.
---
30/01 - A verdict of "accidental death" is recorded at the inquest of Ronald Daimond (of Hylton Road Jarrow) who was knocked down by Franks' car on New Year Day. Franks was not driving dangerously or too fast and it appears the boy ran out on to the road and he could not stop in time.
---
31/01 - D1: Man. United 4 Newcastle 4 - United are undeservedly 4-1 behind after only 34 minutes but they stage a brilliant second-half comeback to square a thrilling game.
---
February
---
04/02 - Jackie Milburn's request to Manchester United to allow Bobby Charlton to guest for Linfield against Newcastle is turned down as such arrangements are not generally allowed by the League.
---
07/02 - D1: Newcastle 3 Wolves 4 - United are brilliant in the first half against the Championship chasers and deservedly lead; but Wolves score 3 times in 16 minutes to turn the game around. The crowd are not happy with Wolves captain Billy Wright nor are they impressed with some of the referee's decisions.
---
13/02 - Fr: Newcastle 1 Vienna SC 1 - The visitors are the Austrian Champions and have reached the Quarter-Finals of the European Cup.
---
15/02 - Fog causes the match at Portsmouth to be postponed.
---
19/02 - The FA Disciplinary Committee censure Mitten and warn him of his future conduct following the incident prior to the postponed Cup Tie with Chelsea on January 14th. After Ellis refused to re-inspect the pitch Mitten "adopted an ungentlemanly attitude towards him in the presence of officials, players and members of the press". Mitten says "I acted as in thought necessary as Newcastle manager".
---
21/02 - D1: Newcastle 1 Aston Villa 0 - After weeks without precipitation heavy rain turns the pitch into a veritable quagmire and the game borders on the farcical at times. United are much superior, but have to wait until ten minutes from time to find a winner.
---
21/02 - McKeag states that at the next meeting of League chairman he will call for a fact-finding committee to be set up to look into the possibility of using all-weather pitches. And he argues that "so far as I can see the best pitch needn't be one of turf. It is not outside the bounds of imagination to picture a pitch of red shale for example".
---
21/02 - The Chairman also voices his hope that progress will soon be made with their plans to build a new stand on the Popular Side and provide additional car-parking spaces behind the Leazes End. It is also possible that a tunnel will be built to allow easier access to the Leazes. It is twelve years since the club last applied to extend St James'. The Freeman and the Council appeared broadly in favour at the time but the plans were dropped in 1951. The club have offered to fund both the Parliamentary Bill required to sanction the development and the cost of moving the children's swings.
---
22/02 - McGuigan has torn the ligaments on both sides of his ankle and will be out for some weeks
---
23/02 - Fr: Linfield 3 Newcastle 3 - Milburn leads the Linfield attack and scores from a penalty.
---
23/02 - Members of the Town Moor and Parks Committee visit Gallowgate to examine the proposed car park site. After the inspection Councillor J McKenzie says that he "agrees there is a slice of land in excess of what we require for the children's recreation ground" and that the City Engineer will report to the Committee at their next meeting.
---
28/02 - D1: Leicester 0 Newcastle 1 - A very drab game played on a hard, rutted pitch in a high wind. A good goal from Eastham is a rare moment of quality although the desperate home side are unlucky to hit the woodwork 4 times and have 2 strong penalty appeals turned down. In the second-half Mitten gets into an argument with a linesman over coaching from the touchline and the referee comes across to warn him over his conduct prompting a wry smile.
---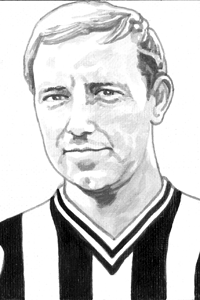 tbc/02 - George Heslop signs from Dudley Juniors.
---
March
---
02/03 - Fr: Newcastle 2 All Stars XI 4 - Newcastle's full side is beaten by a team of ex-professionals in a match held in aid of Northumberland County Cricket Club.
---
03/03 - Cardiff and Gateshead are still interested in Bobby Mitchell who states that - if the conditions were right - he wouldn't be averse to a move to United's near neighbours.
---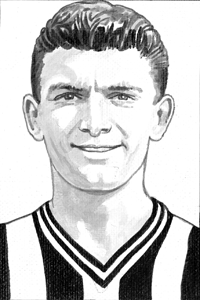 06/03 - United swap Reg Evans (20) for Charlton Athletic inside-forward Johnny Ryan (27). Ryan is seen by Mitten as a utility man and is 5' 9" and 11 stone. He has played 11 times this season and scored 7 goals.
---
07/03 - D1: Newcastle 1 Preston 2 - Preston have not won for 6 games and (due to injuries and illness) they make eight changes to their side. It is another stale performance and The Magpies are deservedly beaten.
---
09/03 - Swansea announce that they are willing to sell Mel Charles and they are looking for a record fee. Although Mitten would love to sign the player United state that they will not join an auction and it is believed that they would want to do a part-exchange seal. For his part, Charles is believed to be reluctant to move to the "frozen North".
---
10/03 - It is rumoured that reserve centre-forward Bill Curry (who scored 4 goals for the stiffs on Saturday) may be one of the players United would offer to Swansea; Blackburn are also very interested in signing him.
---
11/03 - D1: Portsmouth 1 Newcastle 5 - Curry scores a hat-trick in a comprehensive victory over bottom placed Portsmouth who look certain to be relegated now. Curry says the "last thing I want is to leave Newcastle".
---
13/03 - Newcastle follow Arsenal, Chelsea and Tottenham in declaring their interest in Mel Charles. They make a bid of £20-25,000 plus Bill Curry and Bill McKinney.
---
14/03 - D1: Man. City 5 Newcastle 1 - City have not won at home since the start of the year but with outside-left Sambrook giving Whitehead a torrid time The Magpies are well beaten.
---
16/03 - It is transfer deadline day and although clubs can still buy players after today they will not be eligible to play until next season. United cannot agree a fee with Gateshead for Bobby Mitchell who also turns down a move to Leicester.
---
17/03 - United up their bid for Charles to a massive £60,000 package: £30,000 plus Bill Curry (valued at £12,000) plus Bill McKinney (valued at £10,000) plus Stewart Mitchell (valued at £8,000). Swansea let Mitten speak to Charles but he is still reluctant to move to Tyneside due to the weather and appears determined to join Arsenal.
---
18/03 - Mitten speaks to the Welshman on the telephone and states that "we are still very interested in Mel Charles and hopeful that we will get his signature". Swansea also state that they will accept offers for Ivor Allchurch's brother, Len, who has previously stated that he would be happy to move to Tyneside.
---
21/03 - D1: Newcastle 1 Arsenal 0 - Curry scores an early goal and an injury to full-back Willis reduces Arsenal to ten fit men after little over half an hour. Both sides miss countless chances but there is no more scoring.
---
21/03 - Directors Seymour and Taylor watch Charles and Len Allchurch play at Middlesbrough.
---
23/03 - Arrangements are made for Mitten to meet solicitor Mr Neil Harris (who is acting as Charles' business manager) when United visit London next weekend. Mr Harris asks the Football League if they would also be willing to send a representative to allay any fears of any dealings of an illegal nature. However, League secretary Hardaker makes his position very clear: "Harris has nothing to do with the transfer of any player and under no circumstances would the Football League meet him." It is also believed that the Board are split with Seymour, Taylor and Davis all reportedly averse to the deal.
---
24/03 - Following the Board Meeting United announce that "after considering all the circumstances, the Board have unanimously decided that they have no further interest in Mel Charles".
---
27/03 - D1: West Ham 3 Newcastle 0 -
---
27/03 - Birmingham full-back Jeff Hall has contracted polio and it is likely that next Saturday's match will be postponed as a precaution.
---
27/03 - The Magpies are trying to arrange a friendly with Brazilian side Portugeso.
---
28/03 - D1: Luton Town 4 Newcastle 2 - Feeble United recover from going 2-0 behind but The Hatters score twice in the last twenty minutes in what is a poor game. Seymour and Taylor watch the Tees-Wear derby and it is rumoured that they may be considering a bid for Brian Clough.
---
30/03 - D1: Newcastle 3 West Ham 1 - A rip-roaring display from United in which Taylor, Keith and Allchurch all score.
---
April
---
01/04 - Swede Mr Ljunggren is having problems fixing up some opposition for United for this Saturday.
---
04/04 - Swedish side Halmstads leave at 4.00am to travel to Newcastle for this afternoon's 3.00pm kick-off. But they are delayed at Malmo and they do not arrive in Newcastle until 5.30. They are whisked straight to the ground, get changed and go straight on.
---
04/04 - Fr: Newcastle 3 Halmstads 1 - Despite their lack of preparation the visitors show some flashes of good football but they are generally given the run-around in what is perhaps the best friendly so far. Due to the delayed kick-off many supporters left at half-time.
---
06/04 - Charlie Mitten's contract will be discussed at tomorrow night's board meeting. Mitten signed a 13-month contract last summer and argues that "I wanted to prove myself - I think I have done that". However, Mitten dismisses suggestions that he is demanding a long-term contract and wants full control of team affairs as "all tripe". He goes on to say "the rumour that I have asked for a four-year contract with strings is as ridiculous as the suggestion that I will resign if I didn't get it." Certain members of the Board have made it publicly known that some of the manager's actions have not met with their approval but McKeag refutes that he is having to act as a buffer between Mitten and a faction of the Board claiming: "someone is just trying to stir up trouble".
---
07/04 - At the Board meeting McKeag makes a recommendation (seconded by Hurford) that Mitten is given a 3-year contract under the same terms as his current one but the motion is defeated by 5-3. A short statement is issued "the Directors were hesitant to agree...". The matter will be put into abeyance until the next Board meeting and the unhappy McKeag states: "for the life of me I cannot see the slightest valid reason for the rejection." The Board also hear from Captain Hyde Barker about his proposals for a close-season tour of Europe and America. Mitten is in favour of the tour but the Board vote against it.
---
11/04 - D1: West Brom. 2 Newcastle 2 - Despite a sodden pitch it is a very entertaining game. Curry scores twice in the first 21 minutes only for Albion to battle back.
---
14/04 - McKeag once again proposes (seconded by Hurford and McKenzie) that Mitten is given a 3-year contract. Again it is defeated (5-2) with Seymour, Taylor, Davis and the Rutherford's all voting against. Instead they vote to offer him another 1 year contract. McKeag argues that "secure of tenure for that period is needed, for it will take that length of time as a minimum to bring to fruition all the plans Mr Mitten has made for the development of so many young and promising players". Mitten makes no comment.
---
15/04 - The club announce that the team will go on a short tour of Ireland at the end of the season.
---
17/04 - Leeds - who are on the lookout for a new manager are being heavily linked with a move for Mitten and it is thought they may approach him at tomorrow's game.
---
18/04 - Perhaps wary of Leeds contact, McKeag takes Mitten on a scouting trip to Ireland.
---
18/04 - D1: Newcastle 2 Leeds 2 - United are very poor and the visitors go 2-0 up just after the break. But Allchurch pulls one back and Curry scores an equaliser in the final seconds.
---
19/04 - In an article in a Sunday newspaper Mitten goes on the attack; publicising what he has done for the club and criticising the boardroom shenanigans; some excerpts follow. "All I want and have ever asked for is TIME to get things done. The fairground is the place for Aunt Sallies not the managerial seat. Team spirit is just as vital in the boardroom. Knew of troubles before I came. But I hoped these undercurrents would stop. Unfortunately - especially over the last few months - that hasn't been the case - far from it. When I arrived the club was in a very sorry state. The outer shell was there but no heartbeat. Players had to buy their own boots for matches, training and other duties. No confidence no team spirit. I made them enjoy working at their training. Players equipment brought up to standard". An impassioned defence but one which has almost certainly aggravated an already delicate situation.
---
20/04 - Mitten is still being linked with the vacant seat at Leeds but there has been no official statement from either club.
---
21/04 - After five hours of heated debate the Board release a short statement: "It was decided by the Directors that Mr Mitten be offered a renewal of contract for a period of three years". It is thought that both Rutherford's switched to support Mitten thus tipping the balance. McKeag is reluctant to comment and asked whether he is happy with the turnaround he says "perhaps it is for that reason that I prefer not to comment". Mitten is happy with the terms of the contract but is not yet committing: "I will let the Board have my decision in a week or two. I have an offer from another First Division club and there are several things to consider". Leeds Chairman Mr Bolton says "we cannot do anything until Mr Mitten clears up his position at Newcastle".
---
22/04 - D1: Newcastle 2 Bolton 0 - With Scoular controlling Lofthouse it was a much improved performance particularly in first-half. "We are used to playing on grass" - claims wisecracking Bolton manager Bill Ridding. At one stage spectators in the Leazes End pelt the penalty area with dirt, cartons and small stones; keeper Hopkinson complains to the referee who speaks to the policemen behind the goal.
---
25/04 - D1: Burnley 2 Newcastle 2 - Torrential rain turns the pitch into a quagmire but both sides perform admirably in an entertaining tussle.
---
27/04 - Mitten meets six of the directors (Dr Rutherford and his son are missing because the Doctor has fractured his collar bone in an accident at home) and agrees to accept the new contract. It is believed that the club increased the wage on offer to match the terms being offered by Leeds.
---
29/04 - D1: Newcastle 1 Birmingham 1 - A pretty decent game even though it was the last match of the season and nothing depended on it. Allchurch volleyed home after only a few minutes, but Birmingham deservedly equalised after the break.
---
30/04 - United secretary Ted Hall passes away in hospital. He joined the club in 1927, taking over as assistant secretary in 1932 and secretary in 1950.
---
May
---
01/05 - Fr: Brighton 1 Newcastle 1 -
---
04/05 -Test: Peterborough 3 Newcastle 5 - After a very casual start from United both sides contribute to a very entertaining testimonial.
---
06/05 - Fr: Drumcondra XI 3 Newcastle 6 - United take on last season's League of Ireland champions (who also have three guest players) on a bumpy pitch. After a drab first-half there is a goal frenzy after the break.
---
08/05 - Ben: Evergreen United 2 Newcastle 4 - A benefit game for John Coughlan played at Mardyke, Cork. Although they give their hosts a couple of goals head start United give a delightful display of football.
---
11/05 - Fr: Glentoran 3 Newcastle 3 -
---