June
06/06 - Newcastle were struck with the play of a Spanish goalkeeper during their continental tour and it is believed they will try and induce him to come to Tyneside.
07/06 - Patrick Thistle want £7,000 for James McMullan who has refused to re-sign, United are only prepared to pay £5,000.
09/06 - United release their Annual Report which shows a record income of £84,599.
14/06 - Director and former chairman Alderman G. Archibald passes away aged 76.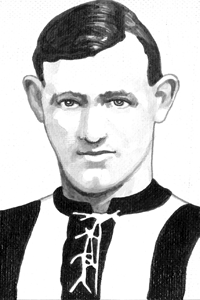 15/06 - Alec Ramsay (26) has signed on for Queens Park Rangers. He lost his place in the side to Seymour.
17/06 - The Annual Meeting of the shareholders is held at the Continental Restaurant. United announce they have signed full-back Ian McLachlan from Blyth.
22/06 - A thirteen-year old boy is charged with the larceny of keys and tickets from the club's offices. He climbed in through a window and was caught red-handed by a passing PC. He claimed to have gone inside because he wanted something to eat. He is already on the wanted list for shopbreaking in Gateshead. The case is adjourned.
24/06 - James McMullan wanted a significant share of the £5/6,000 fee that United were prepared to pay for him (which would be a record), but Patrick Thistle will not accede to the clever little half-back's request. He says he will be "disappointed" if the deal falls through.
July
01/07 - Former player Alex Gardner dies in his residence, the Dun Cow Inn in Back Eldon Street, where he was proprietor.
09/07 - SURPRISE FOOTBALL TRANSFER - James McMullan signs for Maidstone who play in the Kent League. As the club is outside the jurisdiction of the League, the Scots will receive nothing.
11/07 - Right-full-back C Thompson has also joined the Londoners.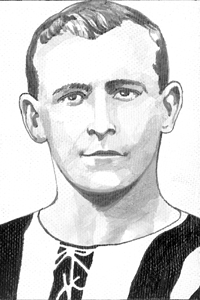 29/07 - John King, who was released, joins Dykehead FC.
13/08 - The first practice match draws 25,000 and a sum of £425 is subscribed for charity.
20/08 - In the third practice Ward wrenches his bandaged knee and opens up his old trouble, there are now six injured players.
27/08 - D1: Huddersfield 1 Newcastle 2 - NEWCASTLE CHARM BUT FADE IN STAMINA - McDonald scores just after the start and in the last but one minute to give United victory. They are the better side in the first-half and defend well against a spirited rally from the Yorkshiremen after the break.
30/08 - Hampson and Ward (both knee) and Wilson (groin) are still out.
31/08 - D1: Newcastle 3 Everton 0 - TYNESIDERS TRIUMPHANT IN GREAT DISPLAY - The visitors give a very moderate display on a greasy pitch and United should have won by more. Their understanding and footwork are much superior and the halves once more nullify the opposition. Low's deputy Mooney is the star.
September
02/09 - At the County Hotel the Lord Mayor presents secretary Frank Watt with a testimonial in recognition of the services he has provided both locally and nationally. Subscribers include just about every League club from Aberdeen to Plymouth and he receives a drawing-room clock and a wallet of Treasury notes.
03/09 - D1: Newcastle 1 Huddersfield 2 - SENSATIONAL WIN FOR HUDDERSFIELD- United concede twice in the first third and although McDonald pulls one back with an excellent solo effort it is not enough. Newcastle have far more shots than the visitors, but are generally off-key in every department.
07/09 - D1: Everton 2 Newcastle 3 - UNITED SCINTILLATE AT GOODISON PARK - The weather is very warm and terribly close. In the first-half the United treat the fans to one of the nicest exhibitions of combination one could hope to see and take a three goal lead before the home side pull one back just before the interval. United slacken off in the second-half and the game falls to pieces somewhat. After the game the party travels to Latham where they will stay in preparation for the game at Burnley.
10/09 - D1: Burnley 2 Newcastle 0 - NEWCASTLE WALK A HARD ROAD AT TURF MOOR - A strong wind and glaring sun make things difficult and it is a disappointing and scrappy game. United lose largely because of the forwards' lamentable weakness in their approach methods. However, they are handicapped by an early injury to Mooney which deprives him of his usual elasticity.
14/09 - Fr: Newcastle 2 Rangers 1
The Scottish League Champions play a very strong side whereas United include a number of reserves. Harris gives the Magpies an early lead and they are the better side in the first forty-five. The Scots dominate after the break and deservedly equalise before Hudspeth grabs a winner. It is a fine exposition of the game.
15/09 - Mooney, Low, Curry, Hampson, Seymour and Ward are all unfit.
17/09 - D1: Newcastle 2 Burnley 1 - NEWCASTLE WIN AGAINST GREAT ODDS - The Novos press throughout and deservedly beat the League Champions and leaders despite playing for the last thirty minutes with ten men including Paton who is a virtual passenger. The visitors use their poundage rather too much.
24/09 - There are rumours before the game at Sheffield that certain extremists within the City had organised an attempt by the unemployed to gain forcible admission. The police made special precautions, but nothing occurs.
24/09 - D1: Sheffield U 1 Newcastle 1 - NEWCASTLE'S WELL EARNED DRAW - An interesting game played in sweltering heat between the two well-matched sides is fairly drawn.
26/09 - Lawrence is appointed as the new president of the Association of Football Players and Coaches Union at their annual meeting in Manchester.
October
01/10 - D1: Newcastle 2 Sheffield U 1 - "BLADES" GET THEIR DESERTS - A hard, bustling game which is waged at a lively pace. During the first period there is a nasty feeling prevailing amongst some of the players and the referee has to speak to a number of them. Mooney is badly injured after only ten minutes and has to be carried off. He was elbowed in the rib by Sturgess who is "jollied" by the crowd so much he is eventually put right off his game. Mooney bravely returns on the wing and manages to head in United's equaliser.
02/10 - Seymour has a nasty knee injury.
04/10 - With a view to assisting the unemployed the directors are attempting to fix a match with a team secured by comedian George Robey who will be in Newcastle during the week commencing the 24th October.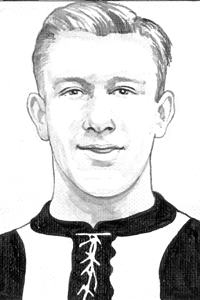 04/10 - United sign Pelaw outside-right John Thain, he stands 5' 9" and turns the scales at 11st.
05/10 - Director James Lunn is selected as the next Sheriff of Newcastle.
06/10 - Mooney has joined Curry, Paton and Seymour on the injured list and Bradley comes in for Lawrence.
08/10 - D1: Chelsea 1 Newcastle 1 - UNITED'S CHAPTER OF ACCIDENTS - The weather is scorching and the ground is bone-hard. Harris gives United an early lead but the Pensioners equalise just before the break. Both teams lose a player to injury in the second-half, with McDonald departing for the Magpies. It is an equitable result on the balance of play. United were brilliant for the first thirty minutes, but their play fell to pieces after the interval. Photos in the Daily Mirror and Sunday Illustrated.
13/10 - At a Northumberland Football Association meeting Wallsend are censured following a complaint by Newcastle that some spectators threw stones at the United players at the end of a recent North Eastern League game.
15/10 - D1: Newcastle 1 Chelsea 0 - VERY MODERATE FOOTBALL AT NEWCASTLE - A very poor game in which the combination of both sides is ragged in the extreme and the shooting of the Londoners is beneath contempt. Photo in the Daily Mirror.
17/10 - WILL MCCRACKEN NOT TO PLAY AGAINST ENGLAND IN INTERNATIONAL - It is believed that McCracken has sensationally refused to turn out for Ireland against England in the upcoming international. The rumour has surfaced from "a very important quarter".
21/10 - Mystery surrounds McCracken's alleged refusal to play with no official comment forthcoming.
22/10 - D1: Preston 2 Newcastle 0 - NEWCASTLE CONQUERED BY CULTURED PLAY - A well-balanced and cultured performance from the Lancastrians brings them their deserved success. The weakened Magpies play a strong game, but there is a marked wont of finishing power and their pretty footwork is rendered ineffective on the heavy, sodden ground.
26/10 - Ch: Newcastle 4 George Robey XI 7 - Newcastle's League team are beaten by a team organised by comedian George Robey who plays himself at inside-right. Buchan (Sunderland) and Elliot (Middlesbrough) are two of his guests. Gate receipts plus programme sales raise £762 and the comedian augments the total to £800 for the unemployed of the City. The Lady Mayoress accompanied by the Lord Mayor kicked off. Both Harris and Smailes suffered injuries.
Seymour resumed light training last week, but the problem in his knee has reasserted itself.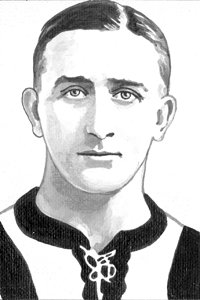 United Sign outside-right James Low from Glasgow Rangers. He is 5' 7" and 11' 6lb and has the reputation of being a speedy and clever forward.
29/10 - D1: Newcastle 3 Preston 1 - It is decidedly windy and there are some equally forceful challenges which bring a host of stoppages for treatment. United are a thrustful and enterprising combination and it is arguably their best performance so far this season.
31/10 - Seymour goes into a private nursing home for an operation; he is likely to be out for another couple of months. Paton has a badly strained thigh.
November
03/11- Seymour's knee is operated on.
04/11 - The August practice games raised a total of £965 for charity, the largest total of any club.
05/11 - D1: Tottenham 4 Newcastle 0 - SPURS IN GREAT MOOD - United are well beaten in the Metropolis with some of the home side's football making the Novocastrians look like very small beer. In all departments they are superior and United's attack is palpably weak.
McCracken becomes the latest injury casualty.
12/11 - D1: Newcastle 0 Tottenham 2 - HOTSPUR TRIUMPHANT AGAIN - in the first-half Newcastle reveal a complete restoration of their wonted prowess, with swift, elusive manoeuvres and good marksmanship. But they fail to score and there is a complete reversal after the break with United losing all cohesion and balance after Spurs score on the hour.
19/11 - D1: Newcastle 2 Sunderland 2 - BRILLIANT EXHIBITION OF FOOTBALL ON TYNESIDE - A game fought at a terrific pace on a treacherous ground. United score twice in the first six minutes and, with the Wearsiders down to ten men for much of the first forty-five, they dominate. After the break the Wearsiders fight back for a hard-earned point.
Thousands of unemployed Newcastle supporters, who cannot afford the train fares, walk all the way to Sunderland. As the contingents meet on the main roads they instinctively fall into military formation and sing war-time choruses.
26/11 - D1: Sunderland 0 Newcastle 0 - A DOUR STRUGGLE - the game is fiercely contested from the start and it is not long before some bad feeling is introduced. Sunderland are hampered by Stephenson's lameness after the interval. the attendance sets a new record for the ground.
December
02/12 - Aitken suffered a knee injury at Roker Park and James Low will make his debut in his stead. Curry also has leg trouble.
03/12 - D1: Newcastle 0 Middlesbrough 0 - MASTERLY DISPLAY BY THE MIDDLESBROUGH DEFENCE - In a ding-dong struggle both sets of defenders are keenly tried, but neither goalkeeper is called on for a big effort. Harris has a bad day, missing numerous chances and on one occasion missed three open-goals in succession.
10/12 - D1: Middlesbrough 1 Newcastle 1 - THRILLS AT AYRESOME PARK - A grand even contest full of sparkling play and clean football, it is one of the best games ever between the two sides.
13/12 - E Ward has undergone an operation to remove the cartilage from his right knee.
Charity match
17/12 - D1: Newcastle 1 Aston Villa 2 - NEWCASTLE OUTPLAYED AT ST. JAMES' PARK - United's display is of keen disappointment to the many followers as at no point do they do themselves justice and are flattered by the narrow margin of the score. A westerly gale Is the dominating factor and United's failure to build-up a lead in the first-half proves their undoing.They have a brilliant display from Bradley to thank for sparing their blushes. Thain gives a creditable display on his debut.
23/12 - There are rumours that reserve centre-forward Pyke is on the transfer-list and that Sheffield United have enquired about his services. For his part, Pyke (who scored over 60 goals for the reserves last season) does not want to leave the district as he is engaged in one of the main shipping houses in Newcastle.
24/12 - D1: Aston Villa 1 Newcastle 0 - STALWART DEFENCES - Although the ground is treacherous and there are many slippings, the game is played at a fast pace. It is an even match in which the defences prevail.
26/12 - D1: Liverpool 1 Newcastle 0 - Despite the heavy ground and high wind both sides play clever football in a fast game with spells of brilliance. Newcastle, aided by the wind, are the better side after the break, but the leaders score five minutes from time.
28/12 - Fr: Newcastle 5 Corinthians 4 - CORINTHIANS UNLUCKY - An exciting friendly with the "Lads o' Mettle's" played in wretched weather which forces the players off the field for ten minutes during the first-half and results in the game being abandoned after eighty minutes.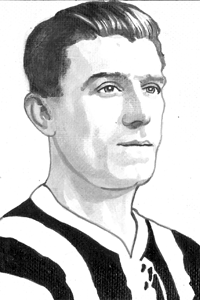 28/12 JARROW PLAYER SECURED - Outside-left Clarke is secured, a good dribbler with a splendid shot, he has scored many goals this season. Clark has been a leading figure in the mid-Tyne club's North-Eastern League matches and is regarded as a winger, who is likely to make his name in first class football. Rumours have also been current on Tyneside that negotiations have been in progress between Newcastle and South Shields for the transfer of Harry Woods, the Second League club's captain and inside right.
31/12 - D1: Newcastle 3 Man. Utd 0 - NEWCASTLE AT LAST GALLOP AGAIN TO VICTORY - Although the conditions are terribly heavy the Magpies are immeasurably the better side throughout the game against the struggling Mancunians and the play all favours the home side.
January
02/01 - D1: Newcastle 1 Liverpool 1 - LEADERS OVERPLAYED AT NEWCASTLE - The visitors have the benefit of a strong wind behind them in the first-half and take an early lead. Newcastle subsequently have the better of the play. After the break Harris equalises almost immediately, but despite terrific pressure Scott is brilliant in goal for the league leaders. The referee, complains to the Liverpool captain, Ephraim Longworth about the amount of time being wilfully wasted, and said that unless he desisted he should order him off the field. Long-serving Longworth has never even been called to order and was very much disturbed by such a warning. He was so hurt that his club manager enquired of the referee why the player had been cautioned.
07/01 - FA R1: Newcastle 6 Newport 0 - NEWPORT EASILY MASTERED - Although several of the Newport players have been, or are, suffering from influenza, they still have a decent side out. United take the lead half-way through the first period and have the majority of the play. The Third Leaguers defence puts up a stern resistance until the last thirty minutes when they crumble.
10/01 - Amateur full-back Ian MacLauchlan has been invited to play for Queens Park and the move is likely to go through imminently.
11/01 - United are not immune to the flu epidemic and eight players are currently suffering from the malady. They are Harris, Seymour, McGuire, Mcintosh, Morgan, Tait, Hagan, and Wilson.
14/01 - D1: Man. Utd. 0 Newcastle 1 - NEWCASTLE'S DEFENCE TOO SOUND FOR OLD TRAFFORD BRIGADE - The home side are at the foot of the table. After play starts tamely on a treacherous ground, McDonald scores and both sides are let down by erratic finishing. Although the home side have much the better of the play after the break, United's defence is very sound.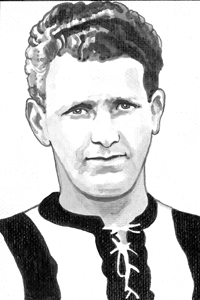 17/01 - NEWCASTLE'S NEW FORWARD South Shields captain Harry Woods signs for £2,500. He was secured by South Shields from Norwich when they were elected to the Second League in 1919, and during that season he played in 38 games, mostly as an inside left, and scored nine goals. Last season he had 36 outings with the League side and scored 12 goals, and in that season he played inside right. This season he has not been out since December 10, up to which date he had a full attendance record, always, with one exception, at inside right. It is understood that it is for that position that Newcastle United are signing him. A native of St. Helens, Woods stands 5ft. 8 1/2in and scales 11st.
21/01 - D1: Birmingham 0 Newcastle 4 - BIRMINGHAM BEWILDERED BY BRILLIANT FOOTCRAFT - The home side are beset by injury and influenza and have little chance of success when they are reduced to ten men within the first twenty minutes. United's forward play is reminiscent of their glory days and its outstanding feature is its picturesqueness.
29/01 - FA R2: Preston 3 Newcastle 1 - Although United take the lead and play the better football, they lack the staying power, tenacity and finish of the Lancastrians.
February
Spennymoor United left-half-back Eber Reed is signed.
04/02 - D1: Arsenal 2 Newcastle 1 - HRH AT HAPPY HIGHBURY - HRH, The Duke of York, attends the game and is presented to the teams before kick-off. Although the ground is very muddy due to the snow the game is fought from first to last at a terrific pace. Arsenal are the better side all through and deserve their victory.
08/02 - D1: Newcastle 0 Birmingham 1 - FOOTBALL THAT LACKED THRILLS - The ground is frost bound on the wings and soft in the middle making for a treacherous surface and play is not very lively for long periods. Newcastle have the better of matters before the break but waste chances due to too close passing amongst the middle-trio. The struggling visitors adapt to the conditions better and deserve their success. There is nothing to give the crowd any satisfaction.
11/02 - D1: Newcastle 3 Arsenal 1 - UNITED BACK TO FORM IN REVENGE VICTORY - Despite the pitch being as sticky as bird lime and the ball as heavy as lead, it is a much improved performance in which ornamentation is replaced by thrust and dash. It results in a clear-cut and decisive victory.
16/02 - Smailes and Ward are still out with knee trouble.
16/02 - Assistant trainer Jack Carr has been appointed team manager of Blackburn.
17/02 - Sunderland state that they have turned down an offer for artist Charles Buchan from Newcastle.
20/02 - McCracken is selected for Ireland for the game against Scotland on March 4th.
25/02 - D1: Newcastle 2 Blackburn 0 - ROVERS MASTERED AT GALLOWGATE - Jack Carr's Rovers are well beaten and would have conceded more if Newcastle's shooting had been less erratic.
27/02 - Although the club have received many applications to replace assistant-trainer Jack Carr, they do not plan to recruit anyone for the time being.
March
04/03 - D1: Bolton 3 Newcastle 2 - ROBERTS PLAYS BOLD GAME AGAINST NEWCASTLE DEFENCE - The pace is fast and the play vigorous throughout. All the goals are scored in the first-half and the Magpies cannot complain as they are overplayed. Although they are often clever on the ball, they do not move it quickly enough. Bradley is excellent even though he had suffered pain from a gathered hand the previous night. Roxburgh had an unhappy afternoon, he neither kicked or tackled well and appeared to lack confidence.
04/03 - McCracken is injured whilst captaining Ireland.
06/03 - D1: Blackburn 0 Newcastle 2 - NEWCASTLE BEAT THE ROVERS AT BLACKBURN - Although Blackburn have the wind behind them and dominate the first-half United lead 1-0 at the interval and double their advantage in the second-half.
McDonald is included in the Anglo-Scot's team for the trial match on 22nd March.
09/03 - Rumoured that Harris is anxious to return to Scotland and will sever his ties with Tyneside at the end of the season.
11/03 - The latest bulletin from United is that in future they will not pay more than £2,000 for any player.
11/03 - CHANGES IN THE AIR - There are already rumours to the effect that certain Newcastle United players will be going elsewhere next season. Some of them are said to be dissatisfied at not keeping their places which they believe were merited while others contend they have not been given a fair chance with the seniors. Newcastle are not the only folk who are troubled in this direction.
11/03 - D1: Newcastle 2 Bolton 1 - SPENCER'S PROMISING DEBUT - In the first-half United's open methods have the opposing halves in a puzzle and they could easily have scored more than the two goals they secure. Bolton improve dramatically after the interval and their robust methods keep United on the defensive for long periods. Debutant Spencer impresses, particularly with his clearing and tackling. Towards the end Roxburgh is knocked out by a terrific drive from Smith which is heading for the goal.
Low, Ward, Paton and Swan are all still injured.
18/03 - D1: Newcastle 1 Oldham 1 - STEERING TO SAFETY - A vital and deserved point for the struggling Lancastrians who defend gallantly. McIntosh has to retire injured midway through the first-half and though he tries to return it is short-lived. Certainly this contributes to United's play lacking its wonted cohesion. A fast pace is kept up throughout. although there are numerous stoppages due to injuries caused by rough play.
21/03 - Charles Manley, a discharged soldier and keen supporter of Cardiff has set off to walk the 350 miles to Newcastle for the match on the 1st April. Wearing a sweater and shorts he then plans to walk to Liverpool for the Welshman's match there on April 15th.
22/03 McDonald plays for the Anglo-Scots in the trial match at Caithness.
McIntosh (strained knee ligament), Woods (bruised thigh) and Roxburgh (boils) are all "hors de combat".
24/03 - COLDSTREAM'S GOALKEEPER SIGNS - United sign custodian Archie Mitchell from Coldstream on amateur forms. He used to be forward, but was tried in goal when they were short and has got better and better. He is a very promising youngster who is undoubtedly the best goalkeeper in Border country.
25/03 - D1: Oldham 0 Newcastle 0 - A BLANK DAY AT BOUNDARY PARK - A well-conteste, scrambling game in which two sets of strong and stubborn defences dominate. Both sets of forwards appear under the impression that the last thing they should do is shoot and as a result neither custodian is seriously extended.
April
01/04 - D1: Newcastle 0 Cardiff 0 - WELSH WOES ON TYNESIDE - The Citizens, who are visiting St. James' for the first time are significantly weakened by international call-ups. In contrast, McCracken is the only absentee for United and the supporters are greatly disappointed with their performance, with the forward line in particular being too bad to be true. The match is a benefit for Bradley.
05/04 - It is understood that the Christmas match with the Corinthians was so satisfactory that the famous amateurs have asked United to play again next season on their Christmas tour.
08/04 - D1: Cardiff 1 Newcastle 0 - KILLING THE GOOSE - A poor game littered with free-kicks as the Cardiff forwards are continually caught offside by McCracken. The better-balanced home team deserve their victory.
12/04 - James Lawrence is one of the representatives of the Players Union at an EGM of the Football League shareholders. They argue that there should be no wage reduction without admission prices also being lowered and are not happy that from next season the maximum will be reduced to £8 per week during the season and £3 during the summer. Cup tie bonuses are also to be amended.
14/04 - D1: Newcastle 1 Bradford C 2 - WINN A WINNER - The attendance reflects the fact the game is played in the worst possible conditions with torrential rain making for a treacherous playing surface. Newcastle's performance is not much better.
15/04 - D1: Newcastle 3 West Bromwich 0 - NEWCASTLE IN FORM - In direct contrast to yesterday's miserable display the Tynesiders overplay the visitor's in every department and the scoreline in no way flatters them. Renewed keenness throughout the team is the major factor.
17/04 - D1: Bradford C 2 Newcastle 3 - NEWCASTLE GET REVENGE IN A FINE RECOVERY - After a goalless first-half in which Bradford play well against a strong wind, it looks all over when the home side score twice and lead 2-0 with a quarter of the match left. But in an amazing turnaround United hit back to win.
22/04 - D1: West Bromwich 1 Newcastle 2 - NEWCASTLE'S REVIVAL AT WEST BROMWICH - With the wind behind them Albion take the lead through centre Davies who then instigates a bit of unpleasantness. The Newcastle defenders show resentment when he barges Bradley over and they ventilate their feelings against him causing the referee to intervene. United come from behind to win once again.
23/04 - Lawrence presides over a protest meeting….
"Patsy" Gallagher of Celtic takes the place of the who had his jaw broken in the Scottish Cup Final a few days ago.
29/04 - D1: Newcastle 5 Manchester C 1 - McDonald is the first hat-trickster of the season as United overplay the Lancastrians. New goalkeeper Archibald does well.
May
06/05 - D1: Manchester C 1 Newcastle 0 - There is an atmosphere of staleness about both sides, though City are to be commended as they have to play with ten men after they lose crowd idol Max Woosman after twenty-five minutes.
07/05 - another meeting
09/05 - TOUR IN PERIL - The wages controversy has put Newcastle's Scandinavian tour in peril. Only signed-on players are eligible and nobody has signed on. The party is due to leave on Saturday.
09/05 - United have signed another amateur keeper, Hudson, who played in the friendly against Coldstream.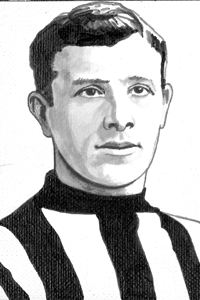 10/05 - After fifteen years on Tyneside goalkeeper James Lawrence is not on the retained list.
11/05 - NEWCASTLE RE-SIGN FAMOUS PLAYERS - Every player that the club want to re-sign have now done so with the exception of Hagan. Reserve forward Morgan transfers to Grimsby.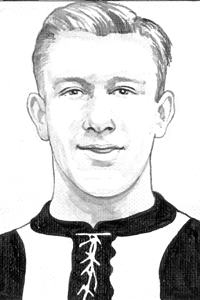 12/05 - Outside-right Thain has gone to Brentford for an undisclosed fee.
13/05 - Fifteen players, together with a party of directors and friends, set sail for Bergen. They travel on the B & N steamship Leda to the first leg off their Scandinavian tour where they will play six games in all.
15/05 - There have been rumours in Scotland that Harris will be swopped with Aberdeen's Alec Wright, but the Athletic News report that there is no substance to them.
15/05 - Newcastle beat either Norwegian Champions Frigg or a Christiania Select team 5-0.
Outside-left James Keen has signed on from Bristol City. A native of Tyneside, he is 5' 5" and 10st 5lb. Clever inside-forward Hagan has signed on.
17/05 - Newcastle beat a Christiania Select team 1-0.
18/05 - Inside-left Morgan signs for Grimsby.
19/05 - MITCHELL TO SIGN FOR NEWCASTLE THIS WEEK - Coldstream goalkeeper Mitchell has agreed professional terms with United and will sign this week.
23/05 - Newcastle beat GAIS 3-1.
23/05 - Helped by two own-goals, Newcastle beat IFK Goteborg 4-0.
28/05 - Newcastle beat a Copenhagen Select team 2-1
31/05 - Newcastle beat a Copenhagen Select team
---