NUFC 1968/69 - Diary
---
Summary
Squad
---
---
June
---
04/06 - After having an offer for Coventry's Chris Chilton turned down Harvey is believed to be considering making another bid for Saint Johnstone inside-forward Alex McDonald.
---
04/06 - There have been 70 applications for the 48 Fairs Cup places. The FA have put four clubs forward for the first time (on the invitation of the Fairs Cup Committee) and United are the fourth club.
---
05/06 — Following the departure of first-team coach Ron Lewin Joe Harvey promotes reserve-team coach Dave Smith. Smith greatly impressed Harvey with his work last season and the manager confidently predicts that "he will make a very fine name for himself." Dundee born Smith played for Burnley and was a member of the Sheffield Wednesday coaching staff before joining United.
---
05/06 - Coventry make an offer of £80,000 for Wyn Davies. Harvey is adamant that he does not want to sell although it is believed that the Board (disappointed by his goal return) will sell at the right price. Coventry manager Noel Cantwell says "Newcastle want more money but we are not finished yet".
---
07/06 - New coach David Smith outlines his plans for the season ahead [EC]
---
10/06 - Harvey refutes weekend newspaper reports that Sheffield Wednesday have tabled a bid for Davies.
---
12/06 - The Council is pushing for a meeting in early July to try and resolve their differences over the ground redevelopment. Councillor Arthur Grey states that the council "feel it's essential that something concrete is done NOW and for that reason I want Newcastle United to meet us round the table." The council believe that the club are deliberately prevaricating because with the lease running out in 1970 they believe that the public indignation would put the Council on the back foot. The club claim that the cost of the council plans (£3.5 million, of which the club may have to pay 66%) is prohibitive.
---
18/06 - Saint Johnstone's secretary makes it clear that "McDonald is not for sale and the matter rests there. It's dead". Ron Lewin - who resigned as United coach last month - takes over as Walsall manager.
---
18/06 — United's slim hopes of a place in the Fairs Cup appear to be dashed. The Fairs Cup Organising Committee Chairman Sir Stanley Rous states that he is firmly against proposals to increase the number of participating teams from 48 to 64.
---
19/06 — Despite Rous' opposition the Fairs Cup Committee do vote to increase the number of participating teams and Newcastle are one of the teams accepted. The club believed that the best they could hope for was a place on the "reserve list" (in case any clubs dropped out) and did not send a representative to Copenhagen. Everton officials did attend and they tried unsuccessfully to overturn the highly controversial "one-city-one-club" rule which has deprived Everton, Arsenal and Tottenham of a place in the Competition even though they all finished above United. Harvey is "delighted, overwhelmed" and declares that "we are afraid of no-one in Europe". He also clarifies that no players will be sold. A Board meeting is held in the evening and it is agreed that new contracts will be drawn up to include incentive bonuses for Fairs Cup progress.
---
21/06 — A bid from Norwich for Ollie Burton is rejected.
---
July
---
08/07 — Harvey is back at his desk following a holiday in Majorca and immediately starts looking at potential transfer targets. Among the rumoured targets are Peter Eustace (Sheffield Wednesday), Alex McDonald (St. Johnstone), Stewart Scullion (Watford) and Roger Jones (Chesterfield). He also starts to sift through the fifty applicants for the vacant reserve-team coach role.
---
15/07 — Harvey's hopes of appointing Carlisle reserve-team coach Brian Doyle in the same position at Gallowgate are dashed as he is appointed manager of Workington. Harvey has already missed out on one of the other names on his shortlist: Roy McLaren who has joined Huddersfield. "I've no idea who'll get the job now" he laments.
---
23/07 - Talks between the club and a special Council sub-committee are expected to take place within the next few weeks following the receipt of a letter from chairman Westwood.
---
27/07 — Keith Burkinshaw is appointed as reserve-team coach. He was a player with Workington and Scunthorpe and had a short spell as manager at Brough Park. He turned down a coaching job in Zambia to move to Newcastle. He will start work on Monday (29th).
---
27/07 - Harvey and Seymour watch Partick Thistle's Tommy Gibb in a friendly against Bury.
---
29/07 - The players are issued with new slim-line German Hummel boots as worn by the German national side. "The boots are light and built for speed" says coach Smith.
---
29/07 — The County Council meet the (Town Moor) Freeman to discuss United's ground lease which is due to expire 1970. The Freeman (who are the landlords) are concerned that the club might relocate. Members of the Council are due to meet club directors this Friday. The secretary of the steward's committee Mr Walker admits "we are concerned about the public and political repercussions if the club finds itself driven out of Newcastle."
---
31/07 — Harvey is given the green light to make signings; he wants a wing-half and two forwards. Moves for Tommy Gibb (Partick Thistle) and Alex McDonald (St. Johnstone) are likely.
---
August
---
01/08 - Geoff Allen is superb and scores with two great volleys as a Newcastle Xl containing a number of youngsters with first-team experience beats Ashington 3-1. Kevin McMahon gets the other with Dixon scoring for Ashington. The team is: Clarke, Craggs, Guthrie (Johnson second-half), Cowan, Winstanley, Noble, Foggon, Duffy, McMahon, Ross, Allen.
---
01/08 — Harvey and Seymour travel up to Glasgow and make a verbal bid for Gibb of £25,000 which is turned down. They also see McDonald play a blinder against Derby but despite lengthy talks no deal is completed.
---
02/08 - A stormy meeting is held at St James' between Lord Westwood, two other club officials and the council. The Newcastle party depart after an hour without comment and although Council Leader Grey admits they had reached a deadlock he denies that Westwood stormed out. He advises that talks will resume on September 26th with Minister for Sport Denis Howell chairing the meeting.
Grey says he does not expect the club to foot the whole bill of their £2.6-million-pound plan but also makes it clear that the rate payer cannot pay the complete amount either. Westwood accepts that the Arup plans are progressive and first-class but argues that they are unaffordable in the present economic climate. United want the Council to accept their much more modest plans of a new covered stand on the Leazes Terrace side and a future double-decker stand on the opposite side of the ground. However, the club wants a 99-year lease in place before it will commence the work and - conversely - the council are only prepared to offer a long-term lease if the club agrees to their proposals.
---
---
03/08 — Partick Thistle and United reach a compromise in which United will pay an initial £25,000 and then an additional £10,000 after Gibb has played 10 first-team games. Talks also continue with St Johnstone manager Willie Ormond regarding McDonald. Seymour says "this lad is a first-class player and we will persist in our efforts to sign him."
---
04/08 — Moncur will go into South Shields General Hospital on Tuesday when director and surgeon Bob Rutherford will operate to remove torn cartilage. Moncur is likely to be out for at least two months and it is a massive blow for the club on the eve of the season.
---
---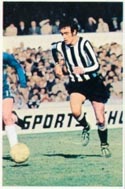 05/08 - United sign Tommy Gibb (23) from Partick Thistle for £25,000 (plus an extra £10,000 after ten games). The Bathgate born midfielder has played 153 games for Thistle and won a Scottish U23 cap earlier this year. He has earned a reputation as a hard-tackling and constructive half-back with a fierce long-range shot. Thistle manager Willie Thornton is sorry to see him go and is full of praise for the midfielder. "Tommy is a fitness fanatic. He is a tremendously hard trainer and is never really out of condition".
---
06/08 Moncur enters South Shields General Hospital for a cartilage operation.
---
07/08 - A partner of Arup Associates meets with Corporation officials at the Civic Centre; Westwood was also invited but said he could not attend. He states that a start on the project could be made for as little as £120,000 (only £5,000 more than the club's proposal). This would be enough to build a new stand on the Leazes Terrace side providing seating for 6,000 people. This could be further developed later to house the club offices and facilities originally intended.
---
07/08 - Striker Keith Dyson (18) signs professional forms. He was born in Blackhill (Co. Durham) and is 5' 10" and well-built. He joined the Club as a junior in January 1965. Midfielder Gordon Hindson (18) also signs professional forms. He is 5' 9" and was born in Quaking Houses (Co. Durham). He joined the club as a junior in October 1967.
---
09/08 - Principal City Officer Mr Frank Harris sends a letter to Lord Westwood suggesting a meeting next week to progress the development of the ground and warning the club that if the Council's proposals are not accepted they might undertake the work themselves.
---
---
12/08 - United are furious with the council letter and the fact that it was copied to the press. They accuse the council of "contemptuous arrogance" in dismissing all the schemes presented by the club and state that "United directors can hardly be expected to accept negotiations by ultimatum".
---
13/08 - At a press Conference director McKeag slates the council. He says that all Newcastle United has ever asked for is a long lease to justify spending large sums of money on a new stadium and to be left alone to manage its own affairs without the "persistent meddling and interference of the city authority". He also writes a letter to the Evening Chronicle urging them to support the club. In the evening Castle Ward Rural Council decides to inform Northumberland County Planning Committee that they approve of the club's plan for a new stadium in Gosforth. Westwood says it is inevitable the club will move unless the council changes its policy.
---
---
15/08 - Coventry still want to sign Wyn Davies, but Harvey once again makes it clear that he has no intention of selling.
---
---
21/08 - Despite stiff competition from Hibernians, United sign 18-year-old inside-right Jimmy Thompson from Glasgow junior club Petershill. United donate £300 to the Scots.
---
---
22/08 - Club representatives meet with Newcastle Corporation officials and they agree to work together in an effort to find ways of improving the ground and seating accommodation. Any proposals will go before the club's board of directors and any recommendations will be referred to Mr Dennis Howell, the Minister of Sport, who is to preside at a special meeting in the city on September 26.
---
---
---
---
September
---
01/09 - Newcastle are only averaging a goal a match (six out of the seven being scored by Robson) and with Bennett likely to be out for a while yet they are scouting for a new forward. They are credited with an interest in Hull's inside-forward Chris Chilton, but his £100,000 valuation is out of United's reach unless they can sell first or do a part-exchange deal. Money could be raised by selling Marshall or Scott (who have both requested a move) or Sinclair (who has struggled to justify his hefty fee).
---
---
---
09/09 - Newcastle supporter Thomas McDonald of Wallsend is fined £3 for being drunk and disorderly in Coventry on Saturday night.
---
---
---
---
---
23/09 - The club release their accounts for last season which show a net profit (after Corporation Tax has been deducted) of £17,988.
---
24/09 - Relief for Harvey as an x-ray on Davies' leg shows there is no break, although he will need to go into a nursing home to give it complete rest.
---
---
26/09 - A meeting is held between the club, the Council and Minister of Support Denis Howell to try and resolve the ground situation. One of the decisions reached is that a Working Party is to be set up, chaired by the Earl of Lonsdale, which will attempt to break down the Ove Arup plan into smaller more practical proposals.
---
27/09 - Eric Ross is annoyed about being dropped again after only one game. "l feel I have a legitimate grouse about the way I'm never given a real chance in the League side and I told the boss so".
---
---
30/09 - A blow for United as Northumberland County Planning Committee decide that they cannot give Newcastle planning permission for a new ground unless more detailed plans are supplied regarding the impact on the road network in the area.
---
October
---
02/10 - After ten days' rest, Davies leaves the nursing home.
---
---
07/10 - Four Newcastle men are in court charged with assaulting police officers on the day of the Wear-Tyne derby. The prosecutor accuses them of acting like "wild animals". They plead not guilty and the case proceeds.
---
---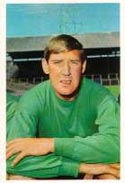 10/10 - Gordon Marshall moves to Forest in an £18,000 deal. He signed from Hearts in June 1963 and has made 187 appearances. However, lam McFaul has been preferred this season and Marshall had made it clear that he was not happy with reserve team football.
---
---
At the AGM the club state that the Council have guaranteed that they will get a new three-year lease (when the current one expires in November 1970) even if they fail to reach agreement over the plans for a multi-sports stadium. The Council made the pledge during the meeting with Denis Howell.
---
---
24/10 - Wolves turn down United's bid for keeper Phil Parkes even though he is on the transfer list. They are prepared to let United have Evan Williams, but Harvey is not interested. Geoff Allen is likely to be out for at least a month due to his ligament injury.
---
---
28/10 - Newcastle fly to Portugal; they will be staying at the Palacio Hotel in the coastal town of Estoril which is 18 miles from Lisbon. Bad flyers Robson, Craig and Scott are all given special pills and all players are given a bottle of Vichy water as the club do not want them to use the local water for teeth cleaning and the like.
---
---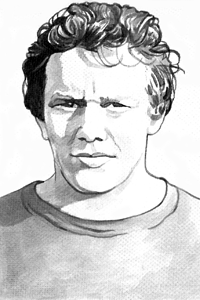 Following a successful two-month trial period United sign keeper Martin Burleigh (17) from his home-town club Willington. He is 5' 11" and has performed well in the Northern League.
---
November
---
---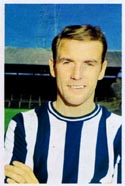 Outside left Tommy Robson (24) moves to Peterborough for £20,000. Robson joined from Chelsea in December 1966 and made 48 (2) appearances and scored 11 goals. He had an excellent season in 1967/68 but has been troubled by a mysterious foot injury caused by a domestic incident and lost his place in the side to Geoff Allen (initially) and then Alan Foggon.
---
---
---
17/11 — Lisbon coach Caiado resigns days before the second leg.
---
19/11 — United win an application for possession against Mrs McGarry who is still in a club house in Limewood Grove (Wideopen) even though she split with Ron McGarry (who is now in Australia) three years ago. The house is needed for Bryan Robson who is due to be married in the spring.
---
---
---
26/11 - With Dave Clarke injured 17-year-old Martin Burleigh is drafted into the side for the testimonial game for Barrie Thomas at Barnsley and he performs magnificently. Geoff Allen has had a setback in training and there is concern over his slow recovery. It is possible he may need a cartilage operation.
---
---
December
---
02/12 — Former captain Jim Iley — who has barely featured this season — pleads with Harvey to give him one last chance in the first-team. Geoff Allen and Eric Ross are both now in plaster following their respective operations.
---
Young United keeper Tim Augar signs for Banbury United after asking to be allowed to move back South.
---
06/12 — Keeper Martin Burleigh is rewarded with a full-time professional contract after some excellent performances in the "N"s.
---
---
10/12 — Ron Guthrie suffers suspected ligament damage to his left knee in a 5-a-side game.
---
---
16/12 — It is thought that Albert Bennett (dropped after the defeat at Stoke) might be offered as part of a deal to sign Hugh Curran of Norwich. Albert says: "I'd certainly consider a transfer to Norwich or anywhere else. I'm not getting a chance here to show I can still do a job".
---
19/12 — Manchester City captain Doyle is fined £50 and warned of his future conduct after making an "ungentlemanly gesture" towards a linesman at the end of the game at St. James'.
---
---
23/12 - Chairman Westwood claims that United have £100,000 available to spend, but states that they will bide their time in the search for quality.
---
---
27/12 - Tomorrow's home game against leaders Liverpool has been postponed due to the snow.
---
30/12 - Newcastle Airport is closed because of the wintry weather so the United party take a coach to Middleton St George (Teesside Airport) and fly from there.
---
31/12 - The team enjoy the raucous New Year's Eve celebrations at the Goya Hotel. Less pleasant is the central heating which is turned up so high that virtually every player suffers sore throats and a sleepless night.
---
January
---
---
03/01 - McNamee — upset at not taking any part in the game in Spain — makes a verbal transfer request.
---
---
06/01 - Harvey states that he has no intention of allowing McNamee to leave.
---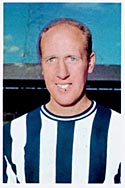 08/01 — Jim Iley is appointed player-manager of Fourth Division Peterborough. Although he is "sorry to say goodbye to Tyneside, my heart is hearing now"; Iley is delighted to get the management opportunity he has been looking for. United's former captain joined from Nottingham Forest in September 1962 and made 243 (6) appearances and scored six goals.
---
09/01 — Better news on the injury front; Geoff Allen and Eric Ross have both recently had their plasters removed and David Young is back in light training.
---
---
---
---
19/01 - Millwall deny any approach from United for Eamonn Dunphy.
---
19/01 - The Sunday Sun is not impressed with the "morons who call themselves football supporters" devoting a front page comment to slamming the obscene chanting during the game against Zaragoza. The adaption of "O Clementine" to question the referee's parentage was a national standard but more uniquely the United supporters also offered a "luridly descriptive recommendation for a place for their Spanish onions". They appeal for the North East supporters to refrain from "lavatory wall language" and make the team proud.
---
20/01 - John Craggs — who has not featured for a couple of years and asked for a transfer last week — has showdown talks with manager Harvey. Full-backs Craig (hamstring) and Guthrie (who requires another cartilage operation) are both out injured and Craggs says "it I don't get in now I may as well pack my boots and leave."
---
20/01 — William McKeag claims that the Council's plan for a multi-sports stadium is as "dead as a dodo" following the government's refusal to grant the City Council a £25 million interest free loan for city development. However, Council leader Alderman Grey states that this is not the case and states that "he hopes the success of the team is not going to be used as an excuse by the directors for contracting out of their responsibilities".
---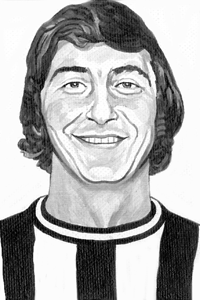 22/01 - United pay Middlesbrough £17,500 for forward Arthur Horsfield. He made his debut for Middlesbrough in 1963/64 and has scored 50 goals in 108 games. He has lost his place in the side recently, but claims this is because his style does not fit with that of John Hickton's and that he has been made a "scapegoat". Harvey says "he has a nose for goals".
---
24/01 — Harvey signs 18-year-old left-half Eric Tunstall from Hartlepool for £3,500 (with an extra fee payable after he has played ten League games). He only turned full-time pro a couple of months ago and has not appeared for the first-team but he impressed when Hartlepool knocked United out of the FA Youth Cup.
24/01 — Geoff Allen has received another setback after damaging his achilles tendon in his left leg in training. David Young (who has been out for six weeks) has been put back in in plaster for another six weeks.
---
---
---
February
---
---
03/02 — Following the trouble in the home Cup tie with Manchester City a number of supporters are in court including one arrested outside the Magpie pub with a 12" iron bar and another who butted and spat in the face of a policeman.
---
03/02 — Robson, Foggon and coach Dave Smith are all showing signs of the flu and there is concern that it could spread through the squad.
---
04/02 — Amble's 19-year-old 'keeper Dave Redpath arrives on a month's trial; he will play in the Central League.
---
06/02 —The Board states that Bennett and Sinclair are free to leave the club.
---
07/02 — Saturday's game with Wolves is off because of the snow. Coventry City refute newspaper reports linking them with interest in Jackie Sinclair.
---
11/02 — Newcastle can't train as their training pitches are still snowbound and the indoor facilities that they normally use at Ponteland are already booked.
---
14/02 — It is reported that Charlton have turned down a bid for Scottish striker Alan Campbell.
---
---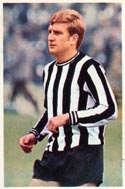 19/02 — Newcastle agree terms with Morton to sign Danish international Preben Arentoft for £10,000. He has been in Scotland for three years and therefore satisfies the residency period, but the move will still have to be ratified by the Football League. Harvey has been keeping an eye on him for a while and says "I'm sure this lad is going to do a good job for us". He joined Morton in September 1965 and has played 137 games for the Scots. He is a small (5' 7") but well-built midfielder who has a reputation for being hard-working.
---
20/02 — Ron Guthrie undergoes a cartilage operation on his left knee; it is his second cartilage operation in the last three years. United's training pitches are still unplayable so they will be back at the coast today.
---
21/02 - Newcastle agree to sell Albert Bennett to Norwich. The player will think over the move and states "l will be delighted to go to Norwich if the terms are right. There is no future for me now with United". Wyn Davies and Tommy Gibb miss training as they are snowed in at Pelton but Saturday's match against Stoke has been called off anyway.
---
24/02 — Geoff Allen joins in training on the car park.
---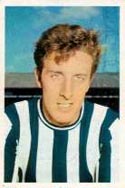 25/02 - Striker Albert Bennett (24) moves to Norwich for £25,000. He signed from Rotherham in July 1965 (check) and has made 89 (1) appearances and scored 23 goals. He formed a great understanding with Wyn Davies last season before suffering an injury. He started the first game of the season but went off injured and the superb form of Bryan Robson has kept him out of the side. Seymour and Harvey watch Aberdeen midfielder Jimmy Smith play against Dunfermline in the Scottish Cup.
---
26/02 - Harvey and Seymour watch Smith again in the replay. The talented midfielder has asked for a transfer and Liverpool tried to sign him earlier in the season. Celtic are also interested. Newcastle speak to Aberdeen officials but they do not want to sell whilst Aberdeen are still in the Cup.
---
March
---
---
02/03 - A special meeting of the Football League Management Committee sanctions United's signing of Arentoft but the club have to wait for the official confirmation.
---
05/03 — Official confirmation is received from the Football League and the club reveal that Arentoft agreed personal terms twelve days ago. Harvey and Seymour travel to Kilmarnock to take in the Cup tie with Aberdeen. If the Dons lose they will make an immediate bid for Jimmy Smith. Although transfer deadline day is 16th March they will have to sign him before the 10th of March for him to be eligible for the Fairs Cup Quarter-Final. Aberdeen win so the deal is still on hold.
---
06/03 — Arentoft finally arrives on Tyneside: "l thought this moment would never come". Dave Smith watches Leeds take on Ujpest Dozsa in the Fairs Cup and declares that the Hungarians: "are the greatest team I have seen in a long time".
---
---
11/03 — Setubal arrive in heavy snow. The players - some of whom are from Angola and have never witnessed such weather - pose excitedly for photographs, but manager Vaz is not so enamoured: "we don't want snow, it is very bad for us. We want the match off until it's fine".
---
---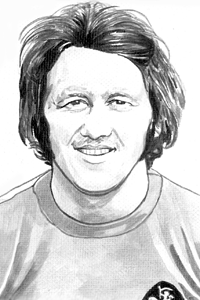 14/03 — Whilst United were playing in the Fairs Cup director Seymour and chief scout Temple Lisle were watching teenage keeper John Hope play for Darlington Reserves against their Hartlepool counterparts. They were impressed and the 19-year-old has been signed for £7,500 to act as cover for McFaul. He is 6' 2" and was born in Shildon (Co. Durham). He has made 15 first team appearances since making his debut at the age of 15.
---
Saturday's match at Everton is postponed.
---
19/03 — Tonight's match at home to Liverpool is postponed.
---
---
25/03 — Newcastle Corporation agree to finance a more detailed survey from Arup Associates with regards to the proposed £2.5 million multi-sports stadium. The survey will cost £15,000 and the Council are hoping that the club and the University will help out with the cost.
---
---
27/03 - Wyn Davies is fined £50 and suspended for seven days (from next Monday) after being reported for "hitting an opponent" during the game at West Ham earlier this month.
---
---
31/03 — Northumberland Planning Committee state that they are "favourably disposed" to grant the club's revised application to build a new stadium at Gosforth Park. However, before giving formal approval the Committee will advertise the application publicly to see if there are any further objections. Gosforth Council had objected to the initial application due to concerns over parking but this issue has allegedly been resolved in the latest plan.
---
April
---
---
---
06/04 - At Morpeth Juvenile Court a 15-year-old boy is given three years' probation and ordered to pay damages after he is found guilty of smashing Stobshill sub Post Office window and damaging three cigarette machines. His defence for the shop window is that he was trying to demonstrate to some friends how Tommy Gibb scored his debut goal against Chelsea.
---
07/04 — Glasgow Rangers have asked United if they will be willing to have a late kick-off for the St James' semi-final (between 9pm and 10pm) so that they can show the match live at Ibrox via close circuit TV. The late kick off is required to ensure it is dark enough for the screens to be clearly visible.
---
08/04 — Children's TV show "Magpie" includes a segment where presenter Tony (Barnstable) trains with the United Youth Team.
---
---
10/04 — Having rejected the Scots request for a later kick-off Seymour confirms that the Fairs Cup Semi-Final Second leg will be all-ticket and will kick-off at 7.30 pm. Birmingham announce that they are willing to sell Jimmy Greenhoff and Aston Villa manager Tommy Docherty bids £100,000. Birmingham ask United if they want to match the bid but United are not prepared to pay that much. At Stanley Magistrates Court Alan Foggon is fined £7 for speeding.
---
---
13/04 - Harvey is hoping to organise a pre-season tour of Denmark and has asked Ben Arentoft to do some sounding out during his summer holidays.
---
---
---
---
---
May
---
04/05 - Fans queue from 6am to get tickets for the home leg of the Fairs Cup Semi-Final and all terrace tickets are gone by early afternoon.
---
---
08/05 — Alan Foggon is in car trouble again as he pleads guilty to completely blocking the footpath in Hood Street and driving without insurance. He is fined £12. Rangers have asked for another 12,000 tickets for the Second Leg but are informed that all 60,000 tickets have been accounted for.
---
---
15/05 - Gosforth Council planners still fear that the building of a new stadium will have a "catastrophic" effect on transport/parking in the area.
---
15/05 - Harvey is keen to side North Shields centre-forward Brian Joicey as back-up for Davies, Coventry are also interested.
---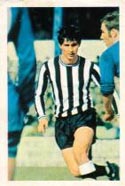 16/05 - After only five months back on his native Tyneside, striker Arthur Horsfield (28) moves to Swindon for £17,000. He joined from Middlesbrough in January and has made 8 (2) appearances and scored 3 goals.
---
---
18/05 - Extra police are to be posted into Newcastle and secret plans have been drawn up for the semi-final against Rangers. There was no trouble in the first game but it is believed that as well as the 12,000 fans with tickets another 10,000 (without tickets) are planning on making the journey down. The police admit that they had been caught off-guard with the Celtic match last season and were not going to make the same mistake again. All police leave is cancelled and reinforcments are drafted in from elsewhere. There will be 200 men on duty in the city centre and 70 in the ground. Hospitals and ambulance services also put emergency plans into operation.
---
20/5 — Thieves have broken into the programme hut and stolen the seller's badges and the club are warning fans to beware of pirate programmes. Former player David Davidson dies in hospital after a long illness.
---
---
21/05 - Police are called to more than 200 incidents during the day; including one where a man and his 7-year-old son are attacked at a bus stop in Westerhope. The worst injuries are caused when the Strawberry Place entrance gate is stormed by Rangers supporters and collapses. One supporter (Michael Parks)suffers severe crushing to his chest and is attended to by Constable Bernard Cullen and other supporters until he is attacked by a Rangers fan. Many more are injured during the game (mainly a result of the flying bottles). Over 150 people are treated inside the ground and 42 require hospital treatment.
After the match Rangers fans form a human chain outside Central Station. Not all the trouble is caused by the Scots and in one incident before the game windows are smashed on a supporter's club coach by missile-throwing schoolboys. There are 30 arrests. A shocked Mr Cavan (FIFA Vice Chairman) says "I've never seen worse riots". A constable (Bernard Cullen)
---
22/05 - Rangers officials held an emergency meeting before they left St. James' and they issue a short statement in which they state: "we utterly deplore the scandalous scenes at St. James' Park last night. They were a blot on our club and on the City of Glasgow. " Minister of Support Denis Howell calls it "a disgrace to British sport".
---
23/05 - Home Secretary James callaghan issues an emergency statement stating that the government would be taking action.
---
25/05 - Six of the Ujpest side play for Hungary in the 2-0 win over Czechoslovakia.
---
26/05 - Thousands of fans besiege St James' as tickets for the first-leg of the final go on sale. The car park is full and the queue stretches right back to Fenham Barracks. The 35,000 tickets available are gone within ninety minutes. As fans realise thy are going to be out of luck tempers begin to rise. Several people are hurt as thee pushing, shoving and punching starts. Many others are crushed against the gates or trampled on. Five are taken to hospital and dozens of children are treated on the spot. There area also stories of touts selling tickets at £5.
---
27/05 - Dave Elliot collapsed outside the team hotel before the semi-final tie in Glasgow and also collapsed in London earlier this year; he is to see a specialist on Thursday.
---
28/05 - As Upjest do not want the 1,000 tickets reserved for their fans they are put on sale at the ground and are snapped up immeditally.
---
---
30/05 - An x-ray confirms that Davies suffered a fractured cheekbone during the game; he has no intention of sitting out the second-leg.
---
June
---
02/06 - Sir John Lang - who is heading the commission investigating into football rowdyism - is amongst a group who visit St James'.
---
02/06 - Nineteen Rangers fans are fined £5 each at Newcastle magistrates court for various offences. Lord Westwood brands the
03/06 - It is reported that the club have decided to pull out of the second feasibility study into the new super stadium although they make no official statement. Council leader Alderman Grey is not happy threatens that if they want security of conditions when the lease expires next year then they would need to have something to justify them.
04/06 - Pop Robson gets married in Hexham.
06/06 - Sir John lang becomes the latest person to criticise Newcastle magistrates stressing that to get hooliganism under control they need the courts to support them with fines which are large enough to act as a deterrent.
06/06 - The FA have not nominated United for a place in next year's Fairs Cup although they are one of two reserves. The General Assembly will take place in Budapest next Wednesday and once again the 1-city-1-club rule will be challenged. Hope for United is in the form of a proposal to allow the holders to defend their trophy.
The NUSC brand claims that they received thousands of tickets for the fairs Cup Final as "ridiculous".
06/06 - The Supporters Club trip to Budapest is fully booked, but there are 30 left on a 100-seater jet. The Supporters Club also hit back at suggestions that they were given 1,000 tickets for the Fairs Cup Final First Leg before they were put on sale to the general public. They state that they were given 500 tickets for the Leazes End in addition to their usual allocation; giving 1,000 in all.
09/06 - Hungary beat Eire 2-1 with Ujpest players Dunai and Bene both featuring. United set off for Budapest.
10/06 - Former United player Dominic Kelly is sentenced to 5-years in prison after being found guilty of manslaughter. A young chamber maid died when Kelly is alleged to have set fire to the Winton Hotel in Bayswater. He pleaded not guilty but he had recently been sacked as a night porter and rang the Hotel manager up on Christmas Eve warning him "don't sleep in your bed tonight. I going to burn the hotel down".
11/06 - United's participation in next year's Fairs Cup is confirmed and Dundee United will be their first opponents.
---
---
Back at the hotel on Margaret Island in the middle of the River Danube there is an official reception for both teams before United have their own party with their wives and the press. TV singer David Macbeth belts out some numbers before all the players join in, the party going on until almost breakfast time.
---
14/06 - Thousands greeted the victorious team as they drive from the airport to the ground in an open-topped bus before a lap of honour and speeches at the ground. After the celebrations Davies is taken to the RVI where he is operated on (for his fractured cheekbone) my United director Fenton Braithwaite.