Links to youtube highlights will be added once the videos are uploaded.
June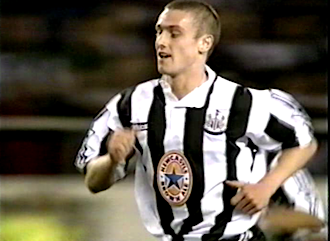 02/06 - Lee Clark (23) completes a move to Sunderland for £2 million becoming their record buy. Barnsley failed in a last minute swoop. He gets a call-up for the full England squad later in the day.
03/06 - Rumours about Robert Lee's (31) future continue to circulate, with a move to West Ham being suggested as his most likely destination. But the player is unaware of any moves to sell him and confirms that: "Until they tell me they don't want me any more I'm quite happy to be a Newcastle player".
03/06 - South American champions River Plate and Boca Juniors are keeping an eye on Asprilla's situation at United. But Asprilla states that: "I would like to stay in England with Newcastle United and win something for the supporters who are very nice to me. I love my life in Newcastle. The people here are very good to me. I will only leave if the club wants me to leave."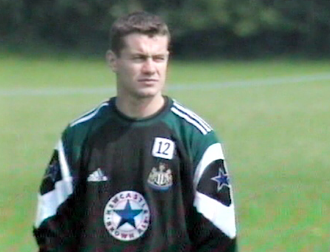 03/06 - Newcastle are hoping to sign Blackburn's £2m-rated keeper Shay Given for nothing after agreeing a four-year deal with the player. Given is out of contract at Ewood Park and the fee is due to be settled by an independent tribunal. However Newcastle are prepared to go to court as they believe that under the terms of the Bosman ruling a transfer fee is illegal, even though the player is moving within Britain. Out of contract players can move abroad without a fee, but the ruling has not been applied to domestic transfers.
04/06 - Jon Dahl Tomasson insists he is on his way to United after reports claimed he is having second thoughts. He is due to arrive within a fortnight to sign a contract despite having several other offers from some top European clubs including Barcelona. Dalglish may also make a move for Teddy Sheringham who has had his transfer request granted by Tottenham.
09/07 - Shay Given reveals why he signed for Newcastle rather than Sunderland where he had a very successful loan period last season. "Kenny was a massive influence on my decision, so was the size of the club and the fact that Newcastle will be challenging for trophies next season".
10/06 - Newcastle are applying for re-admittance to the Pontin's Central League at their annual meeting in Burnley, but they are likely to have to start in the fourth tier. Kevin Keegan made the controversial and unpopular decision to withdraw the Reserve team from the competition on the eve of last season.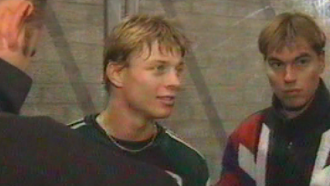 11/06 - Jon Dahl Tomasson makes a flying visit to Tyneside with his wife to tie up the loose ends of his £2.5million move to Newcastle United.
12/06 - Recently sacked Celtic boss, Tommy Burns, joins Dalglish's coaching staff in preference to taking the manager's job at Reading.
20/06 - Reserve team coach Jeff Clarke becomes the latest victim of Kenny Dalglish's Newcastle revolution.
22/06 - Despite Tino's previous assurances it is alleged that his agent Gustavo Mascardi is negotiating a deal for a return to Parma. And Asprilla has been quoted in an Italian newspaper stating: "I am not guaranteed first-team football at Newcastle so I will be delighted to return to Italy. My only regret will be disappointing the Newcastle supporters, they have been magnificent to me".
22/06 - Although Bolton are interested in signing Peter Beardsley, he declares: "I want to stay at Newcastle. I think I have a couple more years left playing top flight football."
29/06 - Spurs manager Gerry Francis is set to make a move for Les Ferdinand after selling Teddy Sheringham.
30/06 - Tommy Burns has recommended to Kenny Dalglish that he should sign the Hoops unsettled Italian, Paulo di Canio.
July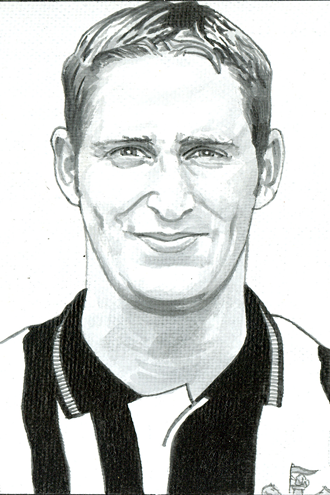 01/07 - Bolton break their transfer record by signing Robbie Elliott (23) for £2.5million pounds.
03/07 - Thieves in Walker steal some United kit from a van including three pairs of Pavel Srniceck's training shoes "We will find him some more shoes in time for pre-season training which begins on Monday," assures a club spokesman.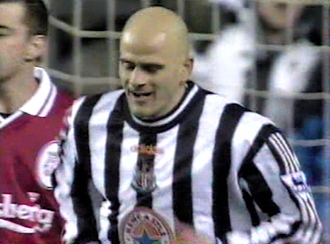 08/07 - Georgian international Temuri Ketsbaia (29) completes his move to St James' Park on a Bosman following the expiration of his contract with AEK Athens.
09/07 - Joint chief executive Mark Corbidge has quit after less than a year. Freddie Fletcher, will assume full command as chief executive. His pay-off from Newcastle will total £400,000, equivalent to roughly 18 months of his salary, bonus and pension package.
10/07 - Newcastle and Welsh soccer legend Ivor Allchurch dies at his Swansea home, aged 67.
12/07 - United sign Gareth Macklin (17) on a three-year professional contract. He is rated one of Northern Ireland's most promising youngsters.
12/07 - David Ginola is rumoured to be on his way to Spurs in a £2.5million deal.
13/07 - Friends of the Earth chief Charles Secrett referees a kickabout organised in Castle Leazes Park to lend his weight to the campaign against United's stadium plans.
15/07 - Highlights of Newcastle's 3-0 victory over Liverpool in November 1993 are shown in the High Court as former players Bruce Grobbelaar and John Fashanu are hauled over the goals. The players, along with Malaysian businessman Heng Suan deny that they conspired corruptly to give and accept gifts of money to influence or attempt to influence the outcome of football matches or as rewards for having done so.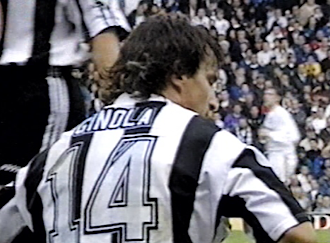 15/07 - David Ginola signs for Tottenham and his parting shot is: "A new manager does not always want the previous signings. There are a lot of nice people up there but it is impossible to get on with all of them". Dalglish does not appear too bothered. "David Ginola asked for the move. So he has got his way. We have got to live with that. If someone doesn't want to play, what's the point?"
16/07 - Fr: Newcastle 3 PSV Eindhoven 2 - In the Ireland Club Championship Trophy, United win an entertaining game with Tommason scoring twice including the winner ten minutes from time.
17/07 - Fr: Derry City 0 Newcastle 2 - The Magpies lift the Ireland Club Championship Trophy in Dublin. Crawford and Beardsley are on target.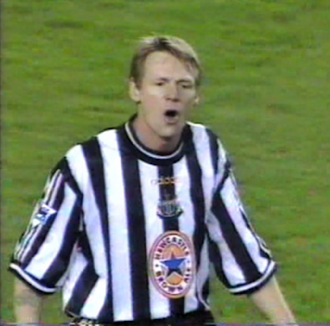 18/07 - Highly-experienced left-back Stuart Pearce (35) joins on a free transfer from Nottingham Forest. "This is a great signing for us and Stuart adds a bit of quality and experience to my side", says Dalglish.
19/07 - Fr: Birmingham 2 Newcastle 3 - Tomasson scores again, but United need a last-minute own-goal to win.
19/07 - Les Ferdinand "reveals" that he expects to be sold and throws his shirt to the crowd after United's 3-2 win in a pre-season clash with Birmingham in an apparent farewell gesture. "Sir John Hall said I wasn't going anywhere and the first thing I thought when I heard that was I was on my way. I'm in limbo. I know a lot of fans won't be happy if I go. And if I end up somewhere else I'm sure questions will be asked - but those questions are for someone else to answer."
19/07 - United keeper Shay Given slams the £6m price tag put on him by former club Blackburn.
21/07 - Ferdinand emphasises that he wants to stay. "I have never said that I want to go. I would love to stay. Don't forget Alan Shearer and myself formed the most successful partnership in the Premiership last season as far as goals are concerned. Why would I want to walk away from all that? All I want to do is to get on playing with Newcastle United".
23/07 - United have agreed to allow Peter Beardsley to leave for Bolton and put Les Ferdinand up for sale for £6m.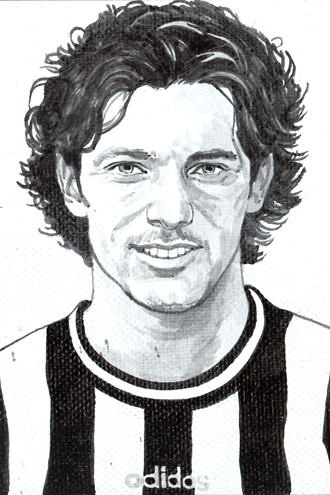 26/07 - United sign Italian Under-21 defender Alessandro Pistone from Inter Milan for £4.3million.
26/07 - Fr: Chelsea 1 Newcastle 1 (lost 1-3 on pens) - Tomasson puts United ahead on the Umbro International Trophy game, but Poyet equalises and the Londoners win 3-1 on penalties with Pearce, Asprilla and Tomasson all failing. Far more importantly, Alan Shearer suffers a knee ligament injury in the first few seconds .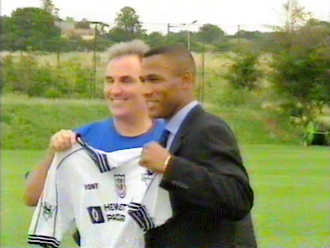 26/07 - Having agreed to sell Les Ferdinand to Tottenham for £6 million United try and persuade him to stay following Shearer's injury. "I know that Newcastle spoke to my agents after Alan got injured, but my mind was made up and I wanted to join Spurs. Once Newcastle decided to sell me and Tottenham were interested there was only going to be one outcome."
27/07 - Fr: Ajax 3 Newcastle 0 - United concede three times in the last fifteen minutes of the Umbro International.
27/07 - Ferdinand agrees personal terms and completes the deal with Tottenham. Kenny Dalglish reveals that Alan Shearer will be out of action "for months rather than weeks" after having an operation to repair damaged ankle ligaments.
28/07 - The weekend's double whammy wipes around £12 million of Newcastle's stock market value.
30/07 - Fr: Bradford City 0 Newcastle 3 - Asprill, Beardsley and Watson all score in the first-half in a comfortable victory.
August
01/08 - United pull out of a deal to sell Beardsley to Bolton with furious Bolton manager Colin Todd claiming Newcastle "had lost their credibility". And Dalglish is forced to refute allegations that the board had overruled him to block the move. "There is no-one here undermining my job. If there was, I wouldn't be here. Of course there was consultation between myself and the board. This board is no different from any other club. My position is no different from any other manager".
03/08 - Fr: Juventus 3 Newcastle 2 - The Magpies are 3-0 down with just over half an hour gone and two late Asprilla goals put a false complexion on the scoreline.
04/08 - Steve Howey claims that the United players are "baffled and unhappy" at the club's decision to sell Les Ferdinand; "for some reason people involved in the club are taking our chance away."
06/08 - An independent tribunal rules that United have to pay Blackburn £1.5million for Shay Given.
07/08 - It is revealed that a number of councillors will be prevented from voting on United proposed stadium plans due to their vested interests as either season ticket holders, shareholders or hospitality beneficiaries. Councillor Terry Cooney blasts the decision: "I believe I should be part of the discussions and that is what I was elected for. It is a disgraceful situation".
09/08 - Pr: Newcastle 2 Sheffield Wednesday 1 - An entertaining victory in which Asprilla scores both goals. In the first ten minutes debutant Jon Dahl Tomasson shoots straight at goalkeeper Pressman from ten yards after being put through and later has two other efforts disallowed.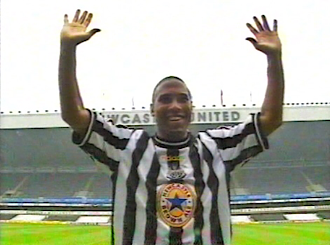 12/08 - John Barnes is signed on a free transfer from Liverpool. "I think we'll certainly get good value for money because he came on a free!" muses Kenny whimsically. "He is a good player, a quality player and he is still very, very fit for his age". West Ham manager Harry Redknapp, who was convinced he had bagged Stuart Pearce before he signed for United, is not in such a good mood claiming that the 33-year-old Barnes had "given his word" he would join the Hammers.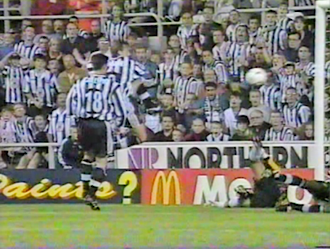 13/08 - CL QR1 L1: Newcastle 2 Croatia Zagreb 1 - John Beresford, playing as a wing-back, is United's unlikely goalscoring hero as his two strikes help United to a narrow victory over the impressive Croatians.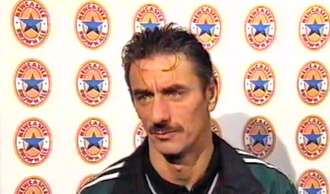 15/08 - There is another shock arrival with Ian Rush signing on a free after an unhappy year at Leeds. "I have come here to get into the side and then do well to try and keep a place. I assure you I wouldn't have signed for Newcastle if I didn't feel confident I could get into the team. One thing is certain, neither I nor John Barnes have joined Newcastle to put anything less than one hundred per cent effort and commitment into our work at the club".
18/08 - Peter Beardsley (37) finally joins Bolton for a fee of £450,000.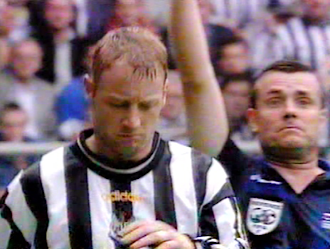 23/08 - Pr: Newcastle 1 Aston Villa 0 - Another Beresford goal gives United a narrow victory despite having to play with ten men for most of the second-half, David Batty having been sent off for two bookable offences. Faustino Asprilla watches the match from the stands as he arrives too late to be considered after being stranded in Colombia due to industrial action. Dalglish states that "there's nothing underhand, nothing dishonest about what happened and there is no question that I am unhappy over Tino's late arrival."
27/08 - CL QR1 L2: Croatia Zagreb 2 Newcastle 2 (agg 4-3) - The Magpies reach the Champions League proper for the first time with a 4-3 aggregate win over Croatia Zagreb. Asprilla scores from the penalty spot just before half-time to make it 3-1 on aggregate. The Croatians equalise just after the break then with only seconds remaining score again to take the tie into extra time.The Magpies stand firm in a hostile atmosphere and with less than a minute to super-sub Temuri Ketsbaia scores the (aggregate) winner prompting jubilant scenes amongst the players, coaching staff and 450 fans in a sell-out crowd.
31/08 - The match with Liverpool is postponed following the death of the Princess of Wales
September
09/09 - United bring in two triallists: French Under-21 midfielder Bernard Allou and Spaniard Alejandro Sierra Fumero.
13/09 - Pr: Newcastle 1 Wimbledon 3 - United slump to a dismal defeat against the bottom team. Dalglish is "not making excuses" but calls for internationals to be played at weekends rather than during midweek. United had twelve players away on international duty and Faustino Asprilla arrived back on Tyneside only an hour before the game.
15/09 - Sir John Hall announces that he will stand down as Chairman at the club's AGM on December 1. Vice-chairman Freddie Shepherd is to replace him with Sir John's son Douglas stepping up to vice-chairman.
15/09 - Kevin Keegan's much anticipated autobiography is due out and will be available in all good bookshops, but not in Newcastle United stores. "The book will not be on sale at the club or at any of our other outlets. The author is no longer part of the set-up here. This is all we have to say on the matter." It strengthens rumours that Keegan had not left on the best of terms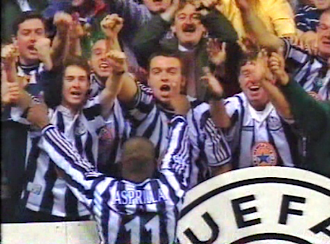 17/09 - ECL P1: Newcastle 3 Barcelona 2 - Quite simply one of the greatest matches in the club's history. It is a brilliant team performance with hat-trick man Asprilla, speed-merchant Gillespie and Given leading the way. Roared on by a vociferous crowd United take the game to the Spanish giants from the off. Asprilla scores from the spot and then adds two more with soaring headers from Gillespie crosses. The Catalans pull one back with eighteen minutes remaining and take control. They score a second with two minutes left, but United hang on. After the match Tino smiles and says: "Three goals - not bad."
20/09 - Kevin Keegan claims he still has no regrets about leaving Newcastle. "I enjoyed watching the Newcastle performance and whatever happens between now and the end of my life, what happened at Newcastle can not be taken away. It's now somebody else's job to take Newcastle further and the club is in great hands with Kenny. They just could not have found many people to take it on to the next stage. But in Kenny they got somebody who can and you just have to look at his record."
21/09 - Pr: West Ham 0 Newcastle 1 - Given is in outstanding form again, making a host of brilliant saves to deny a rampant Hammers side who dominate the match. A peach from Barnes, who receives a torrent of abuse from his previous suitors, secures a win.
23/09 - Dalglish pulls out of a deal to buy PSG midfielder Bernard Allou after the clubs fail to agree on a fee.
23/09 - AC Milan defender Massimo Oddo and Australian left-winger Carlos Gonzalez arrive on trial.
24/09 - Pr: Newcastle 1 Everton 0 - Newcastle struggle to break down the Toffees' blanket defence and even after Bilic is controversially sent-off it looks as though the Magpies will have to settle for a point. Then with only two minutes left Ian Rush sets up Robert Lee who lashes the ball into the net.
25/09 - Kevin Keegan shocks the world of football by taking over as Chief Operating Officer at Second Division Fulham. He claims to have received many offers to return to football and that Fulham's was the only one which had interested him enough to make him want to come back. Arthur Cox, who left United last week, becomes Keegan's chief scout.
27/09 - Pr: Chelsea 1 Newcastle 0 - A sluggish and defensive performance at Stamford Bridge brings no reward as Gustavo Poyet heads the only goal after 74 minutes. It is stated that Asprilla's absence was due to a stomach upset.
October
01/10 - ECL P1: Dynamo Kiev 2 Newcastle 2 - United fight back from two goals down to secure a draw in front of 100,000 "boisterous" fans in the Ukraine. Kiev storm into a two-goal lead in the first half-hour and only Given's magnificence prevents them from going further ahead. But two goals in the last twelve minutes from Beresford stuns them into silence. Dalglish loses another striker as Asprilla manages to injure himself whilst taking a free-kick.
01/10 - Croatian international midfielder Robert Prosinecki claims that both Newcastle United and Tottenham are interested in signing him.
02/10 - Gerry Gilmore's knives are let loose on Tino's stomach and he is expected to be out for between four to six weeks.
04/10 - Pr: Newcastle 1 Tottenham 0 - Returnees David Ginola, Les Ferdinand and Ruel Fox are afforded a "mixed" reception on their return to Tyneside. Although United dominate for most of the game, they have to wait until the last minute for Barton's winner. Spurs start the second half with nine men with Les and Ruel still in the toilets.
06/10 - Keegan's upcoming biography is being serialised in The Sun, annoying Newcastle fans who believe he should have told them why he left at the time of his departure. In it Keegan claims that he was deprived of a "dignified" exit and forced out of St James' Park as the club prepared for flotation.
13/10 - Bayern Munich midfielder Markus Munch joins on a week's trial.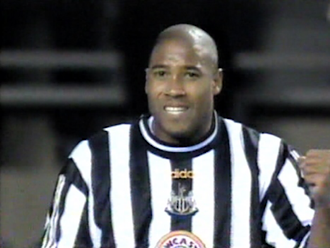 13/10 - John Barnes is one of the many footballers who feature in the video launched by Show Racism the Red Card aimed at combating racism throughout European society.
15/10 - LC R3: Newcastle 2 Hull 0 - Third Division Hull make United battle all the way. Debutant Des Hamilton gives the Magpies the lead, but they are not sure of their passage until Ian Rush adds a second seven minutes from time. The Welsh international's goal means that he equals Geoff Hurst's League Cup goalscoring record of 49 goals.
16/10 - Speaking at the launch of his autobiography Keegan states that he felt that he hadn't had a chance to explain to the fans why he was resigning. He claims that he had wanted to see the 1996/97 season out, but that he was forced to make a choice between signing a new two-year contract or leaving immediately as a result of the impending share flotation.
18/10 - Pr: Leeds 4 Newcastle 1 - "I can't remember seeing one of my teams play as badly as that", says Kenny after a disastrous performance at Elland Road. Leeds dominate from the off and three first-half goals in a twelve-minute spell underlines their superiority. Within two minutes of the restart it is 4-0 before Keith Gillespie grabs a consolation. It is not the best unveiling for United's away kit which clashes with the official's outfits and when Steve Watson tries to find a linesman with a 30-yard pass referee David Elleray decides to change his top.
20/10 - The club's annual report is published revealing that the wage bill has soared by more than £4 million to £15.4 million. An operating profit before tax of £8.3million is recorded and Chairman Sir Terence Harrison states that in future transfers will have to be funded through profits.
21/10 - United are given an extra 500 tickets for their Champions League game with Barcelona at the Nou Camp. Much more had been requested but United are limited to just 3,400 for the 115,000-seater stadium.
22/10 - ECL P1: PSV 1 Newcastle 0 - A much improved performance against the Dutch champions, but Wim Jonk's volley means the Magpies leave empty handed. Four points from three games and two home games to come means United still have a good chance of progressing. Despite pre-match media scaremongering the fans behave themselves with the only trouble of any note occurring before the kick-off when PSV fans clash with Ajax supporters who attempt to infiltrate the home supporters' kop.
25/10 - Pr: Newcastle 1 Blackburn 1 - Emergency striker Keith Gillespie blasts in spectacularly for his first at SJP for twenty-nine months, however United find it hard to break down the durable visitors who equalise through Chris Sutton.
30/10 - Kenny Dalglish blasts speculation linking him with the manager's job at his childhood team Glasgow Rangers calling it an "insult to the fans of Newcastle. Their intelligence has been insulted because it is total fabrication".
30/10 - Nineteen-year-old Australian midfielder Carlos Gonzalez is offered a contract until the end of the season after impressing during a trial period.
November
04/10 - Pr: Newcastle 3 Leicester 3 - With Gillespie joining Asprilla and Shearer on the sidelines goalless Thomasson has to play upfront on his own and it takes a last minute goal from John Beresford to save United from defeat. The three Foxes goals were all headers where their player was left unmarked.
03/11 - Eighteen-year-old German teenager Ralf Keidel is signed from FC Schweinfurt after a successful trial.
04/11 - ECL P1: Newcastle 0 PSV 2 - United need to win to maintain any hope of progress in the European Champions League, but shorn of seven internationals they are mastered by their far slicker Dutch visitors.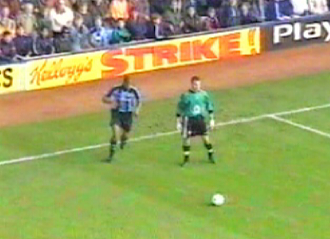 08/11 - Pr: Coventry 2 Newcastle 2 - United go behind twice, but Lee scores with three minutes remaining to grab a point. Dion Dublin nets both goals for the Sky Blues and Shay Given will never forget his first after only four minutes. After collecting a cross the 'keeper places the ball down to clear, but has not realised that the 6' 4" striker is behind him. Dublin nips in from behind and slots the ball into the unguarded net. Dalglish's complaint that "I didn't think a player was allowed to leave the field, come back and gain an advantage at the same time" hints at just a touch of desperation. Referee Durkin responds: "If you needed permission to come back on every time a player went off the field, through a sliding tackle or through his momentum, then there would be people all round the country waiting on the touchlines to come back on".
10/11 - Steve Watson declares himself "surprised and shocked" after Gary Pallister's withdrawal results in his first ever call-up to the full England squad.
19/11 - United reveal that plans for a new stadium have been shelved and that St James' Park will be upgraded and extended instead. Newcastle City Council's Policy and Resources committee chairman is delighted. "It's good news for the fans, it's good news for the environment and it's good news for the city's economy. It will, I hope, secure United's future here in Newcastle".
18/11 - LC R4: Derby 0 Newcastle 1
Hislop replaces Given in goal and keeps a clean sheet. A 71st minute goal from Jon Dahl Tomasson is enough to take Newcastle into the last eight of the Coca-Cola Cup. "There was never a shadow of a doubt about his ability to play or a shadow of a doubt about his ability to finish," says Kenny.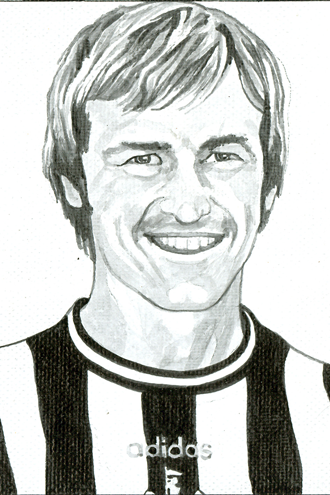 21/11 - Manager Dalglish risks claims of nepotism by signing his son - Paul - from Liverpool, although he immediately sends him on loan to Bury.
22/11 - Pr: Newcastle 2 Southampton 1 - John Barnes nets a second-half brace as a battling performance sees United recover from going behind to a fifth-minute goal from Kevin Davies.
26/11 - ECL P1: Barcelona 1 Newcastle 0 - With Barcelona out and United's hopes hanging by the slenderest of mathematical threads the long awaited trip to the Nou Camp has lost much of its appeal. And in the rain in Spain a single Giovanni goal, ends United's interest in the Competition. Many of the 8,000 United fans express disappointment that the majority of the players appeared to "snub" them with only Beresford, Batty and Watson making a clear display of thanking the crowd at the end.
26/11 - Pr: C Palace 1 Newcastle 2 - Goals from Ketsbaia and Tomasson gain United a hard earned victory. John Barnes becomes the latest striking casualty with an ankle problem and Dalglish jokes he could be making an appearance himself if things get any worse.
30/11 - Robert Lee apologises to fans who thought they were snubbed by the players at the end of the defeat in Barcelona: "The lads are very concerned over the criticism....we are sorry we didn't show our appreciation in the normal way but we never take our fans for granted."
December
01/12 - Pr: Bolton 1 Newcastle 0 - United are beaten by a Nathan Blake goal at struggling Bolton and Dalglish hits out at the Trotters for making his team play three times in six days. Sky and the Premier League had been willing to change it, but Bolton refused to budge. Trotters boss Colin Todd accuses Dalglish of "sour grapes".
04/12 - New chairman Freddie Shepherd admits that the club needs to rebuild relationships with the fans. "We have taken our eye off the ball - and everyone has got to put their hands up. We were all guilty of concentrating on the float, the City side, a bit too much. We haven't communicated enough with our fans - we have got to put that right and we will." He also claims that: "it is a load of rubbish to say we haven't got money to spend on players".
06/12 - Pr: Newcastle 0 Arsenal 1 - Dalglish's gamble on recalling Asprilla fails as he is clearly lacking in match fitness. Arsenal are full value for their victory, Ian Wright grabbing the winner.
06/12 - ECL P1: Newcastle 2 Dynamo Kiev 0 - A superb Batty performance and first-half goals from Barnes and Pearce secure victory in the final Champions' League fixture against Group C winners Dynamo Kiev.
12/12 - Ian Rush, who is still struggling with a knee injury, states that he thinks " this could be my last as a Premiership player".
nn/12 - Pr: Barnsley 2 Newcastle 2 - Two strikes from Keith Gillespie are enough to earn a point at Oakwell as former player John Hendrie grabs a super strike fifteen minutes from time to deny United a win at bottom of the table Barnsley.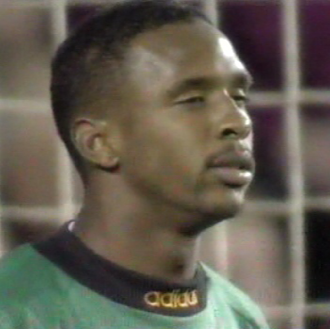 14/12 - Shaka Hislop talks of his wish to stay on Tyneside. "I have been offered a new deal and I am in discussions at the moment. My future will not be decided on money. I have made that very clear. I have thoroughly enjoyed my time at Newcastle and I want that to continue. I hope things can be worked out."
17/12 - Pr: Newcastle 0 Derby 0 - A freezing night of gale force winds and swirling sleet is bad enough, but United's performance is worse and the team is jeered off at the end. An incensed Dalglish orders the players out in the pouring rain for a post match training session after an "unacceptable" performance. "We've a lot of hard work ahead. It was a poor performance - there was nothing else to be happy about - and those that blame the weather better realise it was the same for both teams. We'll not hide behind anything like this."
18/12 - Steve Harper is to go on loan to Huddersfield until the end of the season.
22/12 - The club unveil a £42 million plan to redevelop St James' Park into a 51,000 capacity stadium. The statement claims that: "The proposal to extend St James' Park rather than build a new stadium will provide a quicker, cost effective solution to the need for increasing capacity."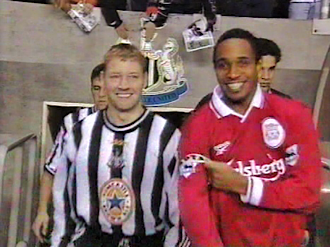 21/12 - Pr: Newcastle 0 Man Utd 1 - A much better performance, but a header from Andy Cole and a couple of world class saves from Schmeichel is enough to secure a victory for table toppers Man Utd. Dalglish accuses David Beckham of feigning injury to get Alessandro Pistone booked.
23/12 - Chairman Freddy Shepherd tries to appease the increasingly disgruntled fans by confirming that funds are available for buying players. "There is money, but you have got to get the right guy".
26/12 - Pr: Derby 1 Newcastle 0 - A penalty after only four minutes is enough to give the Rams all three points. United's cause is not helped by Batty's second dismissal of the season, just after the hour mark.
21/12 - Pr: Newcastle 1 Liverpool 2 - United are now only six points above the drop zone but Dalglish is upbeat. "We've had a bad run, but we'll be all right if we carry on playing like we did against Liverpool, It was a tremendous performance by my players. We're not getting much enjoyment in front of goal but it will come, the sooner the better I hope."
January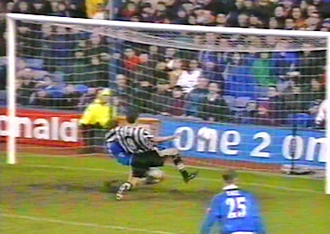 26/12 - FAC3: Everton 0 Newcastle 1 - Torrential rain and wind lashes Goodison Park, but even making excuses for the elements this is a desperately poor game settled by a scrambled effort from Ian Rush. The Welshman replaced Asprilla - who suffered a reaction to his groin injury.
05/01 - Stevenage manager Paul Fairclough intimates that he believes the FA Cup Third Round tie against Newcastle will be switched to St James' to enable the amateur side to maximise their income. However SKY are willing to pay £150,000 to televise the match so chairman Victor Green is to investigate the possibility of installing temporary seating to almost double the 6,700 capacity of their Broadhall Way ground.
06/01 - Stevenage's temporary seating arrangements are deemed acceptable by safety officials, but United are not happy and advise them that they want to inspect the ground themselves and that they will lodge a formal complaint with the FA. Green goes straight onto Radio 5 and accuses United of "running scared" and using "bully boy" tactics. Kenny Dalglish responds by stating that the club's only concern is the safety of their fans.
07/01 - Representatives from Newcastle visit Stevenage to inspect the ground and then have a meeting with the local borough council to voice their concerns over safety issues.
07/01 - LCR5: Newcastle 0 Liverpool 2 - With Asprilla injured now too Ian Rush leads the line against his former club and despite a spirited performance by the team there is no real pace or invention in the side. In extra-time Owen and Fowler break away to end United's cup run.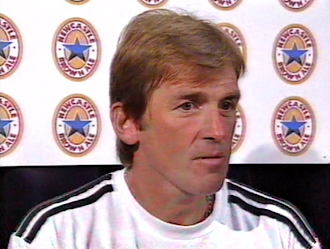 08/01 - Green talks to The Sun claiming that Dalglish telephoned him before the match against Liverpool stating that he told him "we're not frightened of you. We'll play you anywhere - even on Hackney Marshes." United release a statement claiming that "a ground of this size" would be "totally unsuitable bearing in mind the immense interest in the tie and the anticipated level of support from Newcastle United fans for this match" and they confirm that they will go ahead with their appeal. United are vilified in the press and the row even makes it onto Newsnight where Dalglish defends the club's position. A poll suggests that even 70% of Newcastle supporters are in favour of the tie going ahead in the Home Counties.
09/01 - At a hearing attended by both clubs the FA reject United's appeal. In a statement, the club states: "We had raised a number of issues with the FA and we are satisfied that they have been given due consideration". But Dalglish is far from happy that Stevenage plan to hike prices by up to 400%
10/01 - Pr: Sheff Wed 2 Newcastle 1 - At the end of a trying week a shocking performance makes it eight Premier games without a victory. Di Canio gives the home side the lead after only 51 seconds and although Tomasson equalises, United create little else and a disastrous mistake by Hamilton presents Newsome with the winner.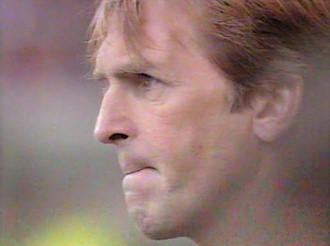 14/01 - A year into his reign Dalglish, despite mounting disgruntlement amongst the fans, states that "I was right to take the job and nothing has happened over the last twelve months to tell me I've made the wrong decision. It is a great club and a great job and I'll never regret coming here".
It is reported that Asprilla is on his way back to Parma.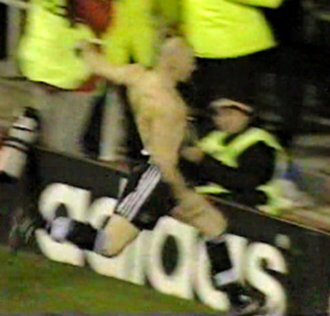 17/01 - Pr: Newcastle 2 Bolton 1 - The return of Shearer, coming on for the last 18 minutes, provides the lift for United to record a Premiership victory for the first time since mid-November. With the score 1-1. But it is the other substitute, Ketsbaia, who grabs the winner before embarking on the craziest hoarding kicking, boot removing, shirt dispensing celebration you are ever likely to see. "I was happy" he states later.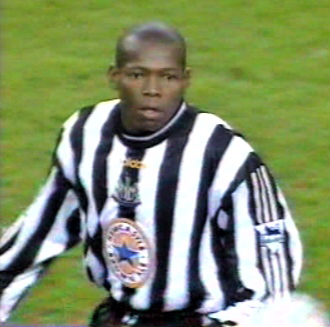 18/01 - The News of the World run an article on Asprilla who is quoted as accusing Dalglish of having "lost the plot" whilst denying bust-ups with fellow players and punch-ups in city centre restaurants. A Newcastle spokesman states: "we are aware of an incident regarding Tino Asprilla in a restaurant. But while the club is obviously disappointed that Tino found himself involved in something, we understand that Tino is planning to resolve the situation himself."
20/01 - Pr: Liverpool 1 Newcastle 0 - A spirited performance, but that man Owen provides the killer goal again. Tomasson is unlucky to have a "goal" dubiously chalked off.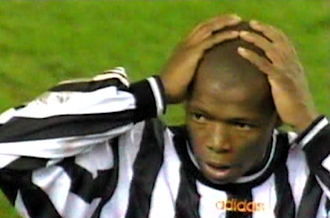 Asprilla is transferred to Parma for £6 million.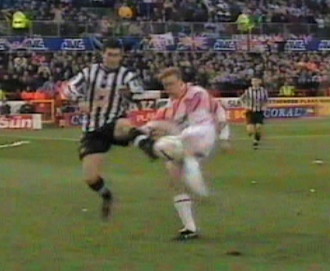 25/01 - FAC R4: Stevenage 1 Newcastle 1 - Although United are boosted by the return of Shearer to the starting line-up, on a typically poor non-League pitch the nation waits and hopes for another Hereford. Shearer heads in after only 152 seconds but with the wind in their favour the non-League outfit battle back and equalise just before half-time. And though United dominate after the break they cannot add to the score. Although Dalglish is happy to survive, he does himself no favours by implying that the weather, the pitch and the bouncy ball all contributed to the failure to win. Not surprisingly the press have another field day at "humiliated" United's expense.
27/01 - Swedish international Andreas Andersson is signed from AC Milan for £3 million. He is a direct, pacy forward with plenty of ability in the air.
29/01 - Nineteen-year-old right-back Andy Griffin signs from Stoke for £1.5 million.
29/01 - United announce that they have bought a forty-acre site in Benfield to build a £10 million soccer academy.
February
01/02 - Pr: A Villa 0 Newcastle 1 - With new signing Andreas Andersson doing well on his debut United deservedly win 1-0 through Batty's sweetly struck goal just before the hour. It is the Magpies' first Premiership away win for two months.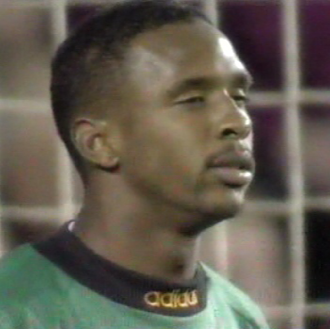 02/02 - Shaka Hislop declares himself "amazed, delighted and very excited" to be called up for the England "B" squad.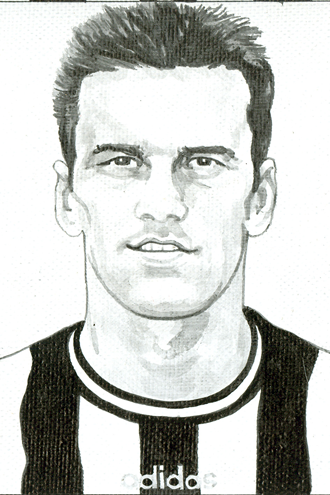 03/02 Dalglish signs Aberdeen's 21-year-old winger Stephen Glass on a pre-contract agreement.
04/02 - FAC R4r: Newcastle 2 Stevenage 1 - The Stevenage team get a torrid reception for their visit to Tyneside and two more goals from Alan Shearer are enough to squeeze United home. After the game Shearer accuses the Southerners of saying some "naughty things". Dalglish goes further, suggesting that their lack of respect "brought the game into disrepute" and hoping they would get knocked out of the FA Trophy. Stevenage's manager calls Dalglish a "sad, sad man".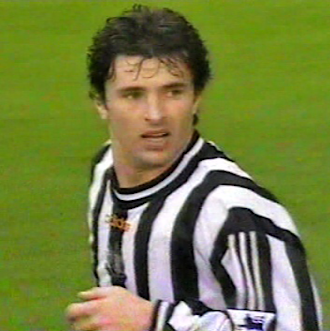 05/02 - Newcastle make their third signing within a week with the capture of Gary Speed from Everton for £5.5 million.
05/02 - Steve Watson breaks his foot and is expected to be out for two months.
06/02 - Stevenage player Neil Trebble suggests Dalglish's comments were "very silly."
06/02 - LMA Chairman John Barnwell is a lone external supportive voice praising Dalglish's "sense of dignity" and suggesting that some of the comments made by Stevenage were "indefensible" and "over the top".
07/02 - Pr: Newcastle 0 WHU 1 - Shaka Hislop loses his place to Given as a result of his refusal to sign a new contract. Gary Speed and Andy Griffin make their debuts, but a thirty-yarder from Stan Lazaridis beats Shay Given for the Hammers to take home all three points.
09/02 - In a topsy turvy month for the Hackney born 'keeper, Shaka Hislop is called up into the full England squad after Tim Flowers drops out.
14/02 - FAC R5: Newcastle 1 Tranmere 0 - It is a very nervy United who see off plucky First Division side Tranmere. And although Shearer heads United in front in the first period the visitors dominate the second half .
16/02 - The Magpies are one of four Premiership clubs accused of poaching young players from other teams during the previous campaign. Hull are the team complaining about United.
22/02 - Pr: Newcastle 1 Leeds 1 - In a thriller at St James' United have much the better chances, but Nigel Martyn is in inspired form and it looks like another home defeat when Leeds score eight minutes from time. But a gaffe from the Leeds goalie allows supersub Ketsbaia to net a minute after coming on. Leeds manager George Graham accuses Shearer's of "almost assaulting" Jimmy Flloyd Hasselbaink at every Leeds corner.
28/02 - Pr: Everton 0 Newcastle 0 - A drab encounter in which the home fans give Gary Speed a very trying time on his early return to Merseyside.
Everton - Goodison Park - 37,972
March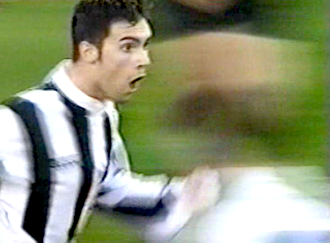 02/03 - Keith Gillespie is said to be "up and about" after receiving hospital treatment for a head injury sustained after "boozy horseplay" with a club team mate in a bar on the club break in Dublin. It is alleged that the incident took place when an argument broke out in the Cafe En Seine bar on Saturday night. Contradictorily, Terry McDermott claims that "on the way out of the bar Keith tripped and fell. It was decided it was best to go to casualty for a check-up. There was no-one else involved." Gillespie says: "I can't remember a thing - but I feel fine."
06/03 - Gillespie is arrested (but not charged) after an incident in Gateshead.
08/03 - Gillespie is left out after "allegedly" having the runs.
07/03 - FAC QF: Newcastle 3 Barnsley 1 - Newcastle reach the semi-final of the FA Cup after a thrilling and frenetic victory over Barnsley. The Magpies get off to a great start against the struggling Tykes and lead 2-0 after 26 minutes. The Yorkshiremen reduce the arrears just before the hour, but the controversial sending-off of Adie Moses soon after nullifies their threat and Batty adds a third deep into injury time. Barnsley manager Danny Wilson is furious claiming that Shearer had been cosseted by Scunthorpe referee Neale Barry and adding: "I don't know how Shearer gets away with some of the things he does. He gets his hands around people and he gets hold of people".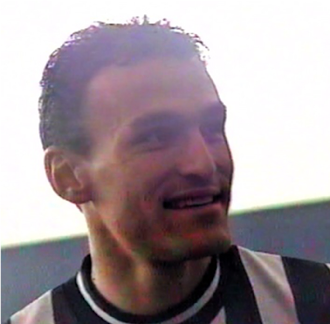 09/03 - Greek international central defender Nikolaos Dabizas signs for £2 million from Olympiakos.
10/03 - Newcastle are reported to be one of a number of clubs keeping a close eye on Paul Gascoigne's situation at Rangers.
14/03 - Pr: Newcastle 0 Coventry 0 - A dreadful bore draw with the only positive being an assured debut for Dabizas after he comes on as a 29th minute substitute.
15/03 - The News of the World leads on a story which shames United Chairman Freddy Shepherd and director Douglas Hall. The newspaper alleges that the pair visited Spanish brothels, described the team's star player Alan Shearer as "Mary Poppins", laughed at fans for paying large sums for the club's shirts and labelled the city's women "dogs". They also boasted that they sold striker Andy Cole to Manchester United knowing he faced a serious shin-splints operation. The remarks were allegedly made during meetings set up and secretly recorded by the newspaper.
16/03 - More than £6m is wiped off the value of Newcastle United FC shares following the article. United kit makers Adidas release a joint statement which reads: "Claims about the cost of Adidas football shirts are not correct. In fact the shirts are made in the UK and cost considerably more".
17/03 - In a telephone poll on BBC Radio Newcastle, 90% of callers say that they believed the two directors should resign.Their views are echoed by Kevin Myles, from the Independent Newcastle Supporters' Association. "I think they've got to go. Everything they've done and said runs counter to the whole ethos of sport. They've brought shame and disgrace on the name of Newcastle United and we don't want people like that in our football club."
18/03 - Shepherd and Hall release a joint statement. "Both Douglas Hall and Freddy Shepherd sincerely apologise for any offence that has been caused to members of their families, the fans of Newcastle, the people of the North East and their fellow directors. They particularly apologise to the women of the North East. Anybody who knows Douglas and Freddy would realise that the comments attributed to them are totally out of character and do not represent their true…….." They also said that the actions of News of the World were "in clear breach of the PCC guidelines concerning the accuracy of the information they publish, the use of listening devices and misrepresentation." The two directors add that they are going to take legal advice.
18/03 - Pr: Newcastle 1 C Palace 2 - More problems as United lose at home to bottom placed Crystal Palace with Dalglish admitting that the club, now only four points ahead of the drop zone, are in a relegation battle. Kenny refuses to blame the off-field distractions and the fans reaction is one of passionate support for the team.
19/03 - United issue a statement advising that Shepherd and Hall will remain on the Board. Newcastle United Independent Supporters' Association secretary John Regan is not happy. "Their arrogance belies belief - they are refusing to go despite massive public support against them". Not all supporters agree, with some talking of witch hunts against the club.
20/03 - Gerarrd Tyrrell, the solicitor acting for Vice-Chairman Douglas Hall announces that both Hall and the Chairman Freddy Shepherd will not be resigning ."The situation would be different if they had said these things without any prompting. It was a total set up." Mr Tyrrell said the directors couldn't remember a lot of what was said in the meeting but . "If they did say these things, they totally apologise and it was totally out of character. They are the life blood of the club". He adds that "they are aware of further allegations which could be published involving drug taking. Douglas Hall categorically denies taking drugs." Kevin Miles, Chairman of the from the Independent Newcastle United Supporters' Association, described the men's stance as "a display of breathtaking arrogance". 21/03 - Freddy Shepherd has failed in a legal bid to stop The News of the World printing more stories about him.
22/03 - More revelations are published with Shepherd and Hall slagging off everyone from the Italian nation to Mohammed Al Fayed to the girlfriends of Hall's twelve-year-old son. Sports Minister Tony Banks launches a blistering attack and demands their immediate resignation.
Sir John Hall informs the BBC that he is willing to return to the club on a temporary basis.The club's directors met for most of Monday to discuss the allegations and the board of the company which owns the club has promised a decision on the men's future on Tuesday. Three non-executive directors, Sir Terence Harrison, John Mayo and Denis Cassidy are said to be "horrified" that they have refused to resign and are contemplating resigning themselves in protest.
23/03 - Former Newcastle striker Malcolm Macdonald calls for supporter involvement in the boardroom and suggests that "The Geordie people are very understanding and broad-minded - they'll let you get away with murder sometimes as long as you apologise afterwards".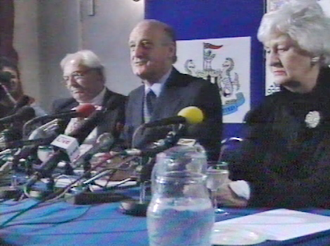 24/03 - After a marathon meeting of the Premiership team's Board Shepherd and Hall resign. Sir John Hall agrees to return until replacements for the directors are found. A statement is issued. "Douglas Hall and Freddie Shepherd have decided to step down as directors of Newcastle United plc and Newcastle Football company. They have both arrived at this decision after long and careful consideration in order to ensure that the allegations made against them do not further affect Newcastle United and enable them to concentrate their energies in restoring their reputations". However, a spokesman for Northumbria Police confirms that they had received complaints and would look into any evidence put to them. The club also publishes its half-yearly profits, which have risen sharply, before tax, from £6.4m to £11.6m..
24/03 - Sir John and Keegan are quick to offer some support. Said Sir John: "They were the ones who got me back into football. They were the ones that brought Kevin (Keegan). They're responsible for the stadium and all the new development, so let nobody forget what they've done for this club and the region in the past". Keegan: "I am sad that, however inevitable their departures became, the club have lost two men who turned Newcastle into the major power as we know it today, There would have been no Alan Shearer at Newcastle without their support and courage in breaking all records with that £15 million transfer fee. I'm not prepared to forget the good they did before the bad that finished them".
Half a million secures the signatures of Darlington youngsters Paul Robinson (19) and James Coppinger (17).
28/03 - Pr: Southampton 2 Newcastle 1 - United suffer their usual reverse at The Dell after, also as usual, conceding a late goal. Despite going ahead their momentum goes when captain Rob Lee hobbles off and two goalmouth scrambles secure victory for The Saints.
31/03 - Pr: Wimbledon 0 Newcastle 0
Dalglish makes six changes for the match and the result is a dour goalless draw between two sides battling to stay up. The Dons win 3-0 on shots on target. Luckily fellow strugglers Bolton and Barnsley both lose and United are five points clear of the drop zone.
April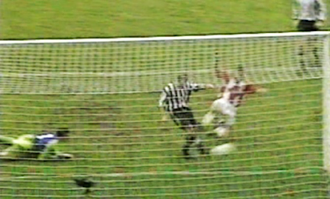 05/04 - FAC SF: Newcastle 1 Sheffield United 0 - Stand-in skipper Shearer is the FA Cup talisman again as he scores the only goal from all of an inch or two to secure a Wembley visit for United. John Hall upsets some fans by dedicating the victory to Shepherd and his son.
06/04 - GNER outrage Magpies supporters by announcing that the normal Newcastle to London Saturday half-price tickets will not be made available on Cup Final day.
07/04 - The FA and MP Tony Banks speak out on the supporters behalf and GNER offer 500 half-price tickets, they sell out within an hour.
08/04 - Former player Tommy Craig joins Dalglish's coaching staff as a replacement for Tommy Burns
11/04 - Pr: Arsenal 3 Newcastle 1 - Dalglish upsets the media at the post match press conference answering questions with glibness, petulance and even a few insults about one reporter's waistline. It did not hide the fact that the comprehensive defeat left United in 16th and only 2 points off the relegation places.
13/04 - Pr: Newcastle 2 Barnsley 1 - A Shearer goal five minutes from time gives United a first League win for over two months in a tough, tense encounter, Andersson's first goal for the club having previously been equalised. Shearer's marker, De Zeeuw, accuses Shearer of being a "cheat" for pushing him before he scored. "He seems to be untouchable..... he gets away with murder".
The club announce that S&N brewery boss Alastair Wilson is to join the Board. He vows to try and rebuild the club's relationship with the fans.
14/04 - The FA announce that they will investigate claims that Cup Final tickets are being sold on internet sites at over £500.
18/04 - Pr: Man Utd 1 Newcastle 1
A much improved performance from the Magpies gains a valuable point against the Championship chasers. It could well have been three when Rob Lee broke through at the death, Solskjaer earning himself a red card after he tripped the United captain up as he homed in on goal.
21/04 - A rare positive gesture from Wear to Tyne as Sunderland Chairman Bob Murray offers Sunderland's allocation of Cup Final tickets to the club for onward transmission to the "most loyal supporters".
25/04 - Pr: Tottenham 2 Newcastle 0 - Goals from Klinsmann and Les Ferdinand condemn United to a defeat which keeps them in the relegation scrap. Ginola accuses Shearer of trying to kick him throughout the game.
29/04 - Pr: Leicester 0 Newcastle 0 - The match is a non-event, but the single point is, bar some ridiculous results, enough to ensure Premiership safety. Shearer is once again the target as Leicester manager Martin O'Neill rages about a challenge on Neil Lennon. "I don't care whether it is Alan Shearer or the Pope - you don't do things like that. Alan Shearer should have been sent off. What he did is not in the game. I saw Neil Lennon kicked in the face - deliberately. I haven't got a clue why Alan did it, but he should have been sent off the field. It's as simple as that.
May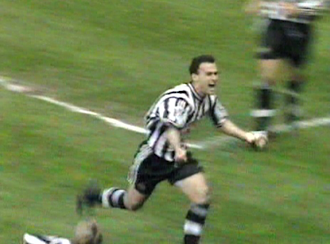 02/05 - Pr: Newcastle 3 Chelsea 1 - Dabizas scores his first for the club in a relatively comfortable victory over the Londoners in a match which is tetchy rather than flowing. It is only the second time United have scored more than twice in the League all season.
06/05 - The FA announce that Alan Shearer will be summoned to appear before an enquiry with regards to the Lennon incident. Shearer expresses his disappointment, but is "totally confident that I will eventually prove to everyone that the incident was not intentional".
10/05 - Pr: Blackburn 1 Newcastle 0 - Just before the end Chris Sutton blasts in the winner from the only shot on target during the whole game. David Batty is sent off for the third time this season.
10/05 - Shearer plays down suggestions that he will consider quitting as England captain if found guilty by the FA.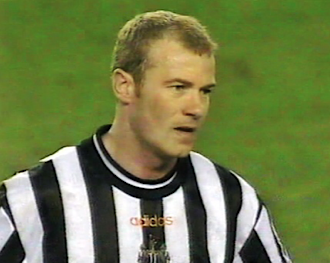 12/05 - The Football Association find Shearer 'not guilty' of deliberately kicking Neil Lennon in the face. He is indebted to PFA chief Gordon Taylor and Lennon himself who personally attends to support him. The verdict certainly does not please everyone and there are lingering whispers that Shearer forced the FA's hand by threatening to quit the England captaincy.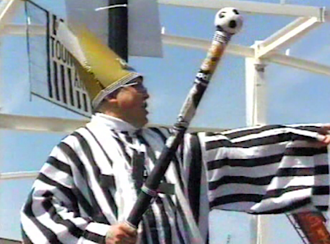 16/05 - FAC F - Arsenal 2 Newcastle 0 - United's Entertainers tag is finally dead and buried after Dalglish's negative tactics fail miserably to thwart Arsene Wenger's enterprising team from clinching the double. The first-half is all Arsenal as Shearer looks a disconsolate figure, isolated up front. Growingly increasingly frustrated he is booked for a late challenge on Adams for which he later apologises. The Geordie faithful plead with the team to "attack, attack, attack" and there is some response. Shearer hits a post, Dabizas hits the bar. Anelka looks well offside when grabbing the second, but nobody can doubt the Londoners superiority or doubt that they deserve their victory. Tony Adams (bar one slip-up) snuffs out the one-man attack of Shearer and United have no answer to the pace of Overmars and Anelka with Pistone (playing out of position at right-back) in particular enduring a nightmare afternoon. Wenger is full of praise for the Toon Army. "They stayed behind after the final whistle to support our players when I could have understood that they had wanted to leave. They just showed the quality of the English people."
18/05 - Director Alastair Wilson promises that Dalglish's job is safe and that funds will be released for him to buy new players.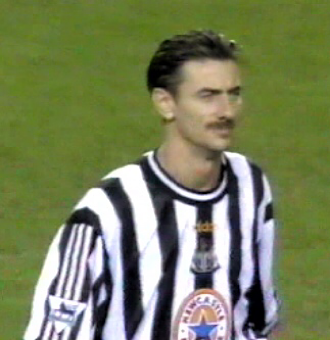 20/05 - David Terrier and Ian Rush are released whilst Pavel Srnicek, Darren Peacock and Shaka Hislop are all out of contract.
21/05 - Sir John Hall is to meet with supporters representatives to give them a chance to air their feelings. He will talk to fanzine editors, but not to members of the Independent Newcastle Supporters Association (INSA) who were the most outspoken during "Toongate".
27/05 - Freddie Fletcher insists that Alan Shearer is not for sale at any price following rumours of interest from Juventus and Barcelona.
Reports from Greece claim that United have signed George Geogiadis, "a talented attacking player who has an eye for a goal".
Newcastle United PLC board deny that chairman Sir Terence Harrison's resignation is the result of a major rift with club chairman Sir John Hall. Sir Terence was the major player in demanding the resignation of Hall and Shepherd.