17/10 - NOW KENDALL SAYS NO - Howard Kendall tells John Gibson: "whilst I would listen to Newcastle if contacted, it's very doubtful I would be prepared to go home at the current time".
18/10 - UNITED OPEN TALKS ON KENDALL DEAL - Despite yesterday's reports McKeag opens negotiations with Kendall over the phone and talks are ongoing.
19/10 - SO SORRY UNITED - Howard Kendall decides to stay in Spain and continue his work there. "Newcastle made me a great offer and I don't just mean in financial terms. And obviously the pull of my home town and the club I supported as a boy made it a difficult decision." Joe Royle (Oldham) and Lou Macari (Swindon) are being suggested as alternatives.
20/10 - ROBSON IS NEXT TARGET? - United could go for under-pressure Bobby Robson if he loses his job as England manager in the near future. Former Newcastle coach and Tottenham manager Keith Burkinshaw is also a possibility as he has returned to England after coaching abroad for a few years.
20/10 - WHARTON BLOW FOR UNITED - Wharton is in plaster after suffering an Achilles' tendon injury against Sheffield United.
22/10 - D1: West Ham 2 Newcastle 0 - SORRY UNITED ARE TOTALLY LACKING IN SELF-BELIEF - Although the Hammers are the only side beneath United they win easily with Beasant preventing a thrashing. United are disorganised and dispirited. Michael O'Neill finishes with a broken nose after he is elbowed in the face in an off-the-ball incident involving Paul Ince. Youtube highlights
26/10 - AND NOW ROYLE OPTS OUT TOO - Oldham manager Joe Royle makes a statement. "It's very flattering to be linked with a club like Newcastle, but if they do come in for me the answer will be no".
26/10 - D1: Newcastle 3 Middlesbrough 0 - MIRA MAGIC AS UNITED RESTORE THEIR PRIDE - A Pallister own goal and a brace from Mirandinha brings a first home win of the season and lifts United off the bottom. Although the Teessiders spurn a number of chances it is a deserved victory.
27/10 - McKeag is officially endorsed as the man who the First Division clubs want as Chairman of the Football League.
29/10 - Chelsea assistant manager and ex-Sunderland player, Ian Porterfield, says he would be interested in the Newcastle job.
29/10 - D1: Newcastle 0 Nottingham Forest 1 - Despite controlling the game for an hour, United lose and despite still being managerless, McKeag says "there is no panic".
01/11 - CONFUSION OVER HAY - A press conference to announce David Hay as the new manager is cancelled at the last moment with McKeag stating that there will be "no further developments today".
05/11 - D1: QPR 3 Newcastle 0 - FRANCIS MAKES SUGGETT SUFFER - Although United show considerable improvement after the break veteran Trevor Francis inspires QPR to a comprehensive victory. United's strikeforce continues to look embarrassingly lightweight and Suggett is desperate to sign a target man.
07/11 - UNITED POISED TO MOVE FOR FASHANU - In an effort to beef up their lightweight attack United are considering raiding Wimbledon for the third time in six months to sign powerful striker John Fashanu.
09/11 - UNITED LOCKED IN BATTLE FOR KENDALL - Howard Kendall is rumoured to be agreeing a compensation deal to quit Bilbao. However, it is believed that his former club, Everton, want him to return to Merseyside.
11/11 - I'M STAYING - KENDALL - Howard Kendall states that he is not leaving Bilbao until the end of the season "at least".
11/11 - Mirandinha reveals that the club have re-negotiated his contract and that he hopes all his financial troubles are behind him.
12/11 - D1: Newcastle 0 Arsenal 1 - UNITED HAVE LOST THEIR WAY TO GOAL - A very similar match to the last home game, United enjoy plenty of possession, but huff and puff without creating more than one clear cut chance and pay the price when Bould scores.
14/11 - UNITED SNAP UP DEFENDER - United sign right-back Andy Fensome from Norwich City on loan with Anthony Lormor going in the opposite direction. Fensome has not played for the first team. Former Tottenham winger Ally Dick (Ajax) and former Hull centre-forward Rob McDonald (Eindhoven) arrive on a week's trial. Meanwhile Mirandinha pleads with Newcastle to buy his international compatriot Josimar, claiming he is "on the phone to me everyday".
19/11 - D1: Millwall 4 Newcastle 0 - FANS VENT THEIR FRUSTRATION - United are thrashed 4-0 by the high-flying Londoners. Fans chant "we're so bad it's unbelievable" and "now you've got to believe us, we'll never score a goal". Then when McDonald heads in just before the end, but the effort is disallowed for offside, they change the words to: "now you've got to believe us, we've nearly scored a goal". After the game some Newcastle fans attack the Millwall director's suite, where they believe the United directors are. A door is kicked down and a couple of windows are smashed. Sports Minister Colin Moynihan, Margaret Thatcher's main ally in the plans to introduce a compulsory ID scheme, is there as a guest of the club and witnesses the trouble first hand. He says: "this reinforces my conviction that further measures have to be taken to secure the future of the game".
19/11 - There is also trouble at Kings Cross and on the Underground where United fans clash with fans of Middlesbrough. And a terrifying arsenal of weapons is found in the car of a couple of teenagers from Tyneside. It includes CS gas cylinders, stanley knives, coshes, billiard cues and a smoke grenade.
20/11 - I'LL STAY IN ENGLAND - Despite his upset over McFaul's sacking and his personal tax problems Mirandinha is not interested in a potential move to Sporting Lisbon and has told the club he wants to stay.
21/11 - United reject a bid from Hearts for John Robertson.
21/11 - McKeag loses out in the vote for the Football League presidency.
23/01 - United slap a £1m transfer fee on Robertson.
24/11 - The directors come under attack from Mirandinha who is suffering financial problems after he hasn't received as much money as he had been expecting to."I'm not happy with the board", he complains "I don't think they've helped me".
27/11 - D1: Newcastle 0 Manchester United 0 - ARMCHAIR FANS NOW KNOW THE AWFUL TRUTH - Before the game Newcastle are presented with a cheque of £750,000 (the highest amount paid) by the Football Grounds Improvement Trust. The grant has helped pay for the new Milburn Stand. Roeder and Wharton are dropped. United draw a blank for the fifth game in a row in what is a very poor game. There are demonstrations before, during and after the game. A "sack the board" banner is displayed before the match starts. "Sack the Board" is chanted repeatedly along with "and now you gotta believe us, they're going to wreck the club".
27/11 - SHOCK FOR UNITED AS DIRECTOR SELLS SHARES - Gordon McKeag releases a statement saying that George Dickson, who is the largest shareholder, telephoned him to say he has agreed to sell them to the Magpie Group for a figure in excess of £600,000. He is asked to resign, but refuses.
28/11 - A delighted Hall claims they are "on the brink of victory" and challenges the other directors to "stand up and be counted. If they feel privately like George does then they should come and join us". It is believed the Dickson family have agreed to sell some 170 shares.
28/11 - UNITED TO GO FOR NEW BOSS - The Board have decided they can't wait until the end of the season to appoint a permanent boss and will once again start their search. They also clarify that George Dickson cannot be made to resign without an EGM.
29/11 - Having lost the captaincy and his place in the side Glenn Roeder looks likely to leave on a free.
29/11 - Hall claims that the Board are contacting local businessmen to try and get them to buy 200 shares from them for £200,000.
30/11 - FASHANU GAMBLE? - It is thought that United are still considering a move for Wimbledon centre-forward John Fashanu despite his £2.5m price tag.
01/12 - Suggett claims he is not interested in John Fashanu.
01/12 - I'M NOT GOING TO BE A SCAPEGOAT - MIRA - Angry Mirandinha blasts the directors: "I'm not going to take the rap for the whole squad…I want to be part of Newcastle United's future. It seems to me that the Board are looking for a scapegoat. It won't be me. I won't be their sacrificial lamb. There are exciting things about to happen - the good times that the fans have been waiting for for years".
03/12 - D1: Luton 0 Newcastle 0 - ALL THEY ARE SAYING IS GIVE US A GOAL - Another scoreless match on the plastic at Luton, mainly as a result of the Hatters shocking finishing. Although away supporters are banned there are about twenty or so United fans in attendance.
04/12 - Reserve Albert Craig blasts the club in the Sunday Sun accusing them of "being a shambles" and alleging dressing room unrest.
04/12 - Scarborough manager Neil Warnock is linked with the manager's post.
04/12 - QPR manager Jim Smith holds talks with McKeag. Smith joined QPR in 1985 and signed an extension to his three-year contract last season; if he agrees to join, United will have to pay compensation.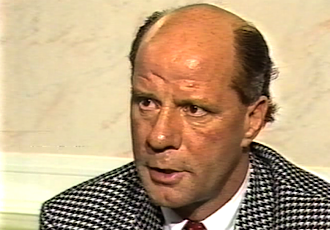 05/12 - HERE AT LAST - QPR manager Jim Smith, who turned down the United job four years ago when Cox resigned, agrees to become manager. He signs a three-year contract and will receive £300,000 over that time making him one of the best paid managers in the country. "It doesn't worry me at all that the club is in such a precarious state or under threat from a possible takeover. I have been involved in worse situations before and it won't stop me getting on with the job. I will be leading from the front because one thing I am not short of is bottle. Newcastle should be up there with the Manchester United's, Everton's and Liverpool's of this world. In two years, I would like to feel that we are. That's how long I am looking to take to turn things around".
06/12 - Newcastle and QPR agree a compensation deal for Jim Smith. The figure is thought to be about £175,000. Blackpool assistant manager Bobby Saxton agrees to become his right-hand man.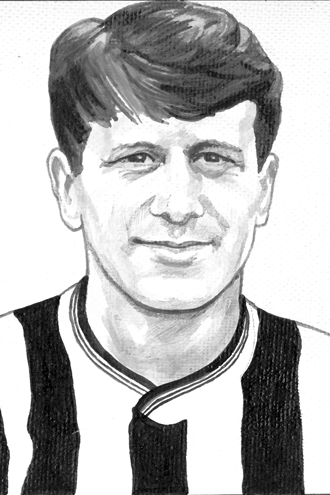 07/12 - UNITED SIGN MIDFIELD MAN - Smith signs cultured schemer Kevin Brock from former club QPR for £350,000. The midfielder was also with Smith at Oxford. Brock is a good passer of the ball and he works non-stop for 90 minutes.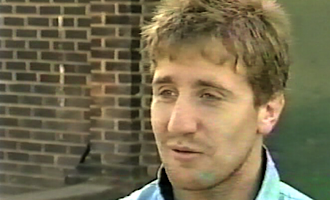 07/12 - John Robertson ends his unhappy spell on Tyneside as he moves back to Hearts for £750,000, £125,000 more than United paid for him. "John has not really done it in English football", explains Smith.
07/12 - The club loans Stockton some bulbs for their floodlights so that they can play their FA Trophy replay against Whitley Bay.
10/12 - D1: Newcastle 2 Wimbledon 1 - UNITED BACK IN LAND OF THE LIVING - A banner states "Save Our Club" and although United are outplayed for large portions of the game they record their first win for six weeks. Hendrie scores United's first goal for 588 minutes and then scores the winner ten minutes from time. Smith admits: "there is pressure here and I don't think the players are good enough to handle it. I now know the size of the job here".
11/12 - MCKEAG: NO SURRENDER - With shares now changing hands for up to £6,000 McKeag denies that he has had to persuade two directors not to sell-out and claims: "there is no question of any further directors selling their shares to the Magpie Group". However it is thought that some directors believe he should soften his hawkish stance due to the potentially ruinous impact of the escalating share battle.
12/12 - HALLS COUP ROCKS BOARD - It is revealed that Former Chairman Lord Westwood and several members of vice-chairman Ron McKenzie's family have sold out to the Magpie Group.
13/12 - SC: Watford 2 Newcastle 1 - LUCKLESS NEWCASTLE BOW OUT - Wilkinson scores the winner three minutes from time after McDonald had lobbed in an equaliser.
14/12 - SMITH BRINGS IN TOP TALENT SCOUT Tony Collins.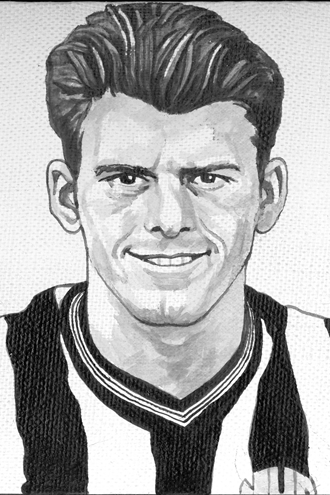 15/12 - Darren Jackson moves to Dundee United for £200,000.
16/12 - Albert Craig turns down an offer to buy out his contract.
17/12 - D1: Newcastle 3 Southampton 3 - O'NEILL COULD SAVE £1m SAYS JIM - Much more entertaining fare when Southampton visit. Two from Le Tisser help the visitors to a 3-1 lead then O'Neill comes off the subs bench to score twice (the last in injury time) to rescue a point for United just as the mood is turning ugly again.
18/12 - Vice-Chairman Ron McKenzie reveals that he has turned down an offer for his 34 shares after five members of his family sold 58 shares earlier this month.
19/12 - Real Zaragoza make a loan bid for Mirandinha but it is rejected. However, Smith concedes that he "would consider an offer for Mirandinha in the same way I would for most other Newcastle players".
19/12 - Newcastle offer John Cornwell as part of a deal to sign full-back John Humphrey, but Charlton reject their bid.
19/12 - The Chronicle reports that McKeag has persuaded his fellow directors to sign a document promising that they won't sell out.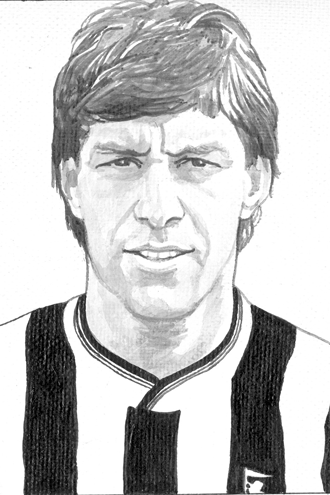 21/12 - UNITED SIGN RANSON - Experienced right-back Ray Ranson is signed for £140,000 from Birmingham City.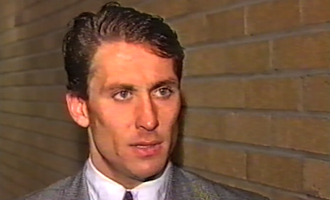 23/12 - Left-back Kenny Sansom is signed from Arsenal. Smith says: "l think that he realises that Newcastle is a great place to play football". Sansom has been at Arsenal for eight years, but recently lost the captaincy and his place in the team. He has won 86 England caps and has signed a two-and-a half-year contract.
26/12 - D1: Sheffield Wednesday 1 Newcastle 2 - MAGNIFICENT NEWCASTLE WIN IN STYLE - United introduce their new full back pairing at Hillsborough and spurred on by a large following they come from behind to win with goals from O'Neill and McDonald.
30/12 - Andy Thorn will be out for over a month after damaging knee ligaments at Hillsborough.
31/12 - D1: Tottenham 2 Newcastle 0 - WADDLE THE INSPIRATION AS SPURS END UNITED'S RUN - United's five-game unbeaten League run comes to an end at White Hart Lane, they don't play that badly but they are let down by poor finishing. Gascoigne is out injured, but Waddle is once more on target against his old club. Youtube highlights
January
02/01 - D1: Newcastle 0 Derby 1 - CONTROVERSIAL DECISION COSTLY FOR UNITED - Roared on by the home support, United perform reasonably well, but a vintage performance by Rams 'keeper Shilton mixed with some watered down United finishing lets them down. Referee Keith Hackett annoys the crowd with some of his decisions, particularly when he denies United a penalty when Hendrie is sent sprawling in the box. Youtube highlights
05/01 - Neil Warnock is appointed as Notts County manager and states that he quit as boss of Scarborough last Saturday because the Yorkshire club's chairman, Geoffrey Richmond, had tried to sign Mirandinha without informing him.
06/01 - Newcastle and Danish side AGF Aarhus agree on a deal for Frank Pingel and Bjorn Kristensen to come to Newcastle, but Smith wants to see them in training before he signs them. They will fly in on Sunday, but have only just returned to training after Denmark's two-month winter break.
07/01 - FA R3: Newcastle 0 Watford 0 - IT'S TOUGH FOR CENTRE-FORWARDS AT NEWCASTLE - The FA Cup brings Second Division Watford to Tyneside and in a scrappy game played at a frenetic pace United's lack of firepower costs them dear. Struggling centre-forward Rob McDonald is the main target of the fans' abuse.
09/01 - Although Smith rates John Hendrie very highly it is reported that he is considering selling him to raise cash to sign Pingel and Kristensen.
10/01 - FA R3r: Watford 2 Newcastle 2 (aet) - EXTRA-TIME THRILLER ENDS ALL-SQUARE AGAIN - The Magpies should have won a thrilling game, but are let down by a Beasant blunder and a controversial penalty award. H
11/01 - Smith turns down a bid of £750,000 from Leeds for Hendrie as he is now looking to raise cash by selling Dave Beasant to Chelsea. Smith also reveals that he has failed in an attempt to land former Spurs striker Clive Allen from Bordeaux.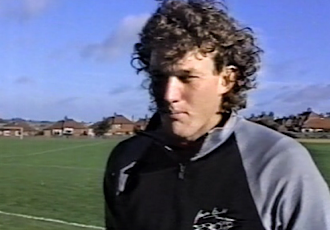 12/01 - Dave Beasant moves to Chelsea for £750,000. Despite some good games he conceded 35 goals in 20 League games and has been guilty of a number of errors.
12/01 Danish ex-boxer Frank Pingel signs from Aarhus.
14/01 - Hartlepool chairman John Smart has floated the idea of having a pre-season competition between the five North-Eastern league sides and Carlisle.
14/01 - D1: Aston Villa 3 Newcastle 1 - VILLA TEAR APART TIMID UNITED - Tommy Wright and Frank Pingel (although he admits he is only "half-fit") make their debuts. A Mira penalty gives United the lead, but suicidal defending sees them tumble back down to bottom spot.
16/01 - FA R3r2: Newcastle 0 Watford 0 (aet) - NEWCASTLE CUP MARATHON GOES TO ANOTHER REPLAY - At a passionate Gallowgate, United try desperately hard, particularly in a barnstorming second-half performance, but are once more let down by poor finishing although 'keeper Coton is in fine form for the Hornets. Youtube highlights
18/01 - FA R3r: Watford 1 Newcastle 0 (aet) - CRUEL LUCK AS OWN GOAL FLOORS UNITED - Although the Magpies are the better side Coton once more keeps them out. And a Holden shot deflects in off Roeder with six minutes of extra-time remaining to end the gruelling saga with Watford which has lasted for seven and a half hours.
19/01 - Crystal Palace striker Mark Bright is the latest forward to be linked with United.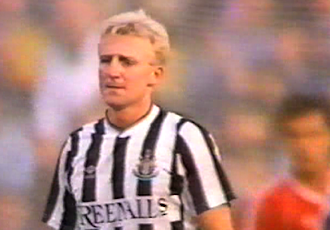 John Cornwell moves to Swindon.
20/01 - Mirandinha is transfer-listed. "I have agreed to go on the transfer list because the manager wants me on the transfer list. Newcastle want to sell so they can bring in money to buy other players. When you are not wanted the only thing to do is leave."
21/01 - George Dickson has served writs, asking for clarification on share ownership, on the other seven club directors as well as Barclays Bank. It is expected that an injunction will follow which will effectively freeze the shares being held by the bank on behalf of the directors.
21/01 - D1: Newcastle 0 Charlton 2 - NEWCASTLE NOW NEED A MIRACLE - United are playing their fourth game in eight days, including the two Cup ties that went to extra time. It is a disjointed and demoralised performance against fellow relegation strugglers Charlton for whom Robert Lee scores both goals. It is the fourth home game in a row that they have failed to score and Jim Smith says: "it's not the Board who give away silly goals and miss easy chances. We have to get a settled side. We are now tracing a life or death situation and I have to get it right". The attendance drops below 20,000 for the first time during the season and there is a sit-down protest towards the end of the game. After the match a 250-strong crowd demonstrates in Strawberry Place. When the police move in to break it up bricks, bottles, stones, coins and cans are hurled at them and two are injured.
24/01 - Brian Tinnion refuses a month's loan move to Shrewsbury with Dougie Bell set to come in the opposite direction.
24/01 - John Hall says: "If we took over this week we wouldn't be looking to sack Jim Smith".
25/01 - Mirandinha wants to return to former club Palmeiras claiming United are "scared" to sell him to another English club. "I have had no support from the Board or manager in the last three months and I am very unhappy."
26/01 - Newcastle supporter Eddie Knox has reported the club for breaching the Trades Description Act. "My protest is quite serious. Newcastle's last game was so bad that I left ten minutes before the end, something I've never done before in my life".
27/01 - United turn down a Hibs bid for O'Neill and it is rumoured Smith may be prepared to sell or swop Thorn.
29/01 McKeag states that he would be willing to meet with Hall if an agenda was agreed beforehand.
30/01 - Preston striker Gary Brazil comes up to Tyneside where he will have a couple of days to impress Smith. Ian Bogie has refused to go to Preston on loan in exchange.
30/01 - Crystal Palace striker Mark Bright is wanted by Smith but he states that: "I think Newcastle have to sort out their own future". He is concerned that Newcastle might get relegated and Palace promoted.
30/01 - Sunderland born midfielder Micky Hazard holds talks with Smith after United agreed terms with Chelsea at the weekend.
31/01 United take a trip to Peebles; Mirandinha is left behind to play with the reserves.
31/01 - United's balance sheet is published and reveals that the club now owe £3m following the building of the new West Stand. United borrowed half the cost of the £5m stand. Newcastle made a profit after tax of £80,685, compared to a loss of £193,725 in the previous year, with a profit on transfers of £448,645. The club's wage bill soared by 25 per cent, with 11 people earning more than £35,000, including three on salaries over £50,000.
February
01/02 - SHARES BATTLE TAKES NEW TWIST - It is rumoured that the Shepherd family (who own 34 shares, all with voting rights) could be ready to sell. The club surprisingly allowed the shares to be transferred to the Shepherds last October so it can only be assumed that they said they supported McKeag at the time.
01/02 - Although Brazil has returned to Preston, Smith is hoping to sign him if a swap deal for Ian Bogie can be arranged.
02/02 - The Magpies are believed to have made a £600,000 bid for Ipswich striker Dalian Atkinson.
04/02 - D1: Newcastle 2 Liverpool 2 - SMILES FOR SMITH - AT DOUBLE - Danish TV are covering the match and countryman Pingel scores his first goal in an entertaining draw. Mirandinha - the star of the show - scores one and hits the post with an audacious 40-yard half volley which comes back of the inside of the upright. The Magpies play with pride and passion and Smith, who also found out he had two new granddaughters before the game, says "we will stay up if we repeat that level of performance over the last fifteen games". H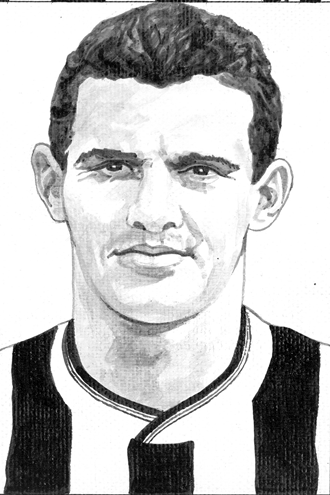 08/02 - BRAZIL TO PLAY ON TYNESIDE - United sign Gary Brazil from Preston for £250,000 with Ian Bogie, valued at £150,000, moving in the opposite direction as part of the deal. Smith has given up hope of signing Atkinson from Ipswich.
08/02 - POWER BEHIND THE THRONE - The Chronicle reveals that Leicester businessman and lifelong Newcastle fan Peter Mallinger was offered and bought 100 shares from the club worth £130,000 and has guaranteed another £150,000. It is thought that he will be offered the chance to be a director.
09/02 - Kenny Wharton needs an operation on his knee.
09/02 - NEWCASTLE BOARD WAS BETRAYED CLAIMS JUDGE - George Dickson's legal action against the board sees the judge throw out his writs, accuse him of "plain betrayal" and order him to pay all costs. McKeag is "delighted".
11/02 - D1: Coventry 1 Newcastle 2 - UNITED EQUIPPED TO BEAT THE DROP - Smith adopts a new 5-3-2 formation in which Roeder operates immaculately as a sweeper. Gary Brazil makes his debut as United record a shock first win of the New Year away at third-placed Coventry. It is the first win in ten games. Youtube highlights
14/02 - Vice-chairman Ron McKenzie resigns and sells his 84 shares to the Magpie Group who allegedly pay £640,000. He had offered to sell them to the Board but they were not prepared to match the bid. Hall denies they paid so much and he still does not have the 51% shareholding he needs to oust the Board. McKeag is not giving in: "while we are disappointed, the Board is now stronger than ever in their resolution".
15/02 - HALL REVEALS "PEACE PLAN" AND BLASTS CARVE-UP - Hall reveals the "Peace Plan" that he has sent to the Board. The main points being: a minimum £5m share issue, development of the ground and a new "interim board" to oversee the plan which would include himself, David Stephenson and Malcolm Dix. He also slams the news that Peter Mallinger has divided his 100 shares with nine other members of his family to maximise their voting value. This is because the articles of association stipulate that you get a vote per share for the first ten shares, then a single vote per each block of five shares.
16/02 - McKeag responds to the Plan by stating that Hall has been selective in what he has released to the press and reveals that there is a clause which states that some of the money raised by the share issue will be used to pay back the money used to purchase shares by the two groups.
17/02 - Hall responds by saying they have always made it clear that they believe no-one should own more than 10% of the shares as they: "wanted to give this great club back to the fans not to have it as our personal seat of power. We are trying to rid it of dictators."
nn/02 - D1: Boston 0 Newcastle 1 - Pingel nets the only goal.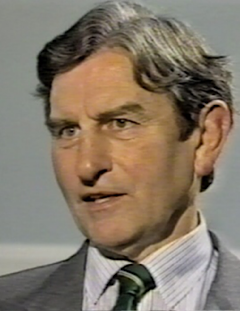 21/02 - VICTORY FOR DIRECTORS IN ST JAMES' SHOWDOWN - The long-awaited AGM turns out to be a damp squib. Both sides treat each other with courtesy and McKeag runs the show with aplomb. As expected the Magpie Group withdrew their candidates for the two vacant positions on the Board as they knew they still did not have enough support for them to be voted in. Hall tries to take a conciliatory approach and argue that there is very little difference between what the two sides want with the proposed share issue being the only real area of disagreement. But McKeag is having none of it and goes on the attack, he is totally dismissive of the Magpie Group's plans for St James' and once again asks where the detailed plans are. And when Hall states he will provide plans to develop the Gallowgate for free McKeag retorts with: "l accept two things that you have said. I accept that you are a property developer and that no property developer does something for nothing".
22/02 - COUNCIL READY TO STEP IN - City Council leader Jeremy Beecham states that he is going to send letters to McKeag and Hall offering himself or other Council authorities to act as "honest brokers" between the two sides. He also issues a thinly veiled threat about the club's tenancy of St James' when he reiterates that when the club was handed a 99-year lease in 1971 they were obliged to redevelop the ground by 1981 which was later extended to 1991.
23/02 - Smith confirms that he has turned down a £750,000 bid for John Hendrie.
23/02 - Paul Gascoigne appears before an FA Disciplinary Committee for allegedly calling former Chairman Stan Seymour "brainless" for selling him. He argues that he had been upset by Seymour referring to him as "George Best without the brains". He is not punished.
23/02 - SMITH BACKS MCKEAG IN BRAVE BATTLE - Manager Smith gives his full backing to McKeag claiming he gets "a lot of undeserved flak" and that people do not "understand how hard he works for the club". He also claims that "negative energies" against the club have transmitted themselves to the crowd which is undermining the battle against relegation.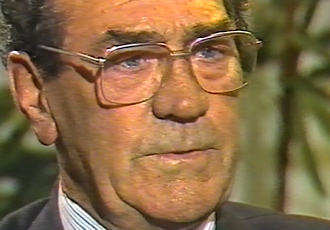 24/02 - Former captain and manager, Joe Harvey, passes away.
26/02 - D1: Middlesbrough 1 Newcastle 1 - DERBY RIVALS SHOW THEY CAN BOTH BEAT THE DROP - A closely fought encounter against an out-of-sorts Boro. Samson plays as sweeper and United play a swift counter-attacking game. O'Brien scores his first goal to give United the lead, but slack marking allows Slaven to equalise. Newcastle are five points from safety. Youtube highlights
26/02 - Eight fans are injured when three coaches taking United fans back to Tyneside are involved in a pile-up.
26/02 - MCKEAG HIT BY DEATH THREAT CALLS - McKeag reveals that he has contacted Northumbria police having received a number of death threats and up to fifty abusive telephone calls over the weekend. Hall "utterly condemned" those responsible and also claims to have been receiving abusive calls over the last few weeks.
Brian Tinnion is transfer-listed at his own request.
March
02/03 - Having watched him play for Aarhus against Barcelona, Smith agrees a fee of £250,000 for Danish international defender Bjorn Kristenson. The player has also agreed terms, but the transfer will not officially take place until the club's involvement in Europe has come to an end. Metz are believed to be willing to match United's £400,000 asking price for Mirandinha. Seville and Palmeiras have both made loan approaches but Smith wants the money. Tellingly clubs are only allowed to play two foreign players at any one time and Kristensen's arrival means they will have three. Mira concedes: "it looks as if I'm going to be forced out".
03/03 - Lee Clark is called up for the England Youth team for the first time.
04/03 - D1: Newcastle 2 Brondby 0 - STAY-AWAY FANS HAVE RIGHT IDEA - A Pitiful crowd comes to see United take on the Danish champions and the ones who stayed away called it right. Both teams are aimless and lethargic and it is one big yawn from start to finish.
05/03 - UNITED PEACE MOVE REJECTED - Although Hall accepts Jeremy Beecham's offer to mediate, McKeag has rejected it.
07/03 - Jim Smith has told Mirandinha he will be staying until the end of the season at least saying: "he has a crucial role to play on our bid to stay in the First Division".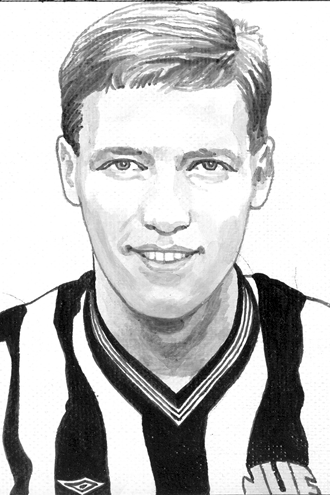 08/03 - Brian Tinnion moves to Bradford for £125,000.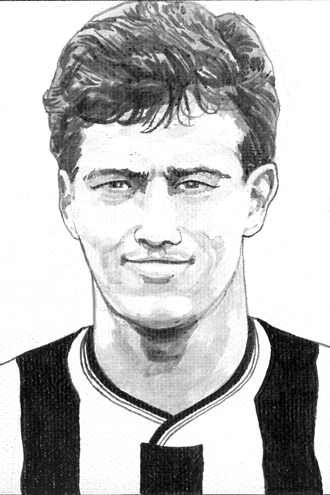 09/03 - Lee Payne, who has failed to settle on Tyneside, moves to Reading for £60,000.
11/03 - SHARE BREAK-UP CONTINUES - The Board continues to split up the shares they own amongst "friends". Two recent recipients of ten shares are Rugby Union men Danie Serfontein and Gerry Cooper.
11/03 - D1: Newcastle 1 QPR 2 - NEWCASTLE HAVE THAT DOOMED APPEARANCE - David Seaman keeps United out and two sucker punches bring a disastrous defeat at home against one of their relegation rivals. It is an abject performance in which the players lapse into the disorganisation and dis-spiritedness of the pre-Smith days. Many of the crowd have left before Ranson's consolation. Smith apologises to the fans and admits that "harsh words" were spoken in the dressing room after the pathetic performance. Roeder aggravates his hamstring. Youtube highlights
15/03 - D1: Nottm. Forest 1 Newcastle 1 - BATTLING UNITED EARN DESERVED POINT - In the first half Forest dominate possession and take the lead through a hotly disputed penalty, but Kelly's brilliance and a battling performance keep United in the match. The Magpies match their hosts after the break and Brock secures a well-earned draw.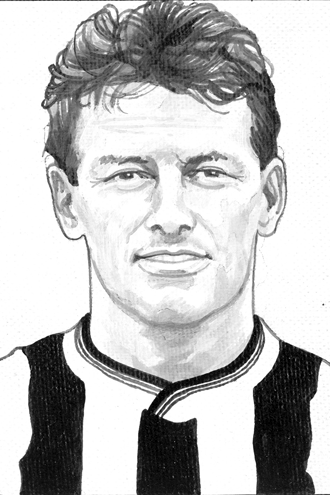 17/03 - Kristenson completes his £250,00 move from Aarhus. The Dane can play anywhere along the back and in midfield too and has played 17 times for his country.
17/03 - Young keeper Ian Bennett is signed on a free from QPR.
20/03 - Auctioneer George Forbes has been appointed Vice Chairman.
20/03 - Ipswich rebuff advances for England-U21 striker Dalian Atkinson.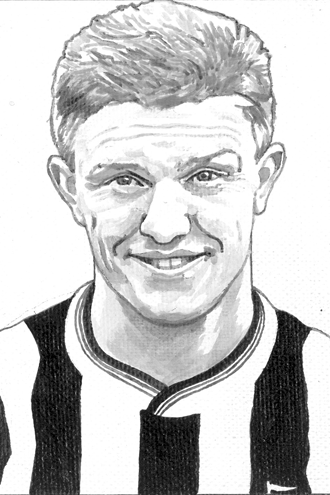 21/03 - SMITH SWOOPS FOR YOUNG SCOT - A fee of £150,00 is agreed with Raith Rovers for midfielder Paul Sweeney (24). There will be an initial payment of £100,000 with the remainder being paid after 20 appearances.
22/03 - D1: Newcastle 2 Everton 0 - SUPER UNITED RUN MERSEYSIDERS RAGGED - United adapt to the unpredictable gale much better and record their first home victory for three months as they brush aside the lethargic Toffees. Mira celebrates the first goal with a little jig around the corner flag. "We could have beaten virtually any team in the country," says Smith. United are now within three points of safety and within five points of the seven clubs above them. Youtube highlights
23/03 - Leeds are scared off a move for Andy Thorn by United's valuation.
24/03 - Jim Smith could face a disrepute charge for visiting the referee's room at half-time during the game at Forest. He was upset with the award of the penalty.
25/03 - D1: Norwich 0 Newcastle 2 - NEWCASTLE CALLING THE TUNE - Salvation has suddenly become a possibility as United once again upset one of the title challengers. Second-placed Norwich are shocked as Mirandinha and O'Brien get the goals once again to leave the inflatable canaries looking a little flat. Newcastle are now only one point behind safety and the next two games are against the teams directly above United, so there is all to play for. Youtube highlights
27/03 - D1: Newcastle 1 Sheffield Wednesday 3 - UNITED - THE GREAT UNPREDICTABLES AGAIN - The disjointed Magpies hit the self-destruct button after a disastrous start which sees them 2-0 down after 13 minutes. Mirandinha raises hopes with a penalty twenty minutes before the end but United cannot find another goal. Wednesday confirm their victory in injury time. United have only lost 3 of their last 9 games, but they have all been at home against relegation rivals.
29/03 - United turn down a £275,000 bid from Hibernians for Michael O'Neill.
29/03 - Everton and Liverpool are leading a powerful movement to have the First Division reverting back to 22 clubs which would mean only one club would be relegated.
30/03 - Andy Thorn suffers a recurrence of the knee injury which has already kept him out for three months.
April
01/04 - D1: Southampton 1 Newcastle 0 - PENALTY OF PAIN - A last minute penalty, controversially given against Kelly, is converted by Ruddock to give Southampton their first win since November and deny United a point. However the Saints deserve the win on the balance of play against the hugely ineffective Magpies.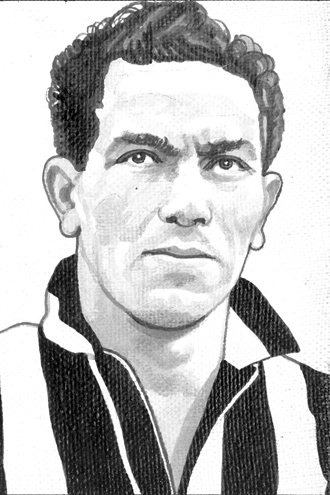 03/04 - George Robledo's younger brother informs the Chronicle that he has passed away.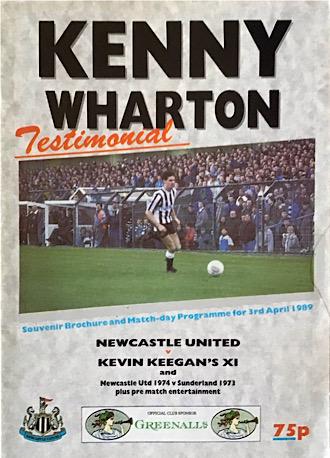 04/04 - Test: Newcastle 2 Keegan Xl 2 - WADDLE STEALS SHOW WITH DOUBLE STRIKE - Kenny Wharton's testimonial match. Waddle scores twice, Pingel and Mirandinha net for United. H
04/04 - Interviewed after the game Keegan says: ' You've got a nice stand, but this won't look very good in the Second Division will it".
08/04 - Newcastle 1 Aston Villa 2 - UNITED LOOK DOOMED FOR SECOND DIVISION - Bjorn Kristensen makes his debut as United are easily swept aside by fellow strugglers Villa. It is a wretched performance in which they are totally lacking in self-belief and confidence. They fall away as soon as Villa take the lead and could have conceded many more. Jim Smith laments: "At the moment we have killed ourselves off - St. James' Park has become a bit of a jinx."
12/02 - Following criticism in the press of the players' lack of character and backbone, Smith hits back claiming that although they have not being playing well, "there has been no shortage of fight or commitment.".
13/02 - O'BRIEN OUT - A scan reveals that O'Brien's leg was broken when he suffered a kick on his shin playing for Ireland-U23 on Tuesday.
14/04 - A specialist advises Kenny Wharton (28) that his knee will not stand up to the rigours of professional football. Smith says Kenny is "absolutely devastated".
15/04 - D1: Arsenal 1 Newcastle 0 - UNDESERVED DEFEAT THAT PALES INTO INSIGNIFICANCE- Brock is flu-ridden whilst Ranson is injured and Mira dropped in a much changed side which battles bravely before succumbing to a suspiciously offside looking Marwood goal. David Roche comes on for his first game. Now 4 points from safety with only 5 games left. Smith says if we can repeat this level over the next five games we can still beat the drop". But everything is overshadowed by the terrible events at Hillsborough.
17/04 - Mira tells Smith that if he is not going to play him, let him return to Brazil.
18/04 - Vandals break into St. James' and start tearing down some of the advertising hoardings. Luckily they are spotted on the club's CT cameras and security staff chase them off.
19/04 - TIME IS RIGHT FOR REDEVELOPMENT - With the Hillsborough tragedy in mind Hall calls for the warring factions to "bury their differences" and for the Council to call a conference involving all interested parties to see how to best redevelop the ground.
20/04 - Following advice from the City Council, work begins on dismantling the fences at St. James'. Controversially, a small section at the Leazes End, where the away fans are housed, is likely to be retained "for their safety".
20/04 - DEFIANT WHARTON DECIDES TO PLAY ON - Kenny Wharton has decided to go against specialist advice and continue playing.
20/04 - Jim Smith is fined £500 for confronting referee Kelvin Morton at half-time in the game at Forest.
22/04 - D1: Newcastle 0 Luton 0 - DESPERATE UNITED ARE DOOMED - A minute's silence in respect of those who lost their lives at Hillsborough (ruined by one idiot) is held before the kick-off. The game itself is shockingly poor.
The Football League are reportedly considering going back to having 22 clubs in Division 1 rather than the current 20. Could this be a lifeline for United?
28/04 - COME CLEAN DEMANDS HALL - "We intend to call an EGM. What we want is an open debate and it appears this is the only way we are going to get one. We believe that United have neither the will nor the money to meet the conditions of the ground lease by March 1st 1992." McKeag refuses to comment.
29/04 - D1: Wimbledon 4 Newcastle 0 - HOW THE MIGHTY ARE FALLEN - Denis Wise is the chief tormentor as United collapse at Plough Lane. Chief tormentor is Dennis Wise who also scores from the penalty spot. It is an appalling display and "Sack the Board" and "John Hall's Black and White Army" get their usual airing. Relegation is virtually certain now and Smith admits: "our form has been nothing short of disgraceful." With three games left United are six points behind Charlton (and safety) who also have a game in hand. Smith is not throwing the towel yet: "we have 3 matches remaining and we must make every effort to stay up". Pingel reacts aggressively towards Smith when he is substituted.
May
01/05 - United fan Darren Heslop is in hospital fighting for his life after suffering a fractured skull when he and his friends were attacked by a fifty-strong mob after they left a pub in the West End on Saturday evening.
02/05 - United have rejected a £200,000 Sao Paulo bid for Mirandinha with Smith saying: "the offer was not even worth considering".
03/05 - Six thousand disgruntled fans have signed a petition organised by 'The Mag' fanzine backing plans for a share-issue.
02/05 - PLAYERS HAVE LET US DOWN - With Luton beating Charlton the Magpies are now eight points from safety and realistically down. Their only hope now would seem to be the potential return of the First Division to 22 clubs. If that happens only the bottom side will go down. West Ham are currently bottom and four points behind Newcastle, however they have three games in hand. Smith pulls no punches in his assessment of the players."They have let the club down, let me down and, most important of all, let the fans down, by not being able to handle the pressure of the situation. People automatically think there's a lack of endeavour from the team, but it's fear that gets to them."
03/05 - D1: Newcastle 1 West Ham 2 - NEWCASTLE ARE BACK IN DIVISION TWO - It is vital for United to beat the Hammers to retain the mathematical possibility of survival and to stay clear of bottom spot. It is a spineless, sloppy and uninspired performance and a cordon of police ring the Director's Box at the end of the game. Season Tickets are hurled and ripped up and just after the Hammers' winner the crowd cheers fan Joseph Mattinson who holds up the game as he rips up his shirt and kicks it around the centre-circle.
Jim Smith: "l know I have to take some of the blame for the club being relegated. I know I have made mistakes. But when I came here it was the worst football club I have ever taken over and I know that I tried to do too much too soon. The club needed major surgery and I tried to do in 5 months what needed 2 or 3 years. I won' t be running away. Too many people have walked out because they couldn't handle the pressure."
McKeag: "There's no doubt that the pressure exerted by the Magpie Group has seeped through to the players and everyone connected with the club. I would like them to get off our backs."
Hall - Firmly lays the blame on the board and asks: "how long is this Chairman going to be so bloody-minded".
04/05 - There are calls for a boycott of the final game and the Mag fanzine suggest that fans turn up, but do not go into the ground. John Hall says fans "have to make up their own minds," but stresses they have the "economic power" to force change.
05/05 - Mirandinha will miss the last game as an achilles' tendon injury results in his left ankle being put in plaster. John Hendrie says he wants to stay at the club.
06/05 - United fan Darren Heslop passes away as the result of the injuries he suffered in London.
06/05 - D1: Newcastle 1 Millwall 1 - FANS VENT ANGER ON BELEAGUERED BOARD - The last home game becomes a mass demonstration with sit down protests, season ticket tossing, scarf burning and even a mini pitch invasion. The players enter the field to a chorus of boos. The match is an irrelevance brightened up by cracking goals from Sheringham and Anderson. Injured Mira spends the first half in the directors box before watching the match with fans in the West Stand and is reduced to tears by their support.
07/05 - By fate, shareholder and Magpie Group member Malcolm Dix was a "guest" of the directors at the match and he is now considering legal action after McKeag accused him of inciting a pre-match demonstration in the St. James' car park involving about 400 fans.
08/05 - McKeag resumes his attack on Hall. He claims he could have become a director in 1986 if he had been willing to stand as a guarantor for a loan to build the new West Stand, "but he would not help us". "Mr Hall has not offered to put any money into the club - all he has offered is to buy £300,000 worth of shares himself. These shares would then be sold to fans at £300 a time to enable him to claw his money back."
09/05 - The Football League decides to keep the First Division at twenty clubs.
10/05 - Malcolm Dix's solicitor has written to McKeag demanding an apology after the police cleared him of any suggestion of incitement.
11/05 - SAXTON BLASTS BACK AT MIRA - Mirandinha is quoted in one of the tabloids saying that he believes that mistakes by the management were why United were relegated. He believes they were too defensive, chopped and changed the team too much and should not have sold Beasant. It prompts an angry response from coach Bobby Saxton who refutes all the criticism and points the finger at the Brazilian suggesting that: "the problem with Mirandinha is Mirandinha, we have never known whether he was fit or not and whether he wanted to play or not." The club are considering fining him.
12/05 - DICKSON QUITS UNITED BOARD - George Dickson (who sold his shares to Hall in November) has handed in his resignation from the Board. He has also abandoned his legal claim for 26 additional shares that he believed he was entitled to.
13/05 - D1: Man. United 2 Newcastle 0 - HOW THE OTHER HALF LIVE, UNITED - The home side's listless performance is still too good for Newcastle whose season is summed up by two appalling misses. O'Neill misses a sitter and gets in the way of a goal-bound Lormor shot. At the finish the United supporters applaud the team off and sing "we'll meet again".
14/05 - After "several months of discussions," Bob Young, a wealthy Consett businessman, takes Dickson's place on the Board. He will be responsible for financing and redeveloping the ground and has pledged his "personal wealth" to the club to assist. He claims there is no longer any need for the fans or the Magpie Group to worry where the club is heading and boasts that the club "no longer require the limited resources of Mr Hall or his group". Hall's response is to warn of the dangers of going to the City for money.
14/05 - United have a £100,000 bid accepted for Falkirk attacker John Gallagher.
15/05 - YOUNG SET TO MAKE PEACE PLEA - New Director Bob Young plans to make a personal plea to Hall to step back their campaign for a couple of years to give the club a chance to rebuild, otherwise the continuing battle "could destroy the club". But he is also full of praise for Hall and vows to try and find a compromise which could see Hall and McKeag working together. However he is also wary of a public share issue as he believes, if it fails, power could be concentrated in even fewer parties.
16/05 - DIRECTOR QUITS UNITED - It is revealed that director Eddie Dunn tendered his resignation some weeks ago, but will not formally resign until next week. He has turned down a significant offer from the Magpie Group for his shares and it is thought he will sell them to one or more of the current board.
16/05 - Supporters Player of the Year David McCreery (32) is stunned to be given a free transfer. "It has knocked me flat. I wanted so much to finish my career in the North-East. It isn't the way I expected to be treated". Glenn Roeder and Kenny Wharton are also freed as expected.
16/05 - BBC2 program "On the Line" looks at the battle for the club.
17/05 - Kenny Samson is set to leave. He hasn't settled in the area and often trained alone in London during the season. Rob McDonald, John Anderson, Archie Gourlay and Mark Gill are all transfer-listed.
17/05 - United accept a £350,000 bid for O'Neill from Hibernians, but the player turns down the move.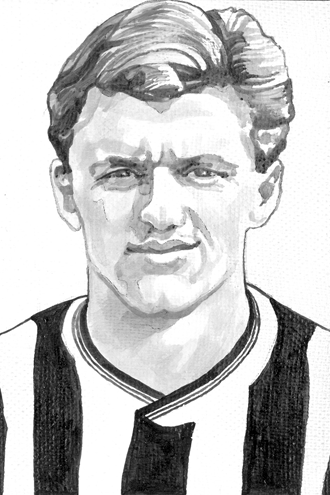 18/05 - UNITED SIGN SCOT - Forward or right-sided midfielder John Gallacher (20) agrees to sign and completes his £100,000 move from Falkirk.