June
---
06/06 - It is announced that Chief Scout Len Richley (who joined in November 1971) has left by mutual consent; a new Chief Scout is to be appointed who is based in the Midlands.
---
08/06 - In April, Newcastle Council passed a resolution calling for the directors to do everything possible to get the club moving in the right direction and suggesting that a re-organisation of the Board might be beneficial. Russell Cushing's one sentence reply is discussed at a Council meeting with Labour councillor Walter Wilson suggesting that it is about time the club was democratised and that the "faceless men" who run it were "brought to public account". Tory councillor Bob Gray counters that the criticism of the Board is "poppycock" and that the Council had no right to interfere.
---
10/06 - Middlesbrough have made a written bid for Micky Burns and although it falls slightly short of United's valuation it looks like the deal will go ahead.
---
14/06 - It is revealed that the Newcastle Supporters Association have held a secret meeting with eight senior players in Eldon Square. They put forward a proposal whereby they would give £10,000 to fifteen senior players if they agreed to stay at the club with a further £50,000 made available to less senior players. The Association - led by businessman Alec Gibson was formed at the end of 1977 and their avowed aim is to change the executive structure at the club (including the resignation of four unnamed directors). They have gained enough support to force an EGM which will take place next month.
---
23/06 - Football League Secretary Alan Hardaker warns the players that they and the club will face "serious repercussions" if they become involved with any financial inducements offered by the NSA. He says the players could be banned from playing and "it could end with the club being expelled from the Football League".
---
24/06 - Leeds have an offer of £250,000 for Irving Nattrass rejected; they also want his full-back partner Alan Kennedy.
---
24/06 - Mick Mahoney keeps goal in a "crazy football marathon" at South Marine Park South Shields as part of an international It's a Knockout contest.
---
27/06 - Alan Kennedy becomes a free-agent at the end of the month but - after meeting the player - McGarry is "98% hopeful that he will stay". He claims the player is happy with the contract on offer and "his heart is with Newcastle".
---
27/06 - The NSA announce that they will initiate legal proceedings against the directors of the club this week under section 210 of the Companies Act of 1948. They also send a formal reply to Alan Hardaker asking for a meeting with him and outlining why they are offering the financial payments and why they believe they have every right to do so as they have no connection with the club.
---
28/06 - McGarry meets with Nattrass (who has been offered a "lucrative" new contract) and tells him "he will have to honour his contract and stay with the club". Nattrass says "I am not very happy with what he had to say".
---
28/06 - The NSA send a letter to FA Secretary Ted Croker asking for a meeting to discuss the club's "present internal problems".
---
July
03/07 - NSA members Malcolm Dix and Colin Boyle file a legal petition against United. The Court hearing has been filed for July 21st. The petition is also delivered to the club's offices. Four directors are named - Westwood, Rutherford, Seymour and Rush - and it calls for an inquiry into the issue of shares and asks how interested parties should register their interest in becoming shareholders.
---
13/07 - The four named directors meet legal representatives at the County Court and it appears likely that the Court action will not commence for two or three months.
---
13/07 - United agree a £150,000 fee with QPR for Eire international striker Don Givens. The 28-year-old is going to consider the move. Apparently he is not keen on moving so far North. McGarry has also made enquiries about Spurs striker John Duncan.
---
18/07 - Irving Nattrass will not be going on the tour of Sweden after breaking his toe; the injury being caused by his wife's horse.
---
19/07 - United have accepted a bid from Cardiff for Micky Burns and he travels down to Wales to meet club officials.
---
20/07 - A fifteen-man squad sets off for Sweden. The party includes Alan Kennedy but not Ralph Callachan or Mick Mahoney.
---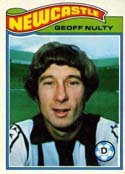 21/07 - Geoff Nulty (29) joins former manager Gordon Lee at Everton for £45,000. Nulty was signed by Joe Harvey in December 1974 and has made 127 appearances scoring 14 goals. Appointed captain by Lee he has been an excellent servant and was sorely missed at the start of last season when he was out injured. The departure of Dinnis and his earlier involvement in the "player power" episode during 1976/77 made his departure inevitable.
---
21/07 - The EGM forced on the Board by the NSA (to discuss a vote of no-confidence in the Board) takes place at the Airport Hotel Woolsington. Immediately the Board state that none of the resolutions can be discussed because the "whole matter is sub-judice because of impending High Court action". Arguments rage for over an hour before a vote is taken on whether the Court action does prevent discussions taking place. The vote is 650 to 434 in favour of the board. The NSA are furious and Dix accuses them of "running away" from crucial issues. Alec Gibson declares "open war" and says they will now consider taking action against all eight directors. Chairman Rutherford denies they have used a "legal loophole" before his discussions with the press are curtailed by two noisy hecklers.
---
23/07 - Fr: Trollhattan 1 Newcastle 2 - Kennedy and Bird are on target in the first tour game.
---
25/07 - Fr: Tidaholm 1 Newcastle 2 - McGhee and Mitchell are the scorers.
---
26/07 - Fr: Gislaved 0 Newcastle 0
---
27/07 - The club inform Pendower FC that they cannot support the family of Lee Thompson who died (aged 25) earlier this year.
---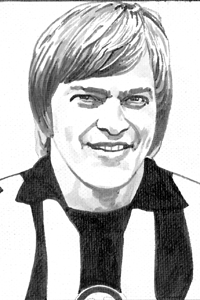 28/07 - Left-back Martin Gorry (23) joins Hartlepool on a free transfer. When Gorry was signed from Barnsley in October 1976 he was seen as a player with great promise, but his career has never got off the ground on Tyneside and he made only 1 substitute appearance (in the 4-0 defeat at Manchester City last season). He also had a spell on loan at Stockport during the last campaign.
---
29/07 - Fr: Oeckeroa 0 Newcastle 2 - Parkinson and McGhee are on target
---
30/07 - Fr: Saetila 2 Newcastle 3 - Kennedy, Connolly, Walker get the goals.
August
---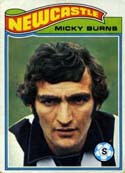 02/08 - Cardiff pay out their record fee of £73,000 for attacker Micky Burns (31) who will become a player coach. Burns has had many ups and downs during his time in the North-East but really came into his own during the 1976-77 season when he had the daunting task of taking over the Number 9 shirt from Macdonald. Made it clear he wanted to leave after Dinnis' sacking; in all Burns made 189 (2) appearances and scored 51 goals.
---
02/08 - Tottenham have accepted an offer of £150,000 for striker John Duncan and he travels to Tyneside to meet McGarry. He says he wants time to think over the move.
---
04/08 - Alan Kennedy informs McGarry that he will not be signing a new contract and under the new Freedom of Contract rules he becomes a free agent. When he moves to a new club the fee will be decided by an arbitration panel if a mutually acceptable fee cannot be agreed. John Duncan also turns down the chance to join; all in all, not the best day for the team photo call.
---
07/08 - Striker Mike Larnach (25) signs for Motherwell in a £75,000 (check) deal. It ends an unhappy 8 months for the Scot since he was signed from Clydebank in December 1977. McGarry allegedly did not see him play before the signing and he failed to find the net in 12 (2) appearances.
---
07/08 - Fr: Hull 0 Newcastle 0 - Mark McGhee (21) is the only "experienced" striker in the squad for the trip to Hull and McGarry admits "the position's desperate". Nattrass limps off.
---
10/08 - Fr: Gateshead 0 Newcastle 1 - Ralph Callachan scores the only goal at the Gateshead stadium. Blackley pulls a muscle in his left thigh.
---
10/08 - Liverpool and Newcastle agree terms for the transfer of Alan Kennedy who flies to Vienna to meet Liverpool officials. Kennedy is going to talk the move over with his family.
---
11/08 - McGarry states that Everton striker Jim Pearson will join very soon. Bids have also been lodged for Nottingham Forest's Peter Withe and Dutchman Dick Nanninga.
---
12/08 - Irving Nattrass has settled his differences with the club and is set to sign his new contract.
---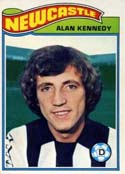 13/08 - Alan Kennedy (23) moves to Liverpool in a £330,000 deal. He first joined United as a junior in July 1971 and has been the regular left-back for the last three seasons. A hugely popular player his swashbuckling style will be sorely missed; he made 210 (5) appearance and scored 10 goals.
---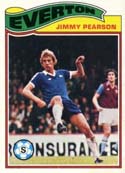 14 or 18/08 - Striker Jim Pearson (25) completes his move from Everton; the fee is £75,000. He has been at Everton for four years making 121 appearances and scoring 19 goals. The Scot won Scotland Youth and U23 honours.
---
15/08 - Fr: Arbroath 0 Newcastle 0 - United lack firepower in an even game held to celebrate the Maroons' centenary
---
Goalkeeper Mick Mahoney is transfer listed at his own request.
---
16/08 - McGarry makes a bid for Hibernians right-back John Brownlie but whereas he wants a straight swap deal for Ralph Callachan Hibs manager Eddie Turnbull also wants a cash adjustment and the deal flounders.
---
16/08 - Basil Hayward is appointed as Chief Scout - he used to be at Norwich.
---
17/08 - Newcastle have agreed terms with Norwich to sign midfielder Colin Suggett who is thinking over the move. It also looks like the Brownlie deal might be back on again.
---
19/08 - D2: Millwall 2 Newcastle 1 - There is trouble on the terraces as United open their campaign on a hot day in the East End. The Londoners are on top for most of the game and although Barton gives United a shock lead the home side score twice in six minutes to bounce back. Millwall manager Petchey questions their fitness, coach Peter Morris prefers to blame the heat for their lack of staying power. Pitched battles around the stadium cause thousands of pounds' worth of damage.
---
19/08 - Ray Blackhall (21) moves to Sheffield Wednesday for £20,000. He joined United as a junior in March 1972, became a professional in August 1974 and made his debut in March 1975. Used in a number of different positions Blackhall has struggled to establish himself in the side and was often used as a substitute; he made 33 (14) appearances, scoring 2 times.
---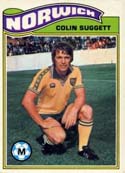 20/08 - Midfielder Colin Suggett (29) arrives from Norwich for £60,000 (check). Washington born, he started his career at Sunderland and was a regular scorer against United. He moved to West Brom and then spent 5 years at Norwich where he played over 250 games.
---
20/08 - A bid for West Brom's Ally Brown is rejected but manager Atkinson could be willing to sell Mick Martin who is also interesting McGarry.
---
21/08 - Newcastle agree a deal to sign Nottingham Forest centre-forward Peter Withe and McGarry holds lengthy talks with the player. Withe has scored 41 goals in 100 games with Nottingham Forest and was their top scorer last season as Forest won the Championship, but he has fallen out with manager Brian Clough over the personal terms of his contract.
---
22/08 - United break their transfer record to sign centre-forward Peter Withe (27) from Nottingham Forest. It is his fourth club in the last five years. McGarry is delighted: "Withe is strong in the box, brave as a lion and he gets goals". Withe explains that although some might see the move as a backwards step "Newcastle are a very ambitious club and I desperately want to help them get promotion".
---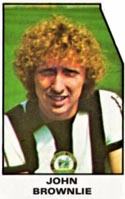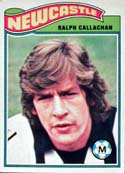 22/08 - The Brownlie deal finally goes through with Callachan moving in the opposite direction. Right-back Brownlie (26) is a Scottish international and has been at the Edinburgh club for ten years. Callaghan (23) has had a bit of a nightmare 17 months on Tyneside; generally ignored by Dinnis (who had no say in his signing) and then troubled by injury he has only appeared 11 times. McGarry warns the fans not to "look for miracles - with so many new players we need time to settle".
---
23/08 - D2: Newcastle 0 West Ham 3 - McGarry's words prove prophetic as bumbling, ineffective attacking and blundering defence allows the counter-attacking Hammers to win at a canter.
---
24/08 - McGarry makes enquiries about Manchester City midfielder Paul Power, but he is quoted a huge £300,000.
---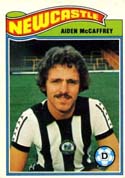 25/08 - Centre-back Aiden McCaffrey - who has been in dispute with the club since his contract expired in June - moves to Derby for £40,000. McCaffrey joined as a junior in 1972 and signed professional terms in January 1975. He made his debut at seventeen and established himself as a regular during the 1976/77 season. He made 68 (3) appearances and scored 5 times.
---
26/08 - D2: Newcastle 1 Luton 0 - Withe makes his debut and a first goal for strike partner Jim Pearson is enough for United to record their first win since January 2nd. It is a confident and skilful performance and the final whistle is greeted with raucous cheering. Luton manager David Pleat suggests the fans "willed Newcastle to victory; their encouragement was tremendous".
---
29/08 - FLC R2: Watford 2 Newcastle 1 - The Hornets were promoted from the Fourth Division last season and before the break a confident and composed Newcastle take the lead. But an enforced change sees young Jamaican striker Luther Blissett introduced and he scores twice to send the home side through.
September
---
02/09 - D2: Cambridge 0 Newcastle 0
Steve Hardwick replaces Mahoney (who asked to be dropped) in goal and The Magpies are indebted to the keeper for a series of excellent stops which earn them a point. McGarry warns his players that they will need to up their effort to match the opposition who are raising their game against them.
---
06/09 - A compulsory winding-up petition (signed by a number of the rebel shareholders) is presented to the High Court of Chancery in London under Section 210 of the Companies Act. The motive behind the petition is to force the directors to answer allegations of "ill administration" and of abusing their position of privilege. The petition makes a number of accusations. That they are using their position to block share transfers to people who do not support them. Stifling discussions as general meetings. Failing to be "open and frank" regarding business interests of two directors in relation to contracts with the club. Undermining player morale by not making promised payments into the players' pool. If the action is successful, the court could order certain directors to step down to allow shareholders to elect new Board members. The hearing will take place in Newcastle on October 6th.
---
06/09 - Although Mick Mahoney wants to leave, Steve Hardwick has taken over between the sticks so keeper Kevin Carr is sent to Hereford on loan.
---
06/09 - Eleven United fans appear before Berwick magistrates in relation to incidents around and during the friendly match at Shieldfield during which the referee had to stop the game three times as fans invaded the pitch. Martin Faichen receives a £100 fine; during the game he dribbled the ball towards goal evading a number of challenges before being apprehended.
---
09/09 - D2: Newcastle 3 Blackburn 1 - United are run ragged in the first fifty minutes but John Connolly inspires a dramatic turnaround which sees United play some superb football in the last thirty minutes to secure a much needed victory. Blackburn manager and former United captain Jim Iley says "I would love to be here. I would walk back to Newcastle to sweep the terraces". But if he is touting for a job then his assessment of who is to blame for the club's predicament - "you have to look to the men at the top" - is hardly likely to endear him to the Board. The NSA launch their own newspaper.
---
16/09 - D2: Wrexham 0 Newcastle 0 - Both teams struggle with a swirling wind in a match where United show a more ruthless and cynical approach than normal. Highlight of the game comes when the ball lands in the away end and the travelling Tynesiders engage in an impromptu game between themselves.
---
23/09 - D2: Newcastle 0 Orient 0 - A third goal-less draw in four games as United - despite being dominant throughout - lack the skill and guile to breach Orient's resolute defence. Reporting on the game Len Shackleton suggests he would "have more fun painting the attic". The crowd is relatively patient although Cassidy is a target for extended abuse. He doesn't have a great game but McGarry sympathises suggesting that he was perhaps trying too hard.
---
25/09 - Bill McGarry was due to do some scouting at the Carlisle verses Swansea game but whilst he is at a motorway cafe a Newcastle fan suggests he should watch Hartlepool striker Bob Newton in their game against Newport instead and that is what he does. There is some method in his madness as United scouts have been monitoring him and McGarry thought he might as well take a look himself.
---
27/09 - McGarry declares that "I have not finished buying yet" and his prime target is believed to be West Brom midfielder Mick Martin.
---
30/09 - D2: Notts County 1 Newcastle 2 - The Toon Magpies are once again guilty of letting a lead slip, but although the home side are in total control of the second-period United are composed and Connolly grabs a shock late winner. It is the first away win for nine months.
October
---
5/10 - Newcastle fan Michael Earley wins a claim for unfair dismissal against Newcastle Area Health Authority. He was sacked in May after refusing to deliver some urgent medical supplies. He had refused to take them because he was only twenty minutes from clocking-off and the journey would have taken him much longer and he had tickets for a testimonial game.
---
07/10 - D2: Newcastle 1 Leicester 0 - In their best performance for some time United create a host of chances, but with The Foxes keeper Mark Wallington in superb form it looks like it is going to be another blank day until he fumbles a half-hit Walker shot just before the end. Newcastle register consecutive victories for the first time in ten months and McGarry claims: "We've really started to get it all together now".
---
07/10 - Newcastle are moving into the match sponsorship market. They hope to have a sponsor for each game and have opened a new VIP Sponsors suite which houses up to forty guests.
---
10/10 - Newcastle have sold out their allocation of 8,000 tickets for Saturday's derby.
---
12/10 - With injections not proving the answer, Irving Nattrass is to be put in plaster for a month to try and cure his achilles tendon trouble.
---
14/10 - D2: Sunderland 1 Newcastle 1 - The Wearsiders dominate a passionate and fast-paced derby and are left incensed by both Withe's goal from a Walker free-kick (which they feel they were not given time to prepare for) and a "goal" which the referee seemed to allow before changing his mind. The day is marred by extensive trouble. Damage to trains travelling from Newcastle is BR "the worst we've ever seen" according to a BR spokesman with fans accused of being "like animals". There is fighting before, during and after the game during which bottles and other missiles are thrown. Forty are arrested and sixty are ejected.
---
20/10 - United bid for Wrexham midfielder Mickey Thomas but the offer is turned down.
---
21/10 - D2: Charlton 4 Newcastle 1 - Walker gives United the lead with an acrobatic effort and United hit the bar twice but The Valiants level and then score three times in the last sixteen minutes as The Magpies fall apart. A coach load of Newcastle fans is arrested after violence erupts in a Luton bar after the game.
---
23/10 - Pearson has a hospital scan for a possible broken nose.
---
28/10 - D2: Newcastle 3 Cardiff 0
Despite the boost of an early lead through Withe's diving header United frustrate the crowd by wasting a hatful of chances against the poor Welshmen before making the game safe.
---
31/10 - Spurs midfielder Neil McNab signs for Bolton for £250,000 and McGarry reveals that he had a bid of £200,000 turned down last week. After protracted negotiations United have agreed a fee with South African club Lusitane for the signing of 19-year-old goalkeeper Vikter Negera. They are now waiting for clearance from the South African FA and they will then have to apply for a work permit.
November
---
04/11 - D2: Bristol Rovers 2 Newcastle 0
Rovers have a 100% record at Eastville and with United struggling to deal with their adventurous 4-2-4 formation they maintain their record although Newcastle do have three efforts cleared off the line. McGarry admits that there is "still a lot of work ahead and I need a couple of players".
---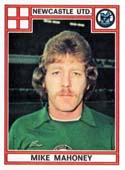 09/11 - A £40,000 deal is agreed with Chicago Stings for the sale of Mick Mahoney (28) who has been on the transfer-list at his own request and asked to be taken out of the first-team after the first four games. Mahoney joined United in March 1975 and took over from McFaul when he retired that summer. For two seasons he was very impressive but the signing of Roger Jones at the end of the 1975/76 season impacted his confidence. Although injury problems side-lined Jones, Mahoney struggled to capture his best form during last season. He made 138 appearances.
---
11/11 - D2: Newcastle 1 Millwall 0 - United make hard work of the victory against bottom of the table Millwall and scorer Pearson departs early with torn knee ligaments which will keep him out for some time. McGarry claimed before the game that "results are the only thing that matter" but the season is proving to be a real slog. Hostilities resume between the hooligans and a number of the younger visitors have to ask for police protection.
---
16/11 - Malcolm Dix reveals that the NSA have decided to drop their court action against the club but "on legal advice I can't say any more at the moment".
---
18/11 - D2: Luton 2 Newcastle 0 - Following the trouble in Luton after the Charlton game United fans find that the pubs in Luton Town Centre have been closed. The team are outplayed and outfought and McGarry keeps them in the dressing room for thirty minutes before emerging to state "we got what we deserved, nothing". To add to the misery young full-back Peter Kelly damages his left knee ligaments and will be under treatment for several months.
---
22/11 - D2: Newcastle 1 Cambridge 0
It is a dire match played out in a swirling wind. Once more the Novocastrians struggle to turn superiority into something tangible but Bird wins the day. One bright spot is Nattrass returning from injury to make his first appearance of the season. The win lifts United up to 7th but this is football without a genuine smile on its face.
---
23/11 - Two fans are each fined £250 for obscene chanting during the Cardiff home game.
---
25/11 - D2: Newcastle 1 Oldham 1 - Another turgid game which only comes to life in the last fifteen minutes. McGhee scores after a wonderful mazy dribble and soon after the Lancastrians grab a controversial equaliser. McGarry votes the fans as man of the match "as we didn't score the goal, the crowd did". He goes on to bemoan that "we have too many players who are frightened of accepting responsibility for the ball. No-one has to tell me the team is not good enough. We can't wait for players at the club now to get better". Nattrass suffers a recurrence of his achilles tendon injury.
---
27/11 - McGarry agrees a deal with West Brom to sign midfielder Mick Martin who is thinking over the move.
---
27/11 - Newcastle directors slam the NSA.
---
28/11 - McGarry - who failed in a bid to sign Preston forward Mick Robinson last week - is still looking for a new strike partner for Withe and he takes in Blyth Spartans' FA Cup match with York to take a look at Spartans forward Alan Shoulder.
---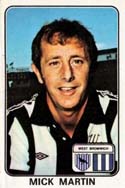 30/11 - Mick Martin signs from West Brom for £100,000. The 27-year-old Republic of Ireland international has played over 100 games for The Throstles but has made only played once this season having lost his place to John Trewick. Describing himself as a "midfield grafter" he says he is "looking forward to Newcastle pushing for promotion".
December
02/12 - D2: C. Palace 1 Newcastle 0 - Martin makes his debut but United are desperately ineffective and slump to a fourth consecutive away defeat. They would have lost more heavily but for the excellence of Hardwick and Palace's wayward finishing. Although The Magpies played some decent football they were utterly toothless and are in desperate need of new striking reinforcements.
---
04/12 - Alan Shoulder turns up at Horden Colliery as usual as he wants to speak to his current boss about joining United. He has just started a 3-year course to become a deputy pit manager and is concerned that he is giving up a long-term career for what will be a short-term career as a professional footballer. He agrees to sign after receiving assurances that he will be able to continue his mining studies.
---
04/12 - McGarry fails in a bid to sign Blackburn Rovers' left-back John Bailey. United wanted to offer Mickey Barker in part-exchange but Rovers wanted £300,000 cash.
---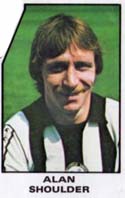 05/12 - Alan Shoulder (25) signs from Northern League Blyth Spartans for £20,000. The diminutive (5' 5") striker joined Spartans a year ago and received rave reviews for his performances during Blyth's progress to the FA Cup 6th Round last season.
---
09/12 - D2: Newcastle 2 Stoke 0 - Shoulder makes his debut but despite his inspirational enthusiasm the Potters keep everyone behind the ball and United once again struggle to make a breakthrough. Thankfully Withe and Connolly score in quick succession midway through the second period to secure the victory.
---
11/12 - Prior to the EGM (at the County Hotel) the NSA hold a short meeting in which they advise interested shareholders that although they have dropped the court action they have not given up the fight and have now decided to press for an inquiry by the Department for Trade and Industry to investigate "certain matters" at the club. He also reveals that once the High Court action was withdrawn the club offered to pay their own costs if the NSA made a full public apology for the statements made about certain directors and transferred their shares to Bob Rutherford. At the AGM itself the club announce a £57,426 operating loss up to 31st July and a transfer profit of £67,000.
---
16/12 - D2: Fulham 1 Newcastle 3 - A vastly improved performance and a first goal from Shoulder as United record their first away win since the end of September. Connolly and Withe are also on target and United have two further "goals" controversially disallowed. McGarry is now looking for a good Christmas to break into the promotion places.
---
21/12 - United agree terms with Gillingham for the sale of left-back Micky Barker. He is thinking over the move.
---
23/12 - D2: Newcastle 3 Burnley 1 - Former player and director Stan Seymour (senior) dies aged 85. The flags fly half-mast and the players wear black armbands. United start slowly and Shoulder's opener is against the run of play but once they have their noses in front they take control with Withe and Cassidy adding further goals. It is the first time since December 1977 that they have recorded three victories in a row and it looks like the corner may have been turned at last.
---
26/12 - D2: Sheff. United 1 Newcastle 0 - United dominate against the struggling Blades but waste a host of chances. They are punished for their profligacy when the home side score a controversial "offside" winner six minutes from time.
---
30/12 - D2: Brighton 2 Newcastle 0 - The Promotion chasing Seagulls are far too good for United with Geordie Malcolm Poskett, in particular, causing them all sorts of problems. McGarry admits "the better side won".
January
---
10/01 - The Torquay Cup Tie is postponed.
---
16/01 - FAC R3: Newcastle 3 Torquay 1 - Despite being gifted an early lead United are outplayed by their Division 4 opponents for an hour and the crowd jeers vociferously before they benefit from another poor piece of play from the visitor's goalkeeper. It is a very lucky escape.
---
17/01 - McGarry is not happy with the effort put in in training and blasts "some players have got to pull their socks up or they are out!"
---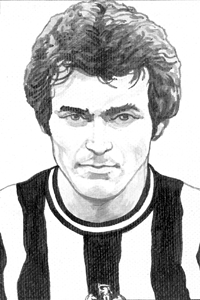 18/01 - Left-back Micky Barker (22) moves to Gillingham for £65,000 having made 27 (2) appearances for the Magpies. He joined as a junior in 1972 and signed professional in March 1973. He got a decent run in the side last season as a result of injuries and has had a few outings this year but Brownlie and the Kenny Mitchell have generally been preferred.
---
27/01 - FAC R4: Newcastle 1 Wolves 1 - A keenly contested game played out on a treacherous frost bound pitch. The Hibbitt brothers are opposing captains and it is Wolves' Kenny who volleys in an equaliser five minutes from time after Withe had headed United in front before celebrating by hanging off the crossbar.
---
February
---
03/02 - D2: Orient 2 Newcastle 0 - United play their first League game of the year and McGarry says "we cannot afford any slip-ups". But despite being the better side in the first period they are eventually undone by the pace of Chiedozie.
---
08/02 - United play Middlesbrough behind closed doors to get some outdoor training in and provide some much needed game-time for players recovering from injury like Jim Pearson. They play 3 x 25 minute sessions. Newcastle win the first and last with goals from Shoulder and Walker. Armstrong wins the middle game for Middlesbrough.
---
12/02 - The FA Cup Replay against Wolves is postponed for the sixth time.
---
13/02 - McGarry holds talks with Blackburn in an attempt to sign left-back John Bailey. United want an exchange deal including Suggett and McGhee. But the Lancastrians (who value Bailey at much more than United - £250,000) are only interested in Suggett.
---
08/02 - United play Blyth Spartans behind closed doors with McGarry showing an interest in Spartans players Steve Carney and Peter Davies.
---
16/02 - Blackburn are said to be interested in Suggett who has struggled to impress on Tyneside and it is thought that McGarry would be willing to sell him for £40,000
---
17/02 - D2: Leicester 2 Newcastle 1 - A fifth successive League defeat against a team which contains five teenagers and for whom the goal scorers are 16 and 17. McGarry blames the defeat on the lack of outdoor training during the last few weeks and concedes "we've no chance of promotion this season - we are too far behind".
---
22/02 - FAC R4r: Wolves 1 Newcastle 0
At the tenth time of asking the replay finally takes place at Molineux, unfortunately both sides appear to have lost interest in the tie and there is a distinct lack of effort and excitement. Newcastle are controversially denied a penalty when Withe is body checked in the box. McGarry claims it is the "joke of the century" and even opposition manager Barnwell admits to being "baffled".
---
23/02 - McGarry has wheeled and dealed but argues that "It's not possible to build a team overnight. I tried to do this. I have not done it - but that's not to say I'll not do it in the end.
---
24/02 - D2: Newcastle 1 Sunderland 4 - Newcastle's first home League game for two months is a derby day disaster as Gary Rowell scores a hat-trick for the Wearsiders in a resounding defeat. It is also United's fifth successive League defeat and they have now fallen to sixteenth.
---
26/02 - McGarry fails with a £300,000 bid for Bolton striker Neil Whatmore. He may now turn his attention to transfer seeking Rangers striker Derek Parlane.
---
28/02 - With transfer fees spiralling ever upwards McGarry is in philosophical mood again: "as fees go up you either run with the hare or get left behind". Bill reveals he has an interest in Coventry defender Brian Roberts.
March
---
01/03 - Colin Suggett's proposed move to Blackburn is off after he fails a medical which reveals cruciate ligament damage in his knee.
---
02/03 - McGarry is not happy with the breakdown of the Suggest move: "I think Blackburn have treated Colin very shabbily. There is nothing wrong with his knee". However, Rovers Chairman Keighley responds by stating "we stand by the medical report"
---
03/03 - D2: Newcastle 5 Charlton 3
The crowd is more than halved for the visit of the Londoners but those who do return are treated to an entertaining and error-strewn match played in a swirling wind.
---
05/03 - Two United thugs are fined £400 each and ordered to pay costs after being found guilty of assaulting a Sunderland fan after the Tyne-Wear derby. Other people involved ran away before they could be apprehended by the police.
---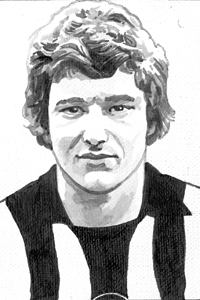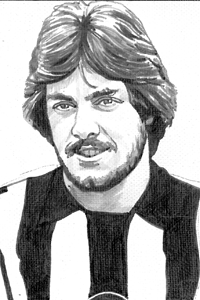 08/03 - Reserves Alan Guy (21) and Anthony Smith (22) move to Peterborough for a combined fee of £10,000. Striker Guy turned pro in September 1975 and has made 7 (1) appearances without finding the net. Midfielder/defender Smith joined in July 1975 and has made 2 (1) appearances. A £150,000 bid for Coventry City captain Terry Yorath is rejected.
---
10/03 - D2: Cardiff 2 Newcastle 1 - Newcastle have never won at Ninian Park and they fail again on a pitch made into a bog by torrential rain. United can't cope with Cardiff's aerial attacks and Connolly's late consolation is too little too late.
---
16/03 - Aberdeen boss Alex Ferguson had a £60,000 bid for Mark McGhee turned down earlier in the week. McGarry says the Yorath deal is dead and has turned his attentions to Ipswich's Welsh U21 full-back Les Tibbot.
---
24/03 - D2: West Ham 5 Newcastle 0 - United are thrashed in a game in which they show a complete lack of fight and could have easily conceded twice as many. McGarry suggests that "things are not as bad as the table would suggest" and then goes into personal damage limitation mode. "I had to build it from scratch.... the club needed clearing out. There were players who did not want to play for the club".
---
26/03 - Les Tibbot holds talks with Newcastle but Sheffield United have also made him a good offer.
---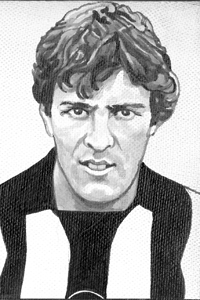 28/03 - Mark McGhee (21) moves to Aberdeen for £80,000. McGhee cost £150,00 when he joined from Morton in December 1977 and although he has demonstrated some excellent ability at times he has suffered from inconsistency.
---
28/03 - Newcastle 1 Wrexham 1 (abandoned) - A waterlogged pitch, driving rain and a bitterly cold gale make the first half a freezing farce. With some players apparently suffering from exposure the referee abandons the game at half-time. McGarry claims that they were "the worst conditions I have ever seen during my time in the game". Just over 7,000 brave souls turned up to watch and McGarry says "we've got to do something for these supporters of ours, they are absolutely magic".
---
31/03 - D2: Oldham 1 Newcastle 3 - The Magpies have lost ten of their last eleven away matches and have not won away since December; but Oldham have not won at home since November. It is United who break their sequence with goals from Nattrass, Shoulder and a stunning last minute volley from Withe. "I'm sure the future will be much brighter" says McGarry.
April
---
04/04 - D2: Newcastle 4 Preston 3 - United come back from two goals down to end Preston's five-month unbeaten run.
---
07/04 - D2: Newcastle 1 Crystal Palace 0 - Leaders Palace adopt an ultra-defensive approach and visiting 'keeper Burridge has to make a number of acrobatic saves. However, eight minutes from time Shoulder scores with a brave header in a match described as "unadulterated rubbish" by Len Shackleton. McGarry: "we have at last learned the lesson that you have to fight for everything you get in this Division".
---
10/04 - D2: Burnley 1 Newcastle 0 - United are dominant but their excellent approach play is not matched by their finishing; although Withe is unlucky to see a 25-yard volley hit the bar.
---
14/04 - D2: Newcastle 1 Sheff. United 3
The Blades have not won away from home for eight months but United (and keeper Hardwick in particular) are in charitable mood, handing them one on a plate with some calamitous defending.
---
16/04 - D2: Preston 0 Newcastle 0
A drab and uninspiring match in which there is more action on the terraces than there is on the pitch.
---
18/04 - D2: Newcastle 1 Notts. County 2 - A desperately poor game in which United don't even look interested until the last fifteen minutes. McGarry admits "we were awful" in a contest in which more defensive blunders cost them dearly.
21/04 - D2: Newcastle 0 Fulham 0 - A strong wind, a bumpy pitch and a patched up team all contribute to a game which McGarry calls "dire stuff". Brownlie breaks his collar-bone and Fulham defender Locke is sent-off for aiming a punch at John Bird.
---
25/04 - D2: Blackburn 1 Newcastle 3 - Peter Withe scores his first hat-trick for the club as United condemn their hosts to Third Division football in front of a pitiful crowd.
---
26/04 - McGarry reveals that although Terry Hibbitt will remain as club captain, Irving Nattrass will be captain during games. McGarry explains that "Terry probably took the responsibility of captain a little too seriously and it affected his form".
---
28/04 - D2: Stoke 0 Newcastle 0
In a reversal of the corresponding fixture at St. James' it is Newcastle who go for all out defence against the second-placed Potters.
May
---
02/05 - D2: Newcastle 3 Bristol Rovers 0
The first of three home games in the last week of the season draws a sub 10,000 crowd. Rovers could and should have scored at least once before Newcastle take control. It might have been May but there was a snowstorm at half-time.
---
03/05 - A United fan is fined £150 plus £10 costs for kicking a Sunderland supporter who was lying on the ground.
---
05/05 - D2: Newcastle 1 Brighton 3 - The attendance more than trebles for the visit of the Seagulls who need a win to secure promotion. Many travel from the South Coast but the match also attracts a lot of United fans back as Sunderland are battling Brighton for a promotion place. A crazy first-half sees United dominate but go in 3-0 down. Luck is not with them as they hit the bar twice, have a goal controversially disallowed and Barton gets in the way of a goal bound effort from Mitchell.
---
08/05 - John Blackley has surprisingly been given a free transfer. It is thought that the club have not put a fee on his head as that would have meant they would have to give him a new contract. Andy Parkinson along with three others who have not appeared for the first-team (Steve Burn, Kevin Patterson and Colin Mullen) are also given free transfers.
---
08/05 - D2: Newcastle 2 Wrexham 0 - The re-arranged match with the Welshman once again brings atrocious weather and sees the lowest crowd of the century. Shoulder and Pearson (playing his first game after recovering from injury) get the goals and after the final whistle the players applaud the die-hards who attended. Peter Withe and Alan Shoulder are joint winners of the Player of the Year award.
---
09/05 - Fr: Cognac 1 Newcastle 2 - Withe and Shoulder score against the French Division 4 part-timers in a game held as part of "English week" celebrations in the Bordeaux area. The United party is flown there and back in a couple of private jets laid on by the Martell and Hennessy firms.
---
13/05 - McGarry reportedly wants part-time England coach Bill Taylor to join as Assistant Manager. He was previously helping out at Manchester City but left when Malcolm Allison returned. McGarry has already persuaded Dave Woodman to join his backroom staff when his contract with the Saudi Arabia National Team runs out in July. The team fly to Spain for a six-day golfing holiday.
---
14/05 - Bill Taylor says he has not been approached by United but would be "very interested" if he was.
---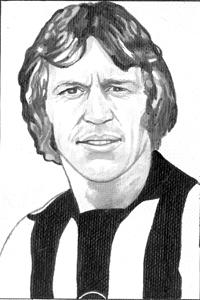 22/05 - John Blackley agrees terms with Preston although his United contract does not expire until July 31st. He joined in October 1977, but although his class has been clearly evident he has had a succession of injuries which have kept him out the side. He made 52 appearances in all.
---
26/05 - Newcastle's legendary fifties mascot Jimmy Nichol has passed away aged 68. A number of ex-players and officials will attend his funeral next week.
---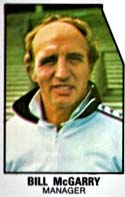 28/05 - Reports allege that Bill McGarry is the "favourite" on a shortlist of three British managers for the Athletic Bilbao job. Frank O'Farrel and (possibly) Bob Houghton are the others. McGarry is believed to have met Bilbao officials in London last week. McGarry is not available for comment.
---
31/05 - McGarry admits that he has spoken to Bilbao but states that he has not been offered the job and claims to have "not given it a lot of thought". United chairman Westwood states that Bilbao have not approached the club and makes it clear that "Bill is under contract and we would wish him to honour it".