June
01/06 - Dinnis has been informed that he will only have £200,000 to spend on new players, which is half of what he had been expecting.
02/06 - Fr: Floriana 1 Newcastle 1 - DINNIS IN MOVE FOR MALTESE STAR - The Maltese part-timers surpass themselves by holding United to a draw. The equaliser is a stunning goal from striker Ray Xuereb who impresses Dinnis so much that he is considering signing him.
03/06 - MALTESE STAR IN LINE FOR TRIAL - United hope to bring Xuereb (25) over for a trial in the Autumn. His wife is expecting a child soon so they do not want to rush him.
08/06 - Nattrass has a cartilage operation on his right knee.
12/06 - Nulty has a leg put in plaster to rest an injured muscle which has been bothering him for eighteen months.
20/06 - Blackpool reveal that Dinnis has enquired about their transfer-listed striker Micky Walsh who they value at £200,000. Washington Diplomats would like Cannell to return.
24/06 - United's players are continuing discussions with Dinnis over their new contracts; they have until the 30th of this month to sign them.
27/06 - UNITED PLAYERS FACE PAY D-DAY - If the players do not sign their new contracts by Thursday they will either have to stay on the wages of their current contract or go into dispute with the club. The directors feel it is the best they can offer in the current economic climate, but none of the senior players have signed.
30/06 - WESTWOOD HITS BACK AT REBELS - After holding meetings with as many players as possible, Dinnis, who knows he already has a small squad, is a worried man. Chairman Westwood re-iterates that: "we have made our final offer which is a very good one." He also finds their refusal to sign "staggering" and makes it clear that if they do not sign they will be retained on their existing contracts and the matter will go to an independent tribunal.
July
01/07 - IT'S DEADLOCK AT NEWCASTLE - After the midnight deadline passes Westwood blasts "take it or leave it!". The issue has to be solved during July or it will go to a tribunal. Some want an extra £20 a week on their basic wage (including Nulty, Gowling, Tommy Craig, Nattrass and Kennedy) whilst others are not happy with the one year contracts they have been offered (including Burns, Barrowclough, Cassidy and Mahoney). Dinnis says "if everything we have worked for Gomes down the drain now it will be tragic".
02/07 - The Board give ground on some aspects like cup bonuses and contract lengths, but do not budge on the basic wage, the main stumbling block for most players.
04/07 - PAY STORM - UNITED IN NEW MOVES - The Board are going to come up with new proposals in the next 48 hours to try and resolve the dispute.
05/07 - Dinnis cuts short his family holiday to return to Tyneside and try and broker an agreement. The players are prepared to take their case to the Football League rather than accept the contracts and Dinnis states that "we are near the brink of disaster".
14/07 - Dinnis admits that he "cannot go out and strengthen the team until I know what is happening with the players already on our books". Tommy Cassidy is the first player to ask for a transfer due to the length of contract (one year) he has been offered.
19/07 - KIT ROW RESURFACES - United players believe they are owed money by kit manufacturers Bukta relating to an incentive bonus and this may mean they won't take part in tomorrow's team picture.
20/07 - After lengthy talks with Dinnis the players agree to take part in the photo shoot. The players then leave for Benwell to start training. They have to travel in their kits as the new changing rooms at the training ground are not ready yet.
20/07 - Dinnis meets with the Board to try and find a solution to the contract crisis.
21/07 - Dinnis meets with the players again to inform them of the latest position and he claims "we are near the brink of disaster" as the board "aren't budging on either cash or long-term contracts". He also makes it clear that the players are not "bluffing" either.
22/07 - UNITED PLAYERS ON THE BRINK - With the Board due to meet in 48-hours time and no movement from either side the situation looks bleak. Westwood makes it clear that he has no intention of letting the club become "another Chelsea" and re-iterates that £165,000 has to be set aside for safety improvements to the Gallowgate and the rebuilding of the Leazes. "What puzzles me is that sensible men can throw away the increases they should have had". He also claims that "to a man" the players were "absolutely delighted" with the new contracts when they were first offered. And he asks "how can they claim they are not money grabbers?" Westwood's comments inevitably annoy the eleven players who have still not signed and Nulty admits: "I can see nothing else happening but the break up of a very good side. Personally I am at the end of my tether". Dinnis isn't about to give in though. "I've just about exhausted every avenue, but I am determined to keep on trying to keep my players. Only four players have been offered two-year contracts: Kennedy, Mahoney, Nattrass and Burns.
23/07 - The club have reached a compromise with the Council over the reduction in the ground capacity. It will be reduced from 54,332 to 45,640.
24/07 - Dinnis admits that if United lose a number of their best players then relegation is a real risk."The whole thing is tragic and if £15,000 can save this ridiculous situation …then in my opinion we should jump at it". But he says that whatever happens he will not quit.
25/07 - END OF THE ROAD - UNITED PLAYERS - After the players are told that the club is no longer prepared to negotiate with them, seven players say they are going to write immediately to the Football League to confirm officially that they do not want to be re-engaged by the club. The players are Gowling, Burns, Mahoney, Tommy Craig, Nulty, Oates and Kennedy. Alan Gowling also issues a long personal statement in which he blasts the Board. He accuses Westwood of a "character assassination" by calling the rebels 'money grabbers'. He refutes that the players initially said that they were happy with the new contracts. He claims that it is as "plain as the nose on your face that the Board wanted rid of certain players". He blasts them for "virtually calling us liars" over the Bukta deal. "I wanted an indication from this club that they wanted to be successful. Gordon Lee, when he left, made a telling statement, they only think big, they don't act big".
26/07 - Of the four players who have not signed and have not confirmed they intend to quit; Paul Cannell states he wants to stay and Nattrass, Barrowclough and Cassidy are still considering what to do. Other clubs are already contacting the club enquiring about the availability of players.
27/07 - Nattrass decides to write to the League and Cannell also has a change of heart and intends to as well. Thousands of fans have been contacting the club threatening to send their season tickets back and demanding a refund.
27/07 - Dinnis says: "if our directors or the public think any one of these players is bluffing then they are totally wrong. They are making a stand on a matter of principle and in the process getting some undeserved bad publicity. Although my job is to persuade them to sign I have sympathy for each and every one of them" .
27/07 - An Emergency Board Meeting is held and the directors agree to meet all of the players in dispute and listen to their concerns.
28/07 - UNITED PLAYERS WAIT AND HOPE - Dinnis, Westwood and Gordon McKeag hold meetings with all the players to listen to what their issues are, but give no promises. The "findings" will be reported back to next week's board meeting. Nulty states: "it remains to be seen whether or not this offer has come too late, it is much a matter of trust as cash now".
31/07 - United set off for Holland. A family bereavement means David Craig has to pull out so Martin Gorry gets a surprise call-up.
August
01/08 - NOW A PITCH BATTLE TO BE FOUGHT - Dinnis and the players are concerned about the state of the pitch with the new season fast approaching. The turf was ripped out during the summer so that drains could be installed, but it is in a bad condition as the grass has not regrown where the drains are situated leaving "tramlines".
01/08 - Fr: Telstar 2 Newcastle 1 - UNITED PUT IN THE SHADE BY TELSTAR - Although Burns gives United the lead, the part-timers, who were almost relegated from the Dutch First Division last year, play much better football and could have won by more.
02/08 - Dinnis states that English clubs should follow the example of foreign teams and concentrate more on ball skills in training. He also raises concerns about his midfielders who he feels all lack mobility in terms of getting up and down the pitch to support the defence and attack. The Emergency Board Meeting will not be held until the 10th.
01/08 - Fr: Sparta Rotterdam 2 Newcastle 2 - TWO GOAL BURNS PROVES A POINT - It is an entertaining game and a fair result. Dinnis is keeping a close eye on Sparta's English striker, Ray Clarke, who wants to return to England, but he is nowhere near as effective as Burns. Dinnis believes the bustling Clarke is not up to First Division standard.
05/08 - HARDAKER PUTS IT IN WRITING - The Football League issue a statement regarding the pay dispute: "the management committee have arrived at a decision which has been conveyed to the players at their home addresses". Hardaker (League Secretary) adds: "I would inform Nulty that, whatever he may think, the Football League does not discuss player's contracts through the press and the reason the decision of the management Committee have not been conveyed to the players earlier was because six of them have not troubled to complete the questionnaires which were sent to them". Aidan McCaffery is the only senior player to have accepted the contract offered.
08/08 - Fr: Chesterfield 2 Newcastle 4 - GOWLING DOUBLE BOOSTS MAGPIES - United have some awkward moments against their Third Division opposition but their superior class eventually sees them through.
Dinnis warns the players that: "you've pushed your claim to the limit. The talking's over. There's no more cash from the board".
10/08 - Test: Carlisle 1 Newcastle 1 - NEWCASTLE STRUGGLE TO A DRAW - A testimonial for former Carlisle manager Dick Young and it is the home side who look the livelier and more industrious side. United seem to be in training ground mode and have to come from behind.
10/08 - PEACE HOPES OVER UNITED PAY - the EGM is held to discuss both the contract issues and transfer funds and although no official statement will be made until tomorrow Westwood states that he is "very hopeful" of a resolution.
11/08 - DINNIS SETS DEADLINE FOR PLAYERS - Secretary Cushing releases an official statement advising that the "directors agreed to accept in totality the manager's recommendations for an offer of increased wages for certain players it is the fervent hope of the directors that peace can now be restored." Dinnis adds: "I think peace is possible now. I have been backed to the hilt by the directors. If I am backed in the same way by the players I will be laughing. There is no further discussion. This is the final offer." Dinnis wants each player to give an answer by next Monday (15th). If any of the players do not sign their contract their fee will be decided by an independent tribunal and they will almost certainly leave. The Board state that the offers will make the players some of the best paid in the Football League and also indicate that money will be made available for new signings. However the players holding out for longer contracts do not seem to have been offered much more. The vast majority of players refuse to comment or do not commit either way
Friendly - FC Voldendam 2 Newcastle 1 -
14/08 - United sign teenage striker Craig MacFarlane (17) from Dunfermline Jubilee Athletic Juniors.
15/08 - NULTY SIGNS BUT MISSES OPENER - With the exception of Mahoney, Cassidy and Barrowclough, who still want to leave, all the players have signed their new contracts. Captain Nulty will miss the start of the season with a groin injury.
19/08 - LEAGUE RULE ON JONES - The Football League decide in favour of Newcastle in their long running transfer wrangle with Blackburn. The Lancastrians have been banned from signing new players after failing to pay a balance of £30,000 on the purchase of Glen Keeley. They have refused to pay because they thought Newcastle still owed them £2,000 from their purchase of Roger Jones. In a separate dispute between the two clubs The League also rule that Newcastle did not break any rules when manager Gordon Lee moved from Blackburn to Tyneside in the summer of 1975.
18/08 - Dinnis fails in a bid to sign QPR winger Dave Thomas who joins Gordon Lee at Everton instead. Mick Mahoney agrees to re-sign.
19/08 - NOW IT'S UP TO THE TEAM - Dinnis says: "I did my best for them during the summer in terms of getting them the deal I believed they deserved. Now it is their turn to battle".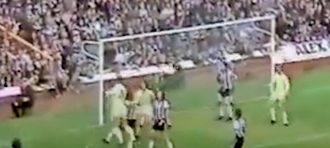 20/08 - D1: Newcastle 3 Leeds 2 - DOUBLE BURNS - Micky Burns scores a dramatic injury-time winner to get the Magpies off to flying start in a game in which they exhibit confidence and character. [YouTube Highlights]
A Sheffield United bid for Ralph Callachan has been put on ice due to the fact that the financially troubled Yorkshire club have had their transfer account closed by their bank. Former United player Jim Scott, now running a bar in Falkirk says the "present Newcastle side is the worst I have ever seen".
22/08 - Tommy Cassidy signs his contract.
23/08 - D1: Liverpool 2 Newcastle 0 - TERRY HITS OLD MATES - An injury to Mahoney results in a daunting debut in goal for Steve Hardwick at Anfield, but he wins praise for a confident and composed display. Although Liverpool take a while to get into gear they end up comfortable winners with former Magpie McDermott scoring the second.
25/08 - Skipper Geoff Nulty faces a five-week lay-off after being told by a specialist that his troublesome groin needs complete rest. Nulty admits he tried to come back too quickly.
26/08 - SOUNESS IS STILL UNITED TARGET - Dinnis refuses to comment on whether he will make another approach for Middlesbrough midfielder Graeme Souness.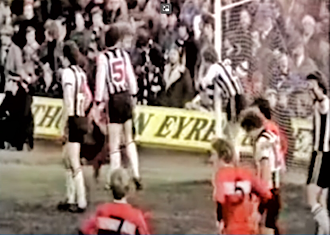 28/08 - D1: Middlesbrough 2 Newcastle 0 - SPIKE'S SUPER SHOW - Tommy Craig's first minute penalty is saved and despite being on top for the first twenty minutes the home side gradually assume control. United always seem short of a gear and Dinnis, in desperation, pushes central-defender John Bird upfront in the latter stages. [YouTube Highlights]
28/08 - SOUNESS CRUNCH - Boro manager John Neal says only "silly money" will get him to sell Souness, who is unsettled at Middlesbrough. In the reserve team fixture the same day a fractured finger for Kevin Carr means a return to playing for McFaul, who concedes seven goals.
29/08 - Stewart Barrowclough is to take his case for a move to an independent tribunal and has already written to the Football League.
£200,000 SOUNESS BID BY DINNIS - A bid for Graham Souness is made, but the money offered is way below Boro's asking price and anyway they don't want to sell.The player is supposedly keen on the move, but does not want to ask for a transfer and so lose out on his percentage.
31/08 - LC R2: Newcastle 0 Millwall 2 - LIONS TEAR HEART OUT OF UNITED - Second Division Millwall have lost all three of their games this season. The Magpies go behind after only five minutes and never recover in an unimaginative and blunt performance. There are isolated chants of "we want our money back". Barrowclough is barracked but says "I'm no traitor!".
September
01/09 - Dinnis holds a three-hour crisis meeting with the players to tell a few home truths, particularly that they will have to learn to live without captain Nulty. Nulty himself states: "It's unforgivable, but so far the attitude hasn't been quite right". But the manager is not panicking: "If I ran about the corridor shouting 'fire' people would be running in all directions - even if there was no fire".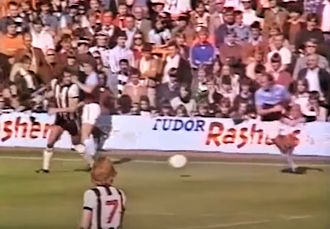 03/09 - D1: Newcastle 2 West Ham 3 - POP - BUT NO FIZZ - The Hammers have lost all their games so far and have eight senior players out injured. United pulverise the Londoners in the first quarter of the game and take a two-goal lead. But they start to lose their way, become jittery at the back and the Hammers recover to win. The winner is scored by former player Pop Robson who smiles at chants of "Robson's Reject" during the game. After another inquest behind locked dressing room doors Dinnis emerges "sick and angry" with the "stupid things we did". Dinnis is particularly unhappy with the defensive disorganisation, "the whole team must accept responsibility for defence as well as attack". But Dinnis denies the situation is becoming a crisis: "it would only be a crisis if there is nothing to work on, but as a coach I know I can improve things". Dinnis is more appreciative of the fans whom he praises for trying to lift the team. [YouTube Highlights] [YouTube Highlights]
04/09 - Tottenham have joined Celtic in declaring an interest in Tommy Craig, but Dinnis is not interested in selling. Paul Cannell might be sold however.
06/09 - Fr: Hibernians 2 Newcastle 0 - HIBS HUMBLE UNTIDY UNITED - A friendly game against the Edinburgh side is arranged to work on team play and run the rule over Scottish internationals John Brownlie and Des Bremner. It certainly does not help morale.
08/09 - Middlesbrough turn down an offer of £200,000 for Grame Souness.
09/09 - Lord Westwood turns the heat on Dinnis and the players: "Our patience is not inexhaustible. The players had a hand in appointing the manager and they got the improved contracts they wanted. They said that they would produce the goods and now it is up to them to do so".
10/09 - CASSIDY DROPPED AS DINNIS HITS OUT - Dinnis reveals that Cassidy will be dropped for the West Brom game and questions his commitment to the cause with reference to the amount of time he is spending on the treatment table.
11/09 - D1: Newcastle 0 West Brom 3 - DINNIS CRISIS AS DESPERATE MAGPIES TORN APART - Dinnis' decision to change half the side in an attempt to get some defensive stability backfires spectacularly as United are totally outplayed. They are 2-0 behind after only sixteen minutes and the crowd turns on the players, jeering misplaced passes and barracking them continuously. As a result a number of the players appear to attempt to "hide". There is a pitched battle in the Leazes End during the break and as the teams return there are chants of "we want football". There is more fighting in the Leazes during the second-half. Dinnis reveals that: "some players were in tears in the dressing room. It breaks their hearts when they can't do it." Despite Westwood's words Dinnis remains calm: "I've got a two-year contract and I don't feel insecure".
11/09 - ACTION STATIONS - Westwood is worried and vows not to make the same mistake as Sunderland made in the previous year by going for a "remedy too late". "We need to do something....and as quickly as possible". Reports indicate that Ray Hudson, wanted by Bury, wants to return to America whilst Micky Barker is transfer listed. The dropped McCaffery will not be sold though.
12/09 - DINNIS SIGNS UP - Dinnis finally signs his contract.
14/09 - UC R1 - Bohemians 0 Newcastle 0 - DUBLIN FANS HALT NEWCASTLE GAME - Dinnis admits that a loss against the Irish part-timers is out of the question and demands a clean sheet at the very least, which he gets. Serious crowd trouble is sparked by United fans raising a Union Jack. Bottles, cans and blocks of wood are hurled and Mahoney is poleaxed by a beer bottle. Soon after, the players have to leave the field for ten minutes whilst order is restored and as they wait their dressing room windows are smashed. There are three United directors there and Stan Seymour junior says that if UEFA take any action against Bohemians they will offer their support to the Irish club.
17/09 - D1: Birmingham 3 Newcastle 0 - DINNIS MEN FLAG - BUT 'NO PANIC' - The Blues, who include Terry Hibbitt and Pat Howard, are having a poor season too and both sides are competent, but not incisive in the first period. Then a controversial goal just after the break clearly rocks the players and precipitates a second-half collapse. A phlegmatic Dinnis describes it as: "one of those unfortunate decisions we can't afford in our position".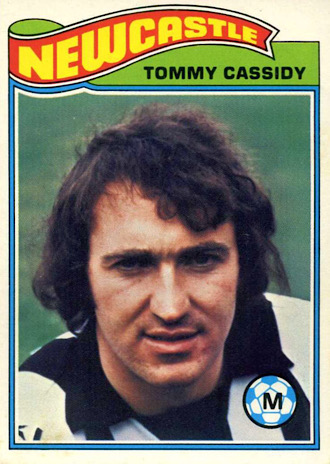 18/09 - "I'M NO CHEAT" - blasts Tommy Cassidy in the Sunday Sun. "I was shocked by the way the manager talked about me publically. The words hurt me as an individual, not as a professional. As a pro I know they were rubbish".
20/09 - IN STEP, THAT'S THE DINNIS LIFELINE - There are rumours that former Middlesbrough manager Jack Charlton, who has just declared that he is ready to return to management, or former Sunderland boss Bob Stokoe could be asked to replace Dinnis. And it is alleged that Charlton has already been sounded out. One person definitely arriving at the club is Pop Robson's father-in-law, "rhythm and balance expert" Len Hepple.
21/09 - DINNIS NOW BACK TO SQUARE ONE - Dinnis travels to Edinburgh to watch the Scotland-U21 side. He is clearly impressed and makes enquiries for a number of players including David Narey from Dundee United. However none of the clubs approached are prepared to sell.
22/09 - Tannadice boss Jim Maclean is not impressed. "He will not be moving to Newcastle in view of the way Newcastle have acted this week and that goes for any other Dundee United player they may be interested in". X-Rays show that Cassidy has been playing with a hairline fracture since the third game forcing Dinnis to apologise for suggesting he was a malingerer earlier in the season.
23/09 - Dinnis defiantly states that tomorrow's game: "will not be my Waterloo If I thought I was a failure I would jump off the Tyne Bridge".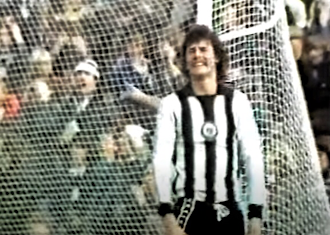 24/09 - D1: Newcastle 1 Coventry 2 - SUCH A SOUR NOTE - The players put in the requisite amount of effort, but appear to be weighed down by a mountain of tension. Even though Coventry take the lead, United don't crumble and equalise before the break. Despite regaining some confidence and composure they are let down by the final ball and are once again punished for their defensive hesitancy. There's fighting in The Leazes again and a sharpened coin is thrown at the visitors' 'keeper Jim Blyth. Dinnis is adamant that the only way out of the mess is to sign new players arguing that the current set are trying their best, "but on the day it is simply not enough". But he retains his self-confidence. "If I stay here there's no way Newcastle will be relegated ...nobody has given me any indication my job is in jeopardy". [YouTube Highlights]
25/09 - NOW BOARD FIX D-DAY - It is believed that certain members of the Board have completely lost faith in Dinnis and an Emergency Meeting is to be held on Tuesday, "we can't live on gates of 22,000", states one pointedly.
26/09 - WESTWOOD - I SUPPORT DINNIS - "Speculation about the manager's future hasn't come from us. The Board will have another meeting tomorrow night, but there will be no pressure put on the manager about his posting and no censure". However he does go on to say: "if the present situation continues for another five or six weeks something would have to be done". He also claims that they are prepared to back Dinnis and that they will be getting together to discuss transfer targets of which: "Richard has his ideas and I have mine".
27/09 - BOARD'S BACKING BOOSTS DINNIS - Dinnis meets with the Board to discuss transfer targets and his future is (allegedly) not on the agenda.
28/09 - UC R1 L2 - Newcastle 4 Bohemians 0 - DINNIS DANCE OF JOY IN MAGIC MOMENT - The scoreline fails to tell the true story as although Newcastle control the game their play is sloppy and their shooting often abysmal bar a four minute period in the second half in which they score three times. Apart from a small smoke bomb thrown from Leazes there is no real trouble.
29/09 - BODY SNATCHER - Dinnis agrees terms with Bohemians players Gerry Ryan and O'Brien. However they end up signing for Derby for a combined fee of £70,000. Rams manager Tommy Docherty says: "it's hard luck on Richard Dinnis as I understand that Newcastle have first option. But football is a competitive business".
October
01/10 - D1: Ipswich 2 Newcastle 1 - THE NOOSE TIGHTENS - After weathering the early pressure United score their first away goal and are playing with some confidence. Ipswich equalise and gradually take control. Although their spirit is never in doubt their class is. "We'll have to replace some players", says Dinnis, "money is not a problem, it is there to be spent".
03/10 - Westwood admits that he has made a move for Don Masson at director's level. A Leicester bid for Gowling has been rebuffed.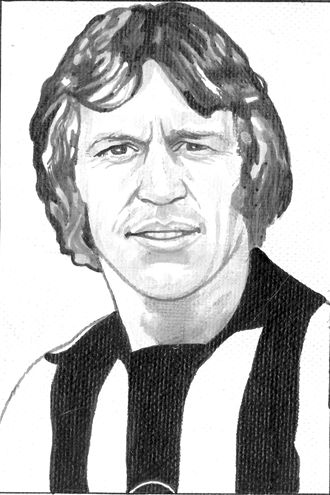 05/10 - DINNIS BREAKS HIS 'DUCK' - Dinnis finally makes a breakthrough in the transfer market as he signs 29-year-old Scottish international centre-back John Blackley from Hibernian for £100,000. "I promised our supporters quality and that is what I'm giving them" he beams. Blackley has been at Hibs for thirteen years and has won seven full caps. Blackley says he is not worried about Newcastle's position and believes things "can only get better".
05/10 - D1: Norwich 2 Newcastle 1 - NORWICH NIGHTMARE AS UNITED SLIP AGAIN - The same pattern repeats itself. United start well and Tommy Craig puts them ahead with a brilliant goal, then they allow the home side to turn the tables. Once again there is plenty of commitment, but not enough quality or composure.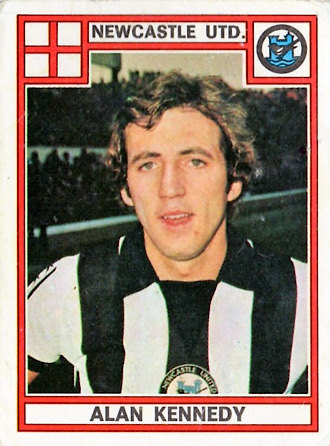 07/10 - KENNEDY AGONY - OUT FOR THREE MONTHS - Kennedy, who has been one of United's few decent performers, has torn knee ligaments and requires an operation and Callachan has an ankle ligament injury which will rule him out for at least a month. Dinnis is feeling down: "I don't know where the next hammer blow is going to come from....I am looking more than ever for character and guts....it's a fight for survival".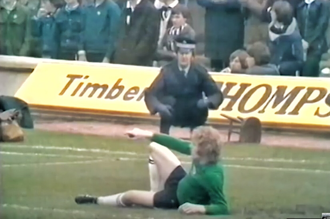 08/10 - D1: Newcastle 1 Derby 2 - HUGHES LEAVES UNITED LOOKING FOR A MIRACLE - Both sides hit the post in an even first-half then, within a minute of the restart, Derby take the lead and control of the game. Many of the crowd start leaving after the second and those that stay make their feelings heard. Oates gives a double Harvey Smith to his critics in the Popular Side and the returning Gowling limps off. Rams striker Billy Hughes is scathing of Newcastle and accuses some players of "hiding". Dinnis states the obvious: "same old story, we are just not good enough". [YouTube Highlights]
10/10 - Westwood gives Dinnis his public backing once more. "I genuinely feel sorry for him. You can't build bricks without straw and we have no straw". He also reveals that a move has been made for Coventry midfielder Terry Yorath.
11/10 - Although Dinnis is boosted by the return of Nulty to training, Mahoney and Nattrass are both injured.
12/10 - THE SURVIVOR! DINNIS WINS HIS LATEST BATTLE - Another directors meeting is held and once more Dinnis survives with the club issuing an official statement. Although they are "most concerned and very conscious of the poor performances" they accept that their transfer troubles and injuries "must have contributed in no small measure".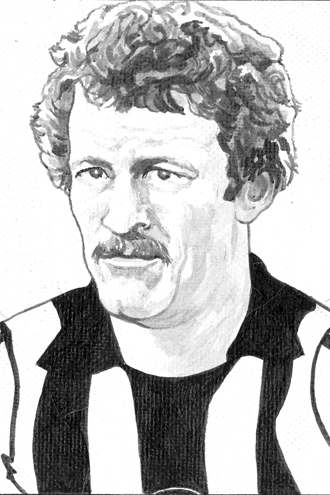 13/10 - DINNIS SIGNS DENNIS IN TRANSFER GAMBLE - In a shock move, Dinnis signs thirty-year-old left-sided midfielder Dennis Martin from Third Division Carlisle for £30,000. A proposed swap deal for Oates is discussed, but Carlisle prefer the money. Martin has lost his place in the Carlisle side and manager Moncur freely admits that he is too inconsistent and "hasn't played well this season".
15/10 - Rather surprisingly a local radio poll indicates that more than 70% of fans want Dinnis to stay.
15/10 - D1: Man United 3 Newcastle 2 - NOW IT'S 10 - DOWN? - With Nulty, Mahoney, Nattrass, David Craig, Gowling, Kennedy and Cassidy all out injured, Dinnis goes for damage limitation by playing five at the back. The Magpies look completely disorganised and resort to some crude challenges. It is the tenth consecutive League defeat with the scoreline in no way reflecting the Red Devils complete dominance.
18/10 - SPLIT IN ST JAMES' BOARD - Bohemians have been told that their next three European games must be played at least 120 miles from Dublin as a result of the trouble in the First Round match. They are set to appeal and it emerges that part of their defence will be a letter from Newcastle director James Rush apologising for the behaviour of the Newcastle fans whom he believed were responsible for starting the trouble. The news comes as a shock to the other directors,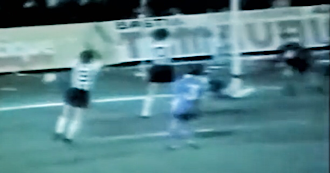 19/10 - UC R2 L1: Bastia 2 Newcastle 1 - LAST MINUTE EURO SHOCK BUT HOPES STILL ALIVE - Dinnis admitted he had "never heard of" French club Bastia when United were drawn against them, but he was aware of Dutch star Johnny Rep. United get off to a great start when Cannell scores early on. Then Papi scores twice; the winner is literally the last kick of the match. Despite the result the mood is optimistic rather than despondent. United have put in an excellent performance and the team are confident that they can make it through to the next round. [YouTube Highlights]
20/10 -TRAVEL SICK - The journey home is something of a nightmare due to the travel arrangements described as "unprofessional" by Dinnis. The party do not get back until the early hours of Friday leaving the players "shattered' and forcing them to abandon Friday's training. The departure is delayed by the unavailability of chartered planes, however this is exacerbated by the decision to take the team on a five-and-a-half-hour trip to a vineyard. Travelling high into the mountains they encounter thick fog and endure many hairpin bends on very narrow roads, resulting in three players being physically sick.
22/10 - D1: Newcastle 1 Chelsea 0 - DINNIS LIFT-OFF - Chelsea are struggling and, with another board meeting planned for Monday, it is assumed that a defeat would see Dinnis sacked. A disastrous mistake by Droy presents Burns with a goal after only two minutes. Gradually United tire and start to become nervous, however a mixture of dogged defending and poor Chelsea finishing ends the losing streak in the League and is the first clean sheet in 18 League games.
22/10 - THE COST OF VICTORY - There is trouble before, during and after the match with Newcastle supporters being largely the cause of the trouble. Three police officers are injured. Two whilst escorting the Chelsea fans to the ground and the other is hit by a brick as he is helping to separate rival fans in the Gallowgate End. After the game about 300 United supporters charge through the Bigg Market towards Central Station. Eight shop windows are smashed, two cars damaged and a stone is thrown through a window of a bus. A youth is stabbed with a screwdriver outside the ground. Ten youths are arrested for disorderly behaviour and 42 are ejected from the ground.
22/10 - Chelsea's star Ray Wilkins blasts the state of the St James' pitch. "We've complained about our Stamford Bridge pitch, but it's like a bowling green compared to Newcastle's. There are great tufts of grass, ruts and ridges all over. It is the worst that I have played on for a long time".
24/10 - CARRY ON IS THE MESSAGE - The Board Meeting takes place and although there is no official statement secretary Cushing confirms that Dinnis is still manager.
25/10 - Westwood sends a letter of complaint to the Forest Chairman with regards to a newspaper article in which assistant manager Peter Taylor, criticised the way the club is run. An offer of £30,000 from Peterborough for the recently listed Graham Oates is accepted.
26/10 - NOW KELLY IS KO' D - Youngster Peter Kelly, who has been one of the few successes this season, has had his leg put in plaster after developing ligament trouble. Three other full-backs (Craig, Gorry and Kennedy) are still out injured.
28/10 - Gordon Lee takes the opportunity to absolve himself of any responsibility for Newcastle's current plight. "There's no way I can take the blame for the problems that Richard Dinnis or Newcastle have got,the club should have a good look at itself before blaming others". However, he did accept that "when I left my only worry was about the squad being so small".
29/10 - D1: Everton 4 Newcastle 4 - NEWCASTLE SHINE IN GOODISON CLASSIC - A performance of heart, skill and character with Newcastle taking the lead three times before eventually having to settle for their first away point of the season. Dinnis is delighted although he accepts that: "there are still one or two problems to sort out". He goes on to say: "I suppose I will get the sack sometime. You are either philosophical about it or become an alcoholic - and I don't drink!", indeed, there are very strong rumours that Dinnis will be sacked if they don't get through to the next round of the UEFA Cup.
November
01/11 - Oates turns down a move to Peterborough.
02/11 - Lord Westwood insists that the heat is off.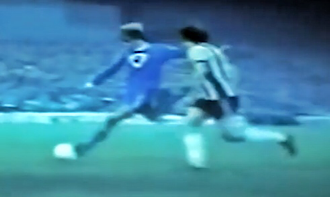 02/11 - UC R2 L2: Newcastle 1 Bastia 3 - SUPER REP IS THE WRECKER - Dutch international Johnny Rep failed to impress the Newcastle players in the match in Corsica, but their criticisms of the Dutch international came back to haunt them in the second leg. The chants of "United are back" soon stick in the throats of the Geordie faithful as Bastia race into a 2-0 lead within the first eight minutes after Gowling had missed a gilt edged chance in the first minute. Dinnis admits that his side were given "a soccer lesson. We tried to play the way they play but in the last resort we had to go back to the old English style of up and under." However he remains confident that Newcastle can, with the signing of a couple of quality players, avoid relegation. [YouTube Highlights]
04/11 - A RAP..AND A REVOLUTION- Dinnis launches a blistering attack on the club; He states that a massive overhaul of the playing staff is required and that only half the team are good enough. "There are players in the reserves that have been here five years. They will have to go. There are players in the first team who have been with the club too long. They will also have to go" . He also blasts the Board for not making sufficient funds available to buy the quality players required. "This club has to decide where it is going. And as far as big buying is concerned, I believe there must be a change of heart at director level....There is no money available unless we sell someone". He also says the club needs to double the wages if it wants to compete with the top teams in the country. He believes that there is a great danger that unless club policy changes United will become a "second-rate" club. "There's a super league within the First Division and we are not in it. It has to be decided whether we are going to join it or stay out of it.....If we don't (join) ....we will become just an ordinary club. We are on the edge of a precipice and unless something drastic is done we will topple over"
05/11 - D1: Newcastle 1 Bristol City 1 - HEIGHT OF MEDIOCRITY - A really poor game in which Newcastle again let a lead slip, this time to a side that has failed to score in all their previous seven away matches. The first-half is pretty dire with neither side capable of creating much. The pattern continues after the break and a visibly frustrated Tommy Craig picks up a booking when a free-kick is given against him and he whacks the ball straight at the referee. The draw does lift United off the bottom of the table. Dinnis states : "I've no intention of quitting. I've had my head on the block for some time and until they cut it off I'm staying".
05/11 - I WON'T QUIT - Dinnis says "I've no intention of quitting, I believe I can still do a good job for Newcastle given the right situation". He does apologise for suggesting that the club is second rate, although he says he was misquoted, but stands by all his other statements. Although there is no official response from the club, one club official calls Dinnis' outburst "suicidal". A potential replacement, Bob Stokoe, is in the director's box.
07/11 - UNITED BOARD UPSET BY DINNIS OUTBURST - Despite accepting an apology from Dinnis Lord Westwood is not happy; "I felt very let down when I read his remarks in the press. I have stood by him in the past, but I cannot say my support is as it was. The directors I have spoken to are very upset and now it is up to the Board".
08/11 - AXE POISED OVER DINNIS - A Board meeting will discuss Dinnis' future tomorrow night and it is inevitable he will be sacked. It is thought the club have already made preliminary enquiries in their search for a successor. It is thought that former Wolves manager Bill McGarry, Welsh manager Mike Smith and Southampton manager Laurie McMenemy are all in the running. Although former United player and Sunderland manager Bob Stokoe has some support in the Boardroom it is believed he is not being considered.
09/11 - THANK YOU, BUT YOU'RE OUT - The two-hour Board meeting confirms Dinnis' sacking. A short statement thanks him for his efforts following Lee's "defection", but given the "disappointing performances of the team...a change was unavoidable". Dinnis leaves without a word before later releasing a statement in which he thanks the players, coaches, supporters directors and even the media. "I feel as though I have crammed six years experience into six months", he laments. Geoff Nulty says; "I feel very sad, we have lost a first-class manager".
10/11 - BACKLASH AS UNITED STARS SLAM BOARD - A " sick and disillusioned" Burns says: "I don't know where this club is going, but wherever it is they are going without me, I want away". Tommy Craig is equally forthright: "I have never felt so sick, the club is falling apart at the seams".
10/11 - FANS PLAN BREAKAWAY - A couple of United fans, businessman and shareholder Malcolm Dix and engineer Colin Megennis play to set up a "supporters union". They hope to attract over 1,000 members to act as a powerful supporters lobby and put pressure on the Board.
11/11 - WESTWOOD LINES UP SUCCESSOR - Westwood reveals that he has approached a club Chairman with regards to their manager. It is believed that Southampton manager Laurie McMenemy is United's Number 1 target, with the chairman a firm admirer.
11/11 - IAM CRACKS THE WHIP - Coach Willie McFaul is put in temporary charge. He calls a players meeting and later says: "let's cut the cackle and get back to business", whilst claiming that he can't remember a time when the "mood of the players has been so bad". Tommy Craig has already said he wants a move and Burns, Mahoney, Gowling, Nulty and Cassiddy are all believed to be considering their futures.
12/11 - D1: Wolves 1 Newcastle 0 - NO SURRENDER VOWS IAM - Wolves take the lead within five minutes and they tear United apart, particularly in a one-sided first period. They could and probably should have scored half a dozen, but for Hardwick's brilliance and some abysmal finishing. United lack motivation and inspiration and at times show no fight at all.
13/11 - DIS-UNITED - Is the Front Page headline in the Sunday Sun under photos of the Board. It is a scathing attack which calls for them to be replaced by professionals and businessmen with money.
13/11 - NEWCASTLE GO FOR CAMPBELL - The Sunday Sun report that Southampton's Lawrie McMenemy was the Board's first choice, but he is being considered for the vacant England post and therefore a non-starter. And they claim Fulham's Bobby Campbell is now top of the wish list. Other names being mentioned are Eddie McCreadie, Bob Stokoe, Bill McGarry, Alan Durban, Graham Taylor, George Eastham and former coach Dave Smith.
13/11 - O'FARRELL FITS THE BILL - United offer former Manchester Utd manager Frank O'Farrell the manager's job. He is currently acting as a management consultant of Fourth Division Torquay. Former Newcastle hero Bob Stokoe is particularly hurt to be overlooked: "I would have done it for three months, even six months, for nothing".
16/11 - OH FARRELL, FRANK SAYS NO - O'Farrell rejects United's offer and opts to stay with his current employers in what represents a public humiliation for Lord Westwood.
17/11 - MCGARRY IN LINE FOR HOTSEAT - After an initial approach yesterday, Bill McGarry is offered the United job after an interview and is expected to accept it.
18/11 - A SHAKE UP ON THE WAY - Former Wolves and Ipswich manager Bill McGarry agrees to take over as manager. Since being sacked by wolves after they were relegated in 1977-78 he has been working in Saudi Arabia until he asked to be released. Renowned as a strict disciplinarian he says: "It seems there is a lot of politics played up there - but I do things my way. If any discipline is needed within the club I'll be happy to oblige". He will travel to Tyneside to watch the game against Arsenal before starting work with the players next Monday.
19/11 - D1: Newcastle 1 Arsenal 2 - MAC MUST FIND HIS SUPERMAC - Arsenal stroll through a drab first-half which they control without any real sense of urgency. Cassidy gives United the lead within a minute of the restart which simply provokes the Gunners into upping their tempo and scoring twice. McGarry watches from the stands and concludes that: "unless I get a front-man I've no chance of getting the team out of this. If we want any chance of staying in the First Division then we have got to find the money". Suspended Malcolm Macdonald watches from the stands and the home fans chant "we want our Mac back" before the game starts. After the game he praises the fans but says there is "no chance" of United staying up.
20/11 - MCGARRY LAYS DOWN THE LAW - McGarry states he is going to have a "rule book" for the players as he has done at other clubs and warns them that: "I treat players like men, but if there are a few who don't behave like one I will treat them as boys. 'I need players with guts (not degrees)". Westwood also bans all those connected with the club from talking to the media. He is unhappy about the continuing player outbursts and he is also adamant that a Board member was trying to stab both him and Dinnis in the back during the last few weeks of his managership.
21/11 - SUPERMAC BID KO'D! - McGarry reveals that he contacted Terry Neill to enquire upon Macdonald's availability and was informed he was not for sale at any price. Derek Parlane of Rangers is allegedly his next target. McGarry also indicates that he is dealing with the discontent within the club. "I have already talked with the players and the atmosphere was very quiet." Asked if he thought that reflected their mood he replies; "when I talk I expect everybody to be quiet".
22/11 - MR X HERE AND PLANS TO STAY - Ray Xuereb finally arrives from Malta on a three week trial having impressed during United's game against his club Floriana in the summer. The delay in him arriving is a result of his expectant wife and Floriana's involvement in European competition.
WALLACE NO TO PARLANE MOVE - Rangers boss Jock Wallace turns down an offer for Parlane.
25/11 - MCGARRY GAG - McGarry reveals that he has introduced a pay-as-you-learn fine of a week's wages for any player who speaks to the press about any aspect of football. McGarry also drops top scorer Micky Burns for tomorrow's game against Villa claiming it is "purely a form decision". Burns is almost certain to leave now. Tommy Craig is also due to have "showdown" talks with McGarry. Bristol City have also made a bid for Gowling.
26/11 - McGarry takes advantage of the postponement of United's game at Villa by watching Blackpool's Mickey Walsh net twice at Stoke. Micky Burns started at Blackpool and it is mooted that a player-exchange might be on the cards. Ray Hudson and Paul Cannell are both wanted men in America.
27/11 - Blackpool turn down a bid for Mickey Walsh.
29/11 - MCGARRY PUTS A BLOCK ON MOVES - McGarry is not prepared to allow Tommy Craig to leave: "I know how the lad feels but he has got to give me 2 or 3 month to straighten things out....the players have to be fair to me, themselves and Newcastle as well".
December
01/12 - Sheffield Wednesday are interested in Graham Oates.
02/12 - Alan Gowling is ruled out for at least a month with a knee injury and Mahoney is still struggling with a back injury. Burns and Barrowclough are both recalled with McGarry promising that "everybody here will get a chance to prove themselves. I've wiped the slate clean and now it is up to them". He also appeals to the crowd: "it's vital they do not give up the ghost now or we've had it". To test their resolve he recalls Oates and gives him the hallowed Number 9 shirt claiming: "I believe the Geordies are warm hearted people who forgive and forget".
03/12 - D1: Newcastle 2 Leicester 0 - MICKY THE TAKER - Lelcester are just one place above United In the table. The Foxes are the better side, but despite a nervy display from Hardwlck they fall to take their chances and they are punished for their profligacy.
04/12 - Rangers striker Derek Parlane is still believed to be McGarry's number one target and Derby midfielder Gerry Daly could be another potential buy.
05/12 - Lord Westwood reveals that he has been forced to go ex-directory because of obscene phone calls and a bomb alarm.
07/12 - MCGARRY MOVES IN FOR FRANCIS - QPR put Gerry Francis up for sale at a "staggering" £500,000 despite being dogged by injury for the last 18 months. McGarry makes a tentative enquiry. Dinnis is to become manager of Philadelphia Fury in America.
09/12 - McGarry reveals that he has turned down a bid for Ray Hudson from Fort Lauderdale. He wants the youngster to stay, though he has told him he needs to decide whether to sign a new contract or move on.
10/12 - D1: QPR 0 Newcastle 1 - UNITED GIVE RANGERS THE BIRD - Although QPR are the better side, a courageous performance from young 'keeper Carr, a great performance from Blackley and two superb last ditch clearances from Bird enables the Magpies to record their first clean sheet and victory away from home.
12/12 - The AGM, unsurprisingly, sees plenty of criticism of the Board and support for Malcolm Dix who withdrew his nomination for a place on the Board accepting he would not have sufficient support.
14/12 - NEWCASTLE AGREE FEE FOR TOSHACK - Liverpool accept an £80,000 offer for Welsh striker John Toshack, who wants a few days to think over the move.
16/12 - Ray Xuereb returns to Malta.
17/12 - Before the game with Wolves the Newcastle United Supporters Association hand out leaflets and issue a statement which calls on the directors to issue new voting share capital to provide a cash Injection.
17/12 - D1: Newcastle 4 Wolves 0 - TOP OF THE BILL UNITED - McGarry claims the result is: "the best Christmas Box I have ever had in my life". The scoreline is misleading as the visitors are denied many goals through a mixture of bad luck and a man of the match performance from Kevin Carr.
18/12 - TOSH SAYS 'NO' TO NEWCASTLE - John Toshack turns down United's offer. McGarry turns his attentions to Ray Clarke who is currently at Sparta Rotterdam.
20/12 - WESTWOOD IS READY TO QUIT - Westwood is considering stepping down as Chairman to concentrate on his work as Football League President.
26/12 - D1: Man. City 4 Newcastle 0 - BELL TOLLS FOR SAD UNITED -
With Blackley in superb form United weather the early storm and are well worth being on equal terms at the break. But just before half-time the Scot is injured and Martin Gorry comes on, making his debut. The loss of Blackley and the return of Colin Bell to the City line-up after a long-term injury brings about a dramatic change in which Tueart notches an hat-trick.
28/12 - D1: Newcastle 0 Nottingham F 2 - FOREST FIRE ROARS ON AS UNITED STUMBLE - There is a strong wind and leaders Forest, with their skilful and incisive play, adapt far better. The visitors are competent, well-organised and far too good for the Magpies. The attack looks lost and the defence is hesitant in what is a flaccid display in front of the largest crowd of the season.
28/12 - An enquiry for Blackpool attacker Micky Walsh is rebuffed.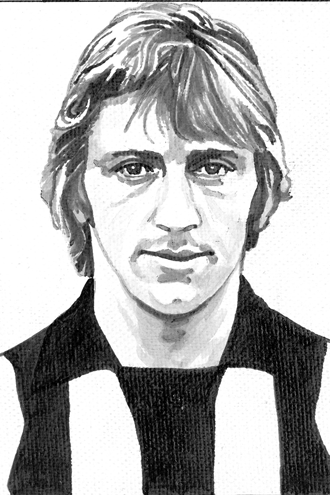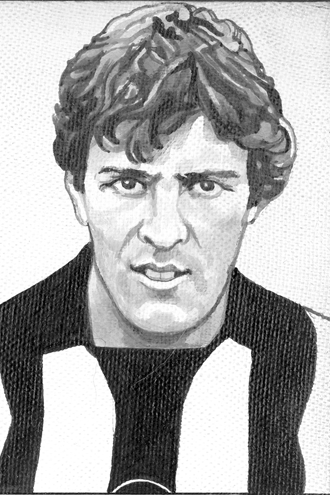 29/12 - MCGARRY TRANSFER BONANZA - McGarry signs two Scottish strikers: Mike Larnach (24) from Clydebank for £100,000 and Mark McGhee (20) from Morton for £150,000. Larnach will make his debut against Liverpool, but McGhee is not signed in time.
30/12 - United agree to sell Paul Cannell to Mansfield for £40,000.
31/12 - D1: Newcastle 0 Liverpool 2 - CHAMPS PUT UNITED ON TORTURE RACK - The visitors dominate the first-half and David Fairclough is particularly unlucky to hit the woodwork twice and have two goals disallowed for contentious offside decisions. Liverpool take the lead within minutes of the restart and are content to sit on their lead until scoring a second in the last minute. United are totally outclassed and Seaton Delavel born Ray Kennedy says: "they will go down and it's a disgrace."
January
02/01 - D1: Leeds 0 Newcastle 2 - LEEDS BEATEN BY YOUNG ONES - Of the eleven players who started the first game of the season, only four (Cassidy, McCaffery, Burns and Tommy Craig) are in the starting eleven today. It is a very professional and battling performance with a some slices of luck added in. Debutant Barton is stretchered off after a dangerous Jordan challenge.
Leeds - Elland Road - 36,643
04/01- BOARDROOM CHANGES - Lord Westwood resigns as Chairman but remains a director and becomes the club's first president. He has been Chairman since October 1964. Consultant surgeon Bob Rutherford, who has been on the Board since April 1950, takes over the Chair.
05/01 - The NUSA are not impressed with the Boardroom reshuffle describing them as "a game of musical chairs. This game of kidology is typical of the way the Board insults the intelligence of loyal supporters". United have put a price of £300,000 on Tommy Craig with Ipswich interested.
07/01 - FA R3: Peterborough 1 Newcastle 1 - NOT SO POSH! - The Peterborough directors literally lay on a red carpet for the players from the dressing rooms to the centre-circle. Hudson gives United the lead but For the next forty minutes it is a backs-to-the-wall performance with Nattrass performing superbly to hold the young defence together. United hold out although they are lucky that a goal is disallowed for a foul on Carr. There were six bookings In a bruising encounter although It Is never totally unruly.
11/01 - FA R3: Newcastle 2 Peterborough 0 - NEWCASTLE BOOSTED BY PENALTY - Gale force winds make for farcical conditions at times as Newcastle edge through. Old favourite Tommy Robson stars for the Londoners and United have to wait until the 86th minute to make the game safe. They deserve their win but have to work hard for it against their far from outclassed "inferiors".
12/01 - MILBURN TURNS DOWN UNITED - Bill McGarry had offered his friend Jackie Milburn an administrative job at the club but he has turned it down.
13/01 UNITED SKIPPER FACES OPERATION - A long period of rest has failed to clear up Nulty's groin injury so he now faces an operation.
13/01 - McGarry wants Mansfield manager Peter Morris to be his assistant at Newcastle. He is still registered as a player and it is thought that The Stags would want £30,000 compensation for his services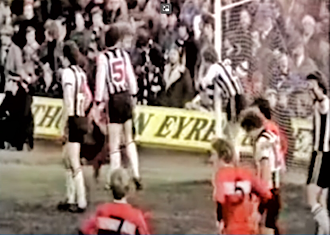 14/01 - D1: Newcastle 2 Middlesbrough 4 - MAGPIES NEED A MIRACLE - It is Middlesbrough's first victory on Tyneside for seventeen years. Nattrass is outstanding once more but the commitment levels of certain players is really questionable. Craig has probably been the best player so far this season, but he knew exactly what the crowd thought of his contribution in today's match. McGarry preferred to put the defeat down to a lack of experience but admitted: "I can't grumble, the kids have done well for me up until now". [YouTube Highlights]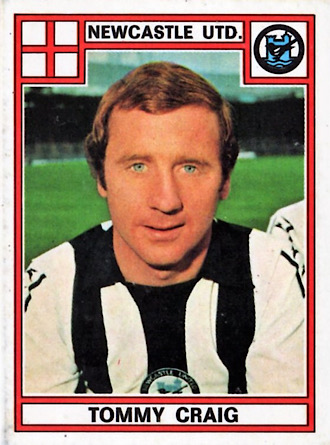 18/01 - CRAIG BOMBSHELL - Mcgarry finally allows Tommy Craig to go on the transfer list and relieves him of the captain's armband at the same time. McGarry believes it is "in the best interests of the club and the player". Within hours United agree a fee of £250,000 with Aston Villa. Washington Diplomats agree to sign Cannell who is thinking over the move.
21/01 - D1: West Ham 1 Newcastle 0 - HALES SINKS POOR UNITED - A very poor game with United going behind early on and defending in depth against the dominant Hammers. West Ham are not great, but they are a class above Newcastle and Mahoney has to be at his best to keep them in the game. Respected journalist David Miller sums up their predicament: "the sooner Newcastle can retire quietly to the Second Division under less pressure and publicity, the better for this once famous but now sadly inert club."
22/01 - Cassidy suffered a severe groin strain on Saturday, Gowling is reported to be a target of West Brom.
23/01 - CRAIG DEPARTS - Tommy Craig (27) is sold to Aston Villa for £270,000 which is a record fee for the midlanders. Graham
23/01 - BOYCOTT UNITED! - The NUSA open their new premises in Eldon Square. They had invited McGarry to do the honours; but he unsurprisingly declined due to the "political sensitivity". The directors were also invited and also chose not to attend. Former player Frank Brennan is there and he is co-opted onto the committee. He urges a boycott: "the fans have more power than the players ... the only way to get things changed at Newcastle United is for the fans to stay away".
26/01 - Stoke allegedly have Bill McGarry at the top of their managerial short list. He is a native of the Potteries, still lives in the area and his three-year contract is still unsigned. Rumours suggest some friction exists between McGarry and the Board. Cassidy suffered a severe groin strain on Saturday, Gowling is reported to be a target of West Brom.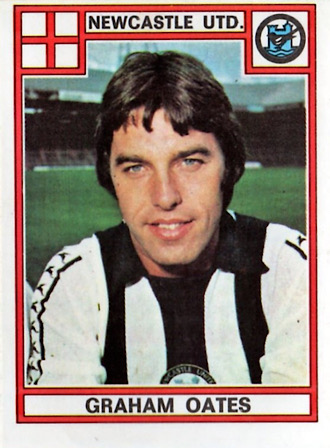 27/01 - Graham Oates joins Mansfield on a month's loan.
27/01 - McGarry says he is flattered by talk of Stoke's interest, but claims to have heard nothing and besides he "has a job to do here". However there are strong rumours he will leave if United lose to Wrexham in the Cup.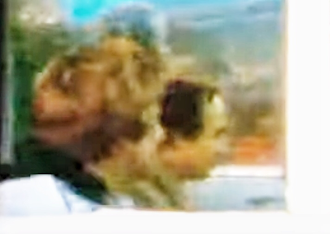 28/01 - FA R4: Newcastle 2 Wrexham 2 - DIXIE LANDS A GREAT DOUBLE - Wrexham are promotion contenders in Division 3 and have only lost twice in their last 26 games. The police use "accent tests" to stop Newcastle fans getting into the away end. Although the pitch is muddy and greasy, it is an open and well-contested game with plenty of fast attacks; the Welshman deservedly earning a replay one minute from time. [YouTube Highlights] [YouTube Highlights]
30/01 - MCGARRY WILL DECIDE TODAY - McGarry, who has not yet signed his Newcastle contract, confirms that he was interviewed by Stoke yesterday and will make a decision by tomorrow. It is thought that, if McGarry leaves, Newcastle will turn to Bob Stokoe who is currently at Bury who says he had no expectations of leaving so soon, but to "manage Newcastle would fulfil my last ambition in the game. It is a job I have always dreamed about".
31/01 - FAN-TASTIC - SO MCGARRY WILL STAY - McGarry decides to stay and is to sign a three-year contract in the near future. "There is a job to do here and I hope and hope I can do it. I think this club has got a big future. One of the most important things to me is that I feel genuinely wanted by the fans and the Board.
February
01/02 - The Wrexham replay is postponed.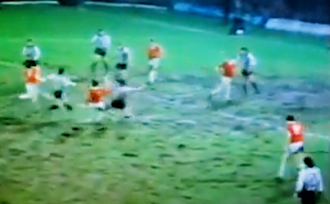 06/02 - FA R4r: Wrexham 4 Newcastle 1 - NEWCASTLE SHAMED IN ANOTHER CUP SHOCK - The Welshmen take the lead in the first minute and with their positive and purposeful football control the game. Newcastle get a surprise equaliser, but the parity is short-lived and two goals in the last five minutes simply rubs it in. McGarry's decision to turn down the advances of Stoke and stay on Tyneside does not appear to have had a positive effect on the players. [YouTube Highlights]
08/02 - McGarry's enquiry for Wrexham midfielder Mike Thomas is rebuffed.
09/02 - Kenny Mitchell joins Morton on a month's loan.
11/02 - The home fixture with Birmingham is postponed due to snow and ice.
12/02 - DOUBLE SHOCK - Following "frank discussions" both Gowling and Burns are listed.
13/02 - BID FOR BLACKPOOL STAR FAILS - An offer of £150,000 plus Micky Burns for Eire international Mickey Walsh is turned down.
18/02 - The away match at Coventry is postponed.
21/02 - Alan Kennedy plays for England B against West Germany.
22/02 - MCGARRY CAPTURES HIS MAN - After weeks of speculation and negotiations, Mansfield player-manager Peter Morris finally arrives on Tyneside as Assistant to McGarry.
26/02 - D1: Newcastle 0 Ipswich 1 - SINKING WITHOUT TRACE -
United match their opponents in the first period, then in the second forty-five Ipswich's composed possession football is far too good for nervy Newcastle who are badly lacking in creativity, fluency and organisation.
March
02/03 - MASSIVE CLEAR-OUT RIPS THROUGH UNITED - McGarry lists eight players: Burns, Gowling and McCaffrey (who have all asked to leave) plus Martin, Gorry, Guy, Maclean and Macfarlane. Explaining his decision McGarry states "we are ridiculously overstaffed" (there were 54 professionals on the books when he joined) and the "wage bill is astronomical". He is also believed to be prepared to allow Hardwick to leave.
04/03 - D1: Derby 1 Newcastle 1 - JUST A CRUMB TO END FAMINE - A disjointed and undistinguished game in which both sides are poor. United take the lead after starting pretty well but soon conceded. After the break good work from Mahoney and profligacy by the Rams secures a rare point.
05/03 - Bolton and Blackburn are interested in Gowling.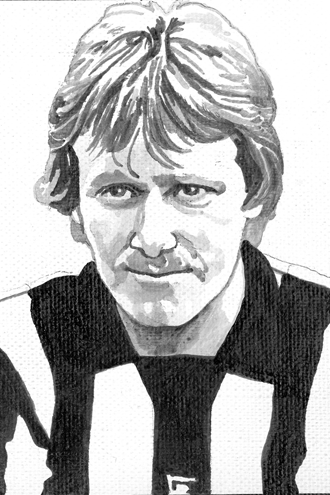 06/03 - David Maclean moves to Carlisle on a free-transfer.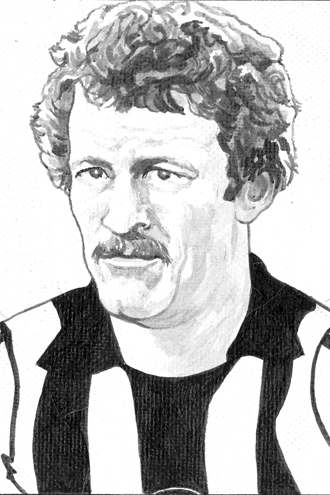 07/03 - Dennis Martin moves to Mansfield for £30,000.
08/03 - A fee of £60,000 is agreed with Notts County for McCaffery.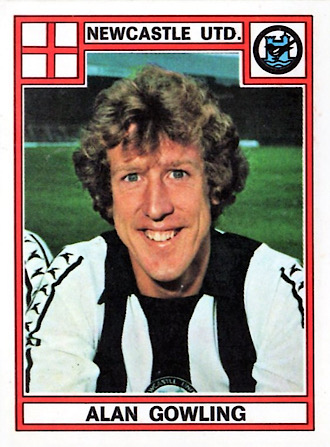 09/03 - NO REGRETS AS GOWLING MOVES ON - Alan Gowling costs Bolton £120,000 and says: "the impression I have is that there were one or two people at the club who wanted me out". A swap deal between Micky Burns and Everton's Mick Buckley falls through.
Andrew Parkinson is signed.
11/03 - D1: Newcastle 2 Man United 2 - BURNS SPOT ON IN UNITED EFFORT - The Mancunians are also struggling, but they are far better than a nervy Newcastle in the first half hour and deservedly go ahead. McGhee equalises almost immediately and an entertaining and even game ensues in which Burns secures a point five minutes from time. The players leave the field to a standing ovation. McGarry is perplexed: "there are too many players at this club who are riddled with fear, they are afraid to play football and express themselves. The reception for the team at the end was unbelievable...there is no way that a player with Newcastle is going to get the: bird providing he tries. If you can't play for this crowd you'll never play for anyone". Ipswich manager Bobby Robson is furious with rioting Millwall fans who held up the sixth round tie. "Get the flamethrowers put and burn the bastards. To think we fought in the war so that hooligans like these could survive. These people are not human and have no place in society. They will kill the game".
14/03 - BARROWCLOUGH IN BOTHER - Stewart Barrowclough is fined a week's wages and told to stay away until next Monday after comments made when he was subbed against Man United were overheard by Peter Morris. "No-one talks to me like that and gets away with it!" blasts McGarry.
15/03 - D1: Newcastle 1 Birmingham 1 - NATTRASS SAVES UNITED's BLUSHES - Irving Nattrass scores just before the end to salvage a point but it is another performance in which Newcastle look totally unequipped to handle the demands and tension of a relegation battle. Nattrass also had to play in goal for eleven minutes whilst Mahoney needed treatment. "We want our money back"is given a regular airing.
18/03 - D1: Chelsea 2 Newcastle 2 - ITS A LAUGH A PENALTY - United throw away a two-goal lead in a match of three increasingly dubious penalties. Although the young guns show guts and talent they are also disjointed and tactically naive and United have Mahoney to thank for a superb display. A furious McGarry slams the official saying that he didn't think that any of the penalties should have been given and calling the last decision "diabolical".
21/03 - Malcolm Macdonald is one of the guest speakers at the Newcastle Sports Council dinner and his attack on the club annoys the majority of the audience.
24/03 - D1: Newcastle 0 Everton 2 - NEWCASTLE ARE BRUSHED ASIDE - Despite the return of Nulty it is all too easy for Gordon Lee's team. Fighting breaks out beneath the West Stand forcing the refer to take the teams off for six minutes just after the break.
25/03 - D1: Nottingham F 2 Newcastle 0 - ANOTHER NAIL IN UNITED'S COFFIN - Leaders Forest are unbeaten in twenty four home games and although their play is sloppy at times it is a very comfortable win. McGarry is not at all happy with the match officials and calls the award of a penalty for the first goal "diabolical and a disgrace". https://youtu.be/HlVU3n_nqtk
29/03 - D1: Newcastle 2 Man City 2 - NEWCASTLE GRAB VALUABLE POINT - Although the Magpies have to rely on an injury-time equaliser to salvage a point they really should have won and are guilty of passing up a number of decent chances. The Leazes End is closed after the game to allow it to be demolished as the first stage of the Phase II ground development plan commences.
April
01/04 - D1: Bristol C 3 Newcastle 1 - CITY TOO SLICK FOR SLEEPY UNITED - Although luck is against United, City dominate the match and could have scored several more. One particular instance stands out. Burns scores direct from a free-kick only for the referee to disallow it on the basis that it was indirect even though he had not signalled this by raising his hand. He also does not allow the kick to be retaken. McGarry is furious and storms out the dressing room. Asked to comment McGarry says "no way….no way…no way!" [YouTube Highlights]
04/04 - D1: Coventry 0 Newcastle 0 - NEWCASTLE HOLD EUROPE CHASERS - Coventry still have a chance of a European place and are the top scorers in the division; a mixture of poor finishing and desperate defence from the Magpies means they draw a blank.
08/04 - D1: Newcastle 1 Aston Villa 1 - ROCK BOTTOM, UNITED - It is a really poor game riddled with mistakes and misunderstandings and Newcastle should really have lost, their equaliser coming from a harshly awarded penalty. For some reason sections of the crowd singled out Nulty for the most abuse.
10/04 - Leeds are showing an interest in Nattrass but McGarry says that he is "probably the last player he would want to let go".
12/04 - D1: West Bromwich 2 Newcastle 0 - MITCHELL SENT OFF AS UNITED SLUMP - The dominant Throstles are far too fast and skilful for United and Mahoney has to make several fine saves to keep the score respectable. The Magpies are six points behind safety with only five games left.
15/04 - D1: Arsenal 2 Newcastle 1 - NEWCASTLE JUST NOT GOOD ENOUGH - Arsenal have just reached the FA Cup Final and seem to be in a daydream as United could and perhaps should have scored at least once in the first ten minutes. Kennedy misses a sitter, Barrowclough breaks through but cannot finish and Nulty hits the underside of the bar. Arsenal's lethargy continues into the second-half until the Magpies take the lead. Journalist Radford Barret suggested that "the club, whose politics seem only slightly less complex and poisoned than those of The Borgias, must find a way to stop wounding itself".
17/04 - D1: Aston Villa 2 Newcastle 0
NEWCASTLE DOWN WITHOUT A FIGHT - Villa are the better side throughout in a poor game and they could have easily doubled their score in the last twenty minutes. Relegation is now a mathematical certainty.
22/04 - D1: Newcastle 0 QPR 3 - LOYAL FANS SHOW ANOTHER FACE - United are the better side for the first half hour and should have gone ahead, but Nattrass misses a six-yard sitter. QPR need the points to avoid relegation themselves and it dawns on them the home side are there for the taking. Chants of "sack the board" and "we want football" reverberate around the stadium. There are anti-Board banners and leaflets and choruses of abuse towards the director's box. Players are booed and season tickets ripped up.
26/04 - D1: Newcastle 2 Norwich 2 - AWFUL END TO AWFUL SEASON -the game has to kick-off at 6.30pm because the floodlights are out of action. Less than 8,000 turn up at SJP to see the "last rites" performed, it is the lowest attendance since World War 1. In an undistinguished match United let the lead slip twice.
28/04 - DIX TO CALL MEETING ON UTD CRISIS - Chairman of the NSA, Malcolm Dix, states that he is calling on the Board to hold an EGM within 21 days. He said a vote of no confidence in the Board will be one of the motions put forward.
29/04 - LEEDS BID FOR NATTRASS - Leeds want Nattrass and an exchange deal was mooted with Peter Lorimer, Paul Reaney and £100,000 coming to Tyneside in exchange. But the deal has broken down as Lorimer does not want to leave.
29/04 - D1: Leicester 3 Newcastle 0 - UNITED GO OUT WITH A WHIMPER - The relegated sides play against each other to see who finishes bottom. Soon after the second goal hundreds of fans stream onto the pitch from the Filbert Street end. Fifteen fans are stretchered off and five are taken to hospital. The incident causes a six-minute hold up in the play. Twenty-three fans are arrested in all.
May
02/05 - Fr: Chelmsford City 1 Newcastle 2.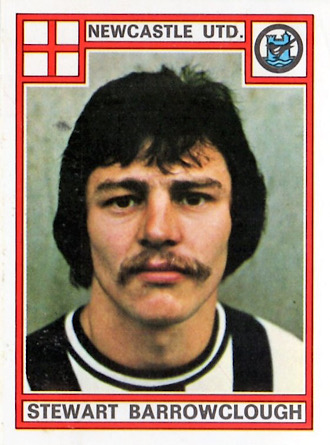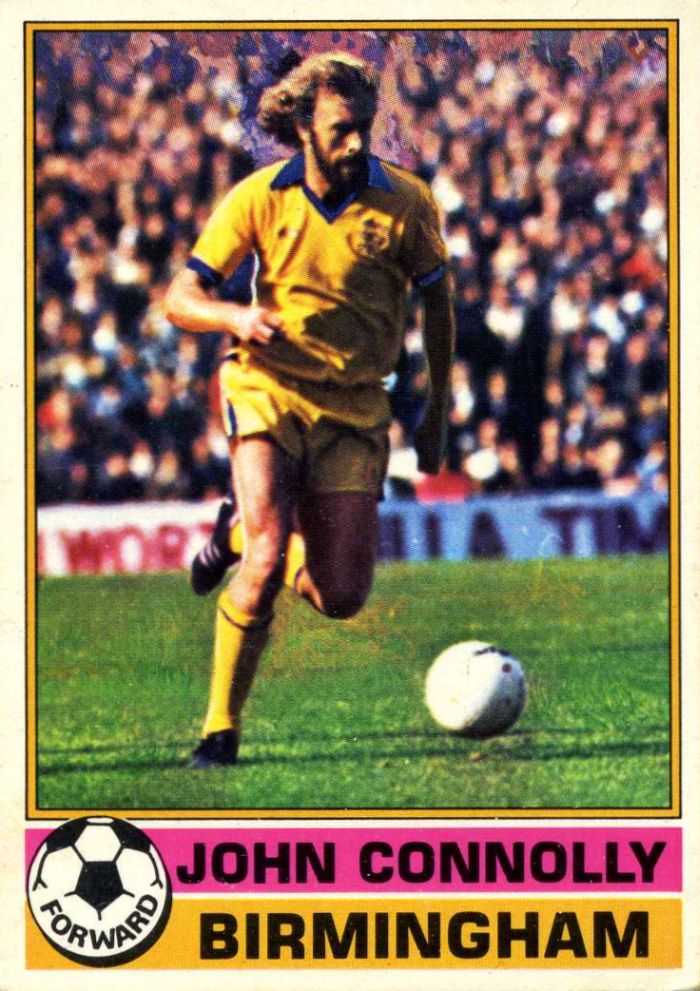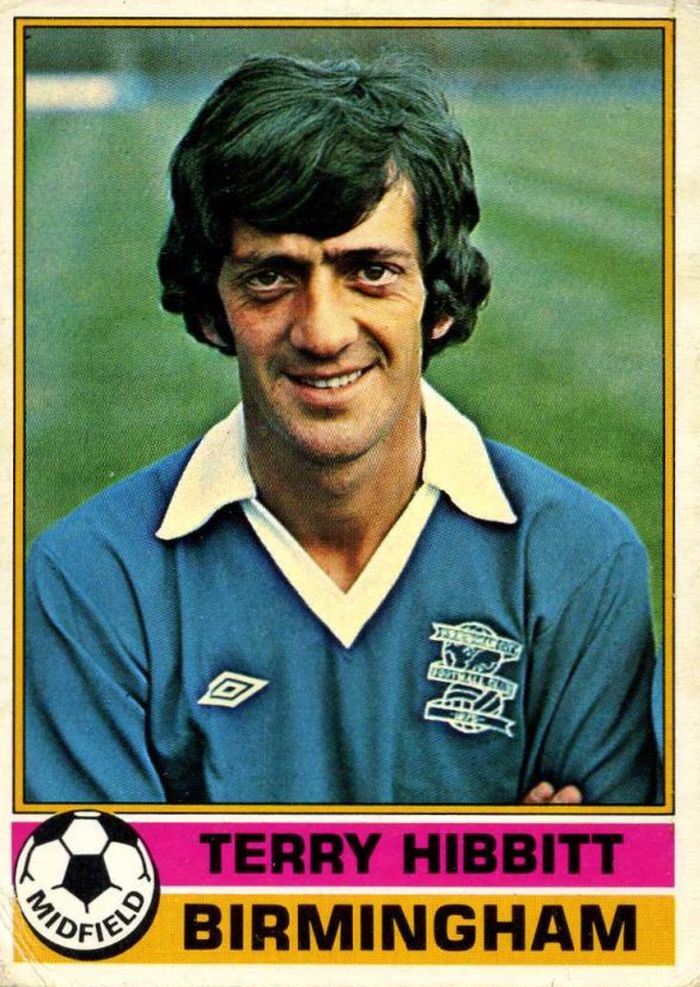 04/05 - Terry Hibbitt returns to Tyneside, joining from Birmingham along with winger John Connolly. Stewart Barrowclough moves in the opposite direction in a deal valued at £150,000.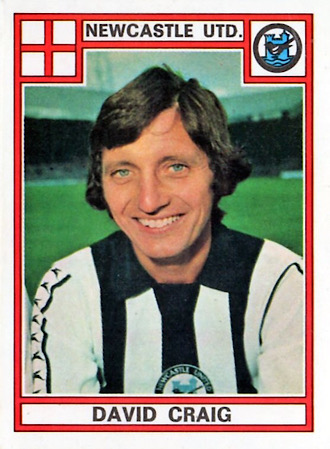 05/05 - Surprisingly, United state that David Craig and Martin Gorry will be the only players not offered new contracts. Craig made 428 (6) appearances in his sixteen years at the club and he would have made many more if he had not had such cruel luck with injuries. In contrast Martin Gorry played forty-five minutes.
08/05 - Test: Newcastle 3 Jim Smith's XI 6 -
Jimmy Smith lays on two of his side's six goals with defence-splitting passes as his team win an open and enjoyable game. Sunderland striker Gary Rowell scores a hat-trick.
14/05 - Bobby Robson rejects another bid for Ipswich midfielder Colin Viljoen.
16/05 - It transpires that the swap deal involving Barrowclough is not yet finalised due to concerns Birmingham have over his fitness.
17/05 - Chairman Bob Rutherford writes to all shareholders calling for those who are backing the NSA call for their removal to change their mind and revoke their support for the EGM.
18/05 - The swap deal is finally concluded.
22/05 - Having obtained the necessary level of support Malcolm Dix personally hands secretary Russel Cushing the requisition for an EGM. The NSA also say they will take legal action if Bob Rutherford's letter alters the position.