NUFC Review 1972/73
NUFC Match Details 1972/73
NUFC Squad 1972/73
June
02/06 - Fr: Thailand Select 2 Newcastle 2 - Having netted a hat-trick in the first game of the Far East tour, Tudor gets a brace against a Thailand Select XI to salvage a 2-2 draw after United fell two goals behind.
04/06 - Fr: Newcastle 2 Santos 4 - In Hong Kong the Magpies lead Brazilians Santos 2-1 at the break, but as they tire in the 85 degree heat Pele scores an incredible fifteen-minute hat-trick.
07/06 - Following intensive training to build-up his legs Jimmy Smith is now one hundred percent fit.
09/06 - Fr: Javanan 1 Newcastle 1 - TUDOR MAKES TALLY SEVEN - Tudor scores his seventh goal of the tour to earn a draw.
16/06 - Young Goalkeeper Eric Steele (18) signs his first professional contract. Last season, whilst still at school, he played several games for the Reserves as an amateur. He also represented England U-19 schoolboys.
Paul Cannell signs professional forms.
21/06 - Released youngster David Embleton signs for Bury.
July
03/07 - Transfer-listed Tommy Cassidy starts pre-season training a couple of weeks early to shed some weight and ensure he is in the best possible condition for next season in the hope of changing Harvey's mind.
17/07 - The first official day of training is held and the team photo-call takes place.
22/07 - Nattrass strains his thigh and will be out at the start of the season.
24/07 - Cardiff have agreed a £30,000 fee for Guthrie, but the player is still thinking over the move. He is due a £3,000 ten-year service bonus next July.
25/07 - Macdonald is one of the players fined (£25) and warned by the FA Disciplinary Committee after he was booked three times last year.
26/07 - Harvey is left disappointed after Ron Guthrie turns down a move to Cardiff.
29/07 - Fr: St. Johnstone 3 Newcastle 7 - THIS WAS NO TEST, NEWCASTLE - Macdonald and Tudor both score hat-tricks in what is far too easy a match to represent a good work-out. Macdonald starts the scoring after only five seconds, almost certainly the fastest goal in the club's history. There is some trouble on the terraces.
31/07 - Fr: Partick Thistle 2 Newcastle 2 - PARTICK PEGGED BACK TWICE BY UNITED - Gibb is made captain against his former team and scores in a rollicking match which gives the fans full value for money.
August
02/08 - Following the lead of other clubs, United are building bar facilities into the new East Stand and have applied for a liquor license. The old ground lease forbade the sale of alcohol.
05/08 - Fr: Morton 1 Newcastle 1 - UNITED IN STORM - An Ill-disciplined game, played more like a cup-tie, in which Morton are the better team and should have won.
12/08 - D1: Newcastle 2 Wolves 1 - GREEN LIGHTS UP UNITED START - United start really well and score twice in the first twelve minutes, but they concede almost immediately and Wolves are the stronger eleven in the second-half.
15/08 - D1: Birmingham 3 Newcastle 2 - BIRMINGHAM BLAST SINKS UNITED - Green inspires a come- back from two goals down against the newcomers to make it all square at the interval. Then United faced wave after wave of attacking in the second-half which eventually breaches their defensive dam in the last ten minutes. United play in their all-red change kit.
17/08 - The Magpies' qualification for the Texaco Cup is confirmed.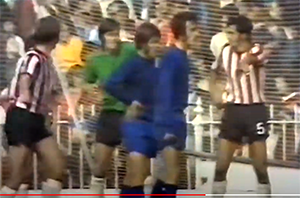 19/08 - D1: Sheff. United 1 Newcastle 2 - Newcastle are still struggling to find their rhythm, but their defensive strategy blunts the Blades in the first half before they counter-attack in devastating fashion in the second. More than fifty fans are arrested after the game (the majority from the North-East) plus another twenty-two juveniles. United play in their all-blue change kit.
21/08 - Fifty fans appear in a special Court in Sheffield. Charges range from assault on police to wilful damage, disorderly behaviour and drunkenness. Most get fines, but four are sent to detention centres for three months.
21/08 - Although Newcastle Supporters Club Chairman Bill McEwan is appalled by Saturday's trouble he states that they will not change their policy with regards to the time buses depart at away games. The club took five coaches to Sheffield of which three stayed until after 11pm.
23/08 - D1: Newcastle 1 West Brom. 1 - MAC ON MARK, THEN UNITED LOSE GRIP - After starting purposefully and taking the lead through Macdonald the Magpies lose their way and Albion deserve the draw.
26/08 - D1: Newcastle 1 Ipswich 2 - With Green adding to the injury woes Reid is drafted in. He and Cowan struggle and Ipswich dominate before the break, scoring twice. They are well in control until United start to play in the last twenty minutes. Although Macdonald pulls one back and United put on late pressure, Ipswich hold on to win.
28/08 - TOP UNITED SCOUT DEMOTED - Part-time Chief Scout Temple Lisle says he is "very disappointed" to be relieved of his position after 16 years. He has been told he can remain a scout for the club.
29/08 - On a trip to Lambton Safari Park in County Durham with his family a baboon rips off part of the vinyl roof of Supermac's Ford Granada.
30/08 - D1: Newcastle 0 Tottenham 1 - NEWCASTLE FALL FOR THE OLD ONE-TWO - Although United's graft and hard-running keeps them in the game, the Londoner's craft and culture eventually wins the day.
31/08 - Gibb's thigh strain rules him out for another month.
September
02/09 - 01: C. Palace 2 Newcastle 1 - BRAVE UNITED STRUCK DOWN - United play quite well but are just edged out in a rough match which sees both Green and Nattrass retiring injured. "lt never rains but it pours", laments Harvey, "these latest setbacks are just too much."
03/09 - NEW GREEN BLOW FOR UNITED - It is believed Tony Green has damaged ligaments in his right knee and his whole leg has been put into plaster for a month.
05/09 - LC R2: Port Vale 1 Newcastle 3 - UNITED KILL CUP JINX - United score twice in the first ten minutes, but to their credit the Division Three side pull one back and dominate after the break until they are hit on the counter.
07/09 - Although United's injury problems are mounting up, Westwood admits that money is tight and "until we offload some of the transfer-listed men we have there is no question of us spending a lot of money."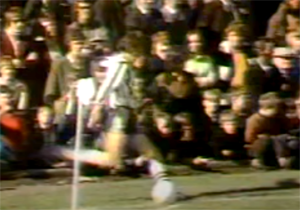 09/09 - D1: Newcastle 2 Arsenal 1 - CRAIG CRACKER HAS BARNETT BLUSHING - A battling performance from United as they topple the unbeaten League leaders in an entertaining game.
13/09 - TC R1 L1: Ayr 0 Newcastle 0 - UNITED HELD BUT THEIR SPIRIT IS PROOF! - In the Texaco Cup, Newcastle offer stubborn resistance as the Scottish part-timers give their all.
14/09 - Some fans are concerned that Tony Green's career might be over, but he is "certain I will be back".
16/09 - D1: Coventry 0 Newcastle 3 - MAC THE KNIFE SHREDS THE SKY BLUES - Supermac scores the "perfect" hat-trick - right, left and head, his first in the League since his home debut.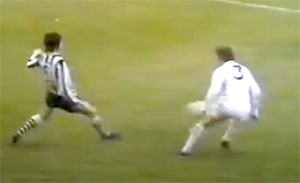 23/09 - D1: Newcastle 3 Leeds 2 - NEWCASTLE'S POWER AND GLORY - The Cup holders are relentlessly chased, challenged and eventually outplayed in an emotionally draining match. It is 2-2 after only eight minutes and then on the hour Macdonald finishes off a superb team move which is judged as one of the best goals of the season in Division 1.
25/09 - MAC IN PLASTER - Macdonald's left knee buckled during the match and there are fears that there could be ligament damage, his leg has been put in plaster. Depending on the extent of the injury United could be forced to buy.
27/09 -TC R1 L2: Newcastle 2 Ayr 0 (agg 2-0) - JOKER SMITH HAS LAST LAUGH WITH CUP ACE - Although United miss loads of chances, they still score twice to win on aggregate. Young debutant Cannell missed a great chance and was substituted.
30/09 - D1: Everton 3 Newcastle 1 - BRAVE UNITED GO DOWN - The Magpies have not won at Goodison Park for sixteen games. It is a brave performance full of combat and adventure in which they match Everton's short passing game with an effective counter attacking approach. Hibbitt and Tudor miss gilt-edge chances at 1-1 and Everton score twice in the last seven minutes.
October
03/10 - GREEN NEWS DELIGHTS HARVEY - After having the cast removed from his right leg yesterday Green starts light training.
04/10 - LC R3: Newcastle 0 Blackpool 3 - NEWCASTLE GET THE SHOCK TREATMENT - Second Division Blackpool are managed by ex-United skipper Bob Stokoe (who won four times at St James' with Bury in the sixties) and include former favourites Keith Dyson and Alan Suddick. United are so pitiful that the crowd jeer the players throughout.
07/10 - D1: Newcastle 3 Norwich 1 - TUDOR RESTORES NEWCASTLE'S PRIDE - Although Tudor grabs a brace it is Jimmy Smith who is the star of the show. Harvey says: "Jinky is now beginning to look like the kind of player we always knew he could be. And what a marvelous player he is - both to watch and play alongside".
09/10 - The friendly due to be played against Luton on October 30th has had to be postponed because of fixture congestion. It was arranged as part of the Macdonald deal and is likely to be played later in the season.
14/10 - D1: Stoke 2 Newcastle 0 - HURST HALTS BRAVE UNITED - Stoke score twice in the last 13 minutes to lift themselves out of the relegation zone.
21/10 - D1: Newcastle 2 Man. United 1 - SUPER TUDOR STRIKES GOLD FOR NEWCASTLE - Twenty minutes before the start of the game hundreds of young thugs. including girls, swarm onto the pitch from the Leazes End. They run around the pitch, and then invade the Gallowgate End, where the Manchester fans are housed. The police are hopelessly outnumbered and virtually powerless and there is a series of pitched battles. The arrival of three police dogs brings an end to the trouble. Superstar singer Dionne Warwick is in the stands but there is very little entertainment in a mundane match which only comes to life after Tudor's brilliant goal. Hibbitt scores a second before Charlton pulls one back to set up a nervy finale.
22/10 - UNITED CHIEF LASHES OUT AT SOCCER HOOLIGANS - Chairman Lord Westwood says: "I'm appalled, but what can you do about it? This hooliganism just seems to be part and parcel of the times".
25/10 - TC R2 L1: West Brom. 2 Newcastle 1 - HIBBITT KEEPS UNITED'S TEXACO HOPES ALIVE - With United trailing by two goals Hibbitt superbly chips in from thirty-yards to narrow the deficit.
28/10 - D1: Chelsea 1 Newcastle 1 - BIRTHDAY TREAT FOR UNITED - High flying Chelsea have injury problems of their own and are struggling to break down the resolute Magpies until Hodgson's unlucky own-goal, then Smith equalises nine minutes from time.
November
04/11 - D1: West Brom 2 Newcastle 3 - TWO GOAL TUDOR STEALS GLORY - Tudor scores twice in the last half hour to overturn Albion's lead.
08/11 - Macdonald misses out on the squad for the World Cup qualifier against Wales with Ramsay saying it would be too risky with him having just returned from injury.
08/11 - TC R2 L2: Newcastle 3 West Brom. 1 (agg 4-3) - HIBBITT THE HERO AS UNITED STORM HOME - Frank Clark is handed a £5,000 loyalty bonus before the game. As the Magpies seem to be slipping out the competition they score twice in ten minutes to go through.
11/11 - D1: Newcastle 3 Birmingham 0 - NEWCASTLE FLASH GOALS WARNING - Despite a difficult swirling wind United's potent mix of skill and aggression overwhelms Birmingham. Harvey proclaims: "we're not afraid of anyone now, we've been playing some brilliant stuff this season and we'll continue to surprise people, we have been underrated in the past. Nobody has given us credit, not even when we won the Fairs Cup. This team is the best I've had...it's a joy to watch them play".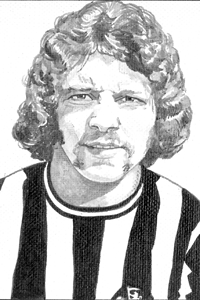 15/11 - After a successful month's loan, Keith Kennedy moves to Fourth Division Bury for £3,000.
16/11 - LEADING SURGEON TO SEE GREEN - With Tony Green still suffering pain in his knee United have asked leading orthopaedic surgeon Keith Barnes, who operated successfully on Green a few years ago, to examine him.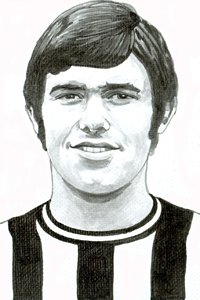 17/11 - Chris Guthrie agrees to join Southend who he turned down a couple of weeks ago. The fee is £10,000.
17/11 - United face Liverpool at Anfield tomorrow and Harvey says "I'm confident we can give Liverpool, as big as they are, a good game". Kevin Keegan will be one of their team, but today he releases a record entitled "It ain't easy".
18/11 - D1: Liverpool 3 Newcastle 2 - NEWCASTLE DOWN - BUT NOT OUT - True to Harvey's words, United are prepared to take the fight to leaders Liverpool, but gift the Scousers victory with a couple of comedic goals.
21/11 - GREEN NEEDS AN OPERATION - Surgeon Keith Barnes has advised the club that the cartilage in Green's right knee needs to be operated on.
21/11 - Stewart Barrowclough joins Macdonald in the England-U23 squad for the match against Wales.
23/11 - Saturday's match with Leicester is called off due to the mystery bug which is rampaging through the Foxes.
29/11 - MAC'S GRAND SLAM - Macdonald scores an eighteen minute hat-trick as England U23 beat their Welsh counterparts 3-0. Barrowclough wins his first cap.
December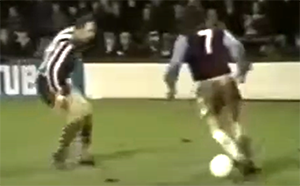 02/12 - D1: West Ham 1 Newcastle 1 - NEWCASTLE'S LATE SHOW - There is terrific entertainment on show from both sides at Upton Park in a game in which the goals are separated by only 16 seconds. Harvey believes that: "the team I have got now is as good as the one which enjoyed the glory years in the early fifties".
04/12 - John Cowan is told he can leave and joins Guthrie, Cassidy and Young on the list.
04/12 - At the AGM the club announce a profit of £10,000 on last season, but Chairman Westwood admits that the 99-year ground lease is still unsigned due to a disagreement over the wording of one of the clauses. Gordon McKeag's appointment to the Board is confirmed and Westwood and Braithwaite are re-elected as Frank McArdle fails in his attempt to get a seat. The Chairman also defends the much-maligned Texaco Cup, saying it brought in more than £26,000 last season.
08/12 - Tony Green is released from the Wigan hospital where he has been having treatment and Joe Harvey brings him back to Tyneside. The Scot is hoping to play competitive football again in about a month.
09/12 - D1: Newcastle 0 Southampton 0 - UNITED TAUGHT POINTED LESSON - Supermac misses five presentable chances as United make a host of opportunities, but fail to score against the ultra-defensive Saints. Although United are unlucky, hitting the post twice and having three efforts are cleared off the line, their play becomes increasingly ragged as their frustration grows. Harvey says "I must get more players now. The need for them is urgent, very urgent". He wants a commanding central-defender, an attacker and a midfielder. He is also angry that the game was frequently interrupted by a "phantom whistler" in the Leazes End. After numerous loudspeaker appeals failed to stop him he was finally silenced when the referee threatened to take the players off.
12/12 - Tommy Gibb needs a cartilage operation on his knee.
16/12 - D1: Derby 1 Newcastle 1 - NEWCASTLE MATCH DERBY'S POWER - The clinging mud of The Baseball Ground doesn't stop the two sides serving up a fiercely-fought and action-packed thriller. Derby manager Brian Clough says "all 22 players deserve medals for that show".
23/12 - D1: Newcastle 2 Man. City 1 - NEWCASTLE EDGE INTO THE TOP SIX - Chairman Westwood calls it "floodlight robbery" after United win despite being outplayed for most of the match.
26/12 - D1: Leeds 1 Newcastle 0 - DOUBLE PENALTY PUTS UNITED ON THE SPOT - An excellent game in which the Magpies play some wonderful attacking football is marred by a controversial twice-taken penalty which has Harvey fuming: "I don't know how referees can sleep at night when they give decisions like this."
30/12 - D1: Newcastle 4 Sheff. United 1 - LOOK OUT LEICESTER - a commanding performance means Newcastle are now fifth and Harvey is looking forward to a realistic challenge for a European spot.
January
01/01 - D1: Newcastle 2 Leicester 2 - WORTHINGTON EXTRA UPSETS UNITED - United make a great start and should have gone on to win, but they are denied by Shilton's heroics and a disputed late goal.
04/01 - Harvey agrees to sell David Young and Ron Guthrie to Sunderland in a joint deal for a knock-down fee of £35,000. Guthrie has the flu at the moment so his move will be delayed.
06/01 - D1: Ipswich 1 Newcastle 0 - WE WERE ROBBED CLAIM UNITED - Bogey side Ipswich are too strong for a below par United side who never really get going. United have three "goals" disallowed for offside and although two of the decisions appear correct the third is much more dubious.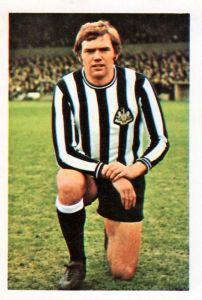 09/01 - Ron Guthrie completes his move to Sunderland and Alex Reid has returns from his loan spell with Morton.
13/01 - FA R3: Newcastle 2 Bournemouth 0 - UNITED'S POWER KILLS OFF JINX - Bournemouth are top of the Third Division and after last season's Hereford debacle there are fears of another upset. Bournemouth and England mascot Tim Bailey is at the game. Although United attack well, there are some nervy moments in defence. "I believe the psychological barrier has been broken" says a relieved Harvey.
16/01 - Macdonald is called up for the World Cup qualifier against Wales.
17/01 - Barrowclough breaks his hand in training.
18/01 - Barrowclough's injury earns Cassidy a reprieve, but Burkinshaw demands that he shaves his bushy beard off.
20/01 - D1: Newcastle 2 C. Palace 0 - UNITED: THE KID GLOVE KILLERS - Smith is superb and United should have won by a lot more against the struggling Londoners, erratic finishing letting them down.
24/01 - Macdonald is left on the bench as England struggle to a 1-1 draw with Wales at Wembley.
26/01 - Joe Harvey tells his players (with regards to the game at Highbury): "We can beat them. Get out there and show London what you can do. Show them that the North-East has a team as good as anything they've got"
27/01 - D1: Arsenal 2 Newcastle 2 - POINT LOST BUT JOE IS SO PROUD - A thrillingly competitive game at muddy Highbury where comeback kings Arsenal score twice in the last twenty minutes to salvage a draw. Prior to that United had played superbly. The game gets quite feisty towards the end with Jimmy Smith and Peter Storey exchanging blows and Charlie George attempting to throttle David Craig, all of them staying on.
February
02/02 - The new East Stand will be partially opened (housing 1,500) for tomorrow's Cup Tie.
03/02 - FAC R4: Newcastle 0 Luton 2 - SO BAD UNITED - There is no doubt that Second Division Luton are dangerous opponents as they have already recorded nine away victories this season (the best record in the Football League). United are clueless with nobody prepared to take responsibility. The players are booed off. The barracking continues during the second forty-five as United never look like scoring. Thousands leave early and Harvey admits: "There are no excuses, we were just so bad it wasn't true".
05/02 - Harvey hit's back at criticism of the players for a lack of effort "I won't entertain talk like that….to say that some players were not trying is ridiculous".
10/02 - D1: Newcastle 1 Coventry 1 - LETHARGIC NEWCASTLE STAY IN SHADOWS - United seem to be suffering from post-Luton shock as they lumber through another poor performance and the players are once more booed off at the end. Harvey lashes out at the "pathetic performance" of Tudor and Macdonald specifically criticising their "lack of running".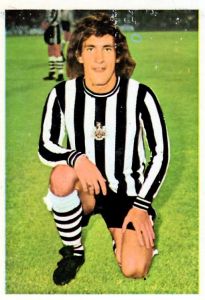 12/02 - HARVEY LANDS £20,000 STARLET - United sign midfielder Terry McDermott (21) from Fourth Division Bury for £20,000. The deal will be completed tomorrow when he has his medical. Harvey says: "I think he will be a star in the future, but we are not going to rush him".
13/02 - Barrowclough scores the winner for Young England against Scotland.
13/02 - Alex Reid admits he would leave if it gave him the opportunity to play regularly. A possible permanent move to Morton fell through as they could not afford him.
15/02 - Tony Green is informed by his specialist that he is recovering well, but there are some minor complications preventing him from resuming full training. After a heart-to-heart with Joe Harvey, reserve 'keeper Martin Burleigh decides to stay.
17/02 - D1: Wolves 1 Newcastle 1 - HERO HIBBITT - With Smith a virtual passenger after hurting his knee early on United struggle. It is not a classic by any means as the game is bogged down in the Molineux mud most of the time. Both Hibbitt brothers score for their respective teams.
19/02 - A loan move to Luton falls through for Martin Burleigh.
20/02 - An angry Ray Ellison asks for a transfer after being included and then excluded from the squad travelling to Rome.
22/02 - United have reportedly agreed terms with Bolton for centre-half Paul Jones. But Harvey will almost certainly need to sell before he can afford the £100,000 fee.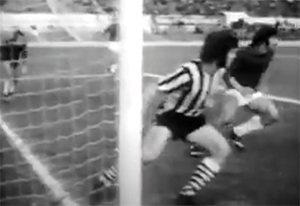 21/02 - AI: Roma 0 Newcastle 2 - TUDOR'S SCORCHER SETS ROME ALIGHT - Roma are the holders of the Anglo-Italian Cup. United dominate throughout and could easily have trebled their tally.
24/02 - D1: Norwich 0 Newcastle 1 - MAC STORMS BACK - Another man of the match performance from Hibbitt and a return to form for Macdonald secures a deserved victory at Carrow Road.
27/02 - Irving Nattrass gets his first call-up for the England-U23 squad, joining Barrowclough for the game against Czechoslovakia on March 7th.
27/02 - Long-term injury victims Tommy Gibb and Tony Green make their comeback for the reserves against Coventry. "I believe Tony has lost nothing, he'll be back challenging for a first-team place in next to no time" says Harvey.
28/02 - 01: Newcastle 2 Derby 0 - EUROPE HERE WE COME! - A wrenched thigh muscle for McFaul gives Burleigh a chance and although he does not have much to do he plays with confidence. County play most of the football, but they are undone by United's more direct approach. "I believe we are now the best attacking side in the First Division" beams Harvey.
March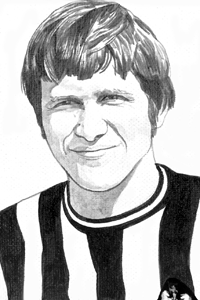 01/03 - Ray Ellison becomes the third United player to sign for Sunderland in the last couple of months.
05/03 - Fr: League of Ireland 0 Newcastle 0 - UNITED HIT BY DUBLIN INJURIES - In a drab and disappointing game United lose four players through injury: Moncur, Smith, Hibbitt, and substitute Kennedy.
10/03 - D1: Newcastle 1 Stoke 0 - MACS MAGIC HAS THE LAST LAUGH - An interesting rather than exciting game. The Potters have two "goals" disallowed. Macdonald misses two good chances and also has an effort disallowed, but scores the winner with five minutes left. Jimmy Smith's performance is described by David Alexander in the Sunday Sun as varying from "brilliant to slapstick".
12/03 - Bobby Moncur admits to being "shocked and hurt" by a report that Newcastle were considering selling him, but Harvey let's him know there is no truth in the rumours.
14/03 - TC SF L1: Newcastle 1 Ipswich 1 - MAC TO THE RESCUE - An equaliser from Macdonald twenty minutes from time keeps the Magpies' Texaco Cup hopes alive.
17/03 - 01: Man. United 2 Newcastle 1 - HOLTON SENT OFF IN NEAR-RIOT - Although Newcastle are shabby and off-key, Man United use brutal tactics with Holton and James hammering Macdonald and Tudor at every available opportunity. Just before time Holton head-butts Macdonald on the back of the head, knocking him out cold. Chaotic scenes ensue with Burkinshaw confronting Red Devils manager Docherty and (the previously subbed) Jimmy Smith joining the players on the pitch as they square up to each other. After the match. Terry McDermott makes his debut as a second half replacement for Smith. After the game players and officials criticise the "incitement to violence" coming from the home dug out and Macdonald blasts their rough and crude play.
21/03 - Al: Newcastle 1 Bologna 0 - UNITED MARCH ON, BUT MAC IS SENT OFF - Although it is one-way traffic throughout the Magpies only get one goal for their efforts. Macdonald is sent off along with Bologna's Lancini just before the end.
23/03 - Tony Green has another minor manipulative operation performed once more by Keith Barnes. He had adhesions behind his knee removed that were restricting his mobility.
24/03 - D1: Newcastle 1 Chelsea 1 - NEWCASTLE EASE OFF - Prime Minister Ted Heath is in the crowd to watch the game, but he cannot have been impressed by a match in which United demonstrate a woeful lack of ideas.
28/03 - Green emerges unscathed from a reserve match against Sheffield Wednesday.
29/03 - Green manages to train, the first time this has been possible after playing in a match.
30/03 - Martin Burleigh, a keen weight lifter and body builder has shed half a stone this week in an effort to retain his place. He now weighs thirteen stone, his "fighting weight".
31/03 - D1: Leicester 0 Newcastle 0 - EUROPE BECKONS AS RESERVES DO JOE PROUD - A stubborn performance from United in which Burleigh, in particular, impresses with his confident handling.
April
04/04 - AI: Como 0 Newcastle 2 - UNITED LEAD BIG PARADE - after a listless and goalless first-half United take command after the break. Tony Green makes a very welcome return as a sub fifteen minutes from the end.
07/04 - D1: Newcastle 1 West Ham 2 - UNITED'S HOPES HIT - Ted MacDougal wins the battle of the Supermac's hands down as United are beaten at home in the League for the first time in over seven months.
10/04 - TC SF: Ipswich 1 Newcastle 0 (aet agg 2-1) - TEXACO DRIVE RUNS OUT OF GAS - United are seemingly happy to sit-back and concede possession, but the pressure finally tells five minutes into extra time.
11/04 - Green completes another reserve game.
12/04 - NOW MAC MUST EXPLAIN - F.A. - A special FA Committee has been set up to investigate the comments made by Macdonald after the match at Old Trafford. They have asked him to provide his version of events with particular reference to one particular newspaper report. Based on his response they will decide whether or not to charge him with bringing the game into disrepute. United's centre-forward has also upset Sunderland manager Bob Stoke by saying he wanted them to lose to Arsenal in the FA Cup Semi-final to boost United's chances of getting into Europe.
14/04 - D1: Southampton 1 Newcastle 1 - WE WERE ROBBED MOANS HARVEY - United are well on top for most of the game and should have returned to Tyneside with both points. The Saints equaliser comes from a free-kick and is highly controversial. It is a dubious award and Southampton get two goes at taking it, Harvey describes the decisions as "diabolical".
13/04 - A scan reveals that Burleigh fractured his left index finger in the match yesterday and will be out for the rest of the season. He was in agony for the last thirty minutes.
18/04 - D1: Man. City 2 Newcastle 0 - MAINE ROAD BLOCK - Although there is nothing between the teams in the first-half City score on the stroke of half-time. Rodney Marsh scores a brilliant second just after the hour mark and the home side never look like relinquishing control.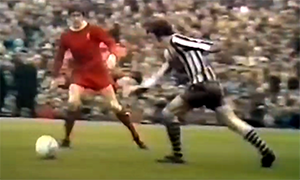 21/04 - D1: Newcastle 2 Liverpool 1 - It is wet, windy and slippery and McDermott comes of age with a brilliant performance against his home town club but there are heroes all over the pitch as United beat the leaders. Trouble rages before and during the match, fourteen fans are arrested and there are a number of injuries including a policeman who is kicked in the face in the Leazes End.
25/04 - D1: Newcastle 0 Everton 0 - REFEREE BOOKS SIX AS UNITED STRUGGLE - The Magpies create most of the chances on offer in what is a game of few genuine thrills. A lot of petty fouls also disrupts the flow. United still have a chance of qualifying for Europe.
28/04 - D1: Tottenham 3 Newcastle 2 - UNITED PAY PENALTY - Newcastle build a two goal cushion in the first half, but after the break they fail to concentrate on retaining possession and allow the home side back into the game. After the game Harvey says: "I have never felt as sick as I did when the referee awarded Spurs that penalty. I just got out of my seat and walked away." United are still in a Euro place, but Derby have two games in hand and can overtake them.
May
02/05 - AI: Newcastle 5 Torino 1 - FOUR SENT OFF IN SIX GOAL BRAWL - The Anglo-Italian competition lives down to its reputation once more as an initially entertaining game eventually becomes a farce in which punches are being traded almost as regularly as passes. Both sides have two sent off and lots of other Italians are booked for outrageous challenges. In terms of the football it is a very one-sided affair.
04/05 - Derby's victory against Wolves takes them above Newcastle thereby ending the European dream.
11/05 - AI SF L1: C Palace 0 Newcastle 0 - UNITED SET FOR ITALY - BUT WHAT A BORE - A hard, bumpy surface does not help, but neither does the performance of both sides as they bore the pants off the meagre crowd.
14/05 - Test: Newcastle 2 Sunderland 1 - ROKER CUP HEROS GO FOR A BURTON - Ollie Burton gets an excellent send off after ten years loyal service in a highly competitive, but sportsmanlike friendly.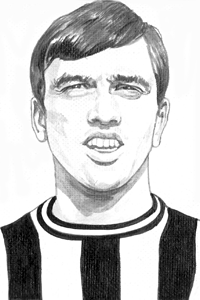 16/05 - John Cowan is released, but after an energetic performance against Sunderland Cassidy is reprieved and taken off the list.
21/05 - AI SF L2: Newcastle 5 C. Palace 1 - NEWCASTLE SWEEP INTO ANGLO FINAL - Macdonald blasts a glorious hat-trick as United thrash relegated Palace.
31/05 - As United set off for Rome Harvey tells them: "Don't retaliate, don't lose your tempers. We have had enough trouble already. I want no trouble this time".
01/06 - AI Fin: Fiorentina 1 Newcastle 2 - UNITED PULL OFF THE ITALIAN JOB - Despite the evening kick-off it is humid and steamy and much of the game is played at walking-pace. United outplay and then out-last the Italians to deservedly win the competition. They only ever looked in danger in the last eleven minutes after Fiorentina scored.