June
---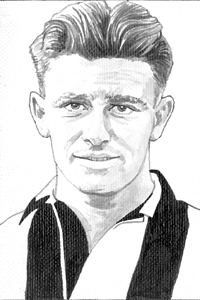 15/06 - Newcastle sign Leicester City winger Tommy Paterson (23), he was formerly with Lochgelly Albert.
---
17/06 - Tenor Frank Brennan performs at the Northumberland Hall in Alnwick.
---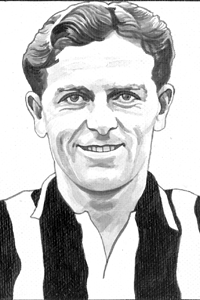 17/06 - Norman Dodgin, who was placed on the transfer-list last May, moves to Reading.
---
17/06 - Robledo impresses in Chile's 2-0 victory over England. He has so delighted the Chileans that he has received two offers. Two University sides in Santiago are willing to club together to pay him £25 a week to be their coach. And he has also received an offer which includes a £4,000 signing-on fee and a monthly wage of £140. The player states "he is not interested'.
---
July
---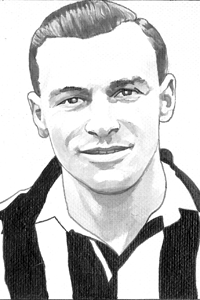 01/07 - Joe Sibley returns to former club Southend for a considerable fee. He joined United for £7,000 in January 1948.
---
02/07 - Having recovered from the side-effects of his vaccination, Milburn plays for England in the defeat against Spain. He is unlucky to have what appears to be a legitimate goal disallowed for offside.
---
Reserve Harbertson moves to Bradford.
---
22/07 - Newcastle's junior side is to be entered in the Northern Intermediate League.
---
August
---
02/08 - At the Board Meeting it is revealed that nine players are to receive the maximum permitted benefit of £750 this season: Bobby Cowell, Bobby Corbett, Doug Graham, Charlie Crowe, Tot Smith, Jackie Milburn, Ernie Taylor and Tommy Walker.
---
03/08 - One of United's most promising reserves, Bobby Stokoe, reports for Territorial Army service for the first time having completed his 18-months National Service. Formerly of Spen Juniors he became a professional on his 17th birthday.
---
05/08 - Fr: Edinburgh Select 1 Newcastle 1 - The Magpies take on a combined Hibernians/Hearts team in a game in support of Edinburgh charities. Although United are by far the better team with their slick movement, first-time passing and grand shooting, luck is against them. They hit the woodwork, are denied a blatant penalty and have a goal unfairly disallowed. Both sides will keep the Charity Cup for six months.
---
12/08 - The Probables take on the Possibles in front of 12,963 fans at St. James'. It is a poor game in which new signing Patterson puts the Possibles ahead (57m) and Mitchell equalises. A mystery player called Bailey also plays.
---
14/08 - George Martin outlines how he wants the team to play. "The feet on the carpet stuff, with no laziness on the field, clever positional play and the ball doing the work". He also stresses that there is a great team spirit and that "nothing makes me happier than a lot of din in the dressing room". Mystery Scottish player Bailey will not be signed.
---
Joe Harvey has had his tonsils out and is a lot fitter now.
---
19/08 - D1: Stoke 1 Newcastle 2 - MILBURN BACK GO HIS ENGLAND FORM - United demonstrate the greater thrust in attack and deservedly take maximum points with the Potters consolation coming five minutes from time.
---
23/08 - D1: Newcastle 1 West Brom. 1 - BRENNAN'S GOAL SAVES DAY - In a match played in gathering gloom and rain the visitors outplay United in the first-half and deservedly lead, but United rally in a spirited fashion after the break. Brennan, who was suffering from lumbago during the day, gets the equaliser, but it is Ernie Taylor who is the star on the rain-sodden turf.
---
Goalkeeper Jerry Lowery asks for a transfer. He made his debut last season, but has been back in the third-team this season. His request is turned down by Martin.
---
26/08 - D1: Newcastle 1 Everton 1 - UNITED LACK COHESION - A game of misplaced passes, lamentable shooting and missed chances with opportunities frittered away by both sides.
---
30/08 - D1: West Brom. 1 Newcastle 2 - NEWCASTLE HIT TOP FORM AT THE HAWTHORNS - It is a poor game until Milburn scores with a typical burst ten minutes from the break. The Throstles equalise soon after but United, whose attack is the most constructive, grab a second-half winner.
---
September
---
02/09 - D1: Portsmouth 0 Newcastle 0 DEFENCE SAVES UNITED'S UNBEATEN RECORD - The match is broadcast on the radio and although it is a very sportsmanlike game it is only occasionally entertaining with both sides guilty of keeping the ball in the air too much.
---
06/09 - D1: Newcastle 6 Huddersfield 0 - TOWN OVER-RUN IN ST. JAMES'S GOAL-RUSH - Heavy rain and a howling wind make for atrocious conditions for players and spectators alike, not surprisingly the gate is down by a third from the Everton game. The Terriers defence is poor, but credit is also due to United's forwards who are all on top-form and the team as a whole play with a fighting spirit reminiscent of the promotion season. The game could have easily ended up 16-4.
---
09/09 - D1: Newcastle 3 Chelsea 1
UNITED LEAD DIV 1 - ATTRACT SELECTORS - A hard earned success against the Pensioners sees Newcastle equal a 50-year-old record of seven games without defeat since the beginning of the season. Speedy Chelsea play well, but are lacking in front of goal and United win because their finishing is more accurate.
---
11/09 - Aston Villa and Chelsea have both failed in bids for reserve forward Tommy Thompson.
---
13/09 - D1: Huddersfield 0 Newcastle 0 - NEWCASTLE FORCE DRAW - BREAK CLUB RECORD - It is a classic for effort, but a selling plate football show. Although the Magpies are excellent at times with their smooth attacking and robust defending it is the hosts who come closest when Cowell has to clear off the line with Fairbrother beaten.
---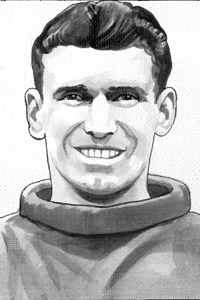 13/09 - Eric Garbutt is injured playing for the reserves against West Brom when he collides with Richardson, it is believed he has fractured his right leg just below the knee.
---
16/09 - D1: Burnley 1 Newcastle 1 - NEARLY A CRAZY UNITED WIN - On a rain-soaked and slippery turf United are presented with a point on the proverbial plate as the Clarets are guilty of wasting a host of very presentable opportunities.
---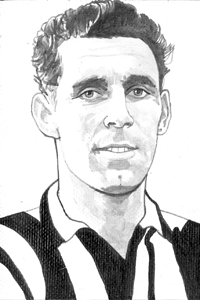 20/09 - LINCOLN CITY SIGN-ON GRAVER - Newcastle reserve centre-forward Andy Graver moves to Lincoln City who have been in negotiations with the player for six weeks. A free-scorer in the Central League side, Newcastle have been reluctant to lose him, but could not resist the £3,500 offer.
---
21/09 - THOMPSON TO VILLA, LOSES AN HONOUR - Tommy Thompson signs for Aston Villa in a £15,000 deal. He was due to play for the Central League against champions Blackpool but is no longer eligible. He joined Newcastle from Durham YMCA team Lumley in 1946. There have been a number of clubs interested in signing him.
---
23/09 - D1: Newcastle 2 Arsenal 1 - THIS IS MEMORABLE MATCH FOR UNITED'S 66,000 - The biggest crowd of the season so far turns up to see the top two meet. It is a most entertaining battle in which Newcastle's greater speed and virility are the deciding influences and the Londoners are well and truly beaten in the end. Harvey is superb; commanding midfield and passing with penetration.
---
30/09 - D1: Sheffield Wed. 0 Newcastle 0 - NEWCASTLE DRAW SHOULD HAVE BEEN A WIN - Newcastle demonstrate an unbelievable lack of lustre against lowly Wednesday and are lucky to Ieave Yorkshire with their unbeaten record intact. Although their approach play is excellent at times, Milburn is starved of good service.
---
October
---
02/10 - Birmingham have shown interest in Houghton but have been frightened off by the £20,000 fee.
---
05/10 - Milburn (England) and McMichael (Ireland) will be unavailable for Saturday's game against Aston Villa. Newcastle made an application for Milbum's release on the grounds that he is only a reserve and they had no forwards of required standard to replace him. United even suggested flying him back just for the game. It once again raises the question of whether all Internationals should be played midweek.
---
06/10 Frank Watt junior (64) dies in his Newcastle home after being in ill-health for some time. He took over as Secretary from his father.
---
07/10 - Aston Villa 3 Newcastle 0 - FORD IS TROUBLE MAKER TO UNITED - There is a one minute's silence for Frank Watt before the game. The home side are crippled by injuries and have no wins in their last nine games. Although United - who spent the week in Letchworth - play some grand football in the first-half they fade badly and the attack (minus Milburn) is easily held. The home side suffer more injuries during the game and finish with ten men.
---
11/10 - UNITED PLAYER-QUEST TONIGHT - Manager Martin and directors Rutherford and Seymour fly to Ireland on a specially chartered plane to watch the Ulster Cup match between Linfield and Glentoran. They are believed to be watching Linfield inside-forward Coulter.
---
13/10 - NEWCASTLE BEAT RIVALS FOR COULTER - After three-days negotiation Jim Coulter (18) signs from Linfield. United are also said to be interested in Linfield's centre-forward Billy Simpson. Coulter is 5' 9" and 11st 7lb. Martin says "Coulter is very strong for his age with a powerful thrust on goal" (PIC Bel Tel 13/10). A native of Ballymena George Martin believes he can be "another Peter Doherty". He was due to play for the Irish League against the Football League next Wednesday.
---
14/10 - Newcastle 3 Derby 1 - UNITED "PEPPER" DERBY GOAL - There is plenty of speed and thrust from the Magpies who win comfortably in a game where there is a host of missed chances from both sides.
---
18/10 - Frank Houghton turns down a move to Manchester City after a fee was agreed last night. Leeds are also thought to be interested but are unlikely to be able to afford him.
---
19/10 - Inside-forward Billy Simpson (who United were favourites to sign) moves to Rangers for £12,000.
---
21/10 - D1: Bolton 0 Newcastle 2 - ROBLEDO GIVES CENTRES A SHOOTING TIP- United outplay the home side after the first twenty-minutes and win without breaking sweat.
---
24/10 - The players of Newcastle and Middlesbrough, who meet at Ayresome Park on Christmas Day, have been invited to the opening night of "Aladdin" at West Hartlepool.
---
26/10 - Stanley Matthews and Jackie Milburn will make a personal appearance at the Avenue Road Boot and Shoe Department of the Seaton Delaval Industrial and Provident Society Limited on Saturday.
---
28/10 - D1: Newcastle 4 Blackpool 2 - MATTHEWS STILL THE SHINING STAR - Football to delight the eye and stir the pulse for the huge crowd. Newcastle produce a Championship style of football in a game where they really got into their stride after the break. The pattern weaving moves of Mitchell, Millburn and Robledo in particular have the Blackpool defence in a spin. At the other end McMichael gives a superb performance against Matthews.
---
November
---
01/11 - Grimsby officials travel to Newcastle to try and persuade them to release one of backs Graham, Batty or Corbett; but United have no wish to sell.
---
01/11 - Alf McMichael plays for Ireland against Scotland, the Scots win 6-1.
---
04/11 - D1: Liverpool 2 Newcastle 4 - UNITED TRIUMPH IN THRILLER - United start like sleepwalkers and deservedly fall behind before hitting four goals in a sensational twelve minutes either side of the break. They are worthy winners in the end as Robledo scores a hat-trick for the second successive game.
---
11/11 - D1: Newcastle 1 Fulham 2 - FIRST HOME DEFEAT A HARSH BLOW - Despite outplaying the Cottagers for long periods Black performs miracles in the Fulham goal and United suffer a surprise reverse.
---
13/11 - There is a hold-up in the transfer of Jimmy Coulter from Linfield. The Football League have refused to register the player as they have not yet received full clearance from the Irish League. The League have clamped down since the issues that occurred when Jones transferred to Fulham.
---
15/11 - Milburn scores for England against Wales at Roker Park with what is virtually the last kick of the match.
---
16/11 Newcastle release their balance sheet which reveals a profit of £10,072 which is a reduction of £39,693 on last year's record. There has been a dip in total receipts and a significant increase in expenses.
---
16/11 - SCOTS BACK FOR NEWCASTLE - United continue to supplement their reserve strength with the signing of right-back John Duncan from Scottish "B" side Ayr United. The fee is about £8,000 and is a record for the Scots. As part of the deal United will play a friendly against the Scots early next season.
---
18/11 - D1: Tottenham 7 Newcastle 0 - LESSONS FOR ALL IN THIS FINE SPURS PLAY - A mesmerising display from the Cockerels who combine the best of English and continental football to tear United's defence to shreds.
---
22/11 - Newcastle announce that they will no longer release the teamsheet on a Wednesday night so that players do not get to know whether they are playing on Saturday in the paper.
---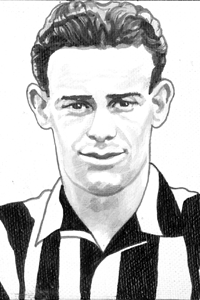 23/11 - With the ground expected to be heavy on Saturday, Ernie Taylor has been left out of the side. He interviewed manager Martin and protested very strongly about being left out of the team. He requests a transfer, but is refused. Taylor says "apparently they are not going to put me on the transfer-list". He has twice been on the list before being withdrawn.
---
24/11 - United have agreed terms with Grimsby and Preston for the sale of Doug Graham, it will be left to the player to decide which club he wants to move to.
---
25/11 - D1: Newcastle 3 Charlton 2 - BRENNAN 'GIANT' IN UNITED RALLY - Struggling Charlton take the lead within a minute and are two goals ahead until the Magpies score three times in the last ten minutes.
---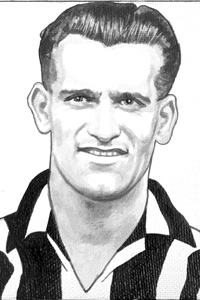 28/11 - Doug Graham signs for Preston for £8,000.
---
29/11 - The transfer-requests from Taylor and Batty (who has not even been guaranteed a place in the Reserves this season) are both rejected at the weekly Board meeting. Martin states: "We do not want to part and will not part." Jackie Milburn has a "groin strain due to cycle skid".
---
30/11 - Newcastle are keen to tour South Africa in the summer according to a letter received in Johannesburg from director McKeag.
---
December
---
01/12 - Fred Fall, President of the South African FA, states that tour requests from any British club will be considered next March.
---
02/12 - Manchester United 1 Newcastle 2 - CORBETT PUT ON A MATTHEWS ACT - Only a herculean performance from 'keeper Allen prevents the Magpies from scoring more with young left-back Corbett doing extremely well on the wing.
---
To add to Milburn's groin problems he has now caught a chill and has had a recurrence of fibrositis in his neck. Harvey, Taylor, Mitchell and Houghton are also under treatment.
---
09/12 - Newcastle 1 Wolves 1 - HANCOCK NETS LATE EQUALISER FOR WOLVES - Newcastle score within seconds, but struggle to combat the speed and accuracy of Wolves' passing. It is a very poor game overall.
---
11/12 - 'ORGANISED HOLIDAYS' CHARGE AT NEWCASTLE F.C. MEETING - The AGM is held and it proves to be a stormy affair as there is a barrage of criticism from shareholders Mr Hurst and Mr Pringle with most of it centering around the remarkable £19,000 expenditure on travelling and accommodation. The Board are accused of allowing 80 - 100 people to travel to the Cup-tie at Chelsea last season at the Club's expense and it is suggested that repeated trips to view players are little more than "organised holidays". The Board refute both accusations and also deny a claim that the players were still putting pennies in slot-machines at Olympia at midnight before the tie at Stamford Bridge. Pringle also calls for Directors Rutherford (doctor) and McKeag (solicitor) to resign their position as they are profiteering from the club. After being pressed it is admitted that they did get paid (£1,259 and £108 respectively) last year for professional services rendered. However McKeag branded the critics' claims as "wild, exaggerated and untrue".
---
Milburn (groin) and Houghton (pleurisy) are struggling.
---
14/12 - MR. MARTIN QUITS UNITED FOR VILLA - Newcastle manager George Martin is granted an immediate release and will take over as manager of Aston Villa next week. Martin's £1,200 a year contract expired in July and he has allegedly been negotiating with Villa for a number of months. "I shall leave Newcastle with many regrets", states Martin, "but I have always fancied Villa as a club with which to be associated". Chairman Lee says "we take the view that if Mr Martin thinks he can better himself by making a move we would not want to stand in his light. He will leave us in the most friendly manner and we wish him the best of luck in his appointment". Martin will join Villa next week and will be in charge for United's game on Saturday. The question of a replacement is not discussed.
---
16/12- D1: Newcastle 3 Stoke 1 - STOKE MISSES - THEN UNITED TURN THE TIDE - A thin covering of snow on top of a frozen pitch makes play extremely difficult, but Stoke (with the advantage of a stiff breeze) start well. Hannah's fine goal turns the tide and United gain the ascendancy. Considering the conditions it is a fine game.
---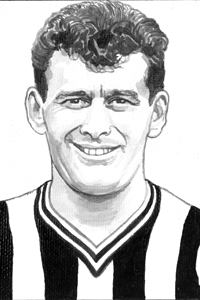 18/12 - PLUMBER JOINS UNITED - George Luke (who was 17 yesterday) signs professional forms, but he hopes to continue his plumber's apprenticeship.
---
20/12 - MILBURN IS FEELING HAPPY NOW - Jackie Milburn has a thirty-minute interview with the directors at the weekly Board meeting. He requests permission to take a job in addition to football. Milburn states "I have been promised every consideration for my request after the rush of holiday games is over". The Board also confirm that the managerial position was not discussed and that they are not going to rush into a decision.
---
23/12 - D1: Everton 3 Newcastle 1 - UNITED RALLY CAME TOO LATE - On a dull and dismal day United get the blues as they are swept aside in the first-half by the brilliant Toffees. They take their foot off the pedal which allows Newcastle to take the initiative, but hold on with comparative ease.
---
25/12 - D1: Middlesbrough 2 Newcastle 1 - MIDDLESBROUGH EXTEND THEIR LEAD AT TOP - A weakened United lose against the leaders.
---
26/12 - The return match with Middlesbrough is postponed due to a frostbound pitch.
---
28/12 - Milburn is fit again and Robledo and McMichael are also set to return. Hannah (recurrence of groin issues), Harvey and Crowe are all injured.
---
30/12 - The home match with Middlesbrough is postponed at 10.00 am due to a frostbound pitch. Some specials are cancelled, one is turned back at Billingham, Police radio cars broadcast messages in Middlesbrough and Rediffusion put out a warning. Unfortunately this is too late for thousands, mainly people travelling from Teesside, who had already set off.
---
January
---
03/01 - Hannah (groin) and Brennan (flu) are doubtful for Saturday.
---
04/01 - Various managers have been linked with the vacant managerial job including Peter Docherty (Doncaster), Don Welsh (Brighton) and former player Bill McCracken. However, there appears to be no substance to any of the links.
---
06/01 - FAC R3 - Newcastle 4 Bury 1 - UNITED WON TIE IN 8 MINUTES - Bury are struggling at the foot of Division 2 and they are blitzed by a four goal salvo in the space of only eight first-half minutes. United are in total control in very poor playing conditions with a late thaw resulting in a surface of water over a concrete hard ground.
---
13/01 - D1: Chelsea 3 Newcastle 1 - CHELSEA GIVE NEWCASTLE A DRUBBING - United are outplayed for most of the game by their relegation-threatened hosts. The home side bombarded the United goal and the Magpies had to rely on quick breakaways.
---
17/01 - Frank Brennan has an operation on his tonsils.
---
19/01 - Milburn is still suffering strained back muscles (fibrositis); Corbett has recovered from his ankle trouble.
---
20/01 - D1: Newcastle 2 Burnley 1 - BURNLEY RALLY TOO LATE AFTER MILBURN'S GOALS - A first win over Burnley at St James' in six games. The Magpies move and think quicker and use the open space more effectively. They pass with crisp first-time methods and their forward play has less fuss and flurry.
---
27/01 - FAC R4: Newcastle 3 Bolton 2 - THIS WAS TRIUMPH FOR NEWCASTLE'S TEAM SPIRIT - Sunderland and Newcastle swap shirts and shorts for the Cup Ties due to the colour clash between Sunderland and Southampton. A record cup-tie crowd flocks to St James' and it Is a thrilling match which is so swamped in thrills it almost defies analysis. The Trotters lead at the break, but Milburn scores twice in the opening ten minutes of the second-half. However with McNeil injured (Lofthouse gaining revenge for some bad challenges from the 6' 3" Scotsman) United are effectively down to 10 men. Bolton bombard the Newcastle goal and it takes a tremendous team effort to hang on.
---
29/01 - Fairbrother (fractured bone in wrist) and McNeil (ankle) suffered injuries in the Bolton tie.
---
29/01 - Newcastle are drawn away at Stoke in the Fifth Round, but Seymour confidently declares "on Saturday's form there's not a team in the country to beat us".
---
03/02 - D1: Arsenal 0 Newcastle 0 - NEWCASTLE DEFENCE TOOK HONOURS - A disappointing game in which both sides played with great caution. Credit To United's defence though in withstanding some strong pressure.
---
05/02 - Fairbrother's injury has prompted a look for a new 'keeper. A bid for Morton's Jimmy Cowan has already been turned down and it looks like they will also be unsuccessful in trying to secure Roy Henderson from Queen of the South.
---
07/02 - There were two deaths at the Bolton Cup-tie and at today's Council meeting a move is made to speed-up licensing of sports stadiums with an implication that the ground was overcrowded.
---
08/02 - United issue an angry statement in which they state that they "deplored the false impression" that the fatalities at the Cup match were due to crushing. They emphasise that both men had existing health conditions and died of coronary thrombosis. They also state that of the 130 spectators requiring treatment only 5 had to be taken to hospital, all the others being treated at the ground.
---
09/02 - Outside-right Alan King (20) moves to Aston Villa.
---
10/02 - Twelve thousand Tynesiders invade the Potteries by train, bus and car. British Rail run a number of excursions and nearly 300 buses make the journey.
---
10/02 - FAC R5 - Stoke 2 Newcastle 4 - MOULD'S INJURY PROVED TOO MUCH FOR PLUCKY STOKE - Stoke right-back Mould is carried off after only five minutes leaving the home side with ten men for the rest of the game and virtually ending the game as a contest although the home side battles on bravely.
---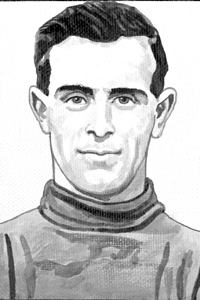 After scouting him on Saturday, United sign Third Lanark goalkeeper Ronnie Simpson. He is the son of Jimmy Simpson, the former Rangers and Scotland centre-half.
---
17/02 - D1: Newcastle 2 Sheffield W 0 - PATHETIC WEDNESDAY FAILED TO TROUBLE UNITED - United should have won by more against a disappointing Wednesday side. During a slight stoppage in the game a youngster runs onto the pitch with his autograph book in his hand and approaches Jackie Milburn before the referee ushers him off.
---
18/02 - The Cup tickets go on sale and all 40,000 are disposed of within two hours. Special buses brought in miners from many pit villages and the queues at the ground were said to be the largest ever seen.
---
19/02 - McMichael is currently recuperating from his wrist injury in Belfast. Known as the man who stopped Stanley Matthews he suffered the injury during training in the car park.
---
23/02 - Stan Seymour watched Cup opponents Rovers recently and gives the players a tactical talk.
---
24/02 - FAC R6 - Newcastle 0 Bristol R 0 - FAVOURITES OUTPLAYED - Rovers are seeking to become only the second Third Division side to reach the semi- finals. The West Country men fully deserve the draw, indeed they have the better chances to win the game although shots on goal are a scarcity from both sides. Newcastle never get going with the forwards having an off day. Even an injury to right-winger Pembridge, which leaves him as a passenger for the majority of the second-half, fails to tip the balance.
---
26/02 - The Newcastle squad travels to Western-Super-Mare. Norman Smith admits "we cannot play any worse than we did on Saturday".
---
27/02 - Eastville is besieged by thousands of fans (some estimates say up to 100,000) looking for tickets for the Quarter-Final replay. Scores of men and women collapse. Many children collapse or are injured too and they are passed back over the heads of the sea of humanity. The main queue is four-people wide and stretches for 3 miles. The tickets are sold out after 90 minutes. Supporters who had travelled to Newcastle had been promised tickets and those that had not got them convinced the police to get Mr Grimshaw who provided tickets to those producing programmes from the game.
---
28/02 - Blackburn manager Bert Tann is confident of victory proclaiming that "we think we were the better team at Newcastle". Ominously, the Bristolians have not been beaten at home for 15 months. Joe Harvey promises better. "We made a hash of it on Saturday, know where we slipped up and one thing is certain, when the game is over tonight we will have given it all we have."
Newcastle supporters get involved in the Bristol University rag. Scores join in the singing of the Blaydon Races outside the Victoria Rooms during the opening ceremony. George Robledo is "kidnapped" by students and later speaks over the amplifier after he is "released". Some other supporters hoist a club flag on the staff outside the Western Region headquarters of the BBC, but are told to take it down again. A select group travel down on a Dakota aircraft from Woolsington Airport.
---
28/02 - FAC R6r - Bristol R 1 Newcastle 3 - NEWCASTLE WIN THROUGH - Newcastle make a disastrous start on the Eastville mudbath and are behind after quarter of an hour, but they respond well to score three times in quick succession. In the second half United drop back to defend their lead and despite almost constant pressure by the home side (it is 9-0 on corners) Harvey and Crowe marshall the defence so well that Fairbrother has little to do. It is Rovers' first home defeat of the season. There is a tremendous atmosphere during the match with both sets of fans trying to out-sing each other.
H - Highlights
---
March
---
02/03 - Jimmy Coulter, who was signed from Linfield earlier in the season, has been struggling with ill-health since coming to Tyneside and is currently back in Ireland to try and build-up his strength.
---
03/03 - D1: Derby 1 Newcastle 2 - WINGER'S MOVE BROUGHT WINNER - United struggle to get going, but the advice to Walker to push further forward secures the winner even though Derby are the more progressive side.
---
04/03 - United announce that 10,000 of the 20,200 ticket allocation will be given to British Rail and local bus companies. With more than 6,000 allocated to season ticket holders and shareholders that only leaves about 4,000 which will be sold at St. James' on Tuesday.
---
06/03 - Queues for tickets start to form at 5.30am, twelve hours before they go on sale. With the car-park occupied the players cannot carry out their usual ball practice work and have to make do with sprints around the pitch.
---
07/03 - The players travel to Buxton for a rest although Brennan and Crowe remain on Tyneside for a couple of days for further treatment on their injuries. They will stay at the Palace Hotel.
---
09/03 - United trained at Buxton's ground yesterday and will get a special massage today. Trainer Smith says the players are in "match winning mood with great team spirit" and "are fitter than they have ever been in their footballing careers".
---
10/03 - FAC SF - Newcastle 0 Wolverhampton 0 - BRENNAN HELD MASTERY OF THE MIDDLE - Before the game the crowd surges in one of the enclosures and many require first-aid treatment. With Milburn and Mitchell in superb form upfront and Corbett brilliantly putting the shackles on Wolves dangerman Hancocks, the Magpies run riot in the first twenty minutes before the game settles into a more even contest. It is a hard fought game in which Fairbrother barely has a save to make whilst his opposite number Williams is kept busy throughout an epic struggle. There is a terrific pace maintained throughout, but relatively few shots as the strength of both defences prevails.
H - Highlights
10/03 - There are approximately 20,000 United fans at the match, half of them travelling down in 17 special excursion trains, many spending over five hours in the ground. St John's Ambulance men have to deal with more than 200 fainting cases and one spectator dies of a heart attack. At one stage the game is interrupted as the crowd spills onto the pitch.
10/03 - First supporter back home is Joseph Williams of Scotswood Road who declares that it was "the finest game I've ever seen, the end to end play was a treat". Another disembarking group bring howls of laughter in Central Station when they form a circle and sing a special composition of United's song sung to the strains of 'Rudolph the Red Nosed Reindeer'.
---
13/03 - Fairbrother injured his thigh in the semi-final and is receiving lamp treatment.
13/03 - Six excursion trains ferry thousands down to Huddersfield with two having restaurant cars, the fare is 17s 6d. A limit of 50,000 is put on the capacity with each team being given an allocation of a third. An estimated three thousand Tynesiders travel down in all with others using cars and buses and the Newcastle supporters have a marked numerical advantage.
---
14/03 - FAC SFr - Newcastle 2 Wolverhampton 1 - NEWCASTLE GET THERE - AND ALL IN A MINUTE - For a while it looks like the match might be postponed due to a waterlogged pitch, but the water is pumped away and the match is on. The pipes that were left at the side of the pitch would later collide with Brennan's head. Not many defenders got the better of Brennan, but the heavy metal pipes left him requiring smelling salts to carry on. It is a tie of clever strategy, hard biting tackles and excellent sportsmanship. Wolves are much the better side for the first 30 minutes and deservedly take the lead. Then - against the run-of-play - United have one of their "mad minutes", scoring twice in quick succession. The United supporters sing the "Blaydon Races" and a new variation of "Who's Afraid of the Big Bad Wolf". In the second period the Wanderers are well on top territorially as United opt to defend their advantage. The defence - Brennan and Harvey in particular - are outstanding and despite almost constant pressure they hold the ravenous Wolves at bay. But the best performance of the day was from little Ernie Taylor who provided the bullets for Milburn, Mitchell and Robledo to shoot.
H - Highlights
---
14/03 - After the game thousands of jubilant Geordies pour into the public houses which opened an hour earlier whilst in Newcastle flags are hoisted around the city. By the time the players arrived back at Central Station at 9.40pm a huge crowd has gathered and the terminus echoes to a cacophony of rattles and bells. Men and women perch on the archways outside the station to get a better view. Only the taxi drivers - who cannot get in or out - are not enjoying the event.
---
16/03 - Minutes after the team's arrival, seven miners, who had been trapped for 34 hours at South Birtley pit, are finally released. The club announce that they will be given tickets for the Final. Each finalist will receive 12,500 tickets in total.
---
17/03 - D1: Blackpool 2 Newcastle 2 - CUP REHEARSAL FASCINATED - BUT MUD BEAT BOTH TEAMS - The finalists meet at Bloomfield Road, but with both sides under-strength it is no real Wembley preview.
British Pathe: H
---
19/03 - United have received 10 applications per ticket available so far. The Board meet tomorrow to decide how to distribute the tickets.
---
23/03 - D1: Newcastle 2 Sunderland 2 - TYNE-WEAR DERBY "MEDAL" FOR KIRTLEY - Fluctuating fortunes keep excitement at a high pitch. United overwhelm their rivals in the first half-hour, but find themselves behind after sixty minutes before grabbing a deserved equaliser.
---
24/03 - D1: Newcastle 1 Liverpool 1 - POINT WAS PROVED BY JUST ONE GOOD CHANCE - A strong cross-wind and a light ball make for difficult playing conditions. Liverpool have the benefit of the wind and sun in the first-half. Milburn is starved of the ball, but sets up Mitchell from his only chance.
---
25/05 - Palestine have ambitions to develop sport and have asked Newcastle to tour next Spring; they are willing to pay £1,000 for a 12-day trip.
---
25/03 - D1: Sunderland 2 Newcastle 1 - SUNDERLAND XI REACH REALLY GREAT HEIGHTS - Sunderland play Newcastle to a standstill and virtually end United's hopes of a "double".
---
26/03 - London Spivs arrived in the area at the weekend despite the fact that Newcastle have not yet received their ticket allocation. They were in public houses in the Seaton Valley area trying to sell 7s 6d tickets for up to £2 10s. They were chased out of some hostelries.
---
30/03 - The benefit match between a Newcastle XI and Dundee United was played in disappointing weather but still raised almost £2,000 for the Aged Miners fund.
---
31/03 - D1: Fulham 1 Newcastle 1 - FULHAM FLATTER TO DECEIVE - Milburn's absence is a severe handicap; Taylor is the star player. Fulham play with confidence and dash after the break and should have gone on to win.
---
31/03 - There are rumours circulating that captain Harvey might be installed as manager.
---
April
---
03/04 - Brennan and Mitchell are included in the Scotland reserve side.
---
04/04 - D1: Newcastle 0 Aston Villa 1 - VILLA BEAT NEWCASTLE - A dull game against the relegation-threatened Villa in which a strong wind and spoiling tactics play a big part. Former player Thompson scores with a wind-assisted goal and after the break Villa defend their lead well. After the match, former manager George Martin is presented with a silver salver for his services to the club.
---
05/04 - CUP STRONG MAN OUT FOR TWO WEEKS - An x-ray reveals that Frank Brennan has fractured a small bone in his hand. It has been put in plaster and he is likely to be out for two weeks.
---
06/04 - United plan to raffle 12 cup-final tickets at a "Here's to Wembley Victory Dance" on the 18th. Each ticket will be presented by one of the Final team with trainer Norman Smith presenting the other.
---
08/04 - The Chief Constable of Newcastle declares that the proposed raffle is illegal.
---
07/04 - D1: Newcastle 0 Tottenham 1 - BURDEN OF CUP LIES HEAVY - Tottenham give under-performing United a lesson in the arts and graces of the game in a match with patches of grand football and patches of dullness. In the second-half the referee gives nothing when Willis appears to handle in the area and the crowd roars its disapproval. There are far too many players trying to avoid injury and not playing at full pelt.
---
08/04 - Brennan sings at the Gaumont Theatre in North Shields in a concert in aid of the Mayoress of Tynemouth Charity Fund. Frank often gives his time to charitable causes.
---
09/04 - Milburn reveals that the tickets that were to be raffled will now be given as prizes for "spot dances".
---
10/04 - Newcastle' s attempt to get the FA to release Milburn from the England squad so he can play on Saturday fall on deaf-ears.
---
10/04 - The club announce that applications for tickets can now be made by post. Of the 12,500 allocation: 5,000 will go to season ticket holders and about 1,500 will go to players, officials and others leaving less than 6,000 for general sale. The club are expecting about 100,000 applications.
---
11/04 - D1: Newcastle 0 Portsmouth 0 - NEWCASTLE FAIL TO END BAD SPELL - After an even first-half United overrun Portsmouth in the second, but cannot score, both Hannah and Walker hit an upright and United have three decent penalty shouts turned down. And when Mitchell hits a terrific shot from out wide which ends up in the net the referee awards a goal, but then gives a goal-kick after the Pompey players alert him to a hole in the side-netting.
---
12/04 - The FA want the finalists to look elegant and in keeping with the occasion and have made a sartorial request for both keepers to leave their cloth caps at home. They suggest they wear a peaked sports cap like those that baseball players wear. Norman Smith says "to my mind a goalkeeper playing with an extended peaked cap is definitely a danger to other players". And Seymour says "we're not going to Wembley as comedians". They also suggest that Newcastle should wear all-black stockings to which secretary Hall states "do they want us to go to the Final in mourning?"
---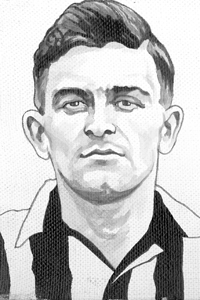 13/04 - NEWCASTLE SIGNING - After watching him for several weeks, United sign Southend's 20-year-old Welsh winger Reg Davies in a London hotel. He joined the Shrimpers when he left the services a couple of years ago and the fee is approximately £8,000.
---
14/04 - Fusilier John Hulme from Shiremoor will be flown home from the Korean battlefront to attend the Cup Final. He was called from a Bren Gun pit to be told his name had been drawn from the hat to be a guest of the Newcastle Journal and Chronicle at Wembley. The club will provide the ticket.
---
14/04 - D1: Charlton 1 Newcastle 3 - CHARLTON MASTERED - After eight winless games, the Magpies canter home in a comfortable victory.
---
16/04 - The players visit a City cinema to watch the 1948 Cup Final between Manchester United and fellow-finalists Blackpool, some clips of Blackpool playing in their Cup Ties and scenes from the 1932 Cup Parade which is also viewed by City police officials.
---
18/04 - D1: Newcastle 0 Bolton 1
UNITED LOSE AGAIN - The Magpies suffer a shock home defeat.
---
21/04 - D1: Newcastle 0 Manchester U 2 - NEWCASTLE'S FULL CUP TEAM CARVED UP BY MANCHESTER - Manchester win in style, they are fast and fluid with a fine mutual confidence. Conversely Newcastle completely lack focus.
---
22/04 - Lots of London spivs are on cup-crazy Tyneside and there are also many fans offering unusual swops in an attempt to get their hands on one including: a live pig (worth £30) for a ticket of any sort and 6 blankets (worth £8 a pair) for 2 stand tickets. Three shilling tickets are fetching up to £5 each and 7s 6d tickets are being offered at £14 at one Newcastle club.
---
23/04 - Ten players and reserve (Bob Stokoe) set off for Buxton after a quiet send-off. Seymour plans to have several tea-time tactical talks and is confident that "you will see the Newcastle who knocked out Wolves in the semi-final. That is the true Newcastle form".
---
23/04 - Newcastle sign Hugh Cameron from Torquay United for about £5,000; he can play centre-forward or on the wing.
---
24/04 - Newcastle's luxury coach arrives in Buxton from Sheffield tonight. United 'keeper Fairbrother is not happy with the baseball cap because he believes it will restrict his view, particularly with crosses.
---
25/04 - United have a two-hour training session on Buxton Town's pitch. They are on a prescription of sherry and eggs and in the afternoon the players partake in aluminium brine baths and a massage. The players send a telegram to Blackpool player Brown who has been ruled out of the big game.
---
27/04 - Newcastle leave Buxton at 9.00am and they are seen off by the Major to a fanfare of trumpets. They pick up the London train at Millers Dale. Newcastle had applied to go to the King's Head hotel in Harrow (as it is seen as a lucky hotel), but Blackpool got there first. Players and officials visit Wembley on their way to Weybridge.
---
27/04 - Twenty-four trains bound for London start to set off at 9.30am. The 10 0'Clock has a coach housing the director's party and is decorated with the team colours and cartoons drawn by British Rail staff. The last train will set off at 1.50am Saturday morning.
---
27/04 - The North of England Home Service broadcast a special Cup Final edition of the popular Tyneside programme "Wot Cheor, Geordie" hosted by Esther McCracken. Special guests include Stan Mortenson and Jack Fairbrother and the Dunelm Singers perform that old favourite of the Tyneside music hall "the futbaal team".
---
28/04 - Ticket touts are, for the first time, banned from roads around Wembley, but they are out in force at Wembley main line station. Nylons and whiskey are among the temptations, but they have little success. Owners of television sets in the North East are hoping that "freak" reception will allow them to see pictures of the match.
---
28/04 - FAC Final: Blackpool 0 Newcastle 2 - BRILLIANT MILBURN MAKES IT A DAY TO REMEMBER - All the build-up was about the possibility of a brilliant final between these two entertaining sides, but Blackpool's offside tactics make for a poor, disjointed first-half. Considering Milburn's speed it is a highly dangerous tactic and within five minutes of the restart they pay the price when Milburn breaks away and the linesman's flag stays down. Five minutes later and Milburn adds a glorious second and although Stanley Matthews tries everything to get the Tangerines back into the game the Magpies stand firm.
British Pathe: H
Gaumont: H
Movietone: H
---
30/04 - Milburn is restored as leader of the England attack. He will not have any special treatment on his pulled leg muscle, rest is the only cure.
---
02/05 - D1: Wolverhampton 0 Newcastle 1 - ROBLEDO GOAL BEATS WOLVES - Newcastle play confident football; the FA Cup is paraded at the interval.
---
03/05 - Newcastle players return from Brighton; the train has a huge circular placard on the front which states "It's Wors Again" 1910, 1924, 1932, 1951. The train stops off for five minutes at Sunderland station to allow fans to show their appreciation. Three coaches take players and officials from Central Station to St. James' via Neville Street, Collingwood Street, Moseley Street, Grey Street, Blackett Street and Gallowgate. Twice the parade has to halt due to the crowds breaking through the police cordon. Then there is a parade around the ground.
Team Welcomed home: Youtube highlights
---
Mitchell is selected for Scotland's game against Denmark.
---
04/05 - Newcastle retain forty players. Six full-time players are released with the only surprise being Tot Smith. The others are Brown (who has failed to live up to his early promise), Powton, Downes, Toose and Sands.
---
05/05 - D1: Newcastle 1 Middlesbrough 0 - WALKER GOAL PUT UNITED RIGHT IN THE MONEY - With £220 "talent money" (for finishing in 4th) at stake there is no lack of effort from both sides. Middlesbrough have the better chances but United's defence is firm.
---
09/05 - FoB: Newcastle 1 Stade Rennais 1 - ALL SQUARE WITH FRENCH - In a Festival of Britain match United play out a draw with the French side from Rennes who stepped in at the last minute to replace Strasbourg.
---
11/05 - Fairbrother and Robledo join Milburn at Ashington where they get a great reception.
---
12/05 - McMichael plays for Ireland against France and Brennan plays for Scotland against Denmark.
---
17/05 - Having been given permission by United and the FA, Joe Harvey and Frank Brennan both appear for Hartlepool as guests in the Festival of Britain match against Limerick. Big Frank plays at centre-forward, scores a hat-trick saying later; "I reckon centre-forward is the easiest position on the field."
---
19/05 - FoB: Newcastle 6 Cumberland XI 5 - CUMBRIANS GIVEN SOCCER TREAT - United played an entertaining game with a side made up of players from Carlisle, Barrow and Workington. There were also a couple of worrying incidents with the referee and a Carlisle player both being flattened when hit on the head by the ball. Car.isle player Kinloch refused to retire until hewas made to when he revealed he had gone blind in one eye.
---
22/05 - Twelve players accompanied by directors and officials leave Newcastle for London on the first-leg of their journey to Brussels. The players travelling are: Fairbrother, Cowell, McMichael, Harvey, Brennan, Crowe, Walker, Taylor, Milburn, Robledo, Stokoe and (recent-signing) Cameron.
---
26/05 - Fr: Anderlecht 0 Newcastle 6 - NEWCASTLE PLAYED SUPER SOCCER - In their first tour match United make easy work of the Belgian Champions who mistakenly refer to them as a "Scotch team" in their programme. Indeed they could easily have won by more.
---
26/05 - Bobby Mitchell returns from Belgium having pulled a thigh muscle.
---
26/05 - Reserve wing-half Cecil Sands (20) moves to Bradford City. He is 5-11 and 12st.
---