All photographs and illustrations are taken from the original newspapers at Newcastle Local Studies Department unless otherwise stated.
June
---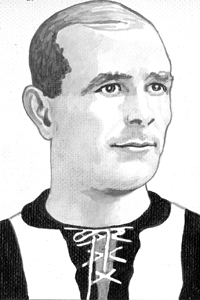 02/06 - United sign WJ Aitken from Glasgow Rangers for £2,500. He was with Burslem Port Vale last season.
---
02/06 - Alex Higgins has signed for Nottingham Forest. He joined Newcastle aged 18 and stayed until he joined-up. Last August, following his demobilisation, he moved to Kilmarnock. He can play in any of the inside-forward positions and is 5ft 10in and 11st.
---
03/06 - United's accounts are released and they reveal that the receipts reached a new record of £61,526. The outgoings were also high which left a profit of £8,891. The £1,500 set aside for ground improvements proved totally inadequate as repairs cost £4,171.
---
11/06 - The AGM is held at the Continental Restaurant on Grainger Street and there is a good attendance. Chairman Oliver states that they believe that the decision to develop local talent rather than bring in expensive imports had had a measure of success. However, they recognised the need to add more experience to the side, particularly in the forward positions, and this is what they have been rectifying since the end of the campaign. There is some criticism of the accounts and questions are raised about Hibbert, Low and McCracken. Hibbert was due a benefit but requested that he be given a free transfer instead and has since moved to Bradford City. Low and McCracken have been offered the £9 maximum wage. They have not re-signed as yet "but the directors were not going to run after them".
---
17/06 - Wilfy Low has now re-signed leaving only McCracken to make up his mind.
---
22/06 - The transfer of Aitken is held-up with the English FA. Burslem Port Vale claim that he is their player and that Glasgow Rangers had no power to transfer him.
---
22/06 - Goalkeeper Hugh Farrell has been signed; he was with Uddingston, Lanarkshire last season.
---
July
---
08/07 - Stan Dixon was operated upon by Dr. J Collingwood Stewart yesterday and is recovering well. He broke-down during the cup-tie with Huddersfield last season and has not played since. The trouble was in connection with his right leg muscles and after seeking specialist advice, a decision was taken to stretch them under anaesthetic. Subsequent treatment will consist of elastic bandaging and electric massage and it is hoped he will be fit for the start of the season.
---
08/07 - Bill McCracken has finally appended his name to a Newcastle United form for another season.
---
08/07 - Former player Jack Carr has returned from abroad. He went to Gottenburg last December.
---
26/07 - United have secured the services of Robert A. Mclntosh, a half-back of the Dundee club. A regular in the side for the past three seasons he was sought after by many clubs. He stands 5ft 11.5in and weighs in at 11st 8lb.
---
28/07 - Reserve centre-forward William Newton has moved to Cardiff City. He belongs to Hartford Colliery and joined United from Blyth Spartans. Although he has made several reserve appearances he has never played for the first eleven.
August
05/08 - The United players reported to the clubhouse yesterday and commenced training today; so far there are 35 players on the books (squad in Newcastle Journal 05/08). William Aitken is not present as he has been given extended leave to take part in a golf competition in Scotland. United would dearly love to take international Andy Cunningham from Rangers, but the Scots are not listening.
05/08 - Season Tickets are to be offered for the centre pavilion only; the price being fixed at £2 17s 6d exclusive of Entertainment Tax. The practice games will be on August 14th, 18th, 21st and 25th. As usual admission will be charged with all proceeds going to charity.
11/08 - the directors state that no periodicals other than the official programme will be sold on the ground from now on. This follows a deputation from tbc Newsagents and Stationers Association who complained of unfair competition regarding the sale of newspapers and periodicals.
14/08 - An unprecedented crowd of over 25,000 turns up to witness the first practice game. Although the weather is a trifle too sultry for strenuous football, both sides give a performance which elicits the admiration of the supporters.
17/08 - The second trial game involves mainly reserves, but 7,000 still attend.
21/08 - Another keenly contested trial match is watched by 20,000 spectators; United are now well endowed with players of skill and ability.
26/08 - Scott Duncan signs for Cowdenbeath on loan.
---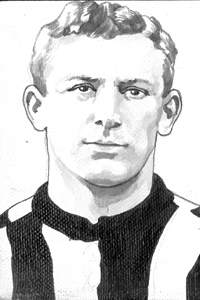 27/08 - Raymond Robinson is transferred to Sunderland. He joined United in May 1919 and has made 29 appearances, scoring 4 goals.
---
28/08 - Prior to the game against West Bromwich a roll of honour is unveiled in the Boardroom. The beautiful tablet contains the names of the five players who made the supreme sacrifice and the names of 47 players, directors and officials. It Is the work of Messrs, Fishman and Co. engravers of 120-122 Pilgrim Street.
28/08 - D1: Newcastle 1 West Bromwich 1 - LEAGUE CHAMPIONS FORCE A DIVISION OF THE SPOILS - Although the Magpies have the run of the play against the Champions a division of the points is fair. The new forward line tends to the individualistic rather than the combined order and the inability to convert finesse in open play with more goals is reminiscent of past failings.However, the team shows distinct possibilities. Play became rather robust in the second-half.
---
September
---
01/09 - D1: Everton 3 Newcastle 1 - ILL-LUCK FOR UNITED AS A DEPLETED SIDE GO UNDER - United suffer a deadly blow when they go behind within 30 seconds and then lose Curry. Their staying powers are found wanting in a fast game; defensive lapses prove their undoing.
---
04/09 - D1: West Bromwich 0 Newcastle 0 - INVERTEBRATE FORWARD EXHIBITION AT HAWTHORNS - Considering the eminence of the two sides engaged the exhibition given is scarcely satisfactory and neither side leaves the field with an enhanced reputation. One still needs to be convinced that the new attack is good enough.
---
08/09 - D1: Newcastle 2 Everton 0 - EVERTON BEATEN IN MODERATE GAME - United deservedly gain their first win but it is a game rather of the reckless type. Play is scrappy, there is too much of the offside business and there are symptoms of roughness. After the game it is discovered that Smailes suffered a broken rib during the match.
---
10/09 - Tommy Curry is likely to be out for at least 6 weeks due to the badly wrenched knee he suffered at Everton.
---
11/09 - D1: Newcastle 4 Preston 2 - AN OLD TRICK WORKED SUCCESSFULLY AT ST. JAMES PARK - Youngsters Hagan (who scores twice) and Seymour form a fine left-wing pairing that wins the game. It is just as scrappy as the last match, but with much less bad temper. It is a game of fluctuating character in which the Magpies rush into a three-goal lead before an easy-going attitude allows the North-Enders back into the game.
---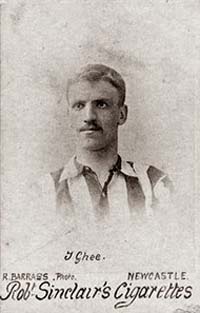 13/09 - Ben: Newcastle 1 South Shields 0 - BENEFIT MATCH FOR TOM GHEE - Persistent rain and under-strength sides mean that there is a meagre crowd for the benefit game for the old, faithful servant Tom Ghee. He is physically unfit to earn a living and the receipts from 4,000 spectators will not go far.
---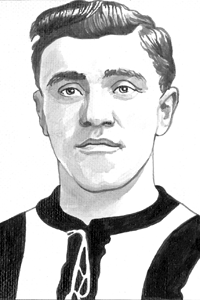 Following a successful trial, United sign Irish international right-back S Russel from Old Park Corinthians for £300.
---
18/09 - D1: Preston 3 Newcastle 2 - NEWCASTLE GO DOWN FIGHTING AT DEEPDALE - The struggling home side recover after literally throwing two goals away in the first ten minutes. The new team has still not settled into an effective unit.
---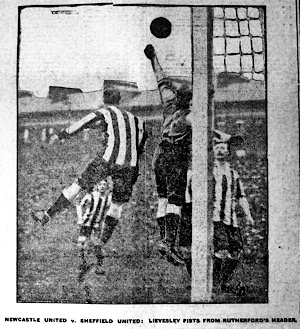 25/09 - D1: Newcastle 3 Sheffield U 0 - BLADES WELL BEATEN - Much improved forward work is largely due to better support from the half-back line and results in a distinct improvement in the performance. With both sides employing the offside theory it is a scrappy game which never rises above the mediocre.
---
28/09 - It is stated that Newcastle have agreed terms with Glasgow Rangers for inside-left and centre Andy Cunningham. The Scot is a bank clerk and he declined to make the move until a similar position had been found for him on Tyneside which is now the case.
---
October
---
02/10 - D1: Sheffield U 0 Newcastle 3 - MASTERFUL DISPLAY BY TYNESIDERS AT BRAMALL LANE - The whole visiting line moved beautifully and there was always a sting and accuracy about the shooting which kept Gough anxious.
---
06/10 - in recognition of their charitable services the directors of Newcastle and Sunderland are entertained by the Lord Mayor and his wife at the Mansion House.
---
07/10 - At the weekly meeting the directors intimate that there is no substance to the rumours linking the club with the signature of Harry Woods of South Shields.
---
09/10 - Although the gates are not due to open until 1.00 pm for the game with Sunderland, queues start forming at 10.00am and by 2.30pm all the gates have been closed. Just before the game, a black and white kitten strays into the secretary's office. Milk is sent for and his creature comforts attended to. Superstitious fans may wonder if this significant event will impact the score.
---
09/10 - D1: Newcastle 6 Sunderland 1 - The match kicks off twenty minutes early due to the size of the crowd. After an even first thirty minutes United grab an opener and from then on they out-general and out-play the Wearsiders in the most sensational fashion although there is too much excitement amongst the players for a proper exhibition of the game. An ever swelling chant from the supporters of "one - two - three - four - five - six" provides a backdrop to the advancing score.
---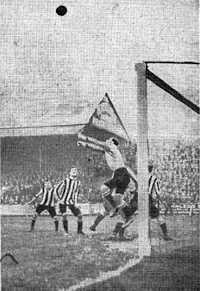 16/10 - D1: Sunderland 0 Newcastle 2 - Despite the fact that thirty-six trains travel down from Tyneside it is a disappointing derby crowd. It is thought many drew back in anticipation of crowded stands. With Finlay subduing Buchan, United are infinitely superior in every rank and it is a wonder that the score is only 2-0 at the close.
---
19/10 McCracken is selected by Ireland to play England at Roker Park on Saturday.
---
20/10 - Some reports state the directors have declined to release McCracken for the international, others suggest the Irishman has declined to play.
---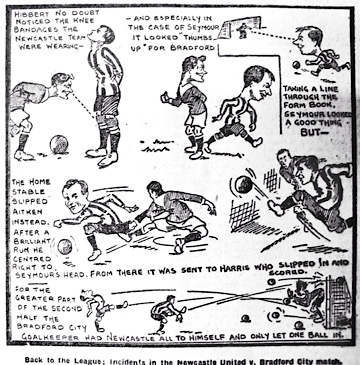 23/10 - D1: Newcastle 2 Bradford PA 1 - TYNESIDERS EXPERIENCE DIFFICULTY IN ANNEXING THE SPOILS - A difficult game in which the Magpies are somewhat fortunate to gain the points. They run rings around the visitors in the first-half and are only balked in piling on lots of goals by the genius of Scattergood. But after the rest, with Low and Finlay joining Smailes in suffering injuries and United adopting a short-passing game, the Park men are the more forceful team.
---
23/10 - Smailes has dislocated his left elbow.
---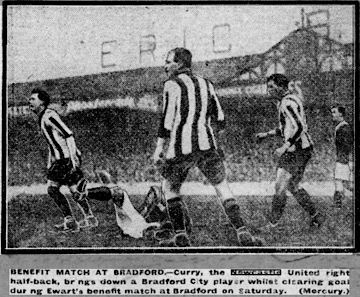 30/10 - D1: Bradford PA 0 Newcastle 2 - BRILLIANT DEFENCE GIVES UNITED A DOUBLE OVER BRADFORD - Despite the fact that the wooden-spoonists have lost their last six games whilst United have won their last five it is the home side who are quite superior before the break. But a somewhat lucky goal just after the resumption gives United the lead and their pretty and incisive football leads them to victory. Newcastle take top spot.
---
November
---
06/11 - D1: Newcastle 1 Burnley 2 - NEWCASTLE FIND THEIR FORM TOO LATE - The Magpies have to strike their colours for the first time at home this season. That they are unlucky cannot be denied, but they are too late in finding their true form. The visitors do not create a good impression with the number of fouls they commit and the referee takes occasion to speak to two of theIr players.
---
13/11 - A disastrous char-a-banc accident takes place in Blacko which leads to three men being killed and two more seriously injured. Three motor coaches from Grassington are on the way to the match but as they are travelling down a steep incline one of the coaches skids as it is turning a tight corner and the rear portion strikes the wall of the old toll-bar house.
---
13/11 - D1: Burnley 3 Newcastle 1
UNITED GO UNDER TO BRILLIANT BURNLEY - Although United have some ill-luck they are decidedly inferior throughout with Burnley playing a capital game. By the victory the Turf Moor brigade set up a record run of successes in League football.
---
18/11 - There are funerals for the five men (4 from Skipton and 1 from Earby) who lost their lives in the char-a-banc tragedy last Saturday.
---
20/11 - D1: Newcastle 2 Liverpool 0 - GREAT REARGUARD WORK FOILS LEADERS LIVERPOOL IN KEEN GAME - A very keen game in which the supporters certainly get value for money in terms of entertainment. The contest once again demonstrates that Newcastle fare better when they play open, first-time football. United score at the end of each half.
---
27/11 - D1: Liverpool 0 Newcastle 1
LIVERPOOL BOW THE KNEE A SECOND TIME TO UNITED - The crowd is not best enamoured with the game; there are too many offsides and it is a hard game frequently interrupted due to injuries. Mooney damages his jaw but plays on despite being in great pain.
---
December
---
01/12 - Hagan (recovering from gastritis), Curry (still troubled by knee), Phillipson, Wake and Mooney are all "hors de combat."
---
04/12 - D1: Newcastle 2 Aston Villa 1 - ASTON VILLA PROVE A STERN OBSTACLE IN A KEEN CONTEST - The ground is a veritable quagmire and wind and rain add to the unpleasantness of the day. For the third game in a row United win through the strength of their defence although bad shooting and ill-luck contributes to the discomfiture of the Midlanders. Newcastle's combination is weak, being too close and spasmodic.
---
11/12 - D1: Aston Villa 0 Newcastle 0 - SHOCKING SHOOTING WITH UNITED THE WORST OFFENDERS - The general play in the game often verges on the brilliant, but the shooting is deplorable, almost indescribable. The forwards, in a shooting sense, seem to be suffering from a temporary aberration and appear to have lost all aptitude for, and all idea of, their art. Seymour and Smailes both miss open goals and a Low free-kick taken from near the penalty mark simply brings a huge laugh from the crowd as it sails over the bar.
---
18/12 - D1: Manchester U 2 Newcastle 0 - In a dour struggle the Mancunians are well-worth their victory and - in the first-half at least - are infinitely superior. Special training during the week to circumvent McCrackens offside game definitely reduces his effectiveness.
---
25/12 - D1: Newcastle 1 Tottenham 1 - SPURS SHARE THE POINTS AFTER MUCH CRITICISED GOAL - Cantrell looks well offside when he received the ball prior to striking the equaliser but despite heated protests the pot is allowed. The game deteriorates as it progresses with the slippery condition of the turf making life difficult.
---
27/12 - D1: Tottenham 2 Newcastle 0 - TOTTENHAM BRILLIANT AS HUGE CROWD INVADES PITCH - There is a massive turnout and long before the start the gates are closed with thousands locked out. Inside it is so tightly packed that fans soon start to clamber over the rails. And five minutes after the match starts the onlookers encroach so far that the game has to be stopped. The police manage to push back the throng but it is impossible for the players to take corner-kicks properly. The first-half is spoiled by the success of both team's offside tactics. Although the defences continue to dominate after the break, the Londoners score two excellent goals.
---
29/12 - At the directors meeting director David Crawford is presented with a handsome gold rose bowl to celebrate his golden wedding anniversary. To mark his 25-years service, secretary Frank Watt is presented with a cheque as a token of the very high esteem the board hold him in.
---
30/12 - Nottingham Forest announce that they have accepted Newcastle's offer to change the venue of their cup tie to St. James'. Their crowds have been poor this season and with Notts. County also drawn at home against West Brom they were concerned that this would impact the gate. United offered a substantial sum plus a minimum £1,500 from the gate receipts.
---
31/12 - Newcastle obtain the signature of T. Handyside who has shown great promise at half-back.
---
January
---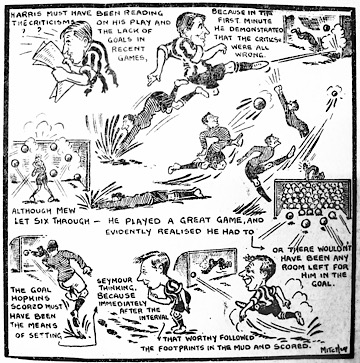 01/01 - D1: Newcastle 6 Manchester U 3 - MEW'S CHARGE RIDDLED AS NOVOCASTRIAN FORWARDS DEAD ON THE TARGET - United win well but it is not until late in the game that the score is settled. The visitors are significantly impacted by 'keeper Mews not being safe on his legs and limping throughout the game. The Tynesiders play starts scrappily with no semblance of either balance or understanding and the passing too short. Eventually Low starts to swing the ball out to the wings and their play is transformed.
---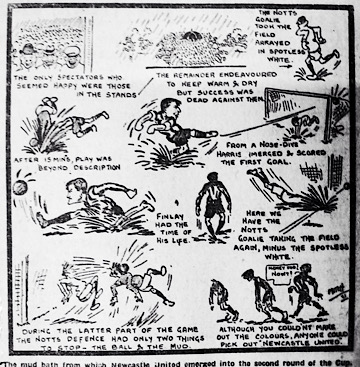 08/01 - FAC R1: Newcastle 1 Nottingham F 1 - THE STARVING OF SEYMOUR - A PRACTICE THAT WILL HAVE TO BE ENDED, OR ELSE - United are rather lucky to still be in the Cup as although they have most of the play they are feeble and fail when the demand is strongest. Second Division Forest certainly put plenty of vigour into their play, too much at times, for they are frequently penalised. With offsides aplenty too, the game is stop-start although it is always keen and interesting.
---
12/01 - FAC R1r: Newcastle 2 Nottingham F 0 - RAMPANT MAGPIES - Incessant rain makes the ground very muddy; undeterred the Magpies play with a welcome earnestness and take a thorough grip on proceedings from the very start. United revert to the open style and the attackers are all bent on scoring. The game resorts to roughness a little too frequently and five minutes after the break the referee calls all the outfield players together for a lecture.
---
15/01 - D1: Newcastle 4 Bradford C 0
HOPELESSLY OUTCLASSED - UNITED DRIVE BRADFORD FROM PILLAR TO POST - A thumping win gained entirely on its merits with Newcastle once again playing the open game and hitting their long passes with perfection. The Newcastle players all wear bandages around their knees. A demonstration in support of pensioner rights takes place before the match.
---
22/01 - D1: Bradford C 1 Newcastle 1 - GREAT BACK PLAY - MCCRACKEN AND CO. EARN UNITED A POINT AT BRADFORD - The Citizens play is a revelation compared with last week and United's defence has to be at its best to avoid defeat. In contrast, the United forwards rarely find their form, although Seymour is hampered by a boil on his neck and plays with a muffler. The match is a benefit for Ewart.
---
In preparation for the Cup Tie, Liverpool are spending the week in Whitley Bay, staying at the Esplanade Hotel. Newcastle are staying at home but will take a run to North Shields to take a "dip in the briny" and have a game of golf at Gosforth Park.
---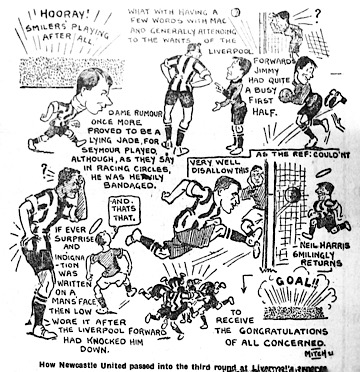 29/01 - FAC R2: Newcastle 1 Liverpool 0 - BATTLE OF GIANTS - LIVERPOOL MASTERED AFTER DESPERATE STRUGGLE - There is a huge crowd for the match. The time of waiting is wiled away with strident singing of choruses and a brass band. The usual array of trumpets and rattles is on show and some more enthusiastic supporters array themselves in fancy dress in their team's colours. In accordance with expectations it is a great game with the Novocastrians recording a third victory over the Lancastrians this season. The game is splendidly contested throughout and although it is very keen it is also played in a clean and sportsmanlike manner. The attendance generates record receipts for the ground.
---
31/01 - Stan Seymour is selected for the international trial match between England and The South on Monday next.
---
February
---
01/02 - Both the regulars and the reserves are off to Redcar for special training.
---
05/02 - D1: Chelsea 2 Newcastle 0 - PRETTY BUT INEFFECTIVE - UNITED'S DISPLAY WORTHY OF A BETTER RESULT- Newcastle are undoubtedly the stronger side but having conceded twice in the first half-hour they cannot get back on terms. The Lord Mayor of Newcastle, along with the Mayor of Arras (Newcastle's adopted town), are interested spectators.
---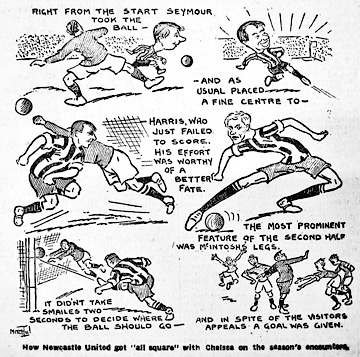 09/02 - D1: Newcastle 1 Chelsea 0 - Both teams have to make numerous changes and on a treacherous ground the game degenerates into one of the worst exhibitions this season.
---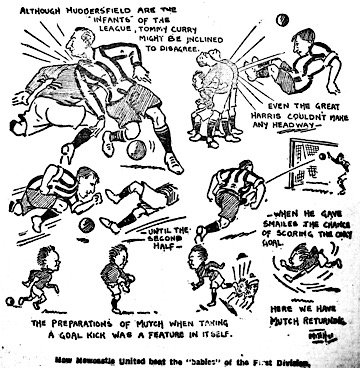 12/02 - D1: Newcastle 1 Huddersfield 0 - IS FORWARD PROBLEM SOLVED? - WING EXPERIMENT REKINDLES CUP HOPE - United's experimental forward line takes a while to settle but it proves effective in the end against the robust Terriers.
---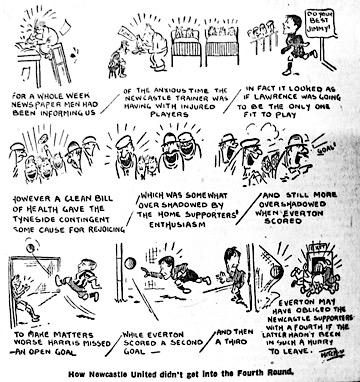 19/02 - FAC R3: Everton 3 Newcastle 0 - AN IGNOMINIOUS EXIT - UNITED GET THEIR DESSERTS AT GOODISON PARK - United are well beaten with the home side displaying more understanding and balance and better finishing. The Magpies' performance has no redeeming features. It is not a case of crying stinking fish but the first two goals are rather lucky.
---
23/02 - D1: Huddersfield 1 Newcastle 3 - BRILLIANT DISPLAY BY TYNESIDERS - In the first-half Newcastle's play is of a very high standard and their passing and combination is almost perfect. And in a sensational 11-minute spell they score thrice. The pace, which had been exceedingly hot, slackens somewhat after the break.
---
24/02 - On the return train journey home director R McKenzie put his head out of the window between Newsham and Blyth and was struck by a light engine; he is in a critical condition in a Newcastle nursing home.
---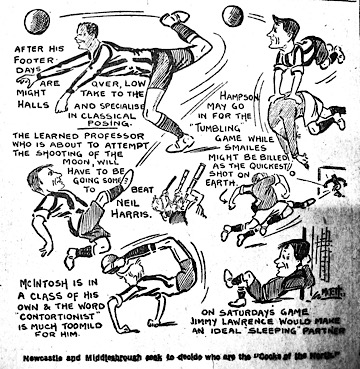 26/02 - D1: Newcastle 2 Middlesbrough 0 - HAMPSON A GREAT BACK - MASTERLY EXHIBITION AT GALLOWGATE - It is not a good game as there is too much of the scrappy sort of play and in the matter of finishing both sides are found wanting. Injuries to Ramsay and Harris leave United with nine men at the end.
---
March
---
02/03 - The FA Standing Committee state that they are unable to recommend R. Bennie's application to become a director of Newcastle.
---
04/05 - SCOTTISH WINGER FOR NEWCASTLE - when the Newcastle team for Saturday was released to the press it included the mysterious "AN OTHER" resulting in speculation that United were "angling in Scottish waters". This proved to be correct as United sign outside-left Thomas McDonald (25) from Glasgow Rangers. With both Seymour and Ramsay injured United decided to spend.
---
05/03 - D1: Middlesbrough 0 Newcastle 0
POINT EARNED AT AYRESOME- NEW WINGER ACQUITS HIMSELF WELL - The draw means United have won 8 and drawn 2 of their matches against teams from the county of Broadacres. The gates are closed 30 minutes before kick off and the crowd witness a hard, keen game which eventually becomes rather scrappy. The final work of both sides leaves much to be desired although the home side are unlucky to hit the woodwork twice. new signing McDonald makes a most favourable impression.
---
07/03 - Chairman JP Oliver is taken seriously ill whilst attending the League meeting in London and is in a nursing home. McKenzie has returned to his home in Seahouses.
---
10/03 - Aitken is included in the Anglo-Scots team for the Scotland trial match on the 22nd.
---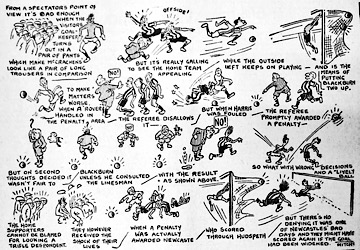 12/03 - D1: Newcastle 1 Blackburn 2 - UNITED'S WRETCHED SHOOTING - Although Newcastle have the balance of the play the forwards are not able to produce any combination and seem to have no idea of the location of the goal. Their shooting is wretched and there has been no worse forward performance this season. The result means Newcastle are now 8 points behind leaders Burnley and thus virtually ends their Championship hopes.
---
19/03 - Partridge, who has been playing at outside-right for Redditch this season, is signed for £200 with a promise of a further £25 when he has made three first-team appearances. He is a promising player who signed from Bourneville Youths.
---
19/03 - D1: Blackburn 3 Newcastle 3
A slippery pitch makes play difficult. The Magpies come back from being three goals down to earn a point; they have some luck as the last two goals are scored when Dawson is injured and Watson is off the field.
---
22/03 Aitken plays for the Anglo-Scots in the trial game.
---
24/03 - The four North-East League clubs (Newcastle, Sunderland, Middlesbrough and South Shields) have under consideration the details of a North-Eastern Football Competition scheme.
---
25/03 - D1: Newcastle 1 Oldham 2
Struggling Oldham adapt their style better to the treacherous conditions and deserve to win what is a poor game. United opt to play a close-passing game and never get started; their combination is weak and once more the shooting is appalling. It is the Lancastrians first away success since the first day of the season.
---
26/03 - D1: Derby 0 Newcastle 1
DERBY'S DISTRESS - SERIOUS HOME DEFEAT BY NEWCASTLE - Newcastle merit the victory in a game with plenty of bustle, a good deal of scrappy exchanges and the occasional flash of brilliance.
---
28/03 - D1: Oldham 0 Newcastle 0
A game which might fitly be described as a mud competition due to the deplorable state of Boundary Park which renders any attempt at scientific play well nigh impossible.
---
29/03 - The Magpies secure the signatures on pro forms of HH Morgan and T Coulthard, both of Darlington Railway Athletic, who signed amateur forms last week.
---
April
---
02/04 - D1: Newcastle 0 Derby 1
DERBY DELIGHT IN LAST MINUTE VICTORY - Luck is not with the Tynesiders as they slip up at home once more against a relegation-threatened side. There is a lack of generalship and the forwards fail to show any glimpse of combination or finish.
---
06/04 - A benefit game for the widow of Harry Low takes place.
---
09/04 - D1: Bolton 3 Newcastle 1
UNITED AGAIN IN QUEER STREET - Wanderers have not been conquered at Burnden this season and the climatic conditions are the reverse of pleasant with a strong, blustery wind and heavy showers. The Magpies play well to a point, but lack vim in close quarters and would have rated better if their shooting had been more accurate and discriminate. And - despite the conditions - they stick to their short passing which cannot compete with the open play of Bolton. Top League scorer Smith bags a hat-trick.
---
13/04 - Newcastle currently have nine players injured.
---
16/04 - D1: Newcastle 1 Bolton 0
UNITED WELL DESERVING OF HONOURS - Despite having to make many changes due to injury and indisposition United return to form in a game which is well-contested from start to finish.
---
20/04 - Once the season is over United will undertake a short continental tour; travelling to Paris, Barcelona, Saragossa and San Sebastián on the Bay of Biscay.
---
20/04 - King scores but United lose 2-1 to Middlesbrough in a friendly at Ayresome Park.
---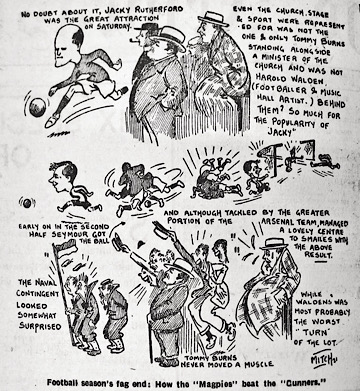 23/04 - D1: Arsenal 1 Newcastle 1 - GREAT GAME AT HIGHBURY - Despite the greasy surface and "pudding" ball, both teams give a masterful display of "keep possession at all costs" football. The Magpies could have won if Dinn had not been so impressive in the Arsenal goal.
---
26/04 - United play Glasgow Rangers in a benefit match for Tommy Cairns who is served up £1,000. The match finishes goalless and the team is: Lawrence, McCracken, tbc, McIntosh, Low, tbc, Aitken, King, tbc, McDonald, Seymour
---
27/04 - At Pittodrie a benefit game for Aberdeen's Arthur Robertson sees the Scots take on a combined Newcastle/Middlesbrough/Huddersfield team. The game ends in a 2-2 draw in front of 10,000. Six United players take part: McCracken, Hampson, Low, Aitken, Curry and Macdonald.
---
29/04 - United announce their retained list.
---
30/04 - There are rumours in Scotland that Harris would not be averse to a return to his home country, he has been bumped unmercifully in England.
---
30/04 - D1: Newcastle 1 Arsenal 0 - A MERITED WIN FOR UNITED - Captains Hampson and Shaw and referee Fletcher all hail from Bury. Although the game has a distinct end-of-season character, both teams play good football throughout. However, in combination and accurate and unselfish parting with the ball, the home men show to advantage.
May
---
02/05 - D1: Manchester C 3 Newcastle 1 - Third-placed City are too strong for United and win comfortably.
---
06/05 - Paton, Clydebank's inside left, signs.
---
07/05 - United are also in talks with Patrick Thistle with regards to left-half-back McMullen.
---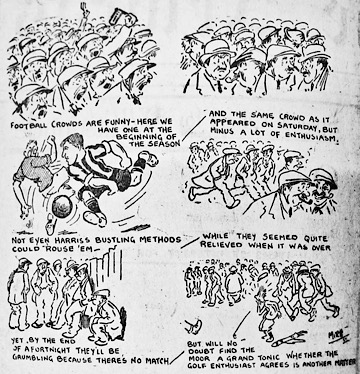 07/05 - D1: Newcastle 1 Manchester C 1 - United have considerably the better of the first forty-five but a division of the points is a fair reflex of the play. An injury to Hampson requires Harris to drop back, leading to a disorganisation of the forward line.
---
16/05 - Negotiations continue with Partick over James McMullan who played for Scotland against England last month; the Glasgow club are holding out for £6,000. United also bid £5,500 for Hart of Airdrionians, but the Lanarkshire club are not willing to part at that price. William Aitken re-signs despite rumours he had a notion to return North of the Border.
---
10/05 - Reserve inside-forward Alfred James Dark (23) signs for Leeds. He has shown fine scoring power and is 6ft and 12st.
---
11/05 - Bertram joins Norwich, he was formerly with Durham City.
---
11/05 - Left-back Edward McGinn signs from Rothesay.
---
13/05 - United have signed centre-half-back Peter Scott from Middle Dock. He was the outstanding player in the Tyneside League last season. He is 5ft 10in and weighs 12st. All players who United want to retain from last season have re-signed.
---
16/05 - United beat an eleven representing Barcelona 3-2; the scorers are McDonald (2) and Pyke.
---
17/05 - A very large attendance watches the Magpies play Barcelona once more and the scoreline is reversed.
---
17/05 - Newcastle have refused to pay Partick Thistle the asking price for McMullan and deny that they made a £4,500 bid for Harry Harris from Airdrionians.
---
19/05 - CELTIC AND NEWCASTLE JOIN FRENCH TOURNAMENT - The Racing Club and Gallia football teams are organising a football tournament to be played in Colombes Paris on 28th and 29th inst. and have invited the British teams to take part.
---
22/05 - Newcastle beat Real Sociedad in San Sebastian by three goals to none with goals from Smailes (2) and McDonald. The game is played In front of a large audience, although not as much as expected, given the financial effort involved in organizing the meeting. United dominate from the first whistle and eventually overwhelm the Donostiarras. It is all too easy and they play an apathetic and relaxed game, but the home journalists are in awe of the stupendous positioning and the wonderful control of the ball that makes the precision of United's plays mathematical.
---
26/05 - The Newcastle party leaves for Paris.
---
28/05 - Newcastle defeat the Gallic Club in Paris by 4 goals to 1. Aitken scores a hat-trick and McDonald scores the other.
---
29/05 - The game between Glasgow Celtic and Newcastle is won 3-1 (0r 3-0) by the former.