1881 - The Start of it All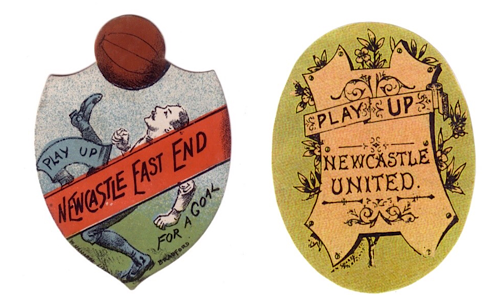 Over time there has been some debate, and a bit of confusion, over the club's early roots and development, and subsequently any anniversary dates which are followed. Like most things connected to Newcastle United, nothing is quite straight-forward.
Anniversaries have been a bit of an issue with three key years existing in the club's lineage; 1881, 1882 and 1892. Research was in its infancy by the time the club's centenary was reached in 1981 and Newcastle United were not in a position for various reasons to mark their 'real' centenary. Nor were they in 1982, a century after the original club Stanley FC changed title to East End FC.
But the United were in a position to do so during 1992 as the club commemorated the move to St James' Park and it's change in name to Newcastle United. In 2011 we marked 130 years of existence since 1881 when the Club Store even had a range of East End shirts on sale; red and blue. And recently 125 years of being at St. James' Park - and the change in name to Newcastle United - was celebrated.
With research now just about exhausted, there is no doubt that the rudimentary stage of Newcastle United's origin goes back to November 1881 and to the riverside community at South Byker and St. Peter's, around Stanley Street - then part of Walker Road, near to the present-day St. Peter's Social Club.
Now over 140 years ago, the players and officials of the Stanley Cricket Club took an interest in what was then the relatively new game of football, the 'Association Code' version, as distinct from the 'Rugby Code'. Their leader was William Coulson (captain) closely assisted by William Findlay (secretary) and Joseph Simpson (treasurer). All three men were to play a key role in the start of Newcastle United.
During mid-November 1881 the cricket club's second annual 'concert' took place at the Leighton Schoolroom at the Byker end of Heaton Road. Shortly afterwards on 24th November the cricketer's annual meeting was held at a certain Mr Allan's house at the top of Shields Road, on Byker Hill - near to where St. Michael's Church stands now.
At that gathering of enthusiasts it must have been agreed to form a football club, and Stanley Football Club was created, named after Stanley Street and the cricket club.
Timeline
Nov 1881 - Stanley FC formed in St Peter's; playing at South Byker.
Aug 1882 - Stanley affiliated with Northumberland & Durham FA.
Oct 1882 - Stanley change their title to East End FC.
Lte 1882 - Rosewood FC merge with East End.
Aug 1883 - Home ground now behind Byker Vicarage.
Aug 1884 - East End move to Dalton Street, Byker.
Mar 1885 - First senior trophy secured; Northumberland Challenge Cup.
Sep 1886 - East End move to Chillingham Road in Heaton.
Sept 1887 - Cheviot FC merge with East End.
Oct 1887 - First FA Cup tie at South Bank.
Nov 1887 - Union Harriers FC merge with East End.
Jan 1888 - Record victory; 19-0 v Point Pleasant (Northumberland Cup).
Jun 1889 - East End turn fully professional.
Sep 1890 - Northern League commences, first game for East End.
Feb 1890 - East End become a limited company & a share issue launched.
May 1892 - Rivals Newcastle West End fold and are disbanded.
May 1892 - East End take over the lease of St James' Park.
May 1892 - East End fail in bid to join the Football League.
Sep 1892 - East End's first home game at St James' Park; v Celtic.
Dec 1892 - East End change their name to Newcastle United.
Dec 1892 - First game as Newcastle United v Middlesbrough.
May 1893 - Newcastle United elected into the Football League (Division 2)
Sep 1893 First Football League fixture; v Woolwich Arsenal.
---