Tony Green (1971/72 - 1973/74)
Tony Green played his first match for United at the end of October 1971 and his 35th and last game only ten months later; yet he made such an impression during his short stay that he is rightly regarded as one of the best players to pull on a black and white shirt.
In some ways he was a throwback to the great inside forwards of the past; quick, clever and with a decent shot. His greatest asset was that in the congested central midfield areas he could shimmy past opponents at speed. With superb ball control and a searing burst of pace, he could find space from nowhere and could create chances both for himself and others.
His footballing ability would have been enough to make him an excellent player, but what made him exceptional was that he combined these qualities with tremendous work rate, heart and character.
A quiet unassuming man with a wry sense of humour Green modestly refused to accept that United's resurgence was down to his arrival claiming that "with players like this and fans like this you can hardly help but play well can you."
However, despite his obvious credentials Green won only six caps for his home country partly due to injury and also because Tommy Docherty appeared unable to fit his mercurial talents into his struggling side.
Tragically at the beginning of the 1972/73 season he suffered a cartilage injury that would end his career. At 26 he had just been reaching his prime.
---
---
| | | | |
| --- | --- | --- | --- |
| Birth | 30/10/1946 | Kinning Park | Scotland |
| Ht/Wt | 5-07 | | |
| Joined | 10/1971 (24) | Blackpool | £140,000 |
| Debut | 30/10/71 (24) | Everton (A) | Div 1 |
| Retired | 12/1973 (27) | | |
| App/Gls | 35 | 3 | |
---
They said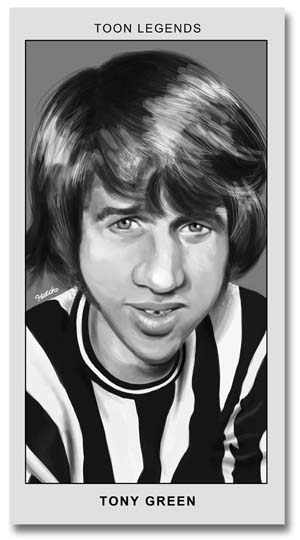 Stan Mortenson (Blackpool manager - 1969) - "His greatest asset is that he moves quickly from defence into attack. He's never afraid to take on a man and beat him ... which allied to his enthusiasm, ability, guts, strength and temperament, makes him what he is - a great player.
Keith Burkinshaw (United coach)- "His attitude is his greatest asset. This is what makes him tick". "For taking a man on he's the best I know, anywhere".
Don Revie (Leeds manager - April 1972 after United had beaten Leeds)- "Green was superb. He is a man with skill, courage and pace".
Joe Harvey (Newcastle manager - after Tony's retirement) - "After they made Tony Green they threw away the mould. I couldn't hope to buy a similar player not even for twice that amount. Tony was the best midfield man in the country and I mean that. His skills thrilled me in a way that no one else has been able to achieve. That lightning speed over the first five yards, the body swerve and that fabulous shot from such a little fellah ....... he was unique".
---
Season by Season
---
1971/72 [29/0 - 2]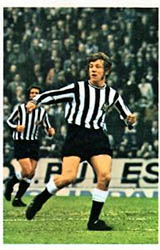 When Tony joined the club United were one off the bottom. His inspirational form helped United gradually climb out of trouble and earned him the Man of the Match in two thirds of the matches he played. Not surprisingly he also walked off with the Player of the Year award.
---
1972/73 [6/0 - 1]
Tony carried on where he left off from the previous campaign with some more sparkling cameos but at the start of September he suffers a knee ligament injury in a challenge with Mel Blyth. Tony is out for months, but just before the end of the season he makes a "comeback" playing in a reserve match and a benefit match for former Blackpool team mate Glyn James.
---
1973/74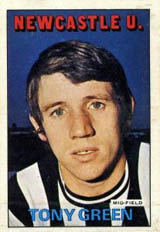 Tony trains hard throughout the summer and United announce that he is fully fit again. However once more the knee breaks down and is operated on for the third time in 9 months with the surgeon hopeful that he has finally solved the problem. evastatingly it proved to be a false hope and specialists advise him that his leg would not stand up to the strain of playing full-time football and just before Christmas Green announces his retirement. He is awarded a testimonial against Middlesbrough and despite the fact that United had just slumped to the embarrassing 74 Cup Final defeat 28,000 turned up.
---
Resources
---
Source
Painting by Piotr
Caricature by Hutch
Cards/stickers from DOINGTHE92
External Links