Terry Hibbitt (1971/72 - 1973/74, 1978-79 - 1980/81)
Joe Harvey signed some great midfielders during his time on Tyneside and not only was Terry Hibbitt one of the best he was also one of the best value; costing only £30,000 when he was signed from Leeds. He is also a member of the exclusive set of players who have spent more than one period at the club.
He had a magic wand of a left-foot and was regarded as one of the best passers in the game; specialising in first-time balls over long distance. Although frail looking he was a tireless worker whose non-stop scheming made United tick.
In his first spell at the club United built their tactics around him; inviting the opposition to attack and then when regaining possession playing a quick ball out to Hibbitt who would immediately look to play one of his exocet passes into Supermac's path.
It was a simple move that would pay off on a regular basis, never more so than in the FA Cup semi-final match against Burnley when he set up Macdonald for the second goal. On many occasions Macdonald has made clear how much he appreciated those passes.
A clean hitter of the ball he probably should have scored more goals although he was a victim of his own unselfishness.
It is fair to say that Terry liked to talk and was not afraid to offer his opinion even when it wasn't wanted and as a result he often got himself into trouble with the men in black resulting in many games missed through suspension.
But he didn't just antagonise officialdom; he had many a set to with his own players who often took exception to his unrequested advice.
The most famous incident happened after United slumped to a single goal defeat at Molineux on New Years Day 1972 when comments made by Hibbitt led to all hell breaking loose in the changing room. However he was not an unpopular player as there was no lasting antagonism.
He candidly admitted to being the biggest moaner at the club but manager Harvey knew how to deal with him; a box of fags usually proving enough to calm him down.
His departure has gone down in history as one of the most shoddy in the club's history. United had lost 3-2 at Derby on a Wednesday evening and when Terry got out the showers his boots were on top of a skip.
Lee informed him that he had agreed to sell him to Birmingham and that Freddie Goodwin was waiting to speak to him. He then ordered the coach driver to leave without him.
It was a standing joke in the coming months that players should always pack a clean shirt for away matches just in case they were next.
By the time he returned Lee and Macdonald had gone and United had been relegated. Terry was made club captain but despite his best efforts this was a poor United side and he could not inspire them to promotion.
He retired from professional football when he failed to recover from a knee injury and he went on to play for and manage Gateshead.
Tragically Terry lost his life to cancer at the age of only forty seven.
---
| | | | |
| --- | --- | --- | --- |
| Birth | 01/12/47 | Bradford | W. Yorkshire |
| Ht/Wt | 5-07 | 11-00 | |
| Joined | 08/71 (24) | Leeds | £30,000 |
| Debut | 14/08/71 (24) | C. Palace (A) | Div 1 |
| Left | 08/75 (24) | Birmingham | £100,000 |
| Joined | 05/78 (24) | Birmingham | Exchange |
| Retired | 06/81 (27) | Retired (inj) | |
| App/Gls | 290 (1) | 18 | |
---
Season by Season
---
Pre United
In 1963, sixteen year old Terry joined the Elland Road staff straight from school. He made his debut during the 1965/66 season in a game against Nottingham Forest and scored with his first touch of the ball.
But Leeds had Giles, Bremner and Eddie Gray and as a result Terry rarely got a chance in the First Team. In all he made only 43 appearances and 17 substitute appearances in seven seasons at the club although he did win a Fairs Cup medal in 1968.
---
1971/72 [39/0 - 3]
Harvey signs Terry on the eve of the season and makes it clear to him that he has been bought to supply the bullets for new striker Malcolm Macdonald
The partnership takes a while to gel as United struggle but Hibbit displays such impressive form that he wins the Player of the Year award.
---
1972/73 [44/0 - 3]
Misses only two games and wins the Player of the Year award for the second consecutive season.
---
1973/74 [44/0 - 2]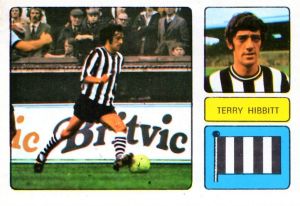 Another excellent campaign sees him tipped for international honours. He helps United reach Wembley and supplies THAT pass to Macdonald in the semi-final against Burnley.
---
1974/75 [29/0 - 0]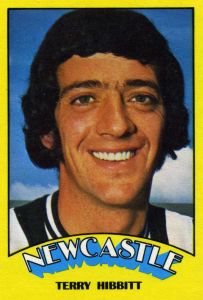 He suffers an injury in the 5-0 drubbing at Chelsea in November which rules him out until March. By then Harvey - suffering a midfield injury crisis - has bought Tommy Craig. Harvey tries to play them both with Terry even turning out at left-back.
---
1975/76 [4/0 - 0]
Gordon Lee sees him as a trouble maker and with Craig also available arranges a move to Birmingham for him. Terry - who still has two years left on his contract - does not want to go, but a future ostracised in the reserves does not appeal and he leaves for £100,00.
He would later state "to be honest I don't think Gordon Lee liked me. I didn't bow and scrape, I spoke my mind".
---
1975/76 - 1977/78
Terry spends three years at Birmingham where he is made skipper which helps him to control his temper.
---
1978/79 [44/0 - 0]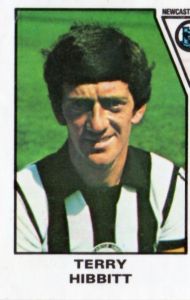 Bill McGarry offers Terry (now 31) a route back to Tyneside and he jumps at the chance. He is made club captain and looks forward to the love affair continuing although he has to settle for the Number 10 shirt with John Connolly taking over on the left-wing.
---
1979/80 [37/0 - 2]
Mick Martin takes over the captaincy and Terry returns to his favoured Number 11.
---
1980/81 [17/1 - 3]
Finds himself out of favour at the start of the campaign with new signing Koenan preferred. He is reinstated when Arthur Cox replaces the sacked McGarry but a groin injury lets in a young lad called Chris Waddle. Hibbit comes on as substitute in a 0-2 home defeat by Derby; a match which proves to be his last.
At the end of the season Terry retires due to a recurring knee injury.
---
Resources
---
Source
Painting by Piotr
Cards/stickers from DOINGTHE92
External Links