Ronnie Simpson (1950/51 to 1960/61)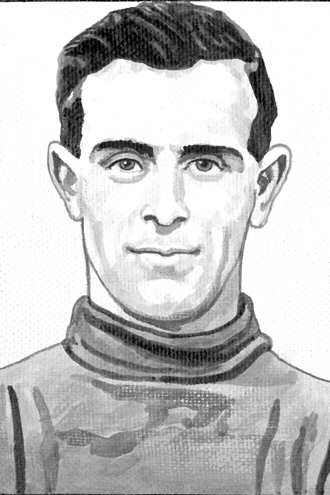 Ronnie Simpson played professional football for a remarkable 25 years after making his debut for Queens Park as a fourteen-year- old.
He joined United in February 1951 as United looked for an understudy for Fairbrother. Despite being only twenty-one he already had almost six seasons under his belt.
Although he never featured in that first campaign, an injury to Fairbrother at the start of the 1951/52 season gave him his chance and he remained the club's first-choice for the next seven seasons, picking up FA Cup winners medals in 1952 and 1955 in the process.
At only 5' 9" and 11 stone he wasn't the biggest of 'keepers, but he made up for his lack of height with his spectacular, lightning reflexes and amazing agility.
He was a "goal-line" keeper, a brilliant and acrobatic shot-stopper who saved as many shots with his feet as his hands. He would walk on the balls of his feet so he was always ready to spring into action.
Although Ronnie's lack of height meant he could not dominate his area like taller 'keepers he could still get up to reach the ball and was very good at handling crosses.
Despite the fact that United's gymnasium had "every up-to-date training device imaginable" he preferred to use a much simpler piece of apparatus; the wall.
He spent hours and hours throwing the ball against the wall; "the ball rebounds at different angles, and I have found this to be a first-class means of developing the quickness of eye and movement essential to a goalkeeper".
After suffering a series of injuries, Ronnie was controversially allowed to leave at the start of the 1960/61 season despite being only thirty. He would continue playing for another ten years during which time he won all the domestic Scottish honours and the European Cup and was also capped by Scotland.
---
Stat Box
| | | | |
| --- | --- | --- | --- |
| Birth | 11/10/1930 | Glasgow | |
| P/H/W | Goalkeeper | 5ft 9in | 10st 10lb |
| Jnd | 02/1951 (20) | Third Lanark | £8,750 |
| Left | 10/1960 (30) | Hibernians | £2,100 |
| App/Gls | | | |
---
Season by Season
This section is work in progress.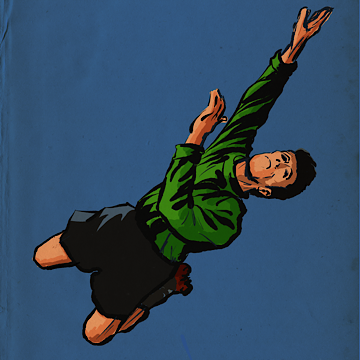 Pre United
Ronnie Simpson was the son of former Rangers centre-half Jackie Simpson and joined Queens Park as an amateur in June 1945. He made his debut in the unofficial War Time League at the age of 14 years and 304 days as a result of Bobby Brown being unavailable due to his National Service.
Aged 18, Ronnie represented Great Britain at the 1948 Olympic Games. He also represented Scotland in amateur internationals.
After four full seasons at Queens Park he signed professional forms for Third Lanark in the summer of 1950. His excellent form attracted many scouts and in February 1951 Newcastle United came in with an offer of £8,750. "Thirds" manager Alec Ritchie wanted him to stay and young Ronnie wasn't too keen on leaving home, but the offer was too good for the club to resist.
1951/52 (46) (1)
Jack Fairbrother breaks his collarbone and Simpson is given his chance for the home match against Bolton. He retains his place throughout the season and helps the Magpies win the FA Cup.
1952/53 (39) (1)
1953/54 (47) (1)
Ronnie was the club's only ever present during the season, but he gets a rude awakening at the end of the campaign when his new contract saw his wages cut from the maximum £15 to £13. Shell shocked he turned it down and even talked of leaving the game altogether if the club refused to allow him to leave. Thankfully the matter was resolved and Simpson stayed.
1954/55 (45) (1)
Once again Simpson helps United to cup glory playing in all the matches of the Cup run.
1955/56 (41) (1)
1956/57 (38) (1)
1957/58 (36) (1)
At the end of the season United tour Romania where Ronnie suffers a serious muscle injury.
1958/59
Injuries wipe out Ronnie's season. Whilst on the sidelines new manager Mitten asks him to help coach the third team.
1959/60 (3) (1)
Ronnie returns for the disastrous 1-5 opening day defeat against Spurs and plays twice more in September; fittingly keeping a clean sheet in his last game at Leicester. But Newcastle decided to let Simpson go with goalkeeping duties now being shared between Stuart Mitchell and Brian Harvey. He was still only 30 and the decision to let him go was a controversial one
Post United
He played for Hibs for four seasons before (at the age of 34) he was allowed to leave for Celtic as cover for John Fallon. However, he performed so well in the reserves he was promoted to the first team.
He went on to win all the domestic Scottish honours and the European Cup (in 1967) and became the oldest Scottish debutant during the same year when he won his first cap at the age of 36 years and 186 days.
Simpson retired due to injury at the end of the 1969/70 season aged 40. He did some coaching and scouting for Celtic before enduring a short and unhappy spell as Hamilton manager in the 1971/72 season.