Joe Harvey
Former Sergeant Major Joe Harvey arrived at the club just after the war. He played for eight years, stayed two more years as trainer and then returned in the early sixties as manager.
He was made captain in his second game for the club and kept the position until the end of his playing career making him the longest serving captain in the club's history.
Harvey led United to promotion in 1947/48 and then to two FA Cup Final victories in 1950/51 and 1951/52 making him arguably the most successful skipper as well.
Joe wasn't the best footballer in the world, but as a captain he was second to none. He demanded the best from himself and his team mates and invariably he got it. Every player had the greatest respect for Harvey and many were petrified of him
Milburn recalled how a misplaced pass during Harvey's debut led to a "torrent of abuse" of a level this miner had previously not witnessed. But he didn't just castigate the casuals he was always there to gee up players struggling to find their form.
The Yorkshireman was a rugged competitor who had great stamina and always fought until the last kick. Before he arrived at United he often played as an inside forward, but at United he settled into the half-back slot. Here he concentrated on breaking up the other team's play whilst occasionally initiating attacks too.
At six foot Joe cut an imposing - if lanky - figure and Milburn would later state that "running into Harvey was like hitting a bag of iron"
In the forties and fifties smoking and drinking were an acceptable part of a footballer's life and the Donny man often had a couple of pints of Guinness on the morning of a match.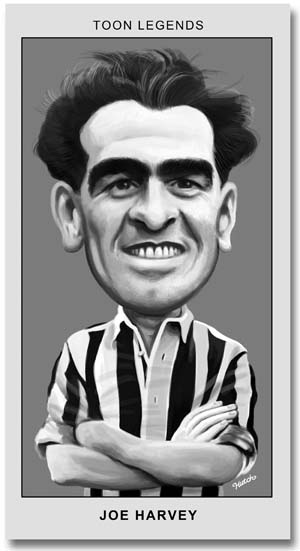 It wasn't just Harvey who was a formidable figure, his wife Ida also knew how to look after herself and it was she who led the wives rebellion of 1951 over the Wembley seats they had been offered. Hours before the Cup Final her ever dutiful spouse informed the directors that the players would not turn out unless the seats were changed. They were.
His time on Tyneside was not without controversy. In 1946/47 he joined Len Shackleton on strike over the quality of accommodation the club had provided them with. The club refused to back down - at least publicly - and the players were suspended for one game and forced to give a public apology
Harvey was also caught up in a scandal over illegal distribution of Cup Final tickets in 1952. Although he was not charged in the eyes of many supporters he was guilty through association.
---
Stat Box
| | | | |
| --- | --- | --- | --- |
| Birth | 11/06/1918 | Edlington | Yorkshire |
| Ht/Wt | 6-00 | | |
| Joined | 10/1945 (26) | Bradford City | £4,250 |
| Debut | | | |
| Retired | 01/1954 (35) | | |
| App/Gls | 281 | 13 | |
Season by Season
Pre Toon
Harvey started his footballing career with Edlington Rangers whilst also working as a fitter at a pit brass foundry. He was signed by Wolves in 1936 but farmed out to Bournmouth six months later. But at the end of 1938 they released him too and Harvey was clubless.
He was picked up by Bradford City but almost immediately war was declared. Joe joined the Royal Artillery and became a sergeant in the Army Physical Training Corps. He was a soldier during the week and a player at weekends.
During the War Years Harvey's battalion moved around and like many players of the time he "guested" for a number of clubs including Hartlepool, Aberdeen and Dundee United.
In the opening game of the 1943/44 season Harvey was in action for Bradford against Newcastle and scored twice. He was actually the club's top scorer that season with 17 goals. Around this time Harvey was stationed at Fenham Barracks for a while and Seymour asked if he would like to play for United as a guest; but Harvey's obligation to Bradford meant that he turned down the opportunity.
As the 1945/46 season commenced Seymour asked Bradford how much they wanted for Harvey and was quoted £10,000. There were a number of clubs interested in him including Middlesbrough, Leicester and Blackburn.
On October 20th a more reasonable fee of £4,500 was agreed and Joe was on his way to Tyneside
1945/46 [35/0 - 1]
When Seymour introduced him to the rest of the players they wondered just what was coming as he stood there with his army uniform on. Meanwhile Harvey - surveying the squad of young Geordies before him - stated that he thought he was joining a youth club.
Although the war was over the Football League had not restarted so Harvey's first games were in the Football League North. He quickly established himself in the side and was made captain after only one game. His official debut came in the FA Cup Third Round First Leg victory over Barnsley.
At the end of the season Sergeant Major Harvey was demobbed.
1946/47 [38/0 - 3]
Harvey was already a vital cog in the side and when he was injured just before Christmas the side lost three games in a row; a setback from which they never fully recovered.
He also ran into problems with the directors over their failure to provide him with suitable accommodation; went on strike and was duly suspended.
1947/48 [41/0 - 4]
Harvey led United back into the First Division; missing only five games all season
1948/49 [42/0 - 3]
Once again Joe is almost a permanent fixture in the side as United finish in a highly creditable fourth place.
1949/50 [22/1 - 0]
Injury rules out Harvey for half the season and the side struggle to maintain the previous season's form without his leadership qualities. His return in February helps United finish strongly; losing only two matches in the second half of the campaign.
1950/51 [44/0 - 1]
Harvey leads United to FA Cup glory and it could even have been the double if they hadn't lost their concentration in the League during the months after their semi-final victory.
1951/52 [44/0 - 1]
Captain Joe leads United to their second successive Cup Final victory a month short of his 34th birthday.
1952/53 [20/0 - 1]
Now 34, Harvey is used sparingly at first but still ends up playing in most of the games in the New Year. His final game is a 1-0 victory at Villa Park on May 1st.
Harvey attended coaching sessions organised by The FA's technical guru Walter Winterbottom