Newcastle United 1981/82 Diary
---
---
Newcastle Review 1981/82
Newcastle Squad 1981/82
---
---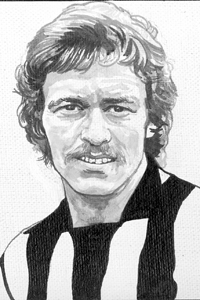 09/06 - Kenny Mitchell agrees to sign for Darlington, he will officially join when his contract expires at the end of July.
---
6/06 - The two-year wrangle over how much rent Newcastle should pay to the Freeman of the City is due to go to court next week and could result in the club (who are already half-a-million in the red) having to pay thousands in arrears. The club have been paying £5,000 pa, but the Freeman stated (in 1978) that they wanted to increase the rent to £25,000.
---
19/06 - British Rail state that soccer specials for two pre-season games with Sunderland may be cancelled due to fears of violence. Two years ago United supporters wrecked 13 coaches.
---
25/06 - The club accept that the valuation of the land that the ground is on should be based on it being a football club and it is hoped that a compromise can be made on the valuation.
---
24/06 - Stan Seymour and George Bowman travel to London to inspect the artificial pitch installed at Loftus Road. They are impressed and Seymour states that there is no doubt in his mind that it is "more than a viable proposition".
---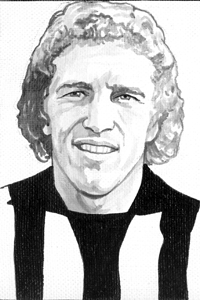 04/07 - Stuart Boam (33) is appointed manager at his old club Mansfield. He still had a year left to run on his contract and United receive a £20,000 fee.
---
07/07 - Wallsend Boys Club supremo Peter Kirkley joins Joe Harvey's scouting team. He was Burnley's top North-East scout for twelve years until his recent resignation.
---
14/07 - Reserve Team coach Geoff Allen joins Stuart Boam at Mansfield.
---
16/07 - United are favourites to sign striker Alan Birch from his old club Chesterfield.
---
20/07 - Former Manchester United coach Tommy Cavanagh (52) joins Cox as assistant manager and will take control of first team training.
---
22/07 - Former player Colin Suggett is appointed Youth Team coach.
---
06/08 - Mick Martin signs a new two-year contract but Ray Clarke is forced to retire through injury.
---
10/08 - Everton striker Imre Varadi starts training with United. Although the Toffees have rejected United's bid he is a free agent under freedom of contract.
---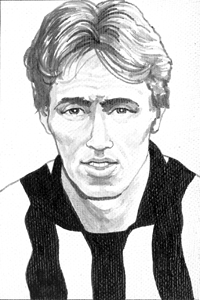 10/08 - Gary Nicholson joins Stuart Boam at Mansfield for a £25,000 fee. The club still has a bid of £150,000 on the table for Alan Birch and has made enquiries about Tony McAndrew (Middlesbrough) and Ronnie Glavin (Barnsley).
---
12/08 - United play a private friendly against Carlisle.
---
---
---
19/08 - Everton accept a bid of £125,000 from Norwich for Varadi, he will travel to East Anglia tomorrow for talks.
---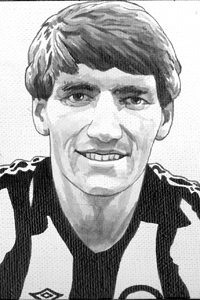 20/08 - Mick Harford moves to Bristol City after less than 20 appearances and only 3 goals in the No. 9 shirt. United will eventually receive £150,000, but City can only afford a £50,000 down-payment at the moment.
---
21/08 - Barnsley's Ronnie Glavin says, "I would love to come to Newcastle". Cox has already had two bids for the player turned down.
---
---
24/08 - Varadi turns down a move to Norwich.
---
25/08 - Cox blasts non-League Consett after a United team played them last night complaining that "their rough-house tactics were a disgrace" and stating that "they will never again get any assistance from Newcastle United".
---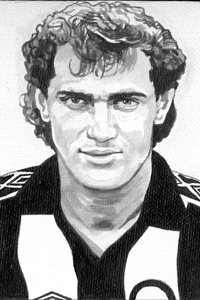 26/08 - Imre Varadi signs for Newcastle for £125,000. He scored 7 goals in 24 games for Everton last season and his greatest asset is his pace, something United are desperately short of.
---
26/08 - United beat Tow Law 4-1.
---
---
01/09 - Chairman Seymour refutes rumours that United cannot buy any more players due to restrictions put on them by the banks
---
02/09 - Trialist George Christopolus (20) plays for the Central League team. The Greek Australian international midfielder impresses with his display.
---
05/09 - UNITED LEAD TO LAND HAWLEY - Newcastle agree a fee with Sunderland for striker John Hawley. The player, who Norwich are also after, is thinking things over.
---
---
07/09 - COX SAYS 'FORGET IT' - Cox holds talks with Hawley, but the player says he wants to play for Sunderland Reserves tonight to see if he can attract any other suitors. An annoyed Cox tells Sunderland manager Alan Durban that he is no longer interested in signing him.
---
08/09 - Hawley signs for Arsenal as United turn their attentions to young Falkirk forward Willie Herd.
---
09/09 - Cox watches Norman Bell of Wolves as he continues his search for a new striker.
---
10/09 - Initial contact is made with Wolves, but a deal seems unlikely. Cox has failed in an attempt to get Sunderland striker Alan Brown on loan and - after approaching Vancouver Whitecaps to enquire about Peter Beardsley - he states that having had the situation explained to him with regards to Carlisle he has dropped his interest.
---
11/09 - United have enquired about three Manchester City stars: striker Dave Bennett, winger Dennis Tueart and centre-half Tommy Booth.
---
---
14/09: FLAT BROKE AND NO ASSETS, SEYMOUR HAS TALKS TO STRENGTHEN BOARD - With the club's debts standing at £600,000 and allegedly only £25,000 in the kitty to buy new players, United desperately need a cash injection. They cannot use their ground as collateral as they don't own it and they have even mortgaged the training ground. As they have reached their overdraft ceiling any player purchases have to be ratified by the bank. A move for Tommy Booth is likely to be scuppered as a result. To inject some new funds Seymour has held talks with an unnamed party about becoming a director.
---
14/09 - United have applied for a work-permit for trialist Christopolus, but Tommy Booth has turned down a move to Tyneside.
---
15/09 - The club have reached a compromise with the Council over the ground rent. They have had to pay £55,000 in arrears, but it is thought that a deal has also been struck to allow the ground to be used to stage other events rather than just football matches. Seymour does not rule out the possibility of a share issue, but has doubts whether it will be successful.
---
18/09 - Cox confirms that Shoulder is available for transfer and it is thought he is also prepared to let Shinton go too.
---
---
21/09 - An x-Ray reveals that Barton's foot is only bruised.
---
---
25/09 - Cox reveals that hard-up Newcastle are still paying the wages of Koenan despite the fact that he was released at the end of last season.
---
---
29/09 - it would appear that the deal for Aussie international is off. A number of factors are involved including financial.
---
---
01/10 - The club hold talks with Terry Liffen with regards to the vacant seat on the Board.
---
---
06/10 - Chairman Seymour states "there is now a totally different attitude at the club and amongst the players. We are no longer going backwards".
---
---
---
12/10 - The City Council vote to accept the agreement reached that the rent on the ground should be based on the valuation of it being used by a football club rather than just a piece of the Town Moor. the club still wants the covenant which prevents the ground being used for other purposes to be lifted.
---
15/10 - Northern Ireland midfielder David McCreery, currently playing for Tulsa Roughnecks in America, turns down a six-month loan offer from United.
---
---
17/10 - Almost 6,000 United supporters travel to Yorkshire and many cause significant trouble before, during and after the match. A Newcastle fan is also injured when a train window is smashed as one of the special trains departs. The United team bus is also attacked with a window being smashed, luckily no-one is hurt. Some of the players and director McKeag chase the youngsters who threw the bottles, but they get away.
---
18/10 - A special midnight court deals with 37 of the 43 fans arrested, handing out fines of up to £350, a further 3 fans are remanded in custody on more serious charges.
---
19/10 - Newcastle Supporters Association Chairman Malcolm Dix talks of hopes to try and raise £100,000 for the club by Christmas through donations from fans and fund-raising activities.
---
20/10 - The club apologise both publicly and privately for the behaviour of their fans at the weekend.
---
20/10 - Following a meeting with Dix, Arthur Cox gives the NSA his full support and offers his help in a consultancy role.
---
---
---
29/10 - A Football League investigation concludes that United no longer need to pay Koenan.
---
30/10 - Jackie Milburn agrees to join the Committee of the Buy-a-player fund instigated by the NSA.
---
---
02/11 - Cox holds discussions with Sunderland counterpart Alan Durban with a swop deal involving John Brownlie possible.
---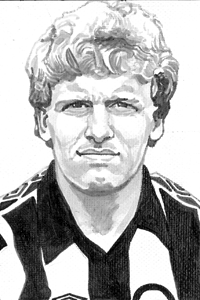 04/11 - Sunderland's transfer-listed striker Alan Brown (22) joins United on a two-month loan. Cox says "if he and Varadi hit it off their pace is going to strike fear into the heart of many defences".
---
05/11 - Sheffield Wednesday centre-half Jim Holton (30) holds talks with Cox over a move to Tyneside..
---
---
08/11 - Cox has approached Vancouver Whitecaps about former Burnley striker Ray Hankin.
---
09/11 - Jim Holton will train with United for a few days and if he impresses, will sign on a free-transfer.
---
11/11 - Holton turns down a move to United because they are only prepared to offer him a one-year contract.
---
---
16/11 - Malcolm Dix calls for the Council and Freeman to hand over the ground to the club arguing that "it would remove the strait-jacket from the club and help the area in general to prosper". He states further that they would not need to lose out as a set annual amount could still be paid by the club.
---
19/11 - Irish teenager Paul Ferris arrives on Tyneside where he will become an apprentice professional.
---
21/11 - Koenan has, with the help of the PFA, convinced the League that he is trying his best to find a new club and therefore United have been instructed to start paying his wages again. Exeter have turned down the chance to sign him.
---
21/11 - A consortium of Businessmen, including Dix, want to bring Brian Clough and Peter Taylor to the club with Clough acting as managing director. It seems improbable that either Clough or the club would entertain the idea.
---
---
22/11 - WHAT A LOAD OF RUBBISH - Seymour slams suggestions that Clough or any other person would become a paid director at the club calling the idea "crazy, a joke".
---
23/11 - The much-heralded "New Player Fund" set up a month ago is proving a monumental failure so far with a mere £235 being raised and no companies making any donations at all.
---
23/11 - UNITED £1m IN THE RED - The accounts for the year ending 31st July reveal a loss of £877,381 and net liabilities of almost £1m. They owe almost half a million to the bank and if they withdrew their support the club would fold.
---
---
25/11 - Comedian and club owner Bobby Pattinson says that he would like to become a director. He states that he has contacted the club on more than one occasion with his proposals but hasn't "received even the courtesy of a reply from Mr. Seymour". Meanwhile Brian Clough blasts rumours linking him to other clubs including United. "It is ridiculous, unfair to other managers and it's boring from my point of view".
---
28/11 - Eddie Dunn, owner of Moordale Coaches is likely to be appointed as the eight director at the AGM.
---
---
03/12 - After being homeless for 26 years the Supporters Club officially open their new headquarters in the old Magpie Pub just along from the ground on Barrack Road.
---
---
07/12 - UNITED'S CLOSED SHOP AN INSULT - Malcolm Dix lashes out at the Board following the news that Eddie Dunn is to become the eighth director in preference to himself and the other nominee George Dickson. "To not even be approached by the Chairman on this occasion is an insult to everything I have fought for. I have campaigned for many years to bring about change. Since the exit of Lord Westwood, and Messrs Rutherford and Salkeld. I was content that Stan Seymour and the other six directors were trying their best to rectify the position. It makes me wonder whether the directors have changed that much". Dix, a shareholder since 1973, a nominee for the board since 1974 and chairman of the Newcastle Sports Council, is annoyed that his snub comes at a time when he has been actively involved in helping the club through the Newcastle Player Fund.
---
08/12 - WE STAKE OUR FUTURE IN THE YOUTH OF TYNESIDE - Highly sought-after schoolboy Ian Bogie signs on associate schoolboy terms for United having just turned 14. And in a lengthy statement Cox states that "this club belongs to the youth of Tyneside and we want to secure it a future through the boys of the area……Newcastle's rise to greatness again rests with the local young boys of Tyneside.
---
09/12 - Hard-up United are still waiting for the compensation payment for Ray Clarke.
---
11/12 - Saturday's match at Wrexham is called off due to the snow and ice.
---
16/12 - The AGM is held and Seymour blames the club's financial plight on overspending on transfer and signing on fees, wages and loyalty bonuses and he stresses that a "progressive youth policy" will be used to return United to the First Division.
---
18/12 - Tomorrow's match with Crystal Palace is called off.
---
22/12 - Seymour states that they will not buy Brown if Sunderland demand £200,000. And United are still waiting for a work permit for Christopolous, they have asked Newcastle West MP Bob Brown for help.
---
23/12 - Sunderland accept United's offer, believed to be £160,000, for Brown; but the player has not yet agreed personal terms.
---
27/12 - BROWN: COWIE SLAMS UNITED - The deal for Brown collapses sparking a war of words between the local rivals. According to United he failed a medical due to his troublesome hamstring. But Sunderland Chairman Tom Cowie claims Seymour rang him last Thursday (23rd) to inform him that the bank was not prepared to fund the move and asking if they could extend his loan.
---
---
09/01 - Another postponed game for United who haven't played a League game for over a month. Cox talks of the "catastrophic" impact of the loss of gates, particularly over the Christmas period.
---
12/01 - United capture another highly sought-after schoolboy in Paul Stephenson. He has recently trained with both Arsenal and Manchester United.
---
13/01 - Arthur Cox blasts the FA after a 600-mile round-trip to Colchester in extremely hazardous conditions proves fruitless as the replay is postponed.
---
14/01 - Cox has asked Everton if they would release striker Alan Bailey on loan, but Howard Kendall refuses to accede to his request.
---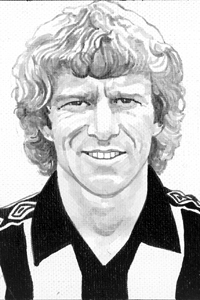 16/01 - NEWCASTLE SWOOP FOR MILLS ON LOAN - United sign striker David Mills (30) on loan until the March transfer deadline day when they will have the option of signing him for £100,000. He cost West Brom £516,720 when they signed him from Middlesbrough three years ago.
---
---
---
19/01 - Fed up with paying his wages, Frank Koenan is given a free transfer.
---
---
26/01 - Arthur Cox is not concerned about a bad reaction from the fans "the fans won't desert us, they will help the club get back on its feet because geordies are like that and it's their club".
---
27/01 - United send a six-man deputation to London to see the Under Secretary of State to try and push through a work permit for Christopoulos.
---
---
---
04/02 - PFA Chairman Alan Gowling, the former United player, makes their position very clear with regards to the influx of foreign players. For him it is about protecting the interests and livelihoods of the home-grown players and therefore they have asked the Department of Employment to tighten up the rules. So whilst he sees the advantage of foreign players who "add something to the game" his issue is "that clubs have resorted to cheap foreign players because of inflated transfer fees in this country - but it is the club's themselves who have created the high fees".
---
---
08/02 - United's application for a work-permit for Christopoulos is rejected, the club are considering appealing. Effectively players from non-EEC countries are likely to be prevented from playing in the UK in the future.
---
09/02 - United write to the Australian Commission in London.
---
---
17/02 - Newcastle are still owed £120,000 by Bristol City for Mick Harford, but with the West Country team in dire straits financially the FA agrees to a 62p in the pound pay-off from Bristol City to the club's creditors. As a result the most United are likely to receive will be around £74.400, but even that is dependent upon the success of a £1m. share issue. If City are forced into liquidation the most creditors would receive is 7p in the pound. Whatever the case it is highly likely that any settlements will not be paid until the summer at the earliest.
---
18/02 - Clarification is provided that as long as City escape liquidation United will get the full fee although the timing is unknown. United will need the money to pay the £100,000 required to make Mills' move permanent.
---
19/02 - ALAN REJECTS YORK - Alan Shoulder turns down a chance to go to Fourth Division strugglers York on a month's loan.
---
---
---
---
---
---
---
---
23/03 - BREWING UP A BONUS - Newcastle announce that they have agreed a two-year sponsorship deal with Scottish and Newcastle Breweries which will bring in an immediate payment of £45,000 and another of the same amount next season. They will also get an additional £10,000 if they achieve promotion and the rules preventing shirt sponsorship in televised games are removed.
---
24/03 - The "buy-a-player" fund is wound up with little more than £1,000 having been raised. The money will be passed to the club to help with youth development.
---
---
27/03 - In the build-up to the match there was a lot of talk about organised hooliganism and on the day sixty fans are arrested (59 of them from the North-East) after trouble before, during and after the game. one of the worst incidents happens after the match when fans in the Gallowgate attack the police.
---
29/03 - CALM IT, SEYMOUR TELLS THE FANS - Chairman Seymour pleads for Saturday's disturbances not to be repeated; "it would be a tragedy for things to go backward for Newcastle United after all the hard work which is being done at the club".
---
29/03 - POP GO UNITED - the Council have agreed a two-year break in the covenant that prevents the club from using the ground other than for football. The club have plans for pop concerts, cricket, tennis, boxing, hockey and other activities which will all bring in much-needed additional revenue.
---
---
---
---
---
---
---
---
---
---
---
11/05 - Due to the escalating Falkland Islands crisis, Newcastle ban Mick Martin from playing for Eire in Argentina next week.
---
17/05 - Arthur Cox admits an interest in freed Sunderland players Jeff Clarke and Kevin Arnott.
---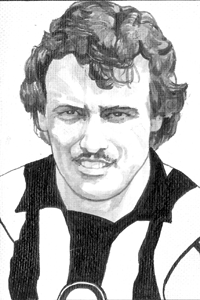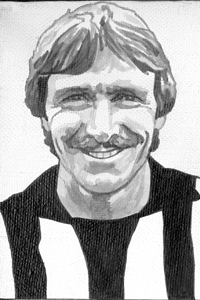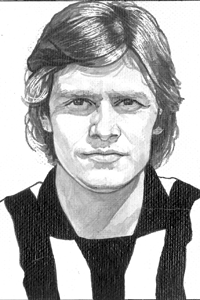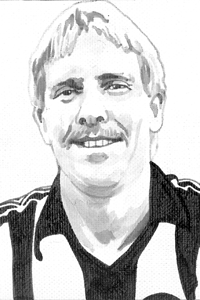 12/05 - TEN FOR FREE - With Cox needing to cut the wage-bill ten players are given free transfers including Ian Davies, Alan Shoulder, Nigel Walker and Kevin Pugh. More may follow.
---
---
---
19/05 - After weeks of negotiations United strike a deal for the Rolling Stones to perform at St. James' in June.
---