NUFC 1970/71- Diary
---
Summary
Matches
Squad
---
July
Left-back Keith Kenneddy () has signed professional terms
Defender Irving Nattrass ( ) has signed professional terms.
---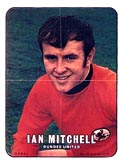 26/07 - United sign 24-year-old Ian Mitchell from Dundee United for £50,000. Mitchell was their top scorer during 1969/70 with 22 goals. He has previously won Scottish U23 honours.
---
28/07 - Outside-right Stewart Barrowclough (18) has been signed from Barnsley for an initial fee of £30,000 (with £10,000 extra due when he has played ten first division games). He has only played nine/ten times for his home-town team but has attracted interest from a number of clubs.
---
August
---
Jimmy Smith is the star of the show at Tannadice.
7,000
Scorers: Smith, Davies
Half-time: Dundee Utd 0 Newcastle 1
Full-time: Dundee Utd 1 Newcastle 2
---
Davies grabs the only goal in the return friendly.
St. James' Park - 15,000
Scorers: Davies
Half-time: Newcastle 0 Dundee Utd 0
Full-time: Newcastle 1 Dundee Utd 0
08/08 - Fr: Newcastle 3 Bolton 0 - Goals from Gibb, Moncur and Foggon secure a comfortable victory against Second Division Bolton.
---
15/08 - D1: Newcastle 3 Wolves 2 - United start the season with a win, but after the game Harvey bemoans the "diabolical" defending which nearly hands the visitors a point in the final minutes. With Jimmy Smith in superb form United storm into a three goal lead with goals from Smith, Foggon and Gibb. But a brace of headers from corners in the last three minutes ensures an unnecessarily nervy ending.
19/08 - D1: Stoke 3 Newcastle 0 - United are uncharacteristically poor defensively in a comprehensive 3-0 defeat at Stoke.
22/08 - D1: Crystal Palace 1 Newcastle 0 - Birchenall scores his first goal for Palace with the home side's first decent shot. Palace are content to protect their lead and The Magpies lack the guile to break down their defence.
---
26/08 - D1: Newcastle 1 Nottm. Forest 1 - McNamee saves United with a late equaliser in a 1-1 draw with Nottingham Forest which they would have won had it not been for an excellent performance by visiting 'keeper Jim Barron.
---
29/08 - D1: Newcastle 1 Blackpool 2 - After Hindson's early goal it is all United for the first fifteen minutes as they batter newly promoted Blackpool. But once the visitors reply they plunge into another lethargic performance and it is The Tangerines that demonstrate the spirit and effort which has been United's trademark in recent years. The crowd chorus "we want our money back" and Harvey is fuming: "It's the worst Newcastle display I've seen in years. I can forgive individual players having an indifferent match, but this was a terrible team effort. Heads will roll after this! "
September
:
02/09 - D1: WBA 1 Newcastle 2 - Frank Clark and Ollie Burton return from injury to strengthen the defence and Young is drafted in for Hindson to stiffen up the midfield. The changes produce a much better performance and a deserved victory.
05/09 - D1: Derby 1 Newcastle 2 - United (prompted by the skill of Dyson) are in tremendous form during the first 30 minutes and lead 2-0. It is Dyson who nips in to score the first and then Young smashes in a great volley from 25 yards out. O'Hare heads in just before the break, but united settle into their well-worn defensive style in a subdued second period to claim maximum points.
08/09 - LC R2: Bristol Rovers 2 Newcastle 1 - A fortnight before Newcastle travel to the San Siro they visit the humbler surroundings of Eastville, the home of Third Division Bristol Rovers. United are really poor and concede just before and just after the break; both goals a result of defensive indecisiveness. Dyson gets scant consolation with virtually the last kick of the match, united have fallen at the first hurdle in the League Cup for the 9th time in its 11 years existence.
12/09 - D1: Newcastle 0 Liverpool 0 - Smith's lacklustre performance in the League Cup costs him his place in the side with the hard working Arentoft replacing him. it is a drab draw with united failing to threaten a transitional Liverpool side who are happy with 0-0. United struggle to string more than a couple of passes together and are guilty of giving the ball away far too easily.
19/09 - D1: West Ham 0 Newcastle 2 - An excellent win at Upton Park in front of the mod cameras in which Pop Robson notches a cracking brace - his first goals of the season. The Magpies produce a scintillating attacking display in the First Half and are rewarded when Robson scores with vicious right foot volley. He heads in a second just after the break and United are in complete control. A beaming Harvey states "Our football was both progressive and entertaining".
23/09 - FC R1 L1 - Inter Milan 1 Newcastle 1 - The Italians had no less than four members of the Italian side that had performed so well in the World Cup, but Newcastle came very close to pulling off a fantastic victory. Milan only equalise six minutes from time after a brave diving header by Davies had put Newcastle into a shock lead. By their own admittance Milan had underestimated how organised United would be; marked very tightly and with their space closed down the Italians threat was brilliantly nullified.
26/09 - D1: Newcastle 0 Coventry 0 - Another awful scoreless match had the supporters clapping very slowly, united s play is unimaginative and sloppy and even when The Sky Blues are reduced to ten men following Machin's dismissal with fourteen minutes left they still cannot conjure up a goal.
26/09 - Nineteen year old Tommy Cassiddy is signed from Glentoran. Manchester United and Sunderland have also been keeping tabs on him. He has usually been employed as a midfielder with the freedom to push forward and support the attack.
30/09 - FC R1 L2 - Newcastle 2 Inter Milan 0 - In his program notes Harvey praises the Italians for "the sporting way in which they conducted themselves...they never resorted to dirty tactics and we appreciated that".
Once again United's direct football was causing the Milan defence all sorts of problems on front of a near 60,000 all-ticket crowd at SIP. A header by Moncur from a corner puts the Black and Whites ahead on the half hour.
A couple of minutes later Davies challenges the Italian keeper Vieri as he prepares to clear. Davies drops his shoulder as if he is going to challenge the keeper and that is enough for him to wedge an elbow into Davies' chest. Referee Minnoy awards Newcastle an indirect free-kick on the edge of the six-yard box. The irate Italians swarm around the referee and the crazy custodian decks him with a sweet left-hook.
Once the referee had got off his knees Vieri is sent-off which is the cue for more mayhem. After a number of minutes and with the help of the local constabulary, the referee regains control. The rest of the match sees the Italians resort to all sorts of disgraceful behaviour with Davies singled out for the heaviest punishment, Moncur has two touchline conferences with Harvey, once to suggest that Davies should be taken off before he was either carried off or sent off for retaliation. And once to request police protection for the players at the end of the game. To their credit the Newcastle players keep their heads and Davies has the last laugh when he heads a second. Moncur said: "It was difficult to keep your head. If it had gone on much longer I don't think I could have kept control of myself.
---
October
03/10 - D1: Man. City 1 Newcastle 1 - David Ford returns from a lengthy injury absence and is the star player for united. Ford gives united a deserved lead on the hour after Robson had missed a penalty just before the break. The goal seems to awaken a slumbering City and they fight back to equalise when Doyle rises unchallenged to head home.
10/10 - D1: Newcastle 1 Arsenal 1 - The Magpies start well and Robson is unlucky to have a free-kick goal controversially disallowed early on. Robson puts United ahead but with The Gunners snuffing out the threat of Davies they begin to get back in the game and equalise when Burton is caught in possession.
17/10 - D1: Wolves 3 Newcastle 2 - With Tommy Gibb in inspirational form Newcastle dominate the first half with their attractive and flowing football but have to wait until just before the break to take the lead. Five minutes after the break the home side equalise when Bailey hammers a low shot into the corner. Then comes a crazy seven-minute spell. Gould convers a cross with McFaul out of position and then luck fails United twice as Davies rattles the bar and Burton limps off with a recurrence of his ankle injury. Then Holsgrove scores a crazy own goal when he chases a long through ball and -with Dyson in pursuit - inexplicably heads it past his own keeper. But a couple of minutes later Wagstaffe lofts in a cross-cum-shot which deceives McFaul and goes in off the post. It is United's first League defeat in eight games.
21/10 - FC R2 L1: Newcastle 2 Pecsi Dozsa 0 - The "unknown" Hungarians Pecsi Dozsa are all over the place as they fail miserably to cope with the high crosses and thunderous aerial play of the Mighty Mags. Davies nets twice but the slim two-nil scoreline reflects a host of missed opportunities and borderline decisions.
24/10 - D1: Everton 3 Newcastle 1 - It is fairly even for the first 30 minutes but two mistakes in six minutes allow the scousers take control. Smith is guilty of dallying on the ball deep in his own half and he is dispossessed by Wright who passes to Kendall who sets up Royle. Then a slip by Ford allows whittle to attack and after an unchallenged run he crashes in a vicious dipping shot. Kendall sweeps in a third after a Royle knock down. A minute later Wright back heads a Clark free-kick into his own net.
31/10 - Newcastle 1 man. United 0 - united record their first home win since the opening day in a cracking match brim-full if incident, in the first half the Traffordonians are much the better side and it is only goalless at the break because of a wonderful performance from McFaul and a fractional offside decision which led to a "goal" being chalked off. United improve after the break and Davies pokes home the winner after Rimmer fumbles a Craig shot.
---
November
02/11 - It is reported that "offers for Jimmy Smith will be considered".
04/11 - FC R2 L2: Pecsi Dozsa 2 Newcastle 0 (agg 2-2 - lost 2-5 on pens) - The away leg against Pesci takes the players to a "different world", well 100 miles south of the capital Belgrade anyway. The trip is a nightmare. Many players are travel sick on the bumpy air crossing, some players had to change in their hotel rooms before the match and the pitch has hardly any grass and is covered in pot holes and ruts. The team perform atrociously and Pecsi level the aggregate scores. Thirty minutes of extra time produce no more goals, so in the first year of operation in Europe penalties would decide the tie. Robson steps up to take the first penalty but as he runs up to take it the Swiss referee Marendaz stops him and orders Pesci keeper Rapp to stay on his line. The interruption unnerves Robson who hits the bar. Mitchell and Gibb also fail from the spot whilst Pecsi score all theirs to go through. The disbelieving Hungarian supporters pour onto the pitch and chair the victorious team to the dressing room. To further rub salt into the wounds, the rules state that both teams have to complete five penalties each. Therefore, fifteen minutes later the penalty competition resumes with lam McFaul and Frank Clark scoring the nugatory spot kicks while Pecsi complete their "nap". Back home the Toon supporters cannot believe that highly paid professionals could fail so miserably from only twelve yards.
07/11 - D1: Southampton 2 Newcastle 0 - Comedian Frankie Howard is staying at the same hotel as united but there aren't many laughs at The Dell, it is a much better performance and - playing some slick football -united match their hosts for the first hour. But after Channon converts a Paine corner-kick united fold. Paine misses a penalty and Gabriel hits a post before stroking home the second just before the end. There is just time for McNamee to rattle the bar. Cassidy is strong and forceful on his debut but has to retire after injuring his knee.
---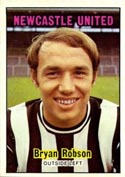 09/11 - "I am sick, fed up and tired and I would like to leave Newcastle." The words of striker Pop Robson who calls a press conference at the Swallow Hotel and shocks the assembled media with his assertion that "there are a lot of little things wrong at Newcastle. Professionalism is missing."
Robson states that he will not be putting in a transfer request and that he "will wait and see what the reaction is at the club". It is not entirely clear what Robson's grievances are but his contract expires in the summer and it is thought that he wants a "loyalty bonus" as part of a new contract. Clubs are now entitled to make such payments and a number of them have introduced schemes already but Newcastle have not.
---
10/11 - Harvey says he has "had no information at all from Robson on the matter" and refuses to discuss it further at this point in time.
---
11/11 - Chairman Westwood speaks about the situation: "Robson is on a two year contract which runs out next summer but there is a further two years option on his service on which we will exercise. There is no chance of his leaving".
---
14/11 - D1: Newcastle 0 Ipswich 0 - A ragged, uninventive and uncertain performance with the players demonstrating a total lack of confidence. The team as a whole are barracked but the unfortunate ~ Tommy Gibb receives the most abuse, being booed continually through the game. After the match Frank Clark slams the fans; "it's disgraceful that they should pick out one player like this and subject him to the sort of treatment Tommy was given."
---
14/11 - After the game Robson is summoned to a meeting with the directors and after it finishes the club make an official statement. "The player was given the opportunity to express his views to the board and asked whether he wished to withdraw his statements he had made to the press. Mr Robson did not wish to do so. By a unanimous decision the board decided to impose a fine of £100 under FA Rule 27c. Mr Robson was asked by the board of directors to submit a transfer request in writing and he stated that he would do so". This conflicts with what - a visibly upset - Robson said earlier when he left the meeting: "I don't know what to do about a transfer request. I want to think about it over the weekend."
---
15/11 - It is reported that other players (whose transfers are expiring in the summer) are considering asking for a "loyalty bonus" too. Robson claims "all I want at Newcastle is security. I have been contemplating whether to do this for about six weeks and now I have done it I'm determined to carry it through. I have brought it up before inside the club and nothing has been done. That is why I decided to hold a press conference. I know that other players feel as I do".
18/11 - Fr: Ayr United 2 Newcastle 0
21/11 - D1: Tottenham 1 Newcastle 2 - United get some pride back with an excellent victory in a magnificent game against second placed Spurs. Craig opens the scoring with a 25-yard screamer into the top of the net and United make a number of other decent chances before a diving header from Gibb doubles their advantage. Almost immediately Chivers pulls one back and it requires a brave defensive display to prevent The Cockerels getting back on level terms.
23/11 - After talking with the PFA, Robson decides against putting in a written transfer request.
---
28/11 - D1: Newcastle 3 Burnley 1 - In his programme notes Harvey admits that "it has reached the stage where some of them (the players) are concerned about playing at St. James' Park. Burnley are currently at the foot of the table so there is certainly an opportunity to start rebuilding the confidence. Moncur slams in the first early on at a time when the visitors only have nine men on the field (Merrington and Dobson were receiving treatment after they accidentally crashed into each other). Probert heads in to make it 1-1 at the break. In the second period United are clearly stronger; Ford drills in a second and Robson heads in a Gibb corner in the last minute.
December
05/12 - D1: Chelsea 1 Newcastle 0 - A game which becomes increasingly bad tempered is settled by Weller, who lashes a vicious volley past McFaul. Newcastle are controversially denied a penalty when Davies is floored by Boyle. Once again, the approach work is decent enough, but the finishing is not.
12/12 - D1: Newcastle 2 Huddersfield 0 - The match kicks off at 2.00 pm because the club are wary of a power breakdown during the game due to the energy shortages. United struggle against the lively but punchless promotees, but Robson (buffeted throughout) shoots into the top of the goal from the edge of the area in first half injury time. Inspired by Worthington's skilful play the visitors remain in the game until Dyson lashes in a screamer just before the end.
19/12 - D1: Newcastle 2 Crystal Palace 0 - Palace's defensive approach and United's lack of flair produce precious little entertainment in a game where Davies (with his constant movement) and Robson proved the difference. Midway through the first-half Davies's header is pushed against the angle of post and bar and from the resultant corner Davies once again heads towards goal. McCormick handles it and Robson scores from the spot. Just before the end Robson scores after Palace 'keeper Jackson blocks a Dyson shot.
McFaul has an operation on a fractured cheekbone.
26/12 - D1: Leeds 3 Newcastle 0 - A comprehensive three goal defeat against leaders Leeds in which Giles torments United and Frank Clark concedes two penalties on a snow-covered pitch. Martin Burleigh makes his debut and united seem to be just about weathering the storm until Clark upends Cooper and from then on it is a case of damage limitation. There is significant trouble after the game. Alan Clarke Goal
---
January
09/01 - D1: Newcastle 0 Stoke 2: Stoke leave with a well-deserved 2-0 victory in what was an abject performance. Greenhoff finishes off an excellent move to set Stoke on their way in the first minute and Burrows adds a second after great interplay with man-of-the-match Conroy. The crowd let their feelings be known and Tommy Gibb - who is once again the main target of the fans' abuse - "gestures" towards the crowd. After the game a furious Harvey refuses to comment and orders the players in for an extra training session tomorrow.
11/01 - FAC R3: Newcastle 1 Ipswich 1 - United dominate the game, but a volleyed effort from Ian Mitchell [his only goal for the club] is all they have to show and fifteen minutes from time Mick Mills nets an equaliser, Willie McFaul inexplicably letting in his long-range shot.
13/01 - FAC R3r - Ipswich 2 Newcastle 1 - Newcastle take the lead when Robson nets from close range and seem to be in control until more unforced errors bring their downfall. Ipswich equalise when Viljoen's flick goal wards bounces embarrassingly between McFaul and Craig as both wait for the other to clear. And seven minutes later Hill scores with an unmarked header following a free kick.
16/01 - D1: Nottm. Forest 2 Newcastle 1 - Another poor performance and another defeat against struggling Nottm. Forest where United have plenty of the ball but do nothing with it, Davies in particular is well off form. As with the games against Ipswich cheap goals are given away. Forest open the scoring early on when a free-kick is flicked on to Moore who is allowed far too much time to control and finish. Just before the break Moore scores his second when he heads in (unmarked) at the near post from another free-kick. United's consolation comes when Moncur tries his luck from thirty yards, Barron fails to hold on, Arentoft's follow-up is blocked and Robson pounces.
23/01 - Fr: Newcastle 1 Sunderland 1 - A drab, meaningless derby which only bursts into life in the last fifteen minutes, unfortunately off the field things are much livelier. There are fights before, during and after the match and 26 people (including three girls!) are arrested. The police confiscate a number of weapons including a hatchet and a lead-weighted chain. The first three quarters of the game are terrible and many fans have already left by the time things heat up. Moncur heads a Harris effort off the line and then McFaul saves a penalty from the same player. Hughes shoots in low from a Craig clearance and then Moncur bullets a header home from a corner.
---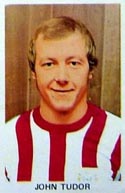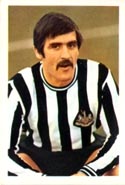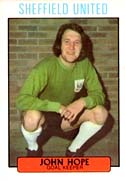 United do a swap deal with Sheffield United with reserve 'keeper John Hope and winger David Ford being exchanged for striker John Tudor.
Forward John Tudor joined Sheffield United from Coventry in November 1968 for a record fee ok £65,000. He scored 30 goals in 71 games for The Blades and scored 13 goals in 69 games for the Sky Blues. He is a hard-working team-palayer who is very strong with his head.
Reserve keeper John Hope (22) was signed from Darlington in March 1969 but has only made one appearance in the first-team.
---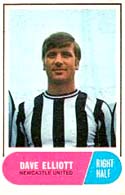 Dave Elliot (26) has joined Southend on a free transfer [check]. He joined from Sunderland in December 1966 and has made [ check ] appearances and scored [check] goals.
---
Media reports also indicate that United are willing to sell John Cowan. The Irishman signed a new two year contract in the summer but has not made a first-team appearance this season. Early on he was out with a calf muscle injury and suffered complications when he returned too quickly. He is now back to fitness but - with the emergence of Nattrass - is struggling to even get games with the reserve team.
30/01 - D1: Burnley 1 Newcastle 1 - Harvey hands debuts to new arrival John Tudor and Stewart Barrowclough whilst Jimmy Smith is also recalled. The struggling Lancastrians take the lead and are hanging on despite incessant pressure from the Magpies in the second period until debutant Barrowclough lashes in with six minutes left on the clock, it is a considerable improvement on recent performances.
February
06/02 - D1: Newcastle 0 Chelsea 1 - Fourth placed Chelsea are too good for united with Cooke and Hudson tearing united apart and it is the latter who scores from an acute angle at McFaul's near post.
13/02 - D1: Huddersfield 1 Newcastle 1 - Robson powers into the box and lays it back to Smith who nets with a low shot from fifteen yards. After that United - with Moncur a colossus - beat back every attempt from the Terriers until a host of players misjudge a cross from Hutt which allows Cherry to tap into an empty net at the far post. It's now nine games without a win. Robson is watched by West Ham manager Greenwood.
14/02 - A West German oil tanker captain is being held on a charge of murdering former Magpie Eduardo (Ted) Robledo on the 6th December. He alleges that the Chilean committed suicide.
14/02 - Newcastle agree to sell Robson who wants to go to a London, Liverpool or Manchester City. West Ham are believed to be ready to make an offer.
15/02 - Harvey discounts an immediate deal for Robson; "we are prepared to transfer Robson when we add to our playing strength". United are believed to be interested in Wolves striker Hugh Curran.
20/02 - D1: Newcastle 1 Tottenham 0 - United record their first win of the year in a drab encounter with fifth placed Tottenham. The match is very low-key which at least gives Smith the time and space to display his skills. An unmarked Robson heads in the winner from a Gibb cross.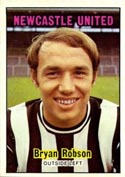 22/02 - Bryan Robson has eventually left United in a £120,000 (check) move to West Ham; the move has come n months after he called his sensational press-conference. Robson joined the club . He really came to the fore during the 1968/69 season and was the top scorer in the previous two campaigns (and is currently this season's top scorer). The fee beats the previous record fee received set when Alan Suddick was sold.
22/02 - D1: Man. United 1 Newcastle 0 - A flick-knife is thrown onto the pitch during the match, but there is no cutting edge to United's forward play. A stout defensive performance (with McFaul back to his best for the first time since his operation) keeps United in the game but a single goal is enough for the Mancunians. Kidd scores after shots from Charlton and Aston are blocked.
---
March
13/03 - D1: Ipswich 1 Newcastle 0 - United play Ipswich for the fourth time in another scrappy, drab game. The only goal comes when Robertson's shot balloons off Burton and with Mills appearing to impede McFaul the ball drops apologetically in. it is tough on the Irishman who has an excellent game.
13/03 - Meanwhile, Joe Harvey is scouting for a striker in London and he is said to be very keen on Luton's Malcolm Macdonald although Manchester United are thought to have first option on him. Bournemouth's Ted MacDougal is another potential target. Other United officials are performing similar duties in Scotland. Transfer deadline day is Thursday.
17/03 - D1: Newcastle 2 Everton 1 - Last year's champions are currently ninth but still have an excellent team. It is a great performance and John Tudor - much to his relief - at last grabs his first goal. Harvey is delighted with the players: "they did it with pure football, and on the night, they outclassed the League Champions". Guthrie suffers a hamstring injury.
20/03 - D1: Newcastle 2 Southampton 2 - Only 15,683 [the lowest of the season] bother to turn up to see The Magpies perform really well on a mudbath of a pitch. Keith Dyson - who replaces the injured Davies - gives a powerful performance and with Foggon also recalled the side now has more pace and mobility. Dyson opens the scoring in the first-half when he runs onto a Smith cross and heads in. Tudor also hits the post and the bar. Hollywood clears a McNamee header off the line and soon after former player McGrath heads in a Paine free-kick. Dyson restores the lead when he heads in Gibb's excellent cross only for the visitors to reply immediately when Gabriel scores from close in.
21/03 - It is reported that Coventry and West Brom are both interested in Dyson but Harvey (who was previously prepared to let him go) wants to keep him, especially now that Davies has intimated that he wants a move.
22/03 - Robson vows to fight the Football League decision to not allow him 5% of the transfer deal. It all hinges on whether the original press conference constituted a written transfer request.
27/03 - D1: Newcastle 3 Derby 1 - United are full of purposeful running against a very charitable Derby side. They get off to a great start when Mackay can only turn Dyson's shot into his own net and then Webster scores an own goal after Boulton parries a Foggon shot, in the second-half Robson plays a back-pass straight to Foggon who volleys in. Hector scores a consolation after McFarland's header comes back off the bar. Nattrass makes his debut as a substitute and impresses everyone.
---
April
03/04 - D1: Blackpool 0 Newcastle 1 - United deservedly beat Bob Stokoe's relegation bound Blackpool; the only goal comes when a Clark free-kick is nodded down by McNamee for Foggon to finish. United are shamed by their travelling support and Harvey - not for the first time during the season uses his column in the programme to condemn their actions. "These people are not supporters of Newcastle or football, we don't want them at our home matches and we don't want them to follow us away either".
06/04 - D1: Liverpool 1 Newcastle 1 - United get off to a great start when Tudor pushes the ball past the oncoming Clemence from ten yards and they more than match their opponents in the first-half. Lawler equalises just before the break with a well-placed shot from 25 yards out. In the second period desperate defence and some excellent saves by McFaul preserves the point.
10/04 - D1: Newcastle 1 Leeds 1 - Table toppers Leeds provide pulsating Easter entertainment on Tyneside and The Magpies are only denied a winner by a controversial goal late on. Tudor opens the scoring when he directs in Dyson's shot. In the last ten minutes Lorimer scoring direct from a corner with Jackie Charlton blocking McFaul's progress..
12/04 - in the Robledo case, the German sea captain is found not guilty by three independent assessors in Dubai. The judge states they will accept the decision based on the fact that murder could not be proven but also said that there is a grave suspicion that the captain had been in some way implicated in his death.
17/04 - D1: Arsenal 1 Newcastle 0 - Arsenal have won their last seven games and Harvey opts for all out defence which results in a dour game. The defence - superbly marshalled by Moncur - perform heroically but are eventually beaten by a Charlie George thunderbolt. George is also booked after grabbing Dyson (who is cautioned as well for his reaction) around the neck.
18/04 - It is reported that Harvey is concerned that he will be priced out of a move for Macdonald. He believes he will cost a record fee and that will be too much for United. Harvey is determined to bring in both a striker and a couple of midfielders.
24/04 - D1: Newcastle 1 West Ham 1 -
A non-event of a game played in a gusty wind which made life difficult for both the players and the referee Nicholson. Tudor stabs in when Clark knocks down a Gibb cross and Hurst runs the ball in after excellent work by Redknapp
Goals on youtube
28/04 - D1: Newcastle 3 WBA 0 - West Brom were the last visitors of the season and second half goals from Smith, Young and Tudor brought a comfortable victory.
---
May
01/05 - D1: Coventry 2 Newcastle 0 - The season ends with a typical non-event at Coventry where both teams know it is the Texaco Cup and not the Continent which lies in store for the following season. United's experimental line-up includes Nattrass making his full League debut, worried by falling gates The Sky Blues requested that the match was moved to Friday evening but united refused, it is a routine victory for the Sky Blues with goals from a Hunt drive and a Blockley header.
nn/05 - Test: Newcastle 6 All Star XI 5 - A United side beat an All-Star side 6-5 in Geoff Allen's testimonial game. Five of United's goals are scored by defenders: McNamee (2), Craggs (2), Craig and Dyson.
nn/05 - Tommy Cassiddy starts as a guest for Glentoran in an Ulster 71 Festival match against Leeds.
06/05 - Harvey learns that Chelsea are strengthening their interest in Macdonald and immediately slaps in a bid of £180,000.
07/05 - Macdonald signs from cash strapped Luton. The 21-year-old joined Luton from Fulham in 1969 and has scored 57 goals in the last two seasons for The Hatters. Harvey thought he would have problems persuading him to come North but Macdonald was happy to accept the advice of Luton manager Harry Haslam that it would be an excellent move for him. Harvey is delighted: "he is undoubtedly a future international, the sort of player who will set St James' park alight".
10/05 - Macdonald turns up for his medical at St James' Park; two hours late in a chauffeur driven Rolls Royce.
11/05 - Robson wins his appeal and gets the 5% of the transfer fee that he was after.
12/05 - Newcastle are reportedly looking to offload a number of players including Wyn Davies, John Craggs, Ben Arentoft and James Thompson but hope to use them in exchange and are believed to want Blackpool midfielders Tony Green and Tommy Hutchinson.
16/05 - Harvey watches Tony Green play for Scotland against England.
18/05 - Ivor Broadis reveals that he has spoken with Blackpool manager Bob Stokoe and he made it clear that he wants Newcastle to have Tony Green; "Joe and I have even talked about how best to use him." Broadis believes he is certain to become a United player even though there is still a big gap in their valuations of the Scot.