Newcastle - 1970/71 Diary
---
---
NUFC Review 1970/71
NUFC Squad 1970/71
---
June
24/06 - Jimmy Sutton will join Mansfield when his contract expires at the end of the month.
July
---
Left-back Keith Kennedy signs professional terms.
---
Defender Irving Nattrass signs professional terms.
---
13/07 - Reserve centre-half Bobby Noble moves to Bury for £4,000.
---
23/07 - Newcastle Council hold a secret meeting to discuss whether the club's plans for the ground are deemed acceptable. No announcement is made; the Council are going to send a letter to the club.
---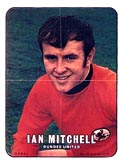 25/07 - £50,000 FOR MITCHELL - United sign 24-year-old forward lan Mitchell from Dundee United for £50,000. A former schoolboy, youth and U23 international he joined Dundee from Falkirk youth side Woodburner in 1962. He is a fast winger or inside-forward and has a good left foot. He has played more than 300 first-class games and scored 113 goals.
---
28/07 - NEWCASTLE SIGN BARROWCLOUGH - Despite being reluctant to leave home right-winger Stewart Barrowclough (18) signs from Barnsley for an initial fee of £30,000 (with £10,000 extra due when he has played ten first division games). He has only played nine times for his hometown team but has attracted interest from a number of clubs including Liverpool and Everton. It is a record fee received for the Tykes.
---
August
---
SUPER JIM PUTS DUNDEE IN A SPIN - Mitchell is made skipper for the game against his previous employers. Smith is the star in a poor game. Frank Clark damages the ligament in his right knee and Mitchell also hurts his ankle.
Dundee Utd - Tannadice Park - 7,000
McFaul, Craig, Clark, Gibb, McNamee, Moncur, Robson, Dyson, Davies, Smith, Mitchell
Scorers: Smith, Davies - Reid
09m - A great move which ends in SMITH diving to head home Dyson's cross (1-0).
Half-time: Dundee Utd 0 Newcastle 1
52m - Davies flicks the ball over the keeper and DYSON nets (2-0).
66m - REID climbs above McNamee to head home (2-1).
Full-time: Dundee Utd 1 Newcastle 2
---
03/08 - Keeper John Hope is unhappy with the plan for him to share reserve team duties with Martin Burleigh.
---
05/08 - Newcastle draw Inter Milan in the Fairs Cup First Round.
---
BARROWCLOUGH PUTS ON THE PRESSURE - With McFaul and Hope carrying slight knocks Martin Burleigh gets his first call-up. Stewart Barrowclough is also given his first start. Smith is once again the best player and Newcastle should have won by a lot more.
Dundee Utd - SJP - 15.000
Burleigh, Craig, Guthrie, Gibb, McNamee, Moncur, Dyson, Robson, Davies, Smith, Barrowclough - subs Craggs, Thompson and Foggon.
Scorers: Davies
Half-time: Newcastle 0 Dundee Utd 0
McKay can only parry Robson's long-distance shot and DAVIES stabs the ball home (1-0).
Full-time: Newcastle 1 Dundee Utd 0
---
07/08 - Nine first-teamers are currently injured.
---
FOGGON PEPS UP UNITED ATTACK - United dominate in an easy win in sweltering conditions against Second Division Bolton. Wyn Davies is made captain against his old team.
Bolton - SJP - 9,900
Burleigh, Craig, Guthrie, Gibb, McNamee, Moncur, Dyson, Robson, Davies, Arentoft, Foggon - subs Craggs, Thompson and Foggon.
Scorers: Gibb, Moncur, Foggon
Half-time: Newcastle 0 Bolton 0
47m - Foggon's astute pass sets up GIBB (1-0).
58m - MONCUR heads in Craig's free-kick (2-0).
80m - Craig crosses and FOGGON squeezes the ball home (3-0).
Full-time: Newcastle 3 Bolton 0
---
09/08 - ST JAMES' PARK BLOW - A letter is on its way to the club from the Council in relation to the club's redevelopment proposals for the ground which were submitted to the council on April 2nd. Council leader Grey says he cannot reveal what it says, but admits "I am sure the club will not be pleased when they read it". The lease on the ground expires on November 11th. United have received a letter from Roker Park Estates Committee asking United whether they would be interested in sharing a £3.5m super stadium with Sunderland. Washington New Town being a possible location.
---
10/08 - UNITED READY TO MOVE - United announce that detailed plans for a new super-soccer stadium are almost ready and have already placed them before the Northumberland Planning Committee. The stadium at Sandy Lane would cover over 20 acres and have parking for 10,000 cars.
---
12/08 - The Newcastle players get a new luxury coach (from Moordale) for travel to away games.
---
13/08 - Newcastle are one of two-clubs selected from each Division to be warned about their conduct by the FA Disciplinary Committee. Westwood is nonplussed.
---
14/08 - Alan Foggon is told to get a haircut if he wants a pay rise.
---
MAGNIFICENT SMITH TAMES THE WOLVES - With Jimmy Smith in superb form United storm into a three goal lead, but a brace of headers from corners in the last few minutes ensures an unnecessarily nervy ending. After the game Harvey bemoans the "diabolical" defending which almost handed the visitors a point.
Wolves - SJP - 38,346
McFaul, Craig, Guthrie, Gibb, McNamee, Moncur, Dyson, Robson, Davies, Smith, Foggon
Scorers: Smith, Foggon, Gibb - Dougan, Curran
45m - SMITH (1-0).
Half-time: Newcastle 1 Wolves 0
52m - FOGGON (2-0).
68m - GIBB (3-0).
87m - DOUGAN (3-1).
90m - CURRAN (3-2).
Full-time: Newcastle 3 Wolves 2
Position 3rd
---
15/08 - TERROR KICK-OFF BY SKINHEADS - After the game hundreds of United thugs attack three Wolves fans' coaches and £1,300 worth of damage is caused. In one incident a steel mainline spike is used and 12 arrests are made.
---
18/08 - ST JAMES'S PARK ROW COMES TO A HEAD AT LAST - A Council Committee states that the club has failed to meet their requirements for development of the ground. Chairman Westwood blasts back. "Let us get on with the job of modernising St. James' Park or we leave. We have been trying for five years to get the go-ahead from Newcastle Council to modernise the ground. If my final letter to the Council asking for a definite yes or no to our plans is not answered one way or another by November 11th we shall take it to mean we have been given notice to quit". He claims the Council's "unrealistic, extravagantly expensive and impracticable" plan for a community sports stadium would bankrupt the club.
---
STOKE CASH IN ON UNITED BLUNDERS - A black and white comedy of errors brings down United against the Potters. The game is lost in the first-half and it is damage limitation after that.
Stoke (20th) - Victoria Ground - 15,197
McFaul, Craig, Guthrie, Gibb, McNamee, Moncur, Dyson, Robson, Davies, Smith, Foggon
Scorers: Burrows, Ritchie, Smith (og)
24m - BURROWS hits a tremendous knee-high volley which deflects off a United defender to wrong-foot McFaul (0-1).
39m - Moncur, who is on the edge of the area - takes a short goal-kick from McFaul, but with Ritchie breathing down his neck he attempts to play it back to the keeper. But his pass is under hit and RITCHIE nips in to score (0-2).
Half-time: Stoke 2 Newcastle 0
In the dying minutes SMITH lays the ball back to McFaul from inside the area but Ritchie's movement distracts McFaul and the ball ends up in the net (0-3).
Full-time: Stoke 3 Newcastle 0
Position 14th
---
19/08 - STADIUM MOVE MORE LIKELY - The letter from Lord Westwood is received by the Council and the leader, Alderman Grey, is unequivocal about their position. "We have already told them that we have rejected their suggestions and there is and will be no change. We have not received any detailed improvement plans from the club. All that we did receive were outline suggestions which could not be accepted. Grey has the support of the opposition party whose leader Tom Collins who states: "we don't want to see them leave St. James' Park, but they will receive the same treatment as everyone else. In response Lord Westwood claims: "It now appears they want us to go".
---
21/08 - SECURITY PEN FOR COACHES - From now on the car park in the Cattle Market on Scotswood Road will be set aside for visiting supporters' coaches on match days. Wardens and police patrols will provide protection.
---
UNITED SCORING TOUCH IS MISSING - United's promising start soon evaporates and Palace take the lead with their first decent shot. The home side are content to protect their lead and the ponderous Magpies lack the guile to break down their defence.
Crystal Palace (19th) - Selhurst Park - 27,287
McFaul, Craig, Guthrie, Gibb, McNamee, Moncur, Dyson, Robson, Davies, Arentoft, Foggon
Scorers: Birchenall
Arentoft replaces Smith (calf knock).
27m - BIRCHENALL puts the finishing touch to a Palace move (0-1).
Half-time: Crystal Palace 1 Newcastle 0
Full-time: Crystal Palace 1 Newcastle 0
Position: 18th
---
26/08 - Four boys are banned from attending the next 12 Saturday home games due to incidents on previous match days.
---
MAC FOILS ROBBER BARRON - McNamee saves United with a late equaliser in a game which they would have won had it not been for an excellent performance by Forest 'keeper Jim Barron.
Nottm. Forest (6th) - SJP - 35,132
McFaul, Craig, Guthrie, Gibb, McNamee, Moncur, Dyson, Robson, Davies, Smith, Hindson
Scorers: McNamee - Storey-Moore
Gordon Hindson makes his home debut.
12m - Barron parries Robson's terrific half-volley onto the bar.
From all of thirty yards STOREY-MOORE cracks a superb drive into the top corner (0-1).
Half-time: Newcastle 0 Nottm. Forest 1
MCNAMEE emerges from tight knot of players disputing a Smith free-kick to score (1-1).
Full-time: Newcastle 1 Nottm. Forest 1
Position: 15th
---
27/08 - A letter from director William McKeag to the editor of the Newcastle Journal which states the club's case with regard to the ground is published.
---
UNITED THROW AWAY TWO VITAL POINTS - After Hindson's early goal it is all United as they batter newly promoted Blackpool. But once the visitors reply they plunge into another lethargic performance and it is the Tangerines that demonstrate the spirit and effort which has been United's trademark in recent years. The crowd chorus "we want our money back" and Harvey is fuming. "We were disgusting. It's the worst Newcastle display I've seen in years. I can forgive individual players having an indifferent match, but this was a terrible team effort. Heads will roll after this!"
Blackpool (17th) - SJP - 34,041
McFaul, Craig, Guthrie, Gibb, McNamee, Moncur, Dyson (Barrowclough 63), Robson, Davies, Smith, Hindson
Scorers: Hindson - Craven (2)
02m - HINDSON plays a 1-2 with Robson before hitting a low shot from 18-yards (1-0).
19m - Rowe turns the ball into the path of CRAVEN who makes no mistake (1-1).
Half-time: Newcastle 1 Blackpool 1
50m - Hutchinson is allowed to run far too far without challenge and although McFaul saves his shot CRAVEN follows up (1-2).
Full-time: Newcastle 1 Blackpool 2
Position: 19th
---
September
---
01/09 - The players are called in for an unheard of Tuesday morning workout.
---
The Magpies revert to 4-3-3 and display their old authority and confidence. But it takes a gift own-goal just before time to secure the first away win of the season.
West Brom (10th) - The Hawthorns - 25,183
McFaul, Craig, Clark, Gibb, Burton, Moncur, Robson, Dyson, Davies, Smith, Young
Scorers: Dyson, Wilson (og) - Astle
Frank Clark and Ollie Burton return from injury to strengthen the defence and Young is drafted in for Hindson to stiffen up the midfield.
15m - McVitie's cross is headed in by ASTLE from close-range (0-1).
30m - Davies heads Young's centre back across goal and DYSON hooks the ball home (1-1).
Half-time: West Brom 1 Newcastle 1
87m - Ray WILSON is under little pressure, but his pass-back is well wide of 'keeper Cumbes who slips as he tries to turn (2-1).
Full-time: West Brom 1 Newcastle 2
Position: 15th
---
04/09 - The Journal publishes a letter from Alderman Grey responding to McKeags letter which he states is "interesting but not factual". He re-iterates the stance that they cannot accept United's proposals and dispute the cost to the club of the Ove Arup plan. As far as he is concerned the opportunity to transform what is "the slum ground of the First Division" with "primitive facilities" is being lost "for no apparent reason." The paper also publishes a potted history of the ground dispute.
---
05/09 - Ben Arentoft is sent home after his wife receives a series of abusive phone calls.
---
DEADLY DYSON SETS THE RAMS UP FOR THE KILL - United are in tremendous form during the first 30 minutes and take a two-goal lead. Derby pull one back just before the break, but Newcastle settle into their well-worn defensive style in a subdued second period to claim maximum points. A Close-circuit television system provided by the Home Office is used to monitor fans inside the ground.
Derby (8th) - Baseball Ground - 30,466
McFaul, Craig, Clark, Gibb, Burton, Moncur, Robson, Dyson, Davies, Smith, Young
Scorers: Dyson, Young - O'Hare
05m - DYSON intercepts a back-pass and rounds the keeper to score (1-0).
14m - YOUNG smashes in a great volley from 25 yards out (2-0).
40m - O'HARE heads in (2-1).
Half-time: Derby 1 Newcastle 2
Full-time: Derby 1 Newcastle 2
Position: 14th
---
OH UNITED, THIS WAS A SHOCKER - A fortnight before Newcastle travel to the San Siro they visit the humbler surroundings of Eastville, the home of Third Division Bristol Rovers. United are really poor and concede just before and just after the break; both goals a result of defensive indecisiveness. Dyson gets scant consolation with virtually the last kick of the match. United have fallen at the first hurdle in the League Cup for the 9th time in its 11-year existence. Joe Harvey storms out of the ground without talking to the press.
Bristol Rovers (D3 - 5th) - Eastville - 16,824
McFaul, Craig, Clark, Gibb, Burton, Moncur, Robson, Dyson, Davies, Smith (Foggon), Young
Scorers: Dyson - Jones (2)
45m - As the United defence hesitates JONES steals around the back to head in (0-1).
Half-time: Bristol Rovers 1 Newcastle 0
52m - A half-hit back-pass from Burton is intercepted by JONES who beats McFaul with an angled drive (0-2).
90m - DYSON (1-2).
Full-time: Bristol Rovers 2 Newcastle 1
---
NOT FAIRS CUP FORM, UNITED! - A drab draw with United failing to threaten a transitional Liverpool side who are happy with nils-each. United struggle to string more than a couple of passes together and are guilty of giving the ball away far too easily.
Liverpool (5th) - SJP - 35,595
McFaul, Craig, Clark, Gibb, Burton, Moncur, Robson, Dyson, Davies, Arentoft, Young
Smith's lacklustre performance in the League Cup costs him his place, the hard working Arentoft replacing him.
Half-time: Newcastle 0 Liverpool 0
Full-time: Newcastle 0 Liverpool 0
Position: 12th
---
13/09 - COUNCIL TALKS IT OVER WITH UNITED - the Club and Council hold a "constructive " meeting and both sides will now consider the points made and report back in due course. The meeting is attended by Westwood and two other directors.
---
14/09 - A youth who chased a Crystal Palace supporter outside Kings Cross Station is sentenced to 8 months in jail for possession of an offensive weapon; a knuckle-duster.
---
14/09 - Jim Thompson wants a free transfer to return to Scotland, but United want a fee.
---
16/09 - ST JAMES' PEACE BID BACKED BY BOARD - The directors agree to back the initial proposals agreed at the meeting with the council. there will be another meeting with the Council in about three weeks.
---
YOUNG'S PUNCH BRINGS THAT OLD POWER - An excellent win at sultry Upton Park in front of the TV cameras in which Pop Robson notches a cracking brace; his first goals of the season. The Magpies produce a scintillating attacking display in the First Half and a beaming Harvey states "Our football was both progressive and entertaining".
West Ham (19th) - Upton Park - 25,841
McFaul, Craig, Clark, Gibb, Burton, Moncur, Robson, Dyson, Davies, Arentoft, Young
Scorers: Robson (2)
41m - ROBSON scores with vicious right foot volley (1-0).
Half-time: West Ham 0 Newcastle 1
53m - ROBSON heads home (2-0).
Full-time: West Ham 0 Newcastle 2
Position: 8th
---
26/09 - Nineteen-year-old Tommy Cassidy is signed from Glentoran. Manchester United and Sunderland have also been keeping tabs on him. He has usually been employed as a midfielder with the freedom to push forward and support the attack.
---
SUPER UNITED ROCK ITALIANS - Inter beat Juventus 4-0 on Saturday and include five members of the national side that performed so well in the World Cup, but Newcastle come very close to pulling off a fantastic victory. Marked very tightly and with their space closed down, the Italians threat is brilliantly nullified and they only equalise six minutes from time. By their own admission Milan underestimated how organised United would be. Despite the late equaliser Harvey is "over the moon"
Inter Milan - San Siro - 14,460
McFaul, Craig, Clark, Gibb, Burton, Moncur, Robson, Dyson, Davies, Arentoft, Young
Scorers: Davies - Celia
43m - Robson sends in a free-kick and DAVIES' header from 8-yards whizzes over Vieri (1-0).
Half-time: Inter Milan 0 Newcastle 1
84m - Sweeper Celia hits a low drive which goes just inside the post (1-1).
Full-time: Inter Milan 1 Newcastle 1
---
24/09 - Dunfermline approach United in the hope of signing McNamee, but they cannot agree on a fee.
---
25/09 - Davies says "I am fed up with taking kicks. I'm sick of it all."
---
26/09 - Dunfermline manager George Farm is back on Tyneside hoping to resurrect the deal for McNamee. Big John knows nothing apart from what he has read in the papers. Sheffield Wednesday are also said to be interested and are allegedly willing to pay the £25,000 asking price.
---
UNITED SLEEP UNDER A COVENTRY BLANKET - Another awful scoreless match has the supporters clapping very slowly. United's play is unimaginative and sloppy and even when the Sky Blues are reduced to ten men with fourteen minutes left they still cannot conjure up a goal.
Coventry (17th) - SJP - 32,095
McFaul, Craig, Clark, Gibb, Burton, Moncur, Robson, Dyson (Ford), Davies, Arentoft, Young
Half-time: Newcastle 0 Coventry 0
76m - Machin is dismissed.
Full-time: Newcastle 0 Coventry 0
Position: 10th
---
26/09 - SENT TO COVENTRY! - Coventry manager Noel Cantrell is furious with the referee over the sending off and a disallowed "goal" and when he is approached in the crowded foyer by a reporter for his comments he screams a four-letter expletive and storms off into the Boardroom.
---
28/09 - A TOOTH CLINCHES CASSIDY DEAL - Tommy Cassidy travels to Newcastle for his medical and although he passes it is deemed that he needs a tooth out and is sent straight to the dentists to have it extracted. The initial fee is £15,000 with additions of £5,000 (after 10 first-class games) and £5,000 (if capped by Northern Ireland). He is a part-time player who works as a compositor with a Belfast printing firm.
---
28/09 - Jimmy Thompson is to have a week's trial at Dunfermline.
---
UNITED HEAVE OUT INTER BRAWLERS - In his program notes Harvey praises the Italians for "the sporting way in which they conducted themselves (in the first-leg) ...they never resorted to dirty tactics and we appreciated that". Once again United's direct football causes the Milan defence all sorts of problems and Moncur puts the Black and Whites ahead on the half hour. A couple of minutes later Davies challenges the Italian keeper Vieri as he prepares to clear. Davies drops his shoulder as if he is going to challenge the keeper and that is enough for him to wedge an elbow into Davies' chest. Referee Minnoy awards Newcastle an indirect free-kick on the edge of the six-yard box. The irate Italians swarm around the referee and the crazy custodian decks him with a left-hook. Vieri is sent-off which is the cue for more mayhem and it takes the intervention of the local constabulary to regain control. The rest of the match sees the Italians resort to all sorts of disgraceful behaviour with Davies singled out for the heaviest punishment, Moncur has two touchline conferences with Harvey, once to suggest that Davies should be taken off before he was either carried off or sent off for retaliation. And once to request police protection for the players at the end of the game. To their credit the Newcastle players keep their heads and Davies has the last laugh when he heads a second.
Inter Milan - SJP -
McFaul, Craig, Clark, Gibb, Burton, Moncur, Robson, Dyson (Ford), Davies, Arentoft, Young
Scorers: Moncur, Davies
30m - With the Milan defence distracted by Davies MONCUR steal in to glance in a header header from a corner (1-0).
31m - Milan goalkeeper Vieri is sent-off after punching the referee.
Half-time: Newcastle 1 Inter Milan 0
54m - A rising drive from Arentoft clips the top of the bar.
70m - Davies is blatantly body-checked as he goes for Gibb's cross but Dyson meets it. His header smacks against the bar and DAVIES recovers to head in (2-0).
Boninsegna punches Davies in the face but is not punished.
Full-time: Newcastle 2 Inter Milan 0
30/09 After match comments. Moncur:: "It was difficult to keep your head. If it had gone on much longer I don't think I could have kept control of myself. Westwood stated: "I was proud of our men. But there were two types of player out there, the quick and the dead." Referee Minnoy was surprisinly unruffled: "I did not consider the game to be out of hand. But these Italians - I think they suffer from too much sun."
---
October
---
UNITED TAKE THE WRAPS OFF THE NEW "FORD" - The returning Ford is the star player and he gives United a deserved lead on the hour. The goal awakens slumbering City and they fight back to equalise.
Man. City (2nd) - Maine Road - 31,159
McFaul, Craig, Clark, Gibb, Burton, Moncur, Robson, Dyson (Guthrie), Davies, Arentoft, Ford
Scorers: Ford - Doyle
David Ford returns from a lengthy injury absence to replace the injured Young.
United get a penalty, but ROBSON misses from the spot.
Half-time: Man. City 0 Newcastle 0
60m Davies heads across the box and the ball is calmly volleyed home by FORD (1-0).
75m DOYLE rises unchallenged to head home (1-1).
Full-time: Man. City 1 Newcastle 1
Position: 8th
---
Whilst Jimmy Thompson was on a week's trial at Dunfermline manager George Farm was sacked.
---
07/10 - John Cowan is to spend some time in hospital to get some complete rest and hopefully cure his nagging thigh injury.
---
BURTON BLUNDER UPSETS UNITED - Robson puts United ahead, but with The Gunners snuffing out the threat of Davies they begin to get back in the game and equalise.
Arsenal (3rd) - SJP - 38,024
McFaul, Craig, Clark, Gibb, Burton, Moncur, Robson, Dyson, Davies, Arentoft, Ford
Scorers: Robson - Graham
05m - Robson is unlucky to have a free kick controversially disallowed.
Half-time: Newcastle 0 Arsenal 0
53m - Davies heads down Clark's free-kick and ROBSON heads home (1-0).
69m - Burton is caught in possession and GRAHAM scores (1-1).
Full-time: Newcastle 1 Arsenal 1
Position: 10th
---
16/10 - Pepsi Dozsa were without visas and refusing to travel to England without them requiring frantic and eventually successful efforts by United to obtain clearance for them.
---
UNITED COLLAPSE IN SEVEN MINUTE SPELL - The Magpies dominate the first half with their cool, composed and methodical soccer but have to wait until just before the break to take the lead. Wolves equalise and then comes a crazy seven-minute spell in which three goals are scored and Davies strikes the bar. It is United's first League defeat in eight games.
Wolves (7th) - Molineux - 31,159
McFaul, Craig, Clark, Gibb, Burton (Young), Moncur, Robson, Dyson, Davies, Arentoft, Ford
Scorers: Davies, Holsgrove og - Bailey, Gould, Wagstaffe
43m - DAVIES scores from close-range (1-0).
Half-time: Wolves 0 Newcastle 1
50m - BAILEY hammers a low shot into the comer (1-1).
63m - GOULD converts a cross with McFaul out of position (1-2).
Davies rattles the bar and Burton limps off with a recurrence of his ankle injury.
68m - HOLSGROVE chases a long through ball and - with Dyson in pursuit - inexplicably heads It past his own keeper (2-2).
70m - McFaul completely misjudges a high, hopeful cross from WAGSTAFFE and the ball sails over his head and goes in off the far upright. (2-3).
Full-time: Wolves 3 Newcastle 2
Position: 11th
---
20/10 - With x-rays showing no damage to Burton's ankle a bone expert is called in and he recommends him going into plaster from the ankle to the knee for a few weeks.
---
20/10 - Pesci Dozsa have never played under floodlights but Newcastle refuse to let them train at St James' under the lights.
---
WYN THE GOAL KING COLLECTS HIS CROWN - The "unknown" Hungarians Pecsi Dozsa are all over the place in the second-half as they struggle to cope with the high crosses and thunderous aerial play of the Magpies; the slim two-nil score-line reflects a host of missed opportunities and borderline decisions. They are very unlucky not to be awarded a penalty for a crude challenge on Gibb; a decision Moncur describes as "diabolical". Harvey confidently states "I think we will be appearing in the Third Round". Four youngsters climbed onto the roof of Leazes Terrace for a free view but one of them - Johnny Johnson of Newburn - was so stricken by fear when he gets there that he has to be rescued by firemen.
Pecsi Dozsa - SJP - 50,550
McFaul, Craig, Clark, Gibb, Young, Moncur, Robson, Dyson, Davies, Smith, Ford
Scorers: Davies (2)
Young comes in for the injured Burton and Smith is recalled.
43m - Smith crosses and DAVIES heads powerfully over Rapp into the far corner (1-0).
Half-time: Newcastle 1 Pesci Dozsa 0
59m - Ford delivers a great cross on-the-run and DAVIES finishes with his trusty head once more (2-0).
76m - Gibb is taken out when he breaks into the box, but the referee says no penalty.
Full-time: Newcastle 2 Pecsi Dozsa 0
---
23/10 - A loan move to Barrow for Thompson falls through.
---
COSTLY UNITED ERRORS - It is fairly even for the first half-hour but two mistakes in six minutes allow the Toffees to take control.
Everton (13th) - Goodison Park - 43,135
McFaul, Craig, Clark, Gibb, Young, Moncur, Robson, Dyson, Davies, Smith, Ford
Scorers: Wright (og) - Royle, Whittle, Kendall
With Burton injured and McNamee not ready to return, Young partners Moncur.
28m - Smith is guilty of dallying on the ball deep in his own half and he is dispossessed leading to ROYLE scoring (0-1).
34m - A slip by Ford allows WHITTLE to attack and - after an unchallenged run - he crashes in a vicious dipping shot (0-2).
Half-time: Everton 2 Newcastle 0
53m - KENDALL sweeps in a Royle knock down (0-3).
54m - WRIGHT back-heads a Clark free-kick into his own net (1-3).
Full-time: Everton 3 Newcastle 1
Position: 13th
---
31/10 - HOPES OF ST JAMES'S SETTLEMENT HIGH - United chairman, Lord Westwood states that they are nearer to a solution of the St. James's Park dispute than for many years. The present five-year lease for St. James's Park expires on November 11, but Westwood reveals that it had already been agreed that a new three year lease would be available. The club have dropped Plans for a brand-new stadium at Gosforth Park partly due to the cost of the land there and also because Gosforth Park Racecourse Ltd (who own the land) did not want the club to play any matches when there was a race-meeting on due to the traffic problems it would cause. Westwood admits that some time ago United took out an option on 83 acres of land near Killingworth as "an insurance policy" in case talks on St. James's Park break down. The land is adjacent to Great Lime Road, between Gosforth Park and the railway line, to the west of Killingworth. City council leader Alderman Grey concurs that the atmosphere between United and the council has "improved considerably" over recent weeks and says that he has "every reasonable hope of a settlement." A further meeting between the club and the council is scheduled and a definite announcement on the lease could be made soon.
---
WYN SLOTS HOME FAIRS CUP BOOSTER - A first home League win since the opening day in a cracking match brimful of incidents. In the first-half Manchester are much the better side and it is only goalless at the break because of a wonderful performance from McFaul and a fractional offside decision which led to a "goal" being chalked off. United improve after the break and Davies scores the winner.
Man. United (14th) - SJP - 45,176
McFaul, Craig, Clark, Gibb, McNamee, Moncur, Robson, Dyson, Davies, Young, Ford
Scorers: Davies
McNamee returns from injury and Young replaces the dropped Smith.
Half-time: Newcastle 0 Man. United 0
61m - DAVIES pokes home after Rimmer fumbles a Craig shot (1-0).
Full-time: Newcastle 1 Man. United 0
Position: 11th
---
November
---
02/11 - It is reported that offers for Jimmy Smith will be considered.
---
01/11 - The flight to Budapest suffers a lot of turbulence and this makes for a very unpleasant experience for all the party, but especially United's poor travellers.
---
02/11 - The nightmare journey continues as United face a very bumpy four-hour bus journey to Pecs. When they arrive Harvey has them straight to the ground to stretch their legs. Unfortunately, he is shocked to see something resembling a "colliery welfare ground" with a pitch that's "just like a cow pasture".
---
UNITED PAY THE PENALTY - Throughout the game United are chased and harried by the part-timers and they perform atrociously. Pecsi level the aggregate scores with a late penalty and 30 minutes of extra time produces no more goals. So in the first year of operation in Europe penalties decide the tie. Robson steps up to take the first penalty, but as he runs up to take it the Swiss referee Marendaz stops him and orders Pesci keeper Rapp to stay on his line. The interruption unnerves Robson who hits the bar. Mitchell and Gibb also fail from the spot whilst Pecsi score their first three to go through. The disbelieving Hungarian supporters pour onto the pitch and chair the victorious team to the dressing room. To further rub salt into the wounds, the rules state that both teams have to complete five penalties each. Therefore, 15 minutes later the penalty competition resumes with McFaul and Clark scoring the nugatory spot kicks while Pesci complete their "nap".
FC R2 L2: Pecsi Dozsa 2 - 25,000
McFaul, Craig, Clark, Gibb, McNamee, Moncur, Robson, Dyson (Mitchell), Davies, Young, Ford (Hindson)
Scorers: Moncur og, Mate (pen)
18m - McNamee is penalised for a foul on the half-way line and then loses sight of the free-kick in the sun; the ball deflects off Clark and Mate pounces to rifle in off MONCUR (0-1).
Half-time: Pecsi Dozsa 1 Newcastle 0
70m - Davies' goal-bound header is cleared off the line by Kornard.
82m - McNamee appears to pull Maurer down outside the box, but the referee awards a penalty. MATE converts (0-2).
Full-time: Pecsi Dozsa 2 Newcastle 0
Extra-time: Pecsi Dozsa 2 Newcastle 0
Penalties: Pecsi Dozsa 5 Newcastle 2
---
07/11 - FRESH LOOK AT ST. JAMES' - New proposals are discussed by the club and the council at Gosforth Park Hotel. They decide to undertake a new feasibility study using a new architect commissioned by the club.
---
NO NEWCASTLE FAIRS CUP HANGOVER- Comedian Frankie Howard is staying at the same hotel as United, but there aren't many laughs at The Dell. It is a much better performance and slick United match their hosts for the first hour before falling apart once they go behind.
Southampton (9th) - The Dell - 19,250
McFaul, Craig, Clark, Gibb, McNamee, Moncur, Robson, Cassidy (Dyson), Davies, Arentoft, Ford
Scorers: Channon, Gabriel
Half-time: Southampton 0 Newcastle 0
62m - CHANNON converts a Paine corner-kick (0-1).
77m - Paine misses a penalty after Moncur fells Channon.
Gabriel hits a post.
87m - GABRIEL strokes the ball home (0-2).
McNamee rattles the bar.
Full-time: Southampton 2 Newcastle 0
Position: 13th
---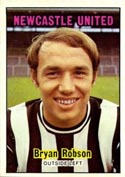 09/11 - POP ROBSON SHOCK - "I am sick, fed up and tired and I would like to leave Newcastle." The words of striker Pop Robson who calls a press conference at the Swallow Hotel and shocks the assembled media with his assertion that "there are a lot of little things wrong at Newcastle. Professionalism is missing." Robson states that he will not be putting in a transfer request and that he "will wait and see what the reaction is at the club". It is not entirely clear what Robson's grievances are but his contract expires in the summer and it is thought that he wants a "loyalty bonus" as part of a new contract. Clubs are now entitled to make such payments and a number of them have introduced schemes already; Newcastle have not. He also states that he feels his "style of play is not fitting in with this team. Those high balls into the middle are difficult for a striker like me" and complains about Harvey. "He has never told me personally where I am going wrong. I just read about it in the papers".
---
10/11- Harvey meets Robson to talk things over. Joe says that "no harsh words" were spoken and that he will be reporting back to the directors.
---
11/11 - Chairman Westwood makes his position clear: "Robson is on a two-year contract which runs out next summer, but there is a further two years option on his service on which we will exercise. There is no chance of his leaving".
---
12/11 - Westwood confirms that Robson broke his contract by holding a personal press conference. The player admits he is "a little worried about the crowd's reaction" for Saturday's game.
---
13/11 - Phil McGovern signs for Ayr. He played for the first-team during the summer tour but never got a competitive game.
---
RAGGED UNITED FADE OUT - An uninventive and uncertain performance with the players demonstrating a total lack of confidence. The team as a whole are barracked, but the unfortunate Tommy Gibb receives the most abuse, being booed continually throughout the game. After the match Frank Clark slams the fans; "it's disgraceful that they should pick out one player like this and subject him to the sort of treatment Tommy was given".
Ipswich (15th) - SJP - 25,657
McFaul, Craig, Clark, Gibb, McNamee, Moncur, Robson, Cassidy (Foggon), Davies, Elliott, Ford
Half-time: Newcastle 0 Ipswich 0
Full-time: Newcastle 0 Ipswich 0
Position: 14th
---
14/11 - UNITED FINE ROBSON £100 - After the game Robson is summoned to a meeting with the directors and once it is over the club make an official statement. "The player was given the opportunity to express his views to the board and asked whether he wished to withdraw his statements he had made to the press. Mr Robson did not wish to do so. By a unanimous decision the board decided to impose a fine of £100 under FA Rule 27c. Mr Robson was asked by the board of directors to submit a transfer request in writing and he stated that he would do so". This conflicts with what - a visibly upset - Robson stated when he left the meeting earlier: "I don't know what to do about a transfer request. I want to think about it over the weekend."
---
15/11 - It is reported that other players (whose transfers are expiring in the summer) are considering asking for a "loyalty bonus" too. Robson claims "all I want at Newcastle is security. I have been contemplating whether to do this for about six weeks and now I have done it I'm determined to carry it through. I have brought it up before inside the club and nothing has been done. That is why I decided to hold a press conference. I know that other players feel as I do".
---
16/11- Robson contacts the PFA for their advice and assistance.
---
18/11- Milanese miscreant Vieri is banned for three years and fined £660.
---
UNITED SLUMP TO THE PART-TIMERS - A Friendly match to celebrate the opening of Ayr's new £25,000 floodlight system. The Scots dominate the game throughout.
Ayr - Somerset Park - 5,000
McFaul, Craggs, Clark, Elliot (Foggon), tbc, Moncur, Robson, Hindson (Barrowclough), Dyson, Smith (Ford), Nattrass
Scorers: Young, McLean
05m- MacFadyen hits the bar from 20-yards.
Half-time: Ayr 0 Newcastle 0
53m - Craig concedes a penalty. McFaul tips YOUNG'S penalty on the post, but he follows up to score from the rebound (0-1).
67m - MCLEAN punishes Moncur after a poor clearance (0-2).
Full-time: Ayr 2 Newcastle 0
---
UNITED CRACK IN THUNDERBOLTS - United get some pride back with an excellent victory in a magnificent game against second-placed Spurs. Newcastle take a two-goal lead and although Spurs pull one back a brave defensive display in the last thirty minutes prevents the Cockerels getting back on level terms.
Tottenham (2nd) - White Hart Lane - 38,873
McFaul, Craig, Clark, Gibb, McNamee, Moncur, Robson, Dyson, Davies, Arentoft, Ford
Scorers: Craig, Gibb - Chivers
17m - CRAIG hits a 25-yard screamer into the top of the net (1-0).
Half-time: Tottenham 0 Newcastle 1
56m - GIBB scores with a diving header (2-0).
59m - CHIVERS (2-1).
Full-time: Tottenham 1 Newcastle 2
Posltion: 11th
---
23/11 - After talking with the PFA, Robson decides against putting in a written transfer request.
---
23/11 - David Crosson signs as a full-time professional.
---
27/11 - Moncur admits that "one or two of the boys are terrified to play in front of their own crowd".
---
28/11 - The club will report a profit of £11,130 at their Annual meeting on the 21st December. In the previous year they lost £42,968.
---
ROBSON USES HIS HEAD TO END THE GOAL AGONY - In his programme notes Harvey admits that the players confidence is low. "It has reached the stage where some of them are concerned about playing at St. James' Park". Burnley are currently at the foot of the table and after an even first forty-five United are clearly stronger and deservedly take both points. After the match Robson confirms "I still want to leave".
Burnley (22nd) - SJP - 20,994
McFaul, Craig, Clark, Gibb, McNamee, Moncur, Robson, Dyson (Mitchell), Davies, Arentoft, Ford
Scorers: Moncur, Ford, Robson - Probert
06m - MONCUR slams in whilst Burnley only have nine men on the field; Merrington and Dobson are receiving treatment after they accidentally crashed into each other (1-0).
28m - PROBERT heads home (1-1).
Half-time: Newcastle 1 Burnley 1
FORD drills in (2-1).
90m - Mellor lets Gibb's corner-kick slip through his grasp giving ROBSON the easiest of chances. (3-1).
Full-time: Newcastle 3 Burnley 1
Position: 11th