NUFC 1949/50 - Diary
---
NUFC 1949/50 Squad
---
June
01/06 - Newcastle beat the Alberta All Stars 15-2. The Canadian team consists of players from Edmonton and Calgary.
04/06 - The British Colombia All Stars are beaten 5-2. The crowd of 8,185 is the largest ever attendance in thirty years at the ground.
04/06 - Director Westwood claims that the $4 per day allowance is causing discontentment amongst the players and he sympathises. "I would not like to visit America on an allowance like that and expect to enjoy myself, even to a limited degree" A sandwich costs $1.5.
05/06 - United rattle in 10 more goals against Washington State who get 1 in reply.
07/06 - United face British Colombia All Stars again, winning 8-1 on this occasion.
11/06 - United's request to enter their Third team in the North-Eastern league is rejected. Sunderland, Middlesbrough, Darlington, Gateshead and Hartlepool all play their Reserve sides but United's reserves now play in the Central League.
15/06 - Newcastle beat a Swedish Select XI 4-0 in Toronto in what is judged to have been the best soccer game ever seen in Canada. A record crowd of 24,300 witness the match.
19/06 - United take on Swedes Kamraterna immediately after a Scottish FA team takes on a USA XI. Milburn puts United ahead just before the break and United go on to win 3-0.
24/06 - The team has covered over 16,000 miles on their 6-week tour including 20 days travelling in trains. The last match was cancelled due to the staleness and fatigue of the players. The Canadian hospitality was "wonderful" but their teams' football was "disappointing".
26/06 - The United party sets sail for home on the Empress of France.
July
02/07 - The 20,000 ton liner docks in Liverpool 24-hours behind schedule. The delay was caused because they had been hit by a freak Atlantic storm. The captain admitted that "we've never seen such a storm before". United skipper Harvey laughs it off but admits "I think everyone in the team was sick" They are greeted by the Liverpool Chairman.
09/07 - Newcastle are still hopeful of signing outside-right George Smith from Hibernian.
August
13/08 - The final practice game takes place. The players involved are: Black and Whites (League team): Fairbrother, Cowell, Batty, Smith, Brennan, Crowe, Walker, Robledo G, Milburn, Lowrie, Mitchell. Whites (Reserves): Garbutt, Graham, Corbett, Robledo E, Frazer, Stobbart, Harbertson (former North Shields winger), Thompson, Graver, Taylor, Stevenson.
13/08 - Seymour and another United director watch George Smith in the match against Falkirk, but are unsuccessful in their attempts to discuss a transfer with Chairman Harry Swan.
---
---
---
30/08 - Lowrie is not included in the First Team or the Reserves with an official stating "we have nothing to add to the team selection".
---
01/09 - It is rumoured that Lowrie will be transfer-listed.
September
---
---
03/09 - Newcastle accept a bid of £10,000 for Lowrie from Bristol City. His wife is a Bristol girl so It could be a good move for all parties. He will travel down to Bristol on Thursday.
---
---
07/09 - Rutherford, Seymour and Martin all take-in the Inter-League match between Scotland and Ireland at Ibrox Park. United are one of a number of clubs interested in Irish League players Alf McMichael (left-back) and George Hannah (inside-forward). The Scots win 8-1.
---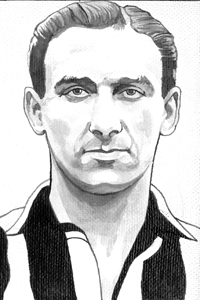 08/09 - After long discussions Lowrie agrees to move to Bristol City. The fee - in excess of £10,000 - is a record for a Bristol club. He joined United in March 1948 for £18,500 and scored 5 goals in 12 games.
---
08/09 - There are rumours that United have had a £35,000 bid for George Smith turned down by Hibernians, but this is angrily refuted by Chairman Rutherford. "It's ridiculous. Never at any time have we made an offer for Smith and it is about time these stories that we are prepared to pay such vast sums for any player were scotched".
---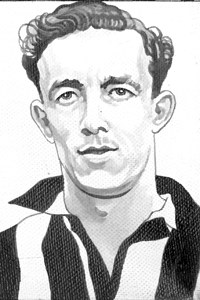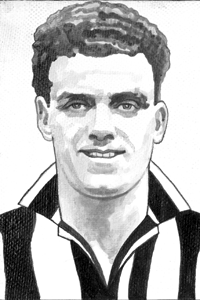 09/09 - Newcastle pay a joint fee of £22,000 to Linfield for Alf McMichael and George Hannah. McMichael was formerly an amateur at Cliftonville and turned pro when he signed for Linfield three years ago. He soon established himself in the first team and has won several Inter-League honours. Hannah was born in Liverpool and was an amateur at Everton. He joined the army during the War and played for Linfield. The match against the Scottish League was his first Inter-League honour.
---
---
16/09 - United have banned players from signing autographs on the pitch before the game and during the interval. The number of spectators (mostly boys) running onto the pitch is an increasing problem for a number of clubs and against Villa the situation was so bad the start of the second-half was delayed.
---
---
19/09 - Ernie Taylor (who was dropped for Saturday's game) and Norman Dodgin have submitted transfer-requests which are to be considered by the Board.
---
19/09 - George Martin and Sten Seymour travel to Leicester to watch their home game with Chesterfield. They have talks with Leicester officials with regard to their clever inside-right, Don Revie, who asked for a transfer last week. A number of clubs have shown an interest but Newcastle is thought to be his most likely destination.
---
---
25/09 - It is revealed that Dodgin played on in yesterday's match without knowing he had a broken rib.
---
29/09 - Transfer requests from Sibley (who has wanted a move for some time), Stobbart and Taylor have all been granted.
---
October
---
---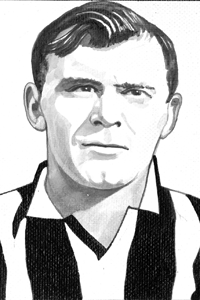 06/10 - George Stobbart (26) signs for Luton for £11,000.
---
---
---
15/10 - Milburn scores a hat-trick and sets up another in England's victory over Wales.
---
17/10 - Milburn was injured in the international and an x-ray reveals a damaged bone in his right wrist.
---
21/10 - Newcastle announce a profit of £49,765 for the year ending 31st July. This is only slightly less than Spurs' record all-time profit and is up from £24,744 in the previous year.
---
25/10 - A further x-ray reveals that Milburn has fractured his wrist and is likely to be out for about six weeks.
---
---
---
31/10 - More injury problems for United as Mitchell has a cracked rib and it likely to be out for three weeks.
---
02/11 - Milburn and the Board decide to go against doctor's orders and he will play (albeit on the right-wing) at Bolton. He will wear a light plastic cast rather than a plaster.
---
02/11 - The Board refuse Graham's transfer request.
---
Leslie Downs (18) signs from Dawdon CW as an amateur. He is 5' 10" and weighs almost 12 stone. His kicking is not confined to one foot.
---
November
---
---
13/11 - Chairman George Rutherford is seriously ill in a Nursing Home.
14/11 -The AGM is held and it is revealed that although the close-season tour only earned a profit of £106 the club brought back $22,000.
---
---
19/11 - Harvey - who has been on the sick list for a number of weeks - enters a nursing home. He will remain there for some time for observation purposes to ascertain the cause of his prolonged illness.
---
---
December
---
---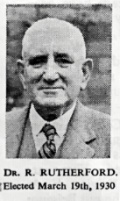 07/12 - Newcastle Chairman George Rutherford passes away. He has been connected with the club for quarter of a century and joined the Board 20 years ago. He became Chairman ten years ago and has also served on the management Committee of the English League (for whom he was Vice-president) and on the council of the F.A.
---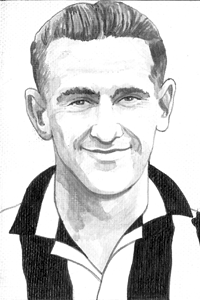 07/12 - Seymour completes the £7,500 signing of Hibernians centre-half Matt McNeill (22) after several days of negotiations. He is 6' 2" and 12st 8lb and Seymour confidently declares "I think I have seen another Jack Hill in the making". He turned professional when he joined Hibs in 1946.
---
08/12 - Roy Dodds (18) signs from Scremersten VFC where he has played for three years. He is due to start his two years National Service with the RAF very soon.
---
United have decided to introduce a two-year rota plan for the position of Chairman, a policy operated by a number of clubs. Mr JW Lee is promoted following the death of Mr Rutherford. Aston Villa have refused to bring forward the kick-off of the match on New Years Eve. United had requested that the match started 15 minutes earlier so they could catch the train back to Newcastle. They will now have to travel back on New Year's Day.
---
---
13/12 - With United due to meet the victors in the next round the team take in Oldham's victory over Crewe at Boundary Park.
---
---
Milburn had his wrist plaster removed recently but he fell heavily on the same wrist during Saturday's match. Thankfully an x-ray reveals no further break.
---
---
---
---
January
---
---
10/01 - The Board accept Norman Dodgin's transfer request. He started the season at left-half but got Injured allowing Crowe to establish himself. After returning from injury he deputised for Harvey at right-half but was dropped after the Christmas games against Middlesbrough.
---
12/01 - Middlesbrough Inside-forward McKennan is suspended for a week and fined £15 for his behaviour during the Tees-Tyne derby.
---
---
16/01 - Seymour and Martin have been on the road fruitlessly scouting for six days. Seymour states that they have "not met a club willing to part with any players".
---
Tickets go on sale for the Cup match at Stamford Bridge and some fans start queuing before 5am (many of them women deputising for their husbands) and the tickets sell-out within twenty minutes of the box-office opening.
---
Ernie Taylor once again requests - and is granted - to be made available for transfer. He made a request earlier in the season and although it was initially granted injuries to Mitchell and Milburn led to the Board changing its mind.
---
---
The Newcastle players have protested to the Board that a £5 fine imposed on Ernie Taylor for failing to turn up for a reserve fixture is too severe. On the occasion in question Taylor had not initially been selected to play for any of the three teams but was called up at the last minute. Taylor has stated that he could not play due to a family illness.
---
---
30/01 - England "B" will meet their Dutch counterparts at St James' on the 22nd February, Milburn is selected and Fairbrother is a reserve.
February
---
---
---
15/02 - An x-ray shows that Jackie Milburn has fractured a toe in training and is likely to be out for a month.
---
---
21/02 - Wednesday manager Eric Taylor has not given up on Robledo and returns to Newcastle. It is believed he is prepared to take George's brother Ted too who will also be allowed to carry on with his University studies.
---
21/02 - Houghton has submitted a transfer request but the Board refuse to allow him to leave.
---
23/02 - Robledo telephones Wednesday manager Eric Taylor to tell him he wants to stay at Newcastle.
---
---
28/02 - Barnsley have enquired upon the fee for Taylor and it is thought they have been quoted £20,000. They will discuss this at their Board meeting tonight but is likely to be too much for them.
---
March
---
---
The Board hold a "hush-hush" meeting (without the manager or any other officials) to discuss United's poor form and to find a way to restore confidence amongst the players and the - increasingly critical - fans. It is thought that they were ready to discuss "new appointments", but the performance and result at Roker Park seems to have raised spirits and nothing concrete comes of the meeting.
---
---
---
---
---
April
---
---
---
---
---
---
19/04 - There are strong rumours circulating that Milburn is on his way to Derby. It is alleged that although he has not asked to be listed he would "rather like a move".
---
26/04 - Harvey (who is captain) and Milburn play for the English League against the Irish League at Windsor Park. Jackie's cousin Stan also plays. Milburn scores all three goals in a 3-1 victory.
---
---
---
Jackie Milburn scores all three goals as the Football League beat the Irish League 3-0 in Belfast.
---
May
---
04/05 - A weekend newspaper report claimed that Brennan has asked for a transfer but both the player and manager Martin deny that this is the case. It is alleged that Newcastle had made £50,000 available to sign George Aitken and Alan Brown (East Fife) and Syd Gerrie (Dundee) but the clubs were not willing to sell.
---
05/05 - United list 14 players including Dodgin, Fraser, Smith and Sibley.
---
---
08/05 - Newcastle have turned down an offer to go to Germany to play a Select XI at Gelsenkirchen as part of their 75th anniversary celebrations. They have decided the trip is not practicable. They have also turned down a number of other offers including one from Turkey.
---
---
15/05 - Newcastle sign inside-forward Bobby Ayre (18) from Berwick Rangers Juveniles. A grocer, he has played-for England in Army cadet matches and has represented Northumberland.
---
18/05 - Milburn plays for England against Belgium but is injured after 15 minutes.
---
23/05 - Joe Steele moves to Bury. The reserve outside-left played 25 games in the Central League last season, scoring 6 goals.
---
29/05 - Tommy Walker wins the 100-yards handicap which nets him £50 at the Northumberland British Legion Sports at Wooler.