NUFC 1948/49 - Diary
---
Summary
Diary
Squad
---
June
---
01/06 - Middlesbrough's Wilf Mannion is placed on the open-to-transfer list and it is rumoured in some papers that his likely destination is Newcastle.
---
July
---
14/07 - Newcastle sign well-built Cardiff outside-right Colin Gibson for £15,000; the biggest fee paid out so far during the close season. He is regarded as one of the best wingers in Division 2 and Arsenal, Man City and Sunderland have all failed in bids for him. He made 29 appearances (scoring 6 goals) last season. Stan Seymour (with last year's £60,000 profit burning a hole in his pocket) says "we were not really in urgent need of an outside-right but a good player in any position is much more use to us than £15,000". United are also believed to have bid £20,000 for Blackburn Rovers outside-left Bob Langton and they expect to have tied up the deal by the weekend.
---
18/07 - The benefit match arranged for Ashington's professional J M Watson at Langwell Crescent attracts one of the largest attendances at the cricket field. It was a match which featured the appearance of three Newcastle United players - Jackie Milburn, Tot Smith and Charlie Crowe - who proved as popular on the cricket field as on the football pitch.
---
28/07 - To celebrate promotion and the winning of the Central League championship, the directors entertain all the players, officials, their relatives and friends as well as the newspaper men, who had followed the club. The celebration takes the form of a dance and cabaret at the Oxford Galleries where the Lord Mayor of Newcastle (Alderman T McCutcheon) and other civic leaders are among the notable guests. Officials from Sunderland and Middlesbrough Football Clubs and former players are also present including David Davidson and Jimmy Denmark.
---
28/07 - England international Will Mannion is still refusing to re-sign for Middlesbrough but it is now thought that Newcastle are not interested.
---
August
---
01/08 - A very enjoyable cricket game takes place at Stobhill when the Morpeth club entertain Newcastle United in a friendly.
---
04/08 - Brighton sign United inside-forward Johnny McNichol for £5,000. This sum equals the club's record fee paid. McNichol (24) weighs 11st 4lb and stands 5ft 9ins. Albion Rovers sign centre-half Alex McKellar on a free transfer; he joined United from a Glasgow juvenile team in 1946.
---
13/08 - Seymour and Martin travel to Blackburn to try and agree a deal for Bob Langton; the English international outside-left. If a straight cash deal is agreed upon, the transfer may be completed today. It is understood, however, that Blackburn prefer an exchange of players, and are interested in 'keeper Fairbrother who was formerly a Blackburn policeman. The deal could be worth a record breaking £25,000.
---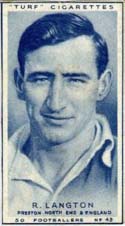 14/08 - Negotiations between Newcastle United and Blackburn Rovers for the transfer of Bobby Langton reach an advanced stage before the deal is scuppered by the other-halves. Fairbrother's wife states that she and her family are happy at Newcastle and do not wish to go to Blackburn. Then George Martin reveals that the deal is off because "Mrs Langton doesn't care to come to Tyneside". Fairbrother himself says "I'm happy enough at Newcastle".
---
21/08 - Several specially chartered buses leave North Shields for the match at Everton. Though no special trains are running significant numbers travel on the normal service. They get a very friendly reception in Liverpool with supporters wearing the black and white rosette being singled out for special notice whilst those standing in queues outside cafes are taken to the front and given priority.
---
---
23/08 - Next week manager George Martin will be top-of-the-bill at a Newcastle theatre as an operatic tenor. George has well-known vocal qualifications and a few years ago turned down a £3,000 offer for a season's tour. Martin was persuaded to appear on the bill after some Newcastle United directors convinced the theatre manager that George was a better singer than many that had appeared on their stage.
---
---
---
28/08 - Director Stan Seymour travels to Greenock to watch outside-left Bobby Mitchell of Third Lanark. The Newcastle scouting system has identified Mitchell as a "must" and Seymour is believed to have full authority to make his transfer bid a record one if his impressions match those of the scouts. However, Third Lanark's chairman states "We have not the slightest desire to part with Bobby".
---
30/08 - One of America's latest and fastest destroyers - the U.S.S. Willard Keith - will arrive in the Tyne next Saturday on a six-day courtesy visit and most of the men will go to St James' to watch the match against Aston Villa.
---
31/08 - A wire is received from Third Lanark stating that they will not be releasing Bobby Mitchell for whom United have offered £20,000. The Newcastle directors immediately hold a conference and decide to meet again in the morning to discuss a further offer for Mitchell. This player has become one of the personalities in the game; always doing the unexpected and so helping to make the game a real entertainment. His flashing wing runs, his cutting in, and his terrific left-foot drives are regularly served up. Last season he scored 12 goals in league appearances.
---
September
---
---
---
07/09 - It is reported that Willie McCall, for whom Newcastle United paid Aberdeen £8000 in January, has asked to be placed on the open-to-transfer list, but a decision on the matter has been deferred by the club.
---
---
---
---
---
20/09 - Milburn is the discovery in the English League side that easily defeats the Irish League on Liverpool's ground. In his first representative match, he scores a brilliant hat-trick in the space of 33 minutes in the first half and his leadership and link-up play is as good as Lawton at his best.
---
23/09 - Long-serving Newcastle United half-back Jimmy Woodburn moves to Gateshead, but before the Third Division club could sign him they have to persuade Newcastle to sell them the house in which Woodburn is living as they have been unable to find him other accommodation. Woodburn goes to Gateshead with full control of all coaching and is likely to be in the running for the managerial post.
---
---
27/09 - Milburn is selected for the England match against Northern Ireland on October 9th (replacing Tommy Lawton) and will miss the Wear-Tyne derby as a result.
---
28/09 - Manchester City are reported to be considering a swop deal which will involve inside-left George Smith joining United in exchange for either Donaldson or Stobbart.
---
28/09 - Jimmy Robertson (19) is signed for £1,000 from Scottish junior club Auchinleck Talbot.
---
29/09 - Jimmy Robertson is released because his mother does not want him to leave home.
---
October
---
---
03/10 - With the Bobby Mitchell trail having gone cold United make a £20,000 bid for another Scots left-winger; John Kelly of Barnsley.
---
04/10 - George Lowrie, injured in the match against Chelsea on August 25, resumes light training following a cartilage operation. He may be able to play next month.
---
05/10 - Newcastle United players and officials visit Morpeth Golf Club and play a team of local golfers for a shield presented by Mr McKenzie of the Morpeth club. The shield will be competed for annually and a keenly contested match ends in a win for the Newcastle players.
---
08/10 - Wearside is preparing for a huge invasion of fans from all over the North-East. It will be the first time for 14 years that Sunderland have met Newcastle United in a First Division game and the gate is expected to top the League record of 64,436 set three weeks ago for the Arsenal game. Eighteen additional trains are expected to bring an extra 11,000 people into Sunderland, and ordinary services will be strengthened to cope with the passengers expected from Tyneside and Hartlepool. In all arrangements have been made to deal with an influx by rail of 20,000. The first fans arrive at the ground in the afternoon including two women from Birtley who are keeping places for their husbands who are still at work. Some fans sleep outside whilst others sleep in the coaches that they arrived in.
---
09/10 - Queues, nearly a thousand strong, are waiting outside the ground five hours before the kick-off. Thousands of red and white rosettes, black and white tam-o-shanters, and jumpers and scarves of both colours surge forward when the turnstiles open at 11.45am. Mobile canteens which began to serve hot refreshments to the waiting crowds at 6 a.m. had sold out two hours later. Town cafes had every available table pressed into service and one restaurant had decorated its dining rooms with the colours of both teams. Assurance for thirsty supporters came from a brewery company official who claimed "Sunderland's public houses have sufficient beer to quench the thirst of the big crowd".
---
---
12/10 - It is thought that Wolves may now be prepared to sell England international left-winger Jimmy Mullen. Newcastle United are one of many clubs to have made efforts to sign the winger over the last few months.
---
12/10 - Newcastle have problems with three of their forwards. Milburn has allegedly informed George Martin that he will refuse to play in any other position than centre-forward as he explains: "I can keep my place in the England team only if I play at centre forward for my club. If Newcastle cannot play me there. I must ask for my transfer and go to a club who can." Just as reluctant to change position is Andy Donaldson, who has been Newcastle's centre-forward in their last ten games and feels that he has done enough to justify his retention in the side. Another awkward problem for United directors at tomorrow's board meeting is a transfer request made today by inside forward George Stobbart.
---
13/10 - Martin states that neither Milburn nor Donaldson have requested transfers. The Newcastle United directors grant the request of Stobbart to be placed on the transfer list, but they stipulate that any transfer will have to be on a player-exchange basis only.
---
14/10 Jackie Milburn and Andy Donaldson both ask to be placed on the transfer list. Milburn claims that he wants to leave Newcastle for purely domestic reasons. His wife is expecting their first child soon, and he feels it would be better for her to be with her parents in London. Milburn emphasises that he has been very happy in Newcastle, and that home worries are his only concern. He later states: "I was forced into making my transfer request after the press publicity. I had said I may ultimately have to seek a change from the North because of my wife's health. I had no intention that it should be printed. Rightly or wrongly I felt myself jockeyed by publicity into making the request immediately".
15/10 - Chairman Rutherford makes the club's position very clear. "They are under contract to us until July 31st next year, and you can take it from me we will not place either of them on the transfer list." The directors will discuss the matter next Wednesday.
---
15/10 - Prolonged negotiations which had ended satisfactorily as far as the clubs were concerned collapse due to the refusal of Stobbart to move to Coventry City. He states that he is only interested in a move to a First Division club.
---
---
18/10 - George Martin and Stobbart will travel to Nottingham tomorrow to discuss a possible exchange deal with inside-forward, Jack Edwards. It is thought that Stobbart is willing to join Forest but Edwards' position is not known. Queen's Park Rangers make a tentative inquiry about Milburn and are told that he will not be leaving Newcastle.
---
19/10 - The proposed transfer of Stobbart to Nottingham Forest is off. United are only interested in a player-exchange for an inside forward and Forest manager Mr Walker is not prepared to accept such conditions.
---
19/10 - Milburn plays for England against Northern Ireland at Windsor Park and scores with a header.
---
20/10 - The Newcastle United directors consider the transfer requests of Milburn and Donaldson and, although no statement is issued, it is believed that after a brief discussion both requests have been refused.
---
---
23/10 - QPR are interested in a swop deal between their inside-forward Mills and Stobbart; Seymour attends the match between Chelsea and QPR reserves to watch Mills play. He is not sufficiently impressed and the deal is off.
---
30/10 - As part of "rag week" Jackie Milburn is "kidnapped" by students of King's College, Newcastle. Milburn is blind-folded and taken in a car to a secret hiding place. A student contacts the club and asks to speak to director Stan Seymour, but is told that it is not possible. Milburn is allowed to speak on the telephone and he says he is tied to a chair. At mid-day the students ring again and state that if a contribution is not made to "rag week" Milburn will be kept in hiding until after today's game. Chairman Rutherford contacts the police and after investigations have been made, the player is released
---
31/10 - Brennan is the artiste tenor at the Princes Theatre in North Shields
---
November
---
04/11 - Graham has asked for a transfer, but his request has been turned down. Taylor's request has been granted but due to the number of injuries he won't be allowed to leave at the moment. Milburn has injured his wrist but should be able to continue playing as he has been fitted with a new lightweight cast made from spun glass and cellulose acetate fibre.
---
05/11 - United had wanted to sign Ian McMillan (17) of Airdrieonians with Stan Seymour stating he is "just about the finest left wing prospect I have seen; he is going right to the top of the game and we would have given a lot to get him. Unfortunately, he is still at school and studying for his final exams".
---
---
---
19/11 - United made a profit of £24,744 during the fifteen months ending on July 31st. Gate receipts totalled £151,319. Profits for the previous season were £9,077.
---
19/11 - The match with Arsenal tomorrow is regarded as the most important of the year by the players. "I'd rather win this game more than any other." says Joe Harvey. "It would be a wonderful triumph to break down Arsenal's famous defence." Mr George Martin says "The only trouble I have with my lads is my failure to convince them that they are among the best sides in the country. Even beating Derby made no difference. But if they can take two points from Arsenal they may begin to believe me".
---
19/11 - Fulham have resumed negotiations for the transfer of Stobbart. It is understood that they are prepared to exchange outside-left Shepherd. Derby County and Lincoln City are amongst other clubs interested in the striker.
---
---
23/11 - Douglas Wright's transfer request is accepted and he will be allowed to go without any demand for a player in exchange. In the last game of the 1946-47 season Wright suffered a cartilage injury and although he was operated on he did not play at all last season, and has only had a few outings with the reserves in the current campaign.
---
26/11 - Grimsby Town win the race to sign wing-half Douglas Wright. He promises to sign for the Lincolnshire club early next week if his wife is agreeable.
---
---
28/11 - Persistent rumours that Jack Howe, the Derby County captain, may be transferred to Newcastle United in exchange deal for Donaldson or Stobbart, are strongly denied by Derby manager McMillan. He says that he has not spoken to Newcastle since a possible exchange of Batty and Taylor for Morrison was discussed a couple of months ago.
---
December
---
---
09/12 - Willie McCall declines to accept terms offered to him by Lincoln City as he wants to return to Scotland. He was transferred from Aberdeen in January this year for £8,000, and is priced at £5,000.
---
09/12 - Harvey has been suffering from tonsillitis and now has a stomach complaint; he could be missing for a few weeks.
---
10/12 - Newcastle make a big bid for Jimmy Mullen of Wolves which involves cash plus Andy Donaldson. Mullen, who grew up only two miles from St. James's Park, asked Newcastle for a trial as a youngster but was not considered good enough. Wolves' representatives will watch Donaldson in the reserves match at Bolton tomorrow.
10/12 - Despite turning them down McCall agrees to visit Lincoln to have a look around. He returns to Newcastle and promises to ring back with his decision at 10.30pm. At midnight a Newcastle-based journalist contacts Lincoln manager Mr Bill Anderson to ask if McCall has agreed to sign. Anderson says he has heard nothing and the reporter offers to go to his house and find him. The journalist's calls back 1.30 am to say that McCall was unable to get through on the telephone and has not changed his mind.
---
10/12 - Seymour (managing director) and Rutherford (chairman) travel to Aberdeen. It is understood that they will be watching Jimmy Paterson, inside-right of Peterhead in tomorrow's game. Paterson is at present leading scorer in the Highland League with twenty-two goals.
---
10/12 - Newcastle beat off competition from a number of clubs to sign Joseph Steele, twenty-year-old Belshill Athletic outside-left.
---
11/12 - Despite scoring both Peterhead's goals Paterson fails to produce his best form and no approach is made to club or player after the game. Seymour says "on the day's play they saw nothing on either side to interest them. It was too keen a game; it was like a cup-tie."
---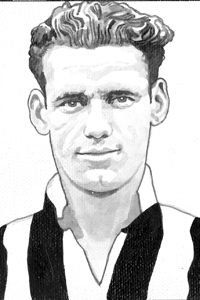 14/12 - Left half Duggie Wright (who was capped for England against Norway in 1939) travels to Lincoln with Mr Anderson, the Lincoln manager. This his second journey into Lincolnshire, for he would have signed for Grimsby last week had that club been able to find housing accommodation for him. Wright joined Newcastle from Southend in 1938. He was in H.M, Forces during the war and in the landings on the Normandy beaches was wounded in a leg. It was thought at that time he would never play again, but he made a fighting recovery and reached such form in the first post-war season that he was hot-tip for another cap. During the 46/47 season he displaced a cartilage in a match against Chesterfield and this on top of the war wound put him out rest season. He fought his way back again and has been performing well in the reserves.
---
16/12 - Lincoln manager Bill Anderson says that reports in the papers yesterday that Wright has signed are not correct. "You can take it from me that Wright has not signed, and I don't know where the reports have come from. I expect Wright to come through tomorrow and sign and therefore play on Saturday. It was just question of talking things over with his wife before he made a decision."
---
---
21/02 - Lincoln City reserve centre-half Tom Emery still interests United but any deal is on hold until manager Anderson has watched some of the United players on offer of part-exchange.
---
---
28/12 - Sibley joins the unhappy band of players who want a transfer. With Stobbart and walker preferred on the right wing he is struggling for game time.
---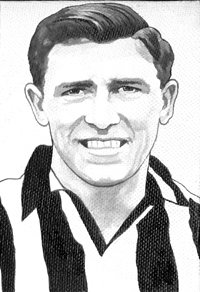 29/12 - McCall ends his disappointing stay on Tyneside by moving to Motherwell. He was signed from Aberdeen in January only played one game this year when he had a really bad game.
---
30/12 - Huddersfield turn down the chance to swap outside-left Victor Metcalfe for Andy Donaldson.
---
30/12 - Blackpool make enquiries for Donaldson. They are prepared to include outside-left William Wardle in a cash-exchange deal. Newcastle say they will consider the offer.
---
January
---
---
04/01 - Dodgin and Garbutt asks for transfers.
---
05/01 - There are now no less than 16 requests for transfer waiting to be considered. The Wednesday evening directors meeting is held as usual and they decide to convene a special meeting with the players with an official saying "we must get to the bottom of the trouble. United have always treated their players well".
---
06/01 - Martin and the directors meet the players in a meeting which lasts for several hours. Twenty of the player's present have demanded a transfer in recent months and over the last 18 months a number of players have left despite the fact that the club did not wish to lose them. An official statement gives a director's view of the situation. It states that the meeting was held to discover whether there was any foundation for alleged discontent among the players. The players were invited to express their views frankly and fearlessly. It became manifest that no solitary fundamental complaint existed beyond the desire of particular players to be provided with housing accommodation, and the very natural regret of individual players that were not able to secure regular places either the first or second teams because of the large staff. The meeting was conducted in an extremely cordial spirit, and it is considered that the air has now been completely cleared. None of the players make a statement.
---
07/11 - Boxer Billy Exley joins in United's training session when they are doing their loosening up work.
---
---
13/01 - One of the grievances aired at last week's meeting was that they read about team changes in the paper before they had been informed by the club. So instead of the director's informing the press after their Wednesday night board meetings the media will be informed by manager Martin on a Thursday.
---
14/01 - Grimsby's manager is on Tyneside hoping to seal deals for Tot Smith and/or Graham.
---
---
19/01 - The Board consider all the current transfer requests and decide to place 11 players on the list. The names will not be released until Friday but it is thought it does not include any regular first team players.
---
21/01 - The list of players to be made available causes quite a stir; Gibson, Sibley, Fraser, Donaldson, Hair, Crowe, Corbett, Scott, Porter, Wood, McCoy. It alsoarouses much interest and the first concrete offer comes from Manchester City who meet the £17,500 valuation for Donaldson. The player wants some time to think the move over.
---
---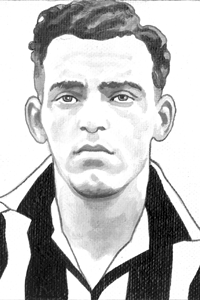 25/01 - Andy Donaldson moves to Middlesbrough for about £18,000 which would be a record fee for a reserve player. Manchester city, Tottenham and Blackpool were all interested in his signature. He has scored 5 goals in 13 appearances this season.
---
25/01 - Newcastle director Westwood responds to accusations of disloyalty aimed at him following his criticism of the decision to place 11 players on the transfer list. "I think the Board should show loyalty to their players and the manager. Those responsible for putting such men as Gibson and Hair on the transfer list should state their reasons. These men have never complained or asked for a transfer, there has been no complaint about them and George Martin, the manager, was not responsible for putting them on the list". He claims supporters are "seething with indignation" and are considering organising protest meetings.
---
26/01 - United sign North Shields outside-right Ronnie Harbertson (18) from North Shields. He has scored 20 goals this season and Sunderland and Aston Villa were also interested in him. He is a native of Seaton Delavel and signed for Shields at the start of the season. Manchester United tried to sign him but he could not agree terms.
26/01 - Manager Martin refutes Westwood's implication that he did not have a say in who was listed. "I wish to strongly emphasise that I have the fullest support of the Directors. There is no question of dictatorship over me". Westwood (who is away in London and will miss the Board Meeting tonight) responds by saying "Mr Martin's statement is his own business, but I don't agree with it". The normal Wednesday Board Meeting takes an abnormal six hours. There is no official statement but it is believed Westwood's accusations were a main discussion point and that there will be no change to the transfer list.
---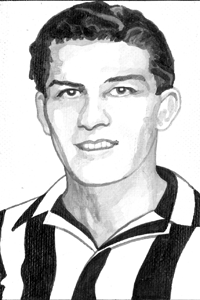 27/01 United sign the Chilean Robledo brothers from Barnsley for a fee believed to be considerably more than £20,000; the largest fee ever received by the Yorkshire club. George (23) is an inside-forward and scored 26 goals last season and has 13 more this season. Although he cannot represent England he was chosen for the FA Team which played the RAF this season and scored 4 of the 9 goals. United first tried to sign him a couple of years ago and although the offer was turned down Barnsley agreed to give Newcastle first option if they ever decided to sell. It is believed that George would only move if his brother Ted (21) who is a half-back was also signed.
---
---
February
---
01/02 - D1: Grimsby are after Hair and Sibley, but after protracted negotiations no deal is agreed.
---
02/02 - Westwood attends the Wednesday Board meeting for the first time since he publicly criticised the other directors. It is another lengthy meeting but no statement is released. They are believed to have discussed offers for Gibson, Sibley and Hair.
---
02/02 - The City Council agree to lease further land to the North of the ground for a practice pitch and additional car parking. As it involves extending into an area of open space (including a children's playground) the club will need to have a clause inserted into the next Parliamentary Bill to give them the powers to make such a disposition. The controversial proposal faces a lot of opposition and the margin is narrow (27 votes to 24).
---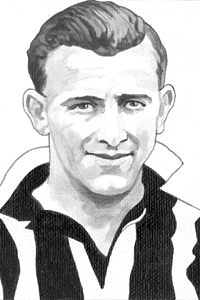 03/02 - Hair moves to Grimsby for about £6,000. He has played 15 times this season scoring 4 goals. Hair was surprisingly included as one of the players made available to transfer and was determined to leave after that. Hair joined from Spen Juniors
---
04/02 - Newcastle agree terms with Aston Villa for the sale of Gibson but the deal cannot be concluded as the player is in Cardiff suffering from influenza.
---
04/02 - Reserve full-back Peter McCoy moves to Norwich for about £2,500. He was formerly with Shotton Juniors and joined United in September 1946 after leaving the services.
---
04/02 - Donaldson, Hair and Scott have all departed now, Gibson is on his way and Fraser has been taken off the transfer list
---
---
07/02 - Gibson completes his move to Villa. Played 24 games this season (scoring 5 goals) but less than half of those were in his recognised position of outside-right.
---
---
---
21/02 - Director Westwood is suffering from ill health and is admitted into a London hospital for rest and relaxation.
---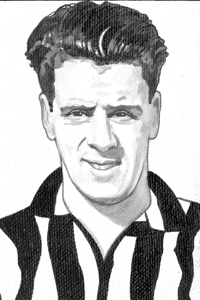 22/02 - United finally get their man as Third Lanark agree to sell Bobby Mitchell (24). The fee is believed to be £16,000 and - if this is the case - it will be a record for a Scottish footballer. He joined Third Lanark in 1940 from Glasgow juvenile side Market Star and returned to Cathkin Park after serving in the Navy. He was selected for the Scottish League against the English League a couple of years ago. He is 5' 10" and is employed as a storeman in Glasgow train depot. Rested a couple of weeks ago and has been playing for the reserves since.
---
---
March
---
---
---
13/03 - Milburn is selected for the Football League side which will play the Scottish League on March 23rd; Harvey is named as one of two travelling reserves.
---
15/03 - Seventeen players are measured up for navy blazers and green flannels for the forthcoming tour of the States and Canada.
---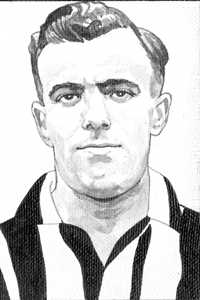 16/03 - Albert Clark returns to North Shields. He joined United from The Robins in January 1948 for a fee of around £700 - 850 and although Clark has been a regular in the reserves he has made only one first-team appearance (home game against Sheffield United in December). He asked for a transfer three weeks ago.
---
---
---
30/03 - Milburn is selected for the England side which will play the Scotland on April 9th.
---
April
---
01/04 - The Newcastle speedway team has moved lock, stock and barrel up to Glasgow and the Middlesbrough team has moved up to Newcastle. To try and foster a relationship with the City the new Newcastle team will wear black and white and be called The Magpies.
---
---
02/04 - Leaders Portsmouth arrive in the region in preparation for Wednesday's game which is being billed as a Championship decider. They will be staying in the Grand Hotel and have been given permission to train at Appleby Park by North Shields.
---
---
---
---
---
---
19/04 - Scott gets both goals as a Newcastle XI beats Wallsend British Legion 2-0 in a game in aid of the Legion Fund for Ex Servicemen.
---
---
---
May
---
02/05 - Jackie Milburn is one of 26 players to be selected for the England continental tour later this month. It is likely that Newcastle will ask form him to be released so he can go on the tour of the States and Canada.
---
03/05 - United release their retained list and it includes all current players except for reserve centre-half Wood.
---
04/05 - The FA agree to release Milburn from the England tour.
---
---
09/05 - Newcastle are in negotiations with Stoke involving an exchange of George Stobbart and Frank Bowyer. Stobbart is happy to move if a house can be provided. The directors hold a special meeting to discuss the tour. It is thought there is considerable uneasiness amongst some directors regarding certain aspects of the arrangements.
---
10/05 - Bowyer agrees to sign; it is thought that the swap deal will also involve United paying some additional cash.
---
11/05 - Bowyer changes his mind as he would prefer to stay nearer Stoke. Stobbart is very unhappy as United have already left for the Americas and he will therefore miss out.
---
15/05 - The Scottish touring team are also going to the States and are on the same liner (the Queen Mary) as United. One of the Scottish officials telegrams the Sunday Post and tells them that both sides get exclusive use of the gym for an hour each day and that Frank Brennan is top of the bill at tonight's concert and dance.
---
19/05 - United have planned to play a couple of games against Swedish sides during the tour bit the FA have refused to give them permission.
---
19/05 - Fr: Montreal XI 1 Newcastle 4 - United play the first game of their tour in a baseball stadium. The second-half also sees United playing under artificial lights (Mazdas) for the first time. After a quiet first-half United turn on the style after the break and Milburn (2), Robledo and Taylor all score.
---
21/05 - United are believed to have contacted the Scottish touring party with a view to starting negotiations for the purchase of George Smith the Hibernians and Scotland outside-right. Newcastle had a £20,000 bid for him rejected last season but were told they would get first refusal if they decided to sell.
---
24/05 - John Lammonby of Leeds is sentenced to 12 months' imprisonment at Newcastle assizes after being found guilty of pickpocketing at the match against?
---
24/05 - Fr: Ontario AS 2 Newcastle 8 - Milburn (4), Mitchell( 2), Robledo G and Taylor are on target.
---
28/05 - Fr: Saskatchewan 2 Newcastle 13 - United thrill the Canadian crowd and although United run up an amazing 13 goals (Milburn, Robledo (4), Thompson (2), Walker (2), Mitchell, Dodgin, Houghton and an own goal) they could have doubled their score.
---
June
---
02/06 - Fr: Alberta All Stars 2 Newcastle 16 - Another thumping victory against a team made up of players from Edmonton and Calgary.
---
/06 - Fr: British Colombia All Stars 2 Newcastle 5
---
11/06 - United's attempt to re-join the North Eastern League using their Third Team are not surprisingly rejected. Sunderland, Middlesbrough, Darlington, Gateshead and Hartlepool all enter their reserve sides.
---
16/06 - Newcastle 4 Swedish 0 - A record attendance turns up in Toronto to witness one of the best soccer games ever seen in Canada. It is almost continuous attack from United.
---
19/06 - Kamraterna 0 Newcastle 3 - After the Scottish FA take on a US XI United beat the Swedes.
---
26/06 - United leave for home on the Empress of France.
---
July
---
02/07 - The 20,000 tonne liner arrives in Liverpool 24 hours behind schedule. During the week there was a freak Atlantic gale which the ship's crew had to battle with for 18 hours. The captain admits that "we've never known such a storm before". At the height of the storm (2.00 am on Wednesday morning) the ship was struck by a massive wave which caused significant damage and threw passengers out their bunks. "I think everyone in the team was sick" laughed Joe Harvey.