NUFC 1928/29 Diary
---
Summary
Squad
---
May
---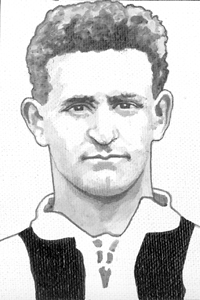 28/05 - Edmund (Ted) Wood, the Rhyl centre half-back is signed for £950. He previously played for Northampton and Birmingham and impressed for Wales in their junior international match against Scotland earlier this year. He is 25-years-old and 6'.
---
30/05 - United's annual report reveals that gate receipts dropped by £13,500 compared with last season, and the club's income was £8,000 less than last year. Consequently, the profit was £43, compared with £2,300 in 1926.
---
June
---
01/06 - Llewellyn Tudor (Tommy) Owen, Welshpool's goalkeeper last season, signs professional forms for Newcastle. He was the most impressive player in the Wales v Scotland junior international match at the end of last season. There was a lot of competition for his signature.
---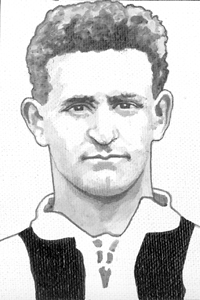 02/06 - Third Lanark sign inside-forward Billy Halliday (21) who joined United from Queen of the South a year ago. He is the brother of Sunderland forward David Halliday. He came with an excellent reputation but has failed to adapt to the English game, making only first-team appearance.
---
03/06 - United Chairman JP Oliver is re-elected to the Football League Management Committee.
---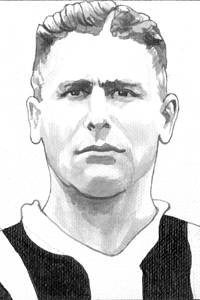 12/06 - Bristol City sign half-back Stanley Barber for £500. Barber is 20 years of age, 5ft. 10ins. and 11st 8lb. He can play on either wing or in the centre, but the left is his favoured position. He joined in September 1925 and made one appearance.
---
15/06 - The club hold their AGM. Mr A Wardlaw argues that the annual report is "shockingly bad from the playing and financial point of view" and compares United's paltry profit with that of Middlesbrough (£8,000), Sunderland (£3,000) and even South Shields (£1,200). Mr Graham replies on behalf of the Board and admits it had been a disappointing season after such a good start. He cites the bad run of injuries and "shocking bad refereeing" as excuses, but states they are fully aware that certain positions needed strengthening. He goes on to say that the club would sign "one of the best half-backs in the country" in the next few days. "A six-footer, 12 stones and a young fellow 22 years of age".
---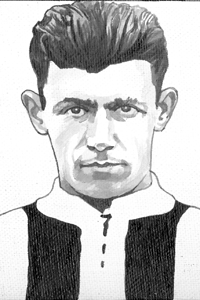 20/06 - David Flannigan, left half-back of Scottish Second Division side Third Lanark, signs for £2,500. Well sought after, he is 22 and sturdy and is reputed to possess the Newcastle style.
---
30/06 - Alf Brown (the ex-Morton forward), Jimmy Hunter (late of Falkirk) and Jimmy Low (the ex-Ranger) are all on the transfer list of Newcastle United.
---
July
---
02/07 - Chesterfield sign United reserve centre-forward Jack Lees. He is 22, stands 5ft 11in and weighs 11st 10lbs. He made 18 appearances tor Newcastle United Colts and the North-Eastern League team last season, and scored 28 goals. Lees has also played at inside left, but prefers to lead the attack.
---
06/07 - Third Lanark have been making inquiries about Frank Hudspeth, but have been informed that this player is not to leave St. James' Park at the current time.
---
07/07 - At Airdrie Sheriff Court there is a hearing of an action at the instance of Mrs Hugh Gallacher against her husband, for aliment in respect, of herself and her child, Catherine, of £2 10s per week. Mr Hughes, appears for the pursuer, and says that in this case impoverished circumstances could not be pleaded. The defender is a professional footballer, and is presently in the employment of Newcastle United. He has been chosen to play for Scotland more than once, and with bonuses, etc., must he earning about £10 per week. However, he is at present £97 5s in arrears with his payments. Mr Cassells, solicitor, for defender, denies the amount his client is alleged to be in arrears. Sheriff King Murray continues the case till 31st July, on the understanding that the defender pays the continuation of the current aliment.
---
31/07 - In the Sheriff Court, the action for civil imprisonment of Hugh Gallacher on account of his failure to pay aliment for the support of his wife, is again called. Gallacher's solicitor states that he has been paying aliment since the last calling of the case. Mr Bell and he Mr Cassells had been negotiating, and were still doing so. It was certainty that the case would be settled in a few weeks. Bell had agreed to continuation until the end of the month. Mr Bell said they were very anxious to get Gallacher started "working". The Sheriff continues the case accordingly.
---
August
---
13/08 - The " Sporting Chronicle " reports that Gallacher has informed the directors that he wishes to be transferred, and they are prepared to consider offers. Gallacher was suspended for a long period last season, and though he returned to the side, it was then reported that he would like to leave Newcastle. He was also "barracked" during one of the practice games.
---
15/08 - United's secretary refutes the Gallacher rumours: "There is not the slightest truth in it. Gallacher has not made any request to be placed on the transfer list. Nor are we prepared to consider any offers for him."
---
22/08 - The report from the Emergency Committee into the suspension of Jimmy Low from 25th August - 30th September "for having failed to observe his agreement with the club" is to be considered by the FA Council on 27th August. Low made his mind to retire in April, but he evidently had retired before his contract with Newcastle had expired. On the last Saturday of the season he declined to play for the Reserves in the final of the Northumberland Senior Cup against Bedlington United. The Scot has previously stated that he has "had it with football" anyway.
---
---
---
September
---
---
Evans goes into hospital to undergo a cartilage operation.
---
07/09 - Arsenal are on the lookout for a new centre-forward and it is widely reported that they have made enquiries about Gallacher. There are also rumours that Gallacher would be interested in the move.
---
---
09/09 - Chairman Oliver states that they will not part with Gallacher "for a kingdom".
---
---
---
---
---
---
October
---
01/10 - Newcastle desperately need to strengthen at the back and they approach Cardiff for their international back Nelson but Chairman Mr. Parker makes it clear that they "have not the slightest inclination to part with Nelson".
---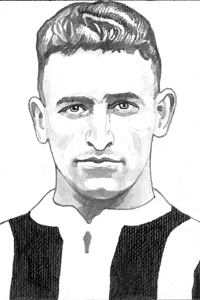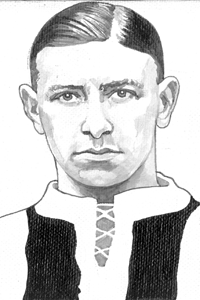 02/10 - Newcastle swap inside-right McKay (28) for Sunderland left-back Thomson (25). McKay joined United from Glasgow Rangers in November 1926 but has struggled for form this season and Chalmers (when fit) has been preferred. He has made 66 appearences and scored 22 goals.
Thomson joined Sunderland in the summer of 1927 but has been kept out of the side recently by England. Both players have represented Scotland. The meeting between the two clubs lasts six hours and Newcastle also try to negotiate for another back (Oakley) but Sunderland are not prepared to sell him.
---
---
---
---
15/10 - The pre-season practice games raised the rather disappointing sum of £315 for charity.
---
---
22/10 - Former Darwen back Clem Rigg completes a month's trial but is not kept on.
---
23/10 - Assistant Secretary Watts and two directors meet with Burnley officials to negotiate for the transfer of Jack Hill, the international centre half-back. Officials of the Burnley club state that no deal had been completed, but it is understood that discussions will continue.
---
25/10 - Sunderland hold talks with Burnley in Harrogate but a deal cannot be agreed. Arsenal and a Lancashire club are also believed to be interested.
---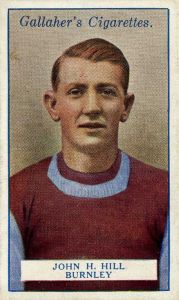 26/10 - Newcastle are made aware that Sunderland are trying to sign Hill and immediately make an offer which Burnley accept. Hill agrees terms and will be available for tomorrow's derby. He is regarded as one of the best pivots in the game. His great height - feet 6 feet 3 inches—gives him a tremendous advantage over his opponents, and he weighs well over 13 stone. A native of Hetton-le-Hole, Durham, his clubs before going to Burnley were Durham City and Plymouth Argyle. He joined the Lancastrians five years ago and has made 310/216 appearances for them. He has 6 England caps and has captained both Burnley and England, it is a huge fee for a 29-year-old.
---
---
November
---
---
04/11 - A prominent Huddersfield official scotches rumours that they are involved in negotiations with United regarding their brilliant outside-right Alec Jackson.
---
05/11 - United sign outside-right T L Wilkinson from White-le-Head Rangers. He is 21-years-old, 5' 10" and 10st 9lb. He had a trial with West Brom a couple of seasons ago and is speedy and clever.
---
---
14/11 - In an effort to recoup some of the Hill fee, United place six defenders on the transfer list including veteran Frank Hudspeth who is the last survivor from United's pre-war side. The other players listed are: [Derby Daily Telegraph 15/11]
---
---
21/11 - Former player Jimmy Low - signs up with Buckie Thistle.
---
23/11 - A terrific gale sweeps Britain and the roof is blown off the pavilion at St. James' Park.
---
---
26/11 - Preston deny that United have made an offer for Alec James.
---
December
---
---
01/12 - Amateur George Wilson Nevin's excellent performances in the reserves have attracted the interest of several big clubs so United sign him on professional forms. He is young, tall and well-built and comes from a well-known West Durham footballing family.
---
---
---
19/12 - Chairman JP Oliver (68) dies with tragic suddenness at his home (Oakdene, Jesmond Park West) shortly before six o'clock in the evening. Mr. Oliver has not had the best health since he had a seizure whilst attending a meeting of the League Management Committee in London in 1921. A member of the directorate since 1902, he was appointed chairman in 1918. Mr. Oliver succeeded the late Mr. John Cameron on the Management Committee of the League, and since football was resumed after the war had been actively engaged in the government of the game.
---
---
---
---
---
January
---
---
04/01 - A reason is not supplied but the club orders the players to meet at a city-centre hotel in the evening whereupon they will be kept under close supervision until tomorrow's match.
---
---
07/01 - Newcastle travel to Weston-Super-Mare to prepare for the Cup match with Swindon. They will be staying at the Grand Atlantic Hotel which is located on the seafront and is the largest in the town. They will be getting lots of rest and relaxation and will be undergoing very little training. Although the railway company are running an excursion from Tyneside to Swindon and back for less than a pound note, it is not expected that Newcastle United will have a big following at Swindon.
---
08/01 - Newcastle officials travel to Glasgow to enquire upon the availability of the famous international Andy Cunningham, but an agreement on a fee cannot be reached. It has been suggested that he may be required at St James's Park with a view to, sooner or later, utilising his ability and experience in a team manager capacity. He is fine two-footed forward, being almost equally at home in either inside-forward position. Since the war Cunningham has been one of the greatest personalities in Scottish football.
---
09/01 - Watt states that following the failed negotiations with Rangers "there was no probability whatever of Cunningham coming to Newcastle United". One player who is coming to Tyneside is young half-back, Hugh Angus, who is signed from the Coquetdale League team. Angus comes from Ashington and is 5ft. 10in. and weighs over 11st.
---
---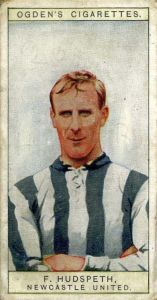 17/01 - Stockport County sign veterans Frank Hudspeth (38) and Thomas Curry (34).
Hudpeth joined United in March 1900 and in his 29 years at the club has made more appearances than any other outfield player (482). Although a left-back he has scored 38 goals, all but 4 of which were penalties.
South Shields born Curry has been at United for almost 17 seasons, amassing 248 appearances and scoring 5 times.
---
18/01 - Owing to their perilous financial position - caused by a lack of support - South Shields Football Club are considering a proposal to transfer their headquarters to the Newcastle racing track. No definite decision has yet been reached, but the proposal is likely to meet with strong opposition from the Newcastle United Club.
---
---
27/01 - Despite persistent rumours linking them with the player Newcastle deny that they are negotiating with Preston for Alec James, as, though they require forwards of his ability, their present need is for players of greater weight. A Newcastle official also states that they thought the fee placed on James "a fancy one."
---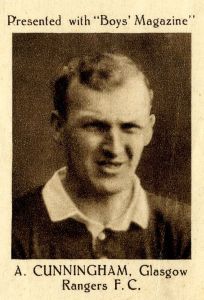 30/01 - Vastly experienced inside-forward Andy Cunningham signs from Rangers for an undisclosed fee thought to be about £2,500. He has been one of the finest players in the Scottish game but is 38-years-old tomorrow. He has been at Rangers for fourteen years following six years at Kilmarnock. A master schemer and great tactician, Cunningham has won 12 Scottish caps and has appeared in 10 Inter-league games. He has been considering retirement and unsuccessfully applied for the Tottenham manager's job a couple of seasons ago.
---
February
---
01/02 - Newcastle make enquiries with Sunderland over outside-left Len Hargreaves but they do not want to sell.
---
---
04/02 - Athletic News report that the fee for Cunningham was £2,250. a large share of which went to the player.
---
05/02 - United list seven players Owen (goalkeeper); Gillespie and Moody (backs); Park, Wood, Flannigan and Gibson (half-backs)
---
---
11/02 - Swindon secretary Sam Allen denies rumours that an agreement has been reached with United to sell centre-forward Morris to them at the end of the season. Although he admits that they have an obligation to sell him as soon as an acceptable offer is received.
---
---
21/02 - United have been invited to Spain for a close-season tour.
---
---
23/02 - Gallacher scores four goals in Scotland's 7-3 victory over Wales.
---
March
---
---
---
---
18/03 - At a meeting of the FA Council, Gallacher is reprimanded and warned for his conduct following his behaviour during the match at Leicester in February. He made a remark, rather strongly phrased, to an opposing player which was unfortunately overheard by the referee.
---
---
---
April
---
01/04 - The director's revised list of open-for-transfer players contains no fewer than 16 men, including some big names. The most prominent are Seymour (who is due his second benefit next season), Gibson and Wilson. Flannigan, Evans, Park, Owen, Gillespie, Bradley, Moody and McCartney are also amongst those listed.
---
---
02/04 - It is reported that one of the directors who attended the Arsenal match said that it was unlikely that Gallacher would play again this season due to a weak knee and a damaged ankle.
---
03/04 - Secretary Watt states that the reports on Gallacher's condition are untrue, he is reporting regularly for training and should be available for the Portsmouth game on Saturday.
---
---
08/04 - The club have applied to the Football League for permission to grant Seymour the £468 in accrued benefit that he would have been due next season.
---
---
---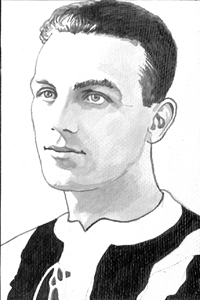 16/04 - Outside-left George Scott signs from South Shields for 1,250. He is 23-years-old 5' 3" and 11st. He comes from Blackhill and had an unsuccessful trial at Tottenham during the 1924/25 season.
---
---
22/04 - Jack Hill is selected for this summer's FA Continental Tour Team.
---
The club have had to abandon plans for a summer tour of Germany. Plans had been at an advanced stage but the German F.A. have vetoed it indicating that visits by English teams are not desirable.
---
---
30/04 - Inside-forward J Harcus signs a professional contract - he has been operating as an amateur in the reserves this season. Dipton United inside-forward J. T. Greenwell is also signed.
---
May
---
---
05/05 - Everton and Newcastle are both believed to be interested in Dundee United centre-forward Hutchinson.
---
06/05 - A match in aid of Hartlepool Hospitals is played in which a Hughie Gallacher XI (consisting of Newcastle and Sunderland players) plays a Carr XI (consisting of Middlesbrough and Sunderland players).
---
16/05 - Norman Bruce (centre-half) and Robert Dennison (inside-left) sign from Ratcliffe Welfare.
Born in Amble, Dennison (17) is an inside-left and a six-footer. He cost 10.
---
20/05 - An estimated 50,000 Catholics from the diocese of Newcastle and Hexham attend an open-air mass at St. James' Park to celebrate the centenary of the Roman Catholic emancipation.
---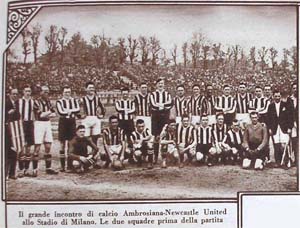 19/05 - Ambrosiana Milan 1 Newcastle 1 -
22/05 - Sunderland echo reporter Argus receives a sensational account of Sunday's game in Milan from Tommy Urwin and Bob Thomson and the paper reports it in their own words (written in the hotel on the evening after the game). "We witnessed some of the most amazing scenes to-day. We were one up in the first ten minutes, scored by Chalmers, our inside right. Then it began to get rough, but we were still in front at half-time. After changing over things got worse on account of the referee being very weak. He allowed the worst fouls imaginable and this at last led to Tommy Lang our outside left and their right back being sent off. Things went from bad to worse. They were given a penalty, what for nobody knows! Anyhow, the player deliberately missed the goal. After many more stoppages the game finished with the United still leading 1-0. All the boys played well, and our opponents were quite a good side, but the crowd was full of excitement and bitter against us. Well when we had to leave the stadium fully 5,000 awaited us, and we had to be escorted by the Army and the police, for our bus windows were smashed by the missiles thrown. Several players were hit. Burns, our goalkeeper, was cut about the face, and we were all lucky to escape. After being in the hotel a few minutes we were visited again by the mob, still strong, and flashing knives, and they are at this moment still outside giving us our "Sunday names". We have had orders not to leave the hotel tonight, and I can assure you we won't leave until train-time tomorrow (Monday)".
---
22/05 - Vienna Athletic Sporting Clubs XI 2 Newcastle 0
---
24/05 - Sporttagblatt criticises United's outdated tactics and ponders "poor Newcastle, what has become of you! The scientists without science". They also lambast the team's approach suggesting that they think they are on a pleasure cruise.
---
27/05 - The President of the Vienna FA (Herr Alexander Neumann) and the manager of the Rapid club (Herr Dionys Schoenecker) criticise United's "conservative, old-fashioned, machine-like safety first and unimaginative methods". They go on to say that "the British are perfect gentlemen, but they play as if their primary reason was to earn a day's wage instead of putting their heart into the game". They also suggest that the United players did not enter the field as fresh as they might have done.
---
27/05 - Sports Club Bratislava 8 Newcastle 1 - Local officials have enlarged the ground and built new grandstands in anticipation of the game but only 3,500 turn up. Bratislava take the lead through Uher after only five minutes and although Macdonald equalises on the half hour Priboj makes it 2-1 just before the interval. After the break Bratislava score five times in the first twenty minutes through Uher (48m), Bulla (53m), Cambal (54m and 60m) and Uher (65m). With fifteen minutes left Priboj gets injured and retires; Newcastle do not permit a substitute. But the home side stay in control and Uher scores his fourth in the last minute with a fine solo effort. At the conclusion of the game the crowd whistles vociferously in compalint. "Der Morgen" describes United's performance as the "peak of indolence" and argues that "this complete failure of the English" proves that "the gentlemen make only pleasure trips" and are not interested in providing "sporting value". "Reichspost" calls it "almost a scandal... without parable in the history of international football life". UP to 28th
---
29/05 - Slavia 1 Newcastle 1 (0-0) (12,000)
Prague Chalmers - penalty for oppo
---
30/05 - The Vienna newspaper "Sportagblatt" calls upon the Austrian FA to prohibit visits from English clubs in the future as "teachers who have nothing to teach, fighters who don't fight, and players who have no ambition to play are unwelcome visitors here."
---
30/05 - Milan newspaper "Corriere della Sera" flatly contradicts the claims against the Italian crowds. It claims that the English players lost their tempers when they perceived that the Italian team was tougher than they thought and they resorted to brutal methods in an attempt to disable their adversaries. They also claim that when the penalty was awarded the English players attacked the referee, kicking and bruising him. As a protest the Milan team refused to take the kick. Finally they say "we are astonished at the Newcastle United team's unchivralous and unsportsmanlike behaviour, rendered worse by their attempt to throw the blame on the Italians".
---
30/05 - Mr. F. G. Wall, secretary of the Football Association, responds to the Italian newspaper reports: "I have seen these statements. If there had been any improper behaviour by the English players in Italy it would have been the duty of the referee to bring such behaviour to the notice of the Italian F.A., who would then communicate with the English F.A. We have had nothing. I think it is sufficient for me to say that."
---
30/05 Hungarian Professional XI 4 Newcastle 1 - United suffer another defeat. Gallacher scores a penalty in the first half but he and Maitland are given their marching orders after the break as the play assumes a very rough character. After the game the Hungarian FA offcials refuse to pay Newcastle the sum of money agreed when the match was arranged; £165. It is believed that a part of the amount is paid after a strong protest by the United officials.
---
31/05 - Newcastle's display in Budapest results in very strong adverse comment in the Hungarian Press. It is claimed that the Hungarian FA are considering the advisability of refusing to arrange further tours and that they have refused to pay the sum of £165 due Newcastle United for the match. The money will be sent to the English FA, who will be asked to exercise their discretion as to whether Newcastle United should receive it or whether it should be refunded to the Hungarian authorities. The "Magyar Hirlap" says the English players did not play and claims they boxed, struck, and kicked the Hungarian players. "Ujsag" remarks that the Hungarian public will be represented by its enemies abroad as lacking in self-control and being too temperamental. Would the London public, it asks, have taken it calmly if the foreign players had been guilty of brutal conduct? It also claims that the spectators remained calm and preserved their dignity. The" Pesti Naplo" says Hill and Burns alone were above criticism. The " Budapest Hirlap" and the " Magyarsag" express the opinion that British professional football has spoilt itself in Budapest for years to come.