NUFC 1899/00 - Season Diary
---
Squad
---
June
---
02/06 - The AGM is held at the Hotel Metropole on Clayton Street; United made a profit of £2,859 10s 1d last season. In order to help finance the ground improvements which are underway; season tickets will be put on sale earlier this year. They will go on sale next week and will be available from WH Yates (100 Westgate Road), TT Mac's (Pink Lane) and the club offices (3 St. James' Street). Prices will be held with the exception of the "director's reserve" which will be raised to 30 shillings.
---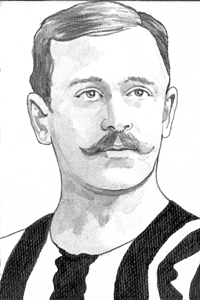 02/06 - Arthur Mowatt (24/25) signs for Lincoln City. The Hebburn lad has been at the club for 7 seasons.
---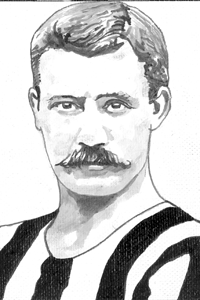 05/06 - United negotiate the transfer of J Fraser from Notts County. Fraser hails from Motherwell and joined County 12 months ago. He played a conspicuous game last season at outside left wing forward and is expected to fill this "problem" position for the Magpies. He is a tall, well-built young chap of great promise; very speedy and with a great shot on goal.
---
09/06 - Middlesbrough would like to sign Lockey and Stott, however up to now they have not agreed to pay the necessary fee.
---
11/06 - Bristol City have signed promising young keeper J. Watts from United.
---
23/06 - Centre-forward W Smith (25) moves to Swindon Town. He joined United (in February 1898) from Hibernians where he spent 5 seasons.
---
30/06 - Arrangements have been made for the Kaffir Association team to play a number of teams - including Newcastle - in this country. They are due to play around forty matches in total. The dusky players are reputed to possess remarkable staying powers.
---
July
---
10/07 - Tom Young - who for many seasons has been playing full-back for North Durham Rugby Club Second XI - has signed on for the United Alliance team as a goalkeeper.
---
29/07 - The turfing of the new pitch is completed.
---
There are reports that United have signed Williams from West Brom.
---
August
---
03/08 - United are still after a full-back and a forward, but claims that they have signed Williams from West Brom are unfounded.
---
04/08 - Fixture cards for the new season will be available from TT Mac's from tomorrow.
---
07/08 - The players report back for training.
---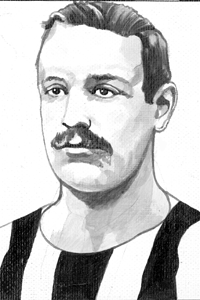 07/08 - Lockey has gone to New Brompton.
---
11/08 - Some 17,000 descend on St. James' to see the first practice game between the Whites and the Stripes in a match which amounts to an exercise-canter.
---
18/08 - J Forster has gone to Seghill.
---
18/08 - The second practice match takes place at the County Cycling Grounds in Gosforth in order to protect the new turf at St. James'. About 5,000 see a game of two thirty-minute halves which finishes 2-2. Former rugby player Young is in goal for the the Stripes and - all things considered - gives a creditable display. The game finishes in a 2-2 draw. Fraser picks up an injury during the game.
---
23/08 - The third practice takes place at St James' and 15,000 attend.
---
26/08 - Despite the tropical heat the players demonstrate excellent stamina and ability in an 80-minute exhibition game at Gallowgate. The game ends 3-3 and 7-8,000 attend.
---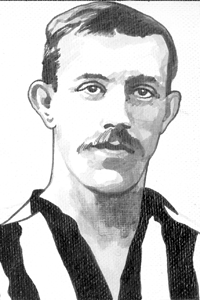 William Lindsay is signed from Grimsby.
---
Despite the cost of the ground improvements only Aston Villa made a greater profit last season.
---
September
---
01/09 - United open the season at West Brom tomorrow and travel down on the 1.47pm train to Birmingham. A huge crowd sees them off at Central Station. The players all look in the best of condition and appear sanguine as to the result of the match.
---
---
03/09 - The Kaffirs team were due to arrive in England a couple of weeks ago, but due to a problem with the ship booking they did not arrive until today. They will play their first game at St James' on Tuesday.
---
04/09 - The Kaffirs arrive in Newcastle and although there is only a small crowd to greet them at Central Station they receive a cordial welcome. They are a fine-looking lot of fellows and allegedly a terribly active lot who will take some holding. They will put up overnight at the Alliance Temperance Hotel.
---
---
---
11/09 - United have secured the signature of George MacDonald, a forward who had shown good form for Clachnacudden. He arrives in Tyneside today and the terms to the Scotsman are a two months' trial, £3 a week.
---
15/09 Middlesbrough acquire Todd and inside-forward Lamb.
---
---
21/09- Driver Edward Hesmond Halgh is fined 20s plus costs for driving four horses in a stage coach. The occupants of the coach were the Newcastle United football team and his defence was that he was trying to get them to the station in time for the Newcastle train.
---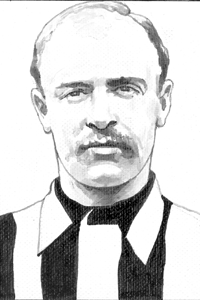 22/09 - James Stott moves to Middlesbrough. He took a £250 benefit last season and had been about to retire and take up the management of a Public House.
---
---
24/09 - United sign on two new players. Outside-right William Rae comes with excellent credentials from Scotch club Douglas Wanderers and will be tried out in the reserves next Saturday. J Pollard is a half-back from Nottingham who has signed as an amateur.
---
---
The Bury defeat has knocked the wind out of United's sails and some of the press suggest that they need to add a bit more dash to complement their strictly scientific football; especially when playing "kick and rush" teams.
---
October
---
---
09/10 - Among the players given permission to practice on grounds of clubs other than those that they are registered with are Stott and Lamb, who both transferred to Middlesbrough recently.
---
10/10 - The directors and players (on invitation) attend the Grand Theatre to witness a performance of the farce "Our Irish-Visitors" which stars Tom E. Murray, one of the funniest comedians entertaining the public at present.
---
---
19/10 - Newcastle are to make a contribution of twenty guineas to the Mayor of Newcastle's fund for the purpose of assisting the wives and families of the Reservists who have been called upon to serve their country in the crisis which has arisen between England and the Transvaal.
---
---
28/10 - Inside-left MacDonald joins Lincoln City.
---
November
---
---
11/11 - Rogers looks like being chosen for the England tour of Germany.
---
---
Secretary Frank Watt has taken exception to remarks made by the Midlands correspondent of the Athletic News who claimed that the incident involving the Villa supporters and Lindsay (who was hit on the head by a stone) was just "harmless chaff". He says the United fans got a lot of criticism last year when they played the Villains, but have never behaved as badly as that.
---
14/11 - J Harvie is solemnised at St Bede's; the best man is Sunderland captain R. McNeill.
---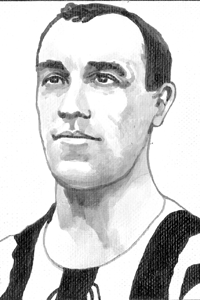 15/11 - United sign Alex Gardner of Leith Athletic. He has been much sought after by a number of clubs which has rather unsettled him. He is reckoned the smartest outside-right forward in Scotland.
---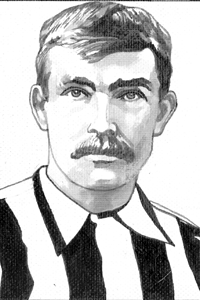 17/11 - When White moved to Dundee in the summer there was no fee involved; he has now moved to Leicester Fossee and a payment has been made. Although the deal has been sanctioned, Newcastle are not happy and are claiming they still have ownership.
---
---
---
December
---
---
---
---
---
---
Snowball of Shankhouse (who played against Kilmarnock) had an unsuccessful trial at Newcastle last season. United want him for the Alliance team but Shankhouse don't want to let him go. Newcastle have taken matters to the English Association.
---
---
---
January
---
---
Former player James Collins passes away aged 27. He suffered a fearful injury playing for Chatham on Boxing Day, falling on sharp flint. Although he was sent home after being stitched and dressed in hospital, lockjaw set in. He has no relatives at all and the club are to pay for his funeral.
---
02/01 - The friendly with Southampton which was due to be played this afternoon is cancelled due to the state of the ground following this morning's heavy rainfall.
---
---
13/01 - At a recent meeting of the directorate it was decided to subscribe £100 to the Football Association Special Transvaal War Fund. Together with the £21 already given to the Reservists fund, United have subscribed the largest money of any club to our soldiers.
---
13/01 - From next Monday United will commence special training in preparation for the Cup tie with Reading. They will be based at the salubrious Gosforth Park Hotel.
---
---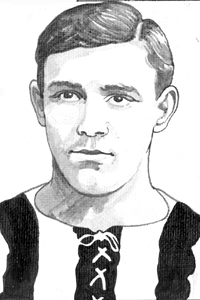 19/01 - George Mole of Stockton St John's has signed on as an amateur. He is 22, 5' 10" and weighs between 11 and 12st. He is stated to be the best centre-forward on Teesside with a deadly shot at goal.
---
---
Clever inside-right Goldie is suspended "sine die" for a breach of club discipline on Saturday night; it is his second offence. Nelson and O'Brien are fined for serious misconduct.
---
23/01 - United are to lodge a protest abput the game at Derby owing to the time limit being exceeded by three minutes during which time the Peakites scored the winner.
---
---
Lindsay has come into conflict with the directorate after a breach of training regulations and has been suspended.
---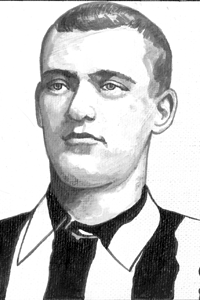 31/01 - at a meeting of the directors the subject of Peddie's non-appearance at Gosforth Park is considered. It transpires that he was granted leave of absence until 5.30 but had failed to adhere to the arrangement and had not since appeared. He has been suspended "sine die."
---
February
---
---
06/02 - At the weekly meeting Peddie's suspension is lifted as he has apologised.
---
08/02 - At a meeting of the Football League, Newcastle's protest about the Derby (away) result being allowed to stand is dismissed. United claimed that the referee had allowed the match to go two and a half minutes overtime during which period the home side scored the winner.
---
---
15/02 Newcastle's train to Winchester is delayed by thirty minutes due to the arrival of a distinguished Chinaman alighting from the train at Newcastle. During the journey they are snowed up for several hours. The club's medical advisor Dr Vickery reveals that Dave Gardner is very bad with a severe throat and chest infection and is unable to get out of bed.
---
---
March
---
---
04/03- Griffiths thankfully regains consciousness.
---
---
---
---
21/03 - Dave Gardner, Alec Gardner and Jock Peddle all play in the Scots verses Anglo-Scots trial in Glasgow. Aitken should have played too, but the selection committee thought he was unavailable. Peddie Scores.
---
---
---
---
April
---
---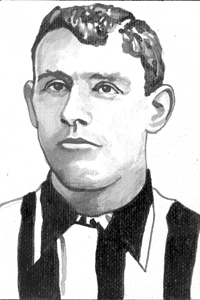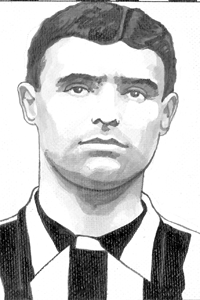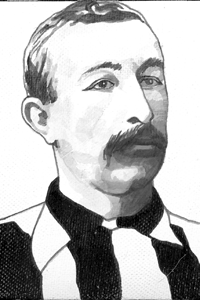 09/04 - To assist Middlesbrough in their present troubles Wardrope, Niblo and Ostler all head for Teesside.
---
13/04 - It is rumoured that the Middlesbrough signings are temporary until the end of the season only.
---
---
---
---
---
19/04 - The standard weekly wage for first-teasers is £3 10sh and it is rumoured that some of the players are agitating for £5.
---
---
23/04 - The financial question which had threatened to cause a serious difficulty in the re-engagement of the principal players has been satisfactorily resolved. The players will get a substantial wage and substantive bonuses.
---
28/04 - The Wear-Tyne derby brings the usual mass migration of supporters with numerous trains travelling to Monkwearmouth Station, many of the carriages are so full that they take some minutes to empty. Non-train travellers commandeer every kind of contraption on four wheels with vehicle proprietors making rich pickings. Fifteen turnstiles are open, but there are chaotic scrimmages at the entrances.
---
---
During the match supporter William Rutherford (57) dies due to failure of the heart brought on by over-excitement.
---
There are rumours that Newcastle and Sunderland have been asked to join the Scottish League.
---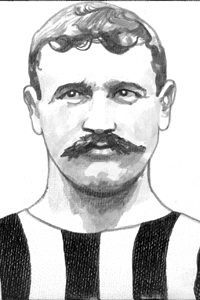 01/05 United sign Charles Burgess, right full back of Millwall Athletic and late of Dundee.
---
The players get a bonus of £10 for finishing 5th.
---
04/05 - The transfer back from Middlesbrough of Wardrope, Stott and Niblo is not passed by the Football League and the clubs have been ordered to attend the next League meeting.
---
04/05- Higgins moves to Middlesbrough
---
09/05 At a special meeting of the Football League, representatives of Newcastle and Middlesbrough are asked to explain the position of the Newcastle players. Following their deliberations the transfers of Ostler and Wardrope are refused, but the transfer of Niblo is granted.
---
Mozart and Lamb.
---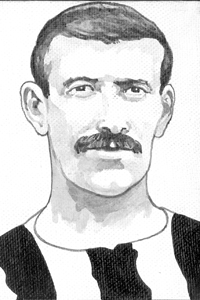 12/05 - The services of left full back Edward Allan have been secured from Millwall Athletic.
---
30/05 - The balance-sheet is issued, showing total income of about £11,000. There is a deficit of £1,700, but it must be remembered the club spent £3,200 on ground improvements last summer.