Iam McFaul (1967/68 - 1974/75)
A tow-headed Irishman, Iam was famously signed by United after conceding seven goals against them in a friendly match against his current team Linfield. He was 23 when he signed and stayed at the club until he retired at the surprisingly young age of 31.
He was first choice 'keeper from 1968/69 until 1974/75 and only the brilliance of Pat Jennings stopped McFaul winning a string of caps for Northern Ireland.
Only 5' 10", but his agility, anticipation and quick reflexes more than made up for his lack of inches. Iam was also very courageous and often suffered minor injuries as a result.
Capable of making superb reaction saves, but also had a predisposition for letting in some really soft goals. However, he always seemed to put in his best performances in the most crucial games.
---
Stat Box
| | | | |
| --- | --- | --- | --- |
| Birth | 01/10/1943 | Coleraine | N Ireland |
| Ht/Wt | 5-10 | | |
| Joined | 11/1966 (23) | Linfield | £7,000 |
| Debut | 12/11/66 (23) | Liverpool (H) | Div 1 |
| Retired | 06/1975 (31) | | |
| App/Gls | 386 | | |
---
Season by Season
1966/67 [8] [23] [1]
Iam is signed from Linfield and with Marshall injured and Hollins out-of-favour McFaul is thrust straight into the side. It is a tough baptism for the previous part-timer and he concedes 20 goals in the 8 games he plays.
1968/69 [58] [25] [1]
Impressive form in pre-season saw him preferred to Gordon Marshall and he played in every game bar one (when he was on international duty). He had a fantastic season rising to the occasion when it mattered and no more so when he saved Penman's penalty in the first leg of the Fairs Cup semi-final.
---
1969/70 [52] [26] [1]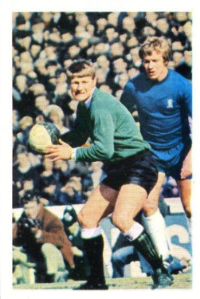 Was an ever present which was just as well as United were severely lacking in goalkeeping cover after reserve 'keeper John Hope was injured. He added consistency and better handling to his reportoire and improved immensely.
---
1970/71 [48] [27] [1]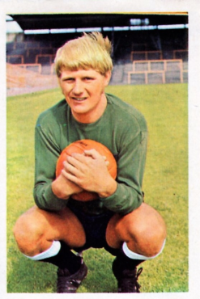 Had another sound campaign although he admitted at one stage that the lack of goals was making him more nervous as he knew that one slip at the back could cost them the game. There was no repeat of his penalty heroics in the Fairs Cup as he failed to stop any of Pesci's efforts in the shoot-out. Only missed one game.
---
1971/72 [45] [28] [1]
During the summer went on a five-week playing holiday to Vancouver. For the second year running missed only one competitive game.
---
1972/73 [39] [29] [1]
Had a few shaky moments, making some mistakes and conceding an own goal at Birmingham. He even had a rare spell out of the side when he got injured and then found that the form of replacement Burleigh meant he was in the reserves.
---
1973/74 [53] [30] [1]
Only missed a couple of games and had one of his best ever games in the FA Cup semi-final victory over Burnley.
---
1974/75 [47] [31] [1]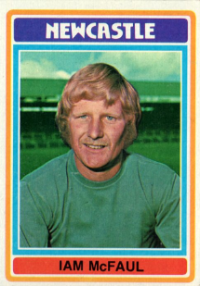 Despite at one stage saying he felt more confident than ever he played behind an ever changing defence and conceded a hatful of goals and decided to retire.
---
Resources
Sources
Painting by Piotr
Cards/stickers from DOINGTHE92
External links