NUFC 1976/77 - Season Summary
---
NUFC 1976/77 Squad
---
| | | | |
| --- | --- | --- | --- |
| Division 1 | 5th | Manager | G Lee > R Dinnis |
| FA Cup | R4 | Coach | R Dinnis |
| League Cup | R4 | Captain | G Nulty |
| | | Top Scorer | M Burns (17) |
| Attendance | 33,529 | Chairman | Lord Westwood |
---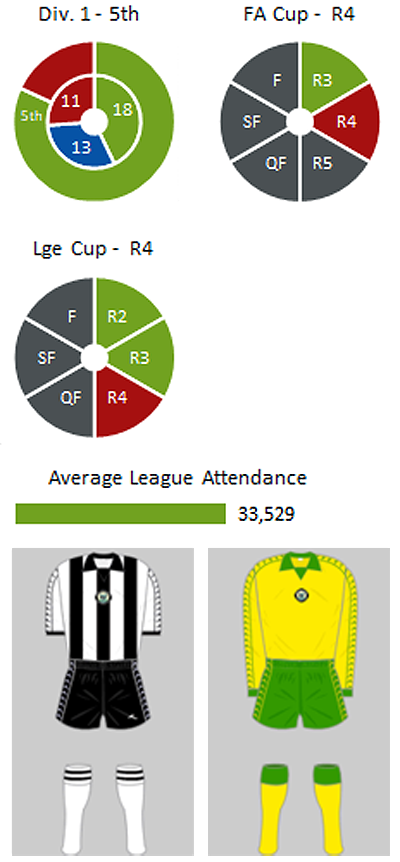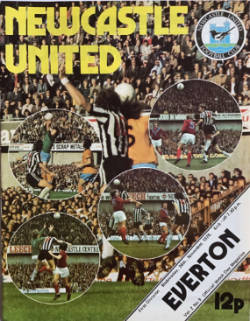 With the sale of Macdonald Newcastle had lost the man who had scored approximately a third of United's goals over the last five seasons and many were tipping a relegation battle. However it was also an opportunity for the remaining players to come out of his imposing shadow.
The team was now starting to play in Lee's style; cuatiously progressive at home and ultra-cautiously defensive away. The tactics brought them bouquets and brickbats in equal measure.
At the end of the year United were fifth, but Everton were in need of a new boss and in January Lee walked out to join them.
The players wanted coach Dinnis to take over but many of the board were uneasy die to his lack of experience. An unseemly row developed which at one point saw the players passing a vote of no confidence in the Board and ended with Dinnis being given the job until the end of the season.
Team spirit steadied the boat and the Magpies finished in fifth (the highest finish for 26 years) and qualified for the UEFA Cup.
---
Competitions
---
League
| | | | | | | |
| --- | --- | --- | --- | --- | --- | --- |
| 21/8/76 | H | Derby | D | 2-2 | | |
| 25/8/76 | A | Tottenham | W | 2-0 | | |
| 28/8/76 | H | Bristol | D | 0-0 | | |
| 04/9/76 | A | Middlesbrough | L | 0-1 | | |
| 11/9/76 | H | Manchester Utd | D | 2-2 | | |
| 18/9/76 | A | Leeds Utd | D | 2-2 | | |
| 25/9/76 | H | Liverpool | W | 1-0 | | |
| 02/10/76 | A | Norwich | L | 2-3 | | |
| 06/10/76 | H | WBA | W | 2-0 | | |
| 16/10/76 | A | Coventry | D | 1-1 | | |
| 23/10/76 | H | Birmingham | W | 3-2 | | |
| 30/10/76 | H | Stoke | W | 1-0 | | |
| 06/11/76 | A | Man City | D | 0-0 | | |
| 20/11/76 | A | WHU | W | 2-1 | | |
| 24/11/76 | H | Everton | W | 4-1 | | |
| 27/11/76 | H | QPR | W | 2-0 | | |
| 04/12/76 | A | Arsenal | L | 3-5 | | |
| 18/12/76 | A | Aston Villa | L | 1-2 | | |
| 27/12/76 | H | Sunderland | W | 2-0 | | |
| 22/1/77 | A | Derby | L | 2-4 | | |
| 05/2/77 | A | Bristol | D | 1-1 | | |
| 16/2/77 | H | Man City | D | 2-2 | | |
| 19/2/77 | A | Manchester Utd | L | 1-3 | | |
| 26/2/77 | H | Tottenham | W | 2-0 | | |
| 02/3/77 | H | Leeds Utd | W | 3-0 | | |
| 05/3/77 | A | Liverpool | L | 0-1 | | |
| 09/3/77 | H | Ipswich | D | 1-1 | | |
| 12/3/77 | H | Norwich | W | 5-1 | | |
| 15/3/77 | A | Stoke | D | 0-0 | | |
| 19/3/77 | A | WBA | D | 1-1 | | |
| 23/3/77 | H | Coventry | W | 1-0 | | |
| 26/3/77 | H | Middlesbrough | W | 1-0 | | |
| 02/4/77 | A | Birmingham | W | 2-1 | | |
| 08/4/77 | A | Sunderland | D | 2-2 | | |
| 09/4/77 | H | Leicester | D | 0-0 | | |
| 16/4/77 | H | WHU | W | 3-0 | | |
| 23/4/77 | A | QPR | W | 2-1 | | |
| 30/4/77 | H | Arsenal | L | 0-2 | | |
| 04/5/77 | A | Leicester | L | 0-1 | | |
| 07/5/77 | A | Ipswich | L | 0-2 | | |
| 14/5/77 | H | Aston Villa | W | 3-2 | | |
| 24/5/77 | A | Everton | L | 0-2 | | |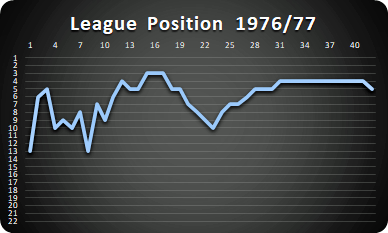 Embed from Getty Images
---
United were expected to struggle having sold Macdonald and not replaced him, but they secured their best ever finish since 1950/51 and qualified for the UEFA Cup.
In the first 4 months of the season Newcastle started to play in the manner that Lee wanted. It wasn't always good to match but he was getting results and at the start of December United were in 3rd.
There were 3 defeats in the next 4 games including a 5-3 defeat at Arsenal in which Macdonald scored a hat-trick and at the end of January Lee walked out to take over at Everton.
Player power resulted in coach Richard Dinnis being made temporary manager until the end of the season and although their form was patchy Newcastle finished 5th.
---
FA Cup
| | | | | | | |
| --- | --- | --- | --- | --- | --- | --- |
| R3 | 08/1/77 | A | Sheffield Utd | D | 0-0 | |
| R3r | 24/1/77 | H | Sheffield Utd | W | 3-1 | |
| R4 | 29/1/77 | H | Man City | L | 1-3 | |
R3: Around 10,000 fans made the trip to Sheffield and they were rewarded with a composed if somewhat undistinguished performance. The Blades' chances were reduced further when they had to play the last 30 minutes with 10 man having lost 2 players through injury.
R3r: A reasonably convincing 3-1 victory despite looking shaky defensively. United could even afford a rare missed penalty from Craig.
R4: Gordon Lee's pre match motivational talk revolved around telling the players he was off to Goodison to take over as manager of Everton. The weather was as bitter as the mood and fighting fans spilled onto the pitch side forcing the referee to take the players off whilst the police restored order.
---
League Cup
| | | | | | | |
| --- | --- | --- | --- | --- | --- | --- |
| R2 | 01 / 9 / 76 | A | Gillingham | W | 2 - 1 | |
| R3 | 22/9/76 | H | Stoke | W | 3-0 | |
| R4 | 27/10/76 | A | Manchester Utd | L | 2-7 | |
R2: United were forced to field a very inexperienced forward line in the first ever game between the two clubs and it was a narrow victoty.
R3: Only a fine performance from England keeper Peter Shilton prevented a thrashing as United won with ease.
R4: Newcastle concede seven goals for the first time in 23 years.It remains Newcastle's heaviest defeat in their dismal League Cup history.
---
Management
"We're Doing it My Way"
The departure of Macdonald heaped pressure on manager Lee who still had to win over the majority of the fans. Not that it appeared to bother him: "We're going in the right direction and we're doing it my way . I've never lost confidence in my ability to coach and get people to play. If the moment ever arrives when I do I will walk out on this club".
Ron Lewin who resigned as first team coach during the summer begged to disagree: "there's only one way this club is going and that is down" he blasted.
The departure of Lewin allowed Richard Dinnis to move up to first team coach whilst George Herd took over the reserves and Iam McFaul looked after the juniors. McFaul took over the reserves when George Herd also resigned and Frank Spraggon took over as Junior coach.
Lee increasingly helped out with the juniors, trusting Dinnis to coach his mantra. Dinnis was delighted with the "freedom" he had been given to try out his own ideas within the "framework" that Lee had set up. Early criticism of the teams tactics did not faze him: "the amateur in me cries out that we have an obligation to spectators to entertain, while the professional side demands results."
But by December Lee decided he wanted to get involved in the first team again; something which caused friction between him and Dinnis who had been accustomed to looking after them himself. There were even suggestions that Lee was going to get rid of his coach.
I'm Off
Following the sacking of Billy Bingham Everton were after a new manager and they turned to Lee. Although he was to be paid £20,000 a year he claimed that money was not the reason for his departure in a confusing, but philosophical resignation statement.
When Lee was asked whether he regretted his move as United headed for Europe he made his feelings very clear."They're (Everton) a big ambitious club that wants to be the best. I've got problems here, but none of the frustrations I had in the North East. Everton act big as well as talk big".
THe Rise of Richard Dinnis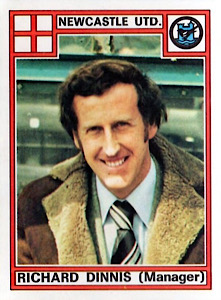 It was thought that United would seek to replace him with another manager from the lower divisions. Names like John Neal (Wrexham), former coach Dave Smith (Mansfield) and Graham Taylor (Watford) were mentioned. In the end the directors made a failed attempt for the experienced Bolton manager Ian Greaves.
The players wanted Dinnis to be made manager but many of the directors were uncomfortable with the idea. It led to a remarkable stand off between the directors and players with Dinnis stuck in the middle. Sensationally "player power" eventually won the day and the Board made Dinnis caretaker manager until the end of the season after the players passed a vote of "no confidence" in them.
Despite all the upheavel United qualified for the UEFA Cup, but not all of the directors were happy; at least not according to Jackie Milburn. At least one of them had wanted the club to fail as qualification put them under more pressure to appoint Dinnis. Eventually, in a far from unanimous decision, Dinnis was offered and signed a two year contract. His problems were unfortunately just beginning.
Some semblance of peace had been restored but it was clear the situation had been fully resolved. One person more certain than most was shareholder Malcolm Dix who wanted to call an extraordinary general meeting to pass a vote of "no confidence" in the Board and demand the resignation of certain directors.
And more storm clouds were already brewing before the season's end. Every single first-team player bar new signings Steve Hardwick, Ralph Callaghan and Martin Gorry (none of whom had featured) was out of contract at the end of the season; even all the one year options had expired.
Vote of No Confidence
Shareholder Malcolm Dix wanted more positive action. He called an Extraordinary General Meeting with the aim of passing a vote of "no confidence" in the board and forcing the resignation of certain directors. He also wanted Westwood moved upstairs and Gordon McKeag installed as the new chairman.
The meeting was called for May 12th; just a couple of days before the last match of the season. Delaying it was clearly an attempt by the directors to diffuse the situation.
"They are playing for time but they needn't bother" said Dix. "All the problems will never evaporate at this club as long as the present eight directors at this club remain in power en bloc".
The resolution was beaten with Dix having to suffer personal attacks from the board and its supporters. The board made it clear that they would run the club their way and were openly critical of the pressure exerted by the players over recent events.
Severely Censured
United had entered the Anglo Scottish Cup again and it had provided them with some competitive pre-season friendlies. However, once the season was underway Lee regarded it as an incumbrance for a club with such a small group of experienced players.
"I must be realistic and whilst treating the tournament with respect do what I consider best for Newcastle United" said Lee. That translated to sending a virtual reserve side to play away at Ayr. United lost 2-0 and were then fined £4,000 and expelled from the competition. Lee was "severely censured".
Souness is a Dirty Clogger
Dinnis' public attack on Graeme Souness after a challenge he made on Tommy Craig during the "derby" at Ayresome Park seemed pretty reasonable at the time. But in their wisdom the board decided it was not acceptable and letters of apology from Dinnis and Westwood were sent to Ayresome Park and printed in the match programme. The players were incensed.
Lord Save the Team
Blackburn chairman William Bancroft made a virulent attack on Lord Westwood who - in his position as President of the Football League - had banned Blackburn from signing any players due to the fact that Blackburn had not kept up with the payments for Glen Keeley.
Relationships between the two clubs were already at an all time low because the Lancastrians believed that United had poached Gordon Lee in the summer of 1976 and also that United were falsely claiming that Roger Jones was not fit to play professional football.
Roger Jones had signed from Blackburn in March 1976 but a wrist injury and a knee injury meant he had not played this campaign. Newcastle granted him a free transfer and he moved to Stoke. Significantly the deal agreed with Blackburn contained additional money based on the number of appearances Jones made. He played for another eight years.
Blackburn demanded a League inquiry into their dealings with United over the last 20 months. It was headed by Burnley's controversial chairman Bob Lord who famously said about Westwood when he was pipped to the post of League secretary that he'd "forgotten more about football than he ever knew."
Joe Harvey
On a more positive note Joe Harvey was granted a well deserved testimonial and a crowd of 14,000 saw a Newcastle side beaten 5-2 by an International XI.
But the real thrills were reserved for the testimonial dance at the Mayfair which must have been quite a night, The highlights were the "incomparable Wilf Ray Orchestra", the "sensational sounds of Spring Time Harmony" and a "marvellous demonstration of Rock and Roll (dancing) which really had to be seen to be believed".
And to top it all off: some beautiful dancing from Ian and Leona Morton who demonstrated "the intimate and sophisticated art of Latin American dancing" before they "surprised everyone by dancing a complete contrast, the Charleston".
---
Toon In
| Surname | Date | From | Fee |
| --- | --- | --- | --- |
| Carr Kevin | 07/1976 | Internal | |
| Chambers Colin | 07/1976 | | |
| Scott Jamie | 07/1976 | Internal | |
| Gorry Martin | 10/1976 | Barnsley | £50,000 |
| Hardwick Steve | 12/1976 | Chesterfield | £80,000 |
| Callaghan Ralph | 02/1977 | Hearts | £100,000 |
| Barton David | 05/1977 | Internal | Free |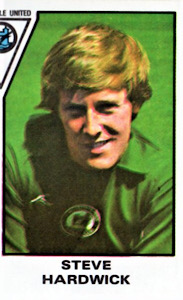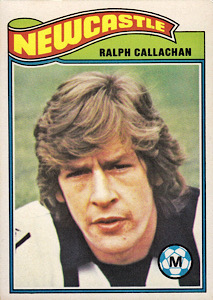 With £400,00 from transfers added to a £120,000 profit from the previous year Lee should have had money to burn. But despite being linked with a whole host of players and admitting the squad needed more depth the only arrivals were Martin Gorry, Steve Hardwick and Ralph Callaghan (who was signed after Lee's departure).
Partick Thistle manager Bertie Auld who was "sick and tired of reading or hearing " that Newcastle wanted young star Alan Hansen. United watched him continuously but failed to make a move; they should "put up or shut up" blasted Bertie. Later Jackie Milburn would suggest that the reason a bid was never made was because Lee did not like Scottish players.
---
Toon Oot
| Name | Date | To | Fee |
| --- | --- | --- | --- |
| Smith Jim | 07/1976 | Retired (inj) | |
| Edgar Eddie | 07/1976 | Hartlepool | |
| Macdonald Malcolm | 08/1976 | Arsenal | £333,333 |
| Keeley Glen | 08/1976 | Blackburn Rovers | £30,000 |
| Howard Pat | 09/1976 | Arsenal | £50,000 |
| Tudor John | 10/1976 | Stoke | £30,000 |
| Jones Roger | 02/1977 | Stoke | |
| Owens M | /1977 | Local Non-L | |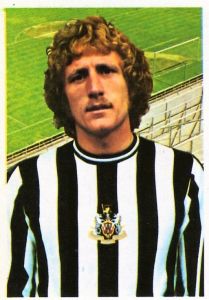 It really was the end of an era with Macdonald departing to Arsenal for a record fee and being followed out the door by Howard and Tudor whilst Jim Smith was also forced to retire.
---
Players
| Player | A | S | G |
| --- | --- | --- | --- |
| Barrowclough S | 47 | 0 | 4 |
| Bird J | 5 | 1 | |
| Blackhall R | 7 | 11 | |
| Burns M | 46 | 0 | 17 |
| Cannell P | 35 | 1 | 13 |
| Cassidy T | 41 | 0 | 2 |
| Craig D | 3 | 2 | |
| Craig T | 44 | 0 | 10 |
| Gowling A | 40 | 0 | 12 |
| Guy Alan | 3 | 0 | |
| Howard P | 0 | 1 | |
| Hudson R | 5 | 0 | 1 |
| Kennedy A | 48 | 0 | 2 |
| Mahoney M | 48 | 0 | |
| McCaffery A | 43 | 1 | 4 |
| Mitchell K | 3 | 0 | |
| Nattrass I | 46 | 0 | 4 |
| Nulty G | 48 | 0 | 3 |
| Oates G | 15 | 3 | 3 |
| Tudor J | 1 | 0 | |
Team
01: Mahoney
02: Nattrass
03: Kennedy
04: Cassidy PEX
05: McCaffery
06: Nulty
07: Barrowclough
08: Cannell
09: Burns
10: Gowling
11: Craig
---
Players
---
"I've never known such dissatisfaction among players in my life"
The big news story of the summer was the departure of Malcolm Macdonald who, unsurprisingly, had a lot to say about the situation at the club including his view on the state of the squad he was leaving behind. "I've never known such dissatisfaction among players in my life. There just can't be any hope of lasting success at Newcastle with all the carry-on behind the scenes."
Although Gowling claimed that team spirit had improved in the 12 months he had been at the club it is fair to say there was a lot of unrest during that hot summer of '76.
Gowling and Nulty led a deputation to see Chairman Lord Westwood as they were unhappy with their share of the rewards from the massive amount of cup matches played in the previous season; the players being played by the rounds progressed through (8) and not by the match (16).
The club's hands were tied somewhat as new government regulations prevented them from giving players any pay rises if they already earned over the specified limit of £8,500 (which all first teamers did). Nulty and Gowling sought clarification; but they were told that there was nothing the club could do.
However although they could not offer better basic contracts there was nothing to stop them improving bonuses. Some clubs offered "loyalty" payment to players after a specified number of seasons service; United had no such scheme.
Effectively a player would have to transfer to get a better contract and consequently both Pat Howard and Irving Nattrass handed in transfer requests. In the end a written promise of a testimonial match persuaded Nattrass to stay on. Tommy Craig and Mick Mahoney were also spent the summer weighing up their options; both ended up staying.
The player's actually turned their back on a potential £2,000 payout when they refused to appear in the TV show "All in the Game". The money was paid to the winners of the competition.
Exploited
They players were also up in arms about the new Bukta supplied tracksuit and strip. The strip had the Bukta motif down the sides and the name of the company was emblazoned across the back of the tracksuit tops.
They were furious that the club had not informed them and felt as if they were being "used" and "exploited"; acting as advertisements and getting no recompense. They wanted a payment into their players pool
Geoff Nulty even approached one of the Bukta directors to put over the player's concerns.
Gymnasium
The players had a new £50,000 gymnasium at the Benwell training ground, unfortunately the tarmacadam playing surface was causing problems. The players thought it too hard especially the goalies who didn't like to dive on it! .Wrist injuries suffered by both Nattrass and Cassiddy supported their case.
Player Power
When Lee left the players decided that they should throw their support behind Dinnis. Westwood invited a deputation of players (Nulty, Burns and Gowling) to put across their views and the players left believing that Dinnis would be given the chance as "caretaker-manager" until th end of the season.
However secretary Russell Cushing announced that Dinnis would be in control of "team affairs and team selection" for a trial period of four weeks and there there was no use of the word manager.
Nulty in particular was furious that - in his opinion - the director's had gone back on their word and another meeting was held with the Board. They were told that some of the directors were reluctant to give Dinnis the job due to his lack of experience. The players felt as though they had been misled by the directors and organised a meeting with Dinnis in attendance. Some reportedly wanted to strike, but in the end they decided to issue a press statement in which they stated that they recognised the right of the directors to select whoever they wished as manager and were conscious of the use of "player power", but never the less wanted to ensure that the directors were fully aware of their feelings.
The Board backed down and announced that Dinnis would be caretaker-manager effectively "on trial" until the end of the season.
Within days Ralph Callaghan was signed from Hearts with Dinnis allegedly nothing about the deal! The players met again and issued a statement of "no confidence" in the board and demanded a showdown meeting with Dinnis and the directors. Dinnis met with the directors in the evening.
Remarkably, the Directors acquiesced once more and announced that Dinnis had been offered and had accepted a contract as acting manager until the end of the season.
Iam McFaul was a busy man; coaching the juniors and then the reserves and also playing for the juniors and the reserves and even the first team (Anglo Scottish Cup).
---
Fans
---
Attendances
Despite United's success in the League campaign the average attendance dipped slightly to 33,934. The top crowd was 49,664 for the Tyne Wear derby. It was a reflection of the sale of Macdonald, the mixed feelings towards United's more cautious style and the resignation of Lee.
A number of games were made all ticket in an attempt to try and curb the trouble makers. The Man United match at SJP was quite remarkable in that only 39,037 fans turned up due to the bad weather despite the fact that thousands more tickets had been sold.
Mac Attack
There were mixed feelings about Macdonald's departure. Some fans blamed the board, most blamed Lee and there was a minority who saw Macdonald as the instigator of the move, either wishing him well or offering good riddance.
Although there was talk of a possible fans boycott secretary Alan Robinson said "not one solitary member has threatened to chuck it. I'm sorry Mac has gone because he's a good player, but that's the end of it". Other supporters were less forgiving and a brick was thrown through the window of his shop.
More turned against him due to his press "gloatings" after his hat-trick helped his new employees to a 5-3 victory over United in December.
Gordon Lee also divided the fans. Some were impressed by the fact that he had the club hovering around the top of the table whilst others couldn't forgive him for selling Macdonald and didn't appreciate the new style of play.
It will come as no surprise that during Lee's last game in charge - when it was known he was on his way - there were choruses of "sack the board". But it may well surprise that another song sung was "We love you Gordon"!
Trouble
Hooliganism continued to worsen generally with a whole host of serious incidents including the death of an eighteen year old fan and culminating in the Scottish invasion of Wembley during the Home Internationals. FA Chairman Sir Harold Thompson proposed a three point plan for defeating the hooligans:harsher penalties, a re-imposition of the ban on "football special" trains and the erection of fencing. Meanwhile secretary Ted Croker took a longer term view and called for the introduction of all seater stadia.
The "magnanimity" of the United supporters was praised in the Rothmans Football Yearbook who stated that they had been the real stars of the 1976 League Cup Final; but 1976/77 again saw many examples of the violent side of a minority of the supporters.
United fans went on the rampage in Norwich causing hundreds of pounds worth of damage and leaving one establishment "half wrecked". It led to the club issuing a message in the programme reminding the fans that they were ambassadors for the club and the city.
There were less than 10,000 fans at the friendly against Hibernian - approximately 1,000 from Scotland - but the police were anticipating trouble and had a 150 officers on duty. They were proved right as there was continuous fighting on the terraces during the match. Nine fans were arrested and another fifteen thrown out. A Scotsman staged a one man pitch invasion with sixteen officers in hot pursuit, one of which ended his progress with a fine rugby tackle. After the game the Scots fans had to be escorted back to their coaches and trains as thousands of United supporters milled around town.
Extensive fighting broke out when United visited Maine Road; fifty fans were thrown out and a policeman was assaulted.
When the match against Ipswich was abandoned at half-time hundred of fans rampaged through the city centre. They streamed out of the ground - some chanting "Eldon Square here we come" and shop windows were smashed, cars were damaged and Christmas shoppers fled in terror. Officers had to be drafted in from the outskirts of town to help out the 150 assigned to the match and they made eleven arrests in all. Hundreds more stayed around the ground demanding the return of their ticket money and it wasn't until an hour later than police and their dogs managed to disperse the crowd.
Secretary Russell Cushing explained that under FA rules the club could not refund them as the match did start whilst chairman Westwood later stated that it was because of the "impracticalities" of paying back so many people through the gate. Ipswich manager Bobby Robson said he "didn't ask the fans to pay".
At the FA Cup tie at home to Manchester City 108 fans were ejected and 10 more arrested when fighting broke out between rials supporters. The trouble started when supporters at the front of the Gallowgate were getting crushed as the crowd surged forward. Panic set in and children were hoisted onto the cinder track. In the chaos the previously segregated fans became intermingled. As the trouble escalated fighting fans spilled onto the pitch and the referee was forced to halt the game for twelve minutes.
Thirty were ejected at Bristol during the game was City and one of the United' coaches was vandalised by the home supporters.
---
1970s Seasons
---
1970/71
1971/72
1972/73
1973/74
1974/75
1975/76
1976/77
1977/78
1978/79
1979/80
---