Newcastle United - 1972/73 - Diary
---
---
NUFC Review 1972/73
NUFC Squad 1972/73
---
June
---
---
---
07/06 - Following intensive training to build-up his legs Jimmy Smith is now one hundred percent fit.
---
---
16/06 - Young Goalkeeper Eric Steele (18) signs his first professional contract. Last season, whilst still at school, he played several games for the Reserves as an amateur. He also represented England U-19 schoolboys.
---
Paul Cannell signs professional forms.
---
21/06 - Released youngster David Embleton signs for Bury.
---
July
---
03/07 - Transfer-listed Tommy Cassidy starts pre-season training a couple of weeks early to shed some weight and ensure he is in the best possible condition for next season in the hope of changing Harvey's mind.
---
17/07 - The first official day of training is held and the team photo-call takes place.
---
22/07 - Nattrass strains his thigh and will be out at the start of the season.
---
24/07 - Cardiff have agreed a £30,000 fee for Guthrie, but the player is still thinking over the move. He is due a £3,000 ten-year service bonus next July.
---
25/07 - Macdonald is one of the players fined (£25) and warned by the FA Disciplinary Committee after he was booked three times last year.
---
26/07 - Harvey is left disappointed after Ron Guthrie turns down a move to Cardiff.
---
---
---
August
---
02/08 - Following the lead of other clubs, United are building bar facilities into the new East Stand and have applied for a liquor license. The old ground lease forbade the sale of alcohol.
---
---
---
---
17/08 - The Magpies' qualification for the Texaco Cup is confirmed.
---
---
21/08 - Fifty fans appear in a special Court in Sheffield. Charges range from assault on police to wilful damage, disorderly behaviour and drunkenness. Most get fines, but four are sent to detention centres for three months.
---
21/08 - Although Newcastle Supporters Club Chairman Bill McEwan is appalled by Saturday's trouble he states that they will not change their policy with regards to the time buses depart at away games. The club took five coaches to Sheffield of which three stayed until after 11pm.
---
---
---
28/08 - TOP UNITED SCOUT DEMOTED - Part-time Chief Scout Temple Lisle says he is "very disappointed" to be relieved of his position after 16 years. He has been told he can remain a scout for the club.
---
29/08 - On a trip to Lambton Safari Park in County Durham with his family a baboon rips off part of the vinyl roof of Supermac's Ford Granada.
---
---
31/08 - Gibb's thigh strain rules him out for another month.
---
September
---
---
03/09 - NEW GREEN BLOW FOR UNITED - It is believed Tony Green has damaged ligaments in his right knee and his whole leg has been put into plaster for a month.
---
---
07/09 - Although United's injury problems are mounting up Westwood admits that money is tight and "until we offload some of the transfer-listed men we have there is no question of us spending a lot of money."
---
---
---
14/09 - Some fans are concerned that Tony Green's career might be over, but he is "certain I will be back".
---
---
---
25/09 - MAC IN PLASTER - Macdonald's left knee buckled during the match and there are fears that there could be ligament damage, his leg has been put in plaster. Depending on the extent of the injury United could be forced to buy.
---
---
---
October
---
03/10 - GREEN NEWS DELIGHTS HARVEY - After having the cast removed from his right leg yesterday Green starts light training.
---
---
---
09/10 - The friendly due to be played against Luton on October 30th has had to be postponed because of fixture congestion. It was arranged as part of the Macdonald deal and is likely to be played later in the season.
---
---
---
22/10 - UNITED CHIEF LASHES OUT AT SOCCER HOOLIGANS - Chairman Lord Westwood says: "I'm appalled, but what can you do about it? This hooliganism just seems to be part and parcel of the times".
---
---
---
November
---
---
08/11 - Macdonald misses out on the squad for the World Cup qualifier against Wales with Ramsay saying it would be too risky with him having just returned from injury.
---
---
---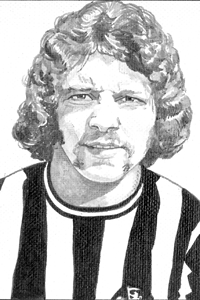 15/11 - After a successful month's loan, Keith Kennedy moves to Fourth Division Bury for £3,000.
---
16/11 - LEADING SURGEON TO SEE GREEN - With Tony Green still suffering pain in his knee United have asked leading orthopaedic surgeon Keith Barnes, who operated successfully on Green a few years ago, to examine him.
---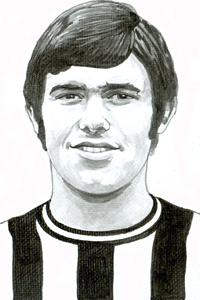 17/11 - Chris Guthrie agrees to join Southend who he turned down a couple of weeks ago. The fee is £10,000.
---
17/11 - United face Liverpool at Anfield tomorrow and Harvey says "I'm confident we can give Liverpool, as big as they are, a good game". Kevin Keegan will be one of their team, but today he releases a record entitled "It ain't easy".
---
---
21/11 - GREEN NEEDS AN OPERATION - Surgeon Keith Barnes has advised the club that the cartilage in Green's right knee needs to be operated on.
---
21/11 - Stewart Barrowclough joins Macdonald in the England-U23 squad for the match against Wales.
---
23/11 - Saturday's match with Leicester is called off due to the mystery bug which is rampaging through the Foxes.
---
29/11 - MAC'S GRAND SLAM - Macdonald scores an eighteen minute hat-trick as England U23 beat their Welsh counterparts 3-0. Barrowclough wins his first cap.
---
December
---
---
04/12 - John Cowan is told he can leave and joins Guthrie, Cassidy and Young on the list.
---
04/12 - At the AGM the club announce a profit of £10,000 on last season, but Chairman Westwood admits that the 99-year ground lease is still unsigned due to a disagreement over the wording of one of the clauses. Gordon McKeag's appointment to the Board is confirmed and Westwood and Braithwaite are re-elected as Frank McArdle fails in his attempt to get a seat. The Chairman also defends the much-maligned Texaco Cup, saying it brought in more than £26,000 last season.
---
08/12 - Tony Green is released from the Wigan hospital where he has been having treatment and Joe Harvey brings him back to Tyneside. The Scot is hoping to play competitive football again in about a month.
---
---
12/12 - Tommy Gibb needs a cartilage operation on his knee.
---
---
---
---
---
January
---
---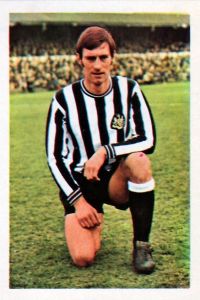 04/01 - Harvey agrees to sell David Young and Ron Guthrie to Sunderland in a joint deal for a knock-down fee of £35,000. Guthrie has the flu at the moment so his move will be delayed.
---
---
---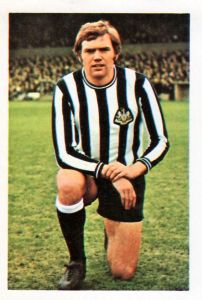 09/01 - Ron Guthrie completes his move to Sunderland.
---
09/01 - Alex Reid has returned from his loan spell with Morton.
---
---
16/01 - Macdonald is called up for the World Cup qualifier against Wales.
---
17/01 - Barrowclough breaks his hand in training.
---
18/01 - Barrowclough's injury earns Cassidy a reprieve, but Burkinshaw demands that he shaves his bushy beard off.
---
---
24/01 - Macdonald is left on the bench as England struggle to a 1-1 draw with Wales at Wembley.
---
26/01 - Joe Harvey tells his players (with regards to the game at Highbury): "We can beat them. Get out there and show London what you can do. Show them that the North-East has a team as good as anything they've got"
---
---
February
---
02/02 - The new East Stand will be partially opened (housing 1,500) for tomorrow's Cup Tie.
---
---
05/02 - Harvey hit's back at criticism of the players for a lack of effort "I won't entertain talk like that….to say that some players were not trying is ridiculous".
---
---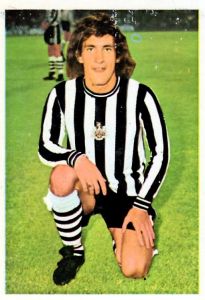 12/02 - HARVEY LANDS £20,000 STARLET - United sign midfielder Terry McDermott (21) from Fourth Division Bury for £20,000. The deal will be completed tomorrow when he has his medical. Harvey says: "I think he will be a star in the future, but we are not going to rush him".
---
13/02 - Barrowclough scores the winner for Young England against Scotland.
---
13/02 - Alex Reid admits he would leave if it gave him the opportunity to play regularly. A possible permanent move to Morton fell through as they could not afford him.
---
15/02 - Tony Green is informed by his specialist that he is recovering well, but there are some minor complications preventing him from resuming full training. After a heart-to-heart with Joe Harvey, reserve 'keeper Martin Burleigh decides to stay.
---
---
19/02 - A loan move to Luton falls through for Martin Burleigh.
---
20/02 - An angry Ray Ellison asks for a transfer after being included and then excluded from the squad travelling to Rome.
---
22/02 - United have reportedly agreed terms with Bolton for centre-half Paul Jones. But Harvey will almost certainly need to sell before he can afford the £100,000 fee.
---
---
---
27/02 - Irving Nattrass gets his first call-up for the England-U23 squad, joining Barrowclough for the game against Czechoslovakia on March 7th.
---
27/02 - Long-term injury victims Tommy Gibb and Tony Green make their comeback for the reserves against Coventry. "I believe Tony has lost nothing, he'll be back challenging for a first-team place in next to no time" says Harvey.
---
---
March
---
---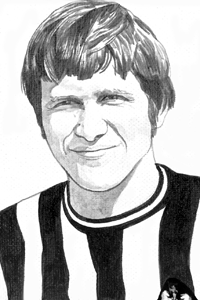 01/03 - Ray Ellison becomes the third United player to sign for Sunderland in the last couple of months.
---
---
---
12/03 - Bobby Moncur admits to being "shocked and hurt" by a report that Newcastle were considering selling him, but Harvey let's him know there is no truth in the rumours.
---
---
---
---
23/03 - Tony Green has another minor manipulative operation performed once more by Keith Barnes. He had adhesions behind his knee removed that were restricting his mobility.
---
---
28/03 - Green emerges unscathed from a reserve match against Sheffield Wednesday.
---
29/03 - Green manages to train, the first time this has been possible after playing in a match.
---
30/03 - Martin Burleigh, a keen weight lifter and body builder has shed half a stone this week in an effort to retain his place. He now weighs thirteen stone, his "fighting weight".
---
---
April
---
---
---
---
---
11/04 - Green completes another reserve game.
---
12/04 - NOW MAC MUST EXPLAIN - F.A. - A special FA Committee has been set up to investigate the comments made by Macdonald after the match at Old Trafford. They have asked him to provide his version of events with particular reference to one particular newspaper report. Based on his response they will decide whether or not to charge him with bringing the game into disrepute. United's centre-forward has also upset Sunderland manager Bob Stoke by saying he wanted them to lose to Arsenal in the FA Cup Semi-final to boost United's chances of getting into Europe.
---
---
13/04 - A scan reveals that Burleigh fractured his left index finger in the match yesterday and will be out for the rest of the season. He was in agony for the last thirty minutes.
---
---
---
---
---
May
---
---
04/05 - Derby's victory against Wolves takes them above Newcastle thereby ending the European dream.
---
---
---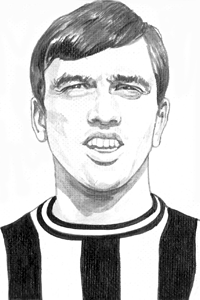 16/05 - John Cowan is released, but after an energetic performance against Sunderland Cassidy is reprieved and taken off the list.
---
---
31/05 - As United set off for Rome Harvey tells them: "Don't retaliate, don't lose your tempers. We have had enough trouble already. I want no trouble this time".
---