NUFC - 1971/72 - Diary
---
---
NUFC Review 1971/72
NUFC Squad 1971/72
---
---
June
---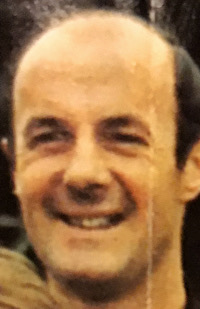 03/06 - UNITED SACK CHIEF COACH DAVE SMITH - There have been ongoing issues with Dave Smith for some time. He was unhappy about the rumours that United were looking to appoint an Assistant Manager above him, he had clashed with Harvey over future team policy and had been angered that his request for a wage-rise had been deferred until Christmas. The matters came to a head at last night's Board Meeting resulting in his sacking. Having joined from Sheffield Wednesday four years ago Smith was hailed as the tactical genius who led United to Fairs Cup glory.
---
03/06 - John McNamee is set to sign a new improved contract next week and has also closed down his wastepaper business to concentrate on football.
---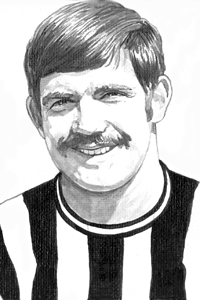 05/06 - James Thompson signs for Grimsby. The dainty little midfielder has been wanting a move for some time and went on loan to Dunfermline and Barrow last season.
---
06/06 - There are further delays in the proposed Green transfer due to the fact that Blackpool have reached the Final of the Anglo-Italian Cup which will be played next Saturday. Stokoe has made it clear that there will be no more talks whilst they are in the competition. Also, Green is currently on international duty.
---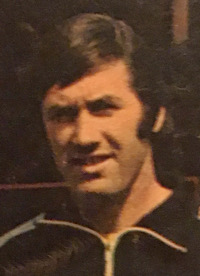 10/06 - Reserve team coach Keith Burkinshaw is promoted to First Team coach following the departure of Dave Smith to Arsenal.
---
10/06 - Sheffield Wednesday have had a £60,000 offer accepted for Wyn Davies and hope to speak to the Welshman shortly.
---
11/06 - Truck-driving weightlifter Ron Brown has been employed to do weight-training sessions with the juniors. If the experiment is a success Ron (who finished 5th in the recent Mr. World competition) will work with the senior players too.
---
13/06 - Reports suggest that there is a 50/50 chance of the Green deal going ahead although Harvey states that there is no chance of Keith Dyson going in the opposite direction. Notts. County are said to be interested in Alan Foggon.
---
14/06 - Joe Harvey reveals that he is trying to agree a deal with Blackpool for Tommy Hutchinson after admitting that the Tony Green deal collapsed last Tuesday because the clubs could not agree on a fee.
---
16/06 - Blackpool manager Bob Stokoe reveals that although the club do not want Green and Hutchinson to leave, they will be allowed to go if someone offers £150,000 for either of them. Harvey is not willing to pay this much and is aggrieved that "six weeks work have gone down the drain". Hutchinson is also disappointed as it was an opportunity to move closer to his home town of Fife.
---
19/06 - United refuse to accommodate Leeds' request to postpone their game with them. Leeds' Elland Road Ground has been closed for three weeks due to the incidents in the game against West Brom at the end of last season. John Tudor signs a new two-year contract.
---
Jimmy Smith has a cartilage operation on his right knee. Bobby Moncur has an x-ray on his left ankle; it has been troubling him for a while and flared up again during the Home Championships.
---
23/06 - Wyn Davies turns down a move to Sheffield Wednesday.
---
24/06 - Strapping full-back Alan Kennedy (who is the younger brother of current reserve Keith) signs as an apprentice professional. Young winger Michael Hale departs for Gateshead on a free.
---
25/06 - Harvey makes a tentative enquiry for wantaway Arsenal midfielder Jon Sammels.
---
Middlesbrough want John Craggs who is determined to move on. "I have made up my mind, I can't stay in the reserves any longer. I've already had five years of it and it won't do my career any good prolonging it".
---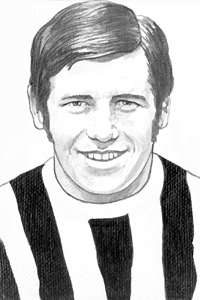 SHOCK COMEBACK FOR ALLEN? - Joe Harvey is considering bringing Geoff Allen out of retirement despite the fact that he was told in March 1970 that he was unfit to play again. Allen spent last season coaching the youth team and the club have already received compensation. "I have had a long chat with him about the way he's been moving and he is as keen as I am to give it a go. We've never had the sort of strength down the left flank we need since we lost him". Harvey plans to give him a game during pre-season as there is "nothing to lose".
---
July
---
12/07 - The team photo-call takes place at St James'. Meanwhile sacked first-team coach Dave Smith is appointed Reserve Team Manager at Arsenal at a considerably higher salary than he was earning on Tyneside.
---
13/07 - Bob Moncur's shin injury has flared up again and he will need to go back into plaster for three weeks.
---
16/07 - The FA Commission into the incidents at Old Trafford when United played there in February orders the ground to be closed from 14-28th August, lam McFaul was pelted with various objects and Ron Guthrie found a knife on the ground which he handed over to a policeman.
---
17/07 - Wyn Davies holds talks with Manchester City.
---
18/07 - Newcastle supporting Lynne Charlton from Gateshead wins the Golden Girl competition run by weekly magazine Goal.
---
21/07 - A new set-back for Jim Smith who has pulled a calf muscle.
---
25/07 - Wyn Davies is set for a move to Manchester City after holding talks with assistant manager Malcolm Allison on Saturday night. Allison is "very confident" the deal will go ahead but Davies says he needs to consider their offer along with the one from Sheffield Wednesday. Jim Smith starts light training but is unlikely to be fit for the start of the new season. Bob Moncur - whose leg is still in plaster - is also highly unlikely to be ready.
---
---
31/07 - Tony Green refuses to sign a new contract at Blackpool and will remain on the option period of his current contract which has twelve months to run.
---
August
---
John Craggs signs a new contract, but states that this does not mean he is happy to play in the Reserves.
---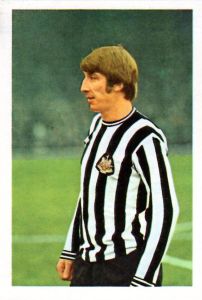 03/08 - Wyn Davies' move to Man City is completed for a fee of £60,000.
---
03/08 - Dyson and Tudor are both ill after contracting a stomach bug in France.
---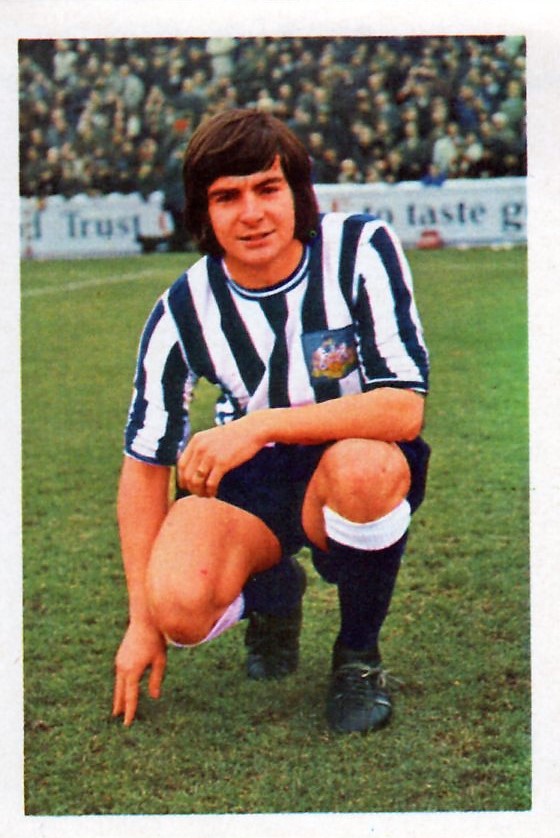 04/08 - Alan Foggon moves to Second Division Cardiff.
---
05/08 - Newcastle have agreed terms with Leeds for the purchase of left-sided midfielder Terry Hibbitt. He is going to talk the move over with his family and give a decision on Monday.
---
---
08/08 - It is reported that the local police have set up a special "skinhead force".
---
08/08 - In an interview with the Sunday Sun John Tudor predicts that he, Macdonald and Dyson will score more than fifty goals in the League between them. Quite a claim considering the whole team only managed forty-four goals last term. "I've never looked forward to a season more than this. I feel an important part of a club that is really going somewhere".
---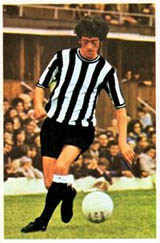 09/08 - Left-sided midfielder Terry Hibbitt signs from Leeds for £30,000 where he has made 11/14 appearances. He is 5' 6.5" and 9st 10lb.
---
---
---
---
---
---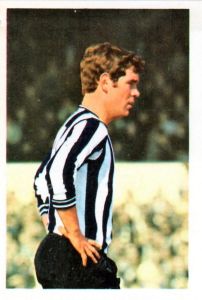 27/08 - CRAGGS FOR BORO FOR £60,000 John Craggs moves to Middlesbrough; "with David Craig as competition it was obvious one of us had to go".
---
---
30/08 - United announce that Malcolm Hoole has been promoted to Club secretary following the resignation of Denis Barker.
---
September
---
---
Reserve 'keeper Martin Burleigh is likely to be out for weeks with a wrenched ankle. Peter Ewart is called up for the reserves.
---
---
04/09 - Seymour and Harvey scout Aberdeen centre-half Willie Young and are so impressed they attempt to open negotiations, but The Scots are not willing to sell at any price.
---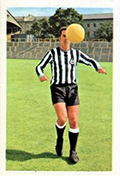 06/09 - NEW MONCUR BLOW FOR NEWCASTLE - X-rays confirm a recurrence of Moncur's shin problem and his left leg is put in plaster again. He is expected to be out for 2 months. He will also be on a diet for excessive calcium. As a result Harvey will look to sign a sweeper rather than a centre-back.
---
---
---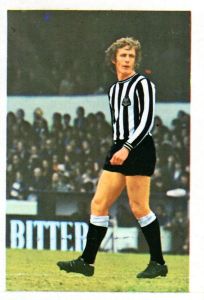 13/09 - UNITED BEAT DEADLINE FOR HOWARD - United sign Pat Howard (23) from Third Division Barnsley for £21,000. He has played as a sweeper and a centre-back for his hometown club.
---
West Brom reserve keeper John Osborne has turned down a chance to move to Tyneside on loan.
---
---
---
24/09 - The team have a nightmare trip to Ipswich as their train breaks down twice.
---
---
Dundee United make an approach to take Ian Mitchell back, but he turns down the move as he would have to take a pay cut.
---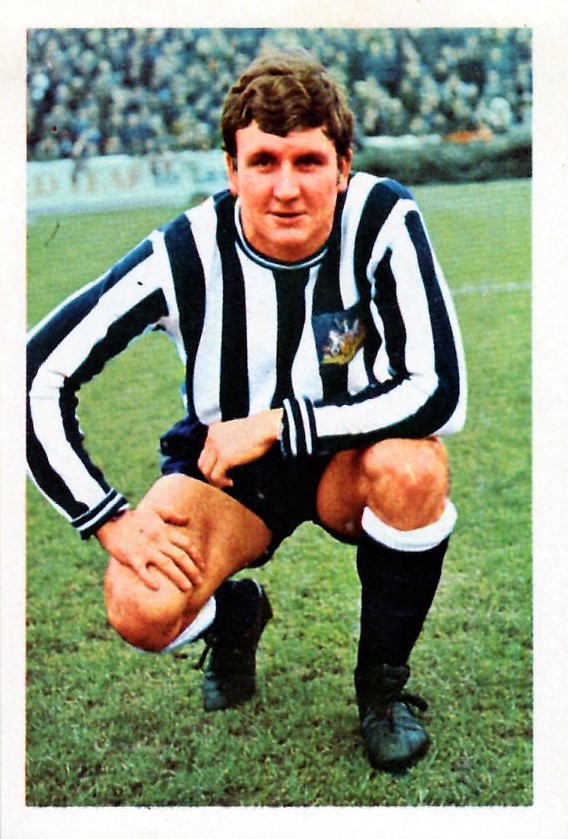 28/09 - ARENTOFT SIGNS FOR ROVERS - Preben Arentoft moves to Blackburn for £25,000.
---
---
Guthrie's injury jinx strikes again as he suffers a recurrence of his hamstring injury.
---
United sign 20-year-old Willie Coulson from North Shields.
---
29/09 Secretary Hoole states that the boys gates will be closed on Saturday to teach them "a sharp lesson". They have been coming onto the pitch after goals are scored and it was particularly bad on Tuesday.
---
October
---
01/10 - Charlton turn down a £100,000 bid for centre-half Paul Went.
---
---
04/10 - Tottenham are fined £200 as a result of the metal staple firing incidents.
---
---
08/10 - David Craig has added to the ever-growing defensive crisis with an achilles tendon injury.
---
---
10/10 - SMITH - HE'S OUT FOR THREE MONTHS - Jimmy Smith will need an operation on his left knee to remove the cartilage.
---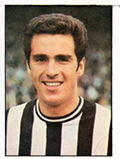 13/10 - Bobby Moncur has been fearing for his career due to the problems caused by bone calcification in his leg, but following a meeting with director Bob Rutherford he says he is "utterly confident" about returning.
---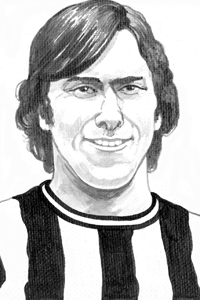 13/10 - Gordon Hindson moves to Luton for £27,500.
---
---
18/10 - Newcastle and Ipswich agree on an exchange deal for Tommy Gibb and Colin Viljoen.
---
---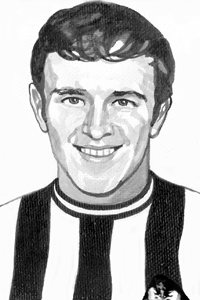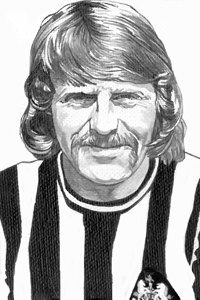 21/10 - NEWCASTLE LAND ALEC REID IN MITCHELL SWAP - Harvey swaps Ian Mitchell for Dundee United midfielder Alec Reid. Former U23 international Mitchell is adjudged to lack the stamina and pace for the First Division and hasn't even been selected for the reserves this season.
---
---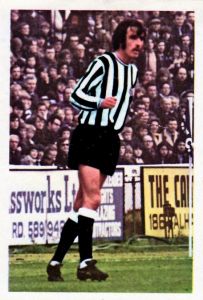 25/10 - BEST FOR GIBB IF HE MOVED - CHAIRMAN - It is alleged that Tommy Gibb gave the "V" sign to a section of supporters towards the end of the the game. The Scot claims that this is not true; he says he was standing on the touchline when the ball was dead and after receiving some more abuse he was simply "waving my hands in the air in frustration". However, Westwood and Harvey decide that he has to go and he is transfer listed. A disappointed Harvey states "people have said in the past that when Tommy Gibb plays well Newcastle play well. This is true but it is best for Tommy Gibb that he leaves now". Gibb himself accepts that his relationship with some of the Gallowgate crowd is "beyond repair" and that "things are not going to get any better here, that's obvious so if I get the right offer I will consider it".
---
27/10 - Harvey's hopes of signing Carlisle forward Bob Hatton are dashed when he moves to Birmingham.
---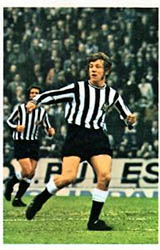 28/10 - UNITED SIGN TONY GREEN - Harvey finally gets his man when Tony Green is signed from Blackpool with Keith Dyson and a cash adjustment going on the opposite direction. Blackpool number 2 Harry Johnstone gives him a glowing reference and clams that "this lad can do for Newcastle what obey Charlton has done for Manchester United".
---
---
November
---
02/11 - Tommy Cassidy is transfer listed.
---
---
---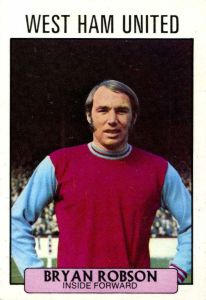 12/11 - A Special Football League/Football Association Appeals board rule that Newcastle have to pay Robson his 5% plus another 5% to the League Provident Fund. They had earlier ruled that West Ham should pay the money but the Hammers appealed.
---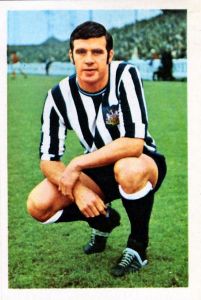 12/11 - MAC GOES - John McNamee moves to Blackburn for £12,500.
---
---
---
---
---
December
---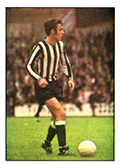 03/12 - Tommy Gibb's proposed move to Southampton breaks down as the club refuse to pay him a loyalty bonus. The club state that "they only pay loyalty bonuses for exceptional club service of ten years or more. Gibb is only in his fourth year and his demands will not be met". The Scotsman is having second thoughts about leaving now and Harvey states "I don't want Tommy to go but it's up to him, I only put him on the list for his own good".
---
---
05/12 - United are believed to be interested in Charlton and Eire striker Ray Treacy. They had hoped to use the money from the sale of Tommy Gibb, but as this has fallen through any deal may be scuppered.
---
---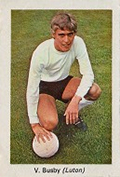 06/12 - LUTON FIX £50,000 FEE ON BUSBY - Harvey makes use of the new loan system to take Supermac's former strike partner, Viv Busby, from Luton on a month's trial. He will come to Tyneside on Wednesday and at the end of the period they will have the option to buy him for £50,000.
---
---
---
20/12 - MAC WINS HIS FIRST HONOUR - Macdonald is selected for the England-U23 squad to take on Wales in January.
20/12 - Southern League Hereford beat Northampton to line up a Third round tie with United.
---
---
January
---
---
05/01 - Macdonald blasts in from 20-yards as he marks his England-U23 debut with a goal.
---
07/01 - Viv Busby's loan is extended for another month.
---
---
13/01 - The City Council Town Planning and Civic Service Committee give the go-ahead for the ground redevelopment tp commence and work will start next Monday. United will spend at least £1m on the ground over the next ten years. The Popular Side, which houses 12,000, will close after Saturday's game so that demolition work can begin. Harvey accepts that this will be a bit distracting for the players but "it means the new stand will be ready for the beginning of next season". The new East Stand, which will be ready for next season, will cost £350,000 and provide accommodation for 9,500 including 3,500 seated.
---
15/01 - The FA Cup match with Hereford is postponed due to a waterlogged pitch. Demolition work will be postponed until after the game. The amateurs are angry that they have wasted travelling and accommodation costs. The game is rearranged for Wednesday.
---
18/01 - The Third Round tie is postponed once more.
---
19/01 - Following talks with Joe Harvey an arrangement has been made to bring Tommy Cassidy's parents across from trouble-torn Belfast.
---
---
---
26/01 - United make the 600-mile round trip to Hereford only for the replay to be postponed. Two thousand supporters also have a wasted journey.
---
Busby replaces the dropped Barrowclough for Saturday's game, the youngster meets with Harvey and is likely to ask for a transfer.
---
---
31/01 - Players and fans have another wasted journey as the replay is called-off again due to the pitch still being frozen.
---
February
---
02/02 - Newcastle fan Alan Jones has been staying at the Tabard Hotel for a week now. His room costs £2 a night but kind hearted Hereford Chairman Frank Miles has said he will pay. He has also refunded travelling expenses to another couple of fans. Although the pitch is no longer frozen it is now waterlogged and the match is postponed until Saturday. To add to the problems the Midlands Electricity Board warn that due to the power strike they cannot guarantee power for the floodlights. Consequently the game will kick-off at 2.30pm.
---
---
07/02 - Busby is sent back to Luton.
---
09/02 - Chairman Westwood makes it clear that "Joe Harvey will not be sacked - there is no question of that".
---
11/02 - Youngster Irving Nattrass is not happy with being dropped to the bench believing he is being made a scapegoat.
---
---
---
---
March
---
---
08/02 - United are not involved in any big deals on Transfer Deadline Day; £2,000 is enough for York City to capture Billy Yeats.
---
---
15/02 - Macdonald plays for the Football League team in their match against the Scottish League at Ayresome Park.
---
---
23/03 - Hibbitt is fined £50 and suspended for four weeks (from Monday) after being booked three times this season. He is likely to miss seven games.
---
25/03 - YOUTHS ATTACK SOCCER FANS' COACH - A gang of thirty odd United fans (one armed with a crowbar) attack one of the Man City supporter's coaches as it parks on Stanhope Street.
---
---
April
---
---
01/04 - FIFTY-TWO ARRESTS AS FANS GO WILD - Scores of fans (mostly from the North-East) are arrested after the worst soccer violence seen in Sheffield this season. There is fighting during the match when bottles are thrown which cause many injuries. There is loads of trouble before and after the match too. Windows of houses near the ground are smashed, shopkeepers are forced to close and board-up and police are attacked. Twenty-nine adults and twenty-three juveniles will appear in court this week.
---
---
---
07/04 - WARNING TO UNITED FANS - Nottingham police are to make special preparations for tomorrow's match. They have had their own issues this season and earn Newcastle fans to beware of the Trent End aggro-boys.
---
---
18/04 - SUPER MAC IS CALLED UP BY SIR ALF - Mac is one of a clutch of youngsters included in the full England squad for the Nations Cup tie against West Germany on 29th April. And Moncur is recalled to the Scotland squad for the first time in 18 months, joining Tony Green.
---
---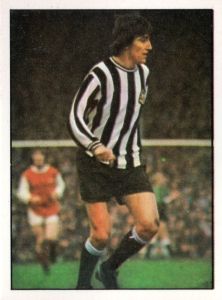 21/04 - Lord Westwood admits that United are prepared to let Jimmy Smith leave though he makes it clear that rumours that they may let him go for a free "are completely unfounded". There is better news for two other midfielders whose future has been uncertain. John Cowan's excellent form in the reserves has earned him a further stay and Harvey confirms that he surreptitiously took (settled again) Tommy Gibb off the transfer-list weeks ago.
---
---
Tommy Cassidy's brother Jim has left trouble-torn Belfast and joined him on Tyneside and his parents and two other brothers will join them once they have a mortgage on a house.
---
26/04 - Bobby Moncur is one of the stand-out performers as he returns to the Scotland side in their 2-0 victory over Peru at Hampden.
---
27/04 - CASSIDY IS TRANSFER-LISTED - Harvey confirms that Tommy "Cassidy is for sale". There are expected to be more departures announced soon.
---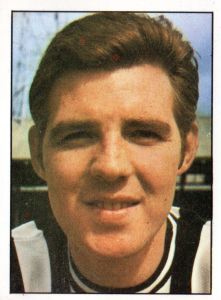 27/04 - BURTON - "I COULD BE FINISHED" - Worried that his knee ligament injury is not showing any signs of improvement, Ollie is concerned that he may not be able to play again.
---
28/04 - Macdonald is left out of the 16-man squad for the Nations Cup tie with West Germany.
---
29/04 - Harvey and his scouting team plan to step-up their search for a new striker putting some doubts over John Tudor's future.
---
May
---
01/05 - Moncur and Green are both included in the Scotland squad for the Home Internationals.
---
03/05 - Macdonald is called up again by Ramsey, for the return match with West Germany.
---
03/05 - Following on from the Wheatley Report into the Ibrox Disaster the Government release a charter for making grounds safer. The Charter calls for all rugby and football grounds to be licensed annually to ensure they meet appropriate standards. United Chairman Westwood is concerned that it would mean raising ticket prices unless the clubs were awarded grants. He also states that regular safety checks are already carried out and that when the ground is fully-developed in ten years time the standard will be "near perfect."
---
---
05/05 - Macdonald is included in the Home Internationals squad.
---
05/05 - Barrowclough damaged knee ligaments during the game at the Hawthorns.
---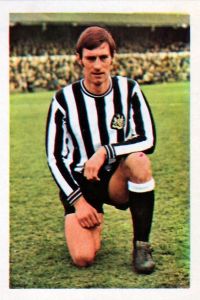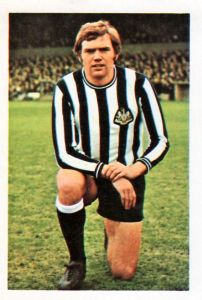 07/05 - THREE LISTED - Three members of the first-team squad are listed: David Young, Ron Guthrie and Tommy Cassidy. Seven other professionals are also being released. Although there are disagreements within the club, Harvey wants Jimmy Smith to stay.
---
---
09/05 - MAC MUST GO ON UNDER-23 TOUR - United had asked the FA to release Macdonald from the England U23 Eastern Europe tour as they want him on their own Far East tour. The FA have informed the club by letter that they will not release him. It puts the club in a tricky situation as their contract with the tour sponsors, the Thailand FA, requires Macdonald's presence.
---
11/05 - At an emergency meeting The Board decides to ask the FA again on the basis of their contractual obligation.
---
11/05 - ADVERTISING CASH BOOST FOR UNITED - The new lease will allow United to have advertisements within the ground, the current lease forbids it and has cost United thousands in recent years.
---
16/05 - MAC HOPES TO SCORE IN THE FASHION GAME - The grand opening of MALCOLM MACDONALD FOR EXCLUSIVE MEN takes place in the Newgate Shopping Precinct. It is a business venture along with Alan Owen. They are concentrating on quality menswear and products include a new corded-type velvet two-piece suit with tulip lapels for £29.50 and two-piece denim suits in peach or blue with 26" bottoms at £21.
---
19/05 - In line with other clubs Season Ticket prices are raised substantially in anticipation of the expected rise in minimum admission price from 30p to 40p.
---
20/05 - Macdonald collects his first full England cap (and lays on a goal) in the 3-0 victory over Wales. England manager Ramsey said "he did extremely well, it's never easy in your first game but he has tremendous confidence and it showed in the way he played today".
---
26/05 - United make one last, unsuccessful, appeal to both the F.A. And the Football League to get Macdonald released for their tour.
---
28/05 - Moncur and Green play for Scotland against England.
---
28/05 - United set off for their Far East tour.
---
28/05 - Macdonald picked up a groin strain in the match against Scotland.
---
30/05 - Macdonald is one of three players who pulls out of the England Under-23 tour.
---
31/05 - John Tudor bags a hat-trick as United kick-off their tour with a 3-1 victory over Thailand Champions Rajpracha Nukraw in Bangkok.
---