Newcastle United 1969/70 - Season Diary
---
1969/70 Squad
---
July
---
08/07 - Alan Foggon has signed his new improved contract.
---
17/07 - Following the club's statement that they would completely rebuild the ground at their own expense if they were given a long-term lease, Council leader Alderman Grey states that the club will need to supply detailed plans of the proposals.
---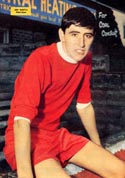 28/07 - Newcastle break their transfer record to sign the hugely talented but inconsistent midfielder Jimmy Smith (22) from Aberdeen. Celtic, Liverpool and Manchester City have all shown an interest in the player but it is Newcastle - with the Fairs Cup money burning a hole in their pocket (and the taxman waiting to pounce) - who have made the decisive move. Smith was born in Glasgow and is 5' 11". He has played 140 times for Aberdeen, scoring 37 goals. He first caught Harvey's eye when he played for (and scored) for Scotland U23 against England at St. James' Park in 1967.
---
---
31/07 - The club's ground redevelopment proposals are considered by the Conservative Group at the Council. Although they are broadly supportive of the stadium changes proposed they regard the club's timescale of 15-25 years as "ridiculous". The scheme has four phases. Phase 1: New stand on Leazes Terrace Side with additional seating. Phase 1b: New Supporters Club built on stilts above the Barrack Rd. Car Park. Phase 2: New or enlarged West Stand. Phase 3: New cantilever roof for Leazes End.
---
01/08 - United director William McKeag states that the club are "perfectly prepared" to negotiate over the length of the rebuilding scheme. The Council have agreed to put their own super-stadium plans into cold-storage, but have not agreed to give United the 99-year lease that they have requested.
---
August
---
---
03/08 - Harvey is broke but happy; for the time being at least. "I'm happy with the first-team pool, but anything can happen to change that".
---
Centre-half Derek Craig (17) signs professional terms. He was born in Ryton and is 6'. He joined from Clara Vale Juniors as a junior in June 1968.
---
---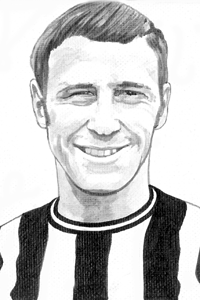 06/08 - Reserve centre-half Graham Winstanley (21) joins Carlisle in a £7,000 deal. Born in Croxdale he signed professional in December 1965 and has made 7 (2) appearances. A mainstay of the reserve side but his first-team chances have been limited.
---
---
---
15/08 - Newcastle-born Manchester City defender George Heslop requires treatment for a cut hand following an incident outside a Newcastle discotheque or club.
---
---
---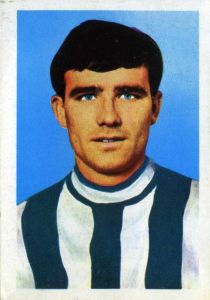 22/08 - Eric Ross (23) moves to Northampton for £15,000. Despite being capped by Northern Ireland last year he has struggled to get into the first-team and has decided to try his luck in the lower leagues.
---
---
---
---
31/08 - A London man is jailed for 18 months after pleading guilty to stealing three paintings from United director R. Rutherford's home in Cleadon.
---
September
---
---
03/09 - Centre-Half Bob Noble is suspended for 14 days and fined £20 by the FA Discipinary Committee after his sending off against Evenwood.
---
---
06/09 - A crowd of over 8,000 turn up to see Smith play brilliantly for the reserves. It is the highest Central League attendance for fifteen years.
---
---
13/09 - After the game an estimated two thousand United fans battle with the visiting supporters. A large group attack the Derby Supporter's coaches at the Gallowgate Bus Station. Pebbles, coins and half-bricks are thrown and windows on two (out of four) of the coaches are smashed. Every policeman available - along with five dogs - is sent to the scene but with both sets of fans sporting the same colours they find it difficult to stop the violence. A number of people are given on-the-spot treatment for minor injuries but no arrests are made.
---
---
17/09 - The Boy's Gates are closed again and youngsters try to climb over the walls. Extra police are drafted, but although they clear the area trouble continues in town. Two Everton coaches are severely damaged, shop and car windows are smashed, scooters are stolen and lots of fights break out.
---
---
---
29/09 - The council agree to drop plans for a multi-sports stadium and will support United's plan to build a £2.6 million stadium for the club only. Alderman Grey (Council leader and Chair of the Planning Committee) states that "there is now an air of genuine agreement between us". United chairman Westwood is "now looking forward to giving the supporters the best kind of facilities". However the Council want the work to be completed in a more realistic timescale than the club's 15-25-year development timeframe.
---
October
---
---
02/10 - United are drawn against Porto in the Fairs Cup. There are some concerns as when Cardiff played their last year the game was very ugly and the Welshman's players and officials were beaten up by the Portuguese police.
---
---
---
09/10 - The council has agreed its requirements for the St James's improvement plan. They want better floodlights, more car-parking and better pedestrian access. They also provide the club with details of the proposed Western Motorway.
---
---
15/10 - English clubs may boycott the European Fairs Cup if the competition is taken over by UEFA. The FA are supporting the move but have not consulted the clubs and Newcastle Chairman Lord Westwood has proposed a resolution (to be discussed at a Football League EGM in November) to boycott the competition. There is concern that the FA is trying to usurp the Football League and that this is just the start of their encroachment.
---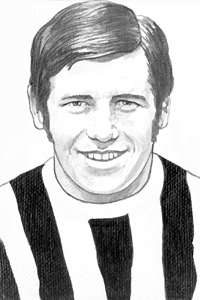 Geoff Allen had a cartilage operation five weeks ago and after making a speedy recovery has re-commenced first-team training. His last attempt at a comeback (in April) lasted only three minutes therefore he knows he cannot get carried away. "We'll have to wait and see what happens, but failure is a word that just doesn't come into my book at the moment".
---
---
---
30/10 - Robson has been advised that he needs an operation on his troublesome knee but he is going to wait until the end of the season to have it.
---
31/10 - Southampton make an approach for Guthrie and Sinclair and United are willing to sell both of them.
---
November
---
---
02/11 - Bobby Moncur is called up for the Scotland squad for the World Cup Qualifier against Austria. Meanwhile Celtic are said to be interested in taking (the dropped) Jimmy Smith back to Scotland.
---
05/11 - The fight over St James' appears to be over at last. Former Mayor, Alderman Hadwin's motion for the Council to continue with their own super-stadium plans is defeated 27-24. The margin would have been more decisive if the vote had not been taken before some of the Tory councillors had arrived. "We had a golden opportunity to assist the City, the Region and the North East" laments Hadwin "if we had only grasped it, but it has now gone". Alderman Grey sympathises but states that they cannot afford to lose the club from the City and believes there is a "new spirit of co-operation." The agreed timescale for completion is ten years.
---
07/11 - The Football League EGM is held and Lord Westwood's resolution is withdrawn and replaced by a less confrontational one.
---
---
---
13/11 - Newcastle win the John White Best Behaved Supporters (Division 1) award for the period up to October 15th.
---
---
---
---
25/11 - Porto manager Elek Schwartz brands Newcastle's defensive display in Portugal "a disgrace".
---
---
27/11 - Barcelona and Ajax were potential opponents but United are drawn the Fairs Cup Third Round against Southampton and Harvey admits "I didn't think this possible". Joe believed that clubs from the same country could not be drawn against each other until the Quarter-Final
---
28/11 - Tomorrow's match with West Brom is postponed due to snow.
---
December
---
United's yearly accounts show a £42,968 loss. They made £88,874 from the Fairs Cup but this was more than offset by the Smith fee. Outgoings included £14,539 on architect's fees.
---
---
07/12 - In a match played at Horden in aid of the Blackhall Coach Disaster a combined Newcastle/Sunderland side draws 5-5 with a Great Britain Select XI. The side is Montgomery (S), Craig, Clark, Todd (S), Heslop (S), Gibb, Scott, Smith, Harris (S), Sinclair and Foggon.
---
08/12 - Harvey and Seymour travel to Burnley and agree terms to sign midfielder Doug Collins.
---
09/12 - Collins travels up to Tyneside but Burnley block his 5% share and he refuses to sign.
07/12 - A combined team of Newcastle and Sunderland players draw 5-5 with Horden.
---
---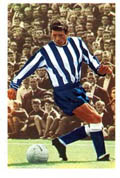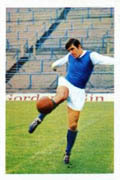 16/12 - Jackie Sinclair (26) moves to Sheffield Wednesday in a straight player-exchange for David Ford. He joined from Leicester in December 1967 for a near-record fee having scored 53 goals in 113 games for the Filbert Street outfit. However, he has never really fulfilled his potential during his two years on Tyneside and has made only 18 (4) appearances and scored 8 goals.
---
---
---
---
---
January
---
---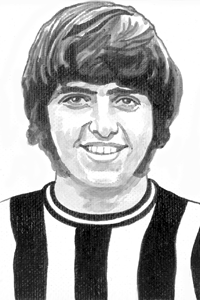 08/01 - Alan Duffy (20) joins Brighton for £8,000. The little striker represented England at youth and schoolboy level, joined United as an amateur In 1963 and signed professional in March 1967. He has made 2 (2) appearances.
---
---
---
---
---
26/01 - Crystal Palace are in talks over the possible signing of Jim Scott.
---
29/01 - Newcastle draw Belgian side Anderlecht in the Fairs Cup Quarter-Final.
---
---
February
---
---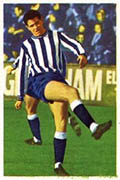 08/02 - Crystal Palace sign Jim Scott (29) for £20,000. He joined United from Hibernians in August 1967 and has made 92 (6) appearances and scored 6 goals. He has been used on the wing and in midfield.
---
11/02 - Wyn Davies loses his appeal against the booking he received for his challenge on Sunderland 'keeper Montgomery during the derby win in November, but Moncur wins his appeal against the booking he received against Leeds on Boxing Day.
---
---
13/02 - Saturday's game against West Ham is postponed.
---
---
---
---
---
March
---
---
06/03 - Tomorrow's game against Coventry is postponed.
---
---
---
---
---
Frank Clark has a cartilage operation and is likely to be out for the rest of the season.
---
A massive police operation will see hundreds of extra police drafted in for Saturday's derby game.
---
---
---
---
31/3 - Keith Dyson is included in the provisional 14-man squad for the England U23 match against Bulgaria on April 8th.
---
31/3 After almost twelve months of fruitless scouting Harvey admits "we have got money to spend but there just isn't anyone available". He is believed to want a couple of forwards.
---
April
---
---
---
16/04 -Joe Harvey (who wants two forwards) had been interested in signing Manchester United striker Don Givens, but he has moved to Luton.
---
17/04 - A 17-year-old police cadet is in court charged with wilful damage. He had bragged to a couple of other recruits that he had thrown a brick through the window of one of the Derby Supporters' coaches during the trouble after the game.
---
18/04 - In the Home Internationals Bobby Moncur makes his debut for Scotland and opposes team-mate David Craig. United's skipper gets rave reviews with manager Brown stating: "his qualities of leadership could make him one of Scotland's greatest players".
---
21/04 - David Craig is the winner of the Journal's Merit Marks award for 1969/70.
---
22/04 - United reserve John Cowan comes on for the last 13 minutes for Northern Ireland during their match with England.
---
24/04 - Iam McFaul makes his first start for Northern Ireland. He has been sub on 15 occasions and came on once against England in 1966.
---
29/04 - Manchester City win the Cup Winners Cup which should open the door into the Fairs Cup competition for Newcastle. However, this year's Fairs Cup winners - Arsenal - are going to press their claims as holders of the Cup.
---
---
May
---
01/05 - Youngsters Phil McGovern, Terry Johnson and Gordon Hindson are included in the 16-man squad for the tour of North America and Canada. John McNamee, Wyn Davies, David Ford and Frank Clark will not be fit to travel.
---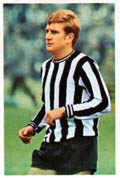 02/05 - Ben Arentoft has not been able to agree personal terms with Portsmouth although discussions are ongoing. Arentoft's go-go style is ideally suited for away games in Europe where he can sit on the opposing sides danger man but also burst forward when the opportunity arises. His stock at Gallowgate slumped dramatically towards the end of the season, but Harvey stresses that he is welcome to stay and take up the two-year option on his contract: "I can always use him here - he can always do a job for us".
---
---
07/05 - It is officially announced that Newcastle will take part in next year's Fairs Cup competition.
---
---
---
---
---
---
---
---
29/05 - Centre-backs Moncur and Burton are allowed home as they had pre-arranged holidays which were booked prior to the tour being arranged.
---
29/05 - Newcastle supporters are win the Division 1 Behaved Supporters award.
---
29/05 - Crystal Palace are interested in transfer-listed Dave Elliot
---