Newcastle United 1950/51 Season Diary
NUFC 1950/51 Review
NUFC 1950/51 Squad
---
---
---
24/10 - The players of Newcastle and Middlesbrough, who meet at Ayresome Park on Christmas Day, have been invited to the opening night of "Aladdin" at West Hartlepool.
---
26/10 - Stanley Matthews and Jackie Milburn will make a personal appearance at the Avenue Road Boot and Shoe Department of the Seaton Delaval Industrial and Provident Society Limited on Saturday.
---
---
November
---
01/11 - Grimsby officials travel to Newcastle to try and persuade them to release one of backs Graham, Batty or Corbett; but United have no wish to sell.
---
01/11 - Alf McMichael plays for Ireland against Scotland, the Scots win 6-1.
---
---
---
13/11 - There is a hold-up in the transfer of Jimmy Coulter from Linfield. The Football League have refused to register the player as they have not yet received full clearance from the Irish League. The League have clamped down since the issues that occurred when Jones transferred to Fulham.
---
15/11 - Milburn scores for England against Wales at Roker Park with what is virtually the last kick of the match.
---
16/11 Newcastle release their balance sheet which reveals a profit of £10,072 which is a reduction of £39,693 on last year's record. There has been a dip in total receipts and a significant increase in expenses.
---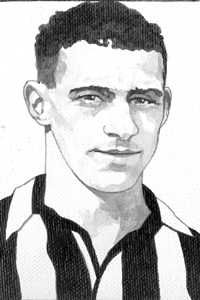 16/11 - SCOTS BACK FOR NEWCASTLE - United continue to supplement their reserve strength with the signing of right-back John Duncan from Scottish "B" side Ayr United. The fee is about £8,000 and is a record for the Scots. As part of the deal United will play a friendly against the Scots early next season.
---
---
22/11 - Newcastle announce that they will no longer release the teamsheet on a Wednesday night so that players do not get to know whether they are playing on Saturday in the paper.
---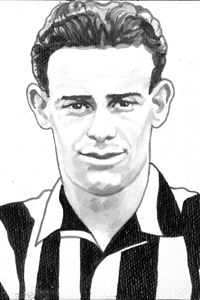 23/11 - With the ground expected to be heavy on Saturday, Ernie Taylor has been left out of the side. He interviewed manager Martin and protested very strongly about being left out of the team. He requests a transfer, but is refused. Taylor says "apparently they are not going to put me on the transfer-list". He has twice been on the list before being withdrawn.
---
24/11 - United have agreed terms with Grimsby and Preston for the sale of Doug Graham, it will be left to the player to decide which club he wants to move to.
---
---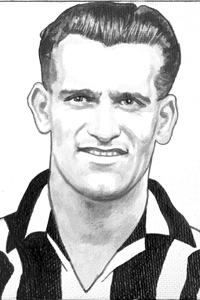 28/11 - Doug Graham signs for Preston for £8,000.
---
29/11 - The transfer-requests from Taylor and Batty (who has not even been guaranteed a place in the Reserves this season) are both rejected at the weekly Board meeting. Martin states "We do not want to part and will not part." Jackie Milburn has a "groin strain due to cycle skid".
---
30/11 - Newcastle are keen to tour South Africa in the summer according to a letter received in Johannesburg from director McKeag.
---
December
---
01/12 - Fred Fall, President of the South African FA, states that tour requests from any British club will be considered next March.
---
---
To add to Milburn's groin problems he has now caught a chill and has had a recurrence of fibrositis in his neck. Harvey, Taylor, Mitchell and Houghton are also under treatment.
---
---
11/12 - 'ORGANISED HOLIDAYS' CHARGE AT NEWCASTLE F.C. MEETING - The AGM is held and it proves to be a stormy affair as there is a barrage of criticism from shareholders Mr Hurst and Mr Pringle with most of it centering around the remarkable £19,000 expenditure on travelling and accommodation. The Board are accused of allowing 80 - 100 people to travel to the Cup-tie at Chelsea last season at the Club's expense and it is suggested that repeated trips to view players are little more than "organised holidays". The Board refute both accusations and also deny a claim that the players were still putting pennies in slot-machines at Olympia at midnight before the tie at Stamford Bridge. Pringle also calls for Directors Rutherford (doctor) and McKeag (solicitor) to resign their position as they are profiteering from the club. After being pressed it is admitted that they did get paid (£1,259 and £108 respectively) last year for professional services rendered. However McKeag branded the critics' claims as "wild, exaggerated and untrue".
---
Milburn (groin) and Houghton (pleurisy) are struggling.
---
14/12 - MR. MARTIN QUITS UNITED FOR VILLA - Newcastle manager George Martin is granted an immediate release and will take over as manager of Aston Villa next week. Martin's £1,200 a year contract expired in July and he has allegedly been negotiating with Villa for a number of months. "I shall leave Newcastle with many regrets", states Martin, "but I have always fancied Villa as a club with which to be associated". Chairman Lee says "we take the view that if Mr Martin thinks he can better himself by making a move we would not want to stand in his light. He will leave us in the most friendly manner and we wish him the best of luck in his appointment". Martin will join Villa next week and will be in charge for United's game on Saturday. The question of a replacement is not discussed.
---
---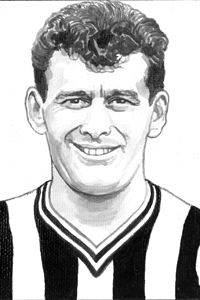 18/12 - PLUMBER JOINS UNITED - George Luke (who was 17 yesterday) signs professional forms, but he hopes to continue his plumber's apprenticeship.
---
20/12 - MILBURN IS FEELING HAPPY NOW - Jackie Milburn has a thirty-minute interview with the directors at the weekly Board meeting. He requests permission to take a job in addition to football. Milburn states "I have been promised every consideration for my request after the rush of holiday games is over". The Board also confirm that the managerial position was not discussed and that they are not going to rush into a decision.
---
---
---
26/12 - The return match with Middlesbrough is postponed due to a frostbound pitch.
---
28/12 - Milburn is fit again and Robledo and McMichael are also set to return. Hannah (recurrence of groin issues), Harvey and Crowe are all injured.
---
30/12 - The home match with Middlesbrough is postponed at 10.00 am due to a frostbound pitch. Some specials are cancelled, one is turned back at Billingham, Police radio cars broadcast messages in Middlesbrough and Rediffusion put out a warning. Unfortunately this is too late for thousands, mainly people travelling from Teesside, who had already set off.
---
January
---
03/01 - Hannah (groin) and Brennan (flu) are doubtful for Saturday.
---
04/01 - Various managers have been linked with the vacant managerial job including Peter Docherty (Doncaster), Don Welsh (Brighton) and former player Bill McCracken. However, there appears to be no substance to any of the links.
---
---
---
17/01 - Frank Brennan has an operation on his tonsils.
---
19/01 - Milburn is still suffering strained back muscles (fibrositis); Corbett has recovered from his ankle trouble.
---
---
---
29/01 - Fairbrother (fractured bone in wrist) and McNeil (ankle) suffered injuries in the Bolton tie.
---
29/01 - Newcastle are drawn away at Stoke in the Fifth Round, but Seymour confidently declares "on Saturday's form there's not a team in the country to beat us".
---
---
05/02 - Fairbrother's injury has prompted a look for a new 'keeper. A bid for Morton's Jimmy Cowan has already been turned down and it looks like they will also be unsuccessful in trying to secure Roy Henderson from Queen of the South.
---
07/02 - There were two deaths at the Bolton Cup-tie and at today's Council meeting a move is made to speed-up licensing of sports stadiums with an implication that the ground was overcrowded.
---
08/02 - United issue an angry statement in which they state that they "deplored the false impression" that the fatalities at the Cup match were due to crushing. They emphasise that both men had existing health conditions and died of coronary thrombosis. They also state that of the 130 spectators requiring treatment only 5 had to be taken to hospital, all the others being treated at the ground.
---
09/02 - Outside-right Alan King (20) moves to Aston Villa.
---
10/02 - Twelve thousand Tynesiders invade the Potteries by train, bus and car. British Rail run a number of excursions and nearly 300 buses make the journey.
---
---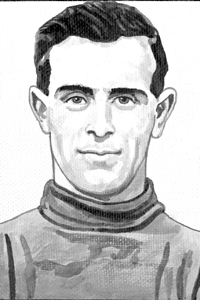 After scouting him on Saturday, United sign Third Lanark goalkeeper Ronnie Simpson. He is the son of Jimmy Simpson, the former Rangers and Scotland centre-half.
---
---
18/02 - The Cup tickets go on sale and all 40,000 are disposed of within two hours. Special buses brought in miners from many pit villages and the queues at the ground were said to be the largest ever seen
---
19/02 - McMichael is currently recuperating from his wrist injury in Belfast. Known as the man who stopped Stanley Matthews he suffered the injury during training in the car park.
---
23/02 - Stan Seymour watched Cup opponents Rovers recently and gives the players a tactical talk.
---
---
26/02 - The Newcastle squad travels to Western-Super-Mare. Norman Smith admits "we cannot play any worse than we did on Saturday".
---
27/02 - Eastville is besieged by thousands of fans (some estimates say up to 100,000) looking for tickets for the Quarter-Final replay. Scores of men and women collapse. Many children collapse or are injured too and they are passed back over the heads of the sea of humanity. The main queue is four-people wide and stretches for 3 miles. The tickets are sold out after 90 minutes. Supporters who had travelled to Newcastle had been promised tickets and those that had not got them convinced the police to get Mr Grimshaw who provided tickets to those producing programmes from the game.
---
28/02 - Blackburn manager Bert Tann is confident of victory proclaiming that "we think we were the better team at Newcastle." Ominously, the Bristolians have not been beaten at home for 15 months. Joe Harvey promises better. "We made a hash of it on Saturday, know where we slipped up and one thing is certain, when the game is over tonight we will have given it all we have."
---
Newcastle supporters get involved in the Bristol University rag. Scores join in the singing of the Blaydon Races outside the Victoria Rooms during the opening ceremony. George Robledo was "kidnapped" by students and later spoke over the amplifier after he had been "released". Some other supporters hoisted a club flag on the staff outside the Western Region headquarters of the BBC, but were told to take it down again. A select group travelled down on a Dakota aircraft from Woolsington Airport.
---
---
March
---
02/03 - Jimmy Coulter, who was signed from Linfield earlier in the season, has been struggling with ill-health since coming to Tyneside and is currently back in Ireland to try and build-up his strength.
---
---
04/03 - United announce that 10,000 of the 20,200 ticket allocation will be given to British Rail and local bus companies. With more than 6,000 allocated to season ticket holders and shareholders that only leaves about 4,000 which will be sold at St. James' on Tuesday.
---
06/03 - Queues for tickets start to form at 5.30am, 12 hours before they go on sale. With the car-park occupied the players cannot carry out their usual ball practice work and have to make do with sprints around the pitch.
---
07/03 - The players travel to Buxton for a rest although Brennan and Crowe remain on Tyneside for a couple of days for further treatment on their injuries. They will stay at the Palace Hotel.
---
09/03 - United trained at Buxton's ground yesterday and will get a special massage today. Trainer Smith says the players are in "match winning mood with great team spirit" and "are fitter than they have ever been in their footballing careers".
---
---
10/03 - There are approximately 20,000 United fans at the match, half of them travelling down in 17 special excursion trains, many spending over five hours in the ground. St John's Ambulance men have to deal with more than 200 fainting cases and one spectator dies of a heart attack. At one stage the game is interrupted as the crowd spills onto the pitch.
---
10/03 - First supporter back home is Joseph Williams of Scotswood Road who declares that it was "the finest game I've ever seen, the end to end play was a treat". Another disembarking group bring howls of laughter in Central Station when they form a circle and sing a special composition of United's song sung to the strains of 'Rudolph the Red Nosed Reindeer'.
---
13/03 - Fairbrother injured his thigh in the semi-final and is receiving lamp treatment.
---
Six excursion trains ferry thousands down to Huddersfield with two having restaurant cars, the fare is 17s 6d. A limit of 50,000 is put on the capacity with each team being given an allocation of a third. An estimated three thousand Tynesiders travel down in all with others using cars and buses and the Newcastle supporters have a marked numerical advantage.
---
---
14/03 - After the game thousands of jubilant Geordies pour into the public houses which opened an hour earlier whilst in Newcastle flags are hoisted around the city. By the time the players arrived back at Central Station at 9.40pm a huge crowd has gathered and the terminus echoes to a cacophony of rattles and bells. Men and women perch on the archways outside the station to get a better view. Only the taxi drivers - who cannot get in or out - are not enjoying the event.
---
16/03 - Minutes after the team's arrival seven miners, who had been trapped for 34 hours at South Birtley pit, were finally released. The club announce that they will be given tickets for the Final. Each finalist will receive 12,500 tickets in total.
---
---
19/03 - United have received 10 applications per ticket available so far. The Board meet tomorrow to decide how to distribute the tickets.
---
---
---
25/05 - Palestine have ambitions to develop sport and have asked Newcastle to tour next Spring; they are willing to pay £1,000 for a 12-day trip.
---
---
26/03 - London Spivs arrived in the area at the weekend despite the fact that Newcastle have not yet received their ticket allocation. They were in public houses in the Seaton Valley area trying to sell 7s 6d tickets for up to £2 10s. They were chased out of some hostelries.
---
30/03 - The benefit match between a Newcastle XI and Dundee United was played in disappointing weather but still raised almost £2,000 for the Aged Miners fund.
---
---
31/03 - There are rumours circulating that captain Harvey might be installed as manager.
---
April
---
03/04 - Brennan and Mitchell are included in the Scotland reserve side.
---
---
05/04 - CUP STRONG MAN OUT FOR TWO WEEKS - An x-ray reveals that Frank Brennan has fractured a small bone in his hand. It has been put in plaster and he is likely to be out for two weeks.
---
06/04 - United plan to raffle 12 cup-final tickets at a "Here's to Wembley Victory Dance" on the 18th. Each ticket will be presented by one of the Final team with trainer Norman Smith presenting the other.
---
08/04 - The Chief Constable of Newcastle declares that the proposed raffle is illegal.
---
---
08/04 - Brennan sings at the Gaumont Theatre in North Shields in a concert in aid of the Mayoress of Tynemouth Charity Fund. Frank often gives his time to charitable causes.
---
09/04 - Milburn reveals that the tickets that were to be raffled will now be given as prizes for "spot dances".
---
10/04 - Newcastle' s attempt to get the FA to release Milburn from the England squad so he can play on Saturday fall on deaf-ears.
---
10/04 - The club announce that applications for tickets can now be made by post. Of the 12,500 allocation 5,000 will go to season ticket holders and about 1,500 will go to players, officials and others leaving less than 6,000 for general sale. The club are expecting about 100,000 applications.
---
---
12/04 - The FA want the finalists to look elegant and in keeping with the occasion and have made a sartorial request for both keepers to leave their cloth caps at home. They suggest they wear a peaked sports cap like those that baseball players wear. Norman Smith says "to my mind a goalkeeper playing with an extended peaked cap is definitely a danger to other players". And Seymour says "we're not going to Wembley as comedians". They also suggest that Newcastle should wear all-black stockings to which secretary Hall states "do they want us to go to the Final in mourning?"
---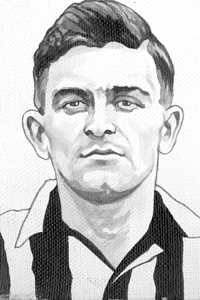 13/04 - NEWCASTLE SIGNING - After watching him for several weeks, United sign Southend's 20-year-old Welsh winger Reg Davies in a London hotel. He joined the Shrimpers when he left the services a couple of years ago and the fee is approximately £8,000.
---
14/04 - Fusilier John Hulme from Shiremoor will be flown home from the Korean battlefront to attend the Cup Final. He was called from a Bren Gun pit to be told his name had been drawn from the hat to be a guest of the Newcastle Journal and Chronicle at Wembley. The club will provide the ticket.
---
---
16/04 - The players visit a City cinema to watch the 1948 Cup Final between Manchester United and fellow-finalists Blackpool, some clips of Blackpool playing in their Cup Ties and scenes from the 1932 Cup Parade which is also viewed by City police officials.
---
---
---
22/04 - Lots of London spivs are on cup-crazy Tyneside and there are also many fans offering unusual swops in an attempt to get their hands on one including a live pig (worth £30) for a ticket of any sort and 6 blankets (worth £8 a pair) for 2 stand tickets. Three shilling tickets are fetching up to £5 each and 7s 6d tickets were being offered at £14 at one Newcastle club.
---
23/04 - Ten players and reserve (Bob Stokoe) set off for Buxton after a quiet send-off. Seymour plans to have several tea-time tactical talks and is confident that "you will see the Newcastle who knocked out Wolves in the semi-final. That is the true Newcastle form".
---
23/04 - Newcastle sign Hugh Cameron from Torquay United for about £5,000; he can play centre-forward or on the wing.
---
24/04 - Newcastle's luxury coach arrives in Buxton from Sheffield tonight. United 'keeper Fairbrother is not happy with the baseball cap because he believes it will restrict his view, particularly with crosses.
---
25/04 - United have a two-hour training session on Buxton Town's pitch. They are on a prescription of sherry and eggs and in the afternoon the players partake in aluminium brine baths and a massage. The players send a telegram to Blackpool player Brown who has been ruled out of the big game.
---
27/04 - Newcastle leave Buxton at 9.00am and they are seen off by the Major to a fanfare of trumpets. They pick up the London train at Millers Dale. Newcastle had applied to go to the King's Head hotel in Harrow (as it is seen as a lucky hotel) but Blackpool got there first. Players and officials visit Wembley on their way to Weybridge.
---
27/04 - Twenty-four trains bound for London start to set off at 9.30am. The 10 0'Clock has a coach housing the director's party and is decorated with the team colours and cartoons drawn by British Rail staff. The last train will set off at 1.50am Saturday morning.
---
27/04 - The North of England Home Service broadcast a special Cup Final edition of the popular Tyneside programme "Wot Cheor, Geordie" hosted by Esther McCracken. Special guests include Stan Mortenson and Jack Fairbrother and the Dunelm Singers perform that old favourite of the Tyneside music hall "the futbaal team".
---
28/04 - Ticket touts are, for the first time, banned from roads around Wembley, but they are out in force at Wembley main line station. Nylons and whiskey are among the temptations, but they have little success. Owners of television sets in the North East are hoping that "freak" reception will allow them to see pictures of the match.
---
---
30/04 - Milburn is restored as leader of the England attack. He will not have any special treatment on his pulled leg muscle, rest is the only cure.
---
---
03/05 - Newcastle players return from Brighton; the train has a huge circular placard on the front which states "It's Wors Again" 1910, 1924, 1932, 1951. The train stops off for five minutes at Sunderland station to allow fans to show their appreciation. Three coaches take players and officials from Central Station to St. James' via Neville Street, Collingwood Street, Moseley Street, Grey Street, Blackett Street and Gallowgate. Twice the parade has to halt due to the crowds breaking through the police cordon. Then there is a parade around the ground.
---
Mitchell is selected for Scotland's game against Denmark.
---
04/05 - Newcastle retain forty players. Six full-time players are released with the only surprise being Tot Smith. The others are Brown (who has failed to live up to his early promise), Powton, Downes, Toose and Sands.
---
---
---
---
11/05 - Fairbrother and Robledo join Milburn at Ashington where they get a great reception.
---
12/05 - McMichael plays for Ireland against France and Brennan plays for Scotland against Denmark.
---
17/05 - Having been given permission by United and the FA Joe Harvey and Frank Brennan both appear for Hartlepool as guests in the festival of Britain match against Limerick. Big Frank plays at centre-forward, scores a hat-trick saying later; "I reckon centre-forward is the easiest position on the field."
---
---
22/05 - Twelve players accompanied by directors and officials leave Newcastle for London on the first-leg of their journey to Brussels. The players travelling are: Fairbrother, Cowell, McMichael, Harvey, Brennan, Crowe, Walker, Taylor, Milburn, Robledo, Stokoe and (recent-signing) Cameron.
---
---
26/05 - Bobby Mitchell returns from Belgium having pulled a thigh muscle.
---
26/05 - Reserve wing-half Cecil Sands (20) moves to Bradford City. He is 5-11 and 12st.