Newcastle United 1929/30 Season Diary
---
NUFC 1929/30 Squad
---
05/06 - The FA reveal that they have received a £165 cheque from the Hungarian FA, but without any covering letter supporting the charges made. "The money belongs to Newcastle United" said FA secretary Mr. Wall. "It is their guarantee, and we have no right to withhold it from them on the strength of vague foreign allegations of unfair play. Newcastle United strenuously deny the charges, and they have said quite openly that they are ready to meet any investigation we may hold, but we shall certainly not hold any such inquiry unless the Hungarian football authorities make definite charges in writing".
---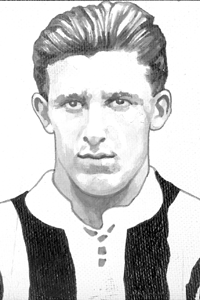 07/06 - Reserve centre-forward J. "Monty" Wilkinson moves to Everton. A native of Esh Winning he made 16 appearances last season scoring a creditable 9 goals.
---
08/06 - A journalist from the Berliner Tageblatt who attended the match in Milan supports United's case. He states that both the Italian team and the linesmen lost their heads and that the referee allowed them to hold, push and punch the Newcastle players. He also says that the referee blew for offside whenever Newcastle got into a dangerous position and made lots of other unfair decisions.
---
10/06 - The Athletic News contains a letter from a couple of ex-patriots who are critical of the way Newcastle played in Milan stating that they "are very sorry indeed to have to confess that a display of football such as that, witnessed by Newcastle in the match in question does anything but further the British prestige of football on the Continent".
---
11/06 - Frank Wall (FA Secretary) has received a cable from the Hungarian FA stating that they have posted a report to him. He has seen the press reports and reveals that he met three United directors last Tuesday who were very concerned and are adamant that there is "not the slightest foundation for the allegations". Wall explains that until the report has been received "nothing more can be said".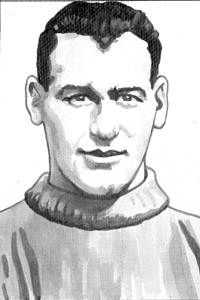 13/06 - Walter Wilson signs for Millwall for £600. He joined from Peeble Rovers in 1925 and in four seasons has played 134 games. He took over as first-choice from Bradley in the 1925/26 season and retained the shirt until Burns replaced him during the last campaign.
---
15/06 - Mr Wall announces that the report has now been received and a copy has been sent to the club. The Hungarians are asking for an enquiry to be carried out.
---
19/06 - The United Board will meet tomorrow to discuss the report. The FA have invited Newcastle to make any comments/corrections and then they will decide what action to take. Wall says that in 34 years as an official at the FA he has never come across such allegations against an English football team on the continent.
---
20/06 - The Board meet for three hours and secretary Watt states that they have framed a lengthy reply for the FA which completely denies the charges. They have also stated that if a commission is to be held they want the Hungarian Report and their official reply to be published in full.
---
25/06 - The accounts are released and they reveal that the club made a loss of £9,962 last year, due in main to the large sums laid out on transfer fees. The total revenue was £48,386, gate receipts were £43,000 and wages/transfer fees/other expenses amounted to £27,373.
---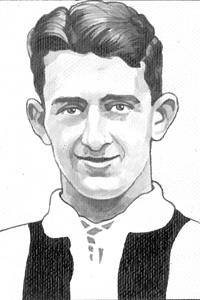 28/06 - Left-back Walter Gillespie (25) moves to Bristol Rovers. He joined from East Fife two years ago and although some of his North-Eastern League performances have been excellent he has not been as successful as hoped. He is 5' 8" and 11st 4lb. He made 9 appearances in total, but only appeared twice last season following Thomson's arrival from Sunderland.
---
29/06 - The FA inform the press that United's formal reply has been received by the FA and will be communicated immediately to the Hungarian FA for their observations. Once these are received they will decide whether any further action is required.
---
29/06 - William Carlton (who was listed at £500) appealed against the fee and the League Transfer Fee Committee agree to allow him to move for nothing.
July
---
08/07 - Hughie Gallacher is extremely lucky to suffer only a bruised shoulder when his car overturns in an incident involving another vehicle. His car is practically wrecked.
---
10/07 - The organisers of the North-East Coast Exhibition are pressing hard to get Sunderland to reconsider their refusal to take part in the proposed football tournament in September and October. Leeds and Newcastle are thought to have accepted, but Middlesbrough are waiting on Sunderland's decision.
---
11/07 - The Western Morning News previously published a story stating that the well-known Plymouth masseur and trainer - Fred Axworthy - was joining Newcastle but have now stated this is not true. The original story came from someone purporting to be Fred and was published in good faith.
---
15/07 - At a special meeting the Sunderland directors once again decline to enter the North-East Coast Exhibition Football Tournament.
---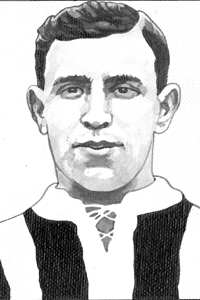 22/07 - Merthyr Tydfil sign centre-half-back W Carlton (22). His fee was removed on appeal and he is 5' 9" and 12st 7lb. He came to Tyneside in September 1926 from Washington Colliery Welfare and has made 6 appearances and scored 1 goal
---
24/07 - Organisers of the North-East Coast Exhibition announce that Newcastle have dropped out of the football tournament and it will now be abandoned. United stated that they only agreed to take part on the basis of Sunderland and Middlesbrough's involvement.
---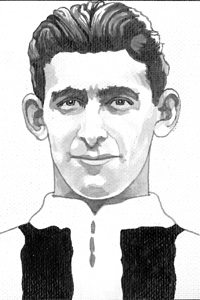 26/07 - Fulham have signed reserve right-back Robert Bradley (22) for £125. He joined United from Bishop Auckland as an amateur in November 1926 and turned professional four months later. His only appearance for the first eleven came in the 5-1 home defeat by Leicester in April 1928.
---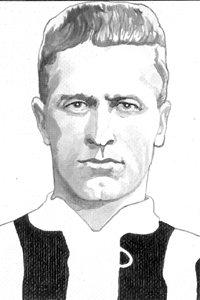 26/07 - "Ossy" Park (24) has joined Welsh club Connah's Quay. Park joined from Darlington Railway Athletic in November 1924 for a £125 fee. He was able deputy for Spencer and then Hill and made 65 appearances in total.
---
31/07 - Inside-right Thompson moves to Bristol City.
August.
---
08/08 - Stan Seymour denies rumours that he has agreed to play for Blyth Spartans in the North-Eastern League next season; he says he has no definite plans yet.
---
09/08 - The club - perturbed about the state of his groin muscles - send Andy Cunningham to see a specialist.
---
11/08 - Swindon sign F. McCartney. An outside-left, he is 5' 7" and 11st.
---
11/08 - United are believed to be concerned about their strength in reserve, they have sold/released a number of players and a lot of the reserves left are young and inexperienced.
---
11/08 - Hughie Gallacher and two other men are arrested for fighting in Half Moon Lane in Gateshead.
---
17/08 - Andy Cunningham has had to pull out of today's practice game because he has appendicitis. He will go into a nursing home tomorrow for an operation and is likely to be out of action for a few months.
---
19/08 - Both Gallacher (address Stirling House, Saltwell Road, Gateshead) and Robert Anderson (a barman who resides in Leazes Terrace) plead not guilty at Gateshead Police Court. The fight ensued after the pair argued about Anderson's sister. She has been missing for a couple of weeks and was last seen with Gallacher (who is married but separated from his wife). Gallacher denies being drunk or head butting him and also claims "my language to Anderson was perfectly candid, not foul". They are both found guilty and bound over for six months for the sum of £5.
---
24/08 - United sign a new keeper named Siddley following today's practice game.
---
24/08 - Director Jack Graham and United's Scottish representative (former player) Jimmy Hay watch Dundee United centre-forward Duncan Hutchinson in the game against Greenock Morton. He pleases them exceedingly; however, it is believed that the Scots do not want to part with him.
---
25/08 - United director Robert William McKenzie has passed away. He has been on the Board for thirty years and is one of the most travelled committee members in the country having scouted scores of players over the years.
---
26/08 - Hughie Gallacher faces more problems as he is set to be fined £5 by the FA. In 1920 the FA Council decreed that players contributing signed reports, articles or interviews which criticise other players should cease. Sheffield Wednesday made a complaint about Gallacher in relation to this dictive and their complaint has been upheld.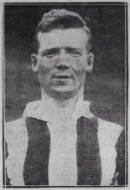 27/08 - After lengthy negotiations in Edinburgh, United sign Duncan Hutchinson (24) from Dundee United for a fee believed to be around £4,000. A Fifeshire miner he started as an outside-right but was converted into a centre-forward and was the second top scorer in Division 2 as Dundee won promotion last season. He is a player of the dashing type with a good turn of speed and is clever and whole-hearted. A native of Kelty, he is 5' 9" (in his boots) and 12 stone. This is an interesting acquisition as although Hutchinson will help replace the void caused by Cunningham's absence he is a pivot and Gallacher has previously made it clear that he only wants to play at centre-forward.
---
28/08 - Rumours circulate that Gallacher will be placed on the open-to-transfer list.
---
29/08 - Hutchinson arrives in Newcastle to a welcome party of directors (Graham and Oliver), trainer (McPherson) and players (Gallacher, Maitland and Lang); he is a bit shy and refuses to have his photograph taken. But he was soon in earnest conversation with Gallacher. Shortly after Hutchinson's arrival Gallacher makes a request to secretary Frank Watt to be placed on the open-to-transfer list.
---
---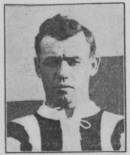 31/08 - Immediately after the game the directors discuss Gallacher's request and decide they cannot accede to it and will not entertain any enquiries. Gallacher (laden with golf clubs) takes the train to Scotland. Before he departs he is asked if he has changed his mind: "No! The sooner I leave Tyneside district the better it will be for all concerned". He also (implying that factors other than football are involved) states a move would be beneficial for him as "a person and a player".
---
September
---
03/09 - The directors discuss Gallacher's request again and their official stance is that they have not reached a decision. With Hutchinson unavailable because he wrenched his knee last Saturday Gallacher reverts to centre-forward.
---
---
---
---
12/09 - Captain Hill strains a thigh muscle in training to add to United's injury woes.
---
---
---
McKenzie will undergo treatment for his leg injury at a nursing home; Burns and Hutchinson should be fit soon.
---
---
27/09 - With Fidler proving to be a bit unsteady United approach Sunderland to see if they would be willing to sell one of their keepers. Their first choice is McInroy but they have two promising young keepers in Bell and Robinson. It is believed that Newcastle were interested in signing either of the youngsters but a fee could not be agreed.
---
---
30/09 - Rumours have been circulating in recent weeks that Jack Hill is unsettled at the club and these were exacerbated when the captain was missing again on Saturday. Secretary Frank Watt denies there are any issues: "I know of no trouble. A lot of these stories get about, but Hill is resting because of groin trouble"
October
---
02/10 - Sunderland reject United's offer of £1,000 for first-team 'keeper Albert McInroy.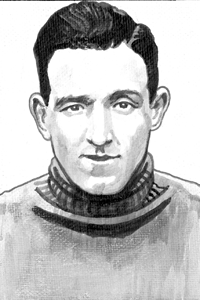 04/10 - United return with a bid of £2,750 and Sunderland accept; it is the record fee paid for a goalkeeper. McInroy is a native of Walton-le-Dale and joined Sunderland from Leyland in 1923. In seven seasons at the club he has made over 200 appearances and he played for England against Ireland in 1927. He is 5' 11" and 12st 11lb.
---
---
---
15/10 - Directors Rutherford, Nevin, Oliver and Oates, secretary Watt and trainer McCombie travel down to 42, Russell Square to attend the FA Commission meeting regarding their summer tour. They are joined by players Maitland, Hill and Gallacher and Huddersfield director Barlow (who had also been with the touring party). The Hungarian FA are represented by Dr. Nandon Fodor. After hearing evidence from the both sides the commission adjourns and then issued a statement. "We are of the opinion from the indifferent displays given by Newcastle United during the tour that the Hungarian F.A. was justified in endeavouring to cancel the contract. The match, however, which was against Hungaria FC, having been played, the money retained - £165 - must be paid over to the Newcastle United club. We are further of the opinion that the referee's conduct of the game was not satisfactory. With regard to the reports as to Gallacher and Maitland being ordered off the field on the evidence, we make no order.
---
---
21/10 - The Hungarian FA are not altogether satisfied with some of the findings of the FA Commission and are to ask for a full investigation by the International FA; a step which is unprecedented in the annals of English football. Their grievances are against the team in general and two players in particular.
---
23/10 - McKenzie displaced his cartilage during the Sunderland match and has had it removed.
---
---
28/10 - United sign centre-forward, Alfred Jones, from Lancaster Town. Previously with Oldham Athletic he scored 26 goals for Lancaster last season. The fee is believed to be about £350.
---
28/10 - The Football League Management Committee reduces the fees for Gibson, Maitland and Flannigan.
---
November
---
---
08/11 - Former centre-forward Albert Shepherd passes away (at the young age of 44) at the Crown and Cushion Hotel in Bolton where he was the licensee.
---
---
14/11 - A veritable bombshell as the Directors state that at the weekly meeting last night a written request from captain Jack Hill - to be placed on the open-to-transfer list - was acceded to. No reasons are provided for the request and Hill only says a move is in his "best interests".
---
---
18/11 - It is reported that the Hungarian FA have stated that United will be banned from playing in their country until they have given entire satisfaction for an offending term alleged to have been used by a member of the United party during last summer's visit.
---
21/11 - The players and officials have had a "round table" to try and resolve some of their issues. Tottenham have made an enquiry for Hill and it is believed that the asking price is about £5,000.
---
23/11 - Stoke are also said to be interested in Hill.
---
---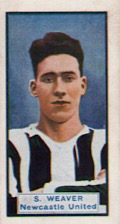 25/11 - Newcastle sign versatile half-back Sam Weaver (20) from Hull City. The fee of £2,000 is a record for someone so young. He joined from Sutton Junction in April 1928 and has made 50 appearances for Hull. He comes from Pilsley (Derbyshire) is 5' 10" and 11st 10lb.
---
December
---
02/12 - Reserve wing-half Louis Nainby (19) moves to Blackpool for about £200. A very promising player he joined United from Seaton Sluice at the beginning of the year.
---
05/12 - Former director Mr Bates passes away.
---
---
07/12 - Wood is not happy that Wilson was chosen instead of him and he requests a transfer which is not acceded to.
---
11/12 - The Board decide to allow Wood to be placed on the open-to-transfer list.
---
---
---
---
---
January
---
---
---
09/01 - Newcastle announce that Andy Cunningham has been installed as player-manager.
---
---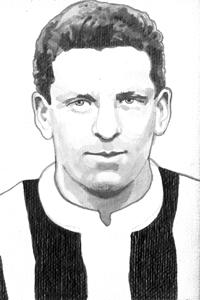 14/01 - United sign clever young winger Jackie Cape (17) from Carlisle. He is a native of Carlisle and won his place in the senior side in October. The fee of more than £1,500 represents a record for the Cumbrians.
---
---
17/01 - Three Newcastle representatives travel to Burnley to negotiate for the transfer of Scottish inside-forward Joe Devine. Agreement cannot be reached as the Turfites allegedly want £7,500 for him.
---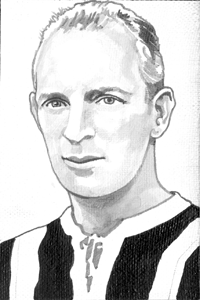 18/01 - United and Burnley reach agreement on a fee for Devine and the deal is completed in the early afternoon. The Scot is a native of Motherwell and joined Burnley from Bathgate in 1925 for £250. He played in every game last season and scored 11 times. At his best he is a typical Scottish inside-forward and is crafty to a degree.
---
---
23/01 - Third Division South Shields are still struggling to attract support to their Horsley Hill Ground and at a Board meeting they decide to apply to the League Management Committee for permission to move the club lock, stock and barrel into the Newcastle district. Manager Mr. Douglas states "we must move to Newcastle or seriously consider the question of closing down". They plan to ask Newcastle for their support and he argues that "we have no desire to compete with Newcastle United with whom South Shields are on the best of terms".
---
---
27/01 - It is believed that Newcastle will not support South Shields desired move to Newcastle.
---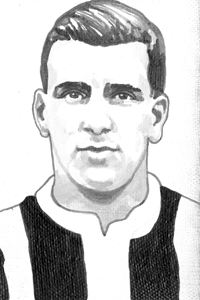 30/01 - Centre-half-back David Davidson (24) signs from Liverpool for what is said to be a big fee. Davidson signed from Forfar Athletic and has been at Anfield for two seasons. The arrival of a new notable pivot may spell the end for Jack Hill's time on Tyneside.
---
February
---
---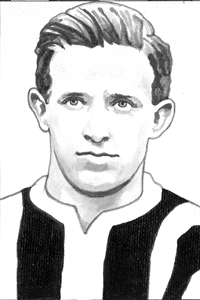 07/02 - Urwin moves to Sunderland.
---
07/02 - Newcastle Chairman David Crawford (85) passes away. He joined the Board in 1904.
---
---
11/02 - Newcastle return to Saltburn (for the second week running) for their Cup preparations and once again Hill is left behind.
---
13/02 - A couple of shareholders are so concerned with the current state of affairs they have sent a letter to all other shareholders asking them to attend a meeting on 20th February. They want to discuss two resolutions: to request the directors to either call an EGM or to receive a deputation of seven shareholders to be elected at the meeting.
---
15/02 - United were in negotiations to sign Wolves' left-winger Harold Shaw yesterday but he joins Sunderland instead.
---
---
17/02 - South Shields Football Club have been considering a move to Newcastle due to their poor gates. They asked for United's support for the move, but it was not forthcoming. Consequently, the League Management Committee (who considered South Shields proposal today) state that "in view of the protest and opposition of the Newcastle United club the management Committee do not feel justified in granting permission".
---
19/02 - The tickets for the FA Cup match with Hull go on sale and there are remarkable scenes at St James' where there is an unprecedented rush for tickets. All are sold within a couple of hours and many postal applications have to be refused. Secretary Watt admits that he has never known such a remarkable and quick demand.
---
20/02 - A special shareholders meeting - presided over by Tom Edgell passes the resolutions proposed a week ago.
---
---
27/02 - Sunderland have enquired upon Gallacher's availability but have been given a firm rebuttal. United have bid for Aberdeen's right-wing pair Love and Cheyne.
---
March
---
---
03/03 - The United party return to Scarborough to prepare for the replay.
---
04/03 - The newly formed Newcastle United Supporters Association hold a successful meeting at the Roma Cafe presided over by Mr. J. Walker. The number of attendees is three times the amount who came to last Thursday's initial meeting. In enterprising fashion they have negotiated with London and North Eastern Railway Company to run a special train of saloon carriages to Hull for the replay. Tickets are 7s 6d each.
---
05/03 - The Newcastle team have been getting plenty of relaxation and are in the pink of condition. Hill and the directors are once more on friendly terms therefore there is no reason for him to be excluded anymore. He will return in his favoured centre-half position.
---
06/03 - There is huge interest in the Replay in Hull and extra accommodation has been provided for 1,000 inside the enclosure. A half-day holiday has been granted and the ground is full over an hour before kick-off with thousands still outside. Included in the throng are the members of the City Council who supported a motion by Hull director Mr. Shepherd to adjourn their regular meeting; sixty seats had been reserved for their accommodation. An estimated 3,000 have travelled down from the North-East by train and many more have travelled down by motor and charabanc.
---
---
---
---
14/03 - The League Management Committee give South Shields permission to move to Gateshead. As it is in a different County (Durham) the Committee did not think Newcastle would need to be consulted. Although there is no official response a United director confirms that they were not asked and makes the point that the new location is virtually the same distance from St James' as Shields' originally proposed site in the East End of Newcastle.
---
---
22/03 - Dr. R. Rutherford of Wallsend has been co-opted onto the Newcastle Board. He is the second appointee within the last couple of weeks as a result of the death of three directors since the last Annual Meeting in June.
---
---
26/03 - Scotland play England on the 5th April and although United asked the Scottish FA to take into account their perilous position Gallacher has been included in the team for the game. The club will leave the decision to the player.
---
---
April
---
01/04 - The directors meet with Gallacher to discuss his call-up for the international on Saturday; no statement is released.
---
---
03/04 - Gallacher takes the largely unprecedented step of putting club before country and withdraws from the Scotland team for Saturday's game. Gallacher says "I play for my club and especially for the man who pays his bob".
---
---
---
10/04 - The body of former footballer Alfred Brown - who had a short spell on Tyneside - is discovered on a roadway adjacent to Largs beach. Empty bottles of lysol and aspirin are found by his side.
---
10/04 - The directors and players are interested spectators at Brandon Speedway.
---
---
---
---
---
24/04 - Outside-right Dunmore has been signed on professional terms by Derby. The youngster was on amateur terms at Newcastle and has played for the Juniors and Swifts. United objected to the move at first but have withdrawn their rejection.
---
Carlisle
---
---
May
---
02/05 - United have left the re-signing of players to the last minute and they get a shock. Gallacher is one of the first to sign but big-money signings Hill, Devine and Davison have all refused at this point.
---
02/05 - Newcastle sign right-back David Bell from Wallyford Bluebell. Andy Cunningham believes that he could be another Bill McCracken. he is 5' 11" and 12st
---
03/05 - It is strongly rumoured that Newcastle offered Gallacher to Sunderland during the week. Gallacher says "I have had no official word from the club, but if they desire me to go to another club I shall certainly let them know my views about the matter".
---
---
05/05 - Devine re-signs but Hill still has not; there are rumours that Gallacher is on his way to Chelsea.
---
05/05 - Derby snap up another United youngster as inside-right Oswald Bowden (17) moves South. He has done well for the Swifts but is rather frail.
---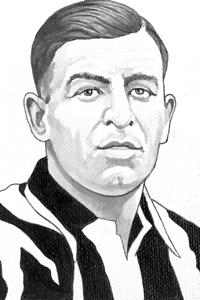 07/05 - Newcastle re-sign "Ossy" Park from Welsh club Connah's Quay. There is no transfer fee involved as he was kept on United's retained list. He has shown very good form in the Welsh combination.
---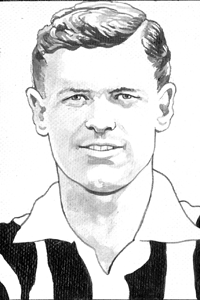 08/05 - Sheffield Wednesday outside-left Jack Wilkinson (23) signs. He joined Wednesday in 1925 after rising to prominence as a schoolboy and was a regular in the side until the arrival of Ellis Rimmer. He is on the light side and of modest build (5' 5" and 10st), but is speedy, tricky and good with both feet.
---
08/05 - Hill states that "as I feel now, I am practically determined not to have another season at St. James' Park.
---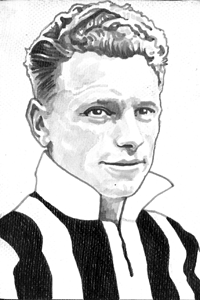 14/05 - Hull forward Ronald Starling joins United. A native of Pelaw he turned down both Newcastle and Sunderland as a youngster. He joined Hull three and a half years ago from Washington Colliery and has made 87 appearances and scored 14 goals. He was keen to leave after being barracked by the Yorkshire crowd. he is 5' 10" and 11st 4lb.
---
14/05 - Reserve half-back Wilfred Carr (21) moves to West Bromwich Albion. Born in Burradon he has shown some promise.
---
14/05 - Newcastle Swifts centre-forward W Ryott (19) who scored almost 80 goals last season moves to Carlisle.
---
18/05 - Hill is the only player who United wish to retain who has still not re-signed. He claims that "recent developments" have caused him to withhold his signature.
---
20/05 - The club announces that Hill has re-signed.
---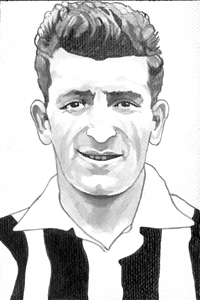 23/05 - Newcastle sign Cowdenbeath centre-forward Duncan Lindsay. He has played 129 successive games for the club. He has been a regular scorer in his four seasons at the club. he is 5' 8" and 11st 7lb.
---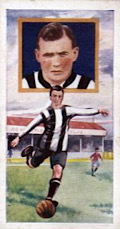 24/05 - Hughie Gallacher signs for Chelsea in Glasgow. The fee of £10,750 is the highest ever paid for a single player. He will get an accrued share of benefit and it is believed has been well treated in other directions.